Butter Pecan Ice Cream
This post may contain Amazon or other affiliate links. As an Amazon Associate I earn from qualifying purchases.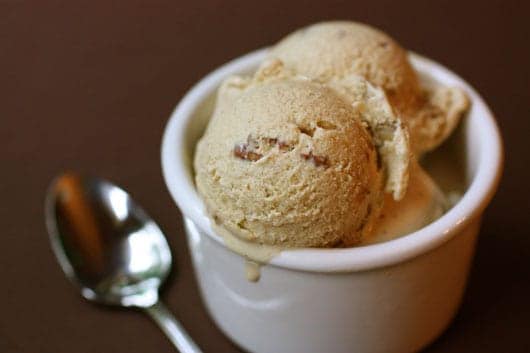 I called on Mom's help in choosing a sweet treat to honor my dad for Father's Day. I made her play the "What Would Dad Wish For Dessert If Stranded On A Deserted Island?" game. Mom loves to play games. And she came up a winner in this round. She says he just can't resist butter pecan ice cream.
Not having a butter pecan recipe in my possession, I turned to Elise at Simply Recipes for this winner of an ice cream. It has a smooth but striking buttery caramel flavor (your kitchen will smell like caramel heaven!), with salty crunchy toasted pecans mixed throughout. And, yes, this Butter Pecan Ice Cream IS as good as it looks! I think it's even better than it looks, in fact. It's an incredibly special treat, made in our kitchen to honor an incredibly special man.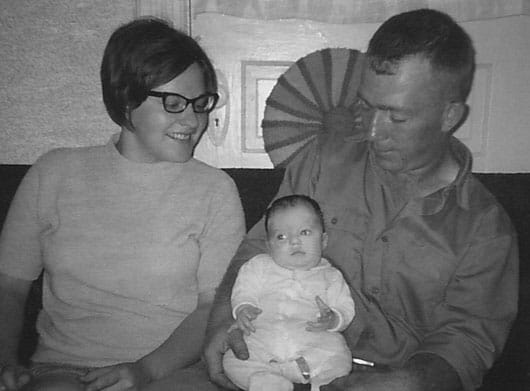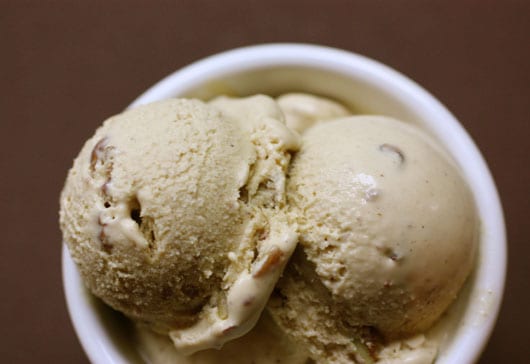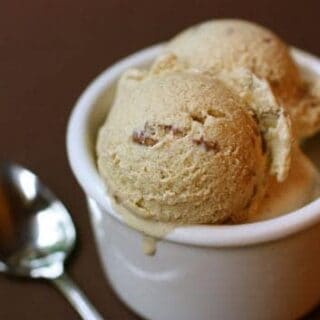 Butter Pecan Ice Cream
Yield: 1-1/2 quarts of ice cream
Prep Time: 20 minutes
Cook Time: 15 minutes
Total Time: 35 minutes
This homemade butter pecan ice cream has a smooth but striking buttery caramel flavor (your kitchen will smell like caramel heaven!), with salty crunchy toasted pecans mixed throughout.
Ingredients
6 large egg yolks
6 tablespoons butter
1 cup brown sugar
1/4 teaspoon kosher salt
2 cups heavy cream
2 cups whole milk
1 teaspoon pure vanilla extract
1 cup pecans
1 tablespoon unsalted butter, melted + 1/2 tsp. kosher salt for roasting the pecans
Instructions
In a medium-sized heat-safe bowl, whisk together the egg yolks until well blended. Set aside.
Fill a large bowl half-way with ice. Set a medium-sized metal bowl into the ice and pour the cream into it. Set a medium-mesh sieve on top. Set aside.
In a medium thick-bottomed saucepan with high sides, melt the butter over medium heat, stirring constantly, until it just begins to brown. Add the brown sugar and salt. It will be very thick and sludge-like. Stir until the sugar completely melts, until it looks thick and silky.
Very slowly add the milk, stirring to incorporate. It will spit and foam up initially. Heat until all the sugar is completely dissolved. Do not let mixture boil or it may curdle.
Slowly pour half of the milk and sugar mixture into the eggs, whisking constantly to incorporate. Then add the warmed egg mixture back into the saucepan with the remaining milk sugar mixture.
Stir the mixture constantly over medium heat with a wooden or heatproof rubber spatula, scraping the bottom as you stir, until the mixture thickens and coats the spatula, about 5-7 minutes. Your kitchen should smell like a caramel factory now. :)
Pour the custard through the sieve and stir it into the cream. Add vanilla and stir until cool over the ice bath. Chill the mixture very thoroughly in the refrigerator.
While the mixture is chilling, preheat the oven to 350° F. In a medium bowl, combine melted butter and pecans, stirring to coat. Lay out the buttered pecans on a roasting pan in a single layer. Sprinkle with kosher salt. Bake for 6 minutes, until lightly toasted. Let cool. Once cool, roughly chop the pecans and set aside.
Once the ice cream mixture is thoroughly chilled, freeze in your ice cream maker according to the manufacturer's instructions.
Once the ice cream has chilled and formed in the ice cream maker, and while still fairly soft, fold in the chopped pecans.
Transfer ice cream to a freezer-safe container with a lid, and place in the freezer for a few hours. If it has been frozen for more than a day, you may need to let it sit at room temperature for a few minutes to soften before serving.
Notes
Special equipment needed: ice cream maker.
Adapted from Simply Recipes.
Nutrition Information:
Yield: 10
Serving Size: 1
Amount Per Serving:
Calories: 453
Total Fat: 38g
Saturated Fat: 19g
Trans Fat: 1g
Unsaturated Fat: 17g
Cholesterol: 210mg
Sodium: 321mg
Carbohydrates: 23g
Fiber: 1g
Sugar: 22g
Protein: 8g
Nutrition information is automatically calculated by Nutritionix. I am not a nutritionist and cannot guarantee accuracy. If your health depends on nutrition information, please calculate again with your own favorite calculator.
We participate in the Amazon Services LLC Associates Program, an affiliate advertising program designed to provide a means for us to earn fees by linking to Amazon.com and affiliated sites. See our
disclosure policy
for more info.