Blueberry Cheesecake Ice Cream & Graham Sprinkle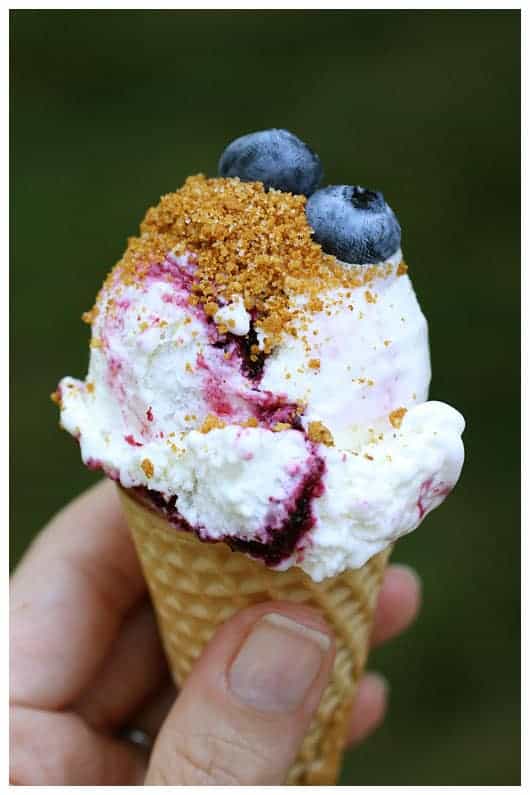 One day our girls decided to pull interesting looking cookbooks from the shelves, to go through them like their mom does. They flipped through each chosen book, page by yummy page, adding a colored Post-It Flag to every recipe they'd like to make some day.
When I found their bright yellow flag on the cheesecake ice cream recipe in The Perfect Scoop, right beside my own previously placed green flag, I knew this ice cream needed to be made in our kitchen.
And ever since Allison tempted me with her version last month, I've had cheesecake ice cream on my mind. With an abundance of fresh blueberries from our day of picking at Rush River Produce, it posed the perfect opportunity to make this Blueberry Cheesecake Ice Cream with Graham Cracker Sprinkle.
The cheesecake ice cream is rich, creamy, and indulgent. And the layer of blueberry sauce is intensely berry flavored. Its dark contrast makes for an oh-so-pretty ribbon running through the ice cream's middle. But what puts this treat over the top is a sprinkling of graham cracker crust. It seemed like just the perfect thing to do! All the flavors and textures of an actual piece of cheesecake are there. In ice cream form! What fabulous summer fun!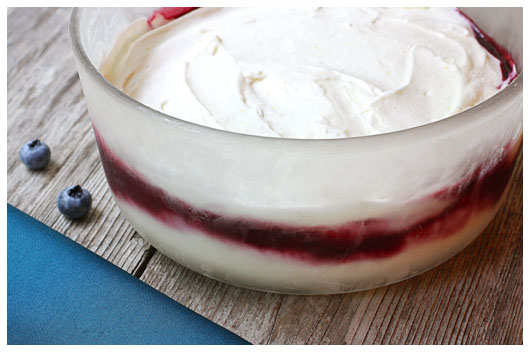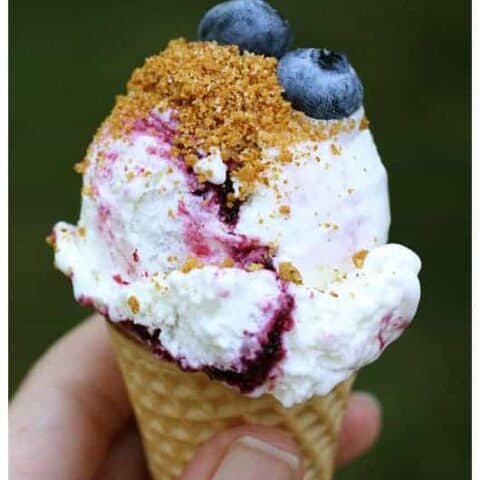 Blueberry Cheesecake Ice Cream & Graham Cracker Sprinkle
Yield: about 3 cups of ice cream
Prep Time: 15 minutes
Cook Time: 15 minutes
Additional Time: 3 hours
Total Time: 3 hours 30 minutes
Blueberry Cheesecake Ice Cream with Graham Cracker Sprinkle is a rich, creamy homemade ice cream recipe. Made with a tangy blueberry sauce, this cheesecake ice cream is not to be missed!
Ingredients
for the cheesecake ice cream:
8 oz. cream cheese
zest of 1 lemon (save the juice for the blueberry sauce, below)
1 c. sour cream
1/2 c. half-and-half
2/3 c. sugar
pinch of salt
for the blueberry sauce:
2 c. blueberries, fresh or frozen
1/4 c. sugar
1-1/2 tsp. cornstarch
1 T. cold water
1 T. freshly squeezed lemon juice
2 tsp. raspberry liqueur (or cherry liqueur)
for the graham cracker crust sprinkle:
1/2 c. graham cracker crumbs
1 T. unsalted butter, melted
1 T. sugar
Instructions
for the cheesecake ice cream:
Cut cream cheese into small pieces and place into a blender or food processor. Add the lemon zest, sour cream, half-and-half, sugar, and salt. Puree until very smooth. No chunks!
Chill the mixture thoroughly in the refrigerator, then freeze it in your ice cream maker according to the manufacturer's instructions.
To get the blueberry ribbon effect that I achieved when scooping the ice cream, spread half the cheesecake ice cream onto the bottom of a small to medium sized flat-bottomed bowl (mine had a 7″ diameter). Spread 1 cup of the blueberry sauce over the ice cream. Then gently spread the remaining ice cream over the top of the blueberry sauce. Freeze for at least 3 hours to firm up the mixture. Alternatively, you could just freeze the cheesecake ice cream on its own and then spoon the blueberry sauce over it when serving.
for the blueberry sauce:
Heat the blueberries and sugar in a medium nonreactive pan over medium-high heat until the blueberries begin to release their juices. Mix the cornstarch with the cold water and lemon juice until the mixture is lump-free. Then stir the cornstarch mixture into the blueberries.
Bring mixture to a boil, then reduce the heat to a simmer and cook for 1 minute. Remove from the heat and stir in the liqueur. Chill the mixture thoroughly in the refrigerator. You will need just 1 cup of the chilled blueberry sauce for this ice cream recipe. Spoon the rest over some yogurt, a slice of pound cake, or a waffle!
Yield: about 1-1/2 cups
for the graham cracker crust sprinkle:
Preheat oven to 350°.
Stir together all ingredients and then spread crumbs out in a 9″ x 13″ pan. Bake for 5 minutes and then stir. If the crumbs have started to brown, take the pan out of the oven. If not, return to the oven and check after each minute of baking time. Once the crumbs start to brown, they do so very quickly.
After scooping the ice cream into bowls or cones, top with some of the graham cracker crust sprinkle. Just like a piece of blueberry cheesecake!
Yield: 1/2 cup
Nutrition Information:
Yield: 6
Serving Size: 1
Amount Per Serving:
Calories: 663
Total Fat: 37g
Saturated Fat: 18g
Trans Fat: 0g
Unsaturated Fat: 16g
Cholesterol: 83mg
Sodium: 436mg
Carbohydrates: 78g
Fiber: 3g
Sugar: 54g
Protein: 8g
Nutrition information is automatically calculated by Nutritionix. I am not a nutritionist and cannot guarantee accuracy. If your health depends on nutrition information, please calculate again with your own favorite calculator.