How We Grill Steak PLUS Blue Cheese Walnut Butter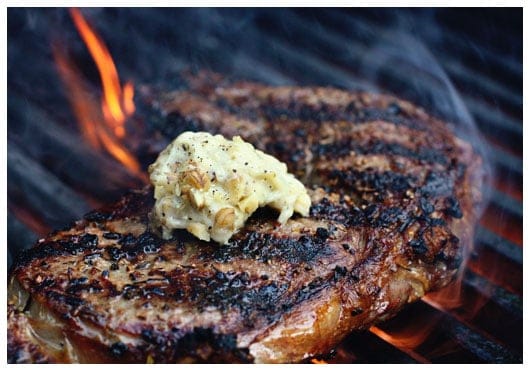 A Perfectly Grilled Steak is one of my greatest eating pleasures. And when I say "perfectly grilled", I very specifically mean a ribeye grilled by my husband.
I haven't ordered a steak at a restaurant in years, as I've been disappointed too many times. Why waste money and all that chewing on something that's just mediocre? No, thanks. I'd rather save myself for the perfection that belongs to Blake's grilling expertise.
He's just got it down.
And we're happy to share our easy peasy and incredibly flavorful method with you!
"I ORDERED MY STEAK WELL DONE"
Besides using the seasonings we love, what makes Blake's method so perfect is the steak's doneness. I give him all the credit for teaching me how to get the most enjoyment out of a beautifully marbled cut of beef. And by that, I mean he converted me from a well-done girl to a medium-rare and much more satisfied girl. I've definitely been convinced of the flavorful merits of a steak with a firm char-grilled exterior that cuts open to a soft and juicy, perfectly pink center. I'll never go back to well-done.
That photo is from our family trip to the Black Hills last summer, when we took part in a chuckwagon dinner. The host asked for a show of hands from people who like their steak well done, then asked those people to join him up front, at the chuckwagon stage. It's a good thing this fella was such a good sport, as he really got picked on for not backing down on his preference for a well done steak! :grin: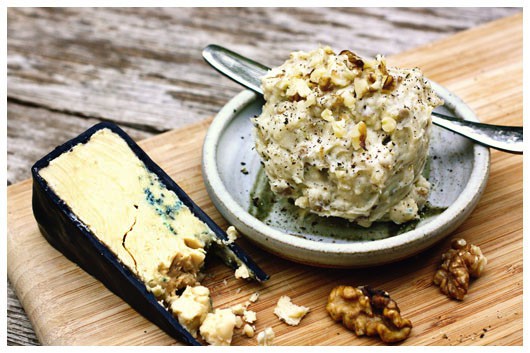 To add a special touch to your grilled steak, be sure to also try this Blue Cheese Walnut Butter. This little luxury comes together very quickly and offers tremendous flavor. If you've ever paired up beef and blue cheese, you'll know exactly what I'm talking about. It's the very best marriage.
When making this flavored butter, I usually simplify things with a package of blue cheese crumbles, but I felt like being a bit more indulgent this past weekend. As Blake was leaving to pick up a steak at Kowalski's, I asked him to also peruse the cheeses and bring home a blue that looked interesting. Once again, I was thankful for stepping out of the usual way of doing things, as Blake found the blue cheese of my dreams!
It's called Roaring Forties Blue and is made by King Island Dairy. The name "Roaring Forties" refers to King Island as it sits on 40° latitude between Tasmania and Australia, infamously lashed by shipwreck-inducing gales.
This cheese is very creamy and rich in your mouth, with exciting pops of nutty saltiness. It is also quite beautiful on a cheese plate, wrapped in its starkly contrasting midnight blue wax coating. Studded with pockets of blue, rather than the more usual meandering veins, it is both lovely to look at and, of course, to indulge in.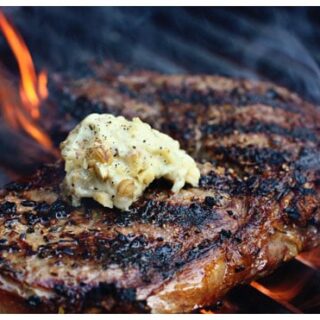 How We Grill Steak PLUS Blue Cheese Walnut Butter
Yield: 2 steaks
Prep Time: 30 minutes
Cook Time: 5 minutes
Total Time: 35 minutes
A Perfectly Grilled Steak is one of my greatest eating pleasures. And when I say "perfectly grilled", I very specifically mean a ribeye grilled by my husband. Don't forget to top it off with Blue Cheese Walnut Butter!
Ingredients
for the steak:
3/4" to 1-1/4" thick ribeye steaks
olive oil
Mignonette Pepper from Penzeys Spices (a blend of cracked black and white pepper and coriander)
Dry-Aged Beef Seasoning from Lunds & Byerlys (a very course blend consisting of big flakes of gray sea salt, plus onion, pepper, rosemary, marjoram, thyme, basil, fennel, and lavender)
for the blue cheese walnut butter:
1/4 c. butter, at room temperature
1/4 c. (about 1 oz.) crumbled blue cheese – Try Roaring Forties Blue if you can find it!
3 T. chopped toasted walnuts
freshly cracked black pepper
Instructions
for the steak:
This is all you need!
Take steaks out of refrigerator about 30 minutes prior to putting them on the grill. Rub some olive oil onto both sides of each steak, about 1 teaspoon per large (1 lb. or more) steak.
Sprinkle both sides fairly generously with Mignonette Pepper and Dry-Aged Beef Seasoning. Let rest. Blake usually asks one of the girls if they want to sprinkle on the seasonings. It's become a coveted part of the process! You'll have to experiment with how much seasoning to add, but here's what ours looks like. No precise measurements here, we just know how we like it after preparing it so many times. See those big pieces of sea salt? It's my favorite ingredient that produces bursts of flavor.
Fire up your grill. You want it super hot. If your grates aren't clean, give them a good cleaning next. Then coat your grill grates with olive oil. Blake likes to pour a few tablespoons of olive oil into a small bowl. Then he folds up a thick paper towel into a 3" size piece and soaks it in the oil. With a grill tongs, he runs the soaked paper towel over the grill grates.
Once the grill grates are smoking hot, place your steaks on. Then close the lid and don't peek. For a 3/4" thick, juicy medium-rare steak, grill for 2-1/2 minutes without peeking or moving the steak. Then flip and grill for another 2-1/2 minutes more on the second side without peeking or moving the steak. Increase grilling time for thicker steaks. The steak in this post's photo was slightly more than 1" thick and was grilled 3-1/2 minutes per side. Immediately remove steaks from grill to a platter and tent very slightly with a piece of aluminum foil. Let rest for a few minutes to retain juices. Then serve as is or with a spoon of Blue Cheese Walnut Butter.
for the blue cheese walnut butter:
Mix butter and blue cheese in a small bowl to blend. Then stir in the walnuts. Season with freshly cracked black pepper. Use as a topping for steaks or as a spread for rolls or popovers.
Notes
Grilling method honed by Blake, The Grill Meister. Seasoning mixture from our friends, Kelly & Dani, who first prepared this deliciousness for us many years ago. Blue Cheese Walnut Butter adapted from Bon Appetit magazine, October 2000.
Nutrition Information:
Yield: 2
Serving Size: 1
Amount Per Serving:
Calories: 994
Total Fat: 83g
Saturated Fat: 37g
Trans Fat: 1g
Unsaturated Fat: 41g
Cholesterol: 244mg
Sodium: 703mg
Carbohydrates: 5g
Fiber: 2g
Sugar: 1g
Protein: 60g
Nutrition information is automatically calculated by Nutritionix. I am not a nutritionist and cannot guarantee accuracy. If your health depends on nutrition information, please calculate again with your own favorite calculator.