Chocolate Malt Banana Ice Cream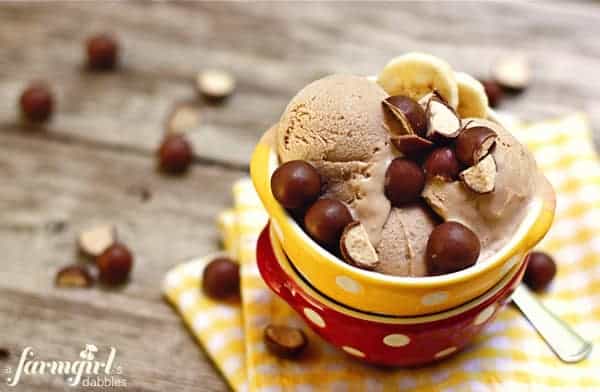 Yowzers! It's been one hot sticky mess around here this past week. It's the kind of weather that usually leads to storms and power outages. Every night when I close my eyes, I pray that a storm doesn't brew up and take away my electricity (air conditioning!).
When excessive heat is lined up for days on end, a person really must do all they can to keep cool and make the best of it. Our girls have hit the pool a few times over the past week. And I've made several batches of sweet cold tea and homemade ice cream. We churned a couple quarts of creamy (and super easy, no-cook) Peanut Butter Ice Cream last night, to take along to a 4th of July party tomorrow. And I'm still dreaming of the awesome Chocolate Malt Banana Ice Cream we made and devoured last week.
The Grand Ole Creamery in St. Paul is our family's favorite destination ice cream shop, where the sweet aroma of freshly made malted waffle cones greets you before you ever even swing open their door. While they boast over 200 flavors of ice cream, their everyday offering is a smaller (but still huge!) rotation of frozen yum.
But after a couple visits a number of years ago where they didn't offer my favorite chocolate malt banana…well, I was in a serious crisis. Something had to be done!
And that is how this chocolate malt banana ice cream came to grace our own freezer. It's incredibly flavorful, with a delightful texture that is thick and almost chewy. I hope you like it, too!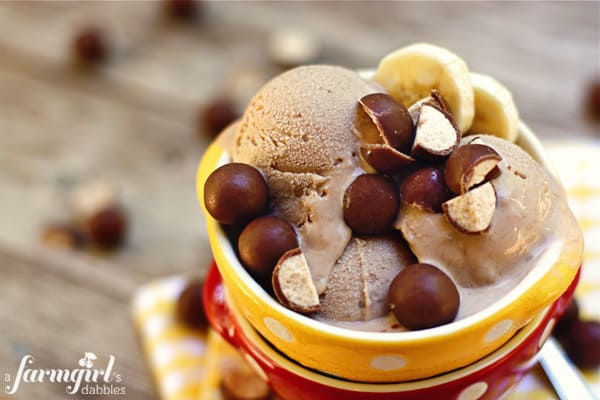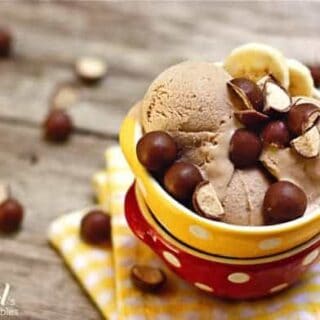 Chocolate Malt Banana Ice Cream
Yield: about 1 quart
Prep Time: 20 minutes
Cook Time: 15 minutes
Additional Time: 1 hour
Total Time: 1 hour 35 minutes
It's incredibly flavorful, with a delightful texture that is thick and almost chewy.
Ingredients
1 c. whole milk
3/4 c. sugar
2 c. heavy cream, divided
pinch of salt
1/2 c. chocolate malt powder
6 large egg yolks
1 tsp. pure vanilla extract
1 c. mashed very ripe banana
1 tsp. freshly squeezed lemon juice
Instructions
Prepare an ice bath by adding a good amount of ice cubes to a large bowl and then adding some cold water. Set aside.
Warm the milk, sugar, 1 cup of the cream, and salt in a medium saucepan. Stir until sugar dissolves. Remove pan from heat.
In a large bowl, combine remaining 1 cup of cream and chocolate malt powder. Set a mesh strainer over the top of the bowl and set aside.
In a medium bowl, whisk together the egg yolks. Slowly pour the warmed mixture into the egg yolks, whisking constantly. Then scrape the warmed egg yolks back into the saucepan and place over medium heat. Stir the mixture constantly with a heatproof spatula, scraping the bottom as you stir, until the mixture thickens and coats the spatula. It's now a custard.
Pour the custard through the strainer and stir it into the cream and malt powder. Add the vanilla and then set the bowl in the prepared ice bath. Stir the custard until it is no longer warm. Then place the custard in the refrigerator to chill thoroughly, about an hour.
Just before you are ready to churn the custard, combine the mashed banana with lemon juice. Place mixture in refrigerator.
When ready to churn the custard, pour it into your ice cream maker and freeze according to the manufacturer's instructions. When the ice cream is thickened and mostly finished, stir in the cold banana mixture and churn for a few more minutes to completely combine.
Notes
Inspired by my favorite ice cream flavor at Grand Ol' Creamery in St. Paul, MN. I adapted quite heavily the Vanilla Ice Cream recipe from The Perfect Scoop, by David Lebovitz.
Nutrition Information:
Yield: 8
Serving Size: 1
Amount Per Serving:
Calories: 464
Total Fat: 28g
Saturated Fat: 16g
Trans Fat: 1g
Unsaturated Fat: 10g
Cholesterol: 233mg
Sodium: 140mg
Carbohydrates: 46g
Fiber: 2g
Sugar: 39g
Protein: 9g
Nutrition information is automatically calculated by Nutritionix. I am not a nutritionist and cannot guarantee accuracy. If your health depends on nutrition information, please calculate again with your own favorite calculator.