Raspberry Sorbet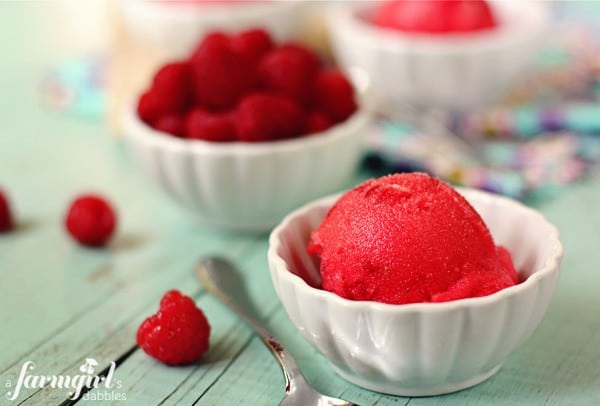 We have 2 freezer bowls for our ice cream maker, and they've been in constant rotation the past few weeks, churning out refreshing coolness in many different flavors. A couple batches of peanut butter ice cream disappeared lickety-split at a gathering last week to celebrate the 4th of July, and the chocolate malt banana ice cream didn't live to see 72 hours of our freezer interior. With our temperature hitting triple digits two times last week, we've had the perfect weather for cold treats, for sure!
And with our raspberries still producing like there's no tomorrow…
I made Raspberry Sorbet.
It's gorgeously ruby red and gem-like, colored only from Mother Nature's personal berry palette. Sweet and icy, and flecked with a touch of whole berries, it's just the perfect little scoop of refreshment after a summer meal from the grill.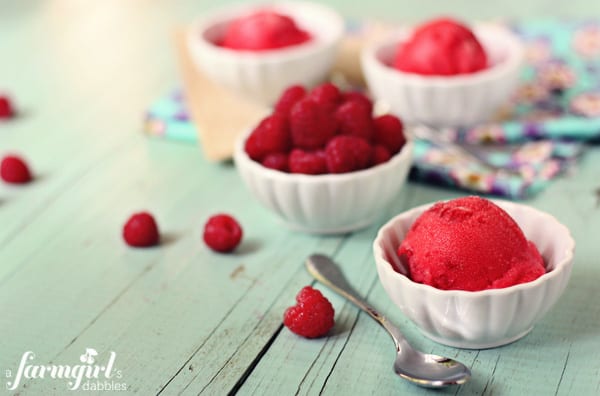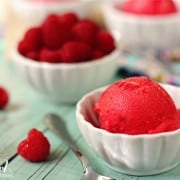 Raspberry Sorbet
Ingredients:
2 c. water
1-1/2 c. sugar
1-1/4 lbs. fresh raspberries
2 T. freshly squeezed lemon juice
Directions:
In a medium saucepan, bring the water and sugar to a boil. Stir until sugar is dissolved. Reduce heat to low and simmer, without stirring, for 5 minutes. This will create a slightly thickened syrup. Pour the syrup into a medium bowl and transfer to the freezer to let chill for 15 minutes.
Using a blender or food processer, puree 1 pound of the raspberries with the syrup until smooth. Scrape the puree through a fine sieve or a colander lined with cheesecloth. Discard the seeds.Stir the lemon juice into the raspberry puree and freeze in an ice cream maker until almost set, but still a bit slushy. This should take about 25 minutes. Add remaining whole raspberries and continue freezing in the ice cream maker for an additional 5 minutes. Transfer the sorbet to a freezer safe container and freeze until completely set. A solid set can take a couple hours or more. When the sorbet is frozen solidly, it helps to let it sit at room temperature for 10 minutes before scooping.
I'm linking up with:
We participate in the Amazon Services LLC Associates Program, an affiliate advertising program designed to provide a means for us to earn fees by linking to Amazon.com and affiliated sites. See our disclosure policy for more info.