Raspberry Sorbet Bubblies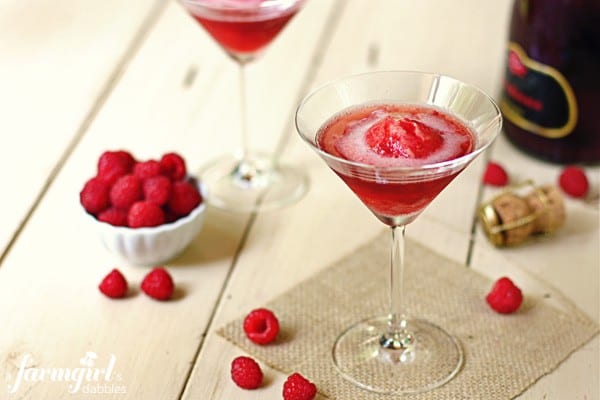 Since I made that tantalizing raspberry sorbet, this has proven to be my favorite way to enjoy it:
Just a little scoop of its sweet summery goodness in a small glass topped off with a sparkling beverage – alcoholic or NA…these Raspberry Sorbet Bubblies have been making me smile.
If you already have your raspberry sorbet frozen in the freezer, there really couldn't be a much simpler dessert to serve than this. Just open up your choice of bubbly(s) and pour!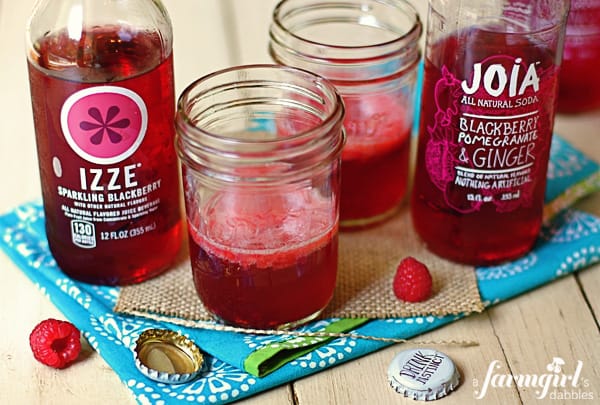 I came across many intriguing sorbets that incorporated alcohol right into the frozen sorbet. But I wanted more freedom with it…to be able to enjoy it without alcohol myself, and to be able to serve it to our young girls. Hatti and Tessa love to sit at the counter with their half-pint jars of sorbet and share a bottle of soda between the two of them. It's such a bright and happy dessert!
The girls and I are huge fans of Izze and Joia fruit sodas, and they go so swell with this raspberry sorbet. Do you know about Joia sodas? They are a relatively new bottle, hailing from right here in Minnesota. Joia offers a bit of sophistication to sparkling fruit drinks, mixing fruits with herbs and spices. Like pineapple with coconut and nutmeg. And my personal favorite, grapefruit with chamomile and cardamom, which I find ultra crisp and refreshing. Check out their website for Joia mixology ideas and locations where you can pick up some for yourself!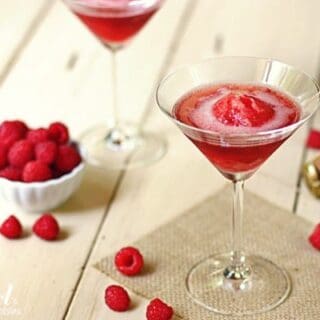 Raspberry Sorbet Bubblies
Prep Time: 10 minutes
Total Time: 10 minutes
Just a little scoop of its sweet summery goodness in a small glass topped off with a sparkling beverage
Ingredients
sparkling wine or champagne, preferably with a touch of berry fruitiness, for alcoholic
berry flavored sodas (I like Izze and Joia brands), for non-alcoholic
fresh raspberries for additional garnish, if desired
Instructions
About 15 minutes prior to serving, take the sorbet out of the freezer. Place a small scoop of sorbet into a small glass - I like to use martini glasses or half-pint canning jars.
Add your choice of bubbly.
Garnish with a few fresh raspberries, if desired. A small spoon is sometimes nice, too, to scoop up the delicious sorbet. Enjoy!
Notes
Inspired by my friend Shaina Olmanson's very delicious "Peach Granita Bellinis" in her new cookbook, Desserts in Jars.
Here are a few more raspberry recipes for you: