Cranberry Orange Skillet Cake with White Chocolate
This Cranberry Orange Skillet Cake with White Chocolate is bright and tangy and completely comforting, just the prescription for the gloom of winter.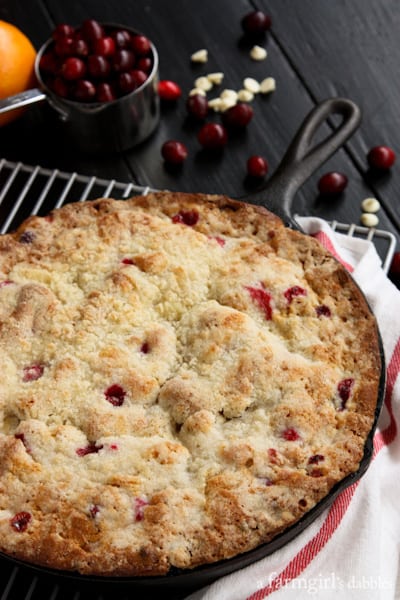 It has been Damp and Dark and Dreary with 3 capital D's here in Minnesota the past week. Walking through the house during the middle of the day, it's necessary to turn on a light when entering a room. A friend of mine was skiing at a local ski resort last weekend and said the night lights came on at 2:00 in the afternoon. I know that it's winter, and we're in the heart of the Midwest, but there's just something very wrong with this picture!
So I asked myself…"what is the opposite of dreary?…and the words bright, warm, joyful, and comforting came to mind. Which can only mean baking, right?!
This Cranberry Orange Skillet Cake with White Chocolate is just the prescription for the gloom of winter. You simply must turn on the oven and make it!
[rss-cut]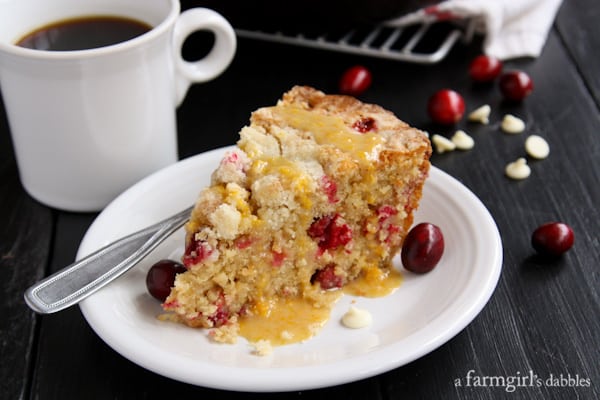 I am sharing the recipe for this bright and tangy cranberry orange skillet cake over at Fifteen Spatulas, a food blog by my sweet friend Joanne. As she has been in and out of numerous doctor appointments and hospital beds over the past few months, I wanted to lend Joanne a hand during this trying time in her life. Please keep Joanne and her doctors in your thoughts and prayers as she continues to doctor and recover.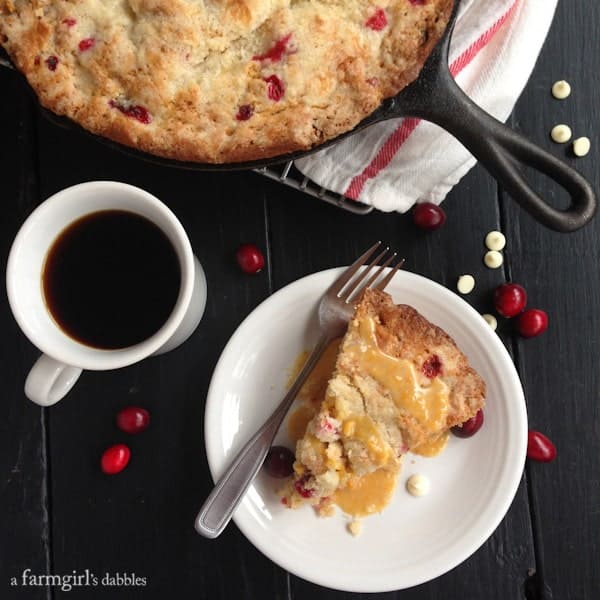 You definitely don't want to miss out on this cake and its crunchy, buttery topping. Or its spiced orange glaze. It's bright and tender comfort in the middle of winter.
Here's the RECIPE and full post. Say "hi" to Joanne for me. And enjoy this wonderful skillet cake!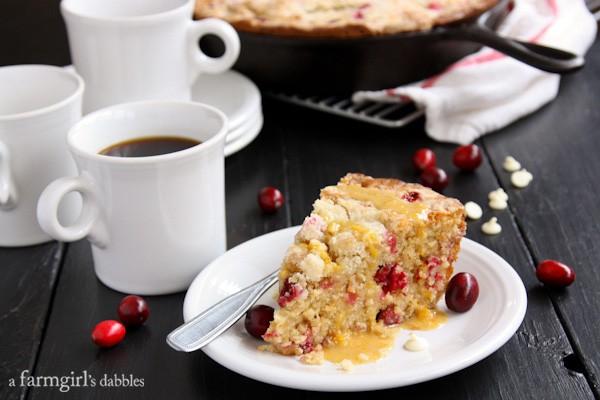 This cranberry orange skillet cake was served on white Fiesta® dinnerware. It's dishwasher, oven, and microwave safe, and made in the USA – I love mine so much!
For your chance to win eight 4-piece place settings (dinner plate, salad plate, bowl, and mug), in the color(s) of your choice, click here for the giveaway!

Fiesta is available at www.homerlaughlin.com, better departments stores, specialty shops, and .coms.
Disclosure:  Fiesta, a brand that we use every single day in our home, sent me the white place settings that have been on my "Fiesta Wish List", and has provided this giveaway prize. All opinions are my own.
We participate in the Amazon Services LLC Associates Program, an affiliate advertising program designed to provide a means for us to earn fees by linking to Amazon.com and affiliated sites. See our disclosure policy for more info.