Orange Skillet Cake with Cranberries & White Chocolate
This post may contain Amazon or other affiliate links. As an Amazon Associate I earn from qualifying purchases.
This Cranberry Orange Skillet Cake with White Chocolate is bright and tangy and completely comforting, just the prescription for the gloom of winter.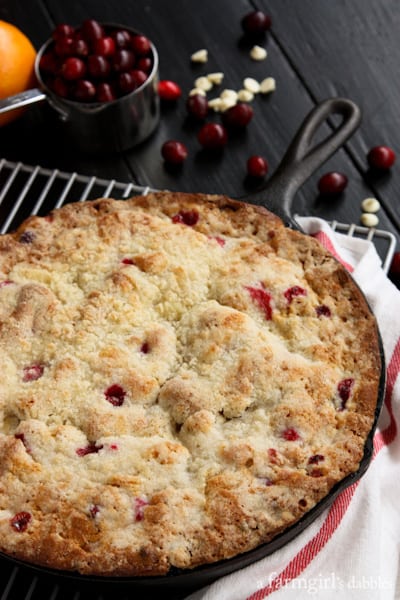 A Joyful Orange Cake
It has been Damp and Dark and Dreary with 3 capital D's here in Minnesota the past week. Walking through the house during the middle of the day, it's necessary to turn on a light when entering a room. A friend of mine was skiing at a local ski resort last weekend and said the night lights came on at 2:00 in the afternoon. I know that it's winter, and we're in the heart of the Midwest, but there's just something very wrong with this picture!
So I asked myself…"what is the opposite of dreary?…and the words bright, warm, comforting, and JOYFUL came to mind. Which can only mean baking, right?!
This Cranberry Orange Skillet Cake with White Chocolate is just the prescription for the gloom of winter. You simply must turn on the oven and make it!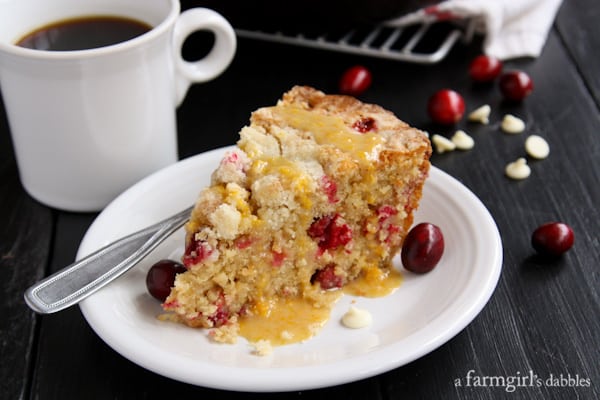 Want to know another secret to adding a little joy to your life? Bake a cake in a cast iron skillet. There's just something about it that feels so wonderful and looks so comforting. If you're serving the cake to guests, be sure to set the skillet out on the counter for them to drool over for a bit before cutting into it…
This cake is bright and tangy with plenty of fresh orange zest and cranberries. I love how the cranberries plump and soften during baking, creating sweet, tart pockets of ruby red deliciousness.
Sweet white chocolate chips melt into the cake, softening the brightness alongside the warmth of cinnamon and cardamom.
And a crunchy buttery topping that cracks when your fork presses through it, plus a lovingly spiced orange glaze, are layered on for special effects, delightful in both taste and texture. Some may question if this is cranberry cake overkill.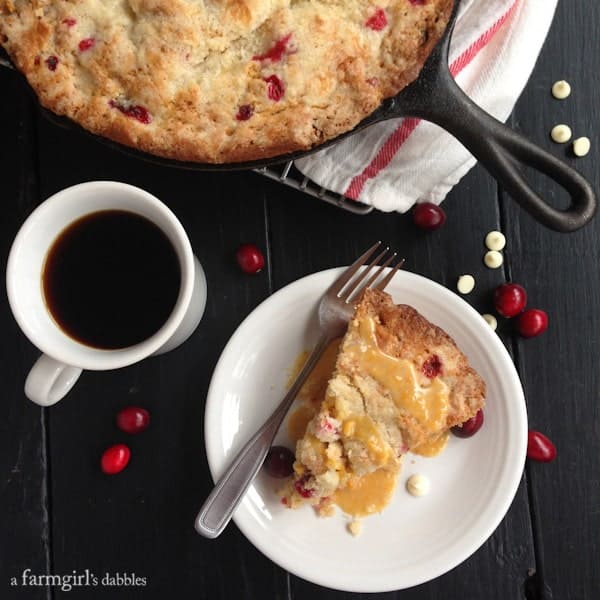 But I think not.
It's simply winter survival in its most delicious and welcoming form.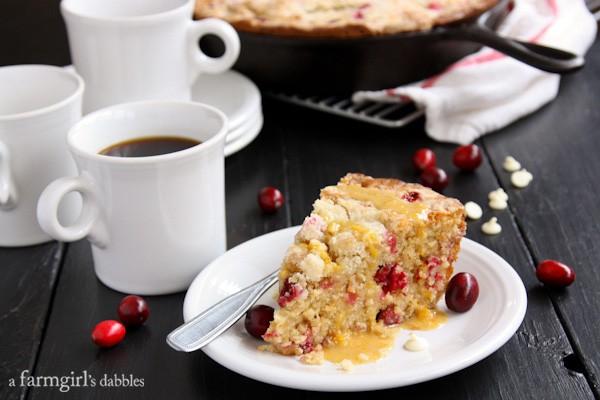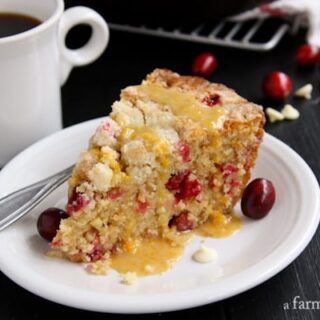 Cranberry Orange Skillet Cake with White Chocolate
Yield: 12 servings
Prep Time: 20 minutes
Cook Time: 50 minutes
Total Time: 1 hour 10 minutes
This Cranberry Orange Skillet Cake with White Chocolate is bright and tangy and completely comforting, just the prescription for winter's chilly days.
Ingredients
for the cake:
3 cups all-purpose flour
3 teaspoons baking powder
1 teaspoon cinnamon
1/4 teaspoon cardamom (or a bit more if you really like cardamom!)
1/2 teaspoon kosher salt
3/4 cup plus 1 teaspoon unsalted butter, softened (not melted)
1 cup sugar
2 large eggs
3/4 cup milk
2 teaspoons pure vanilla extract
zest from 2 large oranges
2 cups fresh cranberries, plus a few extra for the top of the cake
1 cup white chocolate chips
for the crunch topping:
1/2 cup all-purpose flour
1/2 cup sugar
pinch of salt
6 tablespoons cold unsalted butter, cut into 1/2" pieces
for the orange glaze:
3/4 cup powdered sugar
1 tablespoon freshly squeezed orange juice
1/8 teaspoon cinnamon
1/8 teaspoon cardamom
zest of 1 large orange
Instructions
Preheat oven to 375° F. Grease a 10" cast iron skillet with tall sides (a smaller pan will not work!) with the 1 teaspoon of butter. Set pan aside.
For the cake: In a medium bowl, whisk together flour, baking powder, cinnamon, cardamom, and salt. Set aside.
In a separate large bowl, or in the bowl of an electric stand mixer, cream together the remaining 3/4 cup of butter with the sugar until light and fluffy, about 2 minutes. Add eggs and milk, and beat until smooth. Then mix in the vanilla extract and orange zest. The mixture may have a slightly curdled appearance, which is fine.
Add the dry ingredients to the wet, and mix until just combined. Gently fold in the cranberries and white chocolate chips with a spatula, and spread mixture into prepared skillet.
For the crunch topping: In a medium bowl, mix together the flour, sugar, and salt. Cut in the butter with a rigid pastry cutter or a fork until you have pea-sized pieces. Sprinkle over the top of the coffee cake batter. If you like the look of the cranberries poking through the top of the cake, randomly press a few cranberries into the crumb topping.
Place skillet in oven and bake for 50 to 55 minutes, or until coffee cake is puffed up and set in the center, and nicely golden brown. Remove to a wire rack to cool for at least 1 hour before serving. When served still warm, the cake will be very tender. The cake will firm up more as it cools and the white chocolate solidifies.
For the orange glaze: In a small bowl, stir together all ingredients. Drizzle over cut slices of cake for added spiced orange flavor. If you like a lot of glaze, you'll want to double the amounts.
Nutrition Information:
Yield: 12
Serving Size: 1
Amount Per Serving:
Calories: 461
Total Fat: 13g
Saturated Fat: 7g
Trans Fat: 0g
Unsaturated Fat: 5g
Cholesterol: 55mg
Sodium: 235mg
Carbohydrates: 81g
Fiber: 3g
Sugar: 48g
Protein: 7g
Nutrition information is automatically calculated by Nutritionix. I am not a nutritionist and cannot guarantee accuracy. If your health depends on nutrition information, please calculate again with your own favorite calculator.
We participate in the Amazon Services LLC Associates Program, an affiliate advertising program designed to provide a means for us to earn fees by linking to Amazon.com and affiliated sites. See our
disclosure policy
for more info.