Brown Butter Chocolate Chip Skillet Cookie
Wonderfully flavored and perfectly chewy, this Brown Butter Chocolate Chip Skillet Cookie is a fun way to get your chocolate chip cookie fix!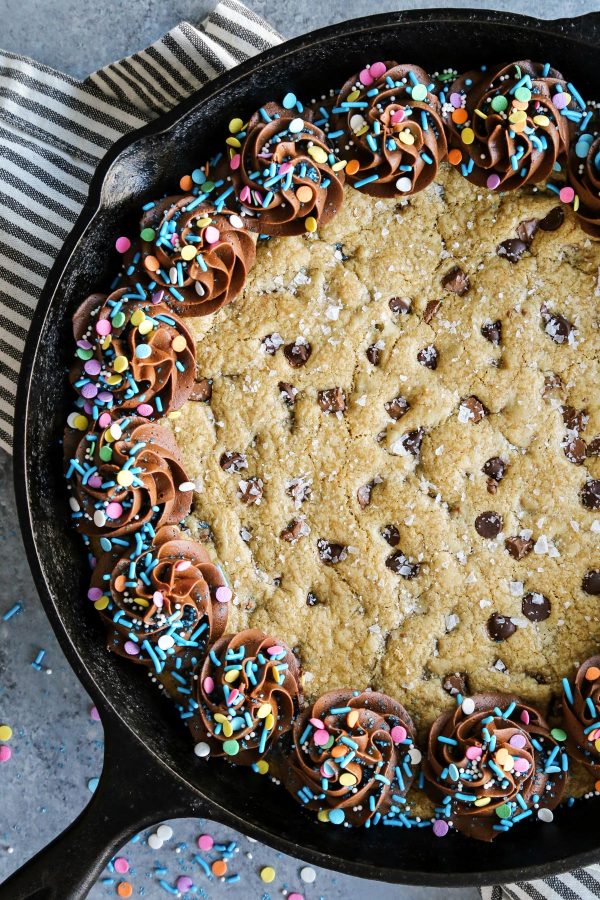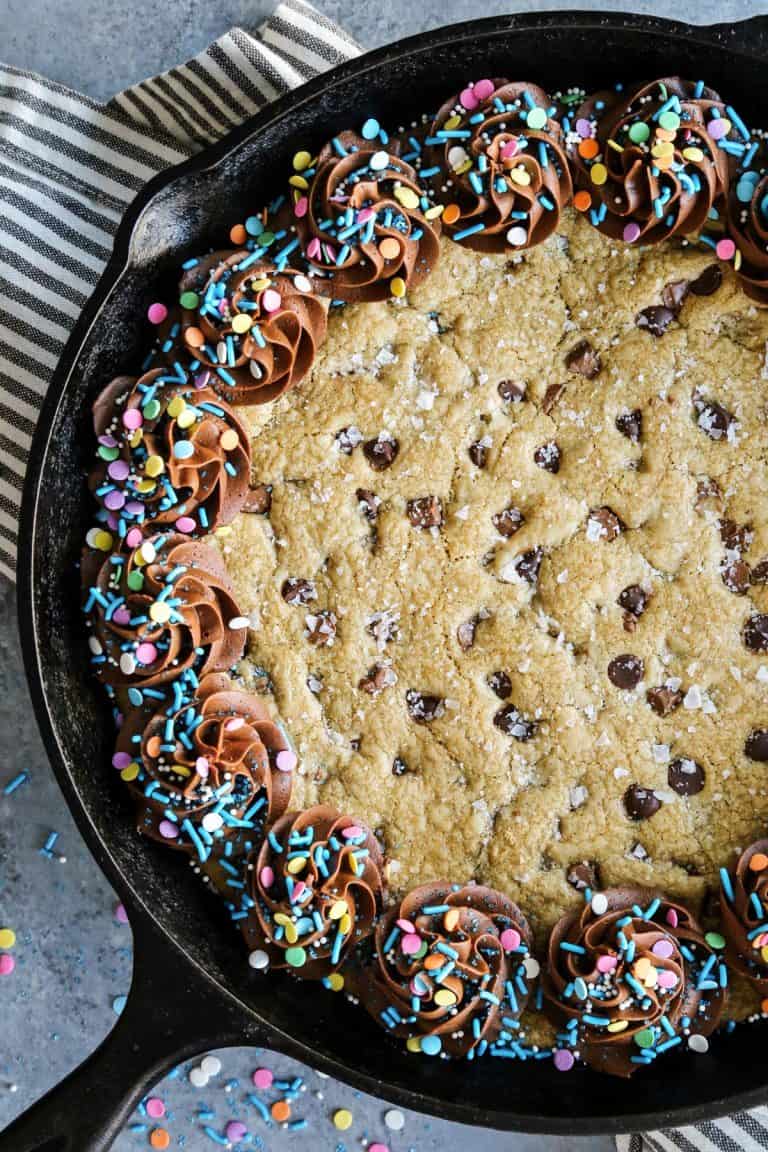 In our home, we're heading into what I refer to as "the birthday months". Hatti, our oldest daughter, starts it off with a birthday here in March. Then in April, our youngest daughter Tessa has a birthday. In May it's me. And in June it's Blake.
I've been known to hang up a birthday banner in March and leave it up until nearly the fourth of July!
Celebrating the special people in our lives is a beautiful thing. A necessary thing. Right along with awesome birthday treats.
For Hatti's birthday this year, it's all about the chocolate chip cookie. A HUGE chocolate chip cookie!
Brown Butter Chocolate Chip Skillet Cookie, you are going to LOVE this!!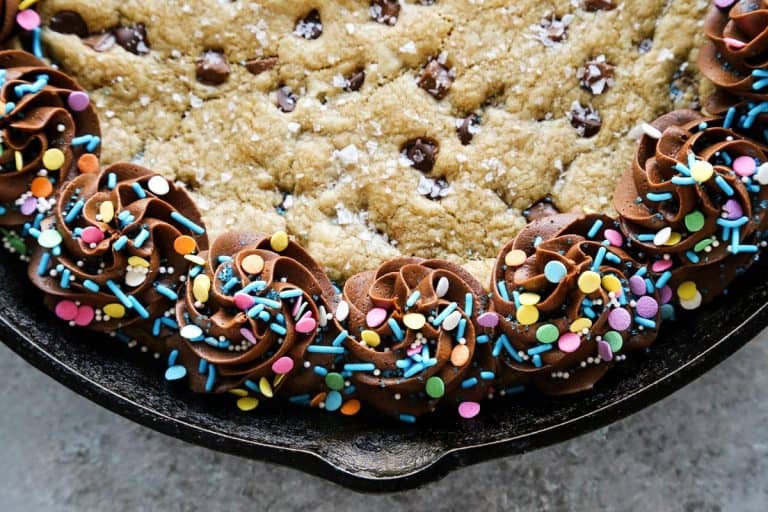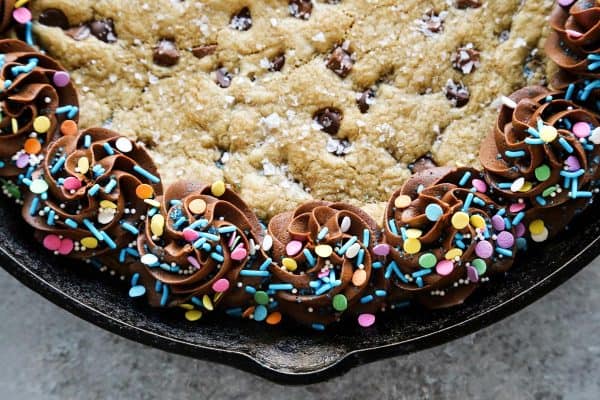 This skillet cookie is super celebratory, with a silky-smooth chocolate buttercream piped around the perimeter, and a scattering of sprinkles.
Of course, this treat is also perfectly wonderful without the adornments. I'm sure that's how it will mostly get made around here, when we're needing an easy chocolate chip cookie fix.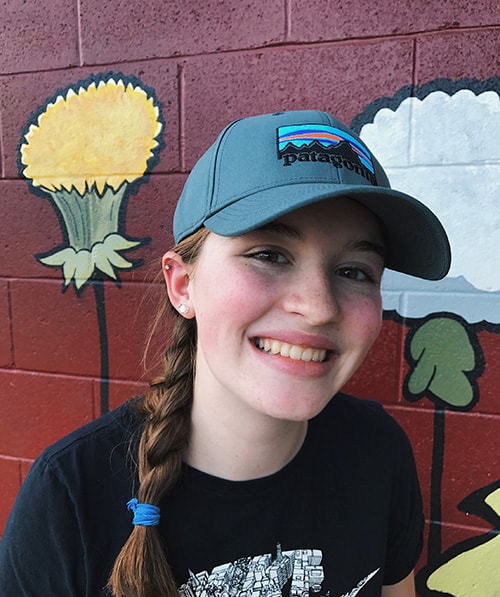 Hatti turns sixteen next week. I know this saying gets old, but seriously, "where did the time go?"
How do we already have a very mature young lady who'll have her drivers license soon and is starting to look into colleges?
How?!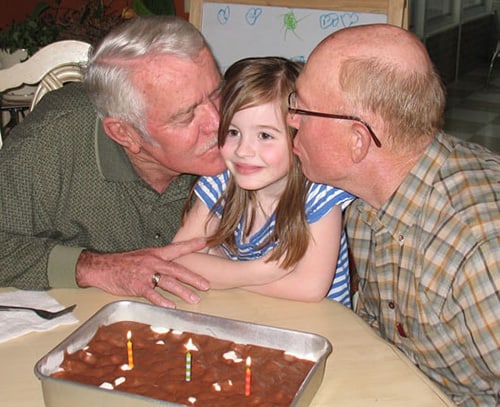 Hatti was born on my dad's (on the right) birthday, making this an extra-extra special day. And Blake's dad Archie's (on the left) birthday is just a couple days beforehand. We miss Archie dearly, as he passed away two years ago.
This picture of the three of them celebrating together ten years ago will always be a cherished favorite.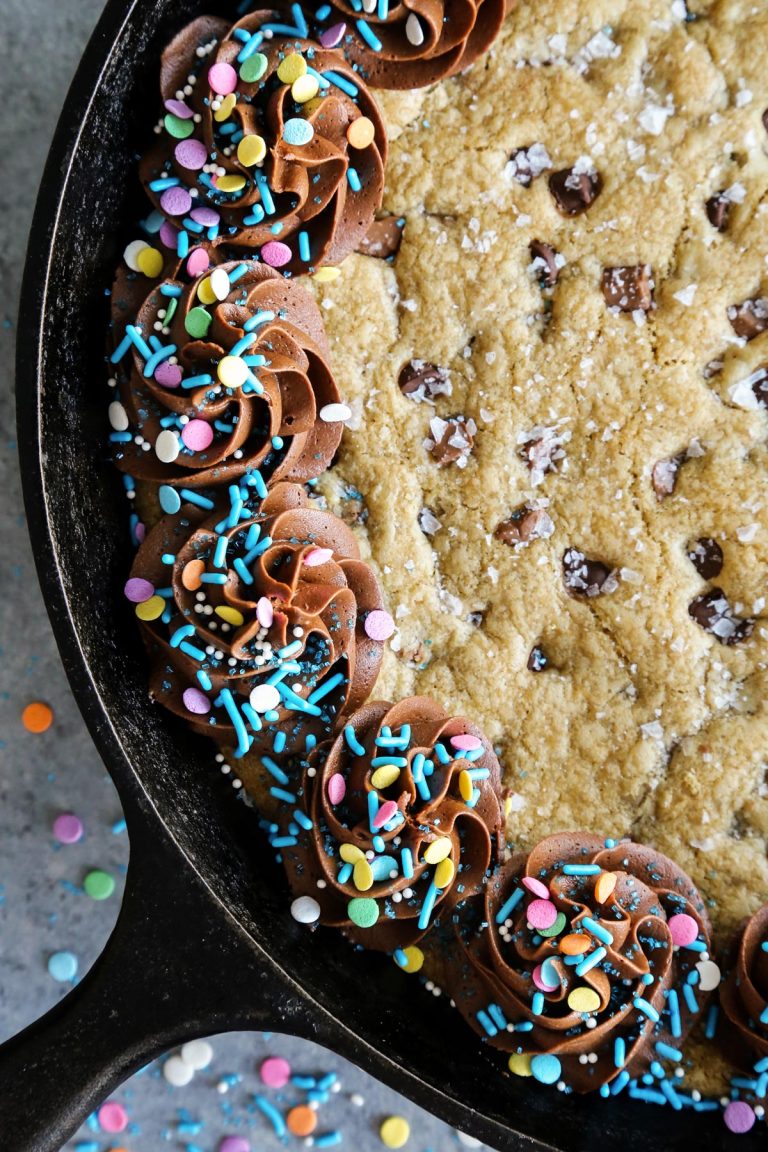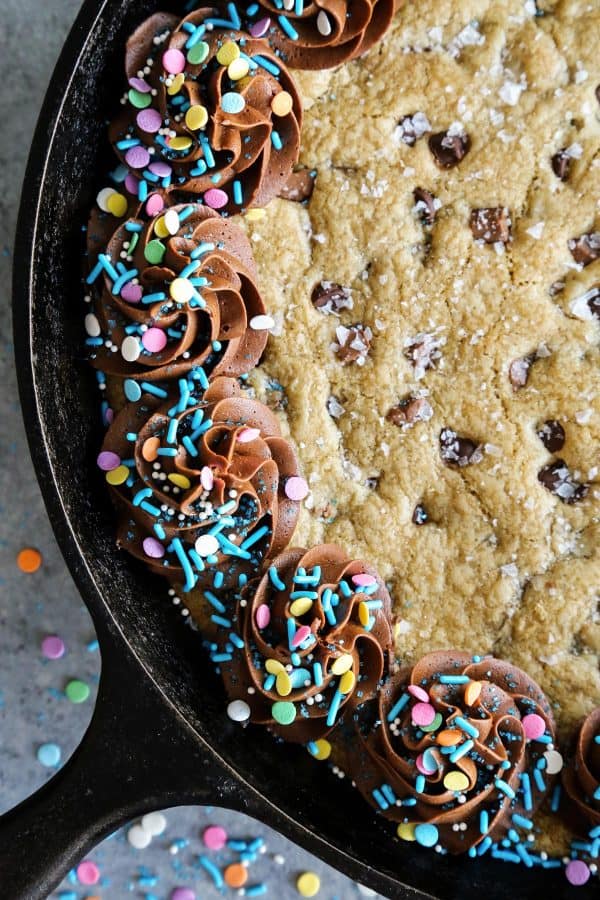 Celebrate with a chocolate chip cookie in a skillet
Hatti and my dad will be able to celebrate their birthdays together again this year, something we're all looking forward to.
And.
We're going to celebrate with this brown butter chocolate chip skillet cake!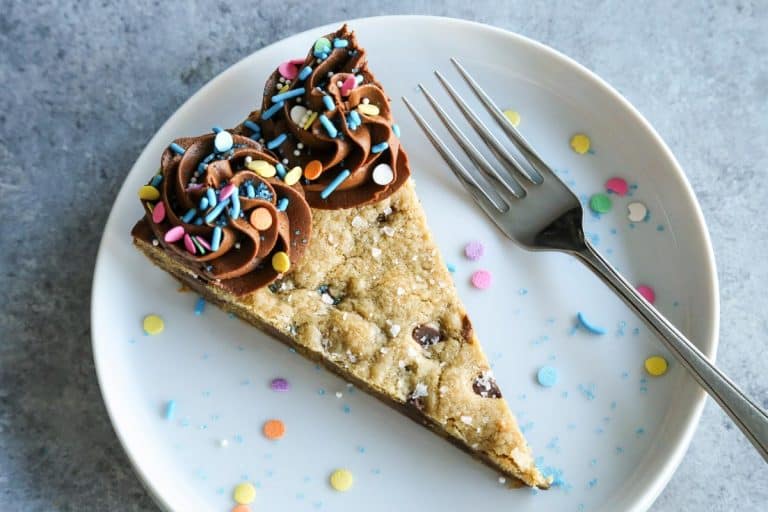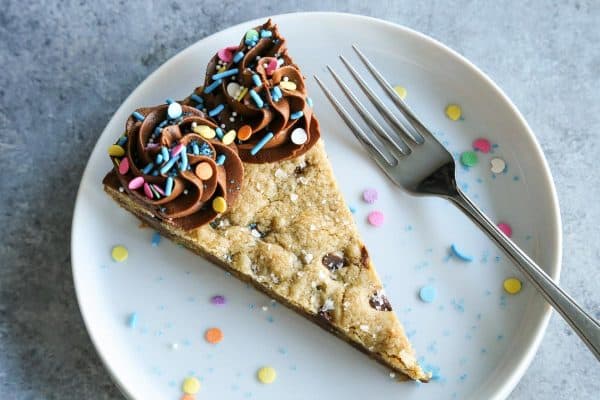 Brown Butter Chocolate Chip Skillet Cookie
The cookie slices up easily and comes out of the skillet with no trouble at all.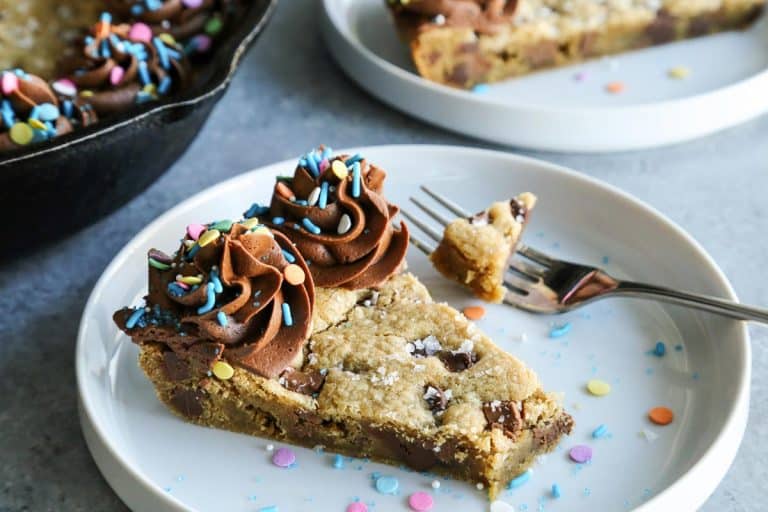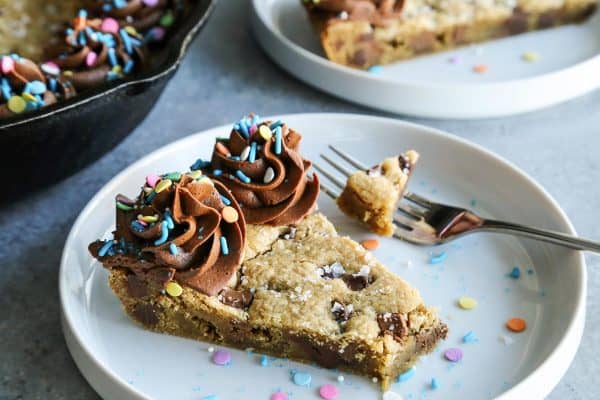 And it's incredibly moist and chewy, excellently textured. If you haven't yet browned butter for chocolate chip cookies, I beg you to give this no-fail recipe a try. Melting the butter adds chewiness to the cookie texture, while browning it enhances the flavor.
I made this cookie skillet with our favorite semisweet chocolate chips and a handful of milk chocolate chunks. Hatti always likes some good milk chocolate, just like her dad.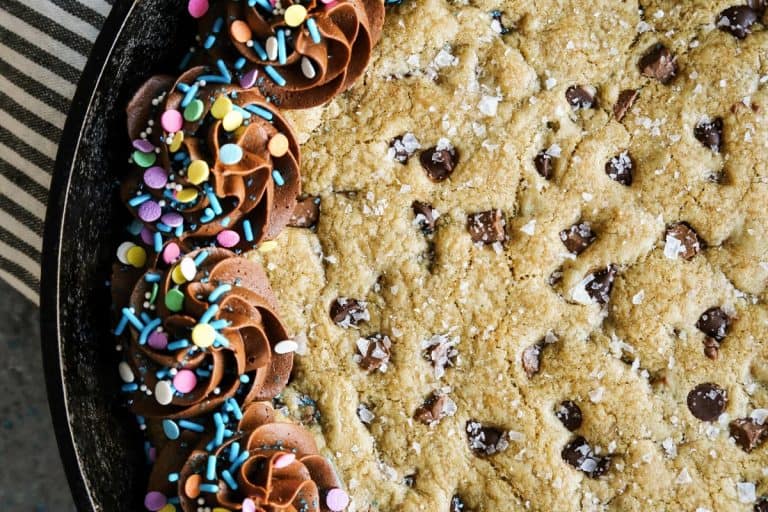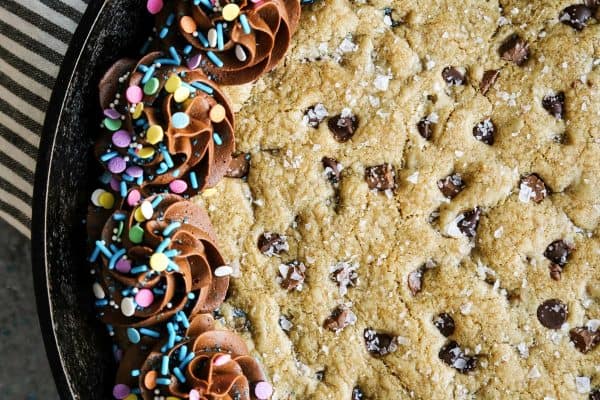 The giant cookie is sprinkled with flaky sea salt, as our whole family is fond of that savory contrast that goes so very well with chocolate.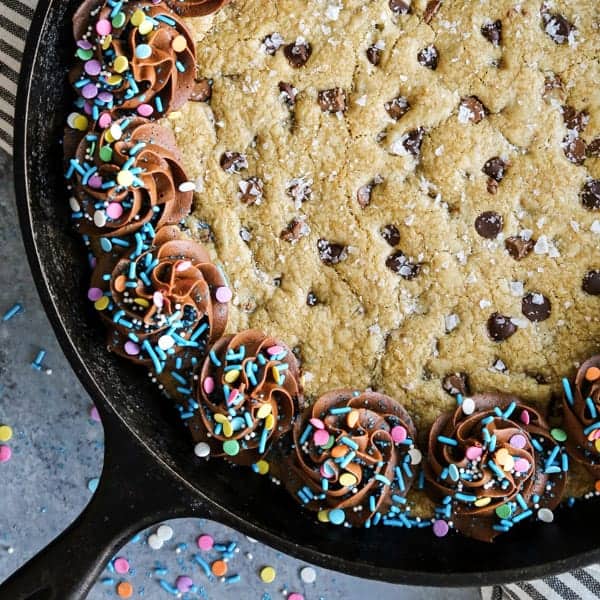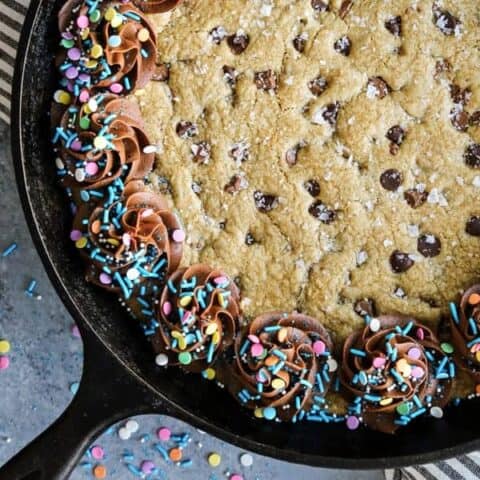 Brown Butter Chocolate Chip Skillet Cookie
Yield: 12 servings
Prep Time: 50 minutes
Cook Time: 25 minutes
Additional Time: 10 minutes
Total Time: 1 hour 25 minutes
This Brown Butter Chocolate Chip Skillet Cookie comes together easily, and is wonderfully flavored and perfectly chewy. With swirls of creamy chocolate buttercream and sprinkles, it's a special celebratory treat. And without the adornments, it's bound to be your favorite casual chocolate chip cookie fix.
Ingredients
for the brown butter chocolate chip skillet cookie:
12 T. (3/4 c.) unsalted butter, divided
3/4 c. packed dark brown sugar
1/2 c. sugar
1 T. pure vanilla extract
1 tsp. kosher salt
1 large egg
1 egg yolk
1.75 c. all-purpose flour
1/2 tsp. baking soda
3 oz. semisweet chocolate chips (here's my favorite, plus a bit more for sprinkling over the top
3 oz. milk chocolate chunks or chips, plus a bit more for sprinkling over the top
for the chocolate buttercream (optional):
1 c. unsalted butter, softened to room temperature
3.25 c. powdered sugar
3/4 c. unsweetened cocoa powder
1/4 tsp. espresso powder
3 T. heavy cream or milk
1/4 tsp. kosher salt
2 tsp. pure vanilla extract
sprinkles, if desired
Instructions
Adjust oven rack to upper-middle position and preheat oven to 375° F.
In a 12" cast-iron skillet over medium heat, melt 9 tablespoons of the butter. Continue to cook, stirring fairly constantly, until butter is dark golden brown and has a nutty aroma. I like to use a large stainless steel spoon, so I can see how the butter is browning, as it's harder to see the browning against the dark skillet. After about 5 minutes, a bunch of smallish bubbles will form and then subside - this is when you will know the butter is done browning. With a rubber spatula, transfer brown butter to a large bowl. Stir in remaining 3 tablespoons of the butter into the hot butter until completely melted.
Add brown sugar, sugar, vanilla, and salt to melted butter and whisk until smooth. Then whisk in egg and yolk until smooth, about 30 seconds. Let mixture sit for 3 minutes, then whisk for 30 seconds. Repeat process of resting and whisking 2 more times until mixture is thick, smooth, and shiny. This process allows the sugar to dissolve more, giving better flavor and texture.
In a medium bowl, whisk flour and baking soda together. Then stir flour mixture into butter mixture until just combined, about 1 minute. Fold in chocolate chips and chocolate chunks.
Wipe skillet with paper towels to remove any excessive butter left behind. Transfer cookie dough to skillet and press into an even layer with a rubber spatula. Sprinkle a few more chocolate chips and chocolate chunks over the top, pressing them in just slightly, for a pretty effect.
Transfer skillet to oven and bake until cookie is golden brown and edges are set, about 18 minutes or so, rotating skillet halfway through baking. Do not over bake - the cookie will firm up as it cools. Using potholders, transfer skillet to wire rack. If desired, sprinkle immediately with sea salt flakes. Let cookie cool for at least 30 minutes if serving warm, without chocolate buttercream. Let cookie cool completely if decorating with chocolate buttercream.
for the chocolate buttercream (optional):
In the bowl of a stand mixer fitted with a paddle attachment, beat the butter on medium-high speed until creamy and lightened in texture, about 2 minutes. Add powdered sugar, cocoa powder, espresso powder, heavy cream, kosher salt, and vanilla extract. With mixer on low speed, beat until just combined. Increase speed to high and beat for 30 seconds. Scrape down mixer bowl and then beat on high for another 30 seconds. If buttercream is thinner than you'd like, add a bit more powdered sugar, 1/4 cup at a time. If thicker than desired, add more cream, a tablespoon at a time.
When chocolate chip cookie skillet has completely cooled, fit a pastry bag with a large star tip (this is the one I used) and fill with chocolate buttercream. Pipe buttercream around perimeter of cookie skillet. If you want to add sprinkles, add them as soon as you finish piping the buttercream, so the sprinkles will "stick".
Notes
Cookie skillet portion of recipe adapted from America's Test Kitchen.
Nutrition Information:
Yield: 12
Serving Size: 1
Amount Per Serving:
Calories: 634
Total Fat: 34g
Saturated Fat: 21g
Trans Fat: 1g
Unsaturated Fat: 11g
Cholesterol: 110mg
Sodium: 465mg
Carbohydrates: 78g
Fiber: 2g
Sugar: 58g
Protein: 6g
Nutrition information is automatically calculated by Nutritionix. I am not a nutritionist and cannot guarantee accuracy. If your health depends on nutrition information, please calculate again with your own favorite calculator.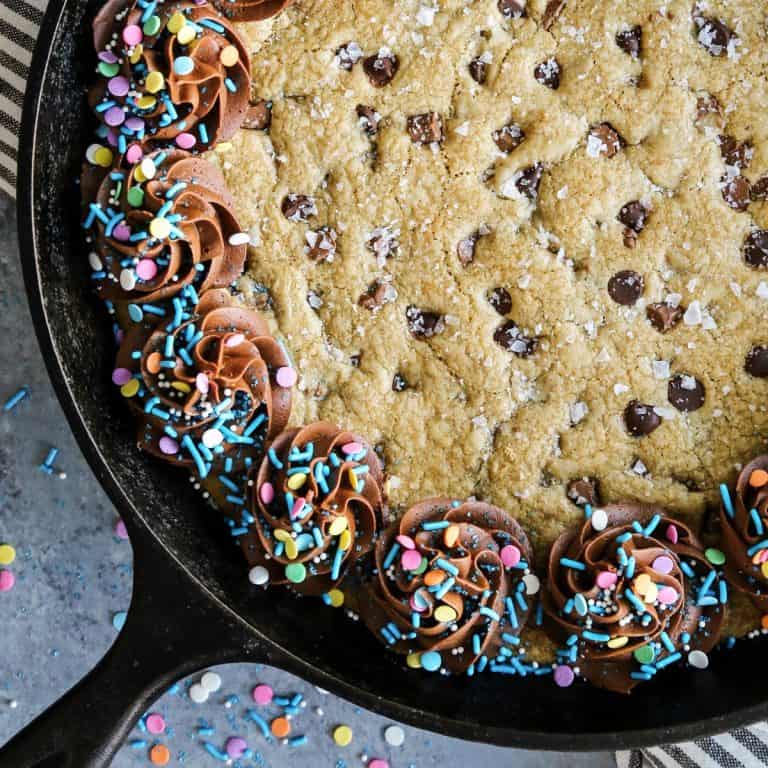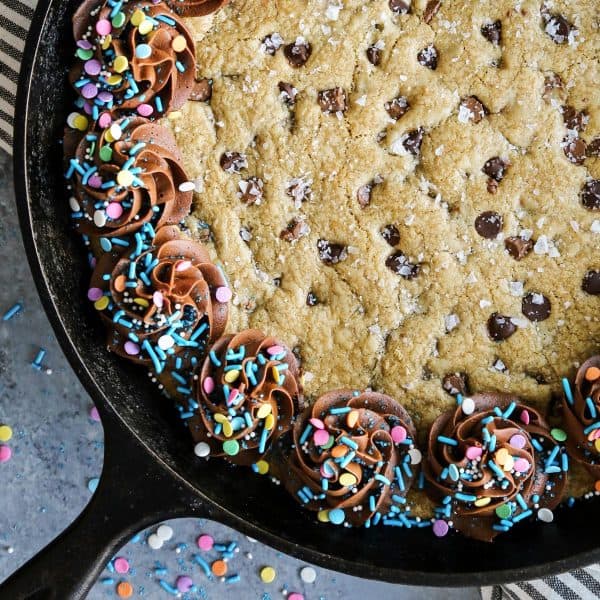 If you like this Brown Butter Chocolate Chip Skillet Cookie, you might like these recipes: