Pumpkin Chocolate Chip Muffins
These Pumpkin Chocolate Chip Muffins are warmly spiced, a delicious baked treat for fall and winter!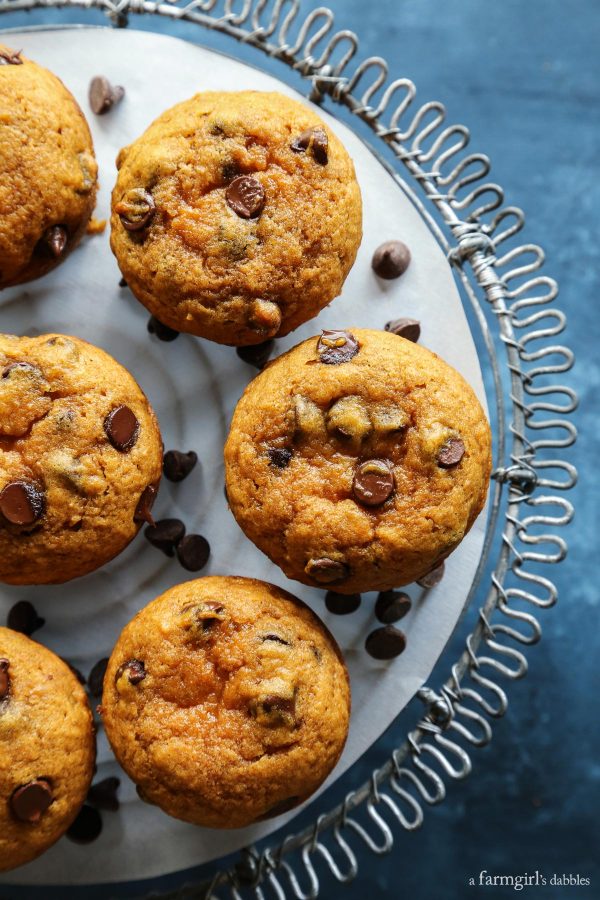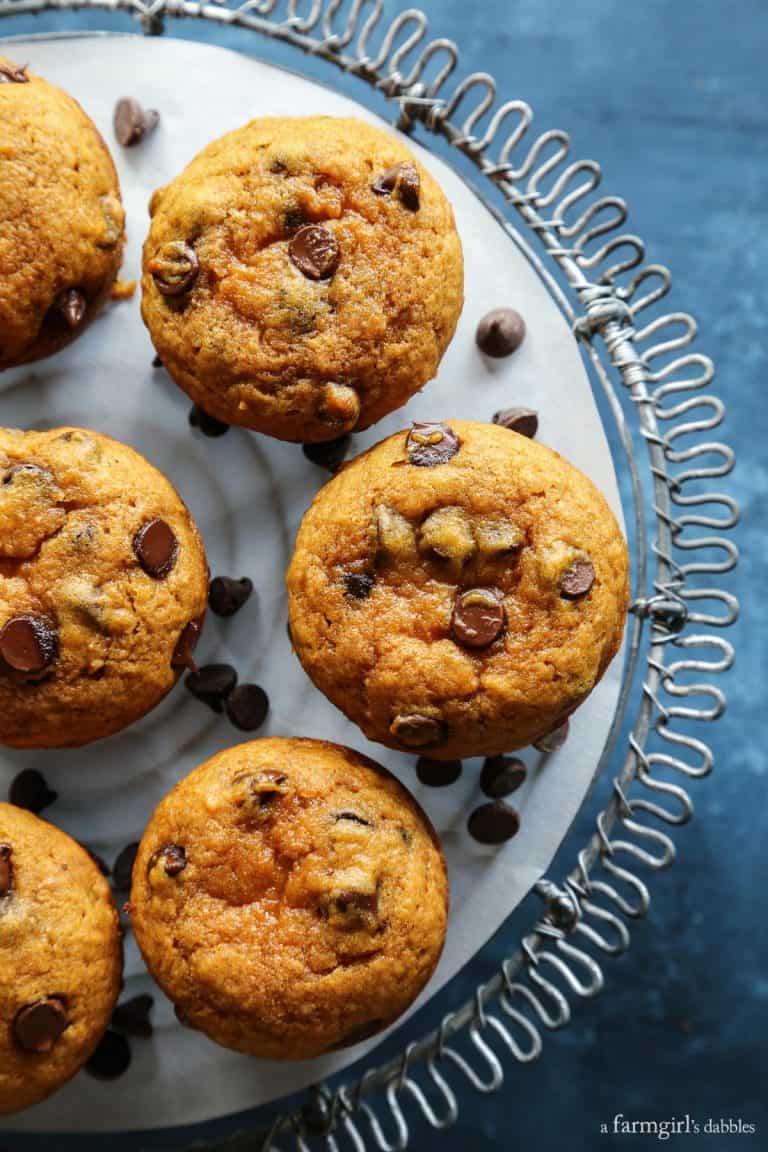 Just finishing up with the month of October, I've been fully enjoying the yumminess that fall brings to the table. Beautiful squashes, sweet and tart and juicy apples, and anything pumpkin is what my station is tuned in to.
Pumpkin spice creamer in my morning coffee, my favorite pumpkin cheesecake, and these moist and flavorful Pumpkin Chocolate Chip Muffins – these are just a few of the pumpkin reasons I'm smiling lately. Thank you, Autumn!
(This post was originally published October 2010 and has been a popular reader favorite. Photographs and some of the text were updated November 2017.)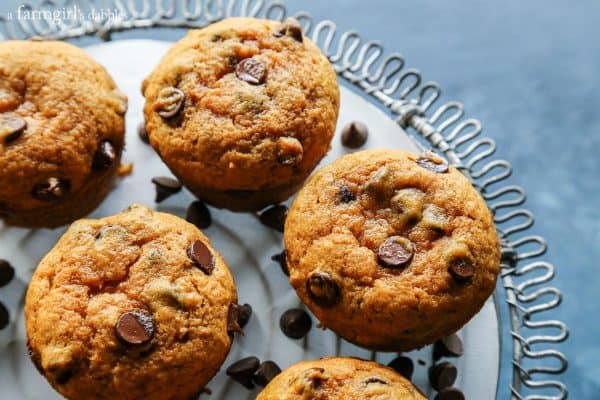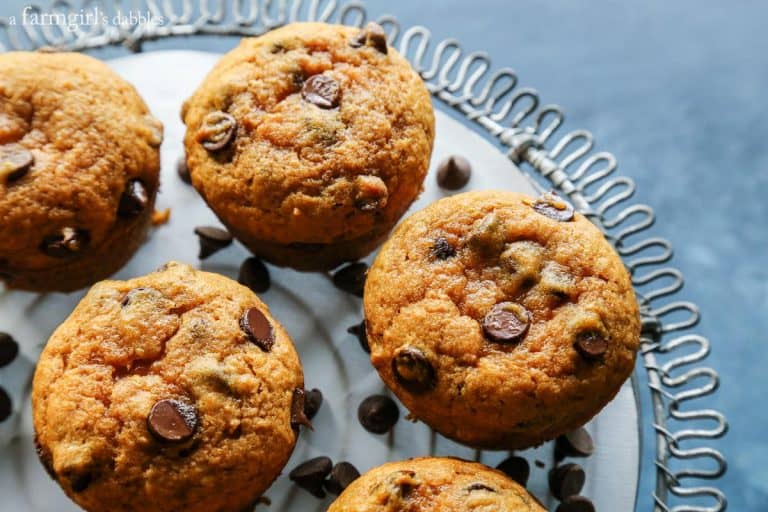 I first shared this recipe here in 2010, during my first year of blogging. And these pumpkin chocolate chip muffins have been a fall favorite with family and friends and awesome readers like you ever since.
These moist and beautifully hued muffins are a cinch to make. If you are tempted to substitute pumpkin pie spice for the four separate spices, I suppose that's fine in a pinch, as I've seen many recipes written that way. But I really like the ratio of different spices in these muffins and enjoy inhaling each one's wonderfulness as I measure them out. I think the spice mixture is pretty perfect.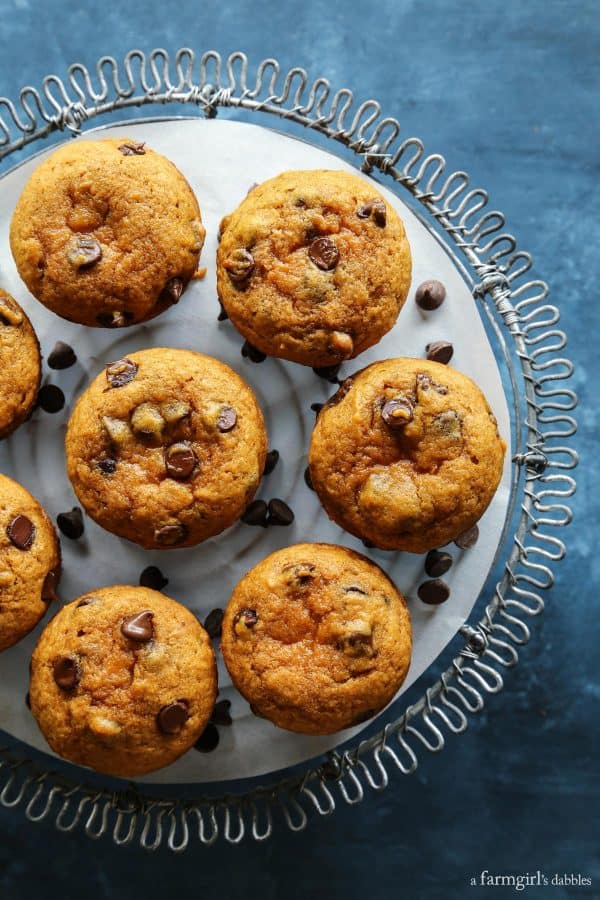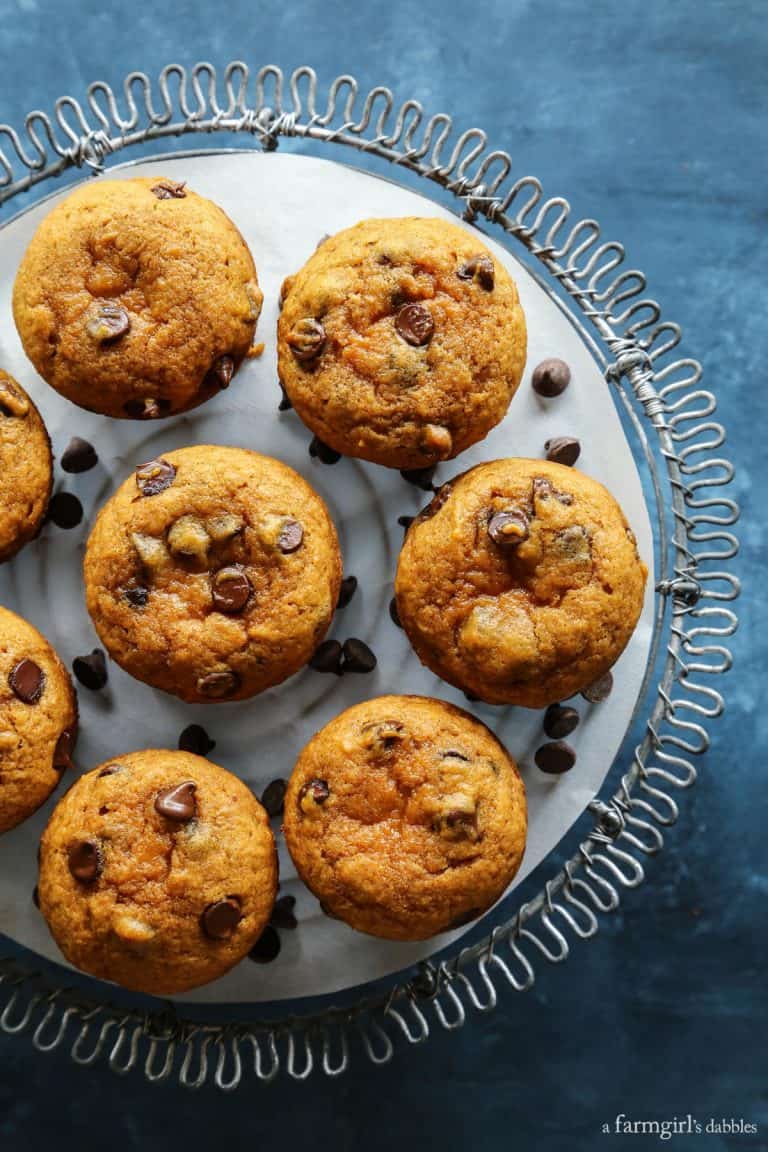 And did you notice the part about the chocolate? These pumpkin muffins are studded with chocolate chips, a most wonderful combination. If you haven't yet tried this tasty pumpkin and chocolate duo, I beg you to bake a batch of these pumpkin chocolate chip muffins as your introduction. And then please come back and let me know what you think!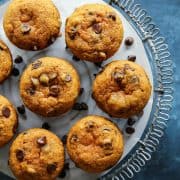 Pumpkin Chocolate Chip Muffins
Yield: 12 standard muffins
Cook Time:20 minutes
Calories per serving: 282
Ingredients:
1-2/3 c. all-purpose flour
1 c. sugar
1/2 tsp. kosher salt
1 tsp. baking soda
1/2 tsp. baking powder
1-1/2 tsp. ground cinnamon
3/4 tsp. ground mace
1/4 tsp. ground nutmeg
1/4 tsp. ground cloves
2 large eggs
1 cup canned pumpkin (not pre-spiced)
1/2 c. butter, melted and then cooled a bit
1 c. semisweet chocolate chips (I love Guittard brand!)
Directions:
Preheat oven to 350° F.
Spray a standard muffin pan with cooking spray or line with paper baking liners. I prefer to just spray my muffin pan for this recipe – I like the texture and appearance of the muffins better than when I use paper liners. Set aside.
In a medium bowl, combine flour, sugar, salt, baking soda, baking powder, cinnamon, mace, nutmeg, and cloves. Make a well in the center of the flour mixture and set aside.
In another medium bowl, combine the eggs, pumpkin, and melted butter. Add the pumpkin mixture all at once to the flour mixture. Stir until just moistened (batter may be a bit lumpy). With a spatula, fold in the chocolate chips. Divide batter between the 12 prepared muffin cups – I like to use a scoop for this. Bake for about 20 minutes, or just until a wooden toothpick inserted into centers of the muffins comes out clean. Do not overbake. Remove from muffin cups.
Originally from Midwest Living magazine, originally from Thorp House Inn of Fish Creek, WI. 
© a farmgirl's dabbles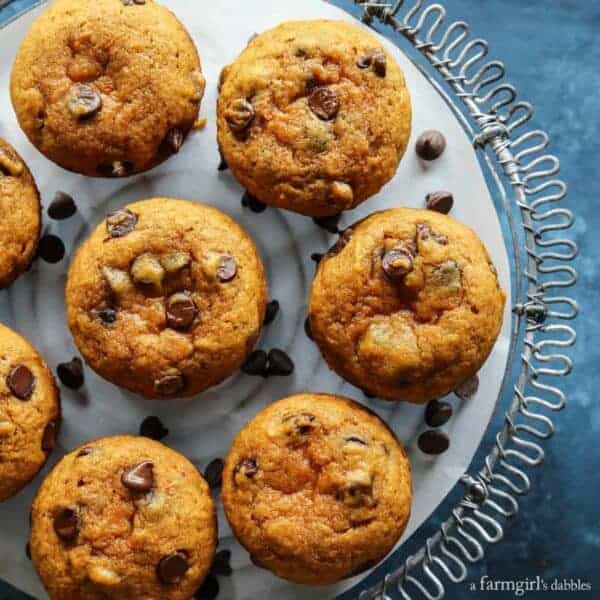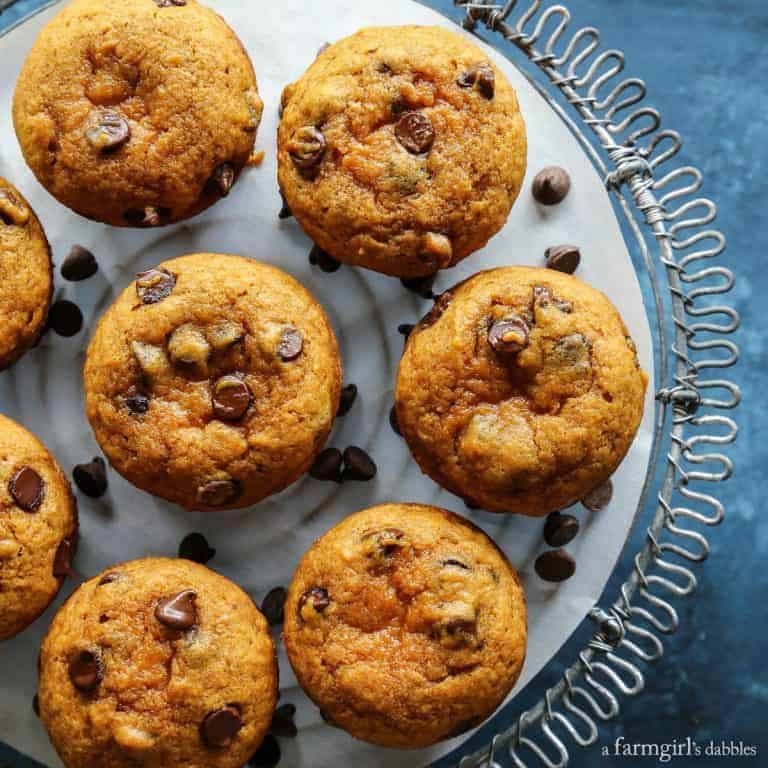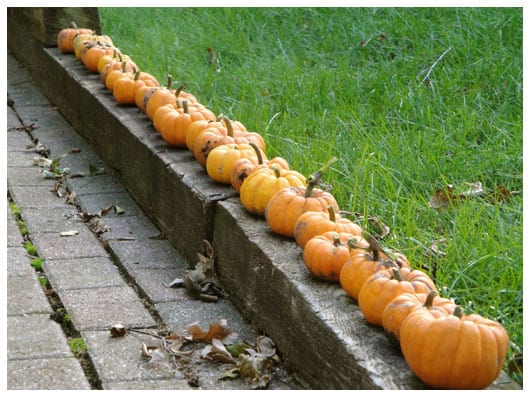 Here are a few more pumpkin recipes you might like:
This post was originally published October 2010 and has been a popular reader favorite. Photographs and some of the text were updated October 2017.

There may be affiliate links in this post, only of products that I recommend. By clicking on any of these links, and then making a purchase, I may receive a small referral amount in return. Thank you for supporting afarmgirlsdabbles.com. See my disclosure policy for more info.
Recommended for this post:
We participate in the Amazon Services LLC Associates Program, an affiliate advertising program designed to provide a means for us to earn fees by linking to Amazon.com and affiliated sites. See our disclosure policy for more info.