Perfectly Perfect Pumpkin Cheesecake
This post may contain Amazon or other affiliate links. As an Amazon Associate I earn from qualifying purchases.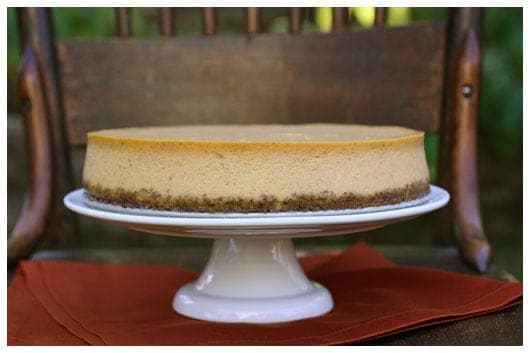 I'm not the biggest pumpkin pie fan. As a kid, I remember being confused as to why people could like such a thing as this. The texture was soft, almost mushy. And when the color teetered somewhere between green and brown…well, that was just plain unappetizing for me. I learned early on that come Thanksgiving day, I should grab a piece of crunchy, gooey pecan pie instead.
Now that I have a few more years of experience in eating, I've come to know that there are some noteworthy pumpkin pies out there. And I won't turn down a slice from one of those. But before I was enlightened, when I had my first kitchen in college, I aimed to come up with an alternative pumpkin something to stand in for pumpkin pie. So I turned to cheesecake. How could I go wrong with cheesecake?!
I went through a series of very simple no-bake cheesecakes in pre-made graham cracker crusts. And they were good. But somewhere between marriage and children, I started experimenting with the real thing. I bought a springform pan and I've never looked back.
I've been tinkering with this particular pumpkin cheesecake recipe for the past two years. I've taken it to Thanksgiving dinner each of those years, to rave review. So I was pretty darn confident when I offered to make this for a get together last weekend with friends. And then my balloon started a slow leak as I watched the hostess struggle with removing piece after piece of my pumpkin cheesecake from the bottom of the springform pan. Ohhhhh well, I've eaten many a piece of lopsided pie in my life, I reassured myself. Then I took a bite. And the balloon deflated further. As in, the squealing and sputtering, out of control balloon flying all over the place kind of deflation. I was sickened, really. This was NOT what I remembered. The crust was soft and kinda greasy. And the cheesecake filling had an off texture and taste. Where did I go wrong?!?!
So…when I got home from work on Monday night, I made it again. Yep, I'm some kind of crazy like that. For the crust, I decreased the butter, added a bit of salt, and prebaked it this time. Most of my recipes are altered in some way and have quite a few notes written on them. Rather uncharacteristically, my pumpkin cheesecake recipe didn't have any notes as to the kind of cream cheese I've used in the past. And I had used low fat cream cheese (it's what I had on hand) in the previous weekend's failure, so I was pretty sure I needed to up the fat content of my filling. I took the cheesecake out of the oven after kissing the girls goodnight, let it cool on the counter, and then tucked it into the fridge, assuring it that I would be back at breakfast time.
The next morning, I found some Reddi Wip in the back of the fridge, and then tenderly carried my cheesecake to the counter. It was time for breakfast, and for the moment of truth.
I was happy, so very happy, as I sliced and removed the first piece. It came out beautifully, with a crisp, clean cut. Then I took a bite. And, by golly, this was it! The gingersnap crust was crunchy, and just buttery enough, with a lovely hint of saltiness. And the filling was all that I remembered loving this pumpkin cheesecake for. It was thick, creamy, and loaded with yummy pumpkin pie spices. It was perfectly perfect. And everyone who had a piece at work that day would agree. They didn't mind one little bit that I'm some kind of crazy.
Ahhhhhh…all is right in my pumpkin cheesecake world again.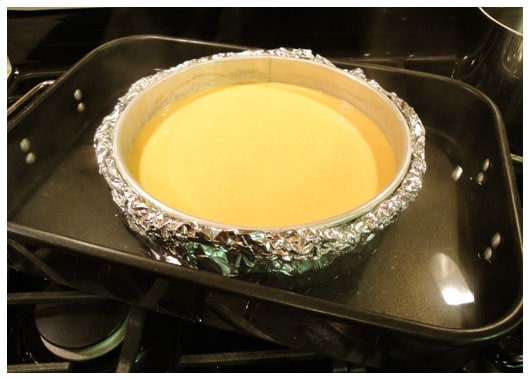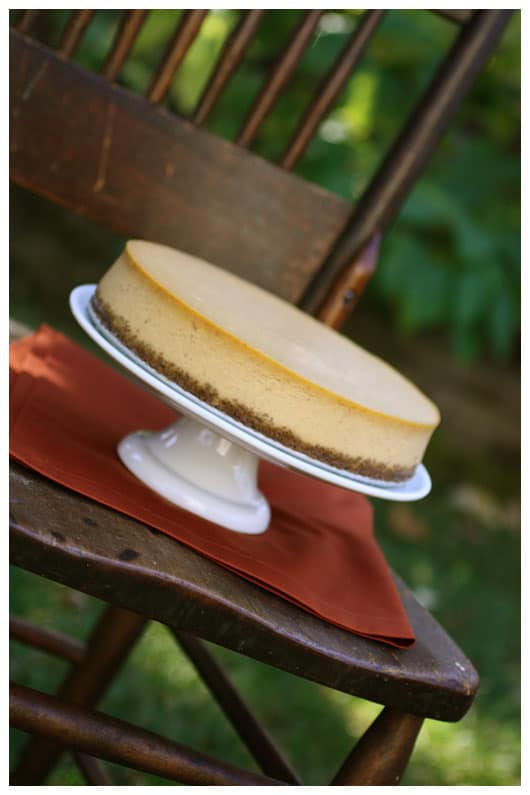 I linked up with Cheryl over at Tidy Mom for I'm Lovin' It Fridays. And she featured my cheesecake in her weekly Wrap Up! Check it out here!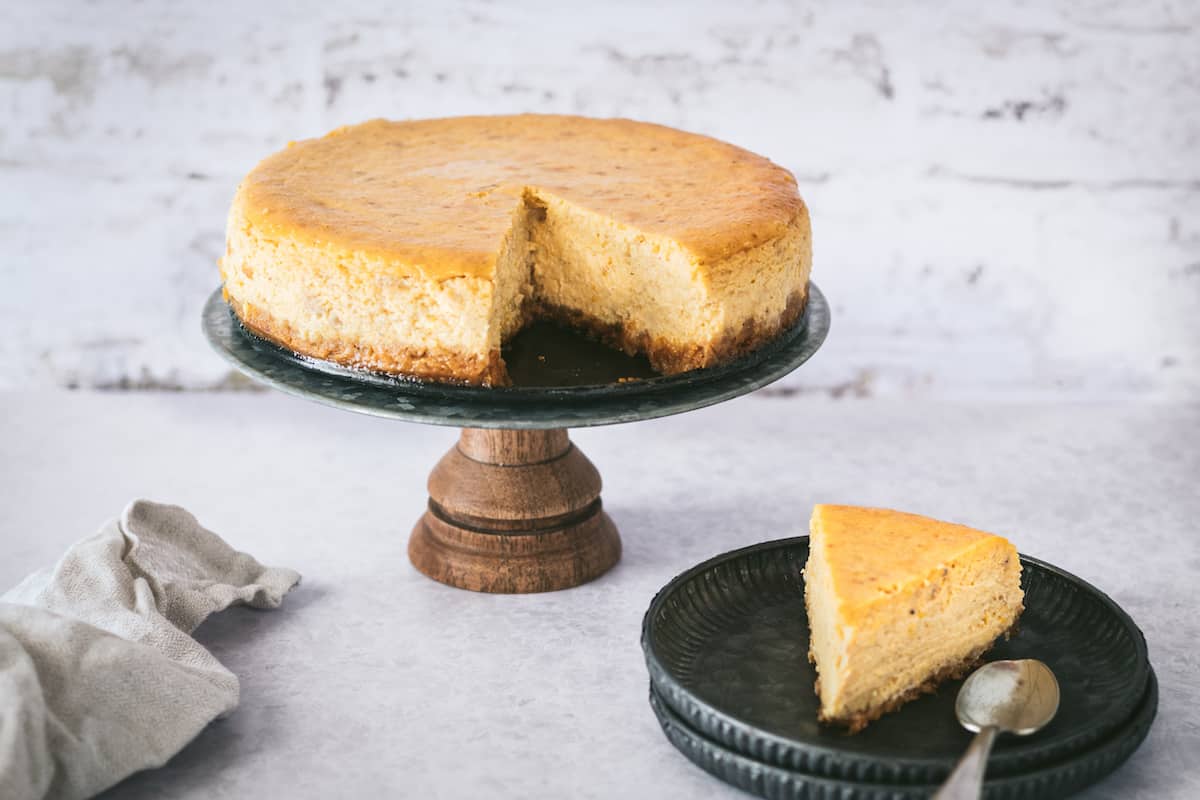 Perfectly Perfect Pumpkin Cheesecake
Yield: 16 servings
Prep Time: 25 minutes
Cook Time: 1 hour 40 minutes
Total Time: 2 hours 5 minutes
With a homemade gingersnap crust, this Perfectly Perfect Pumpkin Cheesecake is a great alternative to pumpkin pie! This creamy cheesecake is filled with pumpkin pie flavor and surprisingly easy to make.
Ingredients
for the crust:
1.75 cups gingersnap cookie crumbs, from about 40 gingersnap wafers
3 tablespoons brown sugar
1/2 teaspoon ground cinnamon
1/2 teaspoon kosher salt
4 tablespoons unsalted butter, melted and slightly cooled
for the filling:
3 8-ounce packages regular cream cheese (not low fat or nonfat), at room temperature
1 15-ounce can pumpkin purée (not pre-spiced pumpkin pie filling)
3 large eggs
1 large egg yolk
1/4 cup regular sour cream (not low fat or non-fat)
1.5 cups sugar
1 teaspoon ground cinnamon
.5 teaspoon ground ginger
1/8 teaspoon ground nutmeg
1/8 teaspoon ground cloves
1/4 teaspoon kosher salt
2 teaspoons all-purpose flour
1 teaspoon pure vanilla extract
Instructions
Preheat oven to 350° F. Prepare a 9″ springform pan by lightly spraying with cooking spray.
For the crust: In a food processor, pulse the cookies until crumbs are uniform. Add brown sugar, cinnamon, and salt, and pulse to combine. Transfer to a medium bowl and add the melted butter. Combine thoroughly with a fork. When the mixture is evenly moist, crumbly, and holds together when you squeeze a handful, it's ready. Press the mixture evenly over the bottom, and very slightly up the sides, of your springform pan. Chill for 5 minutes, then bake for 10 minutes. Let cool completely.
Prepare a water bath while the crust cools. Heat a kettle or pan of water to a soft boil. Have a larger baking dish or roasting pan ready to set the springform pan inside. Once the crust is cooled, set the springform pan on a double layer of heavy-duty aluminum foil and wrap the foil up around the outside of the pan.
For the filling: Beat the cream cheese until smooth. Add the pumpkin purée and combine. Add the eggs and egg yolk, one at a time, incorporating each egg thoroughly before adding the next, and scraping down the sides of the bowl after each one. Beat in the sour cream. Then add the sugar, cinnamon, ginger, nutmeg, cloves, salt, and flour. Beat just until combined, then beat in the vanilla.
Scrape the filling into the cooled crust and spread evenly. Set the springform pan in the larger roasting pan and add enough hot water from the kettle to come about halfway up the sides of the springform pan.
Bake until the top of the cheesecake is a deep golden color and the center is set, about 1 hour 30 minutes to 1 hour 40 minutes. It's ok if there is a slight jiggle to the center of the filling. Remove the cheesecake from the oven and run a thin-bladed knife between the perimeter of the cheesecake and the pan. Let cheesecake cool to room temperature in the pan on a wire rack. Then cover and chill for at least four hours or overnight before serving. Serve chilled, topping individual slices with fresh whipped cream.
Nutrition Information:
Yield: 16
Serving Size: 1
Amount Per Serving:
Calories: 480
Total Fat: 24g
Saturated Fat: 12g
Trans Fat: 0g
Unsaturated Fat: 9g
Cholesterol: 111mg
Sodium: 434mg
Carbohydrates: 60g
Fiber: 2g
Sugar: 32g
Protein: 7g
Nutrition information is automatically calculated by Nutritionix. I am not a nutritionist and cannot guarantee accuracy. If your health depends on nutrition information, please calculate again with your own favorite calculator.
We participate in the Amazon Services LLC Associates Program, an affiliate advertising program designed to provide a means for us to earn fees by linking to Amazon.com and affiliated sites. See our
disclosure policy
for more info.