Perfectly Perfect Pumpkin Cheesecake
With a homemade gingersnap crust, this Perfectly Perfect Pumpkin Cheesecake is a great alternative to pumpkin pie. This creamy cheesecake is filled with pumpkin pie flavor and surprisingly easy to make!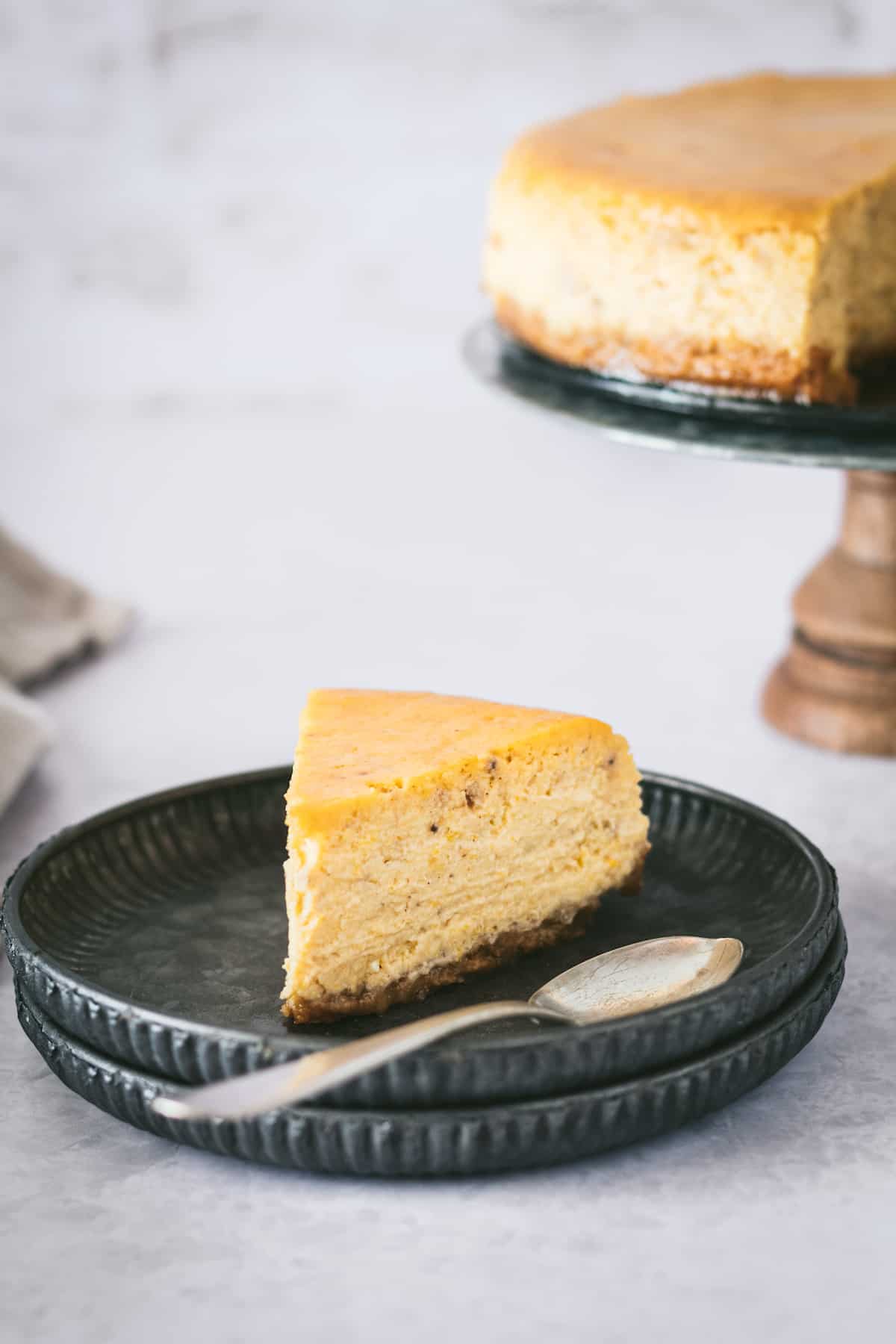 An Easy Thanksgiving Dessert
If you love pumpkin pie flavors but aren't a fan of the actual pumpkin pie, this delightful Pumpkin Cheesecake is for you!
I'm not the biggest pumpkin pie fan. As a kid, I remember being confused as to why people could like such a thing as this. The texture was soft, almost mushy. And when the color teetered somewhere between green and brown…well, that was just plain unappetizing for me. I learned early-on that come Thanksgiving day, I should grab a piece of crunchy, gooey pecan pie instead!
And now that I have a few years of Thanksgivings under my belt (literally!), I've come to know that there are some noteworthy pumpkin pies out there. But this pumpkin cheesecake has been my longtime favorite when it comes to Thanksgiving dessert. Our whole family adores it. They never ask me to make pumpkin pie!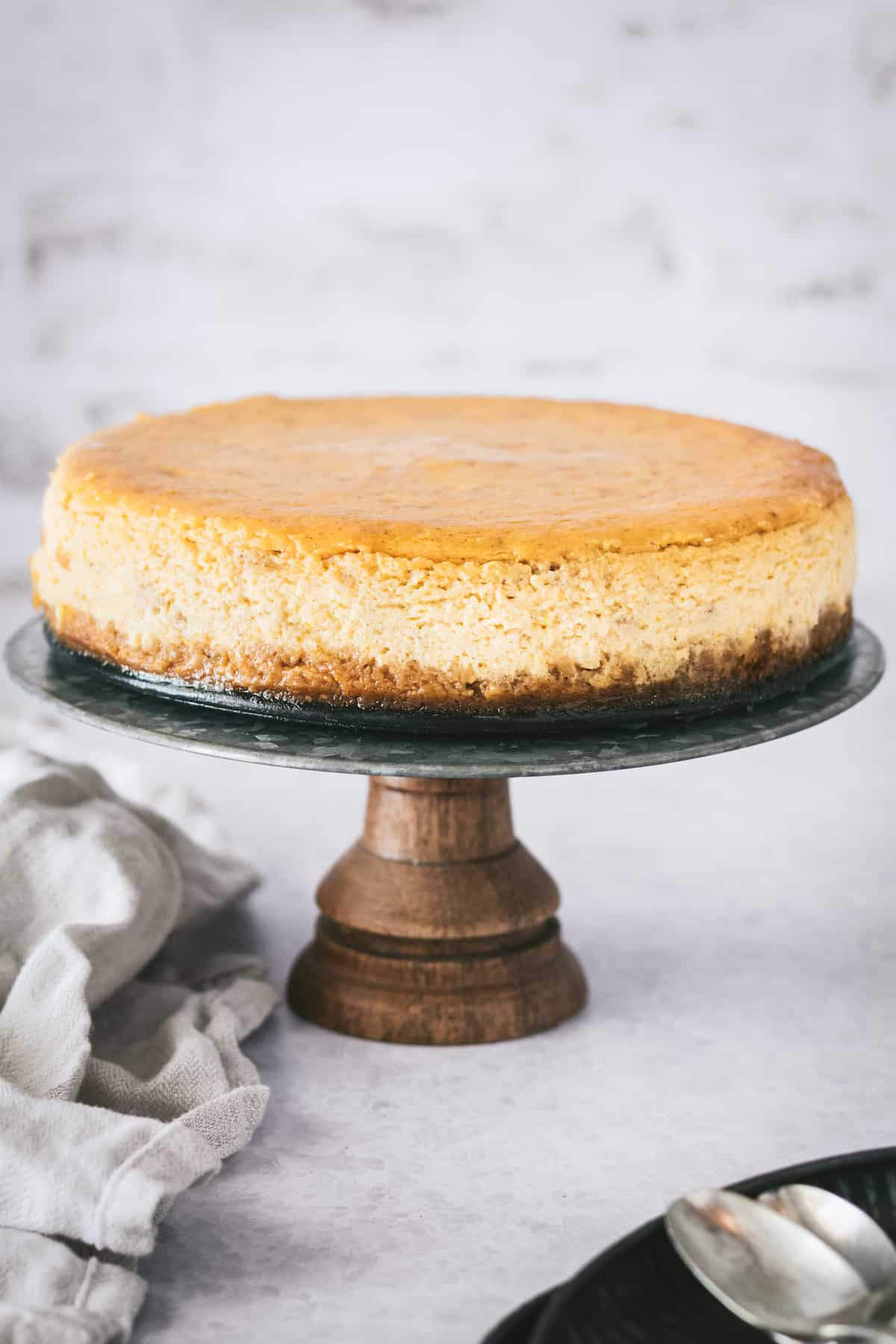 This cheesecake features a buttery gingersnap crust with a lovely hint of salt. On top of that is cheesecake perfection, ultra creamy and loaded with warm pumpkin pie spices. This pumpkin cheesecake is "perfectly perfect" and has since become a fall dessert staple in our home.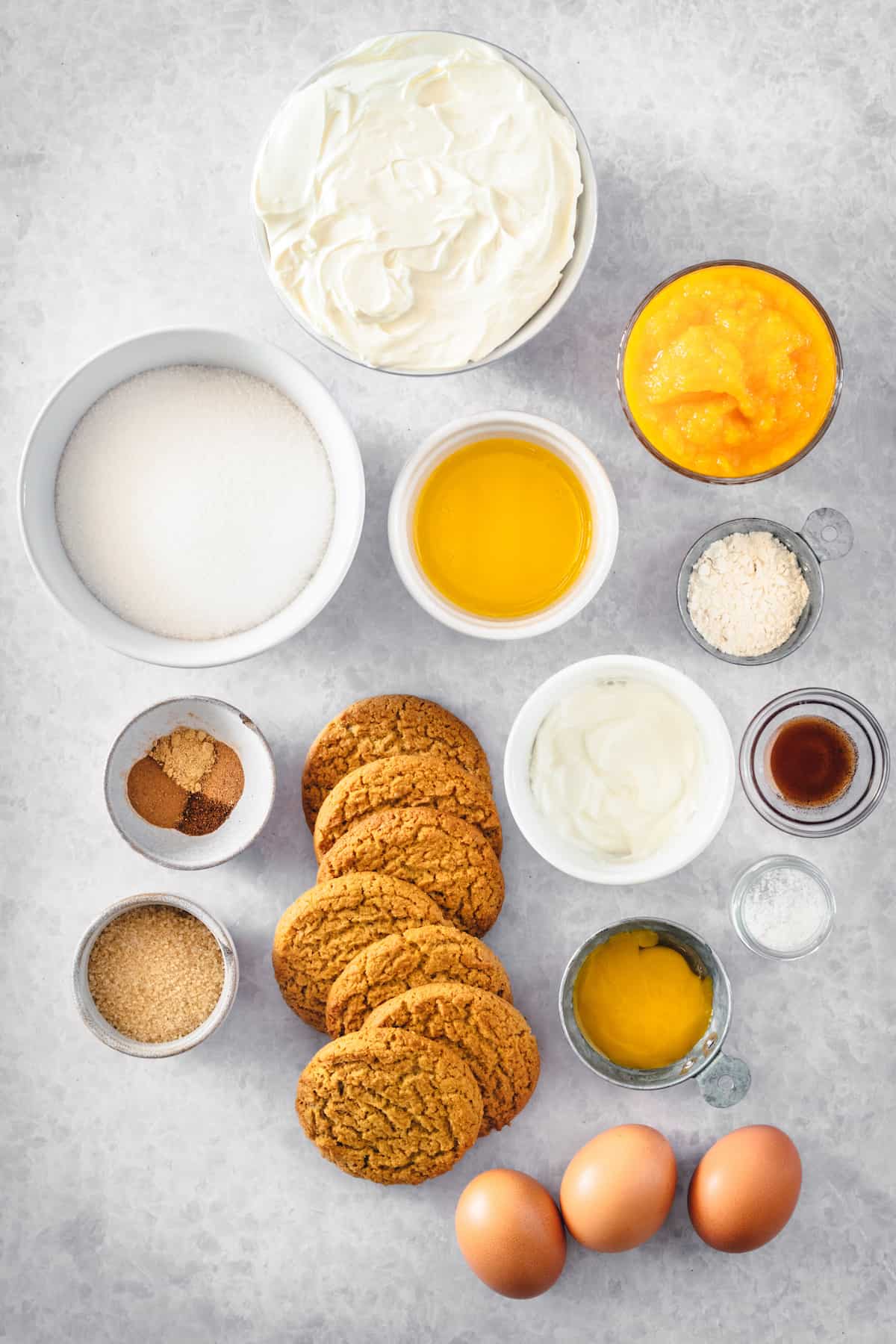 What You'll Need
Here's what you'll need to make the pumpkin cheesecake filling and the gingersnap crust!
FOR THE CRUST:
Gingersnap cookie crumbs – Finely crush gingersnap wafers – a food processor makes quick work of this!
Brown sugar – Just a small amount as the cookies are already sweet.
Ground cinnamon – For a little added warmth.
Salt – I love the hint of saltiness in this crust!
Butter – Allow melted butter to cool slightly before using.
FOR THE FILLING:
Cream cheese – Allow it to come to room temperature for the smoothest consistency. Nobody likes a lumpy cheesecake!
Pumpkin puree – Be sure to use 100% pumpkin puree, not pumpkin pie filling that has added sugar and spices.
Eggs – You'll need 3 eggs plus an additional yolk.
Sour cream – Be sure to use regular, not low fat or non-fat.
Sugar
Spices – A mixture of cinnamon, ginger, nutmeg, and cloves gives that pumpkin pie flavor to the cheesecake.
Salt
All-purpose flour – Just a little bit for thickening.
Vanilla extract – Use pure vanilla extract for the best flavor (not imitation vanilla extract).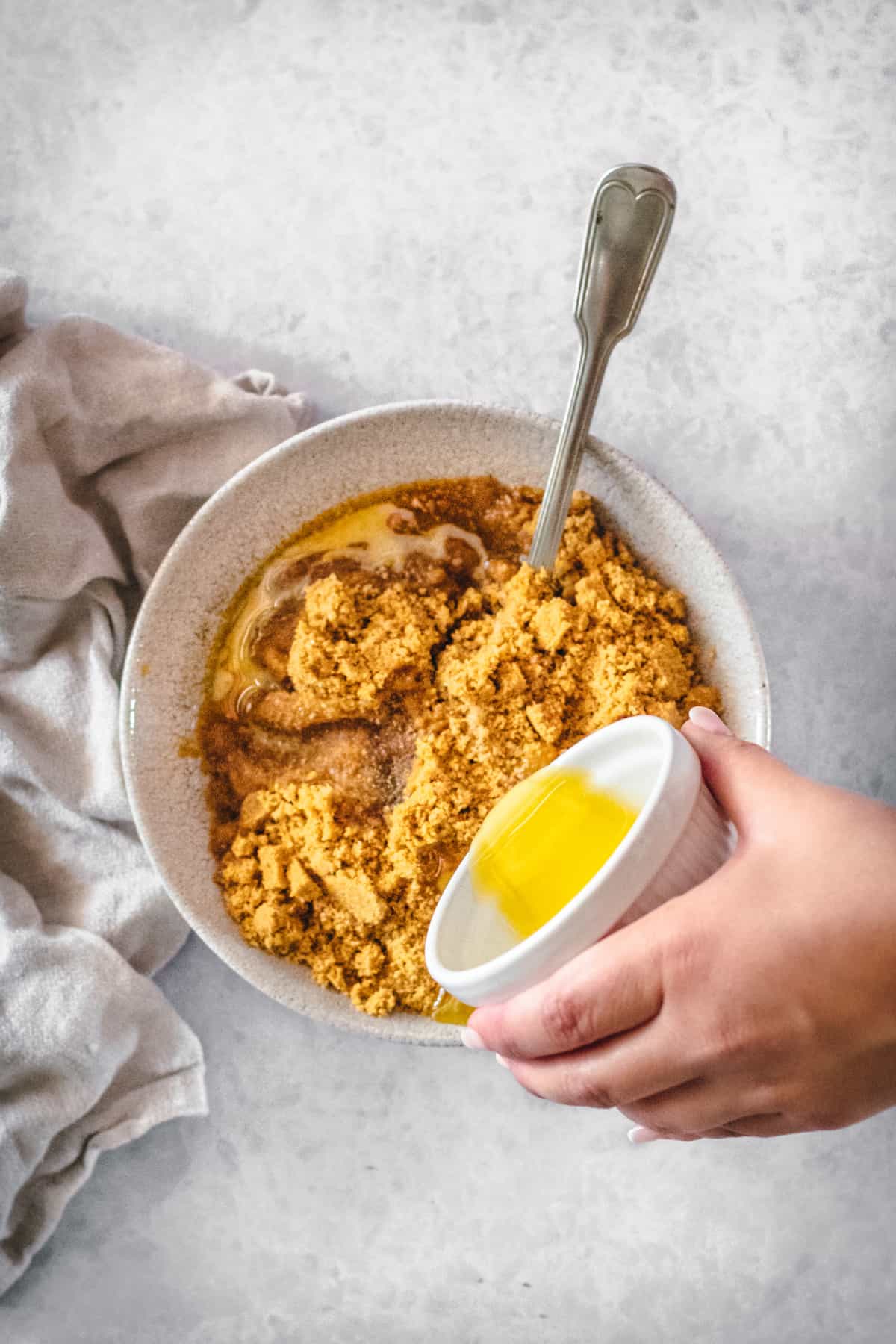 How to Make Pumpkin Cheesecake
As far as cheesecakes go, this is a simple one to make. Just follow the instructions and you'll be just fine!
Make the crust. Pulse the gingersnap cookies in a food processor until crumbs are very small and uniform. Add the remaining dry ingredients. Transfer to a bowl and add butter. Press the mixture into the bottom and slightly up the sides of the pan. Chill for 5 minutes, then bake and let cool.
Prepare the water bath. Water baths help to prevent cheesecakes from cracking. Bring a pan of water to a soft boil. Double wrap the outside of a springform pan with foil, then set in a larger roasting pan. Add the water to the outside roasting pan so it comes partway up the outside of the springform pan.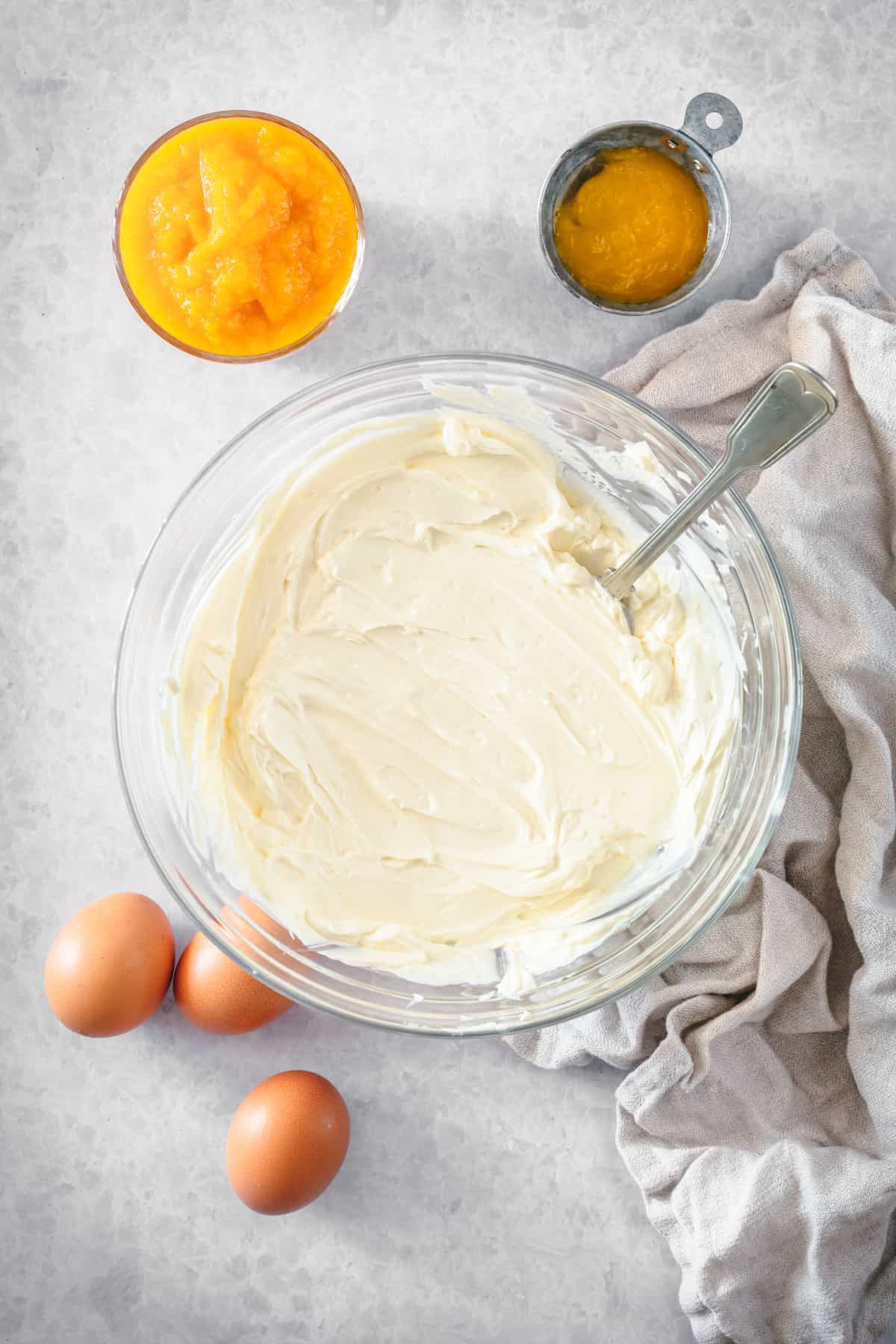 Make the pumpkin cheesecake filling. Beat the cream cheese until smooth, then add the pumpkin puree. Add the eggs one at a time, following by the sour cream. Add the spices and finally the vanilla.
Bake. Transfer the cheesecake mixture to the crust that's sitting inside the water bath. Bake until the center is set, then allow to cool on a wire rack. Once cooled to room temperature, allow to chill for at least 4 hours in the fridge.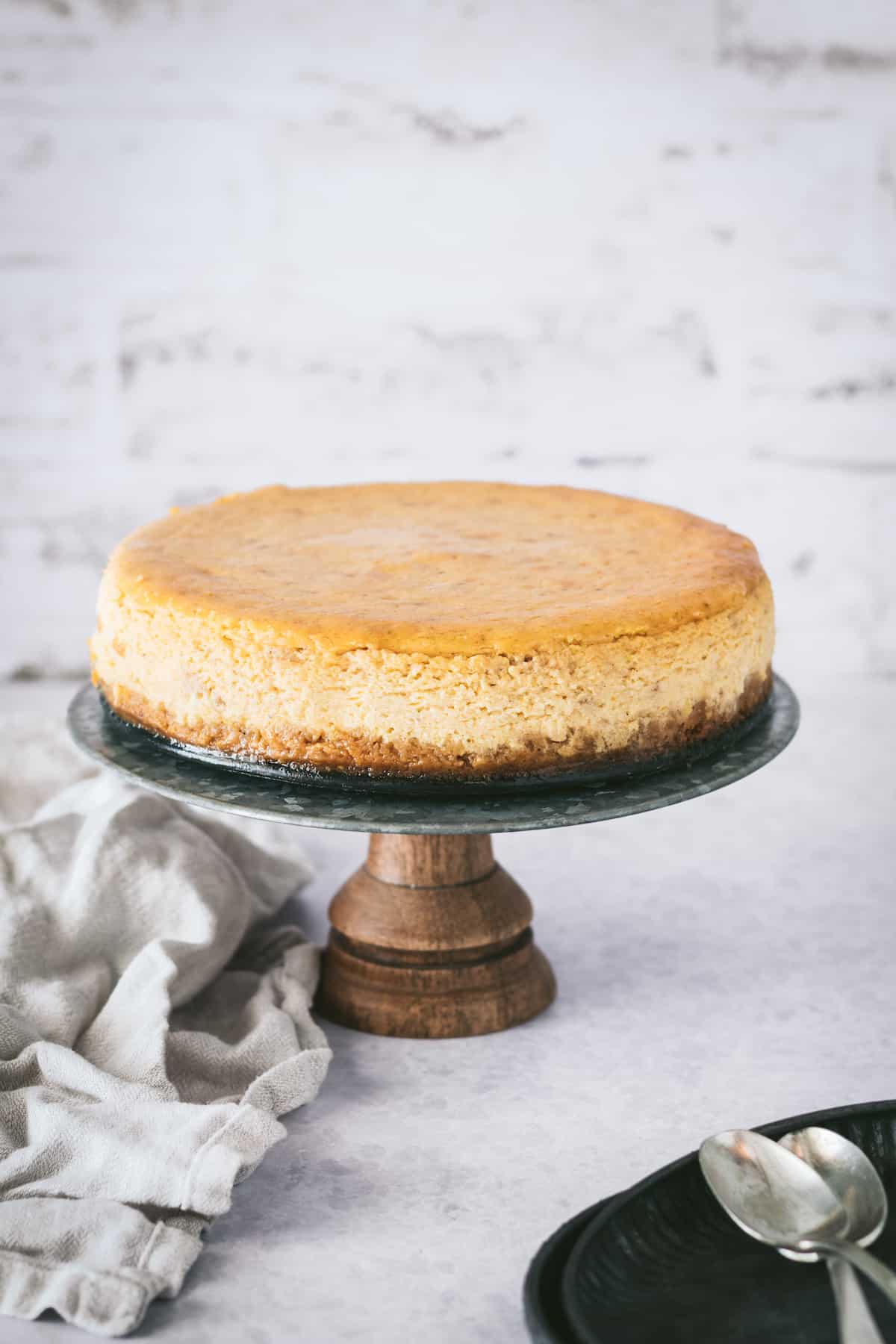 Tips for Success
Learn from my cheesecake mistakes and keep these tips in mind for the perfect cheesecake on your first try!
Use full-fat ingredients. Low-fat and non-fat sour cream or cream cheese should not be used in this recipe, as the texture and consistency will change.
Allow to cool before transferring to the fridge. Transferring from the oven to the fridge can cause the cheesecake to crack. Be sure to allow it to come fully to room temperature before moving to the fridge to chill.
Prepare ahead of time. The longer the cheesecake is able to set and fully chill, the better. A minimum of 4 hours is suggested but overnight really is best. Which is perfect for entertaining on big days like Thanksgiving!
Swap out the crust. Not a fan of gingersnaps? You can easily make this crust with graham crackers or vanilla wafers!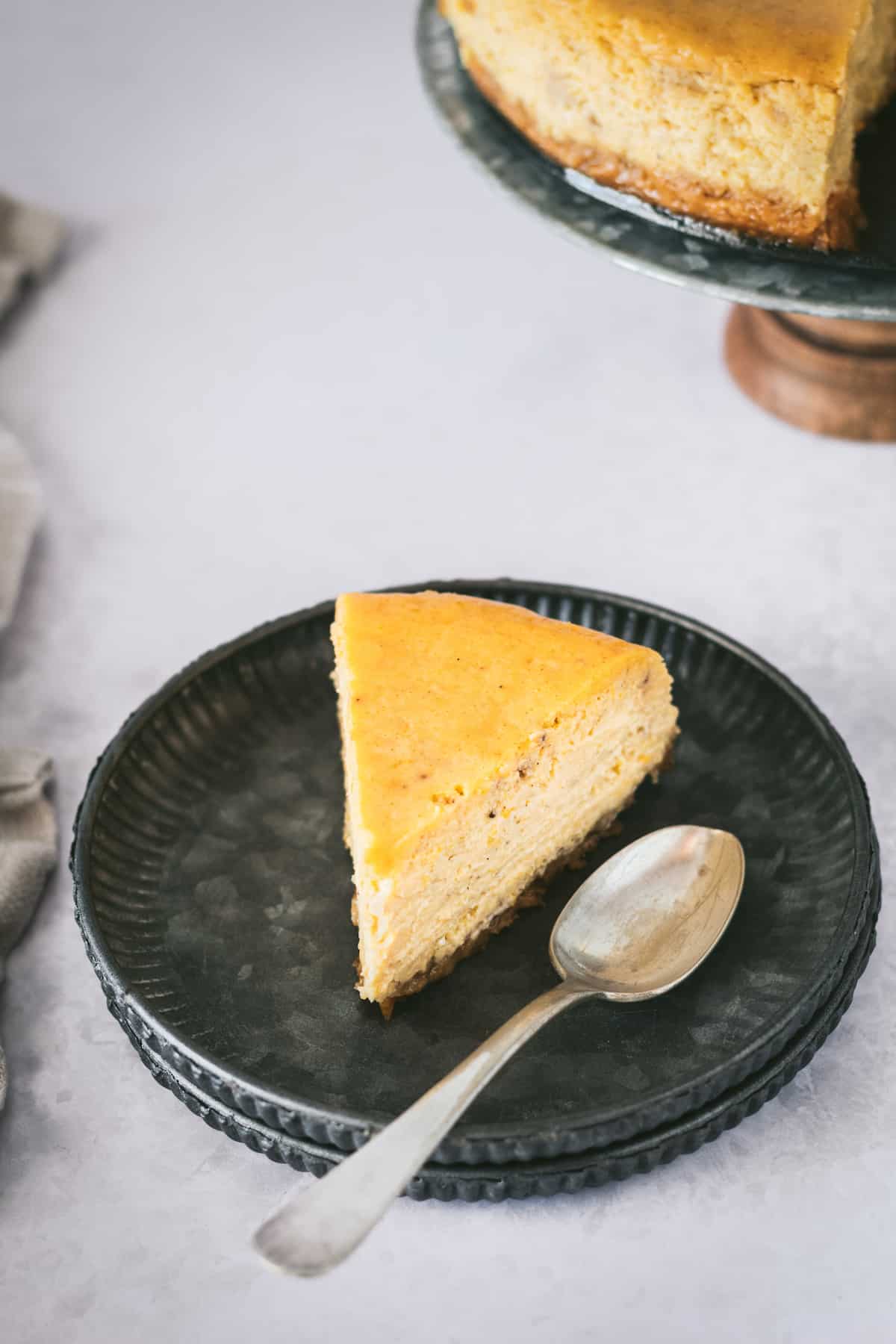 Serving Suggestions
Enjoy this cheesecake all on its own, or serve it with a big dollop of freshly whipped cream.
Cheesecake should be served chilled and kept in the fridge until it's time to enjoy!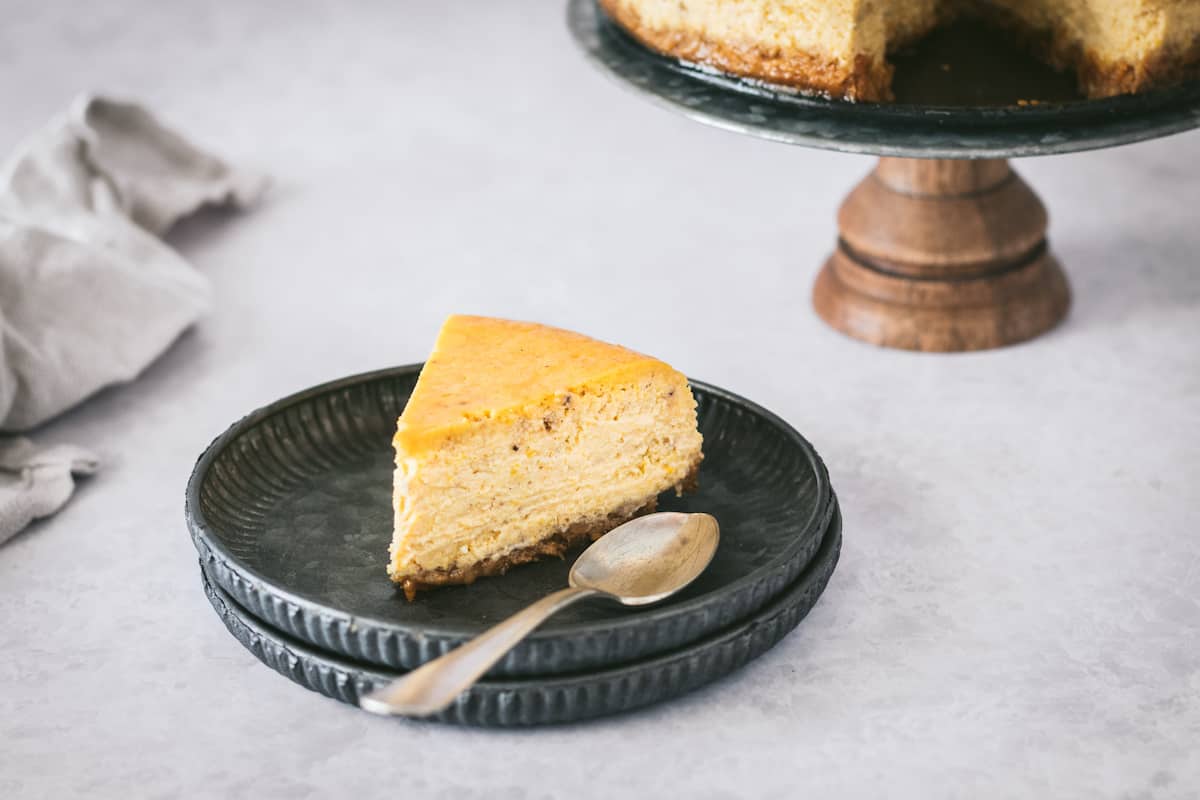 How to Store Leftovers
Leftover pumpkin pie cheesecake can be stored in an airtight container in the fridge for up to 5 days. If storing for several days, you can wrap it in plastic wrap to prevent it from drying out – just know that the wrap may stick to the cheesecake a bit. Also be aware that the crust will soften more as days go by.
Can I Freeze This?
Yes, you can freeze cheesecake! Allow it to fully set and chill in the fridge, for a minimum of 4 hours. Then, wrap the entire cheesecake or individual slices tightly in plastic wrap, followed by foil – and then place in a freezer safe baggie or container. Keep in the freezer for up to 3 months and thaw in the fridge before enjoying.
More Pumpkin Recipes:
Like this recipe? Save it to Pinterest!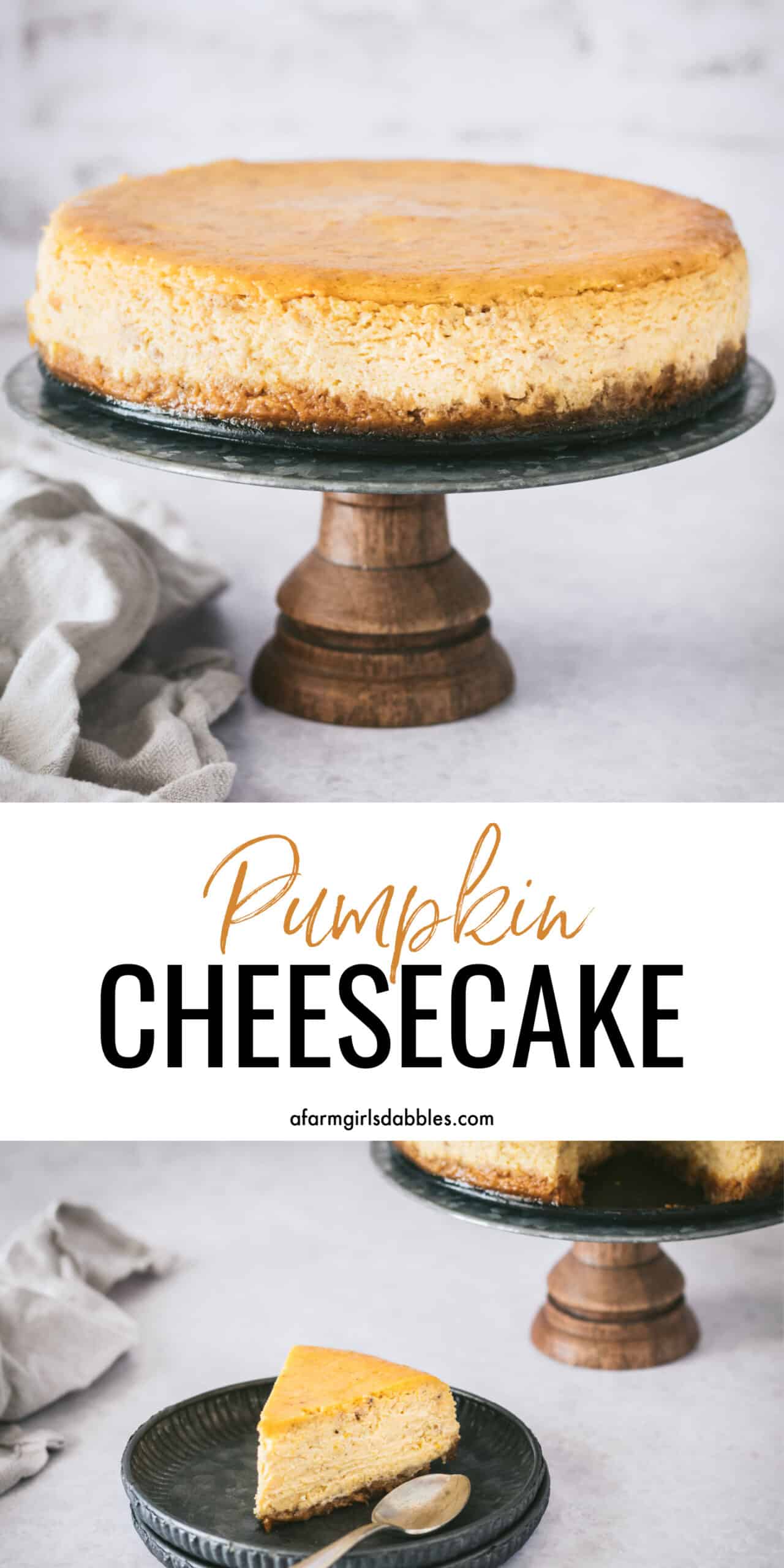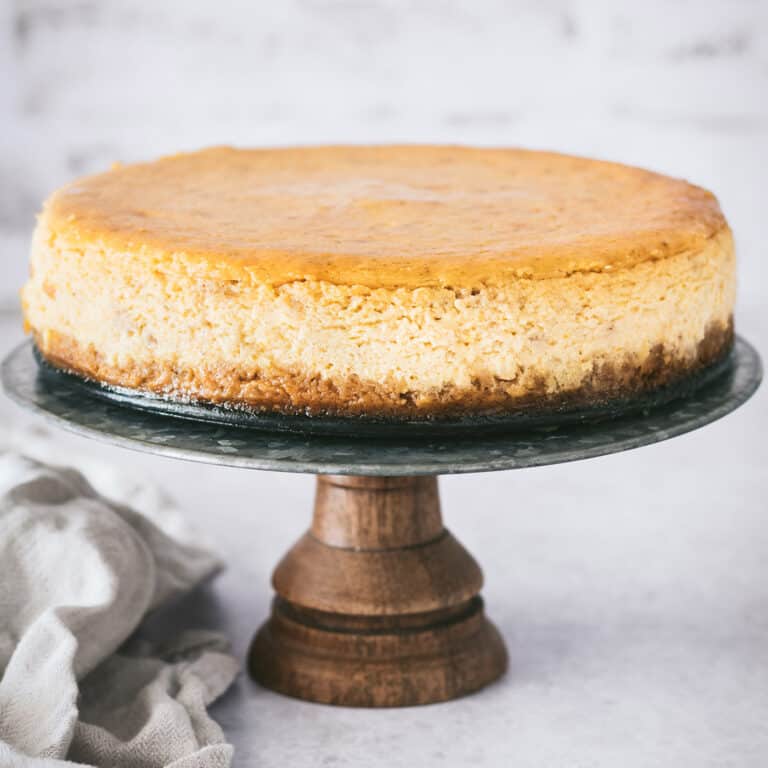 Perfectly Perfect Pumpkin Cheesecake
Yield: 16 servings
Prep Time: 25 minutes
Cook Time: 1 hour 40 minutes
Total Time: 2 hours 5 minutes
With a homemade gingersnap crust, this Perfectly Perfect Pumpkin Cheesecake is a great alternative to pumpkin pie! This creamy cheesecake is filled with pumpkin pie flavor and surprisingly easy to make.
Ingredients
for the crust:
1¾ cups gingersnap cookie crumbs, from about 40 gingersnap wafers
3 tablespoons brown sugar
½ teaspoon ground cinnamon
½ teaspoon kosher salt
¼ cup unsalted butter, melted and slightly cooled
for the filling:
3 packages (8 ounces each) regular cream cheese (not low fat or nonfat), at room temperature
1 can (15 ounces) pumpkin purée (not pre-spiced pumpkin pie filling)
3 large eggs
1 large egg yolk
¼ cup regular sour cream (not low fat or non-fat)
1½ cups sugar
1 teaspoon ground cinnamon
½ teaspoon ground ginger
⅛ teaspoon ground nutmeg
⅛ teaspoon ground cloves
¼ teaspoon kosher salt
2 teaspoons all-purpose flour
1 teaspoon pure vanilla extract
Instructions
Preheat oven to 350° F. Prepare a 9″ springform pan by lightly spraying with cooking spray.
For the crust: In a food processor, pulse the cookies until crumbs are uniform. Add brown sugar, cinnamon, and salt, and pulse to combine. Transfer to a medium bowl and add the melted butter. Combine thoroughly with a fork. When the mixture is evenly moist, crumbly, and holds together when you squeeze a handful, it's ready. Press the mixture evenly over the bottom, and very slightly up the sides, of your springform pan. Chill for 5 minutes, then bake for 10 minutes. Let cool completely.
Prepare a water bath while the crust cools. Heat a kettle or pan of water to a soft boil. Have a larger baking dish or roasting pan ready to set the springform pan inside. Once the crust is cooled, set the springform pan on a double layer of heavy-duty aluminum foil and wrap the foil up around the outside of the pan.
For the filling: Beat the cream cheese until smooth. Add the pumpkin purée and combine. Add the eggs and egg yolk, one at a time, incorporating each egg thoroughly before adding the next, and scraping down the sides of the bowl after each one. Beat in the sour cream. Then add the sugar, cinnamon, ginger, nutmeg, cloves, salt, and flour. Beat just until combined, then beat in the vanilla.
Scrape the filling into the cooled crust and spread evenly. Set the springform pan in the larger roasting pan and add enough hot water from the kettle to come about halfway up the sides of the springform pan.
Bake until the top of the cheesecake is a deep golden color and the center is set, about 1 hour 30 minutes to 1 hour 40 minutes. It's ok if there is a slight jiggle to the center of the filling. Remove the cheesecake from the oven and run a thin-bladed knife between the perimeter of the cheesecake and the pan. Let cheesecake cool to room temperature in the pan on a wire rack. Then cover and chill for at least four hours or overnight before serving. Serve chilled, topping individual slices with fresh whipped cream.
Nutrition Information:
Yield: 16
Serving Size: 1
Amount Per Serving:
Calories: 341
Total Fat: 11g
Saturated Fat: 5g
Trans Fat: 0g
Unsaturated Fat: 6g
Cholesterol: 73mg
Sodium: 316mg
Carbohydrates: 56g
Fiber: 1g
Sugar: 30g
Protein: 5g
Nutrition information is automatically calculated by Nutritionix. I am not a nutritionist and cannot guarantee accuracy. If your health depends on nutrition information, please calculate again with your own favorite calculator.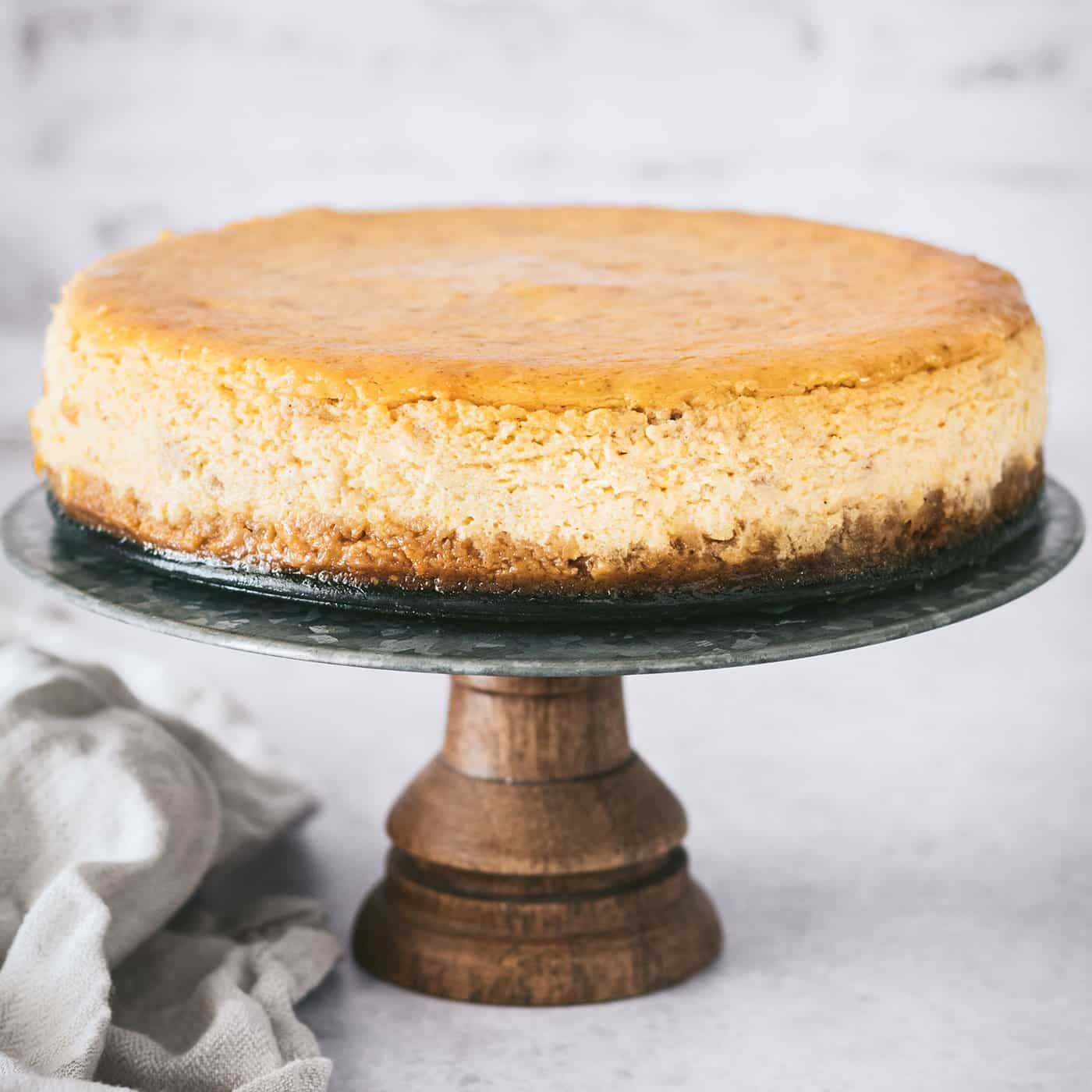 This post was previously published in 2010 and then updated in 2021.