Caramel Buttermilk Syrup
Caramel Buttermilk Syrup is creamy and buttery, so luxuriously fun! It's an easy alternative to maple syrup and the perfect topping for pancakes, waffles, ice cream, and more!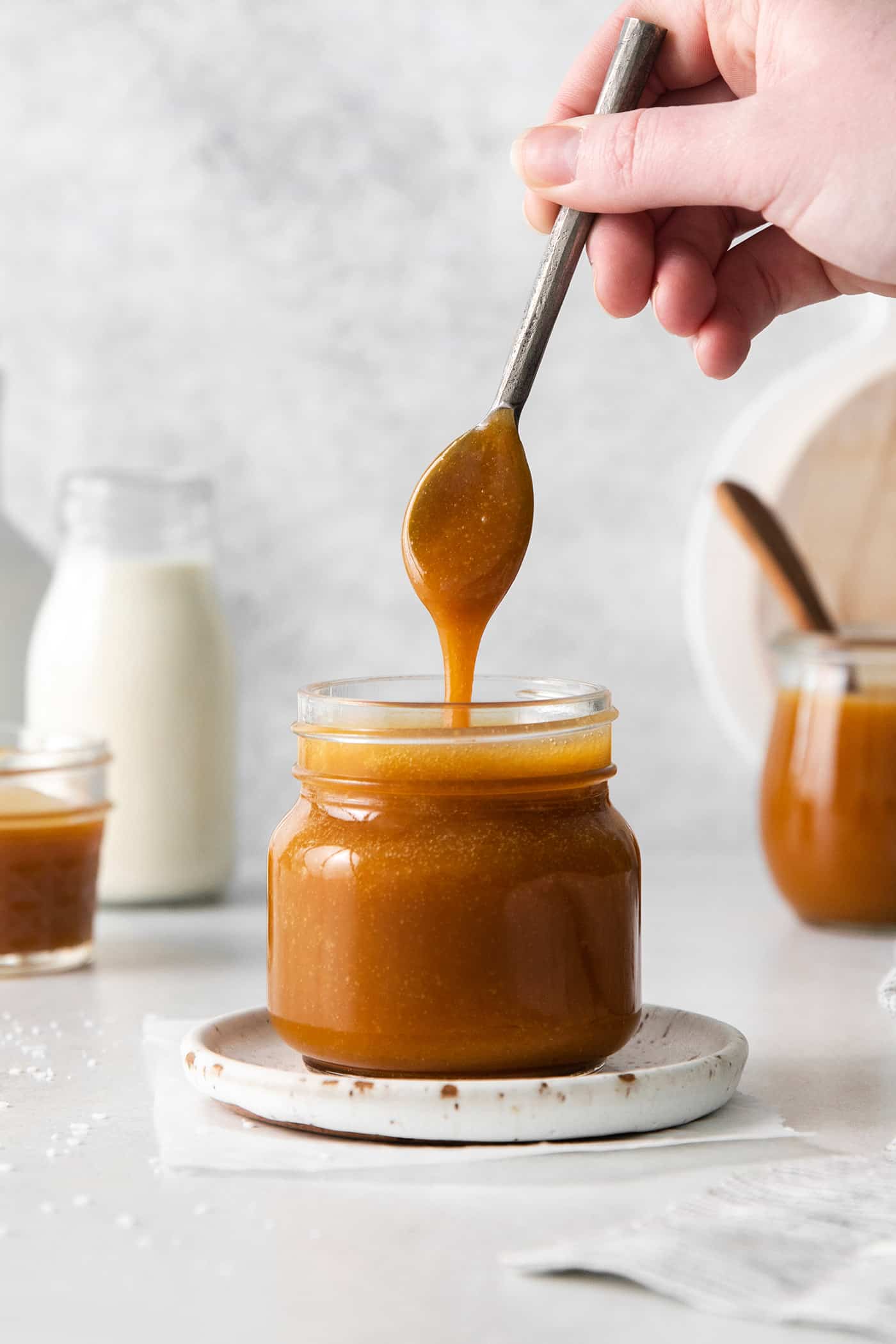 Homemade Caramel Buttermilk Syrup
We've been making this Caramel Buttermilk Syrup recipe for at least a decade – it's the absolute perfect topping for apple oat pancakes >>> Hello caramel apple vibes!
If you've never made syrup with buttermilk, you're in for a treat. This homemade syrup is luxurious, in a very fun and easy kind of way. It's creamy and buttery, deliciously caramel-y.
One batch of caramel syrup makes enough for a few meals, whether it's buttermilk pancakes or buttermilk waffles or the apple oat pancakes I already mentioned (which also have buttermilk)… Can you tell we like buttermilk around here?!
If you're not tempted to slurp this caramel topping straight-up from the jar, and happen to have any left, drizzle some over a couple scoops of ice cream for dessert. Deeeeeelicious!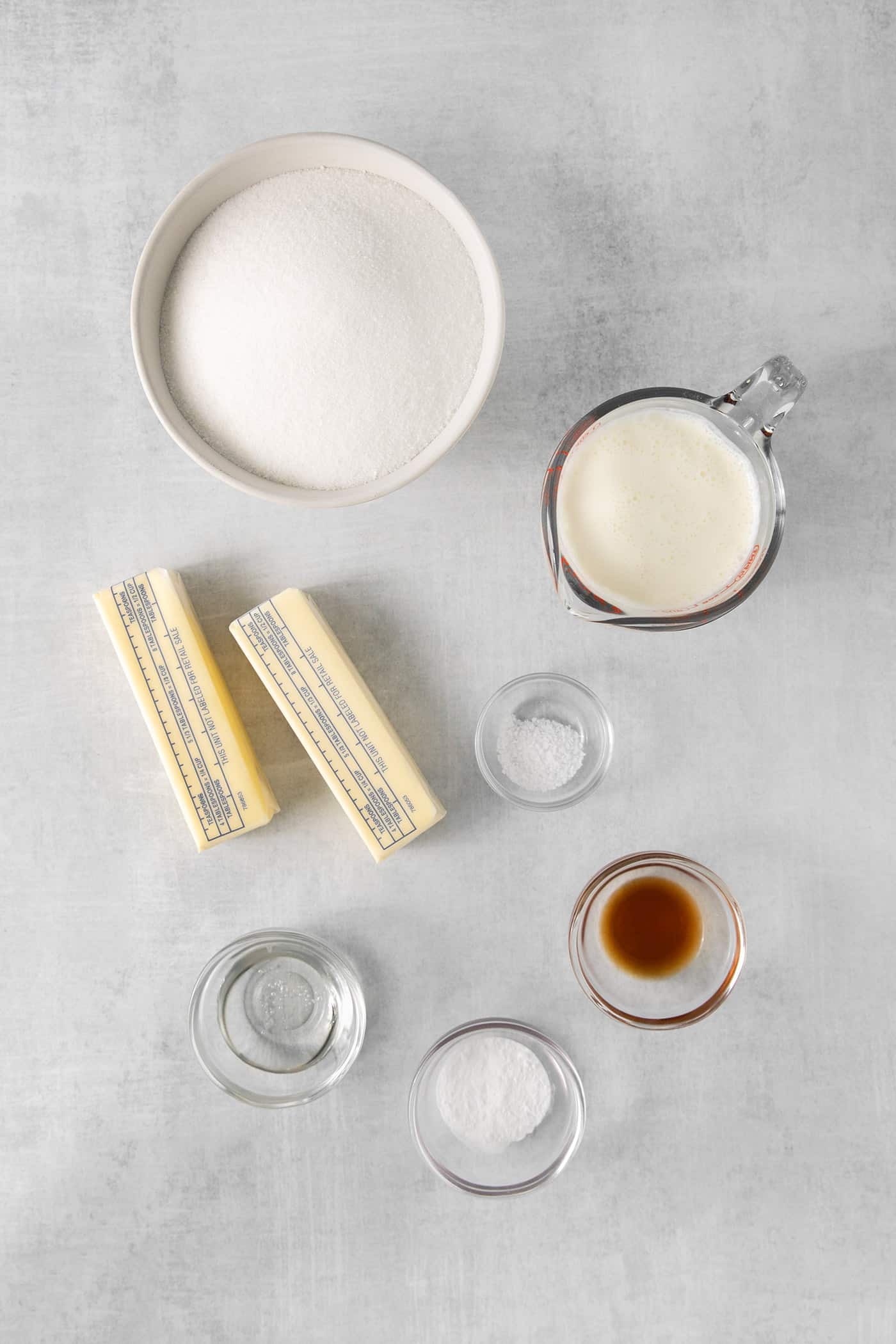 What You'll Need
To make this creamy caramel syrup recipe, you only need buttermilk and a few pantry staples. See the recipe card below for the measurements.
Unsalted butter – I use unsalted butter so I can control the final level of saltiness.
Sugar – When making caramel, butter and sugar are the main ingredients.
Buttermilk – This gives the caramel syrup a creamy texture and slightly tangy flavor.
Corn syrup – Keeps the syrup smooth and pourable and thickened, with a pretty shine.
Salt – I love a little salt with any caramel! Feel free to add more if you like.
Baking soda – When mixed with the acidic buttermilk, a chemical reaction occurs, reducing any bitter or sour flavors. Carbon dioxide bubbles form, causing the mixture to foam up.
Pure vanilla extract – Adds a lovely bit of flavor to enhance the caramel.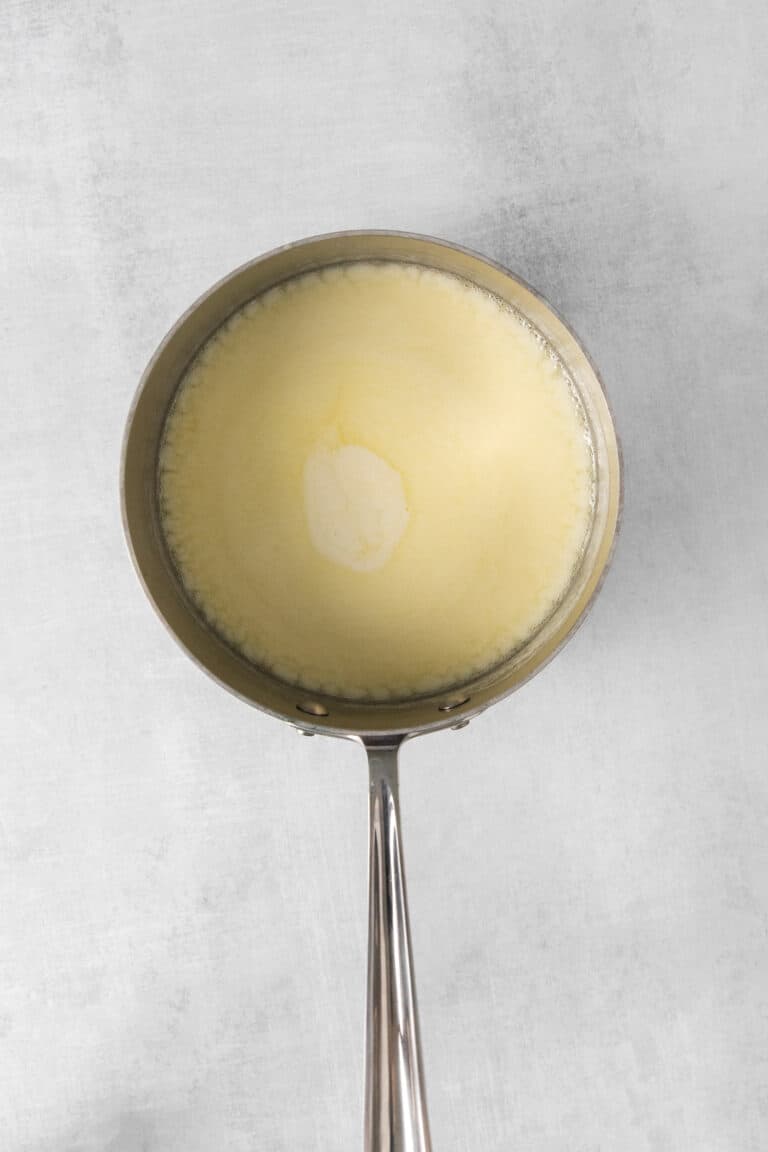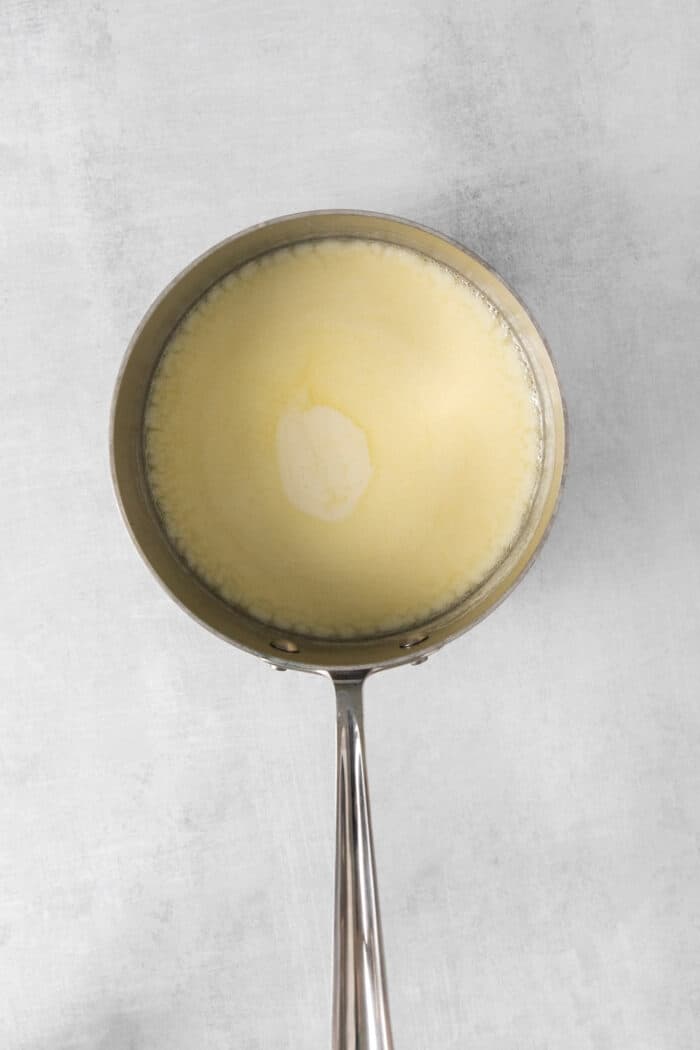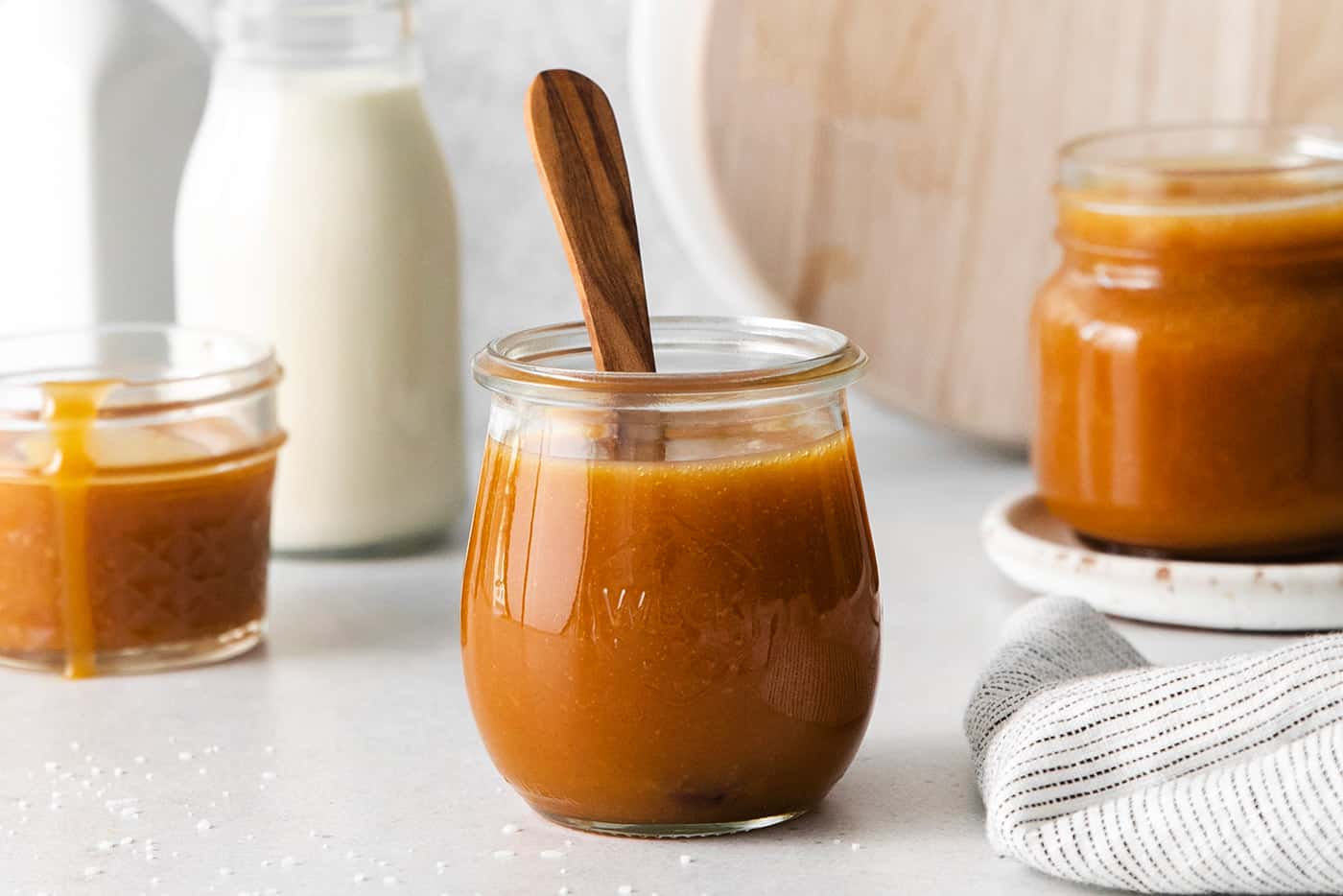 How to Make Caramel Buttermilk Syrup
This homemade caramel syrup is easy to make!
Boil the ingredients. Combine the butter, sugar, buttermilk, corn syrup, and salt over medium-high heat in a large saucepan, and bring to a boil. The mixture will bubble up and rise in volume. Turn heat down to medium and continue to boil for 8 minutes (still bubbling, but volume will fall down), stirring frequently. It will have a pale yellow/golden color.
Add the remaining ingredients. Remove pan from the heat and sprinkle the baking soda over the top. Stir in the baking soda; it will foam up. Then stir in the vanilla.
Let sit. Let the caramel buttermilk syrup sit for 20 minutes, stirring every 5 minutes or. The bubbles will settle and the sauce will thicken and darken.
Enjoy. Serve as desired!
Tips for Success
Here are a few key things to keep in mind when making your caramel buttermilk syrup.
Use a large saucepan. The syrup will bubble as it's boiling, and then again when you add the baking soda, as it reacts with the buttermilk. Be sure to use a saucepan that's large enough, so the syrup doesn't bubble over the sides. I like to use a 4-quart saucepan, but you'll need one with at least a 3-quart capacity.
Don't walk away from the saucepan. As the ingredients boil, be sure to keep a close eye on it and stir frequently, scraping the bottom of the pan. The mixture will be at a constant simmer/light boil. If it's darkening in color too much or smells like it's burning, reduce the heat.
Simmer longer for a darker sauce. You can make this syrup lighter or darker. For lighter color, only simmer for 5-7 minutes. For darker color, with richer, deeper caramel flavor, simmer for 8-10 minutes.
Make in advance of whatever you're serving it with. If you're serving this caramel buttermilk syrup with pancakes or waffles, be sure to prepare the syrup first – then cook the pancakes or waffles. The syrup needs 20-30 minutes to settle and thicken, and darken in color.
Use REAL buttermilk. Some recipes may say that it's ok to make your own buttermilk with milk and vinegar or lemon juice – but I definitely recommend buying real buttermilk for this syrup.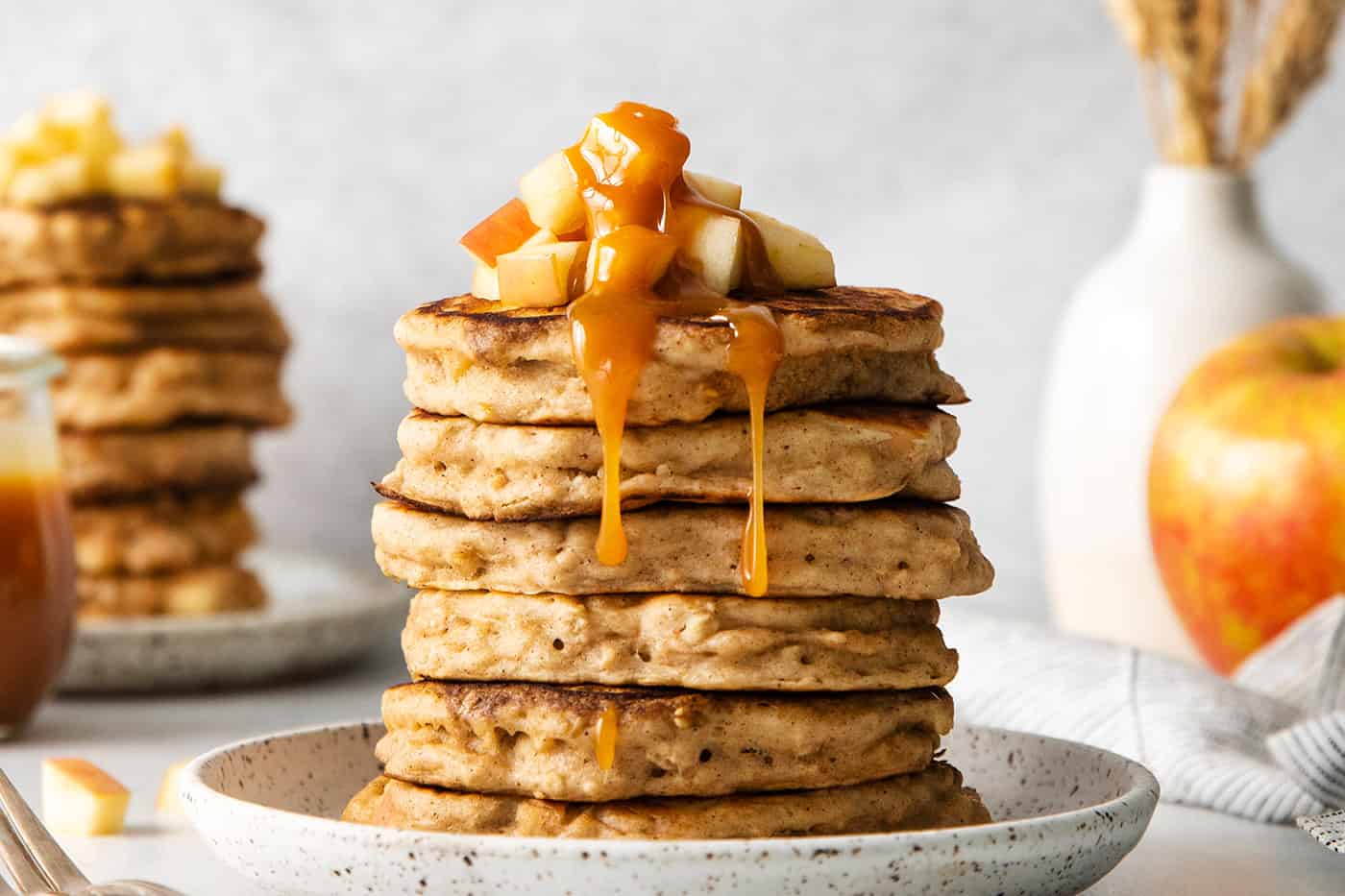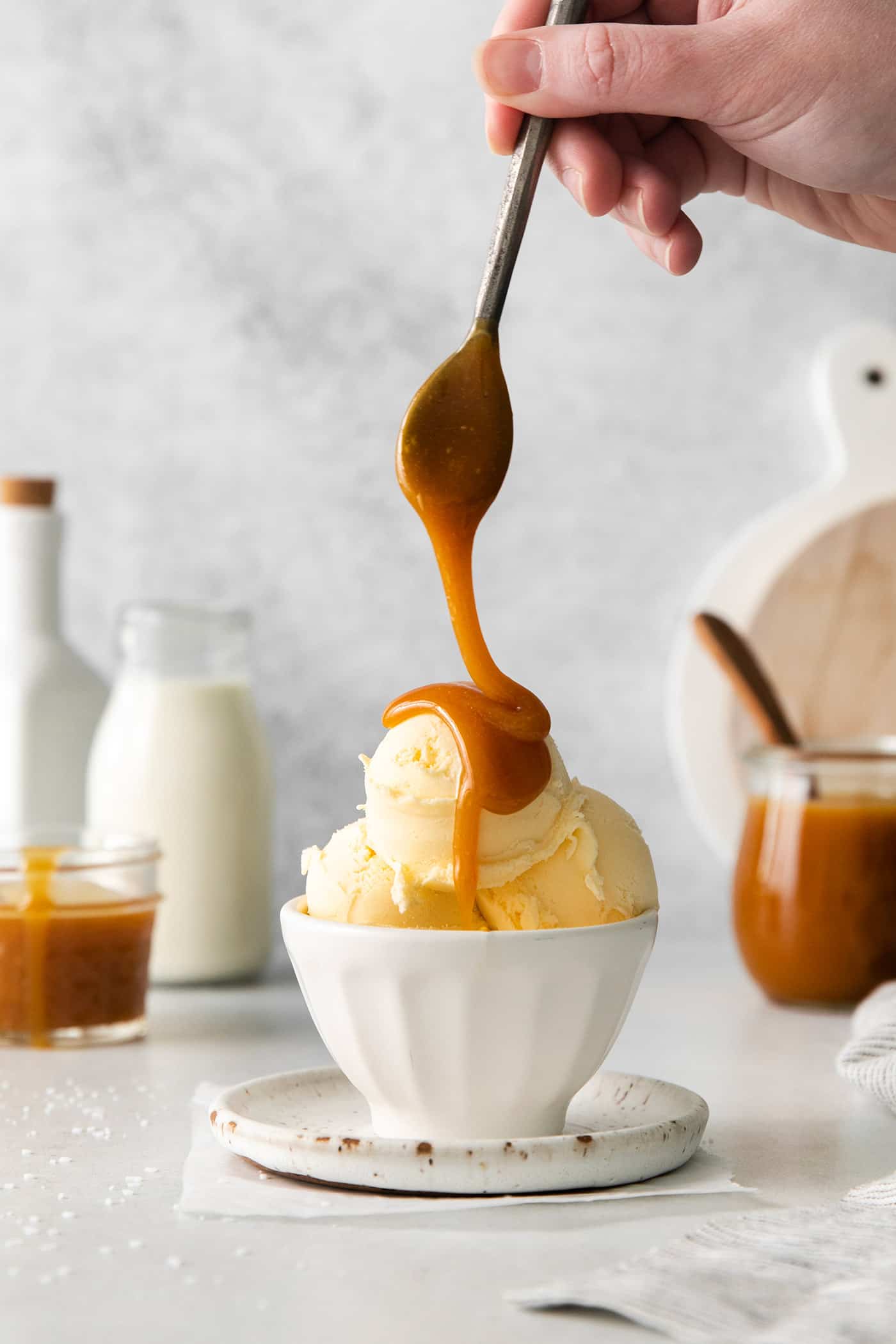 Ways to Use Caramel Syrup
This caramel buttermilk sauce is about to become your new favorite topping!
As I already mentioned, I LOVE this on apple oat pancakes. I've always been a huge fan of caramel apples, so this recipe drives those flavors right to my breakfast plate!
But this creamy caramel syrup is incredibly flexible, wonderful with so many things. Here are a few more ways to use it:
French toast
As a dip for apple slices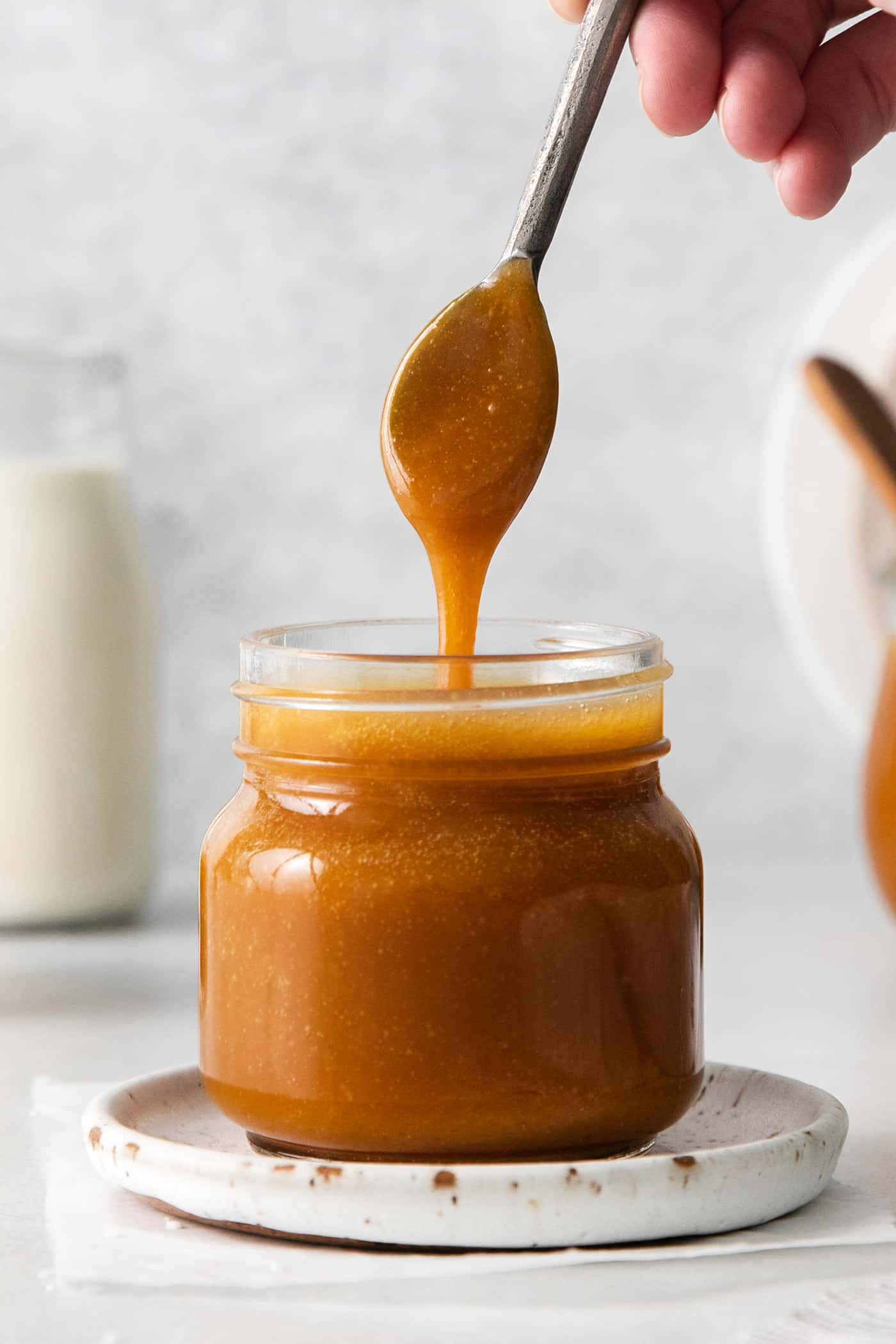 Does Homemade Syrup Need To Be Refrigerated?
Yes, you'll need to keep this in the fridge, since this recipe has a buttermilk base.
How Long Will This Last?
Caramel buttermilk syrup will keep well for up to 3 weeks when stored properly in the fridge. I recommend keeping it in a glass container with a tight-fitting lid.
You can reheat it on the stovetop or in the microwave but be sure to do it gently. 10-20 second increments in the microwave, stirring in between each heating, is perfect.
We love keeping this delicious caramel topping in the fridge so we can add it to brownies and ice cream whenever the craving strikes!
Can You Freeze Homemade Syrup?
This recipe freezes really well. If you don't think you will use it all, just place some in the freezer for later. It will keep for up to 3 months when stored in a freezer-safe container.
More Homemade Sauces:
Like this Recipe? Save it to Pinterest!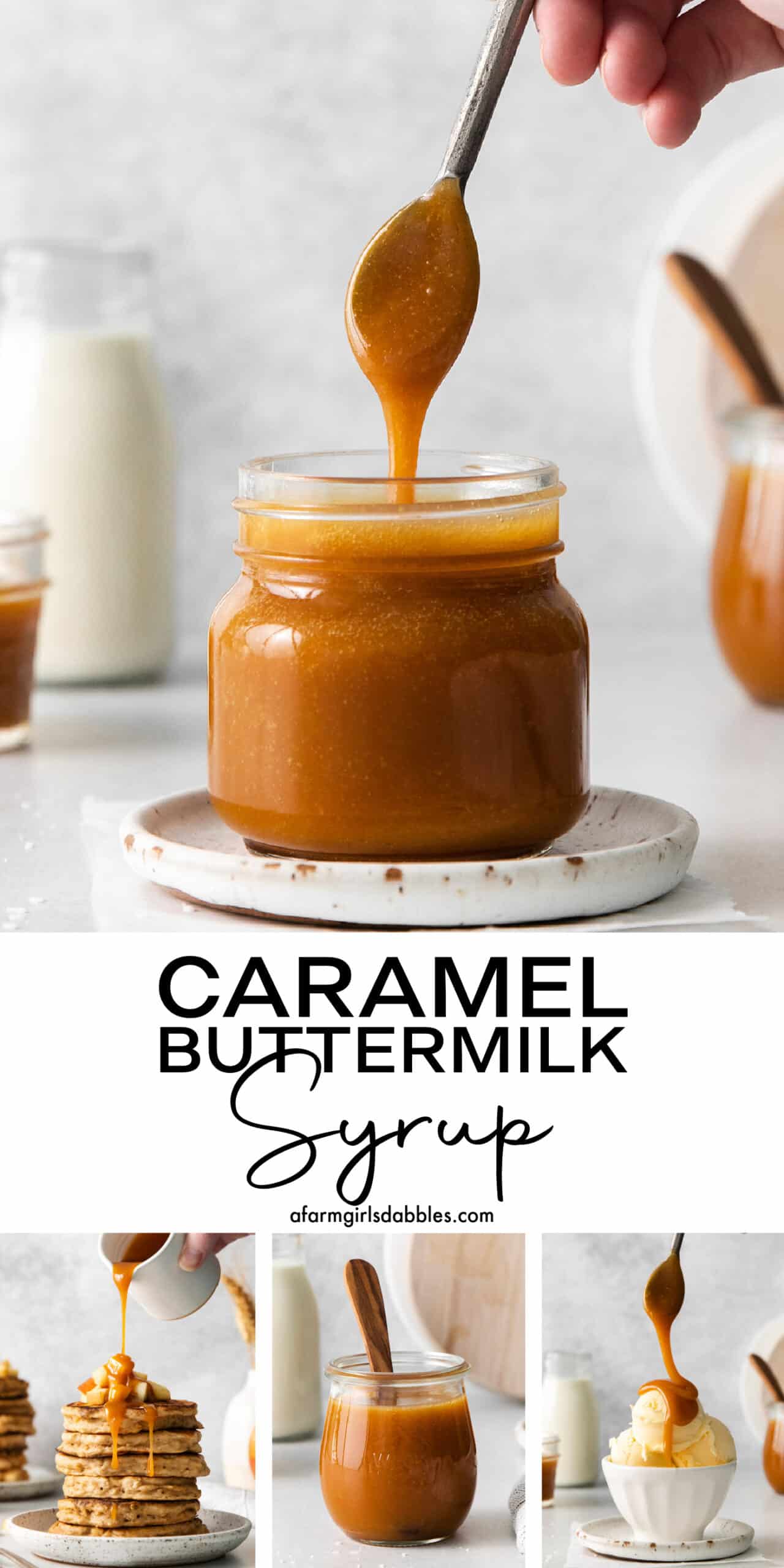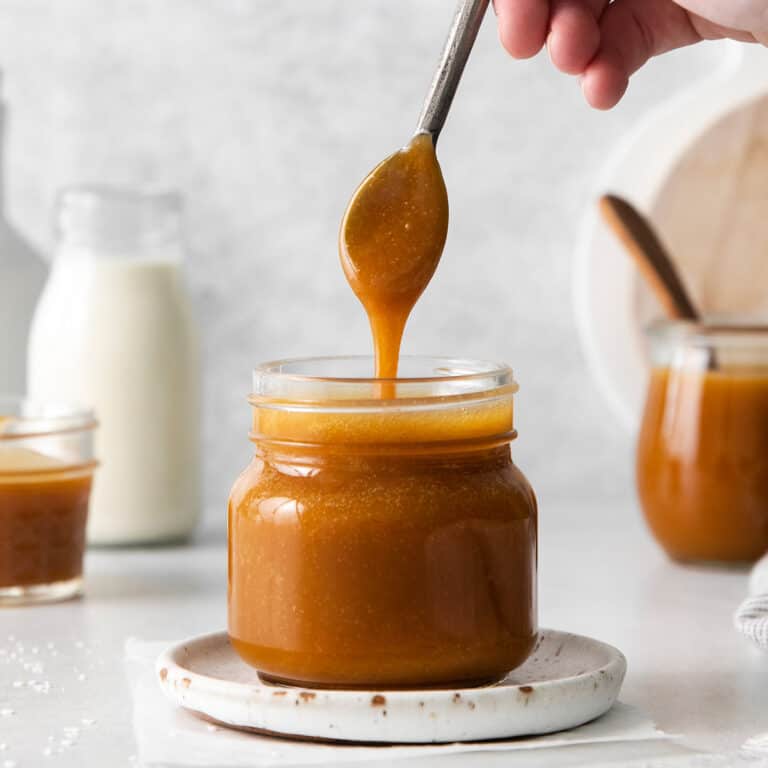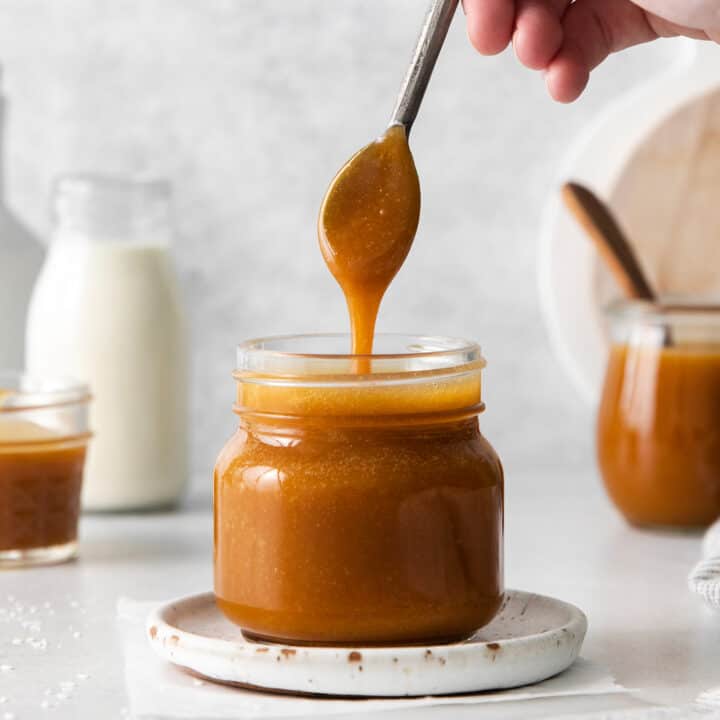 Caramel Buttermilk Syrup
Yield: 8 servings
Prep Time: 20 minutes
Cook Time: 10 minutes
Total Time: 30 minutes
Caramel Buttermilk Syrup is creamy and buttery, so luxuriously fun! It's an easy alternative to maple syrup and the perfect topping for pancakes, waffles, ice cream, and more!
Ingredients
1 cup unsalted butter, at room temperature
2 cups sugar
1 cup buttermilk - be sure to shake it well before using!
2 tablespoons corn syrup
½ teaspoon Morton kosher salt
1 teaspoon baking soda
2 teaspoons pure vanilla extract
Instructions
In a 3 to 4-quart saucepan (make sure it's large enough, this will bubble up!) over medium heat, combine the butter, sugar, buttermilk, corn syrup, and salt. When butter is mostly melted, turn heat up just a bit to medium-high and bring mixture to a boil. It will foam up and rise in volume.
Reduce heat to medium-low. The mixture should still be bubbling, but the volume will settle down. Simmer for 8-10 minutes, stirring frequently and scraping the bottom of the pan. The mixture will still be a pale yellow color at this point. (If you want a lighter caramel, simmer for 5-7 minutes. For a darker caramel with deeper flavor, simmer for up to 10 minutes.)
Remove pan from heat. Sprinkle the baking soda evenly over the top and stir to combine. The syrup will bubble up and look very foamy. Then stir in the vanilla.
Let sit for 20 minutes, stirring every 5 minutes or so. The bubbles will settle and the caramel syrup will thicken and darken as it cools.

Serve caramel syrup with apple oat pancakes, pancakes, waffles, French toast, and even ice cream!
Nutrition Information:
Yield: 8
Serving Size: 1
Amount Per Serving:
Calories: 428
Total Fat: 23g
Saturated Fat: 15g
Trans Fat: 0g
Unsaturated Fat: 8g
Cholesterol: 62mg
Sodium: 301mg
Carbohydrates: 56g
Fiber: 0g
Sugar: 56g
Protein: 1g
Nutrition information is automatically calculated by Nutritionix. I am not a nutritionist and cannot guarantee accuracy. If your health depends on nutrition information, please calculate again with your own favorite calculator.