Raspberry Sauce
Bright and sweet and intensely fruity, this Raspberry Sauce makes an irresistible topping for angel food cake, cheesecake, ice cream, yogurt, and more. Made with just 3 ingredients!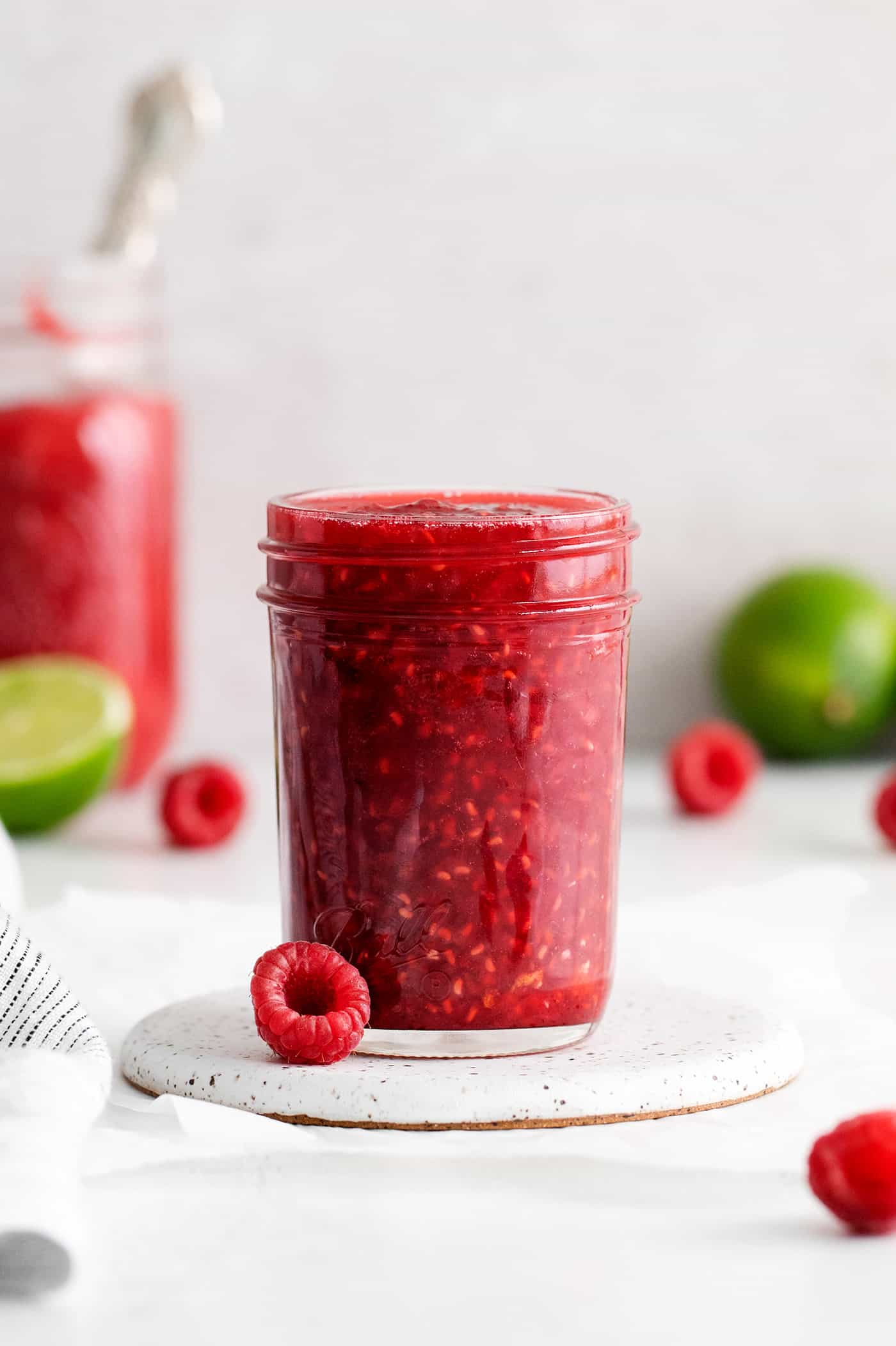 A Super Simple Raspberry Sauce
I'm IN LOVE with this homemade Raspberry Sauce! It's super fresh-tasting, full of bright and zingy flavor, thanks to fresh raspberries and limes.
And our raspberry patch is just about ready to burst with all of its July goodness – raspberry sauce heaven!!
I grew up with a gigantic raspberry patch on the farm in South Dakota. And then when Blake & I bought this house nearly 20 years ago, it also came with a good-sized patch. So I'm very familiar with having an abundance of raspberries every summer…and coming up with delicious ways to enjoy them with family & friends!
Hello, Easy Raspberry Sauce!
You only need 3 ingredients to make this sauce – raspberries, lime juice, and sugar. You'll love the lime juice addition – it gives this sauce a citrusy tang that brightens the flavor while enhancing the sweet raspberries. This is an easy sweet + tart sauce that's big on fresh flavor!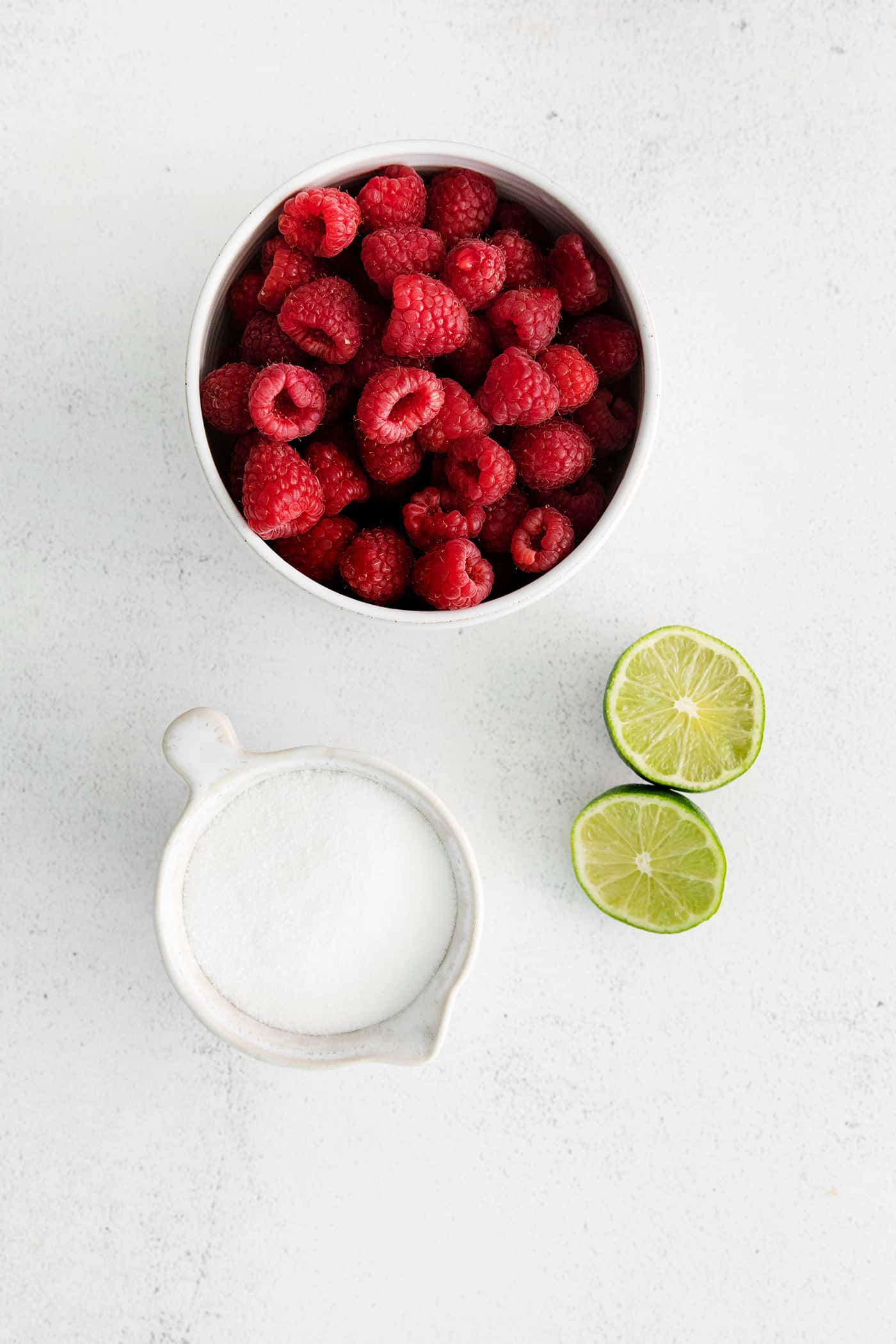 What You'll Need
You only need 3 easy-to-find ingredients for this recipe!
Fresh raspberries – Juicy, ripe raspberries are the star of this addictive fruit sauce!
Granulated sugar – Not only does it add extra sweetness, but it also helps the berries to break down and release their juices, plus gives body to the sauce.
Lime juice – Freshly squeezed only, folks! This also helps break down the raspberries. And the zingy fresh flavor is AWESOME!
Can I Use Frozen Berries?
While I love making this raspberry sauce in the summer with freshly picked berries, you can make it year-round with frozen berries as well. Just replace the fresh berries with frozen ones and follow the instructions as usual. Note that the flavor may not be quite what it would be during the peak of summer with fresh berries, but it will still taste great. Also note that frozen berries often have extra moisture so cook time may differ a bit.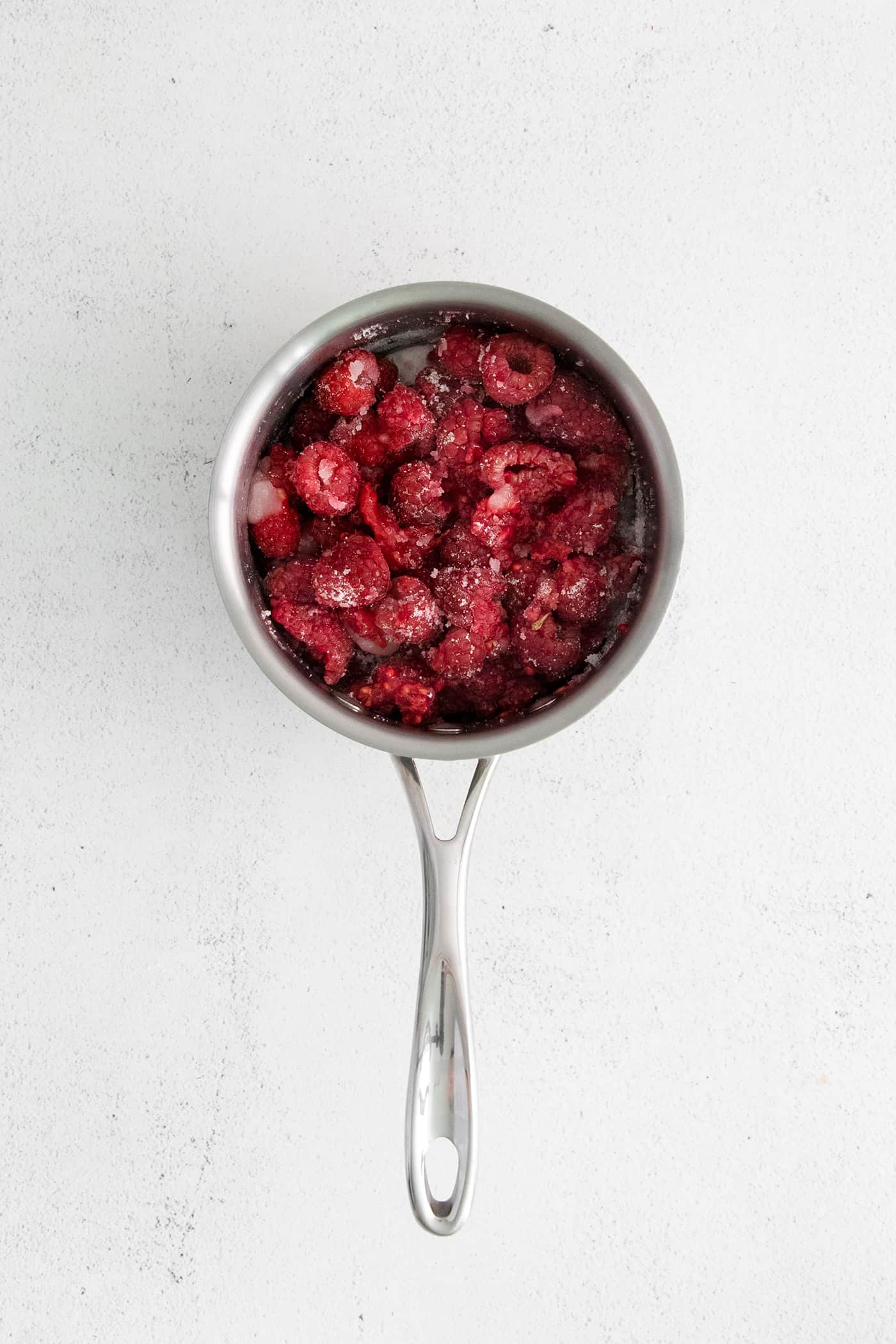 How to Make Raspberry Sauce
Here are the 3 easy steps to make homemade raspberry topping.
Combine the ingredients. Add everything to a saucepan and combine. Cover and allow to macerate for 2 hours. Stir after the first hour.
Simmer. Bring to a low boil over medium heat, then reduce to medium-low and let the mixture simmer for 7 to 10 minutes. Stir occasionally – and if the raspberries are super firm, you can smoosh them a bit.
Enjoy. Remove the pan from heat. You can enjoy the sauce warm or allow it to cool. Transfer to jars with lids and store in the refrigerator.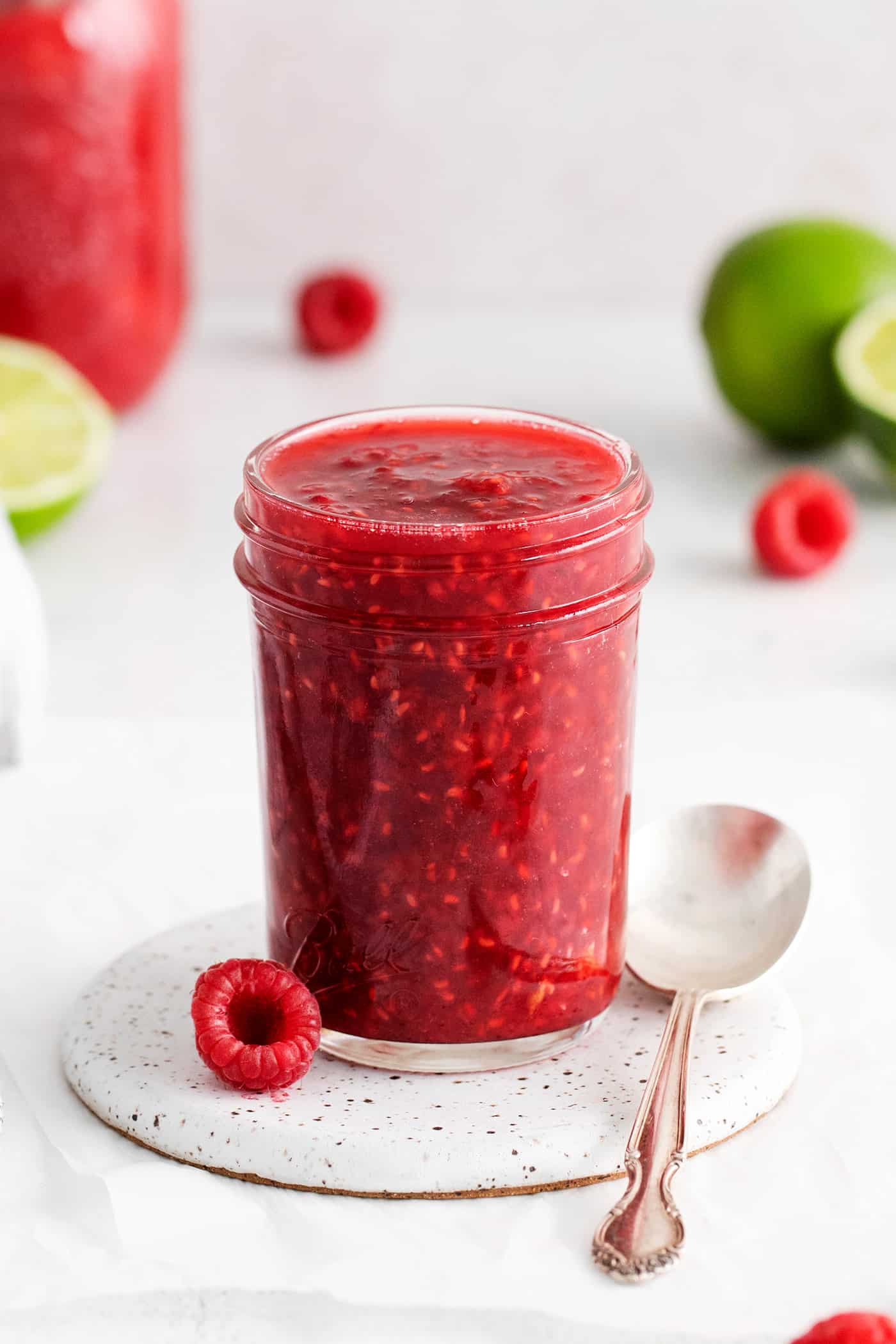 What To Serve It With
I first made this sweet, intensely fruity sauce as a topping for angel food cake – but there are so many ways to enjoy it! It can go on pretty much anything that needs a pop of bright, fresh color and flavor.
Here are a few more ideas:
Swirled into yogurt, with homemade almond coconut granola
Whisked into a vinaigrette
Drizzled over goat cheese, served with crackers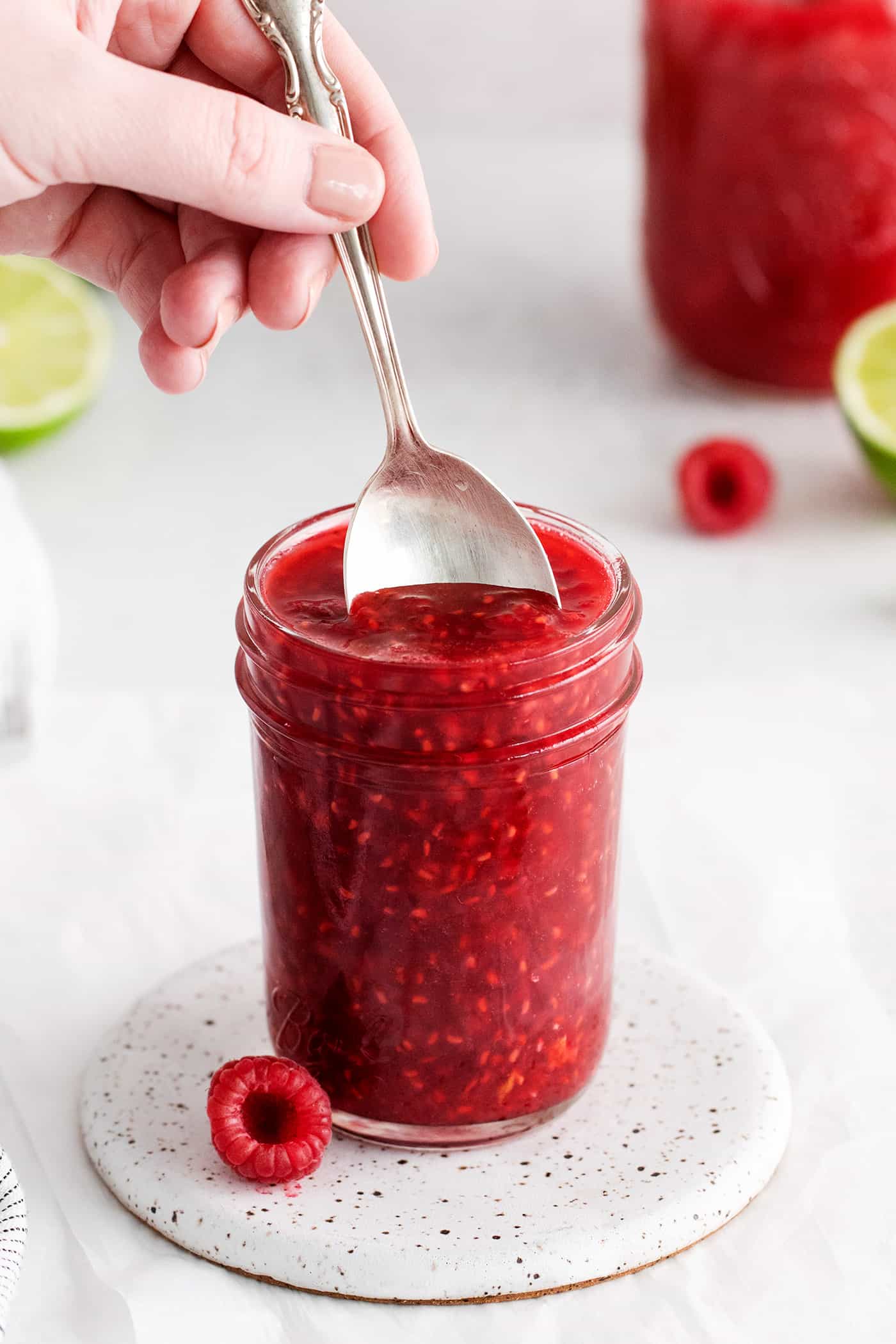 Storage & Freezing
After the raspberry sauce has cooled to room temperature, I like to transfer it to glass jars with lids. But any container with a lid works just fine, although I do recommend using glass so the sauce doesn't take on other flavors in the fridge. It will keep well in the fridge for up to a week, but you can easily freeze it as well.
When freezing, be sure the sauce has first cooled completely. Then transfer it to freezer-safe containers, leaving 1/2″ at the top of the jar for expansion. Wipe the tops of the containers clean and then twist on a lid.
Freeze the fresh fruit sauce for up to 6 months. Thaw in the fridge and then use within 1 week.
More Homemade Sauces & Jams:
Like this recipe? Save it to Pinterest!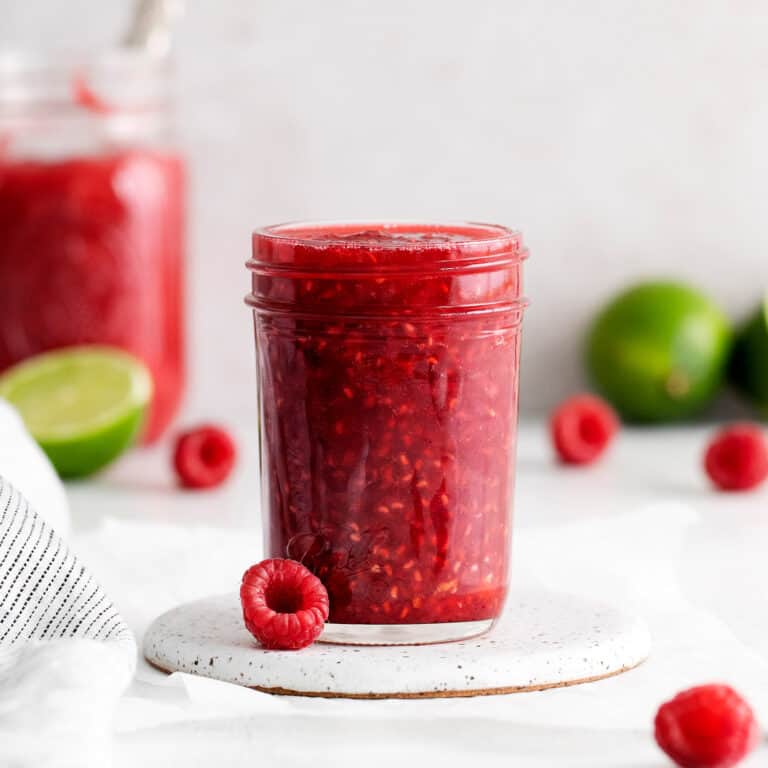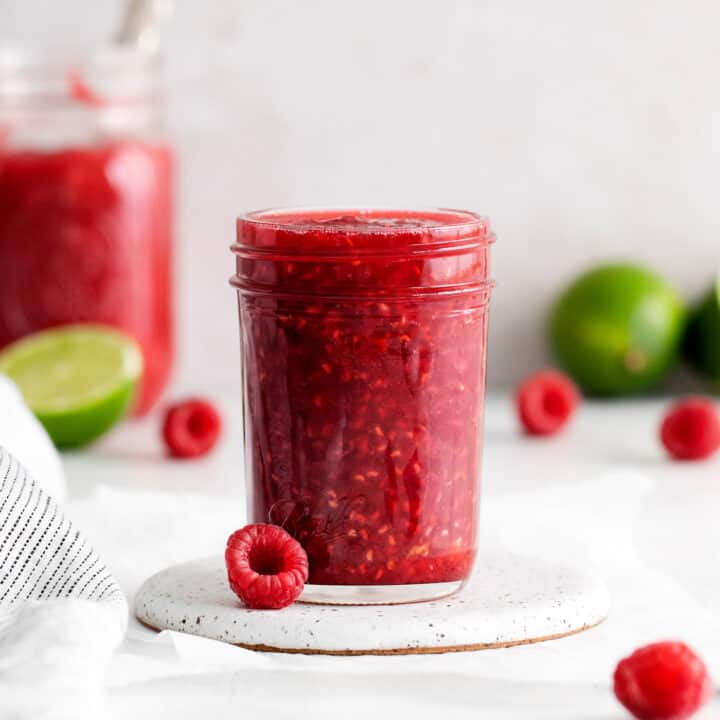 Super Simple Raspberry Sauce
Yield: 1½ cups
Prep Time: 5 minutes
Cook Time: 10 minutes
Additional Time: 2 hours
Total Time: 2 hours 15 minutes
Bright and sweet and intensely fruity, this Raspberry Sauce makes an irresistible topping for angel food cake, cheesecake, ice cream, yogurt, and more. Made with just 3 ingredients!
Ingredients
12 ounces fresh raspberries (or use frozen)
1/2 cup granulated sugar
2 tablespoons fresh squeezed lime juice
Instructions
Add all ingredients to a medium saucepan or saute pan, and stir to combine. Cover the pan and let macerate for 2 hours, stirring once after 1 hour. The berries will look glossy and there will be accumulated juices in the pan.
Uncover the pan and set it over medium heat, and bring to a low boil. Then reduce the heat to medium-low and let the mixture simmer. Stir occasionally, until the raspberries cook down into a sauce. This will take about 7 to 10 minutes, depending on the firmness of the berries. If you are using especially firm berries, go ahead and smoosh them up.
Remove pan from heat. Enjoy right away or let it cool a bit. Or transfer to jars with lids, let cool to room temperature, and store in the fridge to consume within 5 days. To freeze, transfer raspberry sauce to jars, leaving a 1/2" of headroom for expansion during freezing. Wipe the rims clean and top with a lid. Let cool completely before storing in the freezer.
Nutrition Information:
Yield: 12
Serving Size: 1
Amount Per Serving:
Calories: 48
Total Fat: 0g
Saturated Fat: 0g
Trans Fat: 0g
Unsaturated Fat: 0g
Cholesterol: 0mg
Sodium: 0mg
Carbohydrates: 12g
Fiber: 2g
Sugar: 10g
Protein: 0g
Nutrition information is automatically calculated by Nutritionix. I am not a nutritionist and cannot guarantee accuracy. If your health depends on nutrition information, please calculate again with your own favorite calculator.