Angel Food Cake
Light and fluffy with subtle vanilla and almond undertones, this Angel Food Cake is a dessert everyone loves. Serve with a dollop of whipped cream and raspberry sauce or fresh berries for the ultimate summer dessert!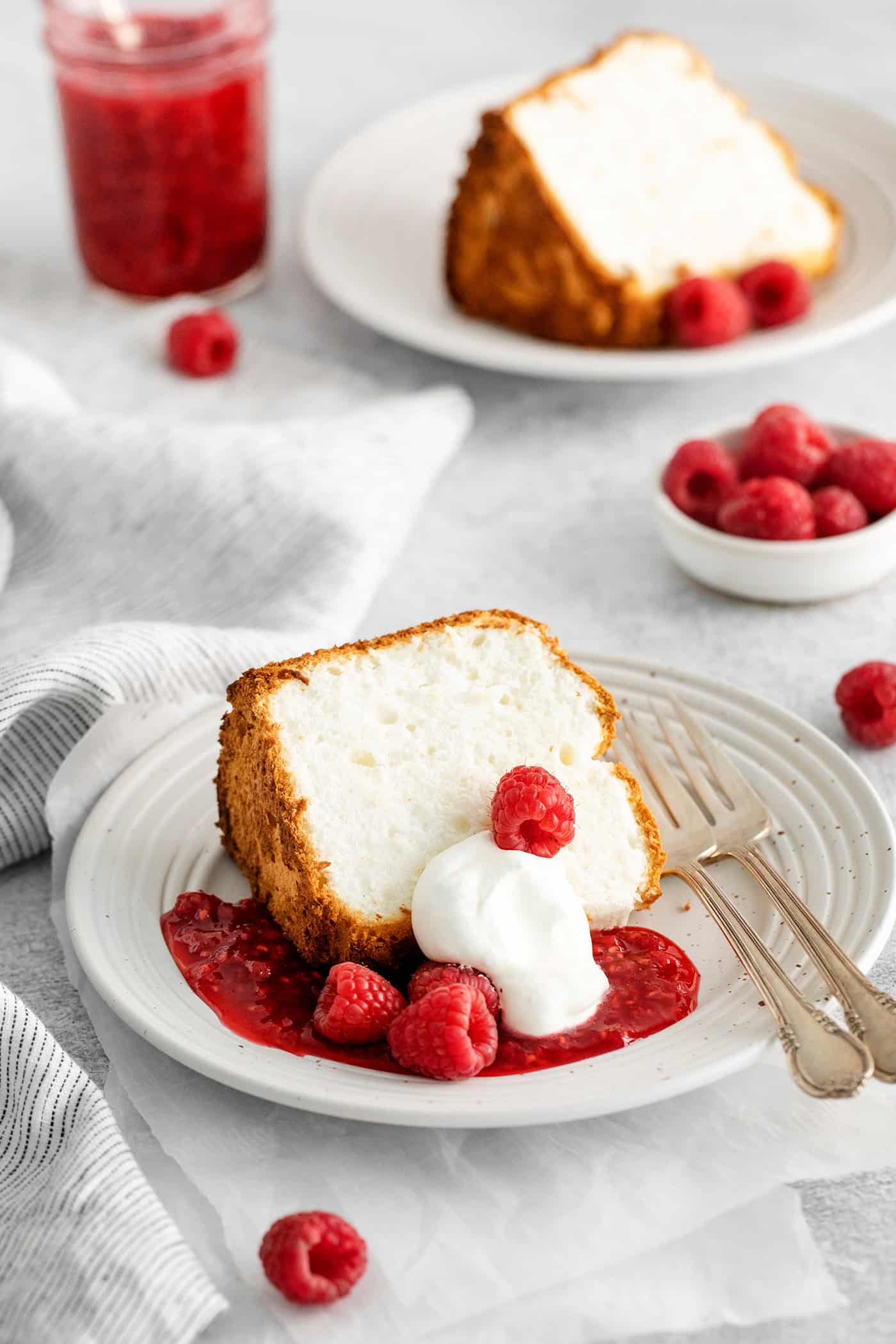 The Best Homemade Angel Food Cake
As a kid, I used to love watching my mom make this Angel Food Cake. It's an easy, fool-proof dessert that's extra fun to whip up (literally!).
There's just something special about a homemade angel food cake. It's light and fluffy and beautifully tender, with hints of vanilla and almond that I find irresistible. In the end, it's always worth the time in the kitchen.
I've been making this cake every summer for as long as I can remember. My family adores it, plus it's a perfect light summertime dessert for entertaining. I bake it earlier in the day, then serve it to guests that evening – with freshly whipped cream, plus berries, my easy rhubarb sauce, or fresh raspberry sauce. Everyone swoons for this delightful sweet treat!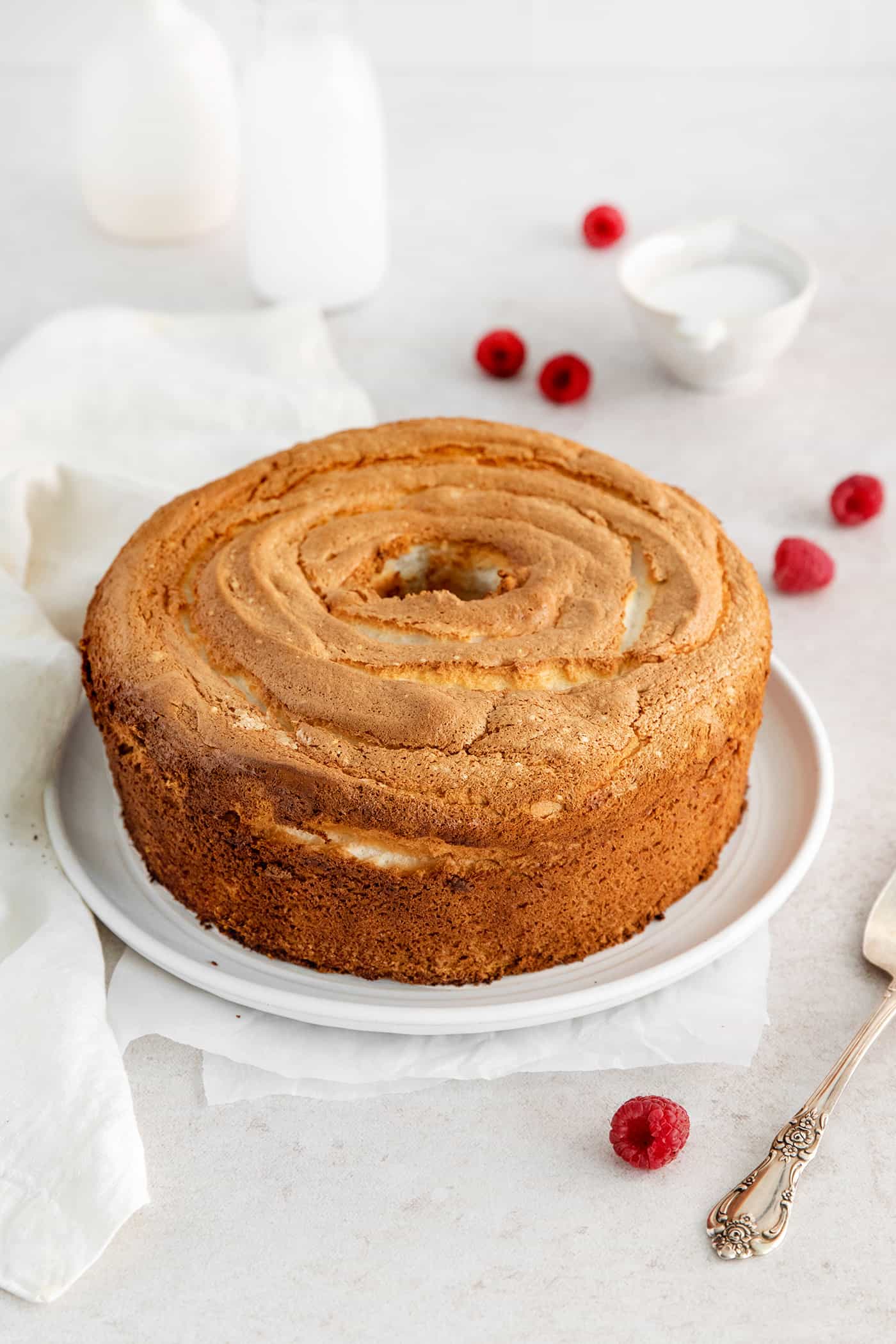 What is an Angel Food Cake?
Angel food cake (also known as angel cake) is a low-fat sponge cake made with egg whites, cake flour, and sugar. It has a light vanilla-almond flavor, a cloud-like crumb, and a pristine white inside.
This cake is commonly topped with whipped cream and fresh berries, though we often serve it with an easy raspberry sauce or rhubarb sauce instead.
Ingredients List
It's hard to believe that this cake recipe is made with so few ingredients!
Sugar – A combination of powdered sugar and granulated sugar achieves the perfect level of sweetness and texture in the cake.
Cake flour – Do not substitute all-purpose flour! Cake flour yields a taller, more tender angel food cake.
Egg whites – Be sure there's not even a drop of yolk, or the meringue won't set properly and you won't get the pristine white color.
Cream of tartar – This ingredient speeds up the formation of air bubbles when whipping egg whites. Plus it stabilizes the egg whites to prevent the cake from collapsing.
Vanilla & almond extracts – Use only pure extracts (not imitation flavoring). These give a light flavor and scent to the cake. You can also use just vanilla but I like the combination of the two!
Salt
What Pan Do I Need?
Angel food cake is always baked in a tube pan. It's very important to not substitute this for a bundt pan, as it will be almost impossible to get out of the pan. Tube pans can easily be found at grocery stores, department stores, and on Amazon.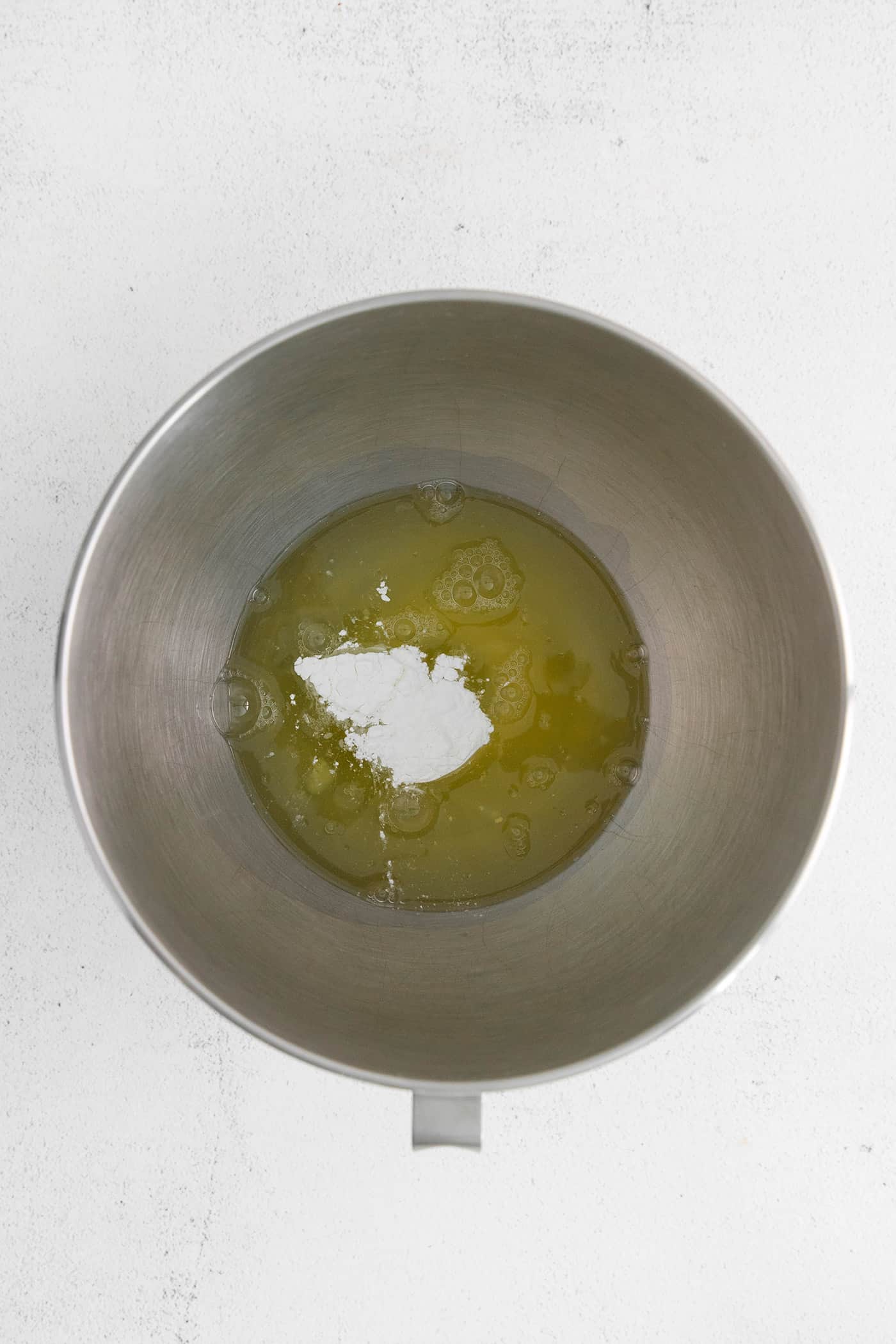 How to Make Angel Food Cake
This cake requires a few more steps than other homemade cakes but it's well worth the effort!
Make the meringue. Beat the egg whites and cream of tartar until foamy. Beat in the granulated sugar 2 tablespoons at a time. Add the vanilla and almond extracts and salt with the final bit of sugar. Beat until soft peaks form that are only slightly stiffened and glossy.
Fold in the flour. Whisk together the powdered sugar and flour in a separate bowl. Add it 1/4 cup at a time into the meringue, gently folding.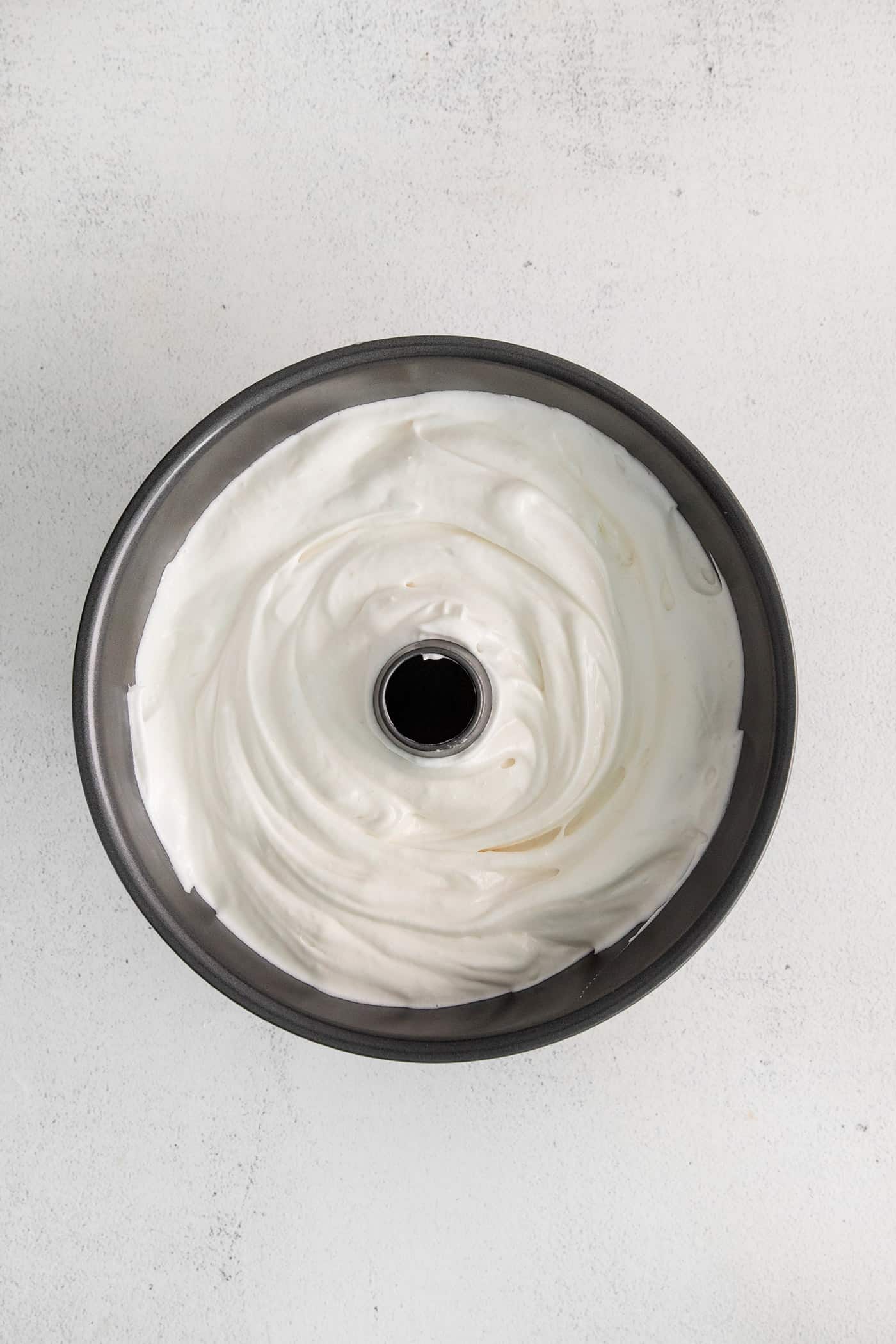 Bake. Transfer the batter to an ungreased tube pan. Bake for 30 to 35 minutes, until the top springs back when touched lightly.
Cool. Turn the pan upside down on a bottle neck and cool for 2 hours.
Serve. Slice and serve with raspberry or rhubarb sauce and some whipped cream.
Why Hang an Angel Food Cake Upside-Down?
Angel food cake has less flour than a typical cake, where egg whites produce the rise. And until the baked angel food cake cools completely, its structure is not set. To ensure it doesn't collapse, the cake needs to cool upside down.
This step was always a favorite of mine when I was young (and still is!). I loved to watch Mom turn the cake upside-down onto a big glass 7-Up bottle!
Note that some angel food cake pans have "feet" attached around the rim, so you can just flip the pan over and let it cool – no need to rest the pan on a bottle neck.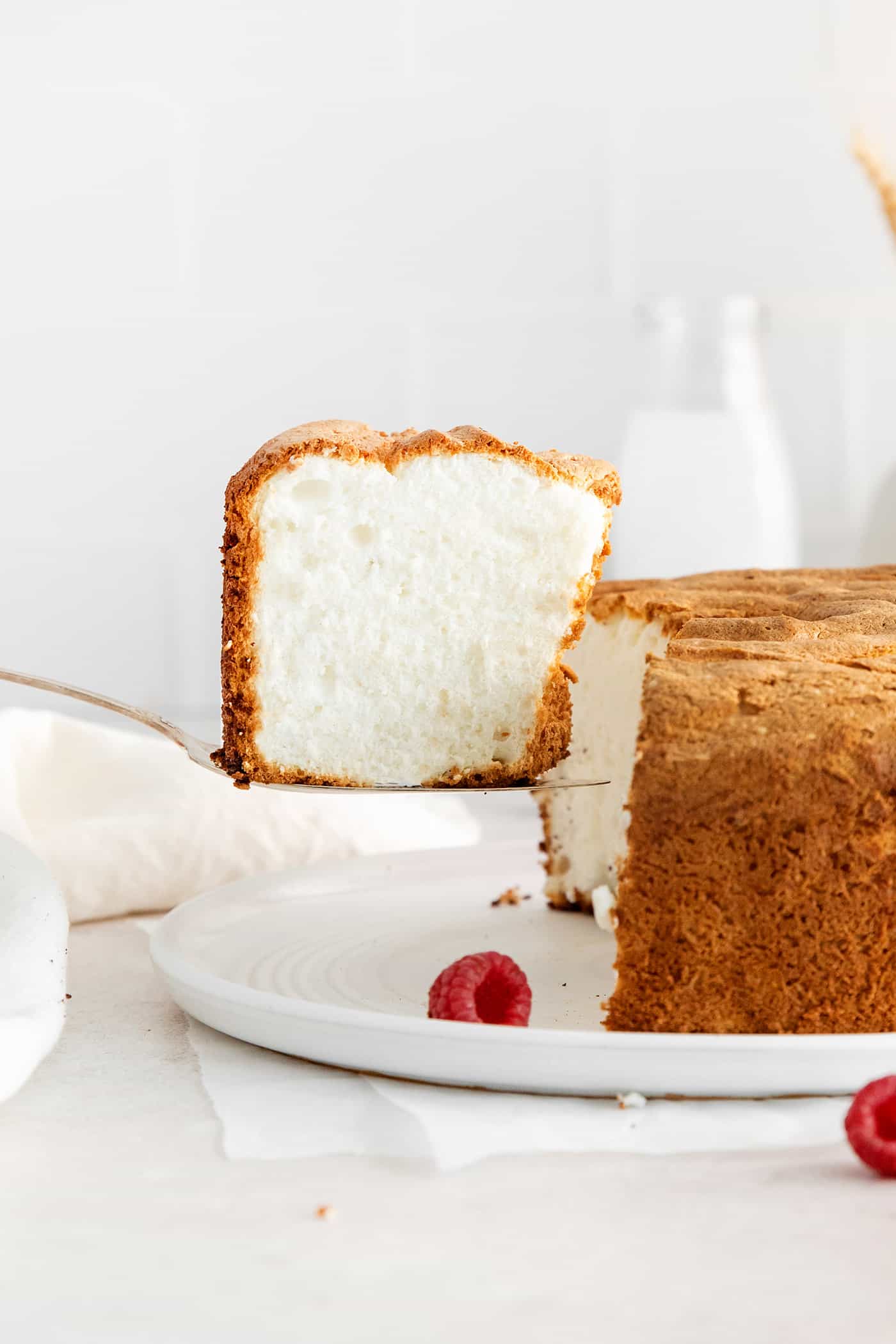 Tips for Success
I always have great success making angel food cake. Here are a few things to keep in mind.
Clean and dry your equipment. The bowl and beaters used to make the meringue should be cleaned and completely, absolutely, unquestionably (got that?!) dry before using.
Absolutely NO egg yolk. Even just a small amount of egg yolk will affect the color and hinder the whites from beating properly.
No substitutions. It's important to not make any substitutions in the ingredient list, with the exception of using all vanilla extract instead of vanilla and almond. Do not use regular flour or make other substitutions.
Use an UNGREASED pan. It's important to not grease the tube pan. The cake batter needs to be able to cling to the sides of the pan to rise properly. Any baking sprays, butter, etc. will hinder the proper rising.
How to tell when it's done. Angel food cake is finished cooking when the cracks in the cake feel dry and the top springs back quickly when you press on it.
Cool completely in the pan. Do not try to remove the cake from the pan until it has cooled completely, upside-down. Otherwise, it won't release properly.
Use a serrated knife. Grab a bread knife or other strong serrated knife and use a gentle sawing motion to cut it into individual slices. A regular knife will only squish this cake.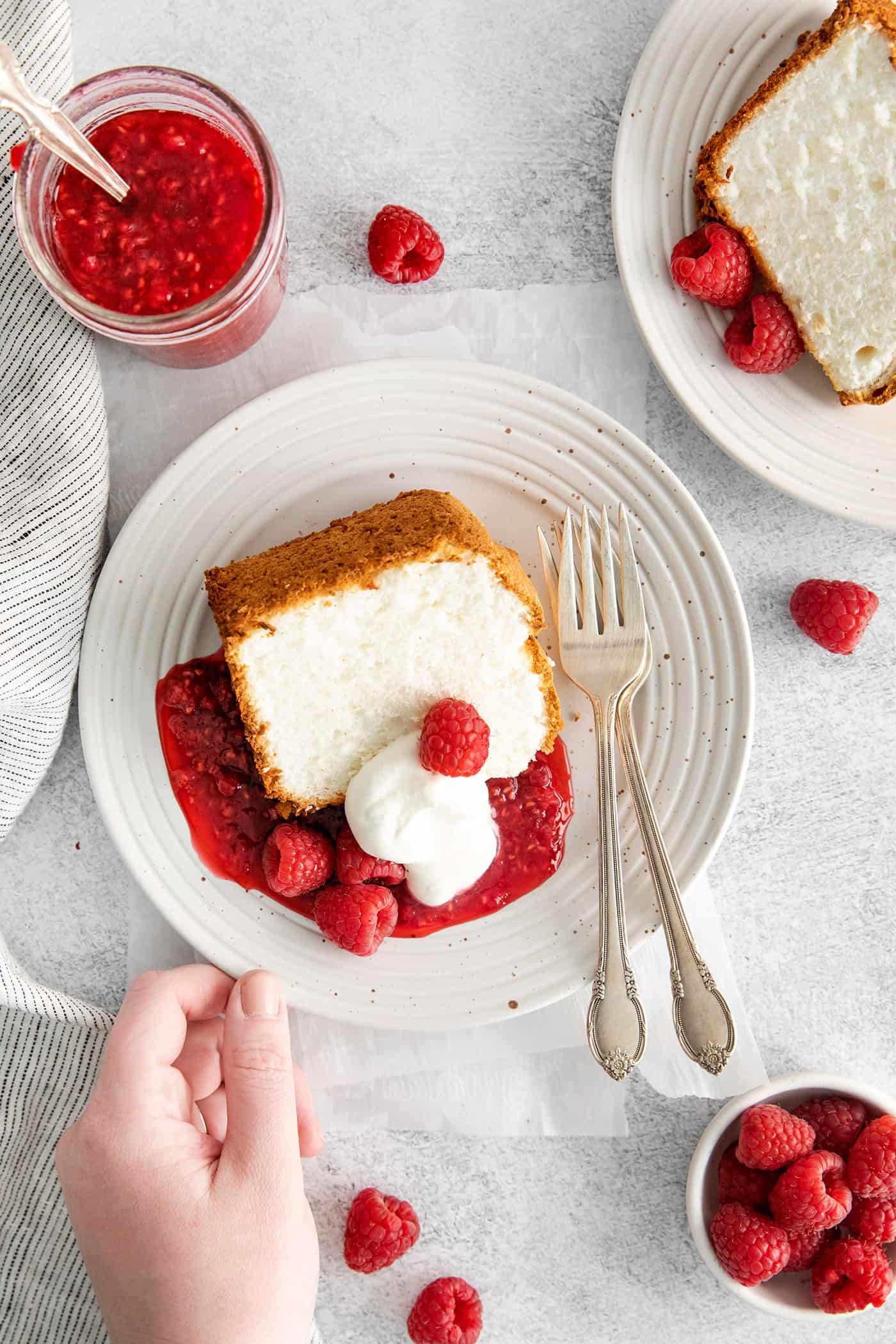 Serving Suggestions
Our favorite way to enjoy this angel food cake is with some rhubarb sauce or raspberry sauce drizzled over the top, along with some freshly whipped cream. The light flavor of the cake pairs so well with fruit sauces and really makes them pop.
Whipped cream and fresh berries are a common combination. I also know people who like to serve this cake with chocolate sauce and whipped cream – this easy hot fudge sauce would do very nicely!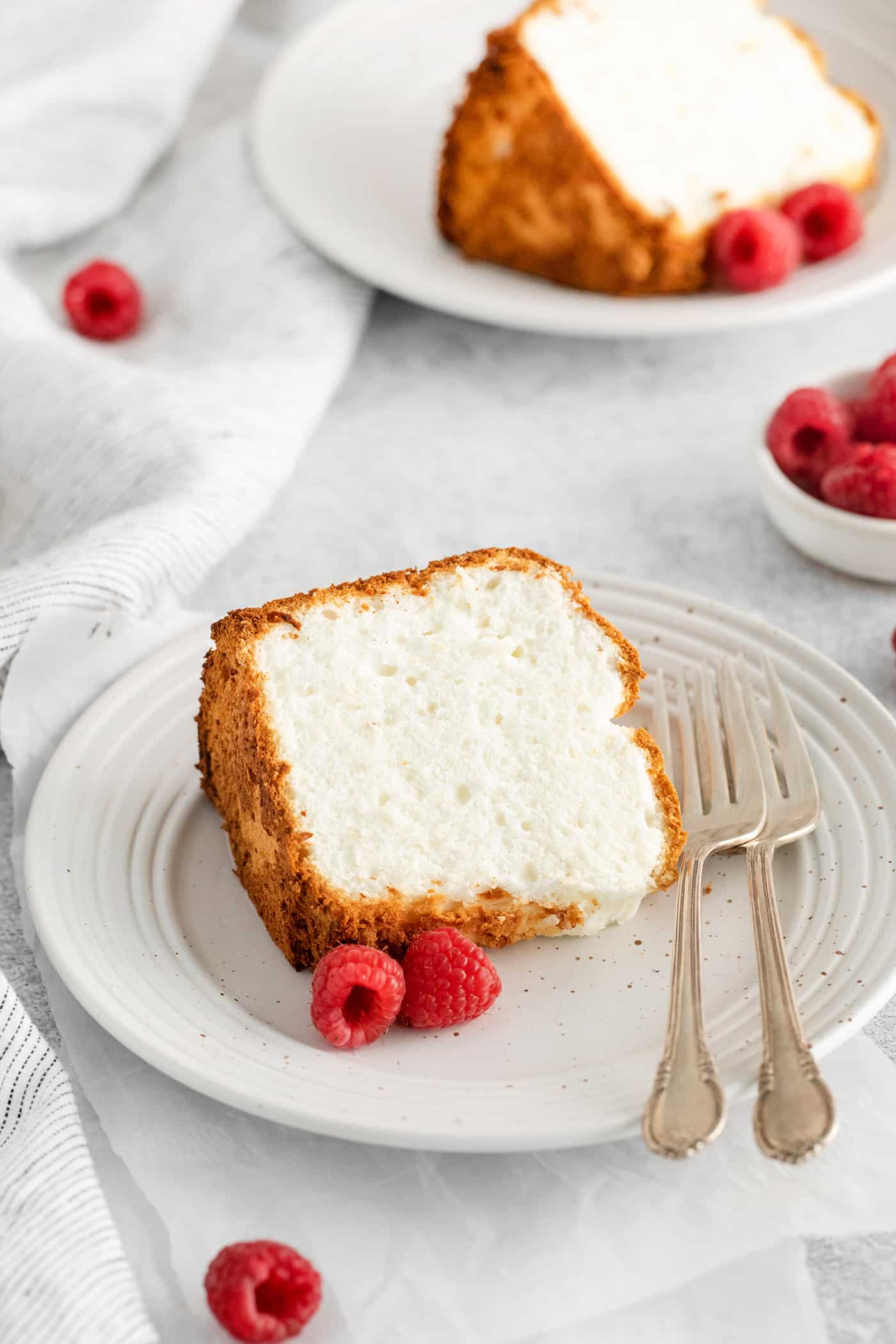 How to Store Leftovers
Store at room temperature. Angel food cake will always be at its best when enjoyed within 24 hours. It should be covered tightly and stored at cool room temperature.
Can I freeze angel food cake? Yes, angel food cake can be frozen. Wrap it tightly in plastic wrap and aluminum foil. Freeze for up to 3 months. Thaw overnight in the fridge then bring to room temperature on the counter before enjoying.
More Cake Recipes:
Like this recipe? Save it to Pinterest!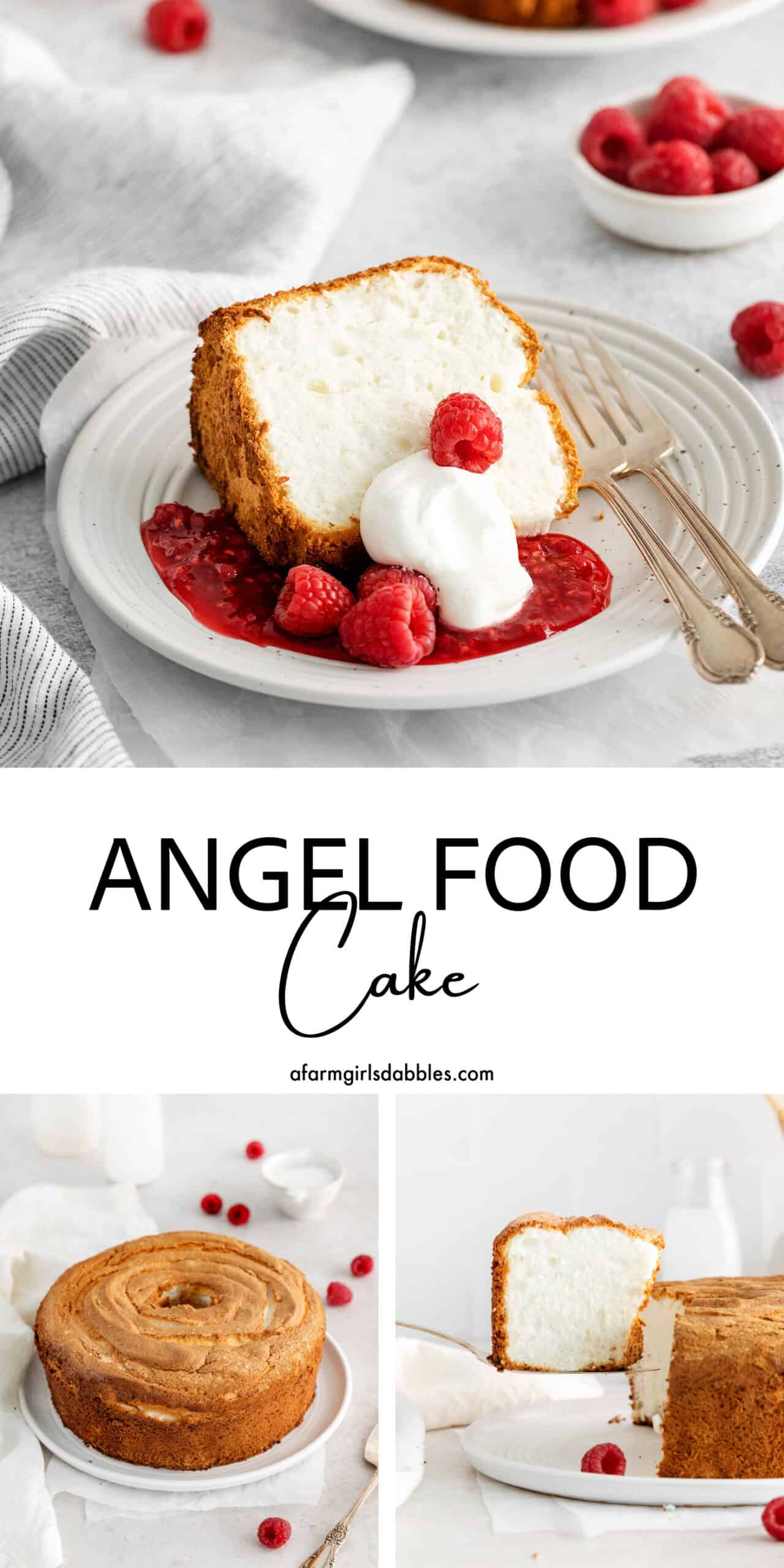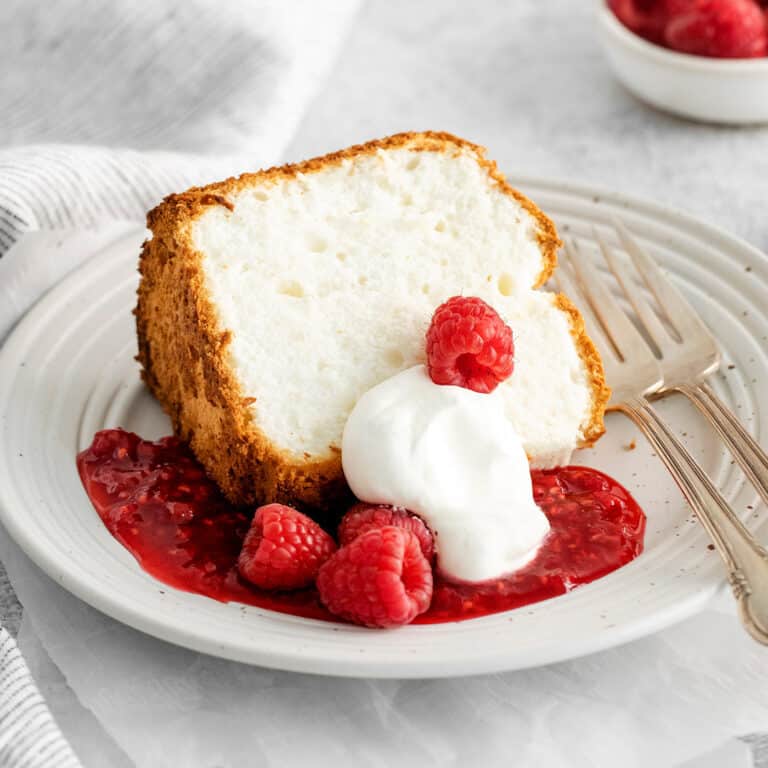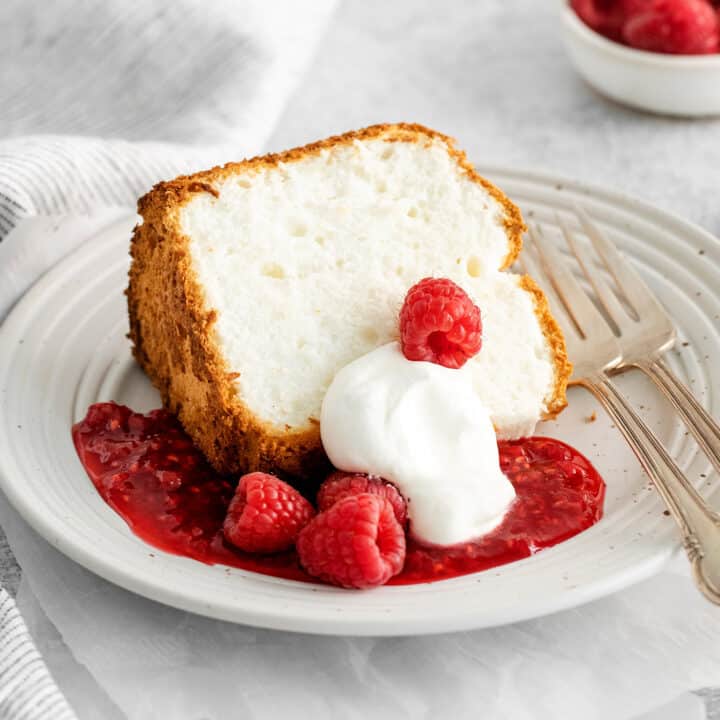 Angel Food Cake
Yield: 16
Prep Time: 20 minutes
Cook Time: 30 minutes
Total Time: 50 minutes
Light and fluffy with subtle vanilla and almond undertones, this Angel Food Cake is a dessert everyone loves. Serve with a dollop of whipped cream and raspberry sauce or fresh berries for the ultimate summer dessert!
Ingredients
1½ cups powdered sugar
1 cup cake flour
1½ cups egg whites (from about 11-12 large eggs)
1½ teaspoons cream of tartar
1 cup granulated sugar
2 teaspoons pure vanilla extract
1/2 teaspoon pure almond extract
1/4 teaspoon kosher salt
Instructions
Move oven rack to lowest position and preheat oven to 375° F.
In a small bowl, whisk together powdered sugar and flour; set aside.
In the bowl of a stand mixer, beat egg whites and cream of tartar on medium speed until foamy. Make sure your bowl and beaters are very clean and dry and that there are no egg yolks present, as even a bit of grease or egg yolk will prevent egg whites from beating properly. Beat in granulated sugar on high speed, 2 tablespoons at a time, adding vanilla, almond extract, and salt with the last addition of sugar. Continue beating until soft peaks form that are slightly stiffened and glossy. Now you have meringue!
Sprinkle powdered sugar-flour mixture, 1/4 cup at a time, over meringue, gently folding it in just until sugar-flour mixture disappears. Over-folding can break down the egg whites and result in a compact cake. Transfer batter to an ungreased 10" x 4" tube pan. Cut gently through batter with a butter knife to even out the batter.
Bake 30 to 35 minutes, or until cracks in cake feel dry and the top springs back when touched lightly. Immediately turn pan upside down onto a bottle neck or metal funnel on the countertop and let hang about 2 hours or until cake is completely cool. (A cake that pulls away and/or falls out of the pan is underbaked.)
Turn cake pan right-side-up and gently slide a thin knife around the cake's edge, then remove cake from pan. Serve with whipped cream, plus raspberry sauce, rhubarb sauce, or fresh berries.
Nutrition Information:
Yield: 16
Serving Size: 1
Amount Per Serving:
Calories: 134
Total Fat: 0g
Saturated Fat: 0g
Trans Fat: 0g
Unsaturated Fat: 0g
Cholesterol: 0mg
Sodium: 58mg
Carbohydrates: 30g
Fiber: 0g
Sugar: 23g
Protein: 3g
Nutrition information is automatically calculated by Nutritionix. I am not a nutritionist and cannot guarantee accuracy. If your health depends on nutrition information, please calculate again with your own favorite calculator.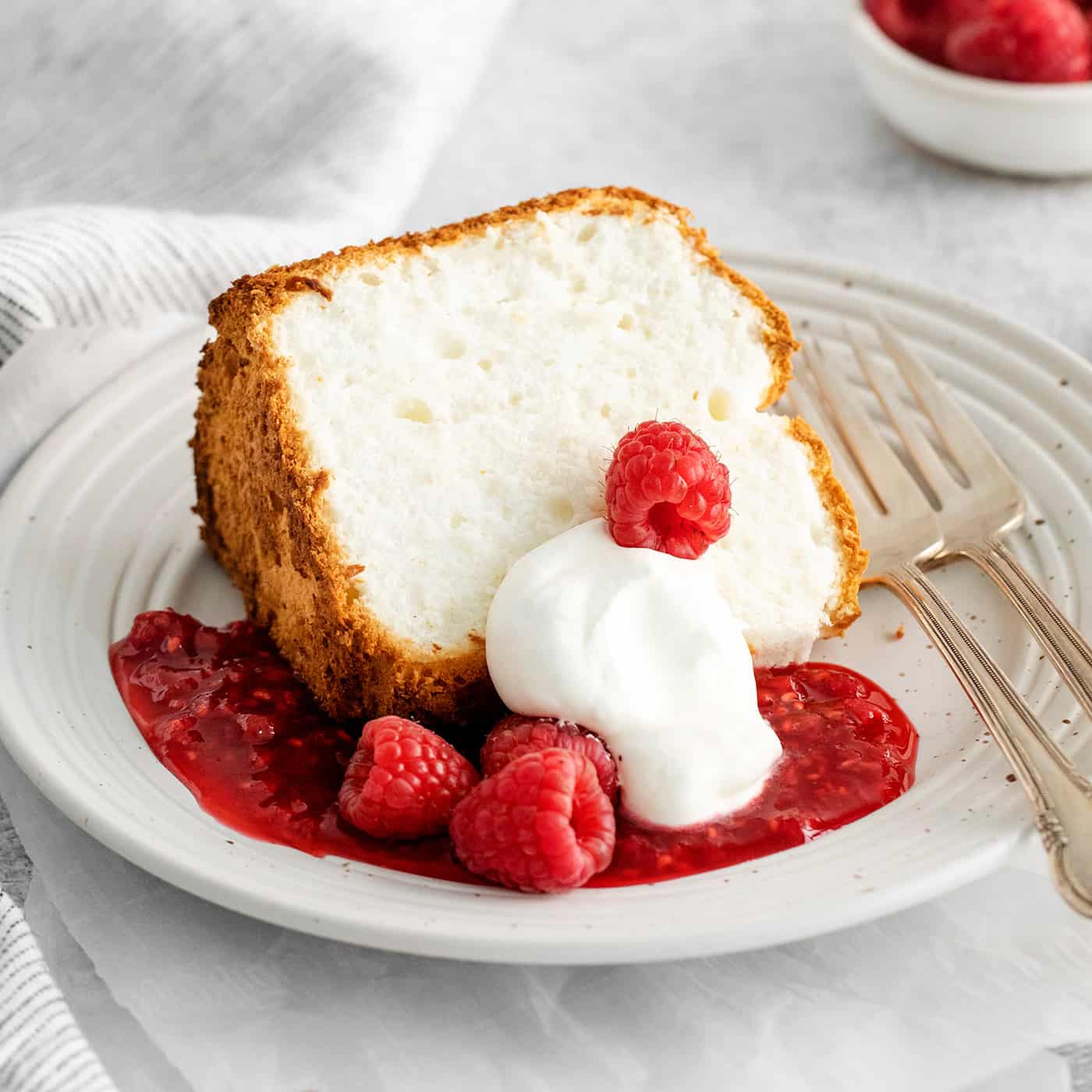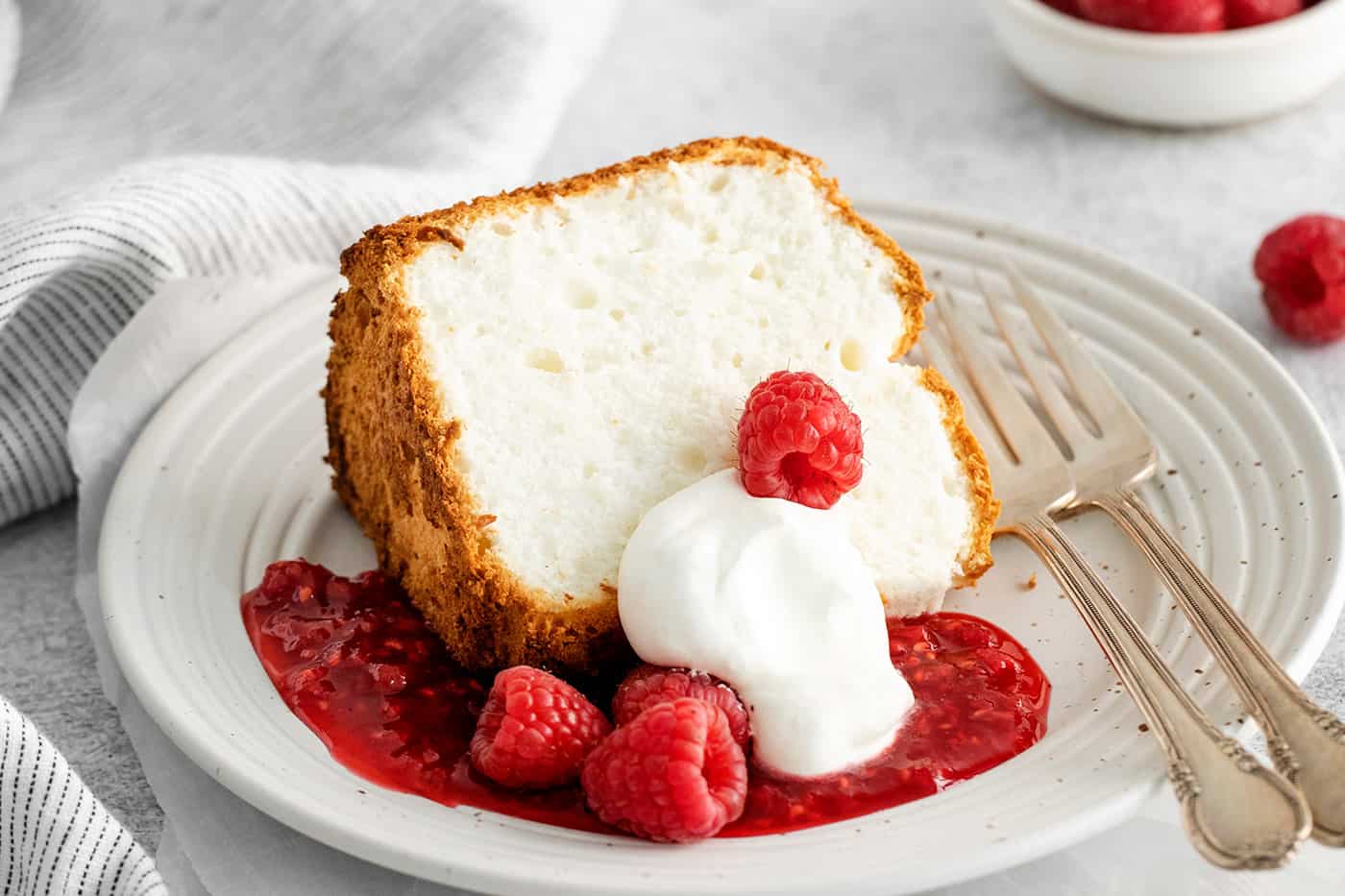 This post was originally published in 2010, then updated in 2022.