Raspberry Blackberry Freezer Jam
Make this Raspberry Blackberry Freezer Jam in less than an hour, with just 4 ingredients! It's an easy freezer jam recipe with no canning required, for the brightest, freshest flavor. Enjoy year-round on toast, biscuits, waffles, and more.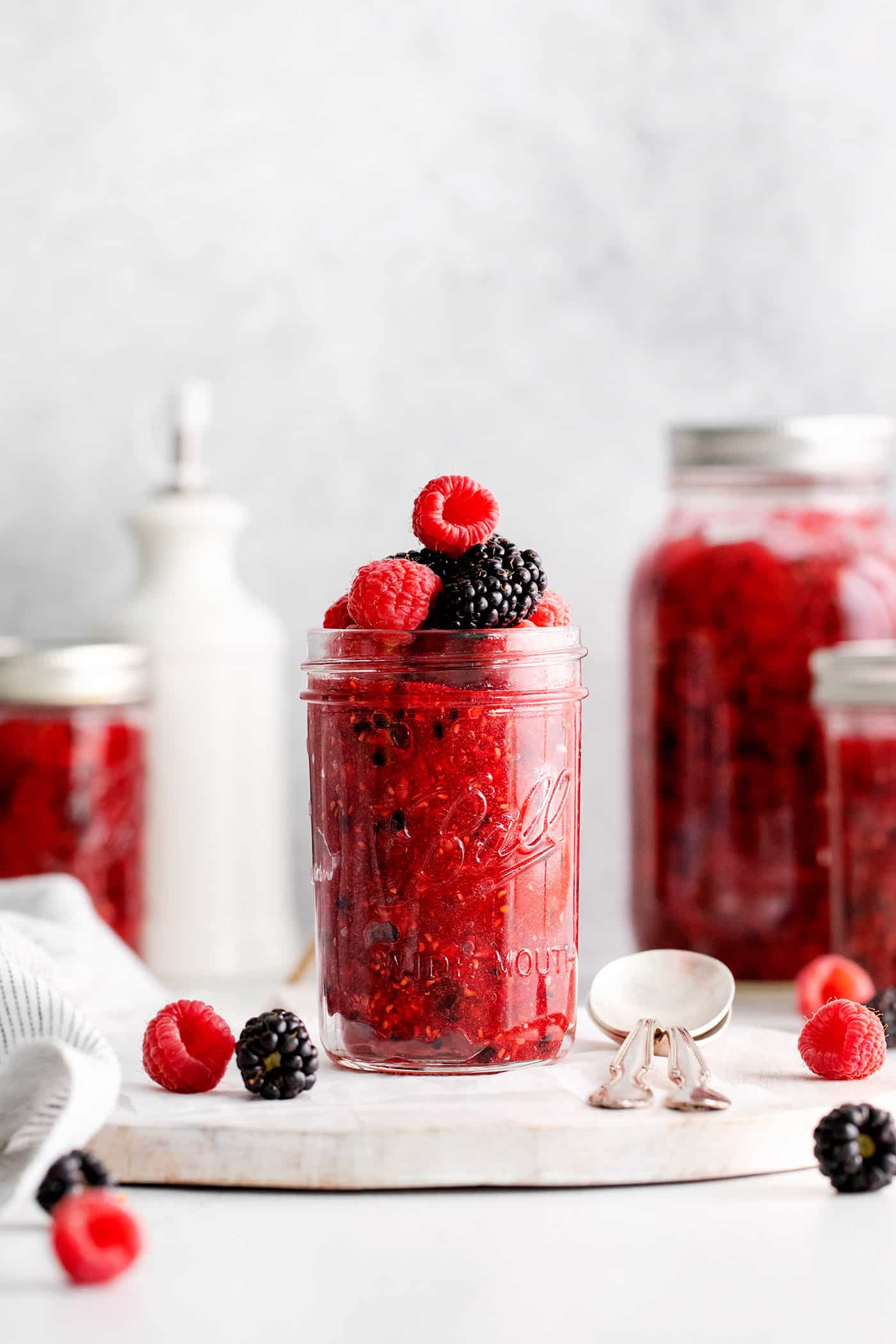 Homemade Raspberry Blackberry Jam
I'm a huge fan of freezer jam and this Raspberry Blackberry Freezer Jam is a top favorite. It's so quick and easy to make (no canning process!), and the taste beats the pants off any jam on the grocery store shelf!
Because the fruit is not cooked, the jam has a much fresher flavor. And the process is so simple and fast (done in less than an hour!) – our daughters have been the jam makers around here since before they were teenagers. Yes, it really is that easy!
Freezer jam is the quickest, easiest way to preserve a little of summer's deliciousness for later. Come January, it's an extra special treat to spread last summer's sweet, jeweled jam onto a toasted English muffin or steaming waffle on a cold, snowy morning!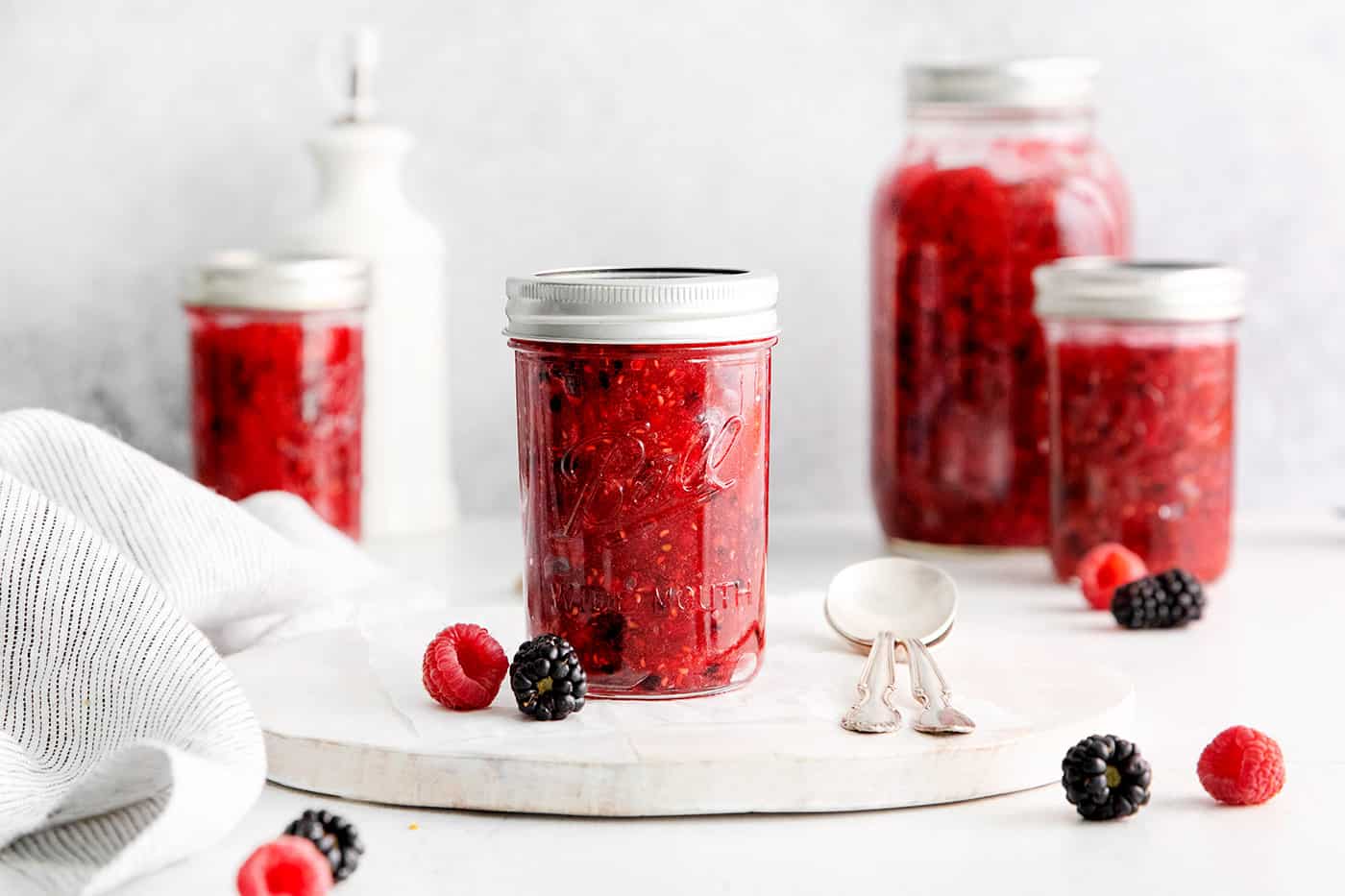 During peak season, our raspberry patch gives us 3 to 4 quarts of berries a day. So it takes a little creativity to make sure we don't let a single sweet raspberry go to waste. While we eat plenty of raspberries straight-up, we also bake with them, freeze some for smoothies, and share the harvest with friends and neighbors.
And we also make a couple batches of this simple jam. This recipe throws some blackberries into the jars – it's a family favorite!
This raspberry blackberry jam is not only spectacularly beautiful, with little bits of darker berry mixed with the red raspberries, but it's also extra scrumptious.
We love to spoon this jam over waffles and pancakes on the weekend, or onto steaming hot popovers – incredible!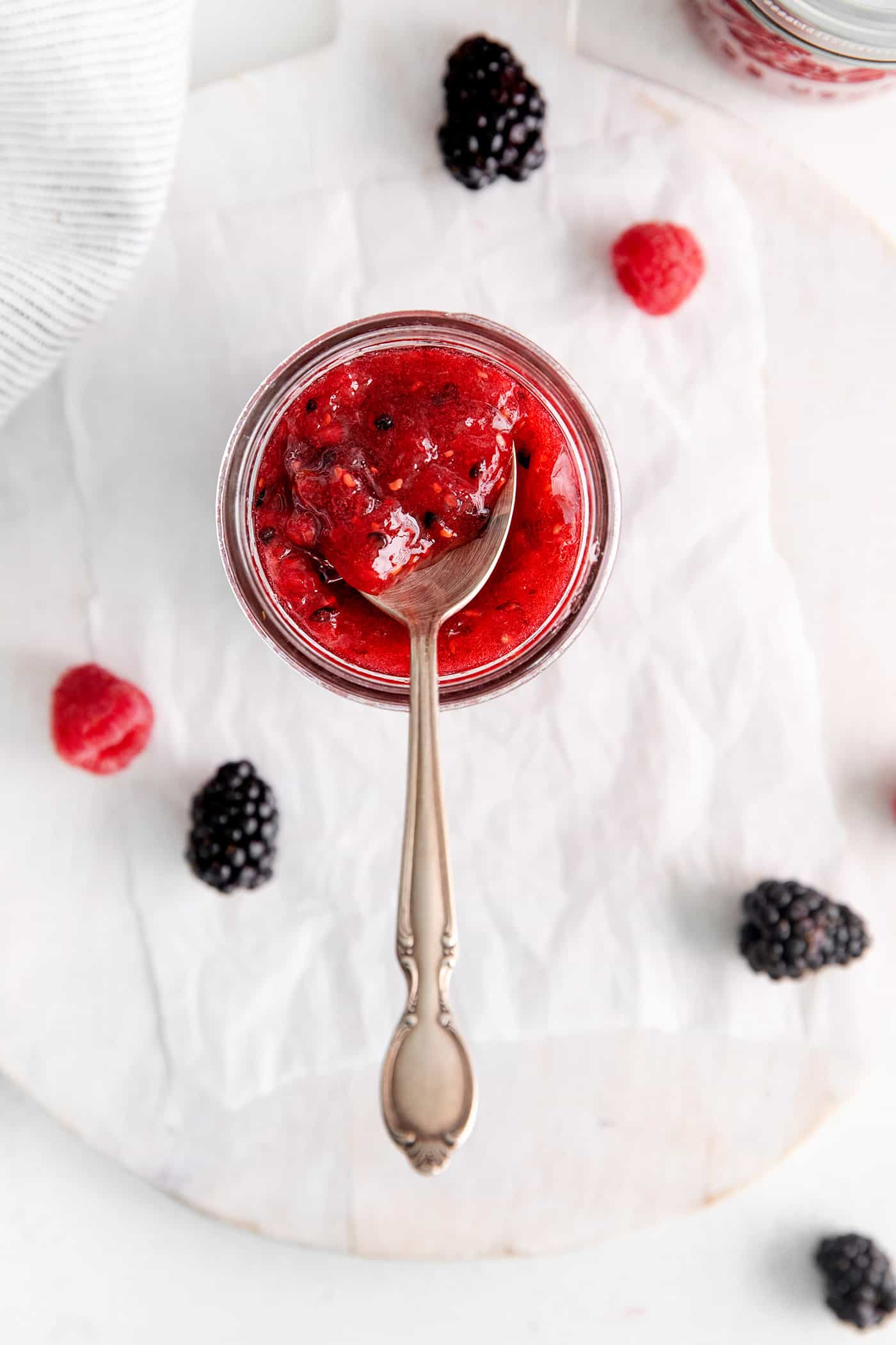 Regular Jam vs Freezer Jam
What exactly is freezer jam? And how is it different from regular jam? Here's a run-down of the differences in how it's made, the texture, and the storage.
Freezer jam uses fresh, uncooked fruit. As with all freezer jam recipes, this jam is made with fresh fruit. Whereas traditional jam is cooked first, until the fruit breaks down and thickens.
The consistency is not as thick. Freezer jam is easily spreadable and not as thick as traditional jam, since it's not cooked.
Freezer jam is not canned. You also do not need to use a water bath to seal the jars of jam, like you would with the regular jam canning process. This is a time-saver, for sure!
Freezer jam is stored in the freezer. As you may already guess from the name, freezer jam is stored in the freezer until you're ready to eat it. Unlike traditional canned jams, freezer jam is not shelf-stable and cannot be stored on the pantry shelf.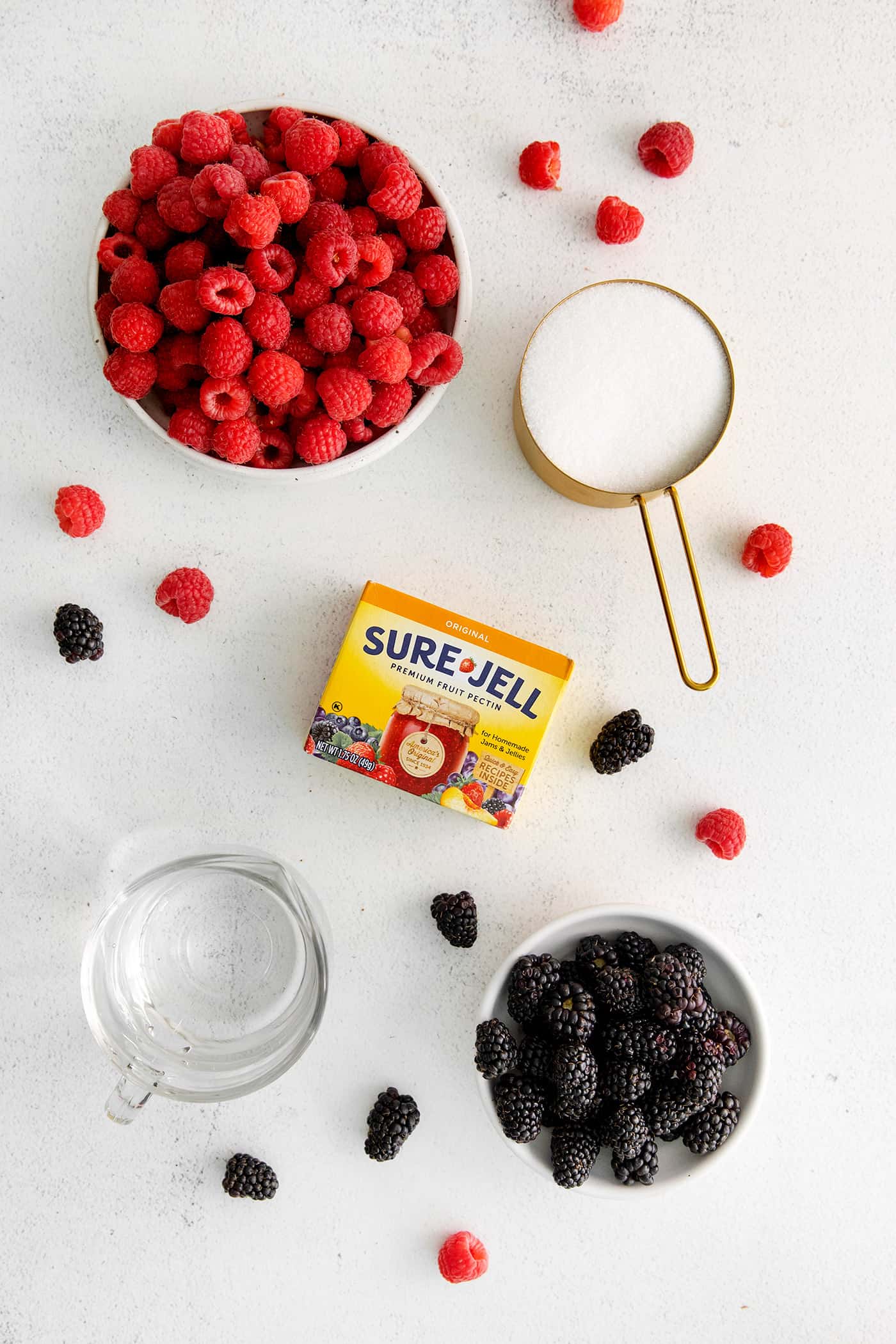 What You'll Need
You'll need just 4 ingredients + water to make this raspberry freezer jam. Scroll down to the recipe card for exact amounts.
Berries – I used a 2:1 ratio of raspberries to blackberries. It's important to use perfectly ripe berries. Do not use under-ripe or overly ripe fruits.
Granulated sugar – Yes, this recipe uses a lot of sugar. But do not try to reduce it or use a sugar substitute, as this can cause your jam to not set up properly.
Sure-Jell Premium Fruit Pectin – Use the "original" one in the yellow box, here's the pectin I use.
Water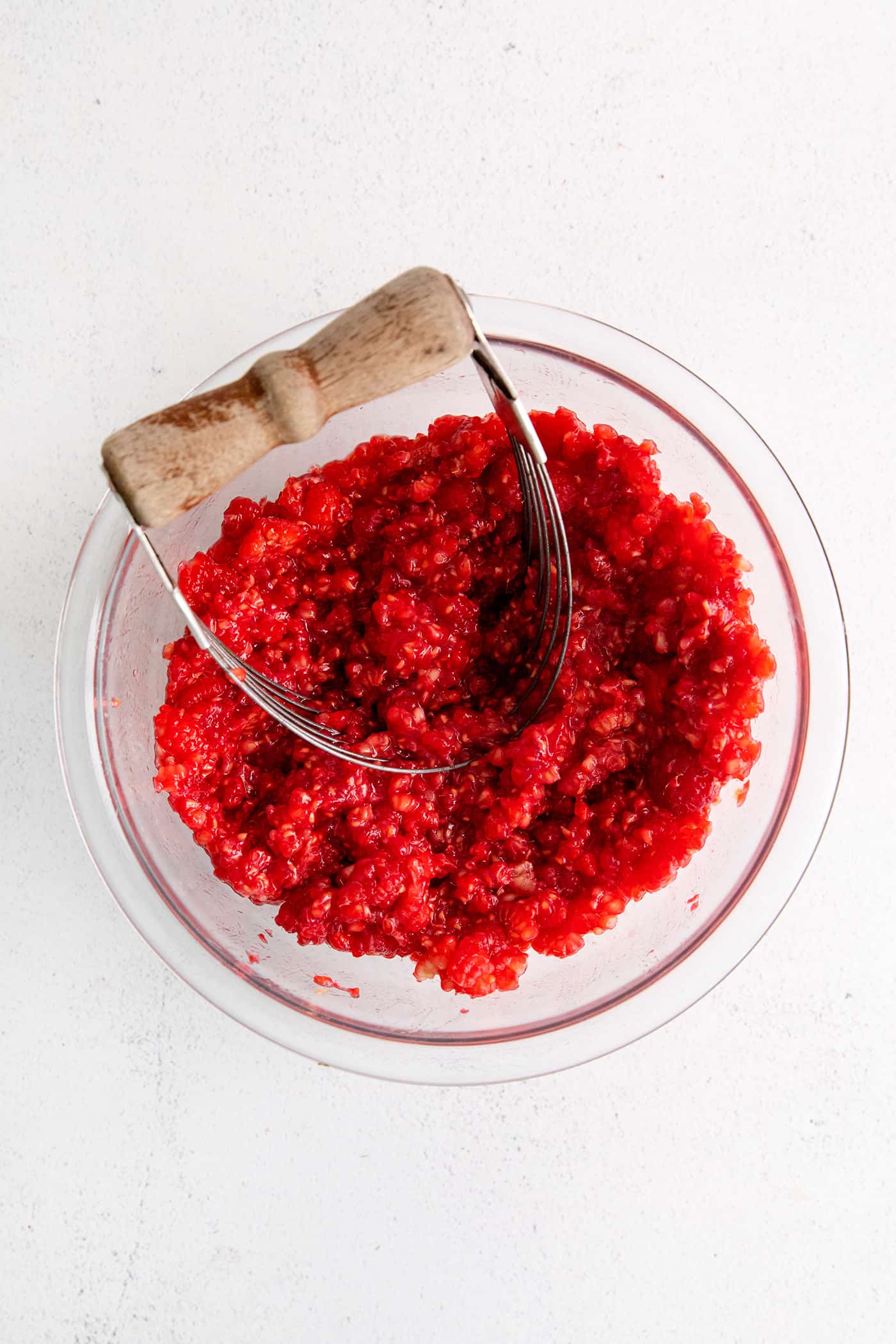 How to Make Raspberry Blackberry Freezer Jam
This homemade raspberry blackberry jam comes together in just a few easy steps.
Prepare the berries. Use a rigid pastry blender or potato masher to crush the berries, then stir in the sugar. Let stand for 10 minutes, stirring occasionally.
Prepare the pectin. Stir together the pectin and water on the stovetop. Bring to a boil, stirring for 1 minute.
Combine the ingredients. Pour the hot pectin into the berry mixture and stir until the sugar dissolves.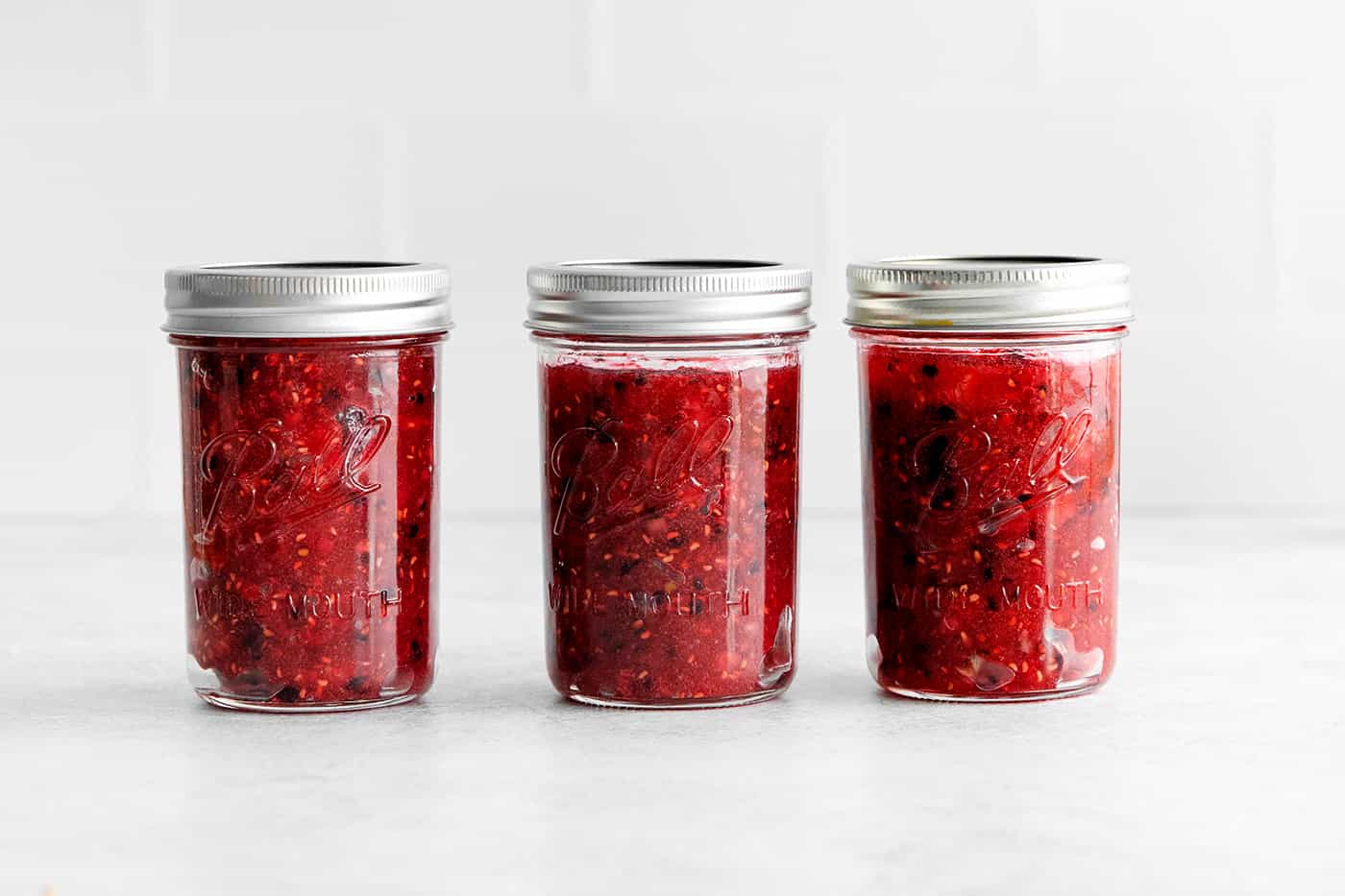 Transfer to the jars. Transfer the jam to jars, then wipe the rims clean and screw on the lids.
Let set. Leave the sealed jars at room temperature for 24 hours so the pectin can set. Then transfer to the fridge or freezer.
Tips for Success
Here are a few tips for making the best homemade freezer jam.
Use ripe fruit. For the best flavor and set, use fresh berries that are firm and perfectly ripe. The quality of the finished jam relies first on the quality of the fruit that's in it.
Measure carefully. Use the exact amount of berries, sugar, and water that is specified in this recipe. Any changes can lead to variations in the texture of the jam.
Do not use a sugar substitute. This recipe does call for quite a bit of sugar (as do all freezer jams) but it's very important to not alter the amount or use a substitute. The result will not be the same.
How to fill the jars easier. I use a ladle and wide-mouth funnel to fill my jars easier and with less mess.
Leave room at the top of the jars. Freezer jam can expand and contract with the freezing & thawing process, so be sure to leave about 1/2″ of empty space at the top of each jar.
Don't skip the rest period. For the jam-like consistency, it's important to leave the jars on the counter for 24 hours. This allows the pectin to finish working its magic, to create the desired texture.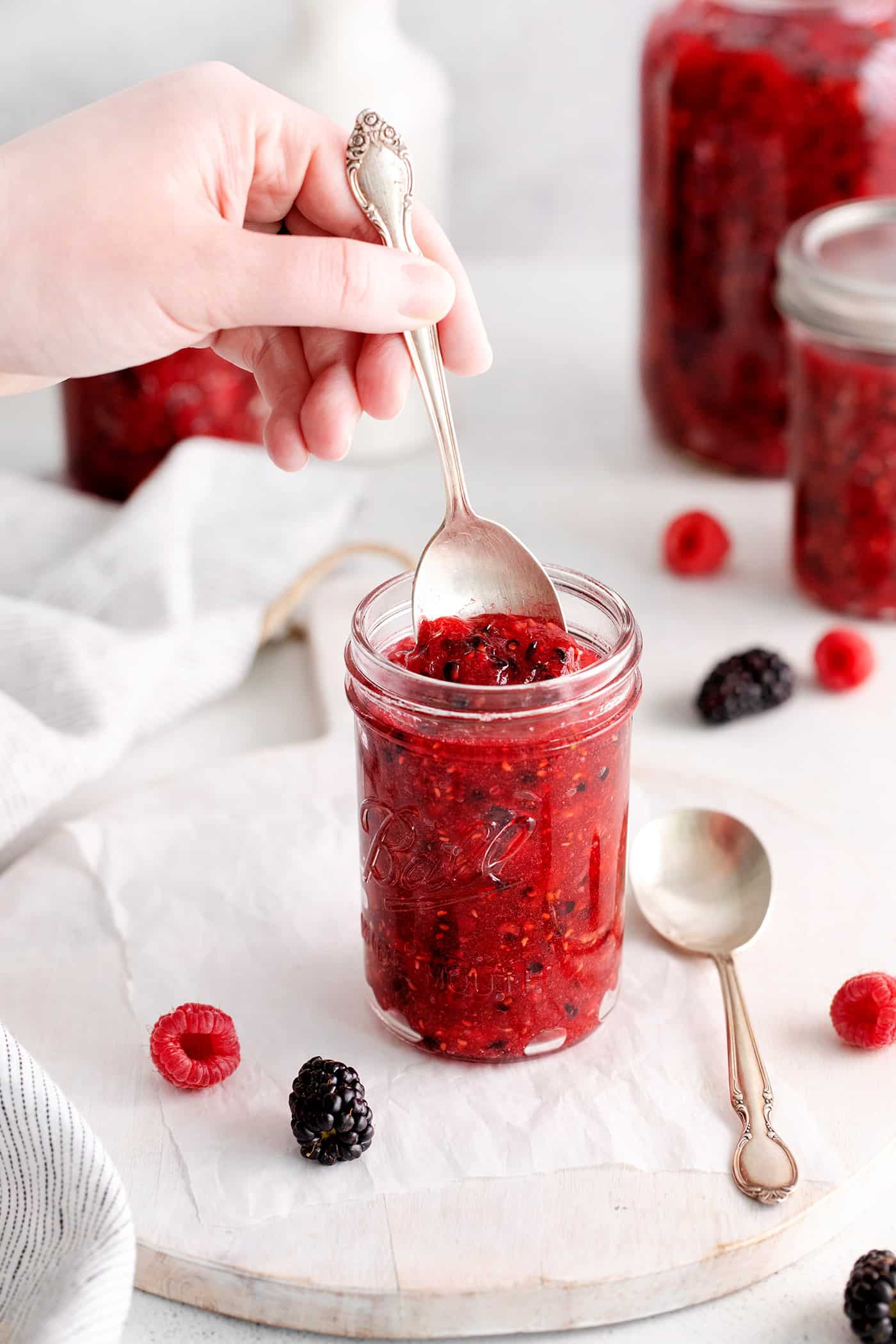 Serving Suggestions
There are so many ways to use freezer jam! Add it to anything that needs a burst of fresh fruit flavor.
The most obvious use for your raspberry freezer jam is to spread it on your morning toast (or English muffin or biscuit). And if you like popovers, you are in for a treat when you top it with a little butter and this beautiful jam!
I also love to swirl some jam into a bowl of Greek yogurt, plus a sprinkle of our favorite homemade granola.
And weekend breakfast is extra special with fresh raspberry jam. Spoon a bit of jam onto your waffles or buttermilk pancakes and then add a dollop of whipped cream – so fun and delicious!
How Long Will This Last?
Once you open a jar of raspberry blackberry freezer jam, store it in the fridge. It will be at its best quality for about 1 month. For this reason, I like to use smaller jars so we actually finish up the jam within a month.
Stored in the freezer, it's best to consume your jam within 1 year. Thaw overnight in the fridge and enjoy. Once thawed, it will last for a month.
More Homemade Jam Recipes:
Like this recipe? Save it to Pinterest!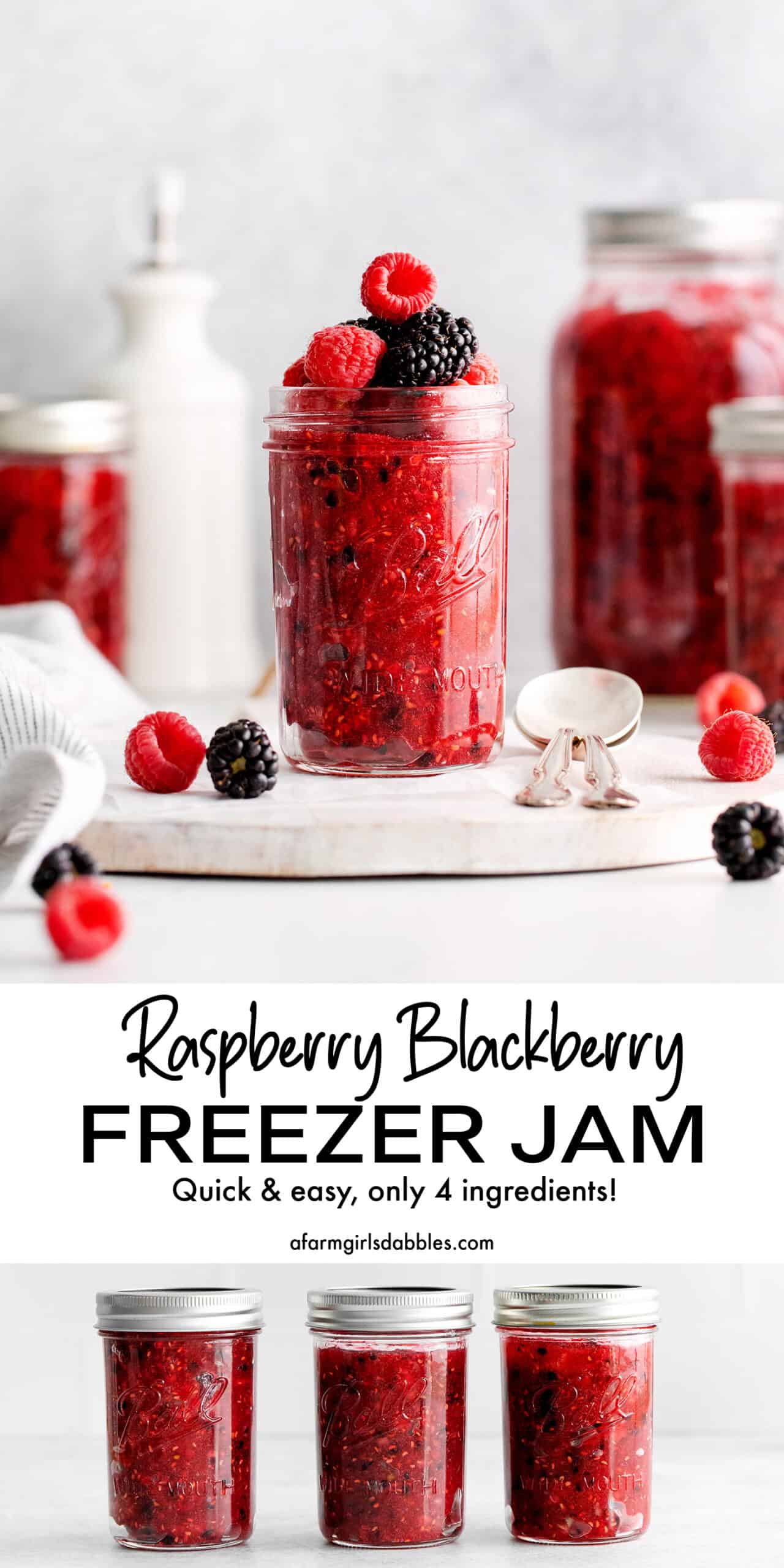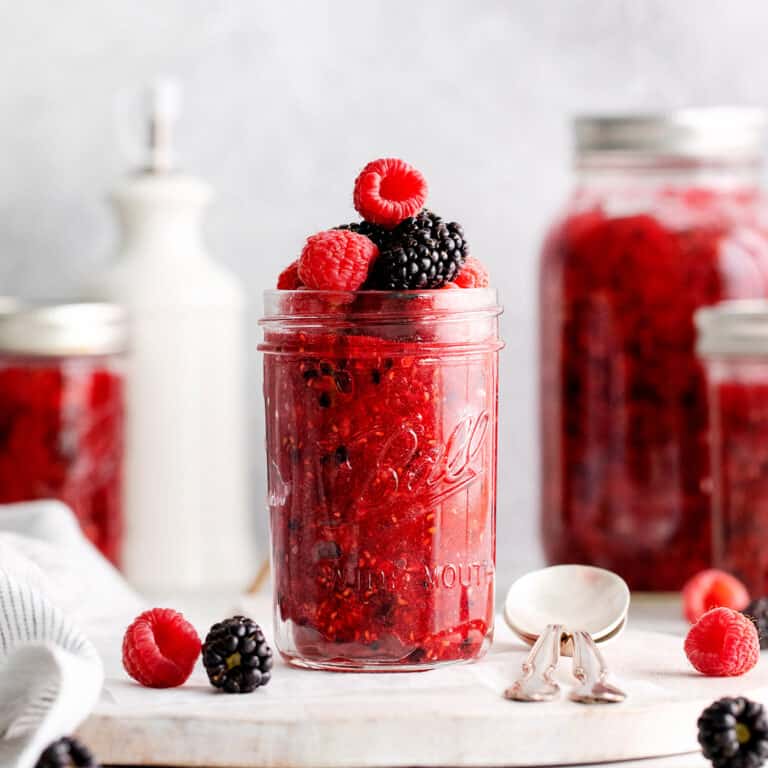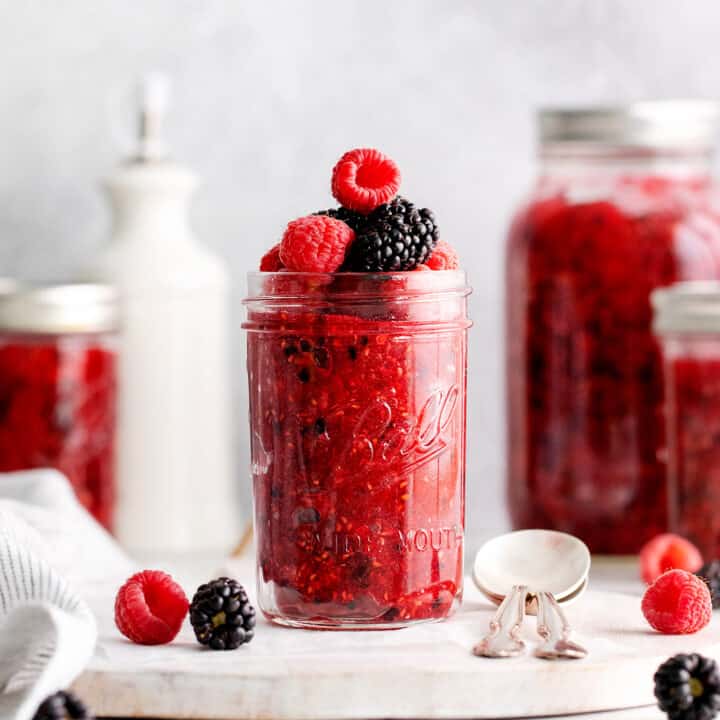 Raspberry Blackberry Freezer Jam
Yield: 7 cups
Prep Time: 35 minutes
Cook Time: 5 minutes
Additional Time: 1 minute
Total Time: 41 minutes
Make this Raspberry Blackberry Freezer Jam in less than an hour, with just 4 ingredients! It's an easy freezer jam recipe with no canning required, for the brightest, freshest flavor. Enjoy year-round on toast, biscuits, waffles, and more.
Ingredients
2 cups crushed raspberries
1 cup crushed blackberries
5¼ cups granulated sugar
1 box (1.75 ounce) "original" Sure-Jell premium fruit pectin
3/4 cup water
Instructions
Prepare berries by crushing with a potato masher or rigid pastry blender. The jam should have little bits of fruit, but be mostly crushed. Measure exact amount of prepared berries into a large bowl.
Measure the exact amount of sugar and stir into berries. Mix well and let stand for 10 minutes, stirring occasionally.
In a small saucepan, stir together the pectin and 3/4 cup water. Pectin may start out lumpy. Bring to a boil over high heat, stirring constantly. Boil for 1 minute, stirring constantly. Remove from heat.
Stir hot pectin mixture into berry mixture. Then stir constantly until sugar is completely dissolved and no longer grainy, about 3 minutes.
Immediately fill containers with the hot jam, leaving 1/2″ headspace at top for expansion during freezing. I like to use a ladle and a canning funnel for easier filling. Wipe the rims of the containers clean and screw on lids.
Let stand at room temperature 24 hours until set. Then store in the refrigerate for up to 1 month. Otherwise, store in freezer for up to 1 year, and thaw individual containers in the refrigerator.
Notes
Before you start:
Use firm, perfectly ripe fruit for best flavor and set. Inferior fruit will produce inferior jam.
Gather freezer-safe containers (1 to 2 cup size) with tight fitting lids, or jars for any jam you want to refrigerate and consume within one month.
Measure ingredients exactly. Altering recipes or ingredients could cause a set failure.
This recipe calls for a lot of sugar, as most freezer jams do, but do not alter the amount and do not use a sugar substitute. If you want to use less sugar, look for Sure-Jell for Less or No Sugar Needed Recipes in the pink box.
Know that the finished product will not be as firm as a processed jam. It will be more loose, with a very spreadable consistency.
Because this jam is not cooked, it must be stored in the refrigerator or freezer. It will keep best for about a month or so in the refrigerator, so store your jam in smaller containers that will be used up faster. Keep one jar in the refrigerator and the rest in the freezer for later.
Adapted from Sure-Jell pectin package instructions.
Nutrition Information:
Yield: 56
Serving Size: 1
Amount Per Serving:
Calories: 81
Total Fat: 0g
Saturated Fat: 0g
Trans Fat: 0g
Unsaturated Fat: 0g
Cholesterol: 0mg
Sodium: 2mg
Carbohydrates: 21g
Fiber: 1g
Sugar: 19g
Protein: 0g
Nutrition information is automatically calculated by Nutritionix. I am not a nutritionist and cannot guarantee accuracy. If your health depends on nutrition information, please calculate again with your own favorite calculator.
This post was first published in 2010, then updated in 2022.