Raspberry Blackberry Freezer Jam
This post may contain Amazon or other affiliate links. As an Amazon Associate I earn from qualifying purchases.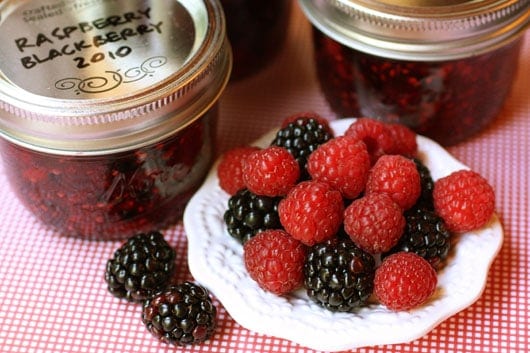 I'm a huge fan of freezer jam. It's quick and easy to make (no boiling of jars!), and the taste beats the pants off any jam on the grocery store shelf. Because the fruit is not cooked, the jam has a much fresher flavor. It's also a very fun way to preserve a little of summer's yumminess. What a treat it is to spread last summer's jeweled jam onto a toasted English muffin or warm waffle on a cold January morning.
This was the first time I've made Raspberry Blackberry Freezer Jam. I have been alternating batches of raspberry jam and strawberry jam for a number of years, but wanted to try a combo of fruit this time around. I just use the recipes provided inside the box of Sure-Jell pectin, and of course, I couldn't choose only one. I decided to try raspberry blackberry jam and strawberry blueberry jam.
We have a pretty good sized raspberry patch in our garden, producing 3 to 4 quarts of berries daily during peak picking. It takes a bit of creativity to use up that many raspberries every day! We eat plenty of berries straight-up, include them in desserts, and give them away to friends and neighbors. And making jam is a great way to not let a single raspberry go to waste.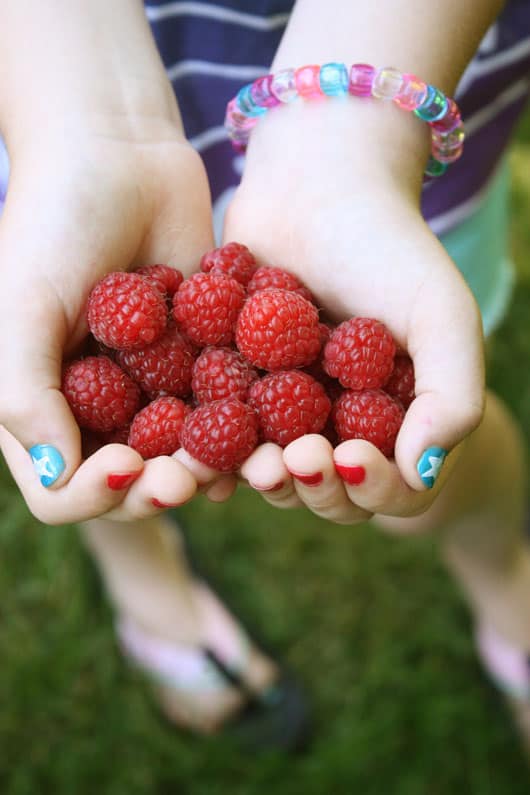 This really is so easy. Preparing a batch of freezer jam takes less than an hour. My 8-year-old daughter was in the kitchen with me during these batches, and she did most of the measuring, stirring, and final filling of jars.
We were jammin'. :)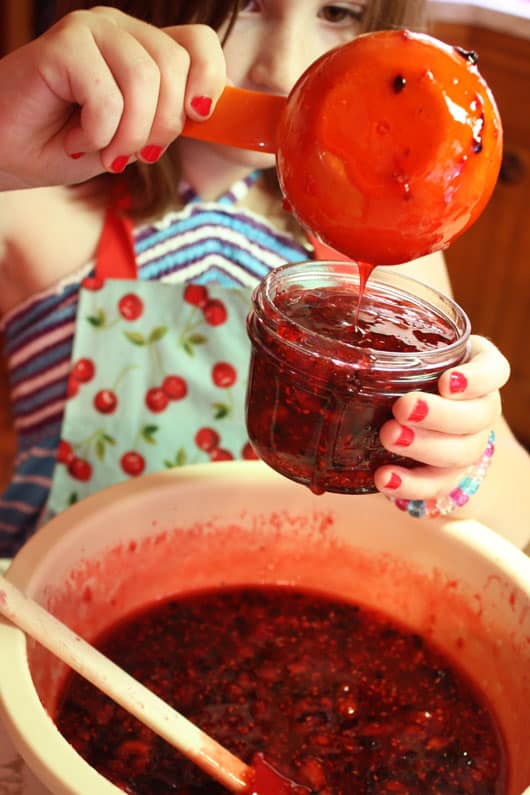 Anywhooooo…
The strawberry blueberry jam turned out tasting very good, with plenty of fresh fruit flavor. But the blueberries produce a jam that is not quite as pretty to look at. The crushing of blueberries gives the jam a somewhat muddled appearance, not the bright jeweled effect that strawberries, raspberries, and blackberries give. It surely didn't bother my husband, though. It tasted good, and that's all he cared about.
The raspberry blackberry jam, however, was extraordinary. It was not only spectacularly beautiful, it was scrumptious. We've already consumed a good amount of our supply, spreading it on waffles over the weekend. It was good fuel for walking through our town's 4th of July parade! And we also picked up more Sure-Jell. With all the berries waiting to be picked, a couple more batches of raspberry blackberry jam are definitely on this week's agenda.
I highly recommend grabbing your favorite summer fruits and a bag of sugar. Don't let summer slip away without putting a little bit of it in your freezer. You'll thank me come January.
If you like to share your jam, like I do, here's a link to some very fun (and very free!) jam labels from Andrea at Simple Organized Living. Andrea's post links to Kristen at Domestifluff, where you can download the printables.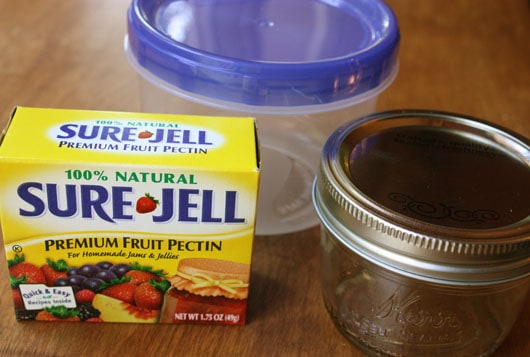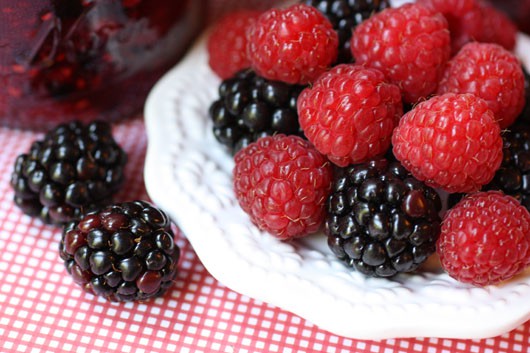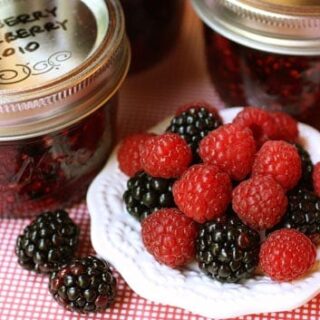 Raspberry Blackberry Freezer Jam
Yield: 7 cups
Prep Time: 15 minutes
Cook Time: 10 minutes
Additional Time: 1 day
Total Time: 1 day 25 minutes
Have you gone berry picking yet? If so, I highly recommend trying this Raspberry Blackberry Freezer Jam. It's perfect for breakfasts, snacks, desserts and more!
Ingredients
2 c. crushed raspberries
1 c. crushed blackberries
5-1/4 c. sugar
1 box Sure-Jell pectin
3/4 c. water
Instructions
Special equipment: plastic containers (1 to 2 cup size) with tight fitting lids for freezing, or glass jars for any jam you want to refrigerate and consume within a month
Before you start – important things to know:* Use firm perfectly ripe fruit for best flavor and set. Inferior fruit will produce inferior jam.* Measure ingredients exactly. Altering recipes or ingredients could cause a set failure.* Yes, these recipes do call for alot of sugar, but don't alter the amount. If you want to use less sugar, look for Sure-Jell for Less or No Sugar Needed Recipes in the pink box.* The finished product will not be as firm as a processed jam. It will be more loose, with a very spreadable consistency.* Because this jam is not cooked, it must be stored in the refrigerator or freezer. It will be good for about a month in the refrigerator, so store your jam in smaller containers that will be used up faster. Keep one jar in the refrigerator and the rest in the freezer for later.
Prepare berries by crushing with a potato masher or rigid pastry blender. If using a food processor, pulse to very finely chop. Do NOT puree! The jam should have little bits of fruit. Measure exact amount of prepared berries into a large bowl.
Measure the exact amount of sugar and stir into berries. Mix well. Let stand 10 minutes, stirring occasionally.
Stir 1 box pectin and 3/4 cup water in a small saucepan. Pectin may start out lumpy. Bring to boil on high heat, stirring constantly. Boil 1 minute, stirring constantly. Remove from heat.
Stir pectin mixture into berries. Stir constantly until sugar is completely dissolved and no longer grainy, about 3 minutes.
Pour into prepared containers, leaving 1/2″ space at top for expansion during freezing; cover.
Let stand at room temperature 24 hours until set. Refrigerate up to 1 month. Otherwise, store in freezer for up to 1 year. Thaw in refrigerator.
Notes
adapted from Sure-Jell pectin package instructions
Nutrition Information:
Yield: 56
Serving Size: 1
Amount Per Serving:
Calories: 62
Total Fat: 0g
Saturated Fat: 0g
Trans Fat: 0g
Unsaturated Fat: 0g
Cholesterol: 0mg
Sodium: 2mg
Carbohydrates: 16g
Fiber: 1g
Sugar: 15g
Protein: 0g
Nutrition information is automatically calculated by Nutritionix. I am not a nutritionist and cannot guarantee accuracy. If your health depends on nutrition information, please calculate again with your own favorite calculator.
We participate in the Amazon Services LLC Associates Program, an affiliate advertising program designed to provide a means for us to earn fees by linking to Amazon.com and affiliated sites. See our
disclosure policy
for more info.