Yeasted Waffles
This post may contain Amazon or other affiliate links. As an Amazon Associate I earn from qualifying purchases.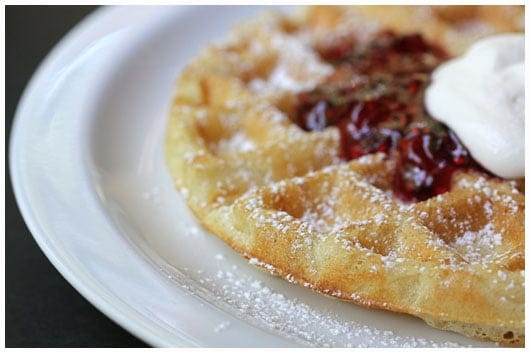 Overnight Raised Waffles with Yeast
I adore a good waffle.
But I'm too much of a waffle snob to order them at a restaurant anymore, as I've been burned so many times with disappointment. Soggy and limp, stiff like a hockey puck, or flavorless, I was tired of being let down.
And I haven't been able to master the art of the perfect waffle at home.
Until now.
I finally have it.
Waffles that give me cravings when I haven't had them for a couple weeks. Waffles that make me giddy while I'm preparing them.
Oh, how I love you, Yeasted Waffles!
It must have been sometime last fall that I told Blake I wanted to look into buying a Belgian waffle iron, to satisfy my latest cravings. Usually, just a small statement such as that would have lit a fire under my husband, producing a new gadget to our kitchen within 24 hours. But not this time. I didn't get one that fall for our anniversary. There wasn't one under the Christmas tree, either. Cupid didn't bring one in February. And apparently there were other ideas for Mother's Day. By then, I had actually forgotten about it and moved on.
And then, it appeared in late May. My birthday present. A Belgian waffle maker. It was truly a surprise!
I searched the internet up and down for a waffle recipe description that fit what I was looking for. After reading Molly's waffle escapade on her blog Orangette, I was convinced I needed to use yeast to accomplish my goal. I must say, we ate quite a few waffles around here over the past month. I wasn't hooked on the first recipe, one that I had in my file that uses yeast, but the batter isn't left to sit overnight on the counter (bland taste and texture). Nor the second (too thin), but I knew I was headed in the right direction. The third recipe was so very, very close (not quite eggy enough). Just one more tweak, and I promised I'd be done! Not that anyone really minded all the waffle breakfasts. And the fourth round of waffles? Jackpot!
This waffle recipe is mixed up the evening before, left to rise on the counter overnight. Some might argue that this requires advance breakfast planning, but I think it's really swell to wake up in the morning and it's all ready to go.
The waffles are light with a perfectly thin crispiness that doesn't turn soggy any time quick. And the creamy custardy inside? Heavenly. They have a lovely yeasty aroma and an incredible flavor, much more complex than the average waffle.
We ate them plain, with butter and maple syrup, and topped with a big spoon of fresh raspberry blackberry jam and whipped cream. Blake & I finished off a new jar of jam eating this last batch of waffles. We just might be hooked on the jam thing. I think I'll mix up another batch of waffles this evening, just to be absolutely sure.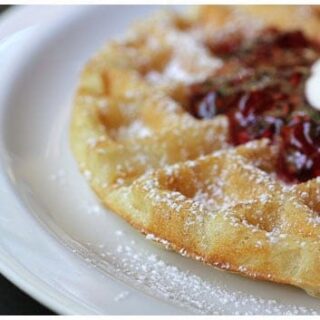 Yeasted Waffles
Yield: 6 waffles
Prep Time: 20 minutes
Cook Time: 4 minutes
Total Time: 24 minutes
Yeasted Waffles have a lightly yeasty flavor, with a thin, crispy exterior and a moist, eggy interior. They are such a treat, and I love that the batter gets made the night before!
Ingredients
2 cups milk - I use 1%
2.25 teaspoons active dry yeast (equal to one .25-ounce package)
1/2 cup warm water - about 110° F, or "the warmth of a baby's bottle"
1/2 cup butter, gently melted
1 teaspoon kosher salt
2 tablespoons granulated sugar
3 cups all-purpose flour
1 tablespoon pure vanilla extract
2 large eggs, beaten
1/2 teaspoon baking soda
Instructions
Add the warm water to a large bowl and then sprinkle the yeast over the top as evenly as you can. Let stand for a few minutes, until the yeast granules dissolve.
Meanwhile, in a saucepan over medium heat, warm the milk until it's lukewarm, about "as warm as a baby's bottle". Remove from heat and stir in the melted butter. With your finger, test to make sure the mixture is lukewarm. If it's too hot, let it sit until it cools a bit (if it's too hot, it will kill the yeast).
Stir milk/butter mixture into the dissolved yeast mixture. Then add the flour, sugar, and salt, and stir until combined. It will not be completely smooth - small lumps are just fine.
Cover bowl with plastic wrap and let stand at room temperature overnight. The batter will bubble and rise, increasing in size.
The following morning, with a large whisk, beat the eggs, vanilla, and baking soda into the batter until completely combined.
Preheat waffle iron to desired temperature - my family prefers a medium-high setting. When the waffle maker shows "ready", let it heat for 2 more minutes. Lightly brush the waffle plates with melted butter or give the plates a quick spritz of non-stick spray, then close the waffle maker for a few seconds to heat up again. Pour batter onto hot waffle plates - for our 8" round waffles, we use a scant 3/4 cup of batter per waffle. Then shut the waffle maker lid (some batter will probably spill out) and let the waffle bake. You should see steam coming out of the waffle maker - let the waffle maker do its magic, no peeking! Our family has various preferences for doneness, so I bake the waffles between 3 and 4 minutes, depending on the person.
Nutrition Information:
Yield: 6
Serving Size: 1
Amount Per Serving:
Calories: 452
Total Fat: 20g
Saturated Fat: 12g
Trans Fat: 1g
Unsaturated Fat: 7g
Cholesterol: 140mg
Sodium: 695mg
Carbohydrates: 54g
Fiber: 2g
Sugar: 2g
Protein: 13g
Nutrition information is automatically calculated by Nutritionix. I am not a nutritionist and cannot guarantee accuracy. If your health depends on nutrition information, please calculate again with your own favorite calculator.
We participate in the Amazon Services LLC Associates Program, an affiliate advertising program designed to provide a means for us to earn fees by linking to Amazon.com and affiliated sites. See our
disclosure policy
for more info.