Buttermilk Waffles
With just a few ingredients, these Homemade Buttermilk Waffles are a quick and easy breakfast with very little prep. Enjoy savory in dishes like chicken and waffles or sweet with traditional toppings like butter & syrup.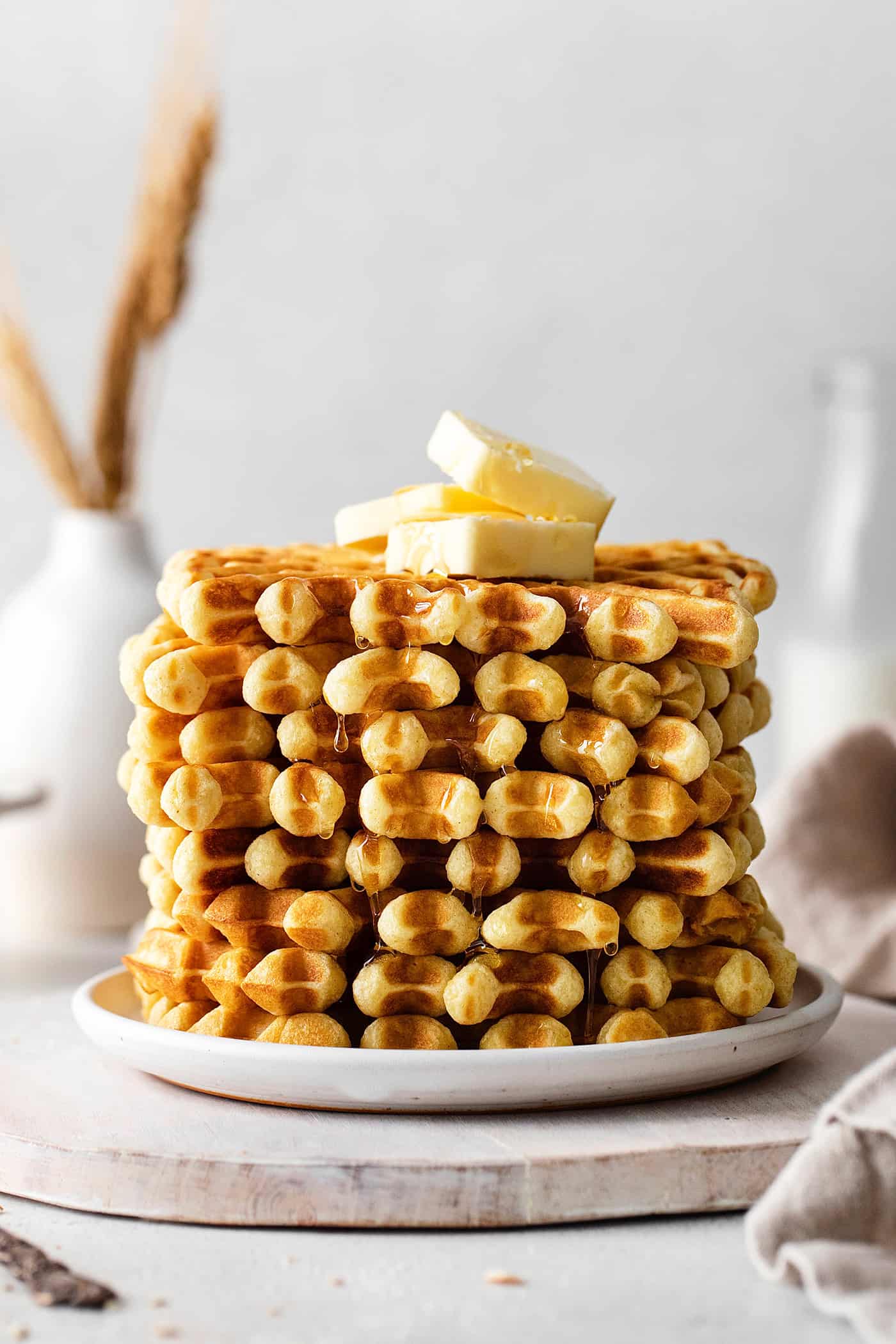 Easy Sweet or Savory Buttermilk Waffles
Waffles are a regular, yet still much anticipated, meal around here. And while classic waffles are our quick and easy staple, we also like to mix things up. There could never be too many waffles recipes, right?!
These Buttermilk Waffles have become a family favorite, with a little extra tang in the flavor department. They're moist and tender on the inside, with a thin, perfectly crisp exterior. It's no surprise why we like them so much, as buttermilk pancakes are our go-to pancakes. Thank you very much, beautiful buttermilk!
I love that this waffles recipe can easily go from sweet to savory. When we eat the waffles with traditional toppings, such as butter and syrup, we include a little sugar in the batter. And when we want to go savory, we simply leave out the sugar – it's great for chicken & waffles! Another savory win is to stir some chopped bacon and cheese right into the batter, and then serve the waffles topped with a fried egg and fresh avocado. Deeeeelish!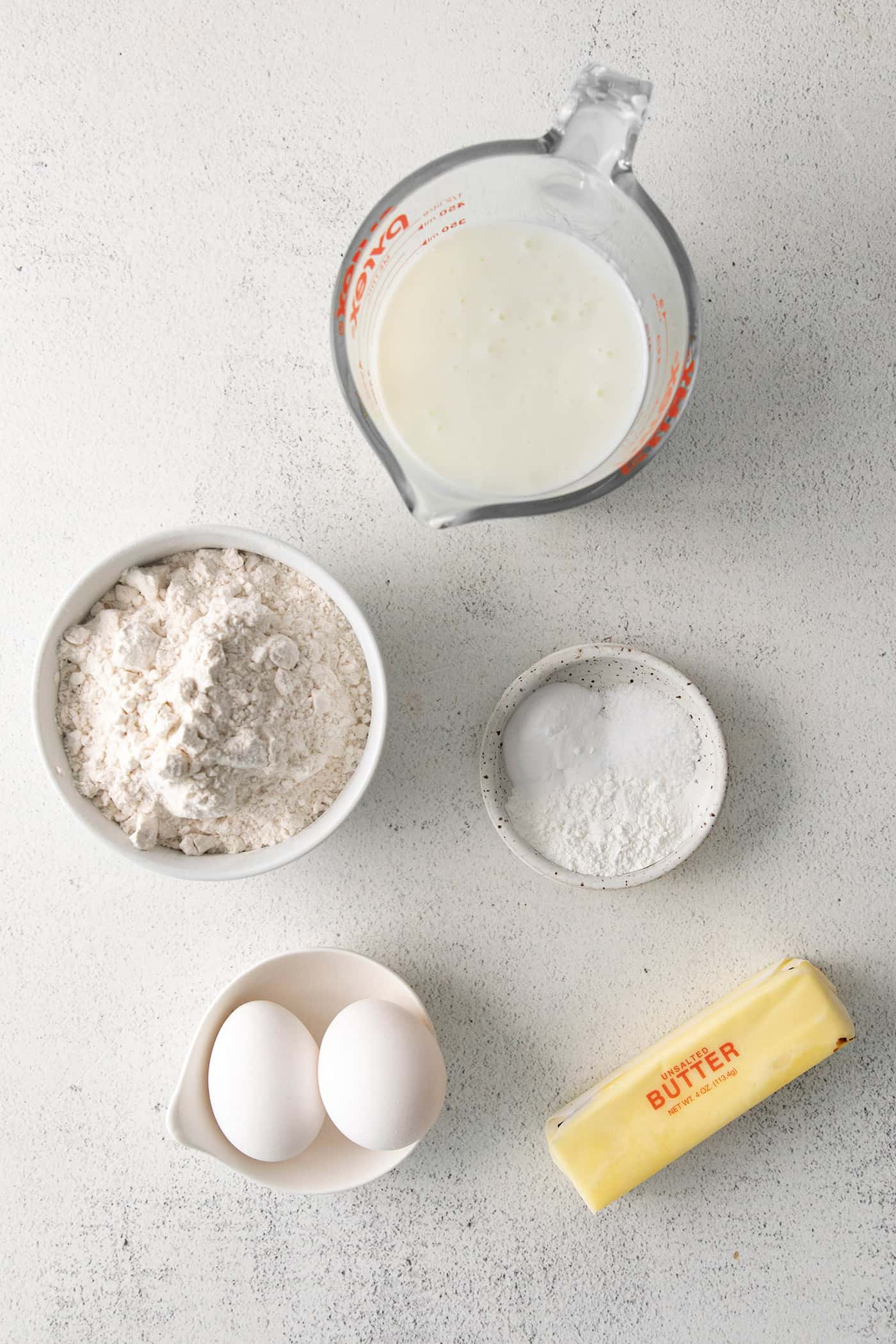 What You'll Need
What makes this the best buttermilk waffle recipe (besides its buttermilk-induced flavor and moist-on-the-inside and crispy-on-the-outside texture) is that it requires just a few ingredients!
Flour – Flour gives the waffles structure and ensures they have a crisp and delicious texture. Sift the flour to lighten it and to incorporate the leavening agents, or if you're in a hurry just use a whisk!
Baking powder & baking soda – These two common baking ingredients ensure that the waffles are extra fluffy. Baking soda also helps create a soft and tender waffle.
Salt – Salt enhances the flavor of the buttermilk in the waffles.
Buttermilk – Buttermilk adds a delicious tang and keeps the waffles extra moist. Be sure to shake the buttermilk before you measure it to incorporate any settling.
Eggs – Eggs add moisture, texture, and rich flavor. They also help to bind the batter ingredients together.
Butter – Butter adds richness and delicious flavor to the waffles. Gently melt the butter and allow it to cool slightly (just a few minutes) before adding it to the batter.
How to Make Buttermilk Waffles
Homemade waffles are super easy to make. Just prepare the batter, pour it into the waffle maker, and you're good to go!
Preheat the waffle iron. This will vary according to your specific waffle maker, so check the manufacturer's instructions.
Make the waffle batter. Sift the dry ingredients into a large bowl for the lightest texture – if you're in a hurry, just use a whisk to make sure the ingredients are incorporated. In a separate bowl, whisk the wet ingredients – and then add to the dry ingredients. Mix until there are no large lumps of flour remaining.
Cook the waffles. Lightly spray or butter the waffle iron grids, and then add a scant cup of batter. Cook for 3 to 4 minutes, or until golden brown, with a crisp exterior. Repeat with the remaining batter.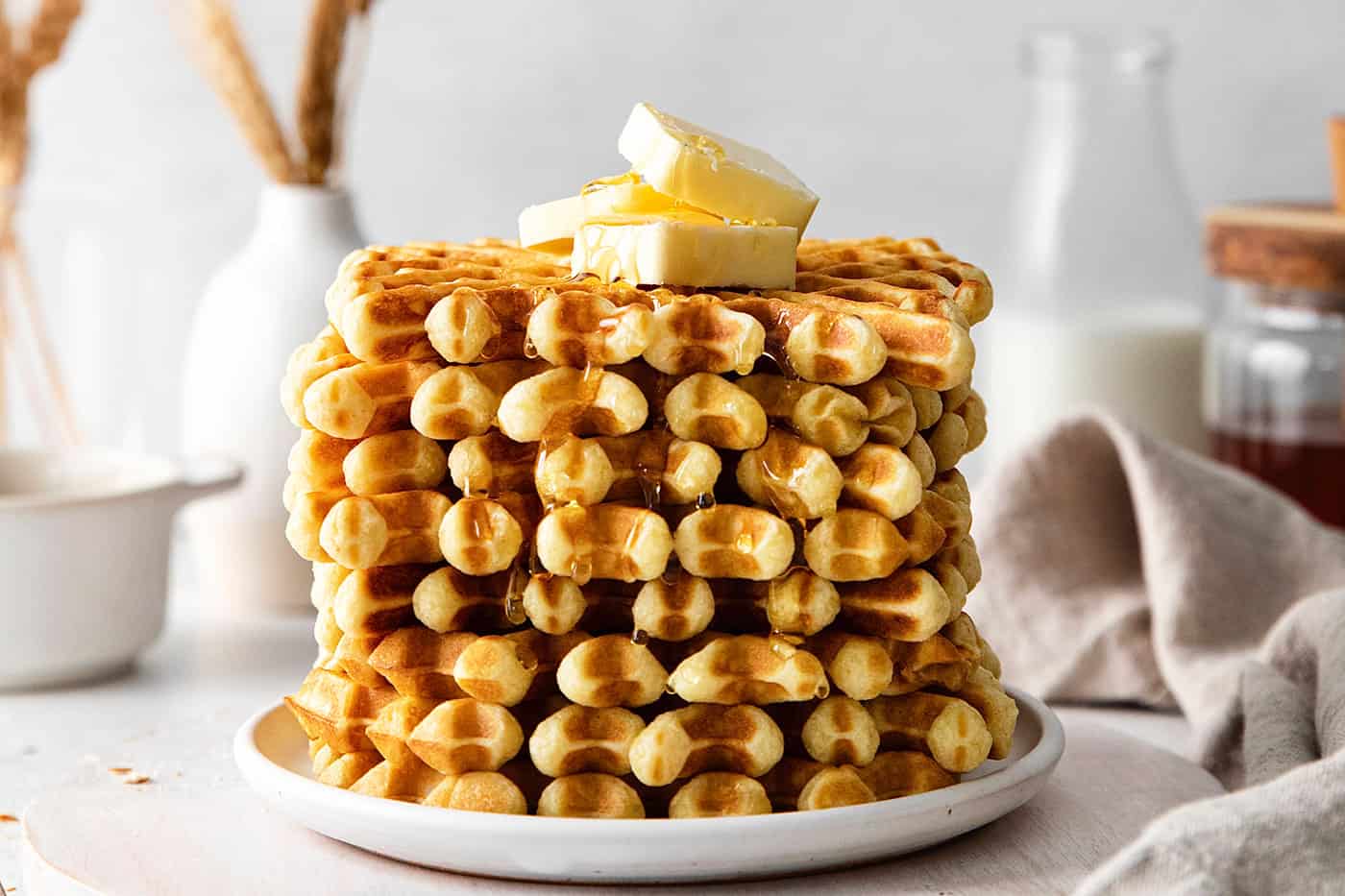 Tips for Success
For perfectly fluffy homemade buttermilk waffles, keep these suggestions in mind:
Do not overmix the batter. Just mix until there are no large lumps. Some small lumps of flour are okay, but overmixing will give you waffles that are less tender.
Keep the cooked waffles warm. Place cooked waffles on a baking rack set on a baking sheet. Place in a 250° F oven for up to 30 minutes while you finish cooking the rest.
Make the waffles sweet or savory. To make these homemade waffles sweet, include 2 tablespoons of granulated sugar. For savory, simply omit the sugar.
No buttermilk? Make your own. I most often recommend buying a container of buttermilk for baking recipes. But with this recipe, a homemade version will work fine. If you don't have buttermilk on hand, you can make your own. Simply add two tablespoons of vinegar or lemon juice to a 2-cup measure and then add enough milk to equal 2 cups total. Gently stir and then let sit for 5 to 10 minutes. The mixture will not be as thick as when you buy a container of buttermilk, just FYI.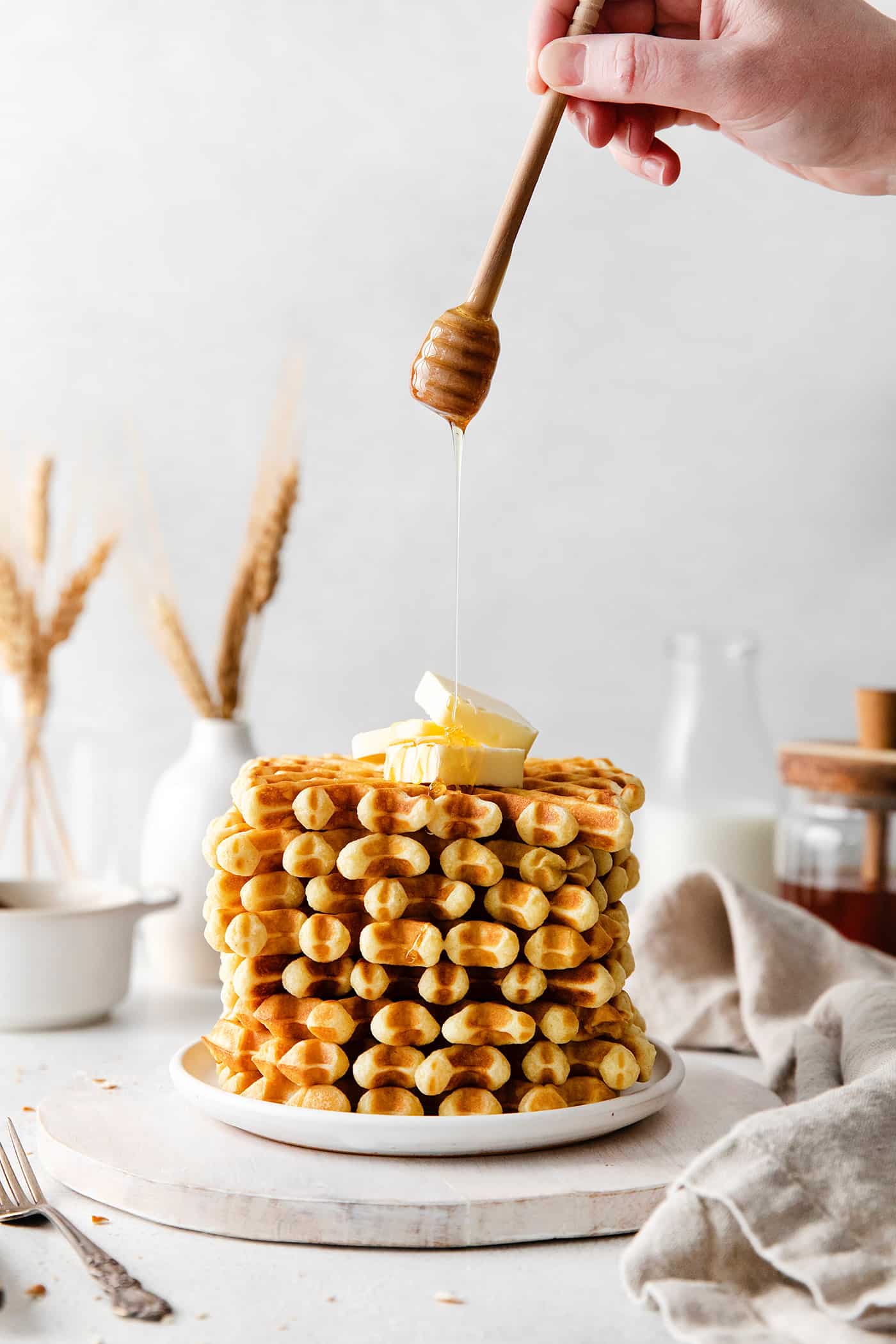 Savory Waffle Mix-Ins
Like savory waffles? How about mix-ins? If you're a fan of adding things to your waffle mix, I recommend trying some savory ingredients with these buttermilk pancakes. Here are a few suggestions:
Shredded cheese (cheddar is our favorite!)
Chives or green onion, chopped
Bacon, finely chopped
Ham, finely chopped
Sausage, crumbled small
Spices – such as chili powder, cumin, paprika, or black pepper
Herbs, chopped – such as thyme, basil, or rosemary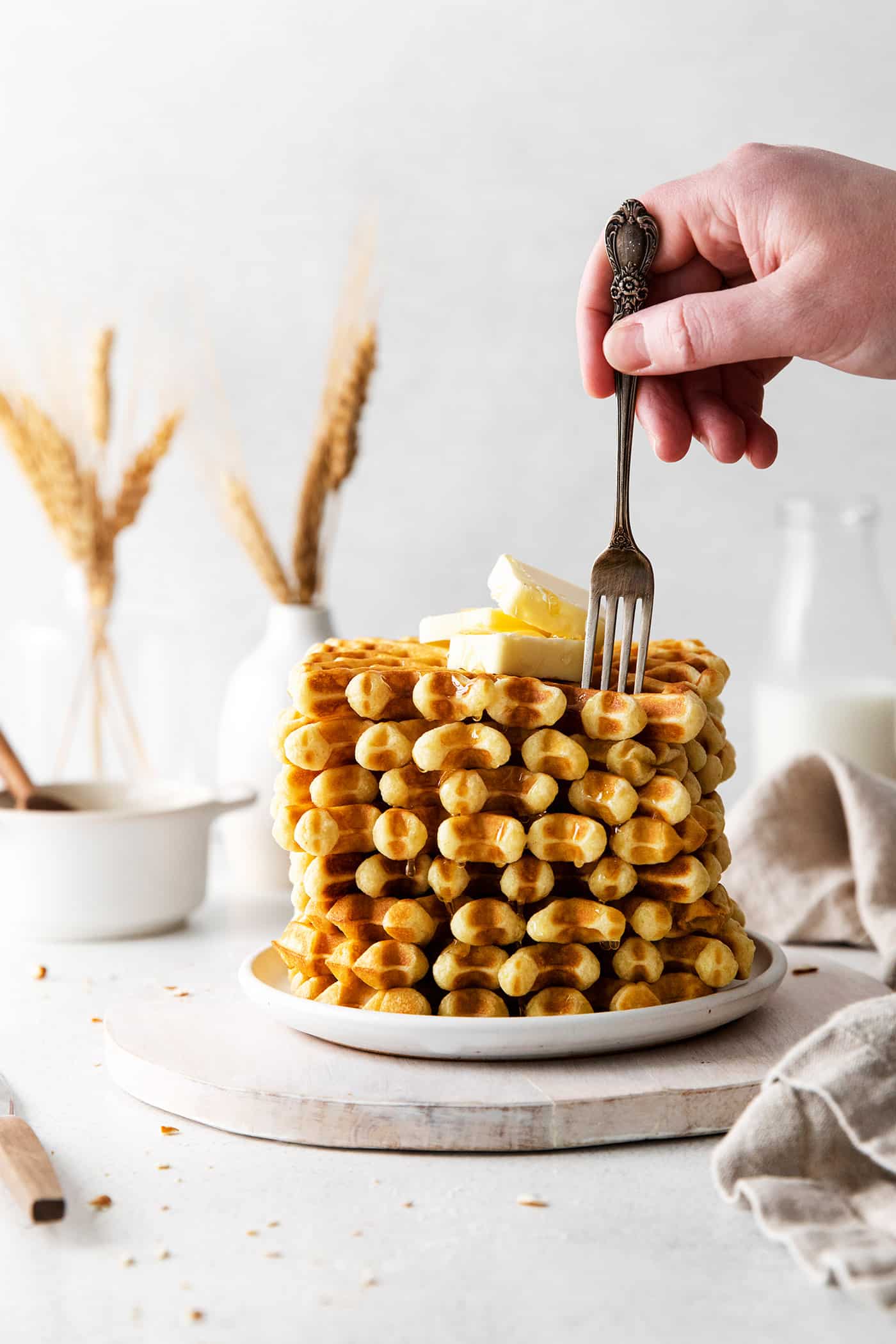 Serving Suggestions
For a traditional "sweet" breakfast, serve these as you would any other homemade waffles, with maple syrup or honey, butter, and any sweet add-ons desired.
On leisurely weekend mornings, we put in extra effort and make fresh whipped cream. We love to top our waffles with fluffy clouds of whipped cream and fresh berries. And I'll often make a simple homemade blueberry syrup by adding maple syrup and some fresh or frozen blueberries to a saucepan – I just let it simmer on the stovetop while we're making the waffles.
I also like to serve buttermilk waffles with savory dishes. Chicken & waffles is always fun. But we most often keep it much simpler by incorporating a couple add-ins from the list above and then topping the waffles with fried eggs and avocado. A simple fresh green side salad also works really well here. Arugula or spring greens dressed with this herby lemon vinaigrette is one of my favorite breakfast salads – it's perfect with eggs!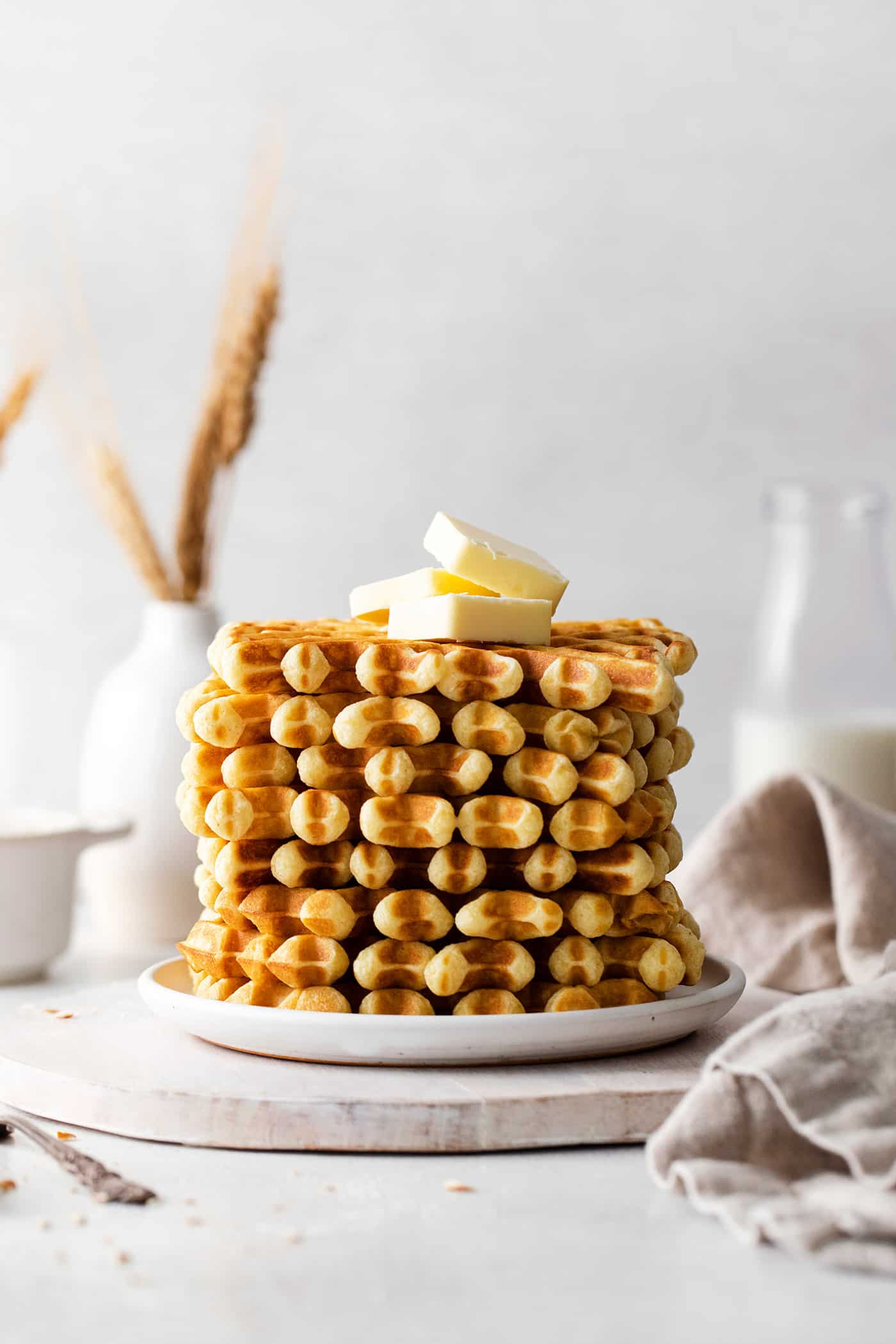 How to Store Leftovers
How to store. Leftover homemade waffles can be stored in the fridge for up to 2 days in an airtight container or ziploc bag. You can wrap them in plastic wrap or use parchment paper to prevent them from sticking to each other, if desired.
Can I freeze buttermilk waffles? Yes, buttermilk waffles can be frozen for up to 3 months. To prevent freezerburn, it's best to wrap them individually in plastic wrap then place them in a freezer-safe ziploc bag or container.
How to reheat waffles. Homemade waffles can be reheated in the toaster or microwave, from the fridge or freezer. I prefer the toaster as it gives them a crisper texture, while the microwave makes them softer.
More Breakfast Recipes:
Like this recipe? Save it to Pinterest!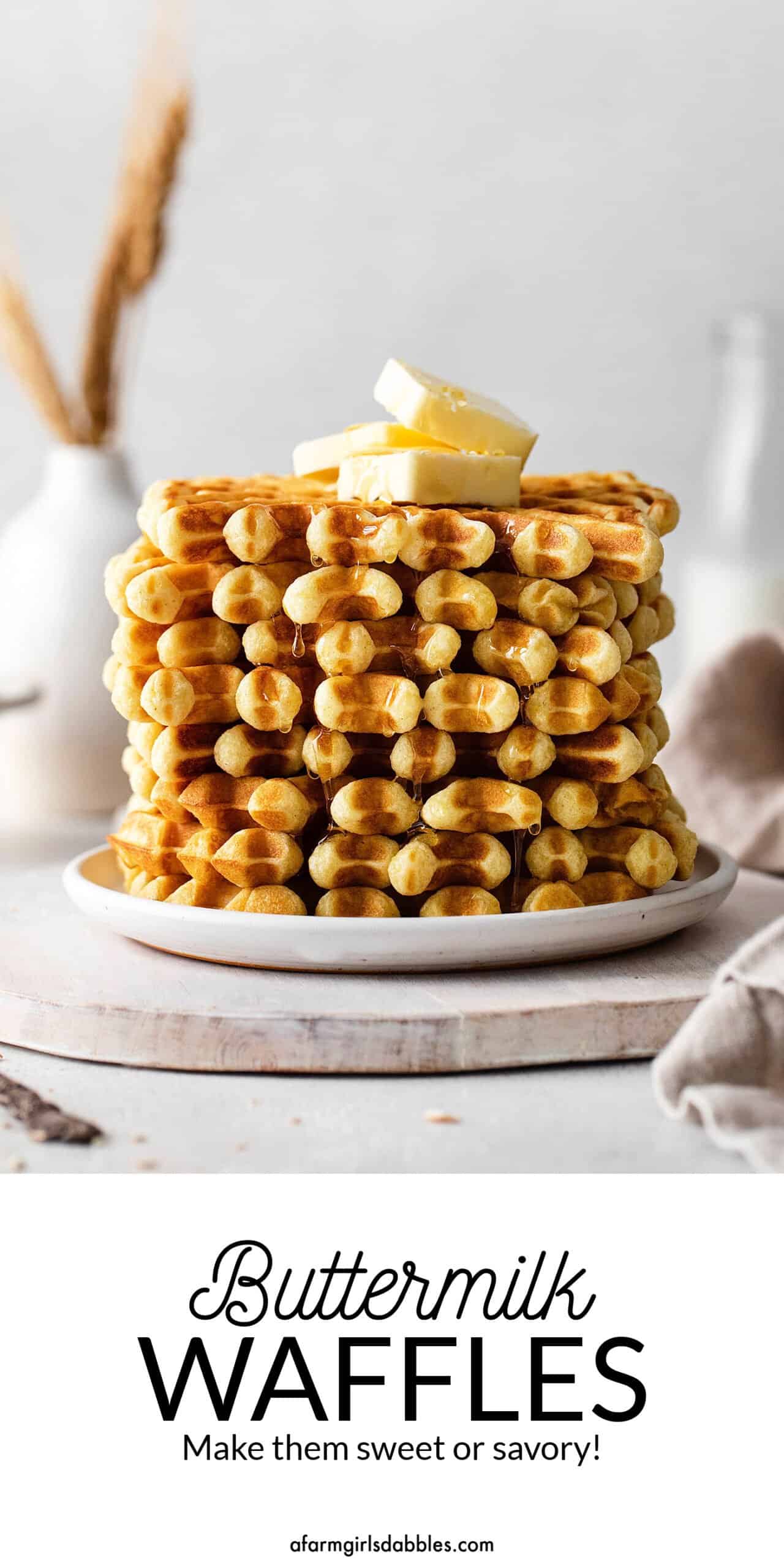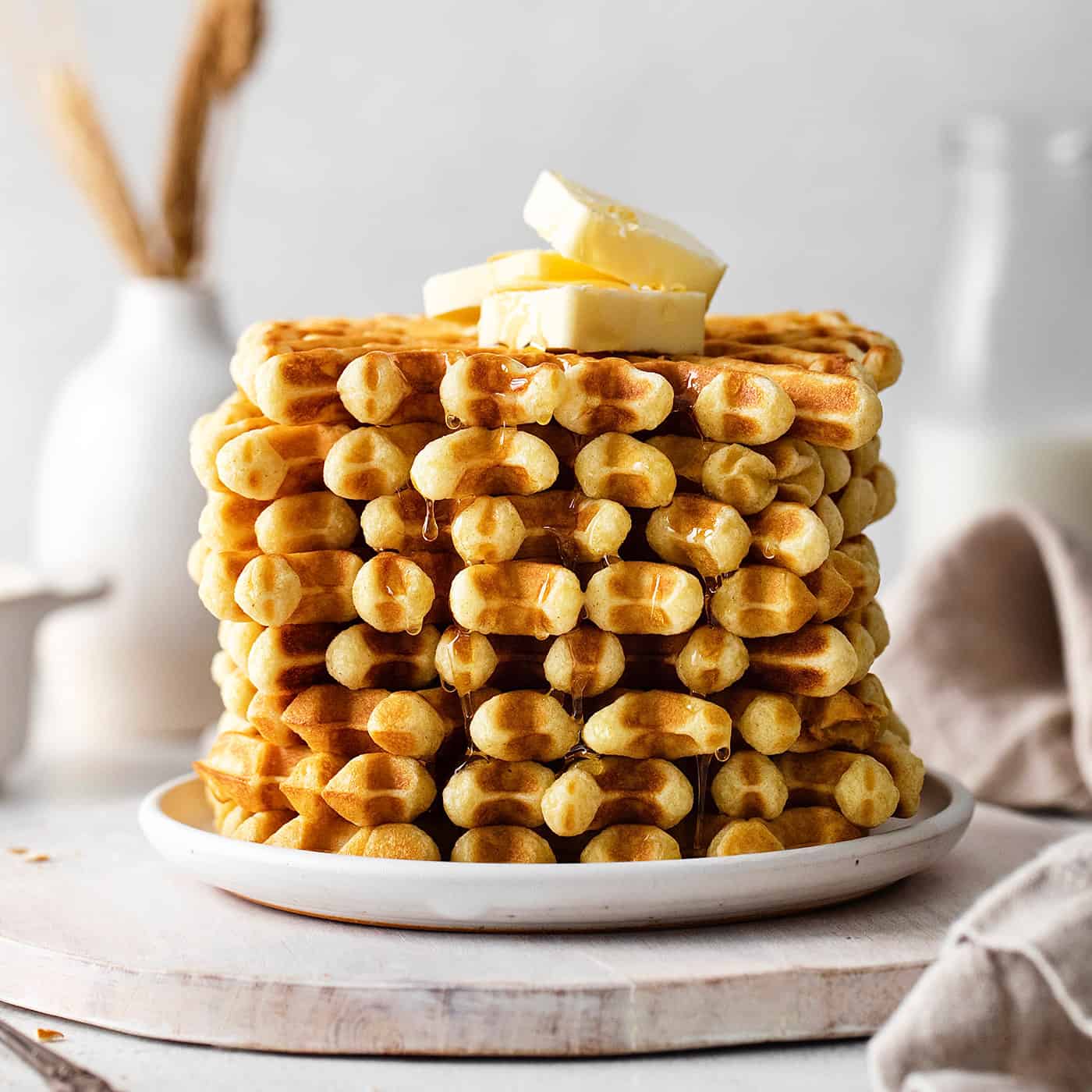 Buttermilk Waffles
Yield: 4 to 6 waffles, depending on waffle maker
Prep Time: 10 minutes
Cook Time: 15 minutes
Total Time: 25 minutes
With just a few ingredients, these Homemade Buttermilk Waffles make a quick and easy breakfast with very little prep. Enjoy savory in dishes like chicken & waffles or sweet with traditional toppings like butter & syrup!
Ingredients
1 ½ cups all-purpose flour
2 tablespoons sugar (omit if making savory waffles)
2 teaspoons baking powder
1 teaspoon baking soda
½ teaspoon kosher salt
1 ½ cups buttermilk
2 large eggs
½ cup unsalted butter, melted & cooled
Instructions
Preheat your waffle iron according to the manufacturer's instructions..
Sift the flour, sugar, baking powder, baking soda, and salt into a large bowl (or just add dry ingredients to a bowl and whisk well).
In a medium bowl, whisk together the buttermilk, eggs, and butter.
Add the wet ingredients to the dry and mix just until no large lumps of flour remain - do not overmix.
Brush waffle iron with additional melted butter or use nonstick cooking spray. Add a scant cup of batter to the prepared iron.
Cook for 3-4 minutes, or until the waffle is golden brown, with a crisp exterior.
Repeat with the remaining batter. To keep cooked waffles warm, set them on a baking rack set on a baking sheet. Place in a 250° F oven for up to 30 minutes while you finish cooking the remaining waffles.
Nutrition Information:
Yield: 6
Serving Size: 1
Amount Per Serving:
Calories: 299
Total Fat: 18g
Saturated Fat: 10g
Trans Fat: 0g
Unsaturated Fat: 6g
Cholesterol: 105mg
Sodium: 620mg
Carbohydrates: 27g
Fiber: 1g
Sugar: 3g
Protein: 8g
Nutrition information is automatically calculated by Nutritionix. I am not a nutritionist and cannot guarantee accuracy. If your health depends on nutrition information, please calculate again with your own favorite calculator.