Edible Cookie Dough
This post may contain Amazon or other affiliate links. As an Amazon Associate I earn from qualifying purchases.
Edible Cookie Dough – A classic chocolate chip cookie dough recipe that makes a fun, sweet treat. Made without eggs, this no-bake dough is safe to eat straight from the bowl!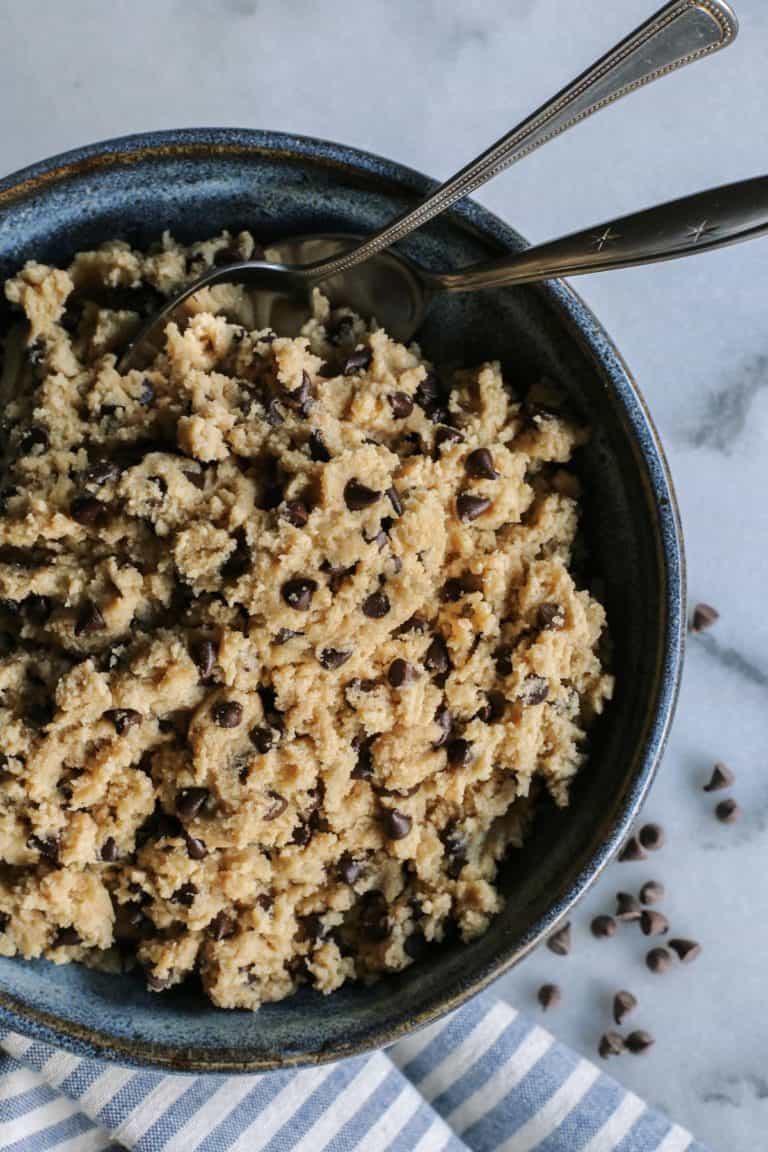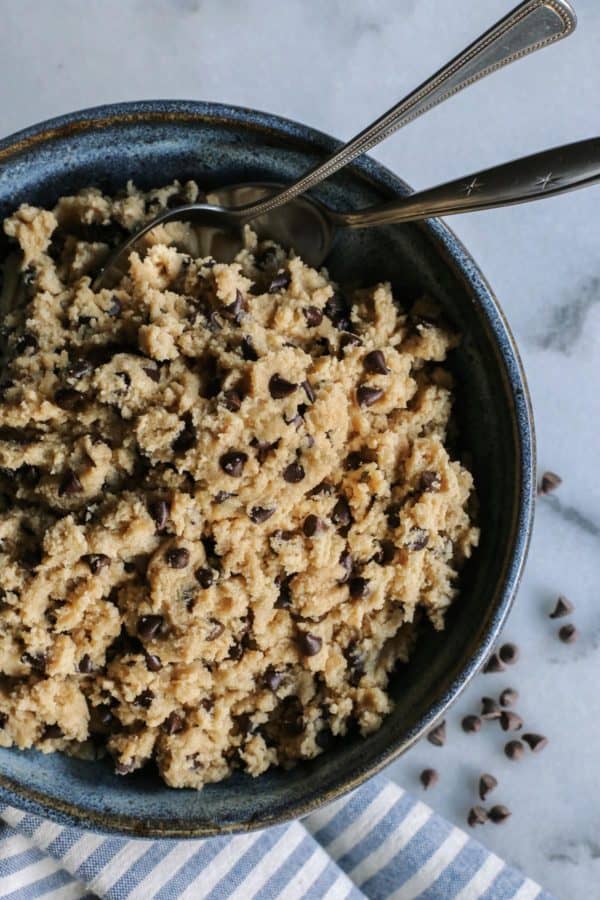 Ever since I can remember, I've loved to snitch a spoonful of chocolate chip cookie dough from the bowl. (Thanks, Mom!) It's just one of the perks associated with baking homemade cookies, am I right?!
Well our girls have definitely followed in their mother's (and grandmother's) footsteps. So much so, that a couple years ago Hatti and Tessa started making batches of edible cookie dough, for the sole purpose of eating it raw. With no intentions whatsoever of baking that dough into cookies.
In our recipe trials, we've experienced Good, Better, and Best when it comes to no bake cookie dough. And we've finally settled on this Edible Cookie Dough recipe.
No more testing. No more tweaking. This is it, folks. Our favorite way to make raw cookie dough that's safe to eat. We hope you find so much fun and enjoyment with this!!
Like chocolate chip cookie treats? Then don't miss these super popular Chewy Chocolate Chip Cookie Bars, this yummy Brown Butter Chocolate Chip Skillet Cookie, or the ultra fabulous Chocolate Chip Cookies from The Vanilla Bean Baking Book (also called pan-banging chocolate chip cookies!).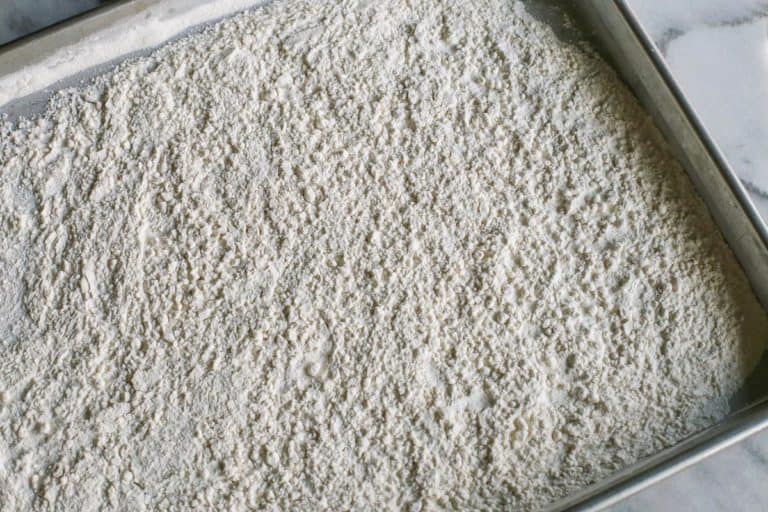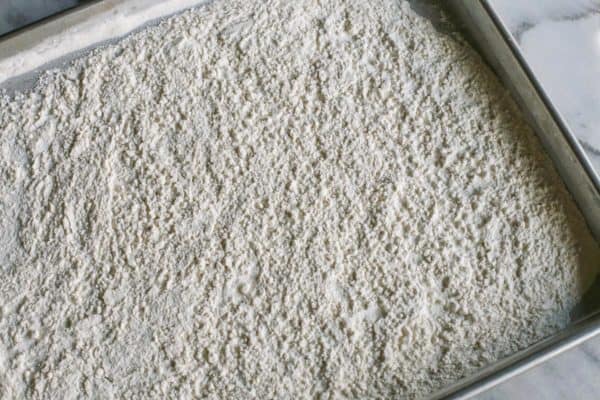 How to make edible cookie dough
As you can tell from this post, I am still alive. Even after consuming many, many spoonfuls of raw cookie dough over the course of more than forty years. Cookie dough that included raw eggs and unbaked flour. Yes, it's true.
But salmonella and E. coli are real things in this world, and our daughters remind me of that whenever we're baking cookies together. They are the ones who started this cookie dough recipe journey for our family. And I'm really not unhappy about it!
First off, you will need to heat treat some flour. Because raw flour is just as much of a concern as raw eggs. It was only this past June that my sister Cheryl texted me a link to a national brand's flour recall, where the company disclosed about "the potential presence of E. coli". Just the facts, flour is a raw agricultural product that hasn't been treated to kill germs. From the CDC: Bacteria are killed only when food made with flour is cooked.
How to heat treat flour
We heat treat flour in the oven. Simply spread the flour into an even layer on a rimmed baking sheet and cook it in a 350° F oven, until the flour reaches 160° F. This only takes five to seven minutes, super easy. Use a instant-read thermometer to gauge the temperature.
You could also use a microwave. Place the flour in a microwave-safe bowl and heat on high power in 20-second increments, whisking in between each increment to cook evenly. When the flour reaches 160° F, it's done!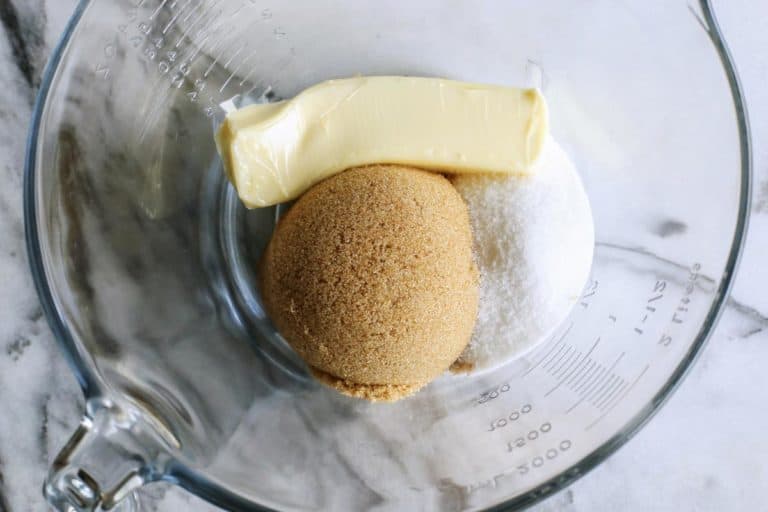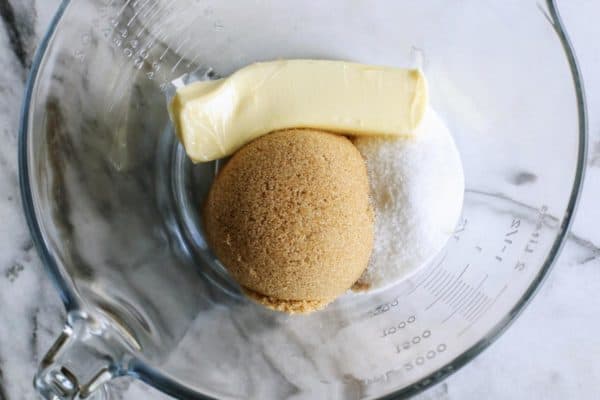 How to make cookie dough without eggs
Unbaked cookie dough that's truly safe to eat means no raw eggs allowed. Because raw eggs can potentially carry salmonella.
Eggless, edible chocolate chip cookie dough is super easy to make, though. It just takes the right ingredients and prep. Through many trials, we experienced it all… The greasy, the dry, the bland, and the way too sweet. We were a picky bunch, making sure we got this just right.
The method we ended up liking best uses butter that's very soft. Not melty. Just very soft, as the photo above illustrates.
Next, we like more brown sugar than white granulated – which not only adds moistness, but also richer flavor. This recipe reminds me of the homemade chocolate chip cookies that Mom has always made.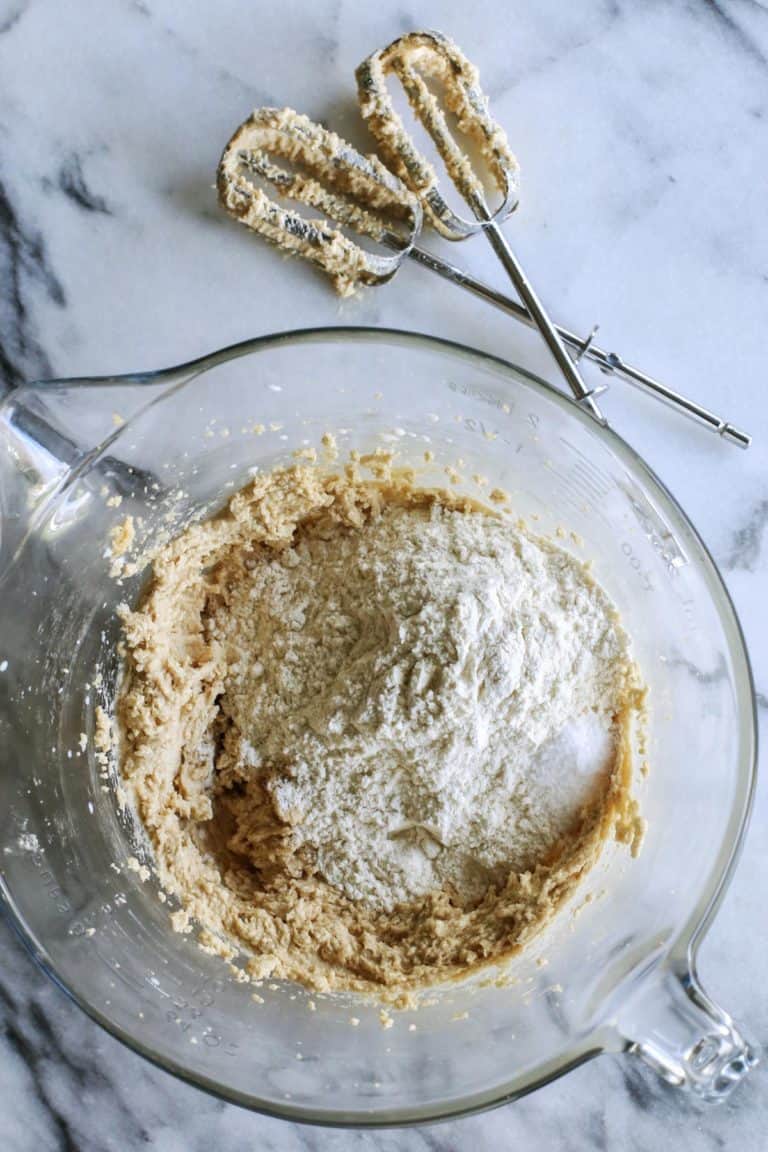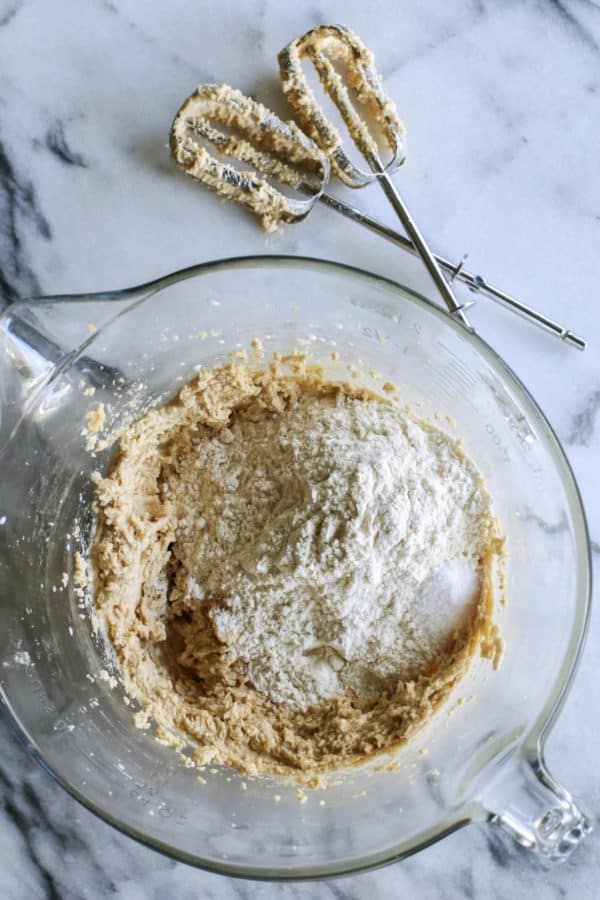 After beating the butter and sugars for a few minutes, mix in a little half and half (or cream or milk) and a generous helping of pure vanilla extract.
My sister Jessica's motto is: "Double the vanilla in every recipe!"
Our girls repeat their aunt's words of wisdom nearly every time we bake together.
Also! If I haven't preached yet about eliminating imitation vanilla extract from your cupboard, please hear me now: Get rid of the fake stuff and find yourself some pure vanilla extract. Real vanilla DOES make a difference!
Then gently incorporate the cooled, heat-treated flour and kosher salt.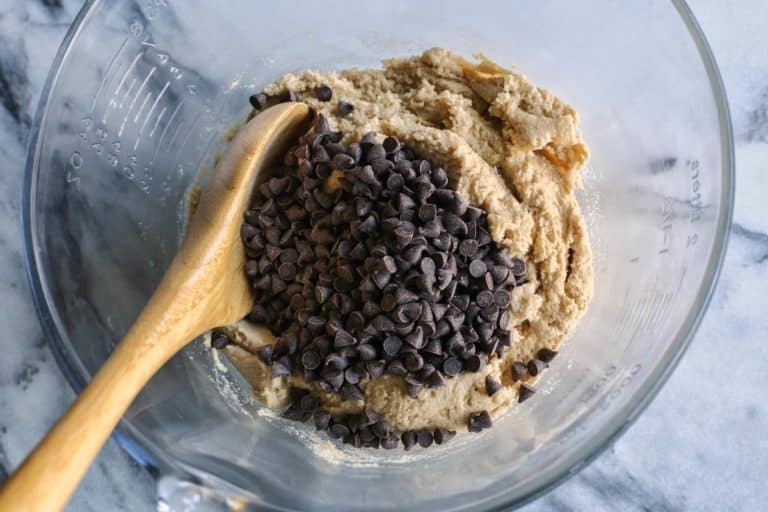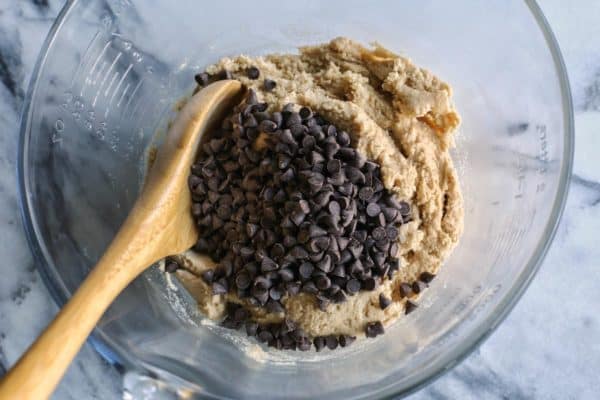 Finish by folding in mini chocolate chips. We prefer mini chips over regular sized chips, as they're just easier to chew in raw cookie dough. Plus, they're cute!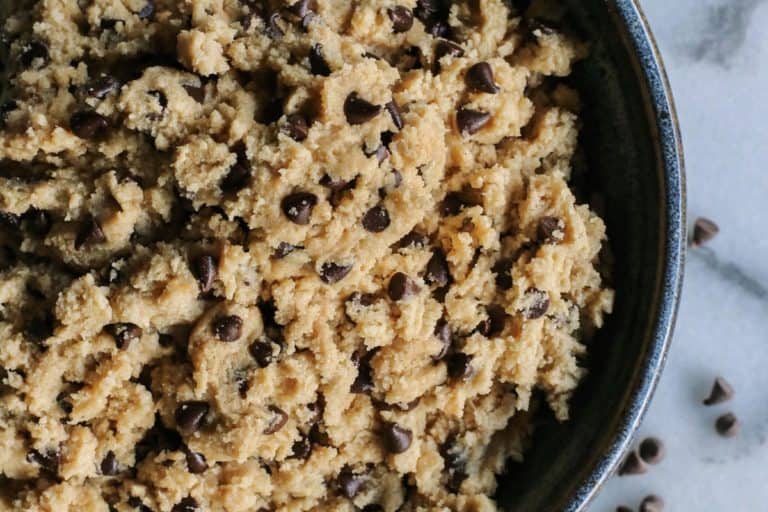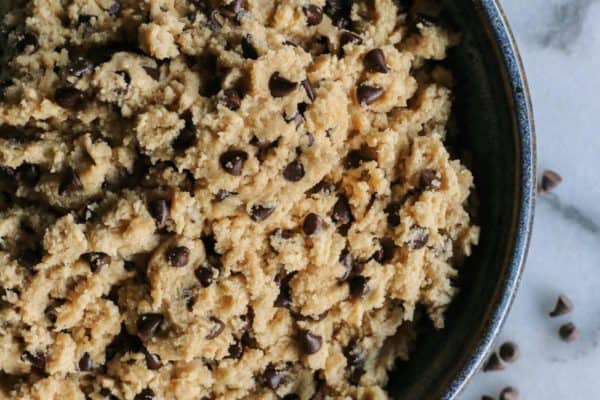 Don't skimp on the chocolate chips, either. Here's our favorite mini chips – we always have these on hand.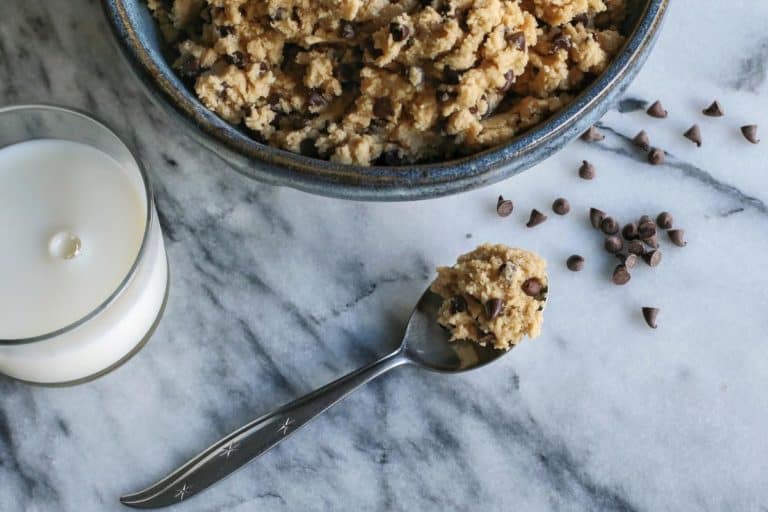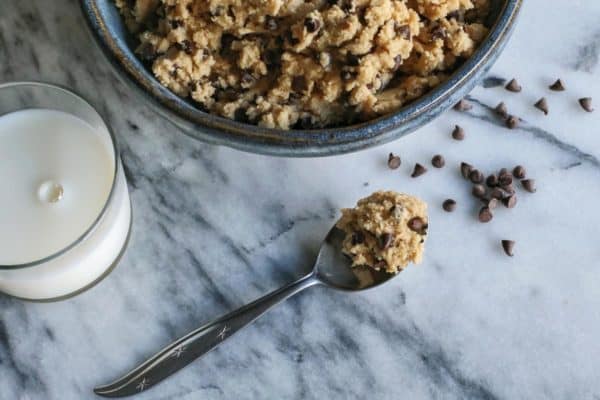 Now all that's left to do is to grab a few spoons and a few friends – and dig in!
A bowl of soft cookie dough brings smiles. I don't know anyone who can resist.
Cookie dough is always best after it's just been made. But if there is leftover dough, just store it in an airtight container in the refrigerator. Let it come to room temperature again for the best soft texture.
Like this recipe? Save it to Pinterest!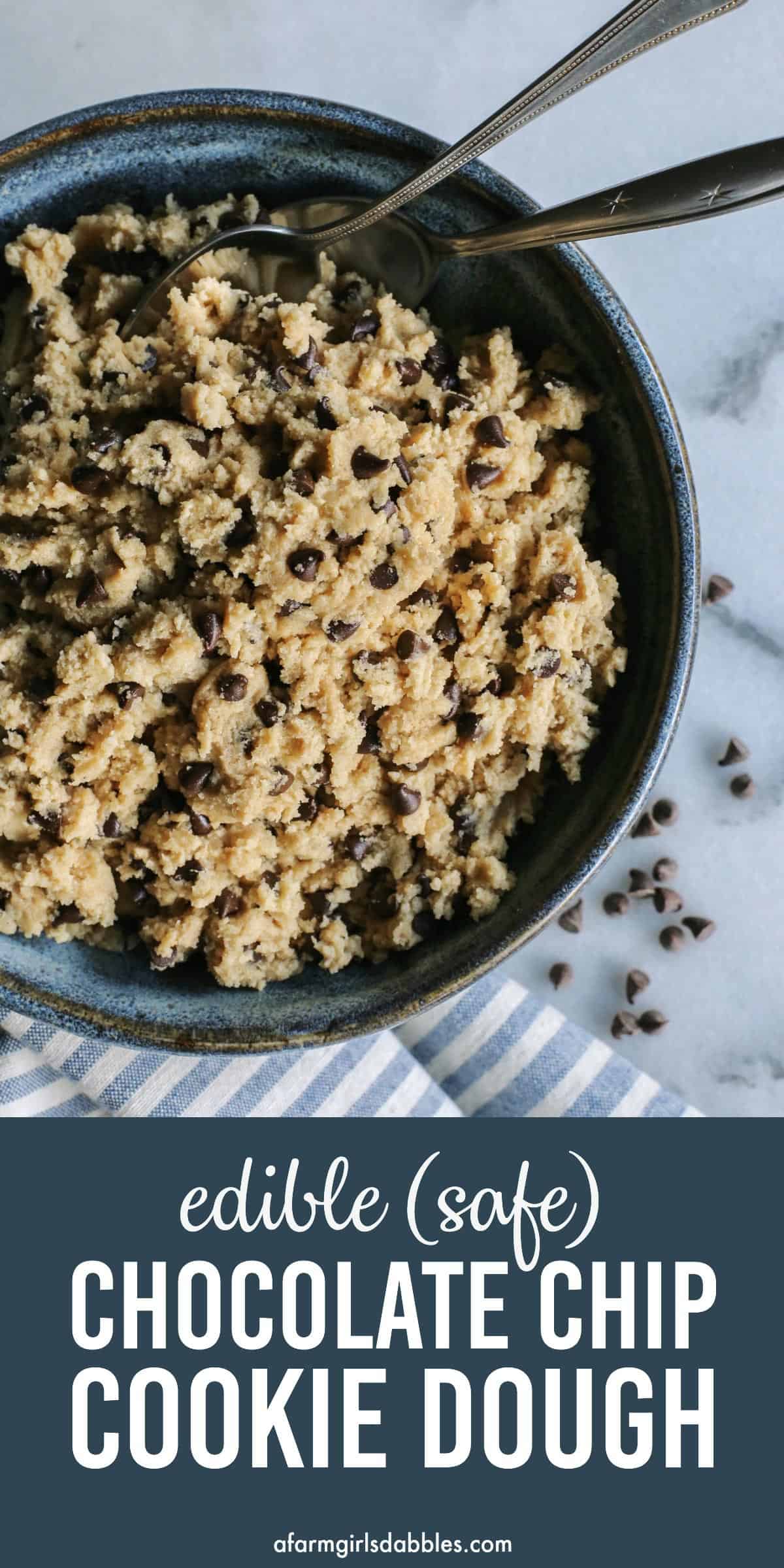 Here are a few more chocolate chip recipes from my friends!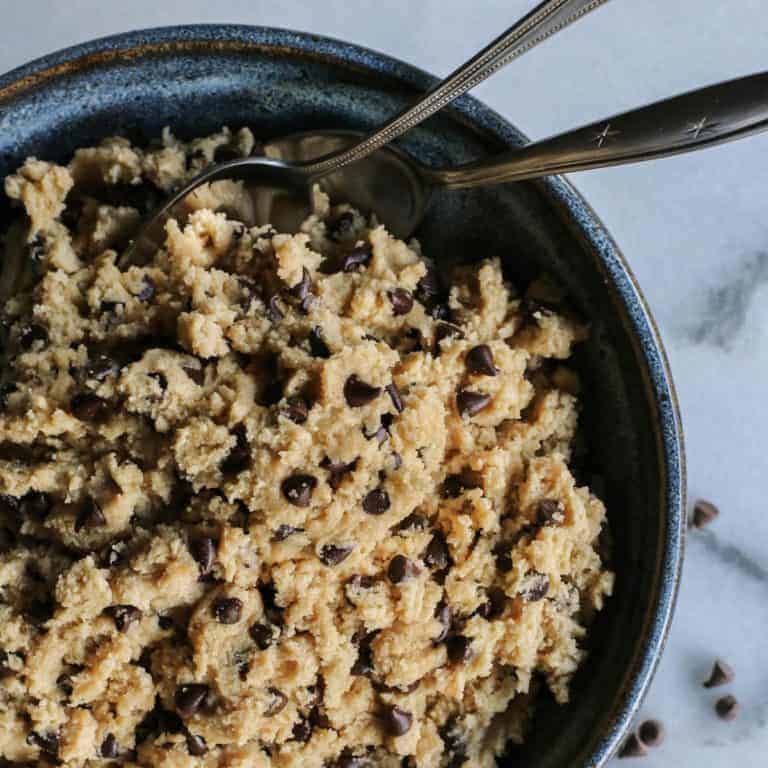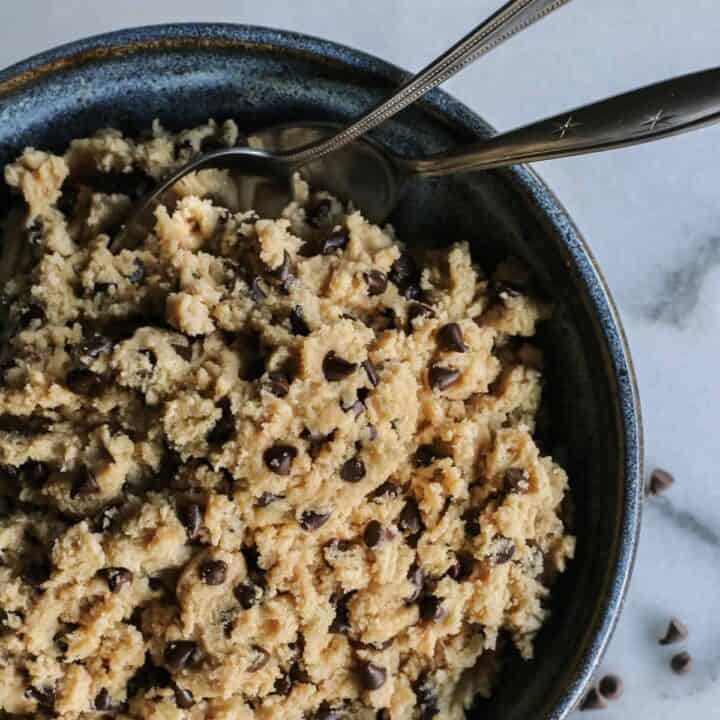 Edible Cookie Dough
Yield: 8 servings
Prep Time: 15 minutes
Cook Time: 7 minutes
Total Time: 22 minutes
A classic chocolate chip cookie dough recipe that makes a fun, sweet treat. Made without eggs, this no-bake dough is safe to eat straight from the bowl!
Ingredients
1.25 cups all-purpose flour
1/2 cup unsalted butter, at soft room temperature
1/2 cup packed light brown sugar
1/4 cup granulated sugar
2 tablespoons half & half (or use cream or milk)
1 tablespoon pure vanilla extract
1/2 teaspoon kosher salt
2/3 cup mini chocolate chips - We use these chips
Instructions
Preheat oven to 350° F. Spread flour evenly on a large rimmed pan. Place in preheated oven until lightly toasty, about 5 to 8 minutes. Remove from oven and let cool completely.
In a medium bowl, beat butter, brown sugar, and granulated sugar with an electric mixer on medium speed until light and fluffy, about 2 to 3 minutes. Mix in half & half and vanilla until combined. Reduce speed to low and then mix in flour and salt. With a spatula or wooden spoon, fold in chocolate chips.
Cookie dough can be consumed immediately (when the texture is utter perfection!). Or place in an airtight container and refrigerate for later. Just know that the butter will solidify in the refrigerator and harden the cookie dough - simply let it rest at room temperature to soften.
Notes
from a farmgirl's dabbles
Recommended Products
As an Amazon Associate and member of other affiliate programs, I earn from qualifying purchases.
Nutrition Information:
Yield: 12
Serving Size: 1
Amount Per Serving:
Calories: 213
Total Fat: 11g
Saturated Fat: 7g
Trans Fat: 0g
Unsaturated Fat: 4g
Cholesterol: 21mg
Sodium: 59mg
Carbohydrates: 28g
Fiber: 1g
Sugar: 17g
Protein: 2g
Nutrition information is automatically calculated by Nutritionix. I am not a nutritionist and cannot guarantee accuracy. If your health depends on nutrition information, please calculate again with your own favorite calculator.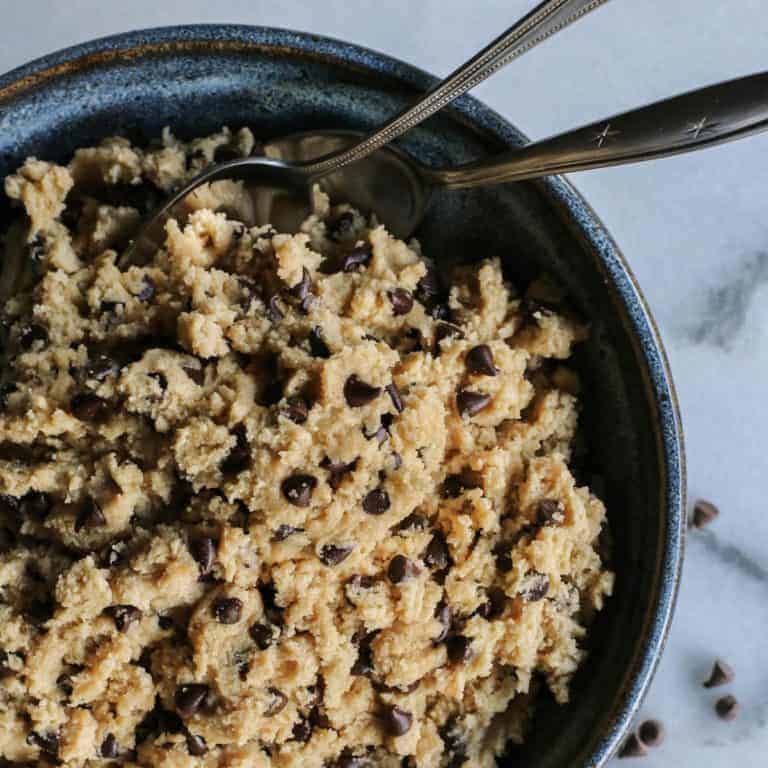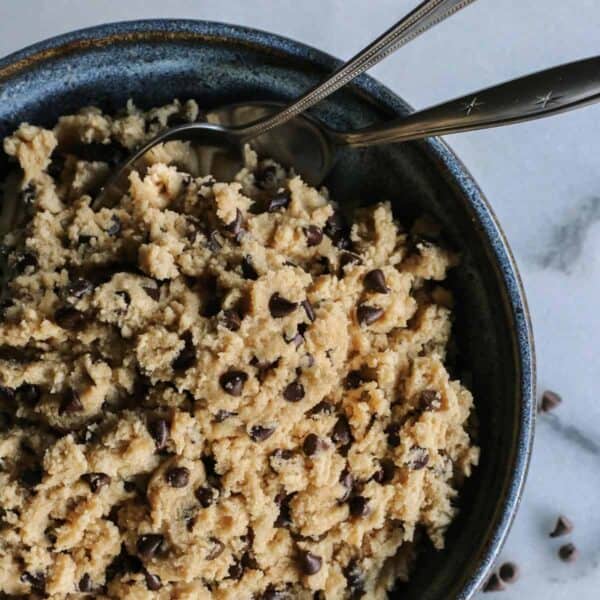 We participate in the Amazon Services LLC Associates Program, an affiliate advertising program designed to provide a means for us to earn fees by linking to Amazon.com and affiliated sites. See our
disclosure policy
for more info.