Chocolate Chip Shortbread Cookies
Chocolate Chip Shortbread Cookies are delicately crispy-crunchy, with rich buttery flavor. Flecks of chocolate and a sprinkle of sea salt flakes take these shortbread cookies with chocolate over the top!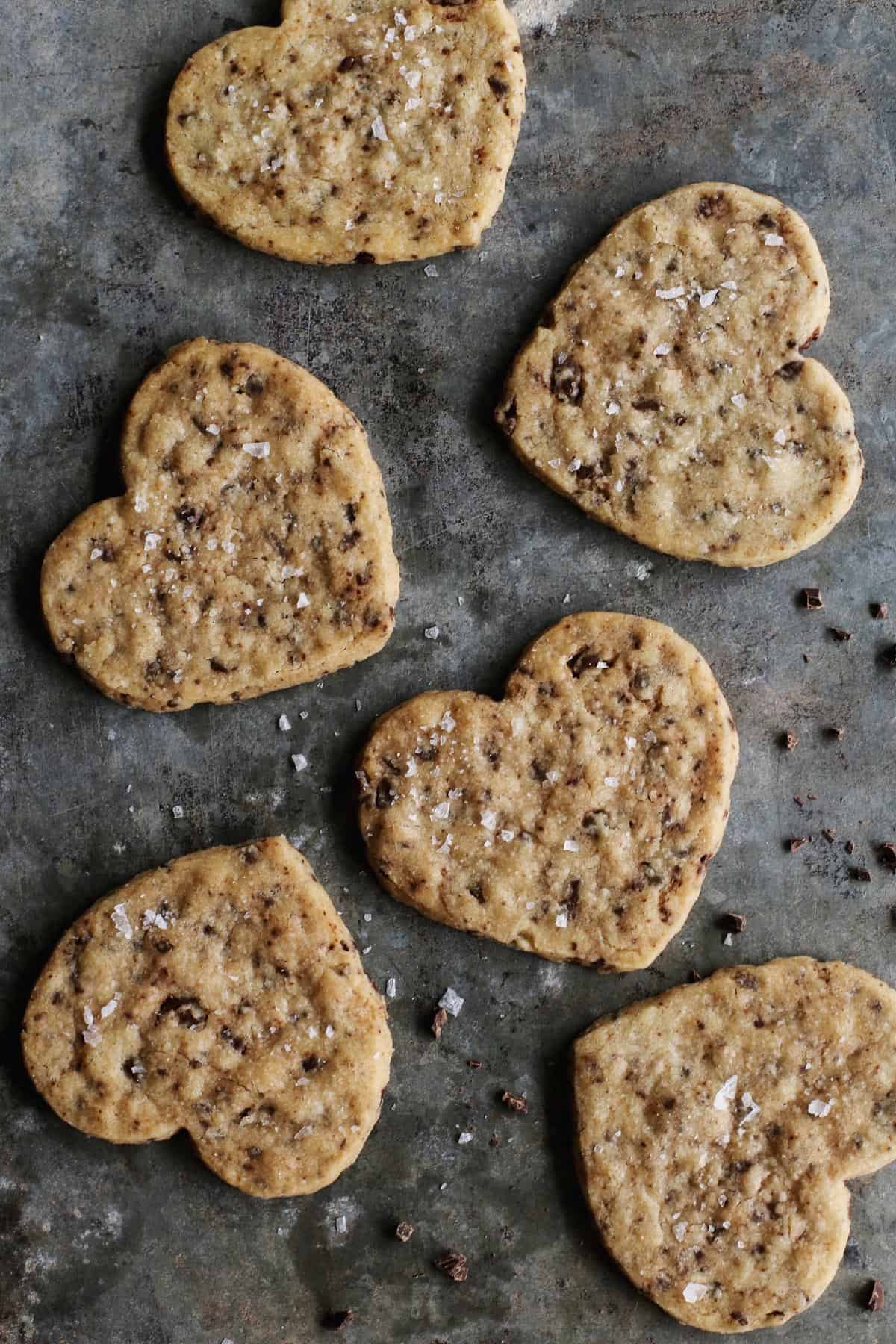 Easy Chocolate Chip Shortbread Cookies
This Chocolate Chip Shortbread Cookies recipe comes from the time our family traveled halfway around the world, to visit my sister Cheryl's family in Cairo. They called Egypt "home" for a few years, and it was a trip of a lifetime to stay with them there and tour ancient places.
While we enjoyed many savory dishes that I still think about (Ooohhhh, the street cafes with fragrant gyro meat revolving on vertical rotisseries and that wonderful spicy lentil soup!), I just couldn't find a dessert with chocolate that satisfied me (or reminded me of home?). Being there for two weeks, that was definitely a problem!
Thankfully, my brother in-law Dave made cookies. These delightful chocolate chip shortbread cookies!
We fell in love with Dave's cookies – he made them in the shapes of arrows and stars. I started making them in heart shapes after we returned from Egypt, and have been making them every year since, always around Valentine's Day!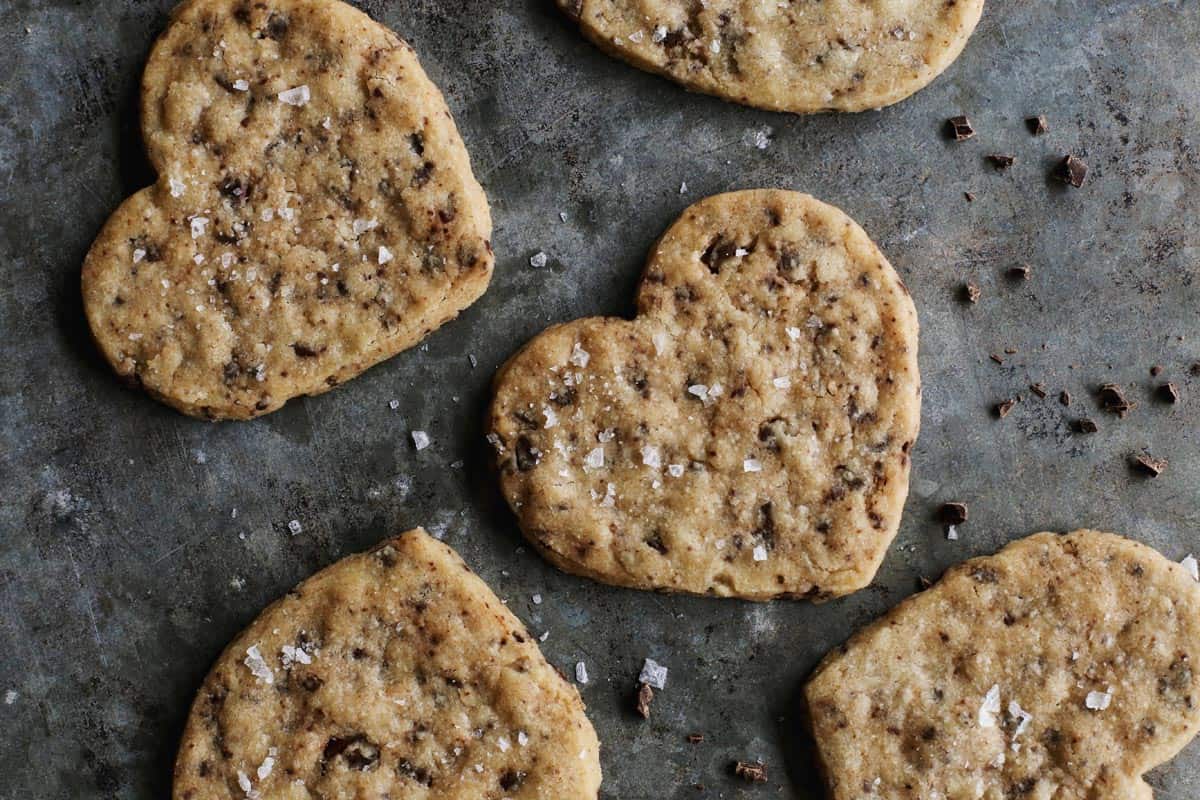 *To see photos from the time we spent at the Red Sea that Christmas, be sure to scroll past the recipe in this post.

Long before we ever thought about booking flights to visit Cheryl and Dave and their kiddos, Cheryl had been telling me about these wonderful shortbread cookies that Dave makes.
And after staying with them, I have total appreciation for the satisfaction she finds in them. I'm sure they felt like little familiar bites of home in that hugely populated city (20 million people!) on the other side of the world.
Have you tried another chocolate chip cookie recipe that we love, these big-as-your-head Chocolate Chip Cookies? They are FANTASTIC!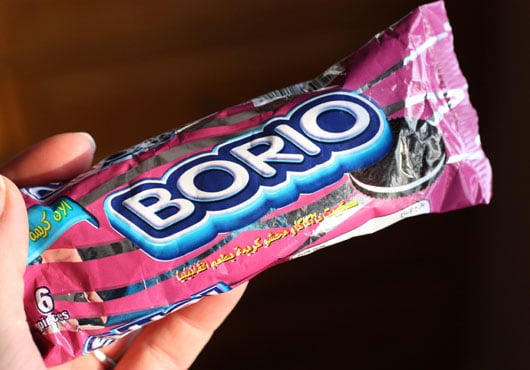 Oh, there were plenty of knockoff chocolate cookies and candies to be found. Like the Borio, Egypt's answer to our Oreo. But they just weren't the same.
I had great fun on our shopping trip to Carrefour, a large and very modern grocery store headquartered in France, quite similar to our own local grocery stores. We shopped there prior to leaving on an excursion across the Sinai Peninsula, to spend Christmas at a little piece of paradise on the shores of the Red Sea.
Carrefour was stocked with many familiar looking items in unfamiliar wrapping, just like the Borio. And there were even more items that were unfamiliar all around. I couldn't scan the store shelves fast enough.
From the tiny bananas to the best cucumbers I've ever eaten, to huge vats of fresh spices and boxes of unrefrigerated milk (supposedly popular in most parts of the world, but kind of shocking for our US Midwest dairy-land minds), it was a foreign food lover's delight.
When traveling to other countries, I always recommend visiting their local food markets. It's an incredibly interesting way to delve deeper into their culture.
While we were at the store, I picked up a few bars of the chocolate Dave used in his chocolate chip shortbread cookies. There was no doubt that I'd be baking those cookies once we returned home to Minnesota.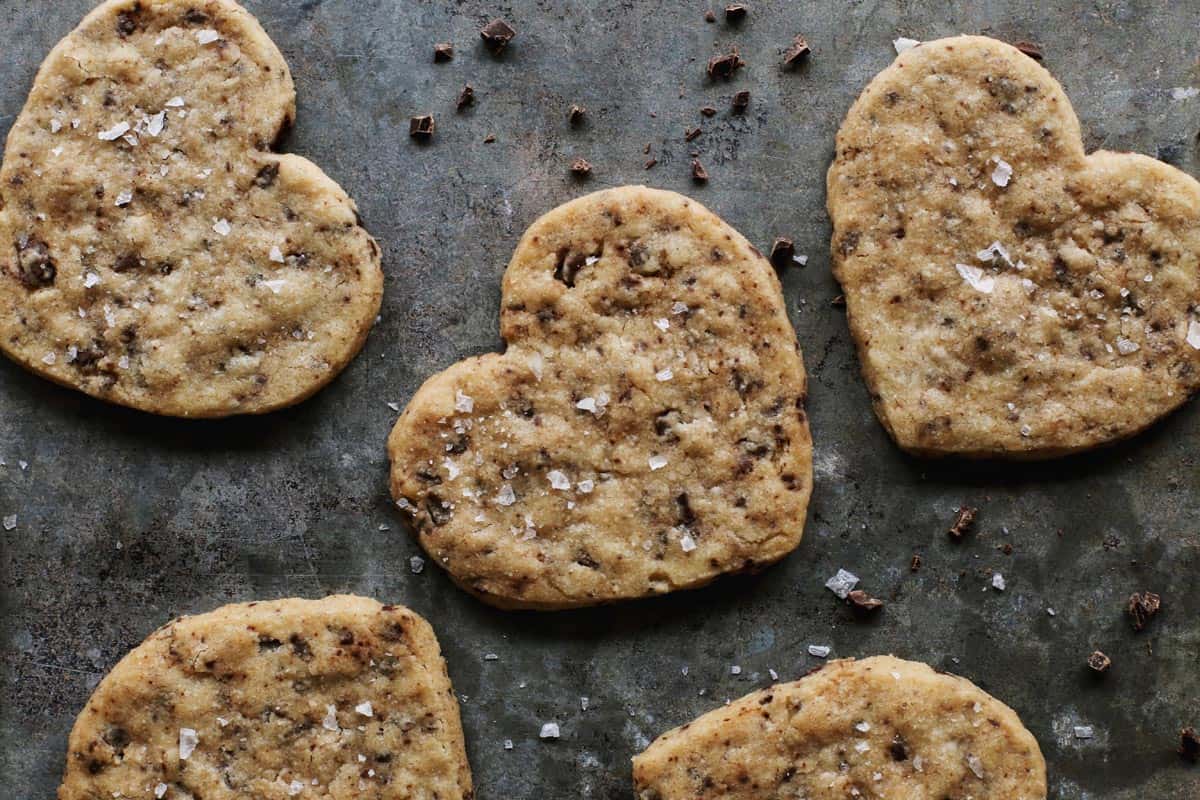 Chocolate Chip Shortbread Cookies
This shortbread cookie recipe creates one of my favorite cookies. I love the delicately crispy-crunchy texture, rich in buttery flavor and flecked with bits of chocolate. I most often use semi-sweet chocolate, as that goes over best for my family as a whole. But if I'm looking for an extra special, just-for-me kind of treat, I use a specialty brand of dark chocolate.
Also, I recommend a sprinkle of sea salt flakes. There's just something about that snap of salt that takes chocolate chip cookies over the top!
And I have to mention… These cookies freeze exceptionally well. I like to eat them straight from the freezer!
Like this recipe? Save it to Pinterest!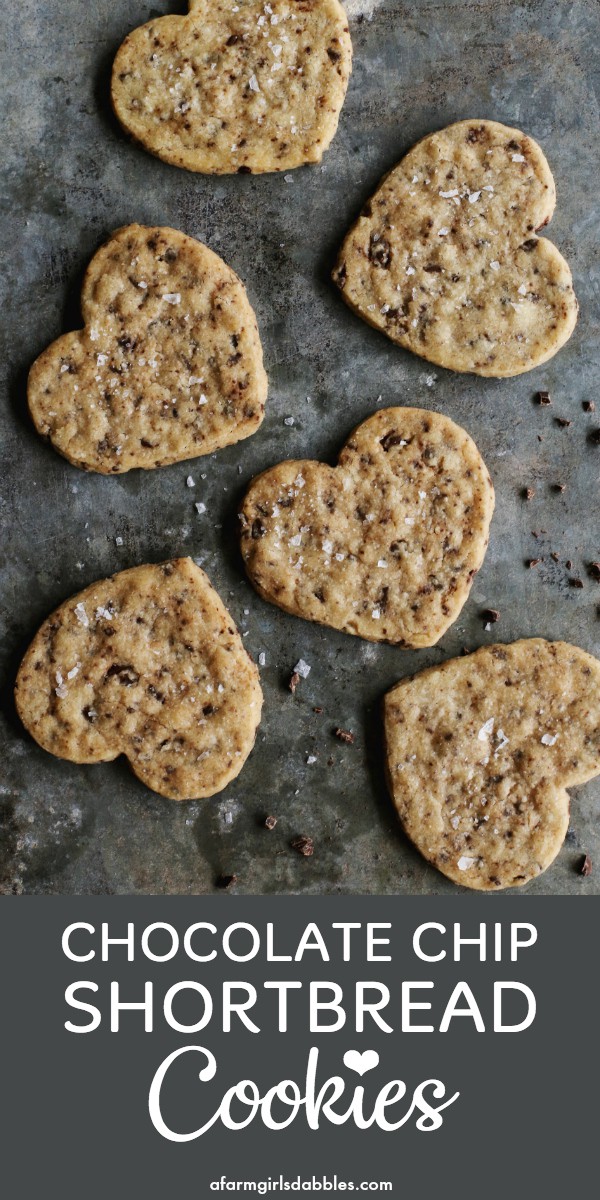 A few more favorite chocolate treats of ours: These Chocolate Cupcakes with Fluffy Marshmallow Buttercream are perfectly delightful, Gooey Chocolate Mug Cake for Two is a quick and delicious chocolate fix, and I like to keep these No-Bake Oats and Chocolate Protein Bites on hand for quick grab-and-go energy!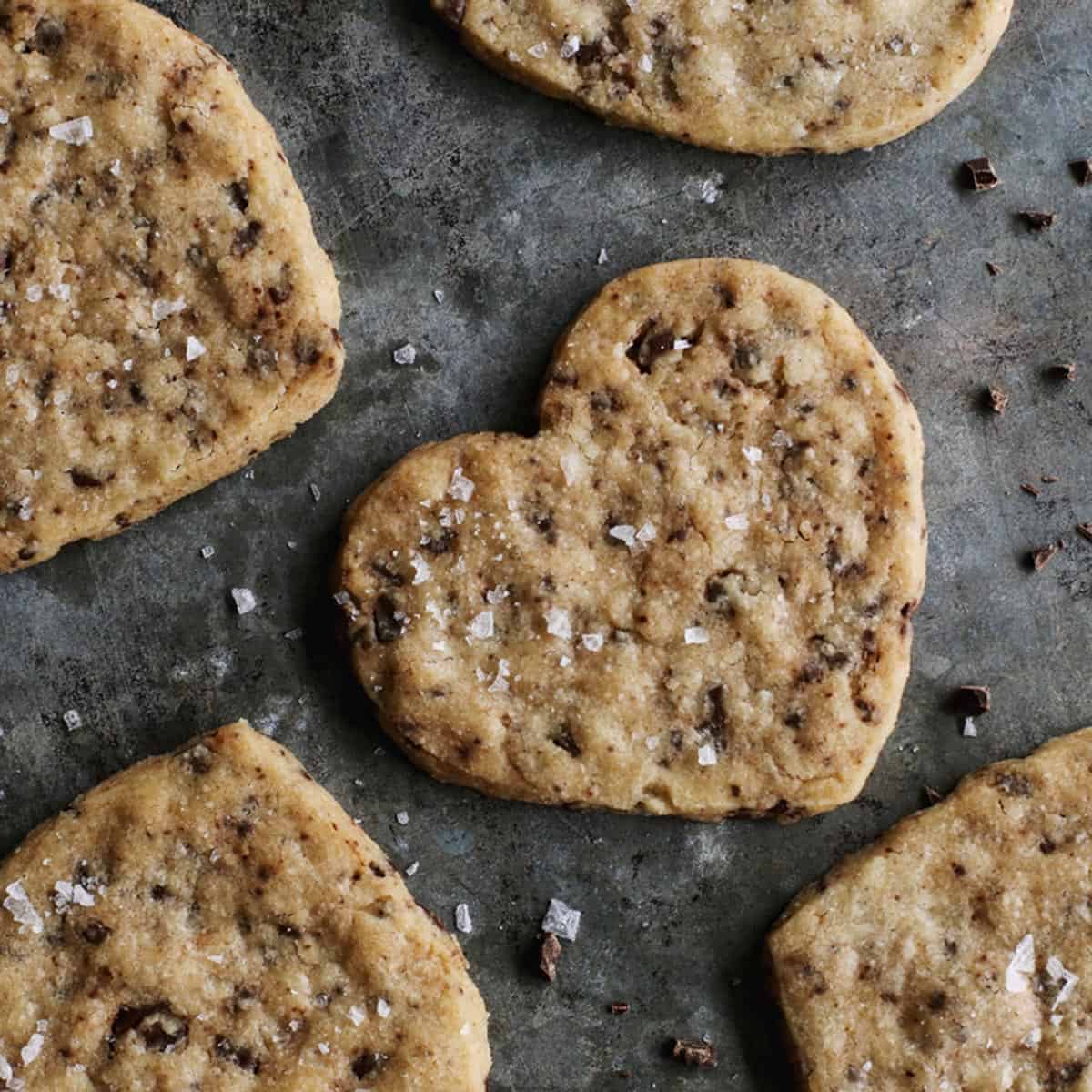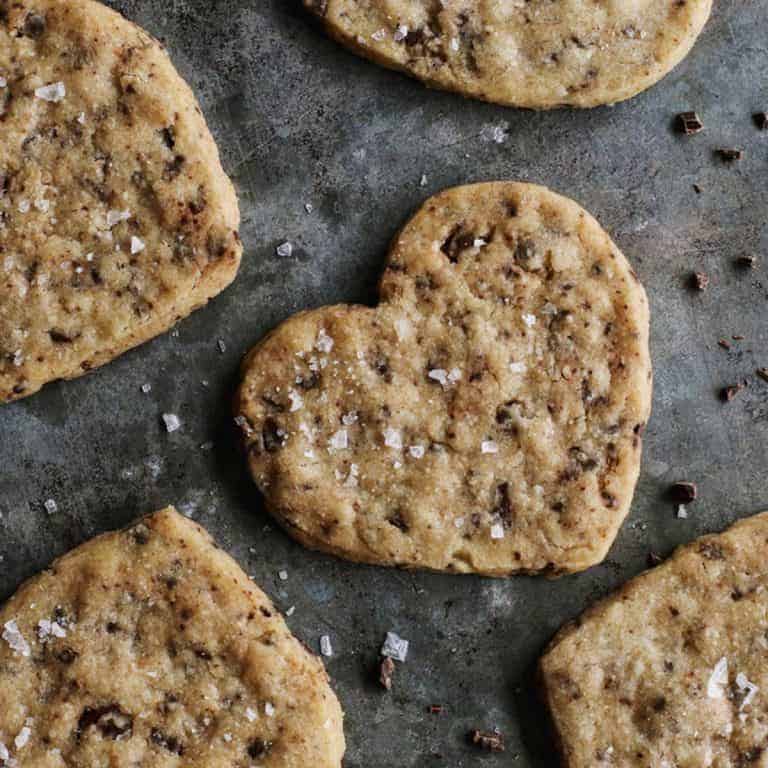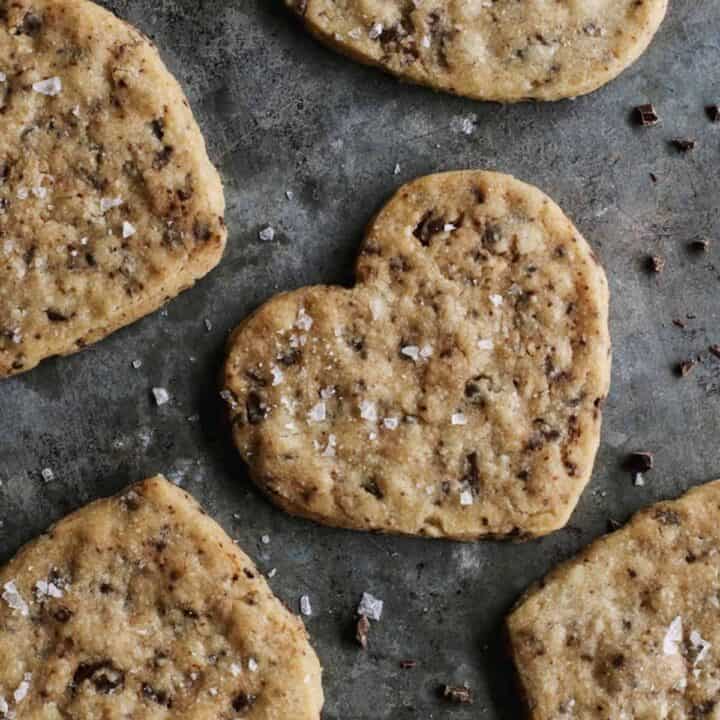 Chocolate Chip Shortbread Cookies
Yield: 36
Prep Time: 20 minutes
Cook Time: 36 minutes
Additional Time: 30 minutes
Total Time: 1 hour 26 minutes
One of my favorite cookies! These shortbread cookies with chocolate are delicately crispy-crunchy, with rich buttery flavor. Flecks of chocolate and a sprinkle of sea salt flakes take these cookies over the top!
Ingredients
1-1/2 c. unsalted butter, at room temperature (still somewhat firm, not overly soft or melty)
1 c. sugar
1 tsp. pure vanilla extract
3-1/2 c. all-purpose flour
1/4 tsp. kosher salt
Maldon sea salt flakes, optional
Instructions
Chop chocolate bar into small pieces. Aim for the biggest pieces to be no larger than 1/4" in size. If they are too big, they cause problems with getting clean cuts with the cookie cutters. Set aside.
In a stand mixer, beat butter on medium-high speed until smooth and creamy, about 1 minute. Add sugar and beat until smooth and a bit fluffy, about 2 minutes more. Add vanilla and beat until just incorporated. Add flour and salt and beat until just incorporated. Gently fold in the chopped chocolate. Divide dough in half and then flatten each half slightly into a disk shape. Wrap each disk tightly in plastic wrap and set them (separately, not resting on top of each other) in the refrigerator to chill for 30 minutes. If your butter was on the warmer/softer side, you may need to refrigerate a few minutes longer.
Preheat oven to 350° F. Line 2 baking sheets with parchment paper.
On a lightly floured surface, roll out one of the dough disks to a 1/4″ thickness. Cut dough into desired shapes using lightly floured cookie cutters. The heart cutter I use is about 3-1/2" wide by 3" tall. Place cut dough shapes on prepared baking sheet, 1" to 2" apart. Sprinkle with sea salt if desired.
Bake for about 12 minutes, or until just browned and firmed up. Note that if you use a cookie cutter that is smaller or larger than I use, or if your dough is rolled thicker or thinner, you will need to adjust baking time accordingly. Remove pan from oven and let cookies rest on pan for a minute or two before removing to a wire rack to cool completely. Repeat with second dough disk. Just be sure to keep your dough chilled until you are ready to roll and cut. If the dough gets too warm, it will spread when baked. Dough can be re-rolled after the first cuts. If dough gets too warm, chill it again in the refrigerator.
*If your cookies are spreading a bit, the butter was probably a little too warm. Then I recommend placing pans of cut dough in the refrigerator to chill for 15 minutes prior to baking. Or a hack that I've used to tighten up the shape while the cookies are still warm after coming out of the oven, is to use a thin metal spatula to gently nudge in the perimeters where needed.
These cookies keep very well frozen. I actually prefer to eat mine straight from the freezer!
Notes
from the recipe box of my brother in-law Dave
Recommended Products
As an Amazon Associate and member of other affiliate programs, I earn from qualifying purchases.
Nutrition Information:
Yield: 36
Serving Size: 1
Amount Per Serving:
Calories: 163
Total Fat: 12g
Saturated Fat: 7g
Trans Fat: 0g
Unsaturated Fat: 4g
Cholesterol: 28mg
Sodium: 38mg
Carbohydrates: 14g
Fiber: 0g
Sugar: 8g
Protein: 1g
Nutrition information is automatically calculated by Nutritionix. I am not a nutritionist and cannot guarantee accuracy. If your health depends on nutrition information, please calculate again with your own favorite calculator.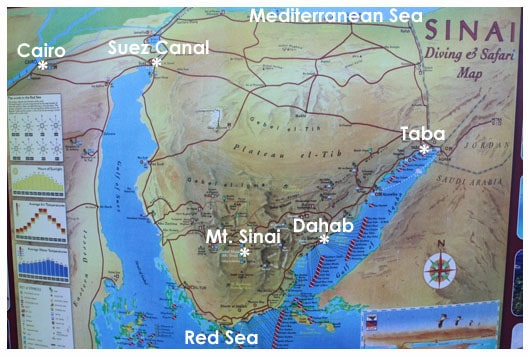 Christmas at the Red SeaTo start our journey, a van from the resort where we had reservations at on the Red Sea picked us up in Cairo. We drove UNDER the Suez Canal, right onto the Sinai Peninsula, our first time on the continent of Asia.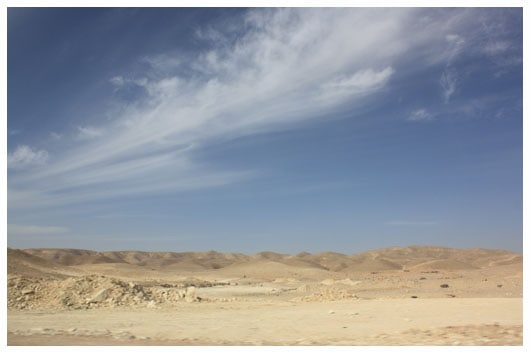 I thought I would be bored driving across the desert, but our trek was quite the opposite. The constantly changing landscape of varying browns and golds against a brilliant blue sky were captivating.
And between the rough road, the extreme high speed of our vehicle with the windows open, the bathroom breaks capable of producing nightmares, and the numerous unnerving police check points…well, how could one honestly be bored?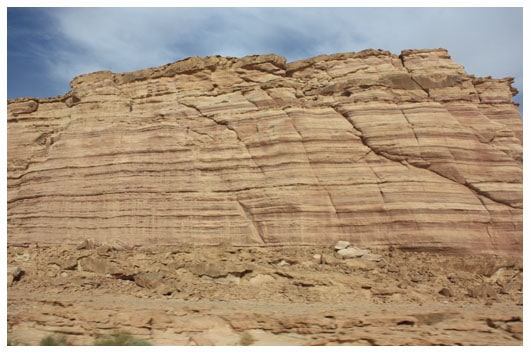 As we traveled east across the Sinai, the landscape rose up. Alot! It was simply breathtaking.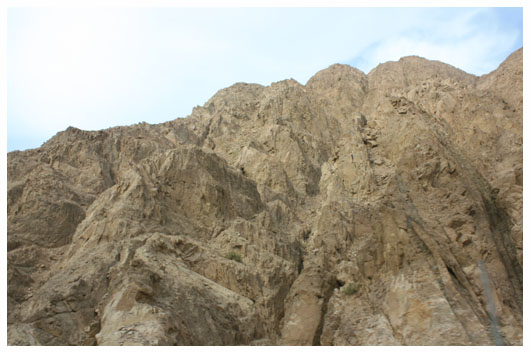 When we reached Taba, at the border of Egypt and Israel at the Red Sea, the rock formations changed from horizontal stratas to cragged fingers reaching for the sky. Or the heavens, actually. All I could think about as we drove through this harsh and rugged beauty, was how Moses wandered that very land for forty years, leading the Israelites out of Egypt.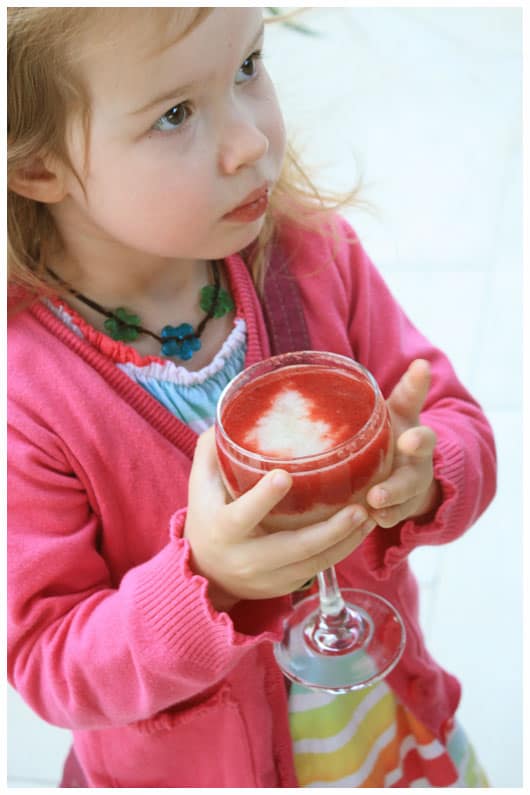 We traveled south from Taba, weaving in and out from the Red Sea, catching teasing glimpses of that sparkling blue water. And we arrived at Dahab Paradise, seven hours after departure, parched (because we didn't want to drink much, so we didn't have to make more grody bathroom stops) and road worn. The welcome drinks of fresh guava and strawberry juices were swallowed by our eyes before they ever touched our lips.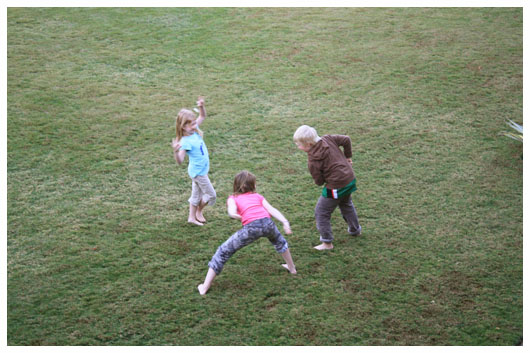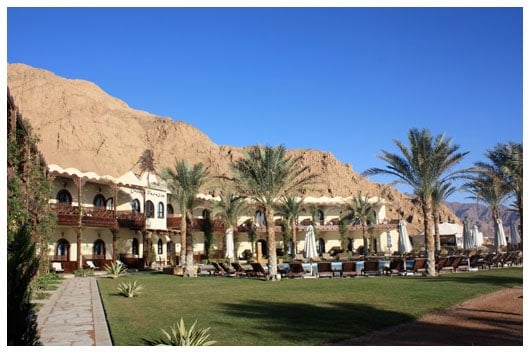 The kids immediately took off their shoes and let their toes run on some refreshing green.Our resort sat nestled into golden mountains, just a bit north of the town of Dahab. Offering only 35 rooms, our stay was quiet and intimate. A very striking contrast from our first week in Cairo's hustle and bustle.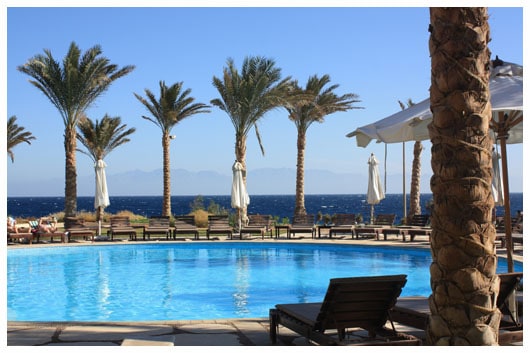 The pool area, overlooking the Red Sea's Gulf of Aqaba. Can you see that hazy mountain silhouette across the sea? That's Saudi Arabia.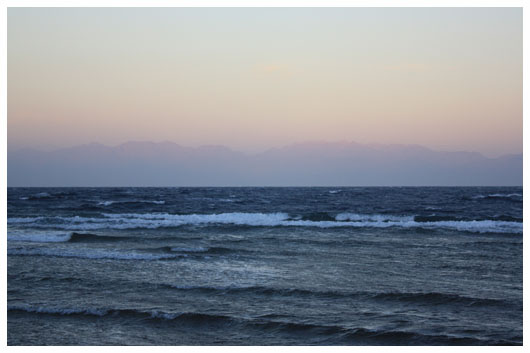 I was mesmerized by Saudi Arabia, of those moody mountains across the sea. They seemed to play a game with me, fading in and out of view, never fully revealing themselves.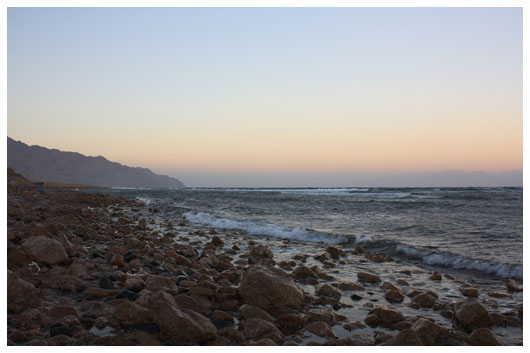 Standing on the evening shoreline was a beautiful thing. This is looking north of Dahab Paradise. At that jutting point is where the Blue Hole is located, a famous dive site with the nickname "Diver's Cemetary". Dave wanted to take us snorkeling there, as he had scuba dived there previously and found it extraordinary. But the words "cemetary" and "snorkeling" in the same sentence, for someone who has never snorkeled before, was a no-go. So he came up with Plan B, to get Hatti and I in on our first snorkeling experience in the warm waters of the Red Sea. We took a taxi to a beach abundant with washed up coral, on the south end of Dahab, and snorkeled there instead. Traveling light and fancy free for those few hours, I left my camera at Paradise, so our memories are all we've got. But they're beautiful ones we'll never forget.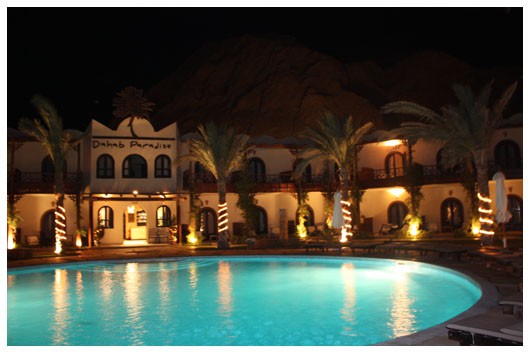 In the evening, when the winds died down, and the moon rose up big and round and glowing, Paradise was even more enchanting. Over a nightly bottle of shared red wine, we listened to the sea's gentle waves spill onto the shore.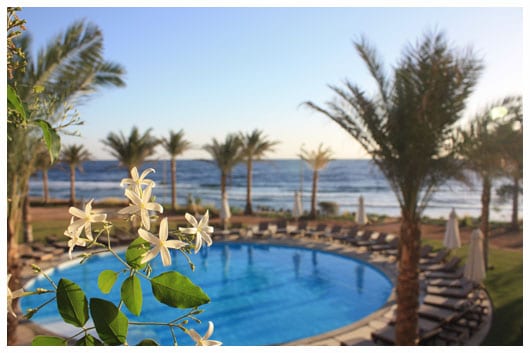 The view from our balcony never left us sitting in our room. I wish I could have bottled up the fragrance of the gorgeous flowering vine climbing outside our door.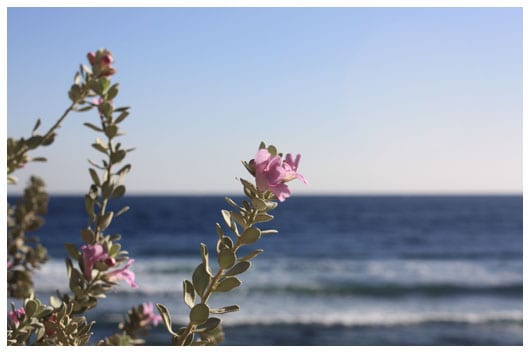 It was refreshing to see green and flowering plants, and the sea was a spectacular backdrop.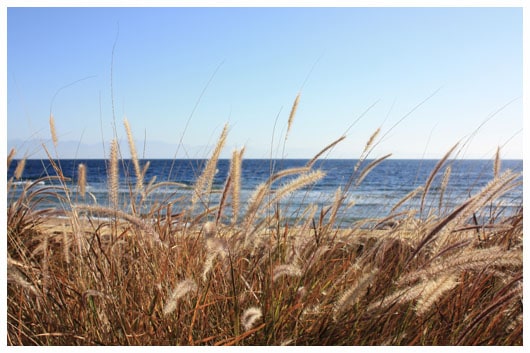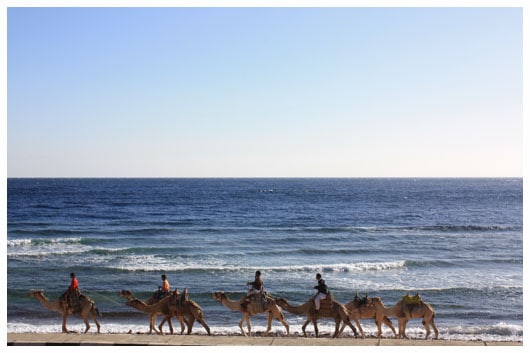 I love grasses in any landscape, but these especially caught my eye, bending and swaying along the shore.It was common to see camels along the water's edge. And, yes, we were the Minnesotans always pointing, oohing, and aahing at them.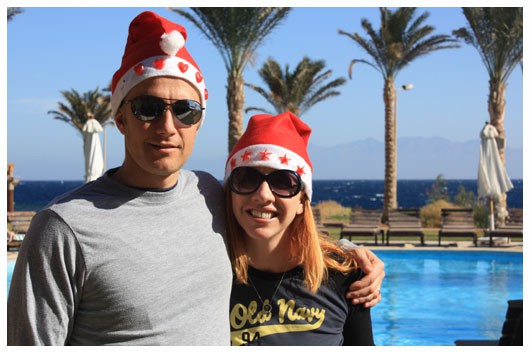 We found blinking Santa hats on our door handles on Christmas morning. Dave and Cheryl fully took the gesture to heart.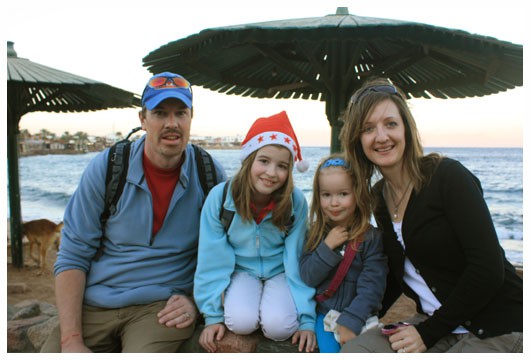 Our 2010 family Christmas photo, where we had ventured into the town of Dahab. The highlight for the kids was all eight of us hanging out of an open Jeep (aka "taxi") on the ride back to Paradise. We sang the whole way back. "Jingle Bells" sung in Arabic by my niece and nephew is a sound I'll never forget.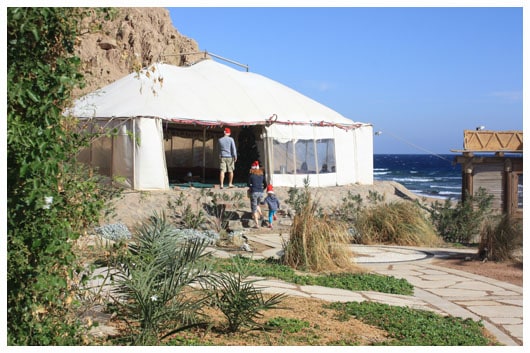 Dahab Paradise features a Bedouin tent, where they serve warm tea. The Egyptians love their tea. When I saw everyone drinking it in Cairo, I imagined it to be quite strong. But, no, it was the sweetest warm tea I have ever had. After every evening meal, and sometimes during the day as well, we visited the Bedouins and shared some tea.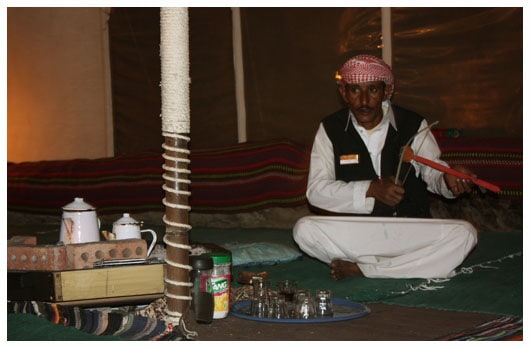 The Bedouins play a one-string instrument called the rababa. And they were surprised and quite pleased when Dave and Cheryl's kids started singing Christmas songs in Arabic. They joined right in with us on our Christmas celebration!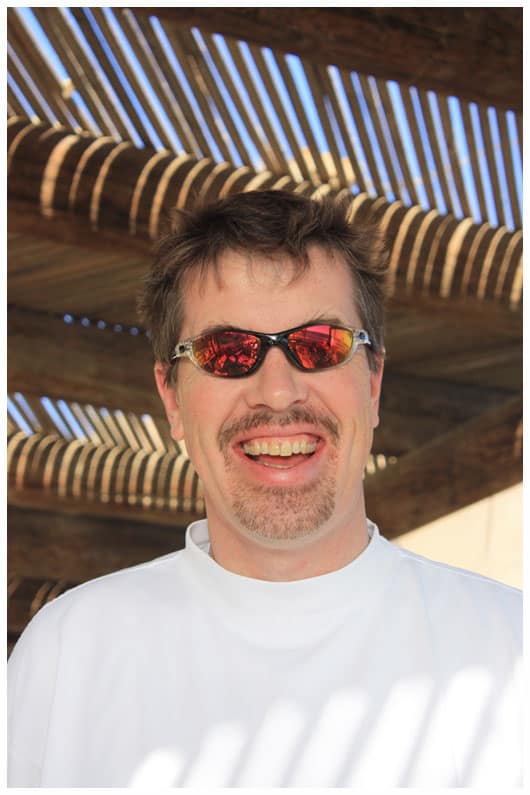 Yes, we enjoyed ourselves at Paradise. There were plenty of big smiles…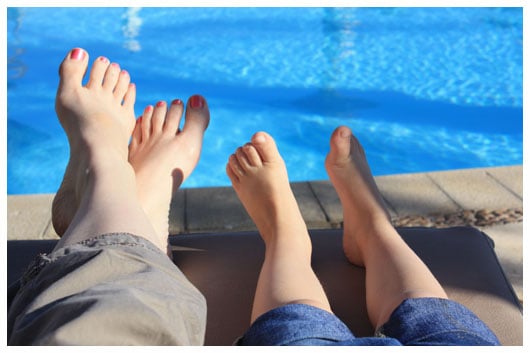 …and feet up on loungers.
It was a pinch-me-I'm-dreaming sort of Christmas.
This post was previously published in 2011. Some of the photographs and some of the text were updated in 2019.