Spicy Lentil Soup
This easy Spicy Lentil Soup is a filling, flavorful, vegetarian soup recipe with simple spices – and you control the heat. Squeeze a lemon wedge over each bowl to add fresh brightness!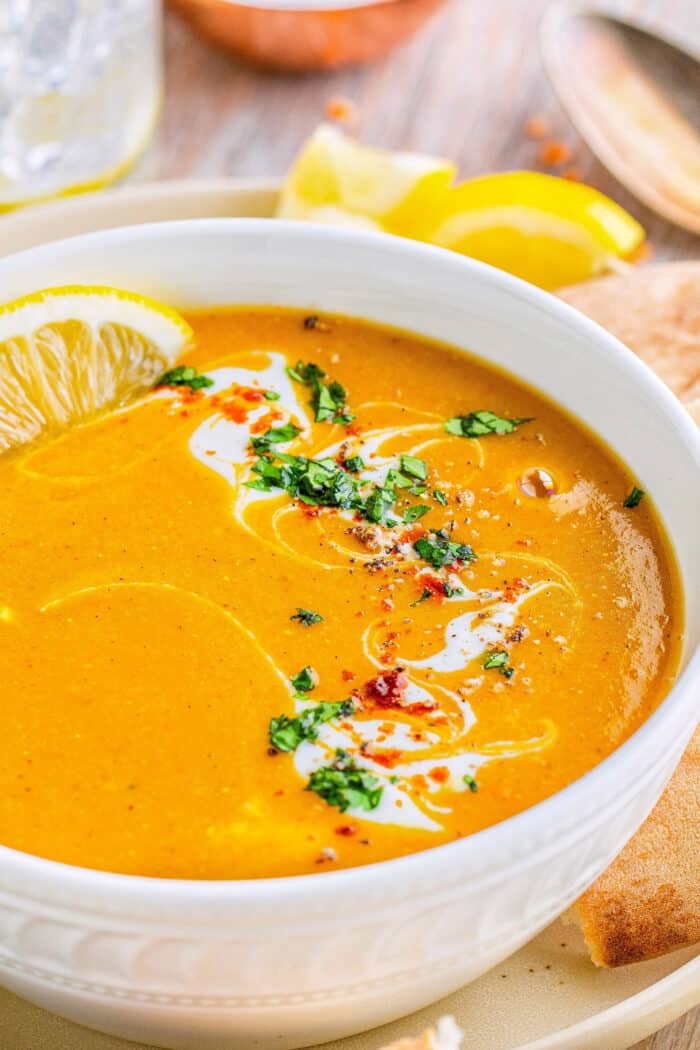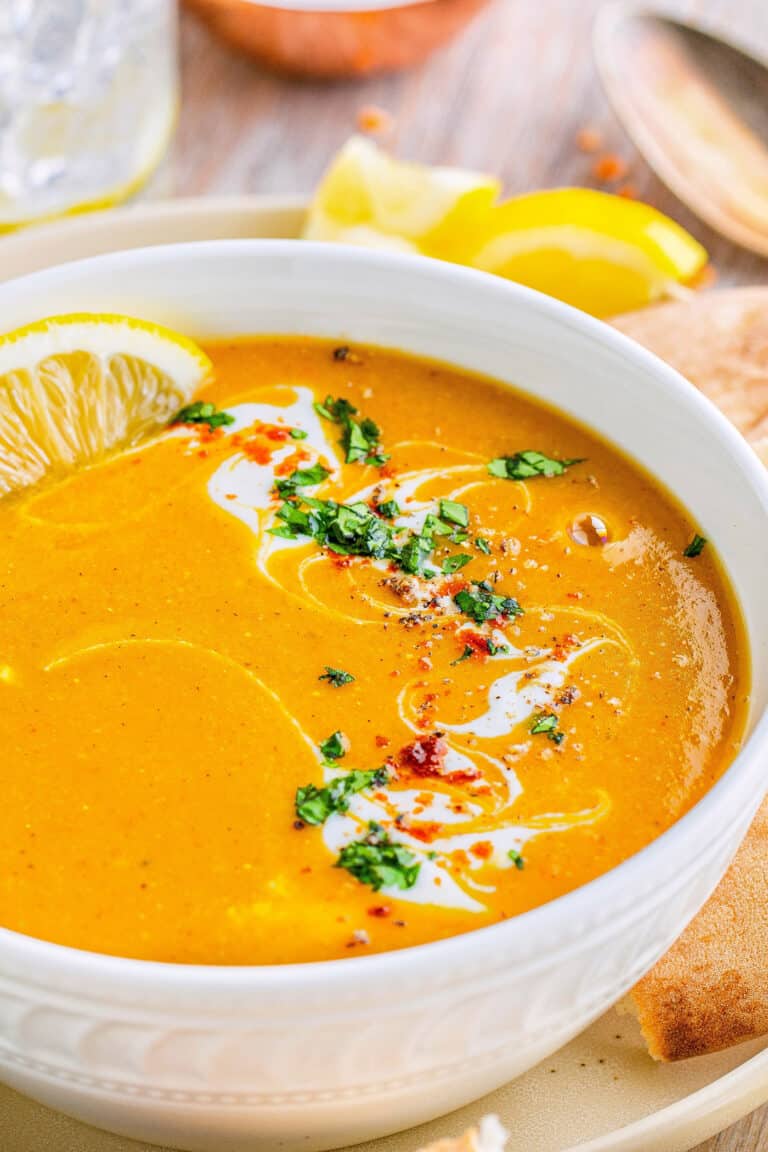 My First Bowl of Lentil Soup
I will admit that it took several nudges from my sister for me to order my first bowl of lentil soup. This was about ten years ago, when our family was staying with Cheryl's family in Cairo, Egypt.
We were out exploring one day and stopped for lunch at one of Cheryl's favorite street cafes, where she kept urging me to order the lentil soup. She wouldn't let it go, saying she's had many bowls of it and thought I'd really like it. (But, truthfully, I thought it sounded a little bland and booooring.)
Well I finally gave in and ordered a bowl.
I was so surprised! The soup was extremely flavorful, beautifully balanced with earthy, spicy flavor. And the squeeze of fresh lemon over the top was bright and tangy, the perfect contrast.
I was hooked. Plus extremely grateful that my sister didn't give up on me!
After we got back home, it didn't take long for me to come up with my own Spicy Lentil Soup recipe. With those flavors of Egypt still fresh in my memory, this easy lentil soup recipe turned into a fantastic way to relive a great lunch from that sunny street-side cafe.
* If you'd like to see more from our day exploring in Cairo, scroll past the recipe!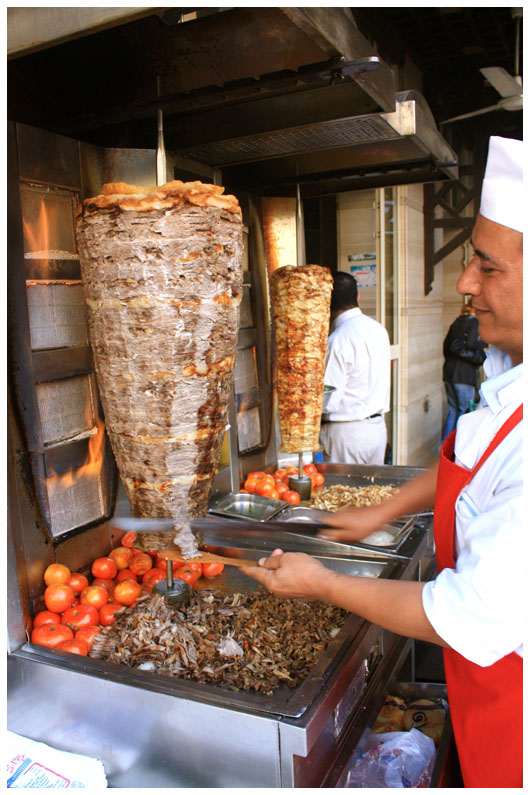 Egyptian Lentil Soup Experience
Part of my hesitation with ordering the lentil soup in Egypt was that all I reeeeeeally wanted was some of that tantalizing shawarma, cut fresh from the hot rotating spit.
But Cheryl convinced me to just order both. My sister's smart like that.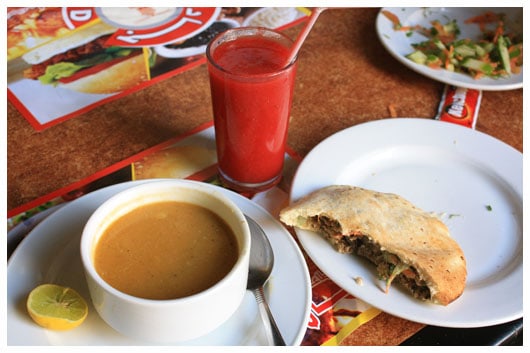 So that's exactly what I did. One small bowl of lentil soup, a soft pita stuffed with shawarma, and a glass of fresh strawberry juice, please!
That lunch is one that still stands out in vacation food memories. It was WONDERFUL.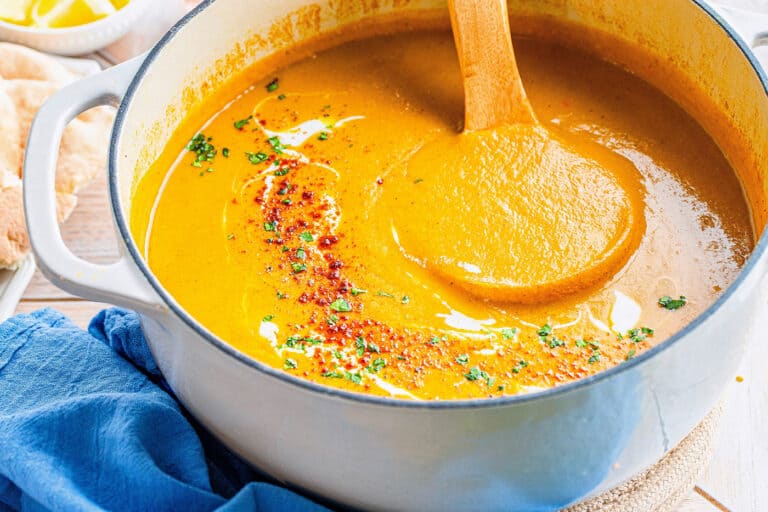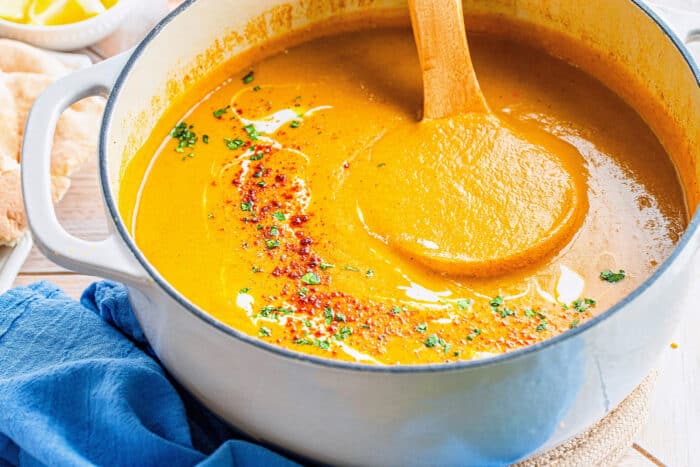 So now that I've filled you in on the backstory of this flavor-packed vegetarian soup recipe, I hope you're convinced to make a pot yourself. It's a beautiful, cozy soup. And to think that I never expected to like it!!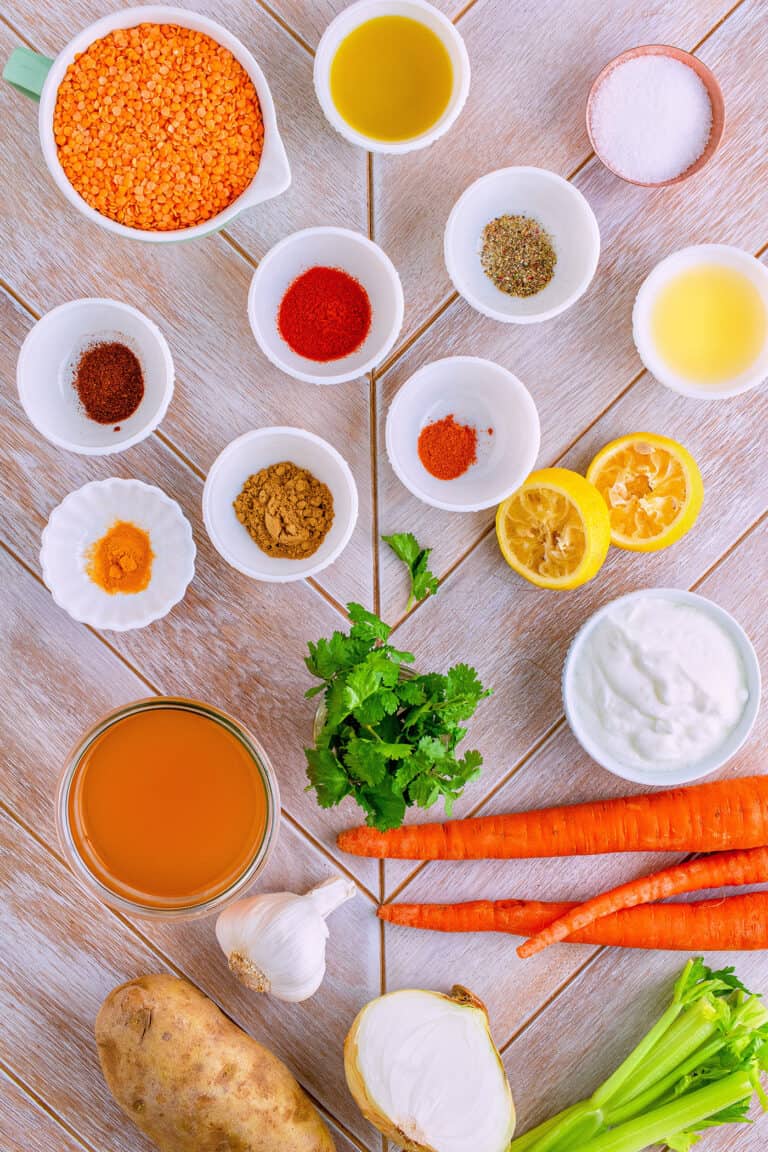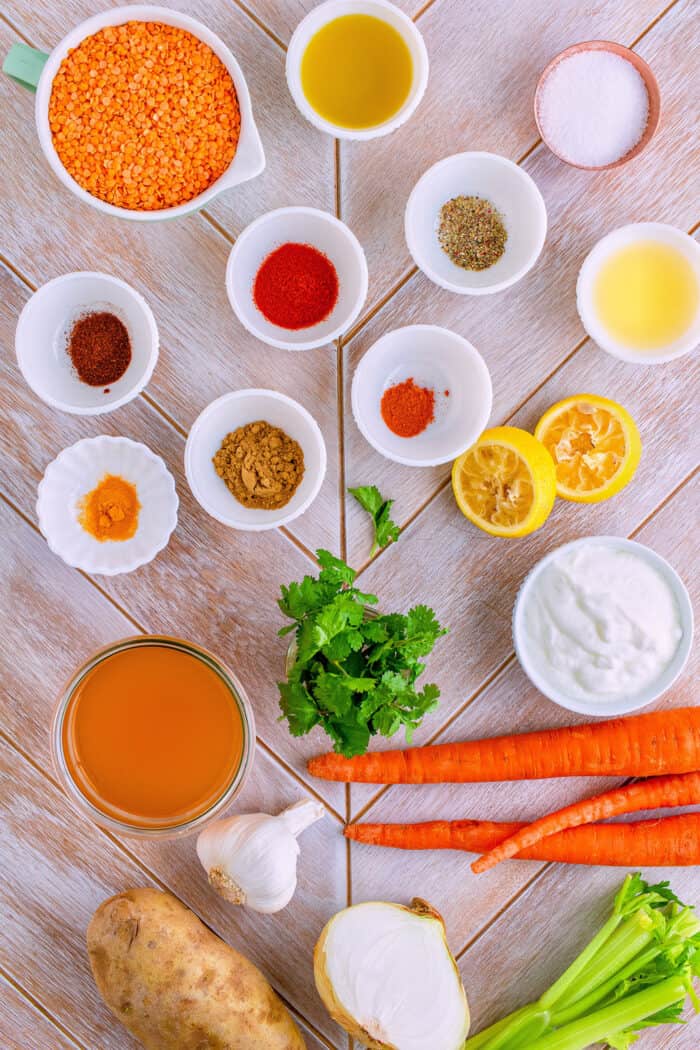 Ingredients
This soup is layered with different flavors, from fresh vegetables to earthy lentils to a handful of simple spices. Here's what you'll need:
Fresh produce: onion, celery, carrot, garlic, potato, lemon
Spices: cumin, paprika, ancho chili powder, cayenne pepper, turmeric, salt & pepper
Pantry items: red lentils, vegetable broth, olive oil
Optional garnish: plain Greek yogurt, cilantro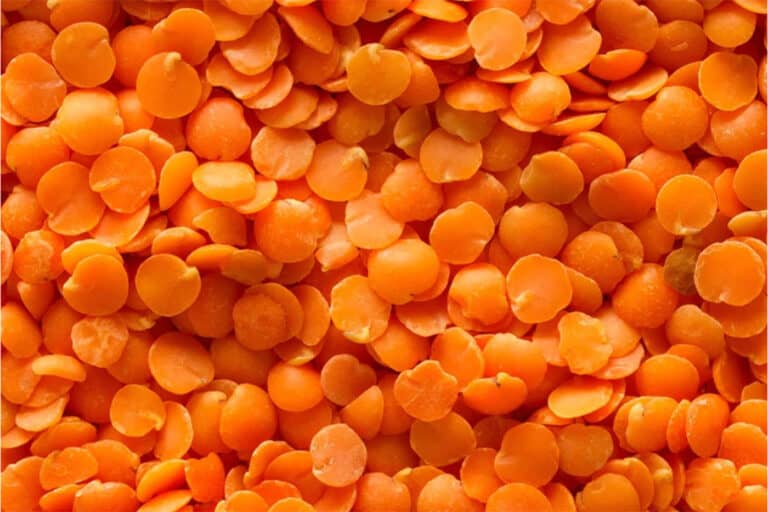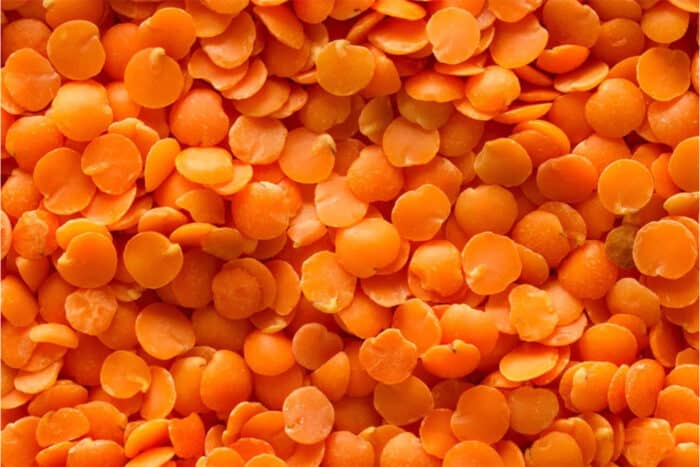 What are Lentils?
Lentils are the dried seeds of the lentil plant, a legume. Beans are also legumes – but the different is that lentils are never eaten fresh. Lentils are always dried right after they ripen.
Lentils are inexpensive and come in a variety of sizes, shapes, and colors – and their taste can vary, too. They are hearty and rich in nutrition, containing protein, fiber, and minerals. And they're low in fat and calories.
And because they are so versatile and easy to make, the lentil recipes list is a long one. But you'll most often find them used in stews, soups, salads, and dips.
This easy lentil soup recipe uses red lentils (shown above), which are an orangish-red color. You could also use green, brown, or yellow lentils, just know that the overall coloring of the soup will change.
Red lentils are also called "split red lentils" or "Egyptian lentils". Because their seed coat has been removed, they cook very quickly (in only 10 minutes!) and become very soft and mushy. These qualities make them PERFECT for blended soups such as this one.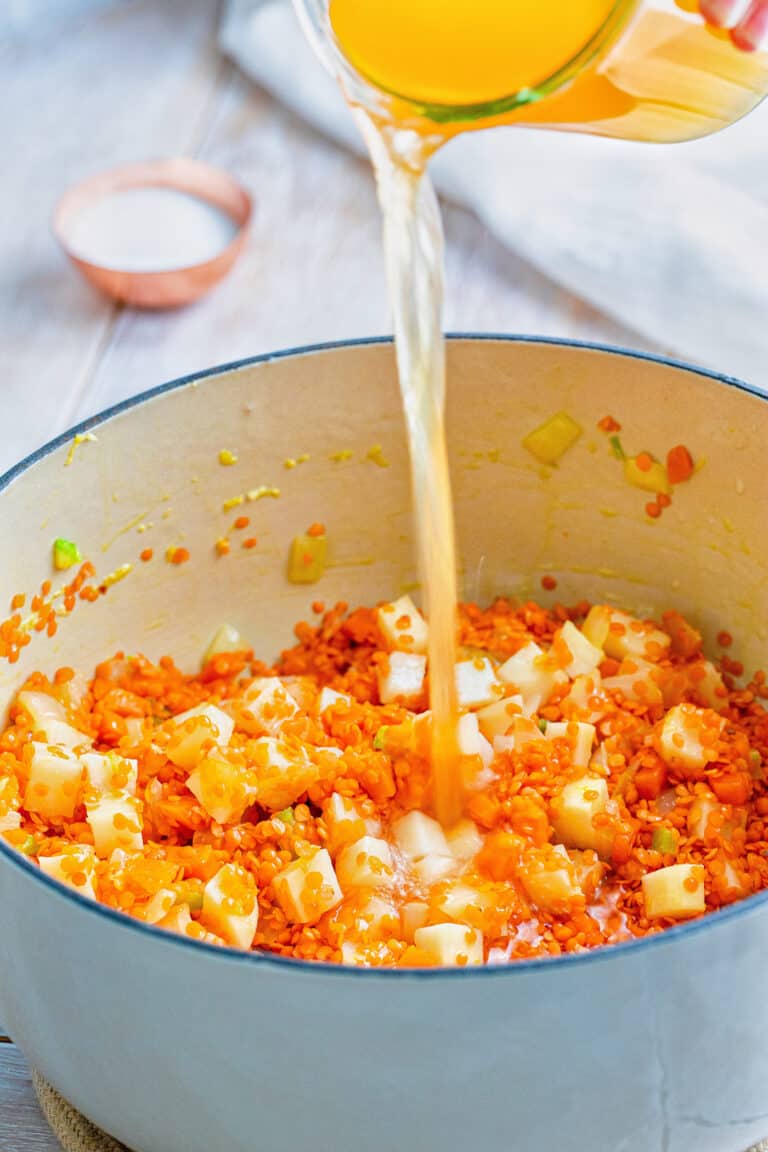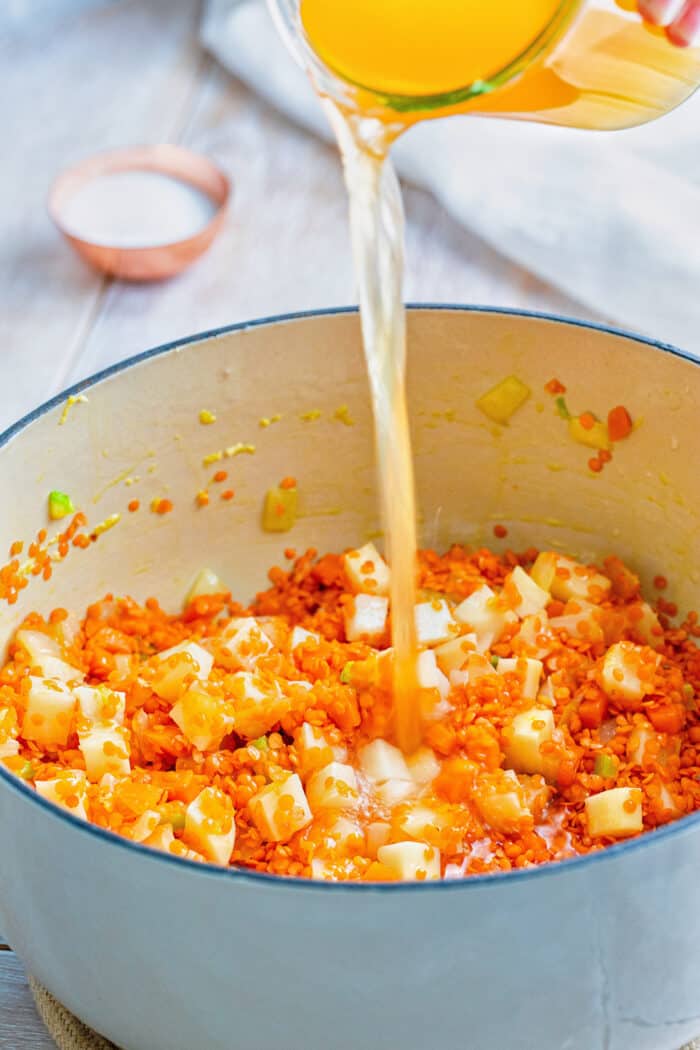 How to Make Lentil Soup
I truly enjoy making this soup. The veggies, the spices, the comfort. Simmering a big pot of soup on the stovetop is one of the best things in life. And this is the best lentil soup recipe – besides, possibly, that lentil soup I enjoyed on the streets of Cairo many years ago!
In a large saucepan, sauté the onion, celery, carrot, and garlic.
Add potato, lentils, and vegetable broth, and bring just to a boil.
Turn heat down and stir in the spices.
Cover and simmer for 40 to 50 minutes.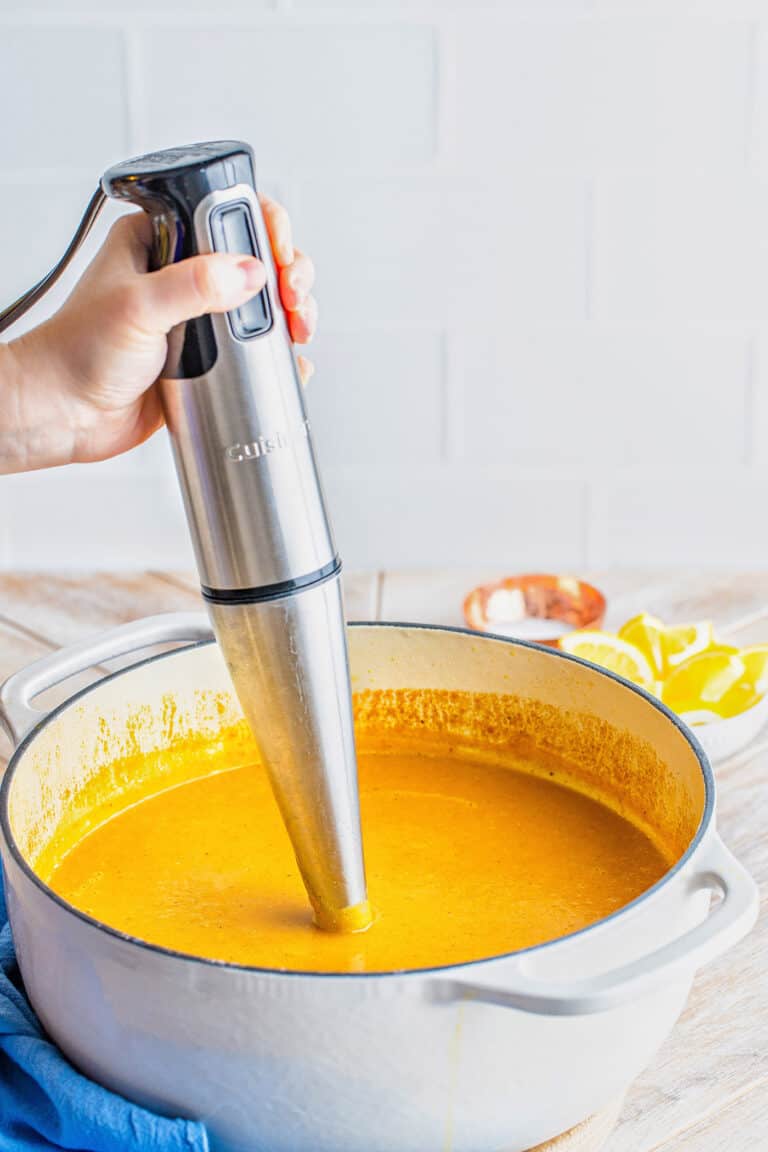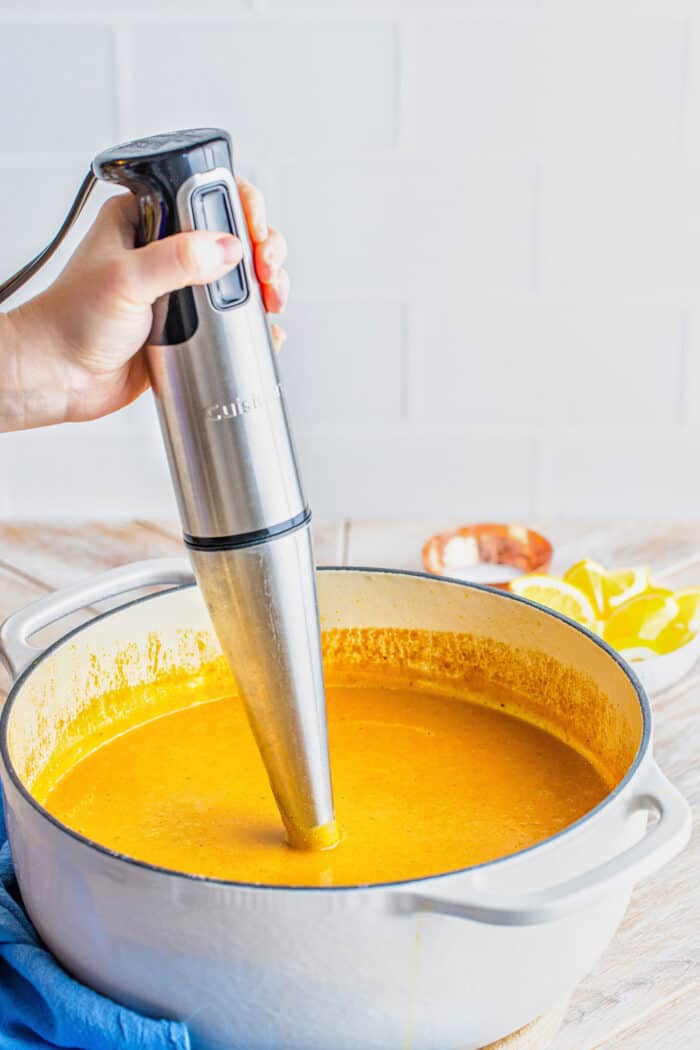 Then use an immersion blender to puree the soup. (Or transfer soup in batches to a blender, and blend until smooth.) The lentils will break down to a nearly smooth consistency, giving a thicker texture and added body to the soup.
Stir in lemon juice.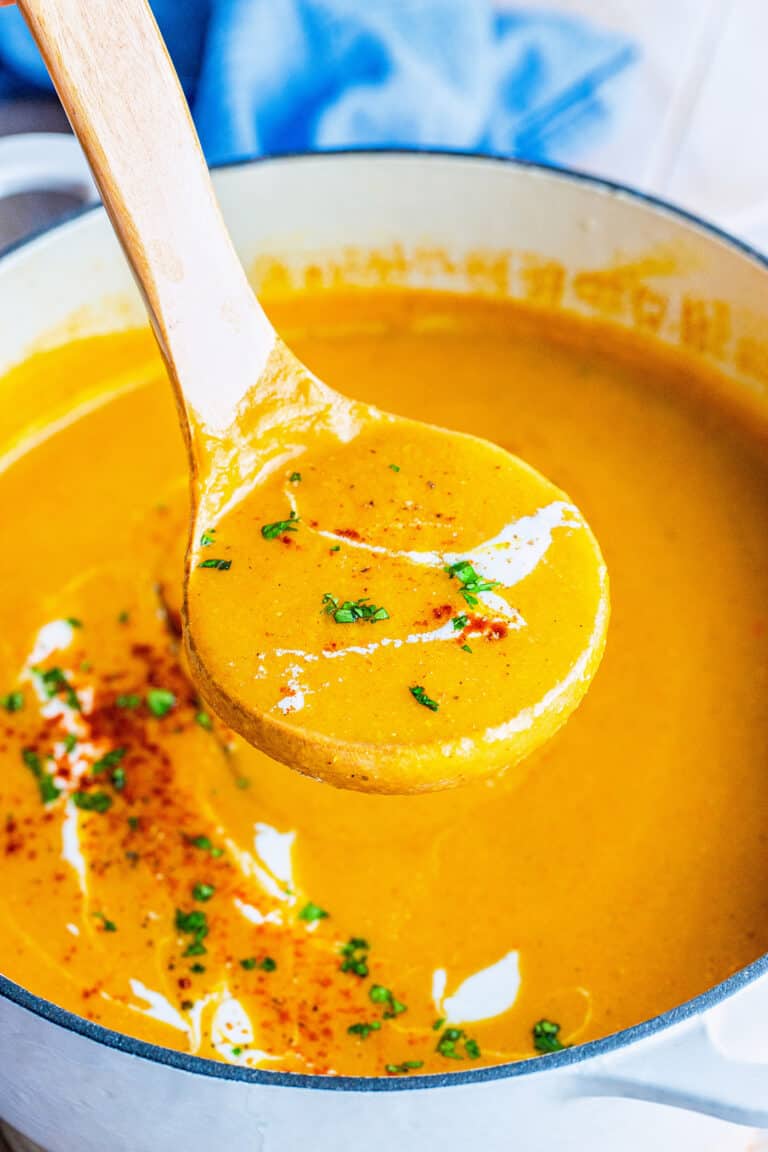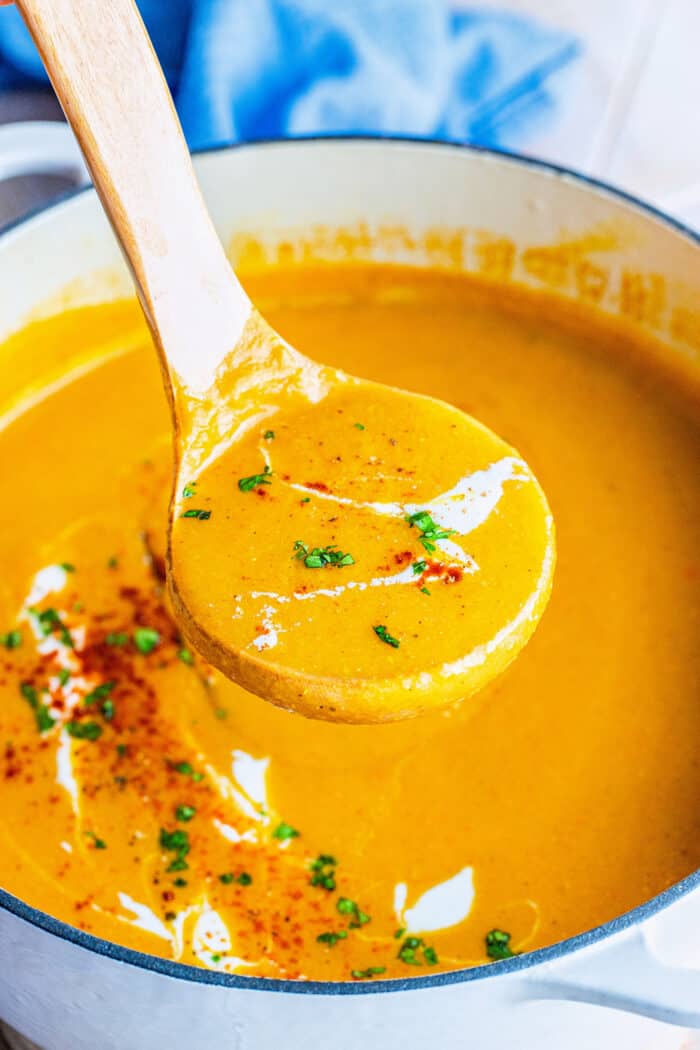 How to Serve
When I ate lentil soup in Egypt, the only garnish was a fresh lemon wedge to squeeze over the top of my bowl.
When I make this at home, I like to also offer some plain Greek yogurt, chopped cilantro, and additional cayenne.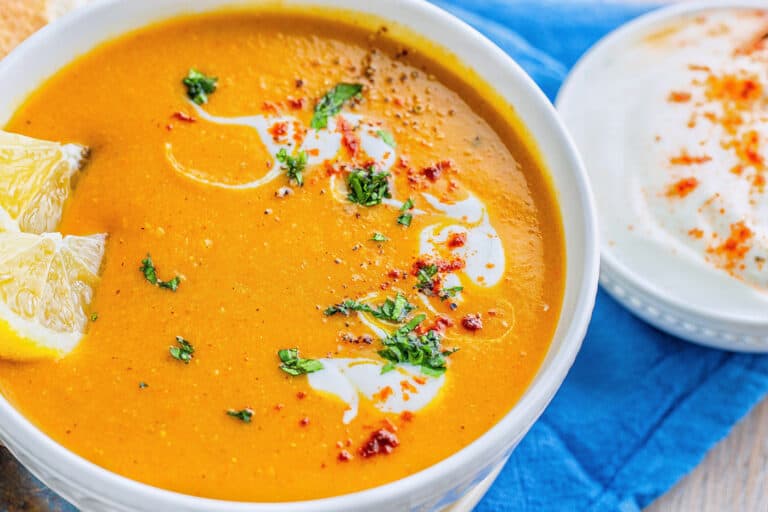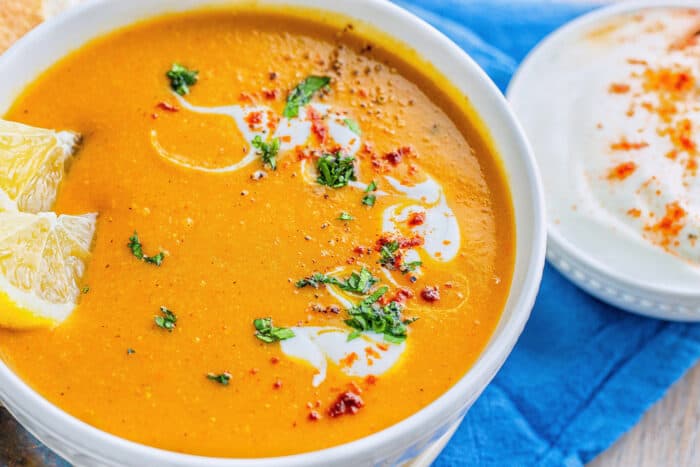 The yogurt is a wonderful, tangy contrast to the spices in the soup. Plus, it adds a bit of creamy texture.
Cilantro adds just a hint of uncooked fresh green flavor.
The sprinkle of cayenne is great for those individuals who just can't get enough heat!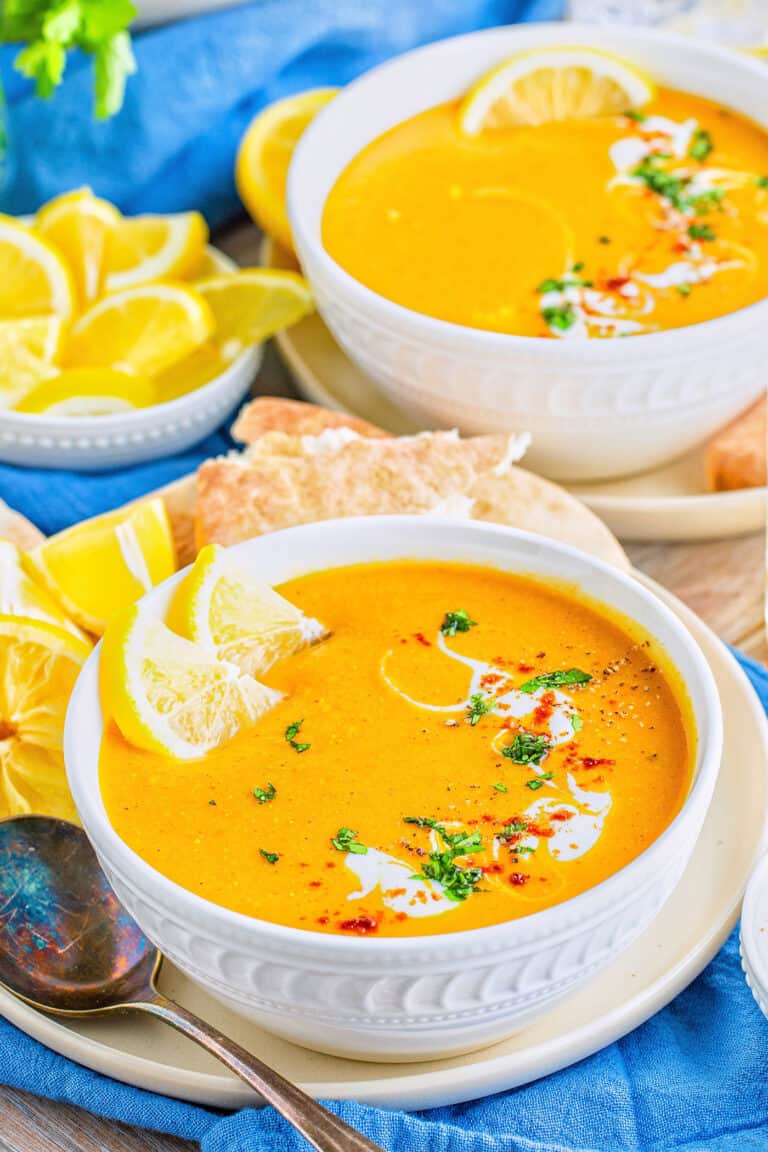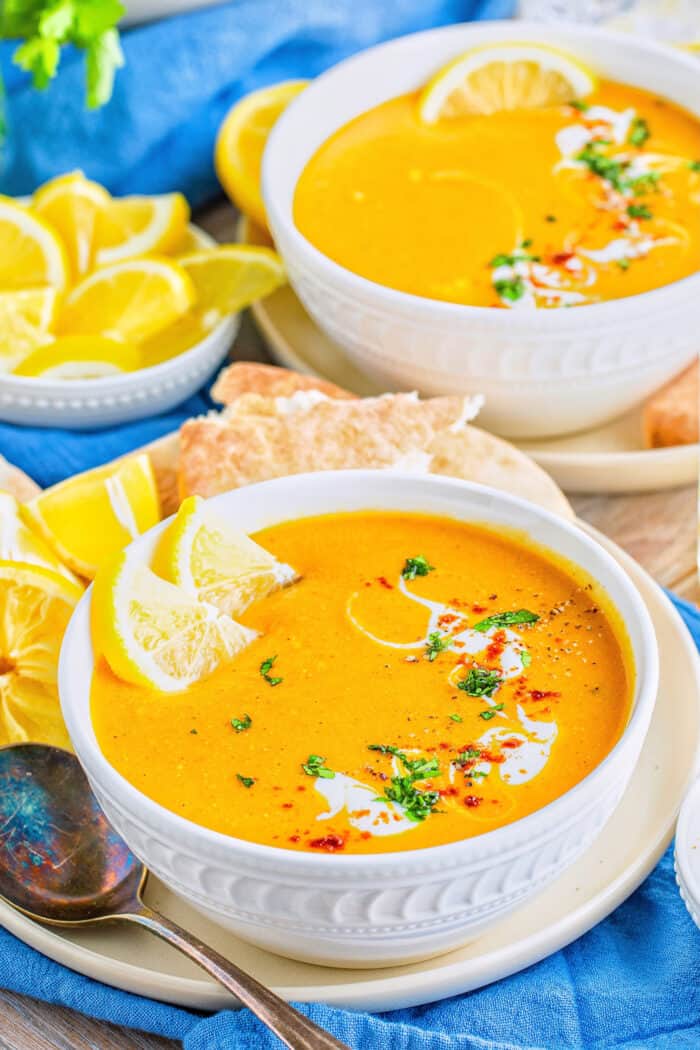 And the lemon. Do not forget the lemon wedges! Squeeze a wedge over the top of your bowl right before eating, and you'll thank me forever. This adds bright, fresh flavor – and I insist that you include it!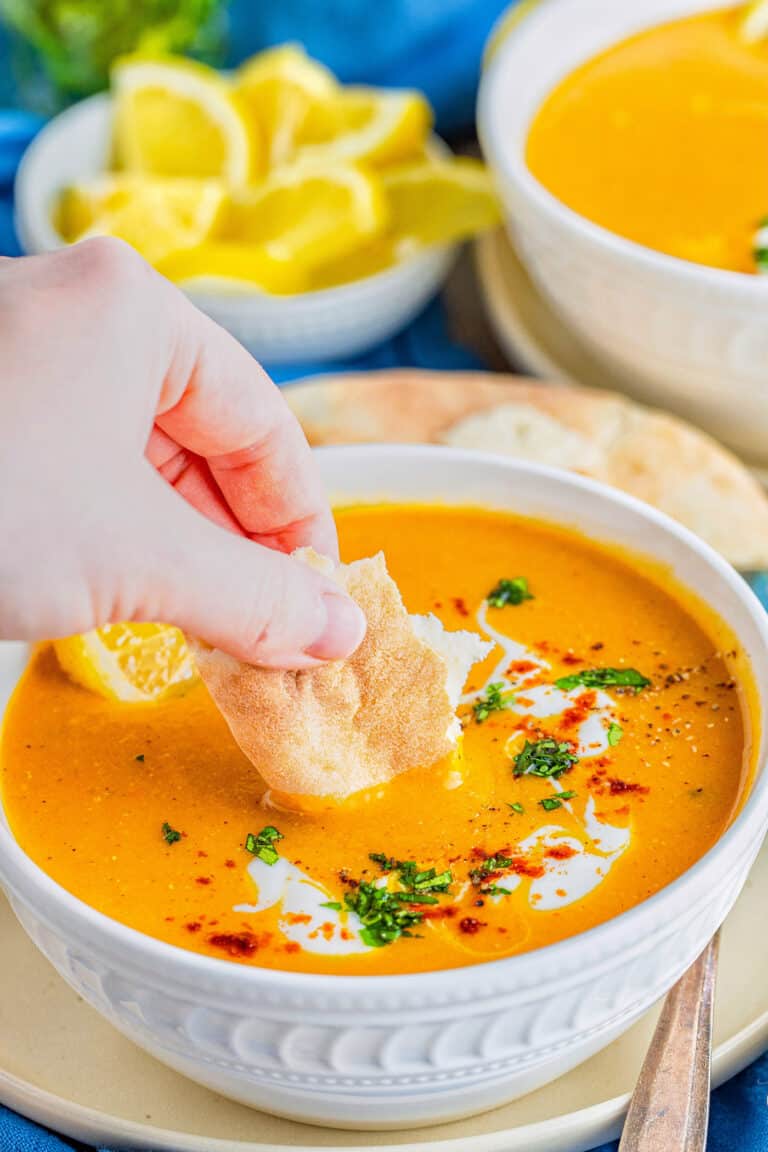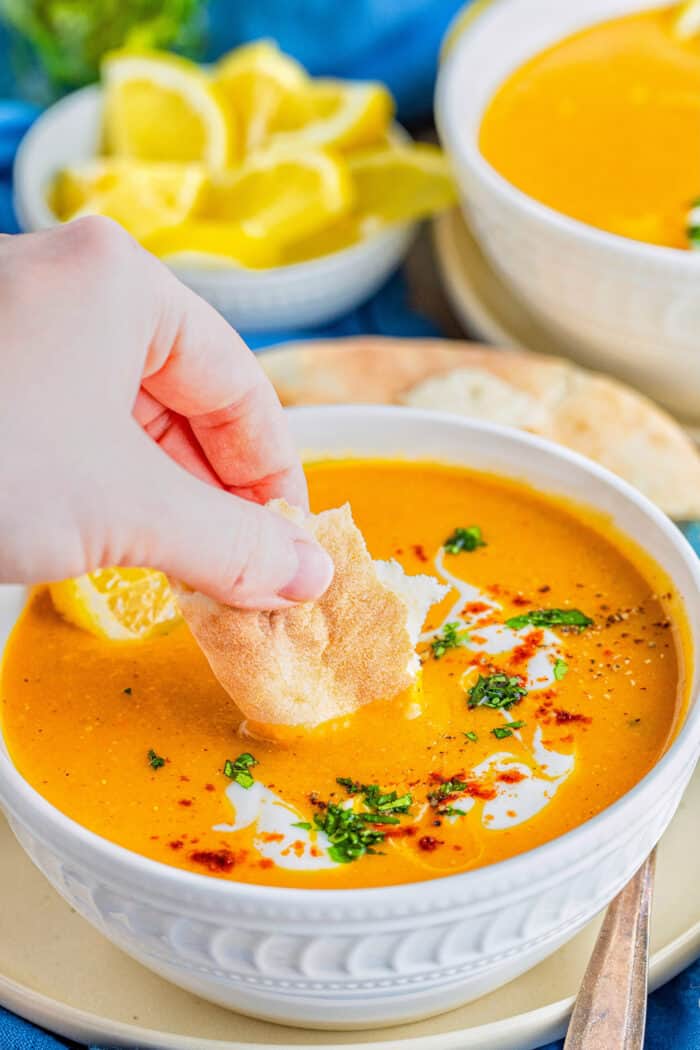 Also offer some warm pitas or flatbread for dipping. It's another great option when serving this lentil vegetable soup. Because, really, who doesn't like a soft bread for soup-dipping?!
And if you like to serve soup-and-salad meals, check out my Fattoush Salad and Tabbouleh Salad. Both are loaded with fresh flavor. And both nod to the Middle East. This Herby Lemon Vinaigrette would be lovely, too. Just serve it with some fresh tender greens!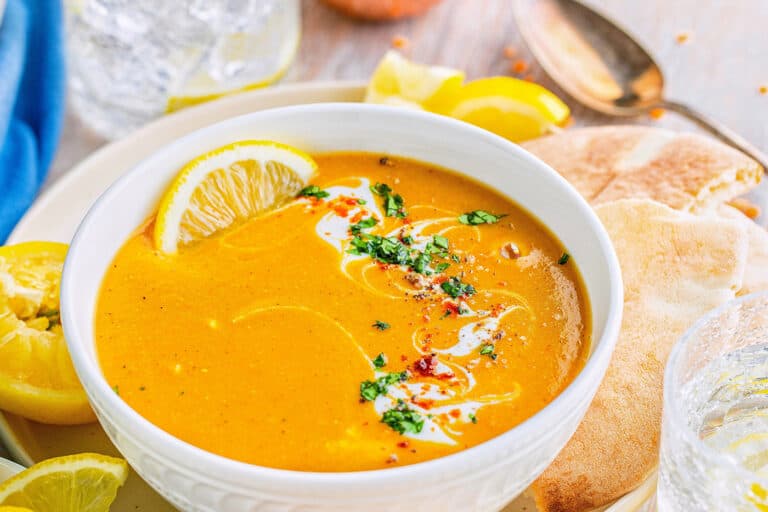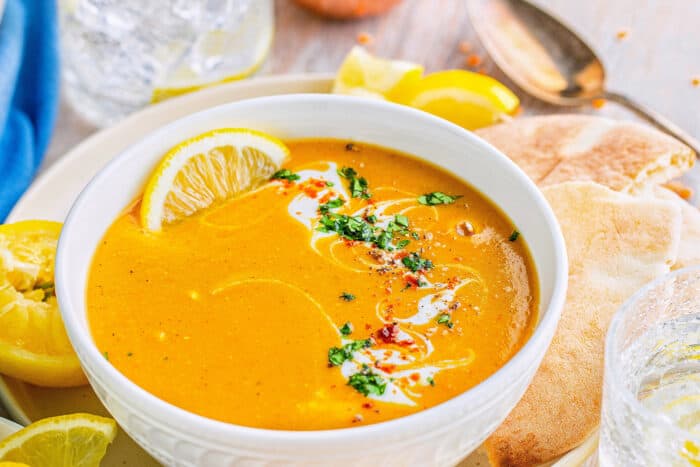 How to Store
This soup keeps easily for up to five days in the refrigerator, and for at least 3 months in the freezer. Just store the cooled soup in containers with tight-fitting lids, and you're good to go!
Like this soup recipe? Save it to Pinterest!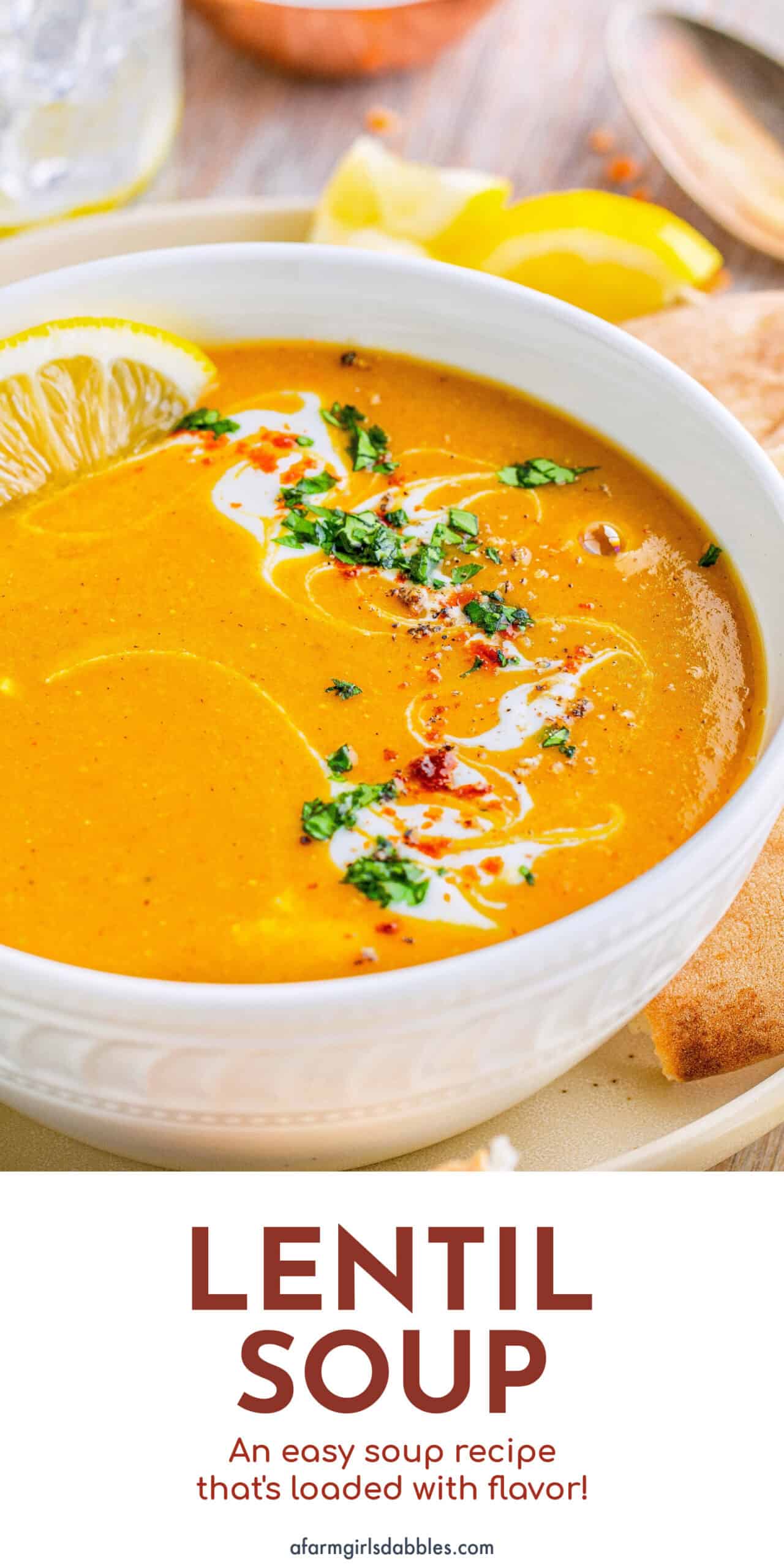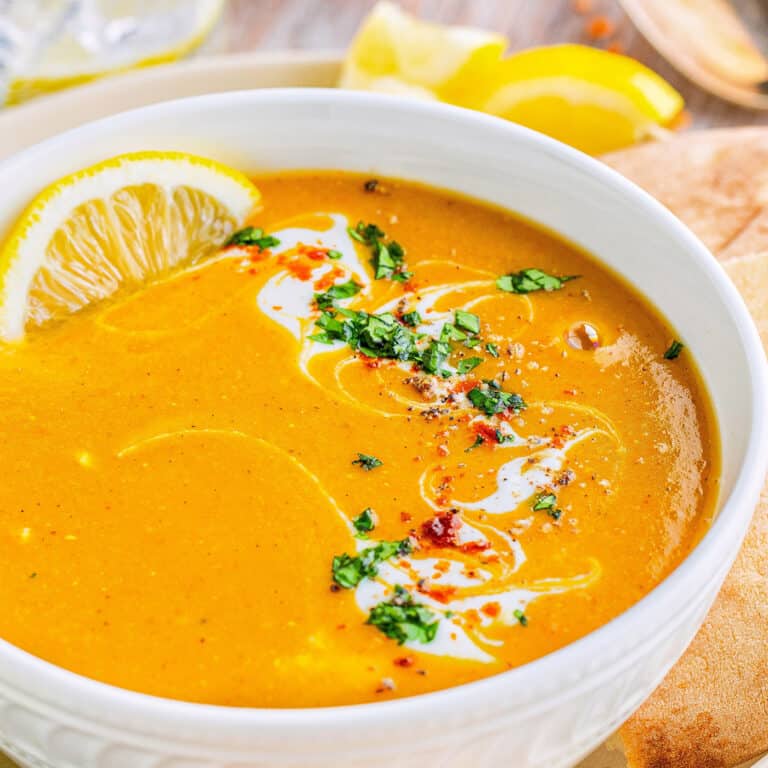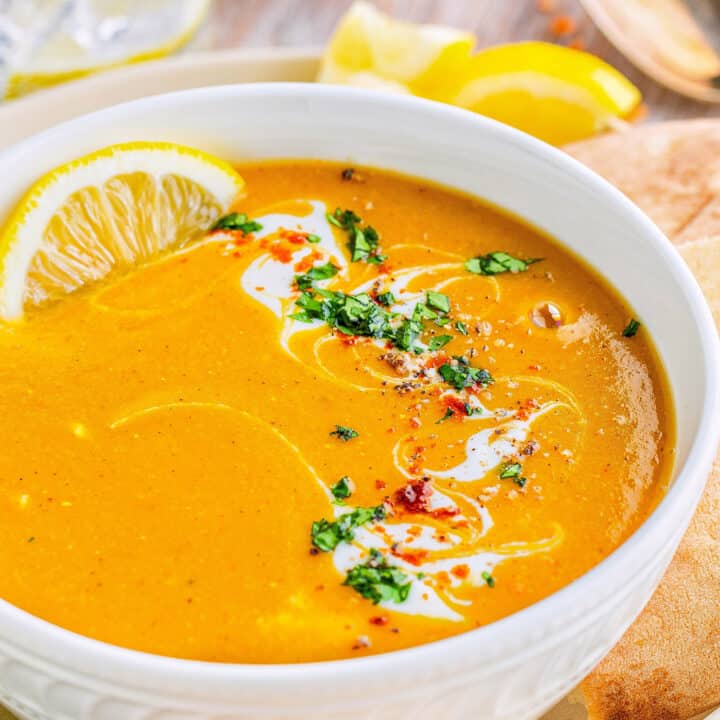 Spicy Lentil Soup
Yield: 8 servings
Prep Time: 15 minutes
Cook Time: 50 minutes
Total Time: 1 hour 5 minutes
This easy Spicy Lentil Soup is a filling, flavorful, vegetarian soup recipe with simple spices - and you control the heat. A squeeze of lemon adds brightness to each bowl!
Ingredients
2 tablespoons extra-virgin olive oil
1 medium yellow onion, diced
1 large celery rib, diced
1 large carrot, diced
4 large garlic cloves, minced
1 large baking potato, peeled and chopped into 1/2" pieces
1.5 cups red lentils
2 quarts vegetable broth
2 teaspoon ground cumin
1 teaspoon smoked paprika
1/2 teaspoon ancho chili powder
1/2 teaspoon ground black pepper
1/4 teaspoon cayenne pepper (add more or less, depending on your heat preference)
1/4 teaspoon turmeric
2 tablespoon freshly squeezed lemon juice, plus additional lemon slices for squeezing over the top of finished soup
kosher salt, as needed
plain Greek yogurt, optional garnish
chopped cilantro, optional garnish
Instructions
Heat a large saucepan or small stockpot over medium to medium-high heat. Once hot, add the oil. When oil starts to shimmer, stir in the onion, celery, and carrot. Cook for 8 minutes, stirring occasionally. Stir in garlic and cook for 2 minutes more, stirring occasionally. Add the potato, lentils, and vegetable broth. Turn up heat to medium-high and bring to a boil. Then turn heat down to medium-low and stir in cumin, ancho chili powder, black pepper, cayenne pepper, and turmeric. Cover and simmer until all the vegetables are very tender, about 40 to 50 minutes.
Using an immersion blender, carefully puree the soup right in the pot, until no chunks of vegetables remain. Or carefully transfer hot soup, in batches, to a blender to blend until smooth - and then return the soup back to the pot. Stir in lemon juice. Taste test and season with salt, if needed.
To serve, ladle hot soup into individual bowls and serve with fresh lemon wedges to squeeze over the top. If desired, offer plain Greek yogurt and chopped cilantro for added flavors, plus warm pitas or flatbread for dipping.
Notes
From a farmgirl's dabbles, inspired by a spicy lentil soup I enjoyed in Cairo, Egypt.
Recommended Products
As an Amazon Associate and member of other affiliate programs, I earn from qualifying purchases.
Nutrition Information:
Yield: 8
Serving Size: 1
Amount Per Serving:
Calories: 147
Total Fat: 4g
Saturated Fat: 1g
Trans Fat: 0g
Unsaturated Fat: 3g
Cholesterol: 2mg
Sodium: 884mg
Carbohydrates: 23g
Fiber: 5g
Sugar: 4g
Protein: 6g
Nutrition information is automatically calculated by Nutritionix. I am not a nutritionist and cannot guarantee accuracy. If your health depends on nutrition information, please calculate again with your own favorite calculator.
I originally published this post in 2011, and then updated it in 2021 with new photos and some new text.
---
Would you like to see where we went after our bowl of lentil soup? Just keep reading!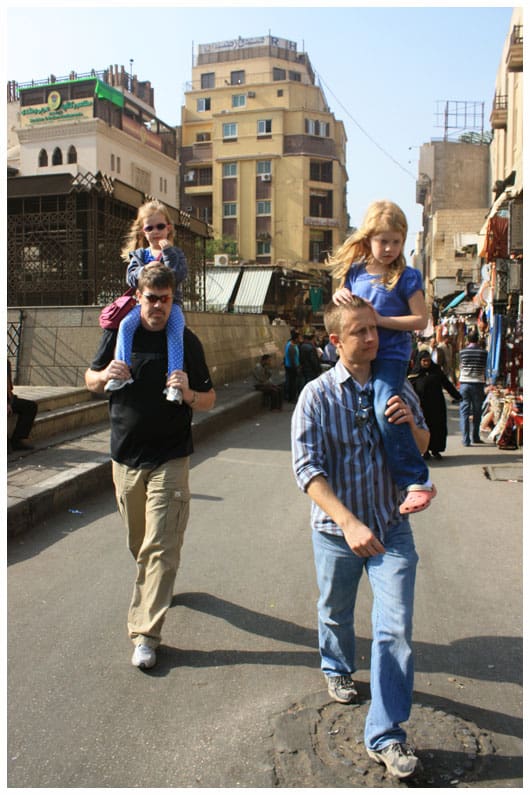 This is how we traveled. See my niece on the right side, on my brother in-law Dave's shoulders? I call it the Egyptian Piggyback.
I loved watching the Egyptian women carrying their children this way, with both legs over only one shoulder. Unlike our daughter on the left, with both legs wrapped around Blake's neck.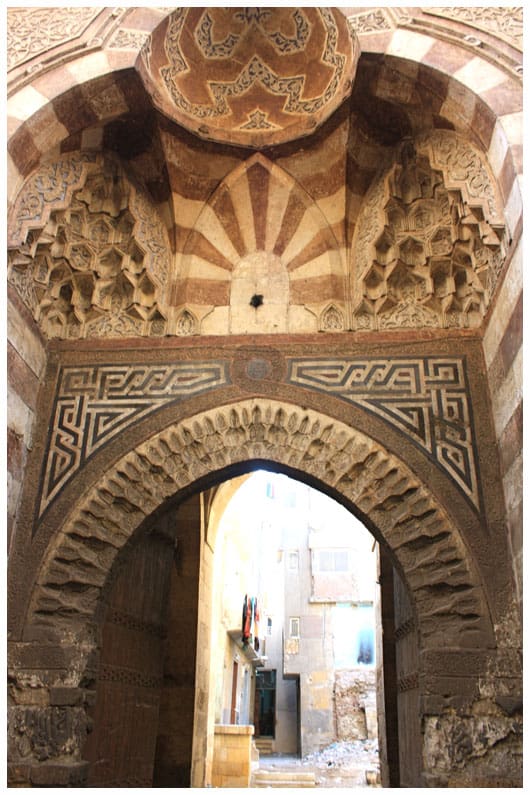 The Khan
We were on our way to the Khan El Khalili, or simply, the Khan (market).
Established in the 14th century, this ancient market was a major hub for overland trade caravans from east to west. The arch shown above is an entrance to Wakalat El-Ghouri, built in 1504 as a caravansaray, an inn for global merchants doing business at the market.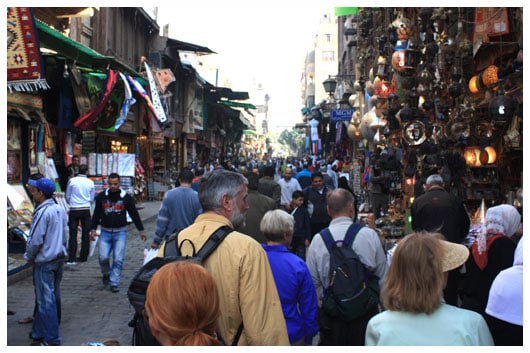 In the Cairo of today, the Khan caters to backpacking tourists and local Egyptians alike. It was one of my favorite places for people watching and taking in the sights, smells, and sounds of life in this chaotically magnificent city.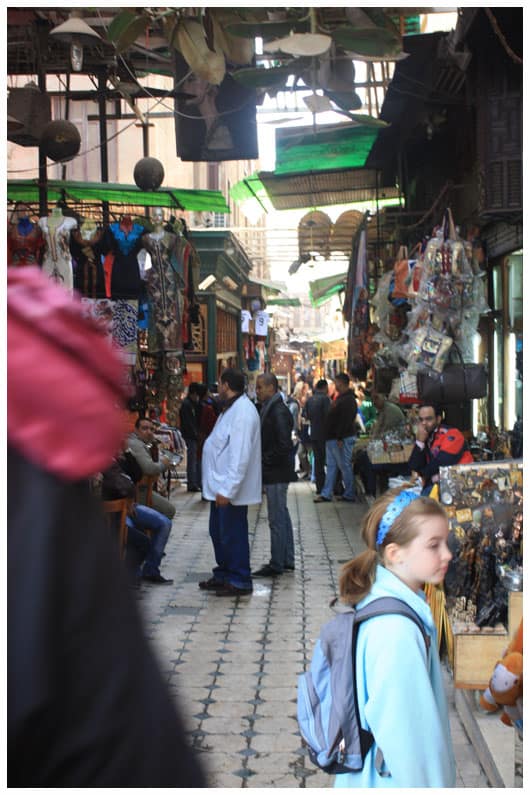 The canvas covered streets and narrow alleys snake in and out, showcasing a wide variety of Egyptian wares.
There's jewelry of fine gold and silver, a variety of pottery, copper items, perfume and incense, alabaster, and no shortage of kitschy souvenirs. If you like to haggle, this is the spot for you!
Haggling is completely not my thing, though, so I was happy to have my sister at our side, who frequents the market and has befriended some of the shop owners. And she can haggle in Arabic. Very, very useful!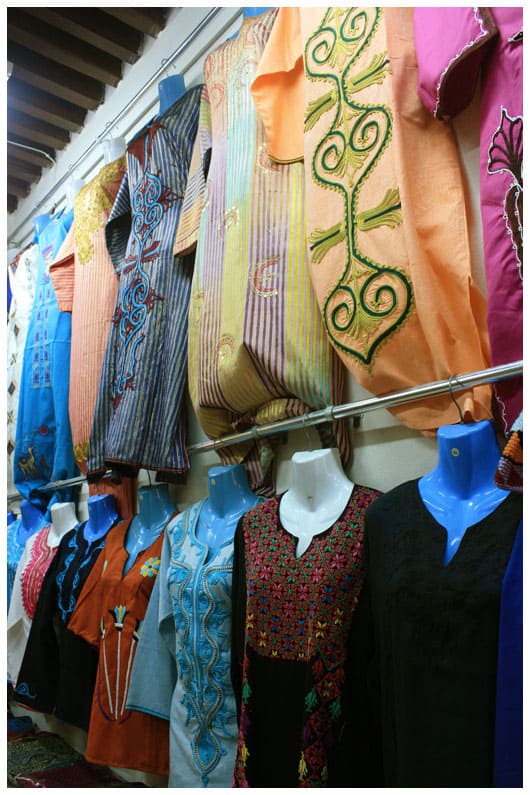 We saw clothing ranging from American jeans to traditional galabayas…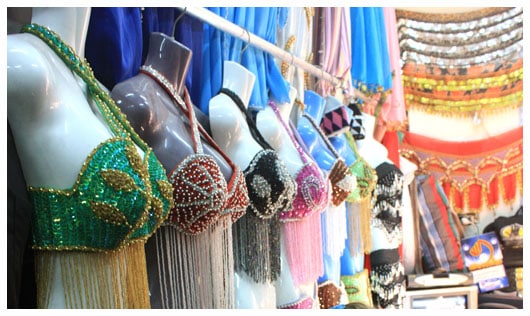 to ornately beaded dance costumes that are so much a part of Egyptian custom.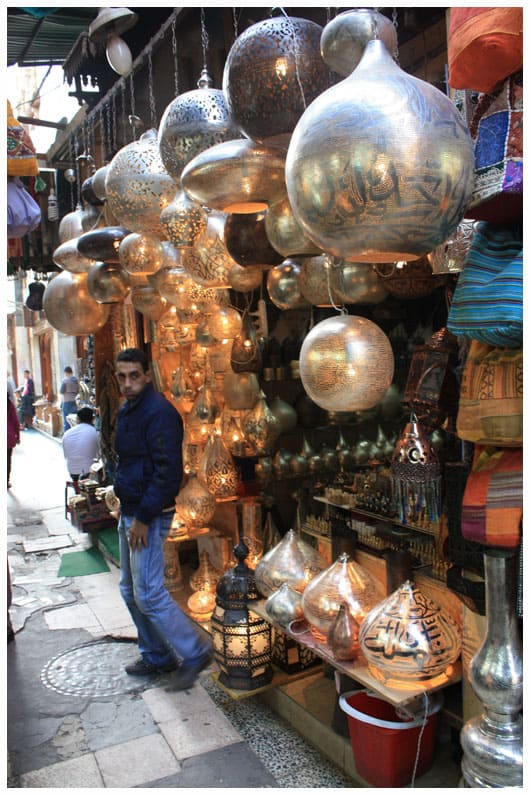 My eyes feasted on beautiful metal lamps while I imagined where one might hang in our own home. And then I questioned how to fit one into our baggage…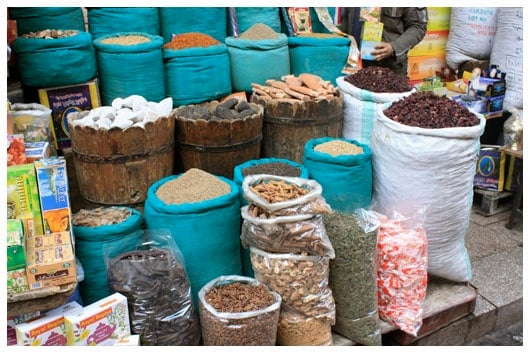 We saw many scenes such as this across the city of Cairo. Bountiful burlaps of herbs and spices for sale.
In the Middle Ages, spices originating in the East were traded through Cairo to the Europeans.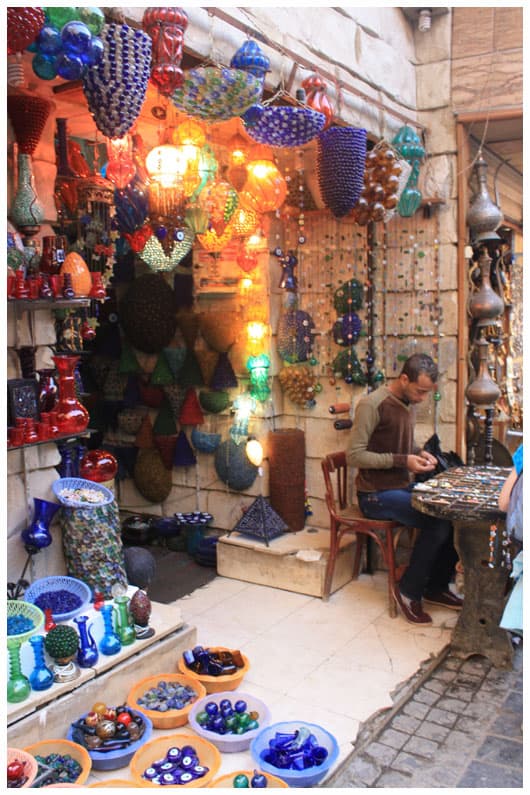 Our Favorite Stop
This stall was our favorite stop. Colorful recycled glass lamps, vases, and beads filled this small shop.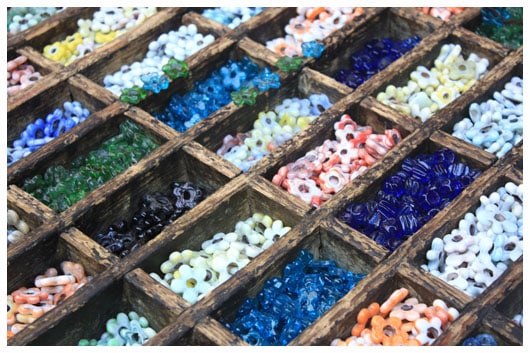 The brilliant flower-shaped beads mesmerized our young daughters. Hatti and Tessa ran their hands through the vibrant colors, listening to them clinking against each other.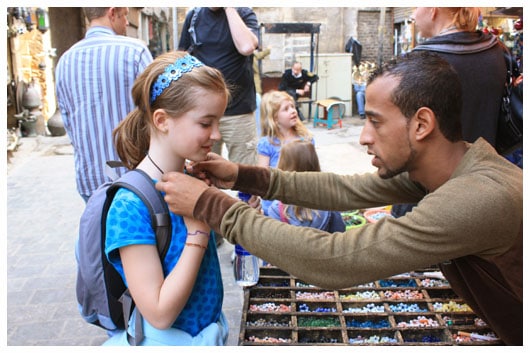 They made necklaces for us, plus a few to take back home for gifts.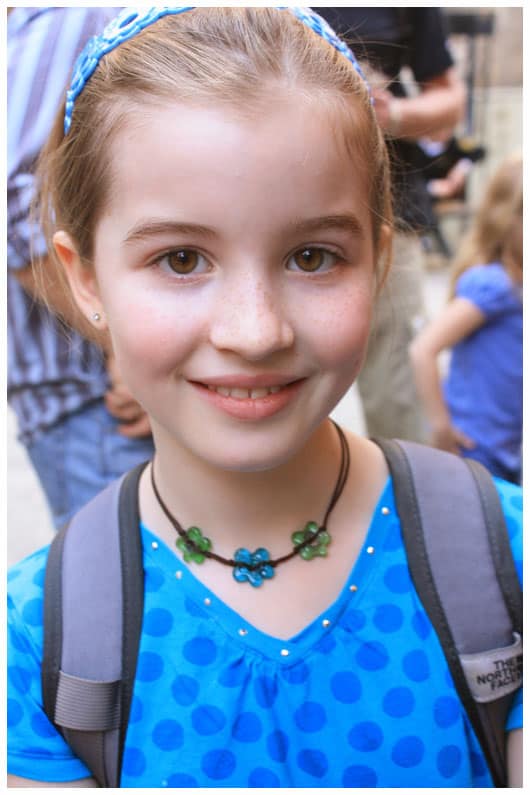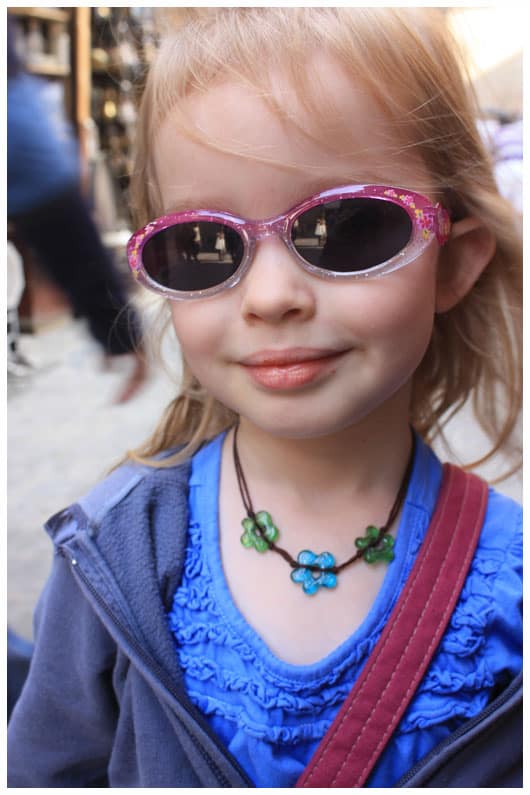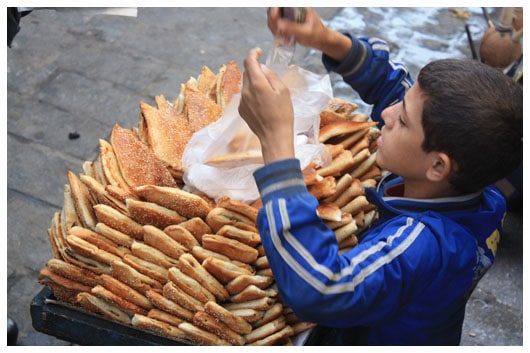 And then, all too soon, our day of exploration came to an end. But not before this boy's sweet smile + gorgeous date and spice filled pastries stole my sister's heart.
I love to eat what the locals eat. It adds LIFE to the whole experience. And so we happily munched on our just-baked pastries as we headed out of the market.
If you'd like to see more from our adventures in Egypt, go here and here.