Savory Squash Soup with Cranberry Relish
This post may contain Amazon or other affiliate links. As an Amazon Associate I earn from qualifying purchases.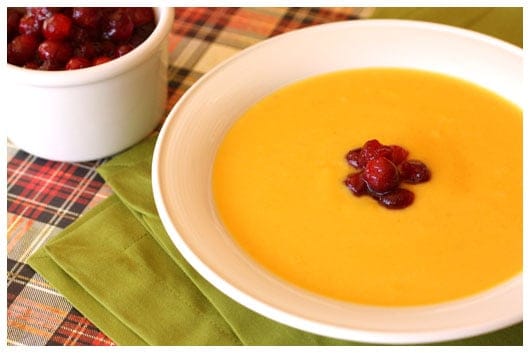 Wanna know why I like heading to the Mall of America at lunch time? It's all about this Savory Squash Soup at Wolfgang Puck Express. Lusciously creamy and packed with tons of subtle flavors that meld so wonderfully together, this is my little bowl of happy comfort.
At the restaurant, they serve this soup with a red pepper coulis drizzled over the top. And it's really, really good. I convinced Hatti to try my soup the last time we visited, and I didn't get much of the rest of that coulis. She loved it. I couldn't find the official recipe for that lovely sauce (I'll be working on perfecting it on my own), but on the Wolfgang Puck website, they feature the squash soup with this cranberry relish. I like cranberry. So I gave it a shot.
And I'm so glad I did! Visually, that beautiful ruby relish was very striking atop the golden soup. And for the tastebuds? Wow! The cranberries cut right through the richness with their tart bright bite. For as much as I kept adding cranberry relish to my bowl of soup, I'm considering renaming it Cranberry Squash Soup. Yep, it was that yummy.
Now, if given the choice, I honestly don't know which one I would choose. Red pepper coulis or cranberry relish? They are both scrumptious in their own special way. Such a delicious dilemma to have.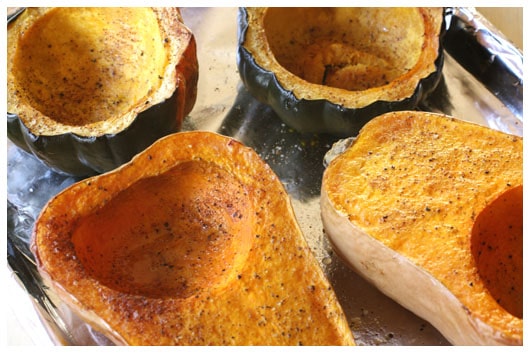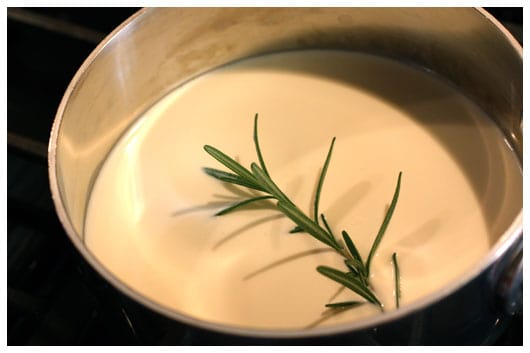 Savory Squash Soup with Cranberry Relish
Yield: About 5 cups of soup
Prep Time: 20 minutes
Cook Time: 1 hour 50 minutes
Total Time: 2 hours 10 minutes
Lusciously creamy and packed with tons of subtle flavors that meld so wonderfully together, this is my little bowl of happy comfort.
Ingredients
to roast the squash:
3.75 lbs. butternut squash
1.75 lbs. acorn squash
2 T. unsalted butter
.5 tsp. kosher salt
1/8 tsp. white pepper (I used black pepper)
1/4 tsp. nutmeg
to finish the soup:
4 T. unsalted butter
3/4 c. finely diced white onion
1/4 tsp. ginger
1/8 tsp. cardamom
1/2 tsp. cinnamon
1 T. brown sugar
juice of 1/2 lemon
4 c. chicken stock
1 c. heavy cream
1 sprig fresh rosemary
For the Cranberry Relish:
2 c. fresh cranberries
.5 c. sugar
3 T. fresh lemon juice
Instructions
For the Savory Squash Soup:
Preheat the oven to 350° F.
Cut each squash in half and discard seeds. Melt 2 tablespoons of butter and brush the cut sides of the squash with it. Season with salt, pepper, and nutmeg. Arrange squash cut side down on baking pan (line pan with aluminum foil for easy clean-up). Bake until tender, about 1-1/2 hours.
Cool the squash, then scoop out the insides. Puree the flesh in a food processor and reserve. (Yield: 4 to 5 cups of pureed squash)
In a medium stockpot, melt 4 tablespoons of butter.
Over low heat, sweat the onion. Do not let it brown. Add the pureed squash and cook over very low heat until heated through, stirring occasionally. Do not allow it to bubble up. Season with ginger, cardamom, cinnamon, brown sugar, and lemon juice. Pour in the stock and bring to a boil, still over low heat, stirring often. Cook 20 minutes.
In a small saucepan, heat the cream with the rosemary sprig. Remove the rosemary and pour the cream into the soup. Transfer to a blender or food processor and process, in batches, for 2 or 3 minutes. I used an immersion blender. Be careful - it's HOT! Add salt and pepper to taste.
To serve, ladle soup into bowls. Place a heaping tablespoon of Cranberry Relish in the center.
For the Cranberry Relish:
In a small saucepan, combine all the ingredients. Bring to a boil, then lower to a simmer. Continue to cook until the mixture is thick and the berries are glazed. Allow to cool. Transfer to a covered container and refrigerate until needed.
Serve with Savory Squash Soup.
Notes
Savory Squash Soup: adapted slightly from Wolfgang Puck
Cranberry Relish: a farmgirl's dabbles
Nutrition Information:
Yield: 8
Serving Size: 1
Amount Per Serving:
Calories: 457
Total Fat: 21g
Saturated Fat: 13g
Trans Fat: 0g
Unsaturated Fat: 7g
Cholesterol: 60mg
Sodium: 359mg
Carbohydrates: 66g
Fiber: 13g
Sugar: 27g
Protein: 8g
Nutrition information is automatically calculated by Nutritionix. I am not a nutritionist and cannot guarantee accuracy. If your health depends on nutrition information, please calculate again with your own favorite calculator.
We participate in the Amazon Services LLC Associates Program, an affiliate advertising program designed to provide a means for us to earn fees by linking to Amazon.com and affiliated sites. See our
disclosure policy
for more info.