Butternut Squash Tart with Caramelized Onion
This post may contain Amazon or other affiliate links. As an Amazon Associate I earn from qualifying purchases.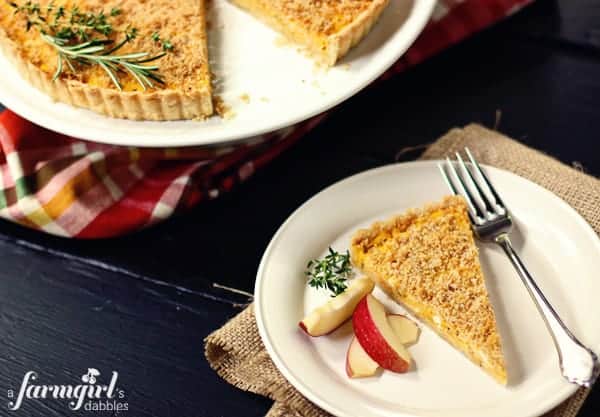 I'm so thankful for people who throw parties. Especially when they proceed to invite ME!
Sharing meals with those from different pockets of our life – family, work, school, church, sports, etc. – provides a means for getting to know people better, and many times helps us to branch out and meet new friends. Another huge bonus from these gatherings, for me, is getting a peek into everyone's favorite recipes. Such is the case with this Butternut Squash Tart with Caramelized Onion.
I fell in love with this tart many years ago, while watching my beautiful friend Meghan open up baby gifts, in anticipation of her first child. A group of us girls were gathered in the home of Meghan's friend, Heather, who set out the most beautiful brunch spread.
This tart caught me unexpectedly. I took a small piece, thinking it would be a safe amount to consume if I didn't like it. But then I should have known to trust the rumors of what a good cook Heather was. The tart was lovely, and of course, I had to go back for another (bigger) piece!
Bursting with creamy butternut squash, this tart is one I have made each and every fall since that baby shower all those years ago. The variety of cheeses offer beautiful depth, and the fresh rosemary and thyme make me such a happy girl. Nestled in a perfectly flaky pastry shell and topped with a delicately crunchy layer of buttery breadcrumbs, it makes for a beautiful dish on any fall table. When paired with fresh fruit and a green salad, it's absolutely splendid.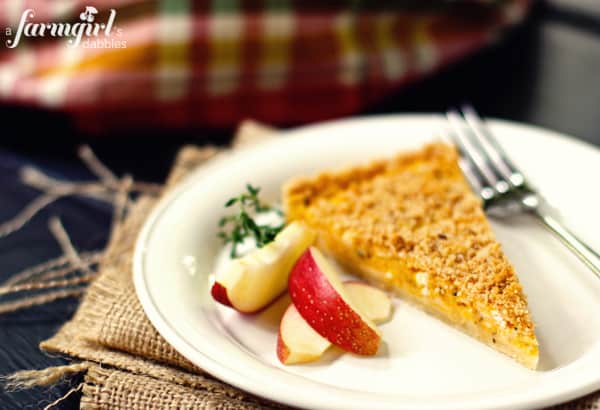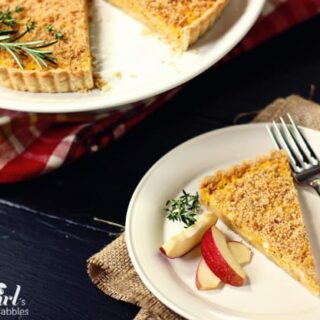 Butternut Squash Tart with Caramelized Onion
Yield: 8 servings
Prep Time: 20 minutes
Cook Time: 30 minutes
Total Time: 50 minutes
Nestled in a perfectly flaky pastry shell and topped with a delicately crunchy layer of buttery breadcrumbs, this savory tart makes for a beautiful dish on any fall or holiday table.
Ingredients
for the pastry shell:
1/2 cup cold unsalted butter
1.25 cup all-purpose flour
1 teaspoon sugar
1/2 teaspoon kosher salt
1/4 cup ice water
for the filling:
1 small butternut squash (about 1 to 1.5 pounds)
1.5 teaspoon olive oil plus about 2 teaspoons for brushing squash
1 cup diced yellow onion
1.5 tablespoon unsalted butter
1 large egg
1 large egg yolk
1/3 cup heavy cream
3/4 cup grated Italian Fontina cheese or smoked Gouda
1/3 cup freshly grated Parmesan cheese
1/4 cup crumbled mild soft goat cheese
1 teaspoon minced fresh rosemary
1 teaspoon minced fresh thyme
1/2 teaspoon kosher salt
freshly ground black pepper
1/3 cup bread crumbs
Instructions
For the pastry shell: Cut butter into pieces. In a food processor blend flour, sugar, and salt until combined. Add butter and pulse until most of mixture resembles coarse meal, with remainder in small pea-sized lumps. Add 2 tablespoons of the water and pulse just until incorporated. Test mixture by gently squeezing a small handful: If it does not hold together, add enough remaining water, 1 tablespoon at a time, pulsing and testing, until mixture just forms a dough.
Form dough into a disk. Chill dough, wrapped tightly in plastic wrap, 30 minutes.
On a lightly floured surface roll out dough into a 12-inch round (about 1/8 inch thick). Fit dough into an 11'' tart pan with a removable fluted rim. Freeze pastry shell 20 minutes.
Preheat oven to 375° F.
Line pastry shell with foil and fill with pie weights or raw rice. Bake shell in middle of oven until edge is pale golden, about 20 minutes. Carefully remove foil and weights and bake shell 10 minutes more, or until bottom is golden. Leave oven on. Cool shell in pan on a rack.
For the filling: Halve the squash and scoop out seeds. Lightly brush each cut side of squash with about 1 teaspoon oil and lay cut sides down on a baking pan. Roast in middle of oven for about 40 minutes, or until soft.
While squash is roasting, place heavy skillet over medium heat. Add 1/2 tablespoon butter and remaining 1.5 teaspoons oil, plus the onion. Stir occasionally, until onion is soft and just golden brown, about 15 to 20 minutes. If the onion starts to darken before it is softened, turn the heat down a bit.
Cool squash and scoop out flesh. In a food processor purée squash. Add whole egg, egg yolk, and cream, and blend well. Transfer mixture to a large bowl and stir in cheeses, herbs, onion, salt, and pepper to taste. Pour filling into shell, smoothing the top.
In a small bowl, melt remaining tablespoon butter in the microwave. Stir in bread crumbs until combined well. Sprinkle bread crumb mixture evenly over filling. Bake tart in middle of oven 40 minutes, or until filling is set. Cool tart in pan on rack 10 minutes and carefully remove rim. Serve while still warm or at room temperature. It will be best on the day it is made.
Nutrition Information:
Yield: 8
Serving Size: 1
Amount Per Serving:
Calories: 476
Total Fat: 33g
Saturated Fat: 20g
Trans Fat: 0g
Unsaturated Fat: 11g
Cholesterol: 132mg
Sodium: 693mg
Carbohydrates: 30g
Fiber: 2g
Sugar: 5g
Protein: 16g
Nutrition information is automatically calculated by Nutritionix. I am not a nutritionist and cannot guarantee accuracy. If your health depends on nutrition information, please calculate again with your own favorite calculator.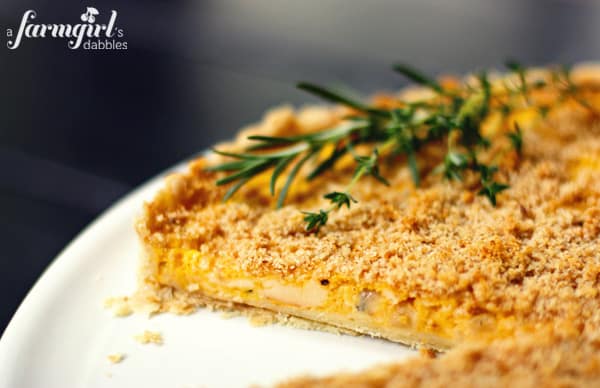 We participate in the Amazon Services LLC Associates Program, an affiliate advertising program designed to provide a means for us to earn fees by linking to Amazon.com and affiliated sites. See our
disclosure policy
for more info.