Butterscotch Bars with Chocolate and Disappearing Marshmallows
This post may contain affiliate links to products we use and love.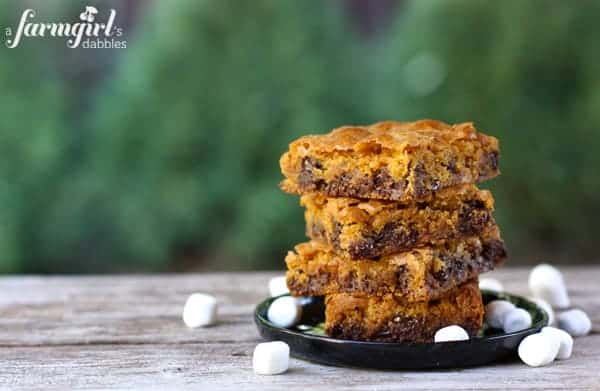 Ahhhhh…these, my friends, are a real treat. Straight from my childhood, a pan of this irresistible goodness was a regular at our house. Mom was (and still is) no slouch in the baking department, and these Butterscotch Bars with Chocolate and Disappearing Marshmallows were always a favorite.
Truthfully, I'm not the biggest butterscotch fan, and rarely bake anything butterscotch-y. But every once in awhile I come across a dessert that makes me question why I don't use the flavor more. I think the key for me is to not have an overwhelming amount of butterscotch. This recipe fits that thought process perfectly.
These bars are rich with a mixture of butterscotch and chocolate, and chewy from marshmallows you'll never see again after the pan slides into the hot oven. Once baked, the marshmallows scattered throughout the batter melt into their surroundings, leaving little pockets of ooey gooey chewiness. Paired with a glass of cold milk, I think you'll agree they're about the most perfect butterscotch bar you'll ever have the pleasure to meet.
Mom's recipe was designed for a 9" square pan. But when I couldn't find my 9" pans (maybe you heard me tweeting for help?!), I doubled all the ingredients and baked it in a 9" x 13" pan instead, which is what I'm sharing here. This recipe is so good, a smaller pan is just not enough anyway!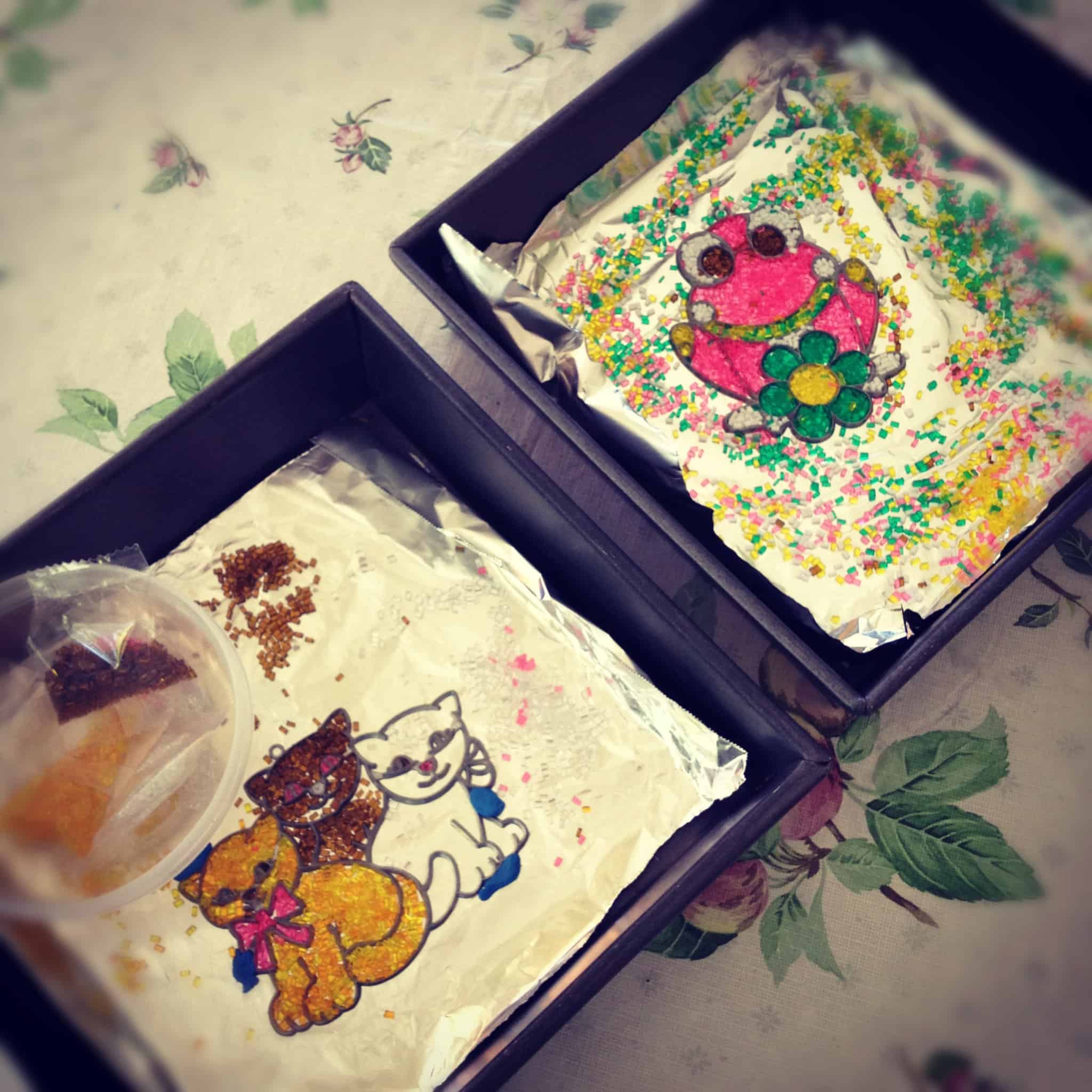 And, yes, I did find my pans. After a couple hours of tearing my hair out, and the house apart. They were in our girls' art cabinet, being used as trays for their stained glass window projects. It was kinda hard to stay angry after that find.
Kinda. :wink: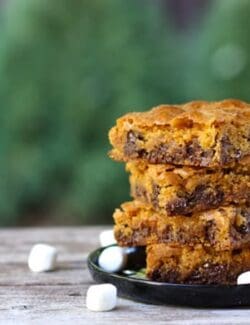 Butterscotch Bars with Chocolate and Disappearing Marshmallows
Yield: 16 bars
Cook Time:20 to 25 minutes
Ingredients:
1 c. butterscotch chips
1/2 c. unsalted butter
1-1/2 c. all-purpose flour
2/3 c. packed brown sugar
2 tsp. baking powder
1/2 tsp. salt
1 tsp. pure vanilla extract
2 large eggs
2-1/2 c. mini marshmallows
2 c. semi sweet chocolate chips
Directions:
Preheat oven to 350°. Spray the bottom and sides of a 9" x 13" pan with cooking spray and set aside.
In a large sauce pan over medium low heat, melt the butterscotch chips and butter, stirring constantly. Remove from heat to cool.
In a medium bowl, whisk together the flour, brown sugar, baking powder, and salt.
Add vanilla and eggs to the butterscotch mixture and stir well. Then add the flour mixture and stir to combine. Fold in the marshmallows and chocolate chips, just until combined. Spread into prepared pan and bake for 20 to 25 minutes, taking care to not over bake. (I think they're best when just slightly under-baked!) The edges should be browned nicely, and the center not quite set. The bars will firm upon cooling.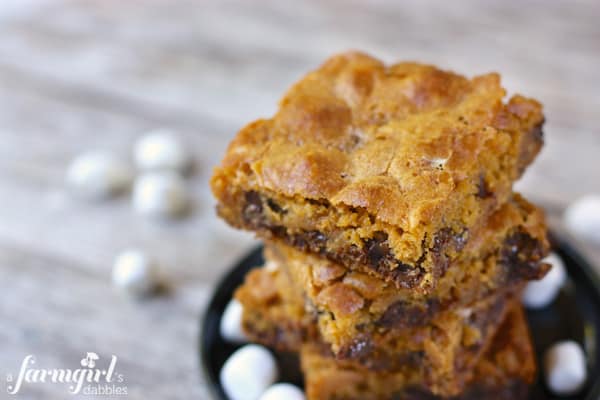 I'm linking up with:
Cheryl at TidyMom for I'm Lovin' It (Aveda Hair Styling Products)
We participate in the Amazon Services LLC Associates Program, an affiliate advertising program designed to provide a means for us to earn fees by linking to Amazon.com and affiliated sites. See our
disclosure policy
for more info.