Stephanie's Bacon Bow Ties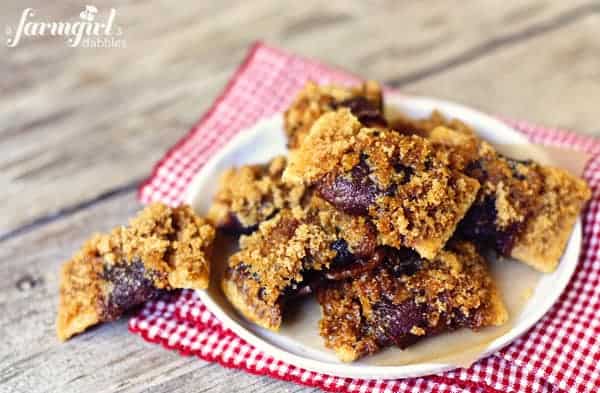 I'm not quite certain how these Bacon Bow Ties should be classified. Are they an appetizer? A cookie? Or maybe just some kind of delightful sin…which somehow feels appropriate, considering this recipe comes from our pastor's wife. ;)
Stephanie introduced our family to these incredible 2-bite pieces of bacon amazingness on Labor Day, at a backyard barbecue that she and her husband hosted. Although Tom and Stephanie certainly proved their way around the kitchen and outdoor grills, these little babies are what left me swooning.
They're crunchy. They're chewy. They're an awesome mix of sweet and savory, with brown sugar slowly baked and caramelized on the salty smoky bacon.
And of course, I couldn't leave well enough alone when making the bacon bow ties at home myself. All I could think about was…"How would these taste with a little dark chocolate?!"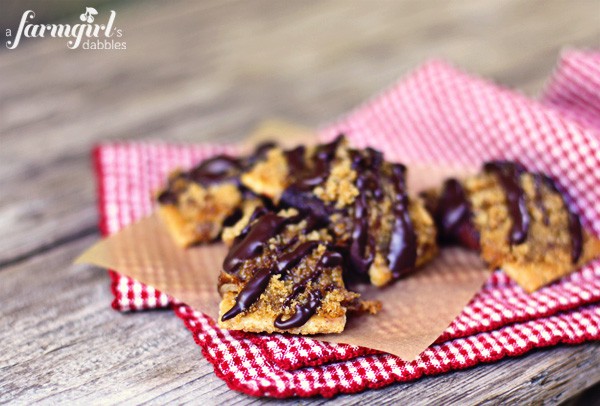 Sinful?
Heavenly?
I think both words are absolutely perfect descriptions.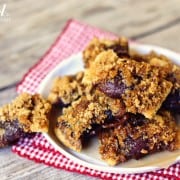 Stephanie's Bacon Bow Ties
Yield: about 30 bacon bow ties
Cook Time:3 hours
Ingredients:
about 30 multigrain Club Crackers
1 lb. bacon, at room temperature
2 to 3 c. brown sugar (I used closer to 2 cups)
optional, to drizzle with chocolate:
1/2 c. bittersweet chocolate chips (I used 60% cacao Ghirardelli chips)
1/2 T. butter
Directions:
Preheat oven to 250°. Prepare a large rimmed baking pan by lining it with foil and then placing a wire baking rack on the foil. Or use a broiler pan.
Make sure the bacon is at room temperature, as it helps the brown sugar soak in better. Cut bacon slices in half and stretch each piece around the middle of a cracker. Pack brown sugar all around the bacon so it is heavily coated. Place on wire rack. Bake for 2 to 3 hours (Stephanie bakes for the full 3 hours).
To top with chocolate, melt chocolate chips and butter over low heat until almost completely melted. Do not overheat. Remove from heat and stir until completely smooth. With a spoon, drizzle chocolate over desired amount of (already baked) bacon bow ties. Let set.
From the recipe box of Stephanie Pfotenhauer, originally a popular recipe at her home church in Florida.
©
We participate in the Amazon Services LLC Associates Program, an affiliate advertising program designed to provide a means for us to earn fees by linking to Amazon.com and affiliated sites. See our disclosure policy for more info.