15 Easy Thanksgiving Salad Recipes
Impress your guests with any of these 15 Easy Thanksgiving Salad Recipes. From classics like potato salad to those full of rich fall flavor, each one will be a welcome addition to any holiday dinner table!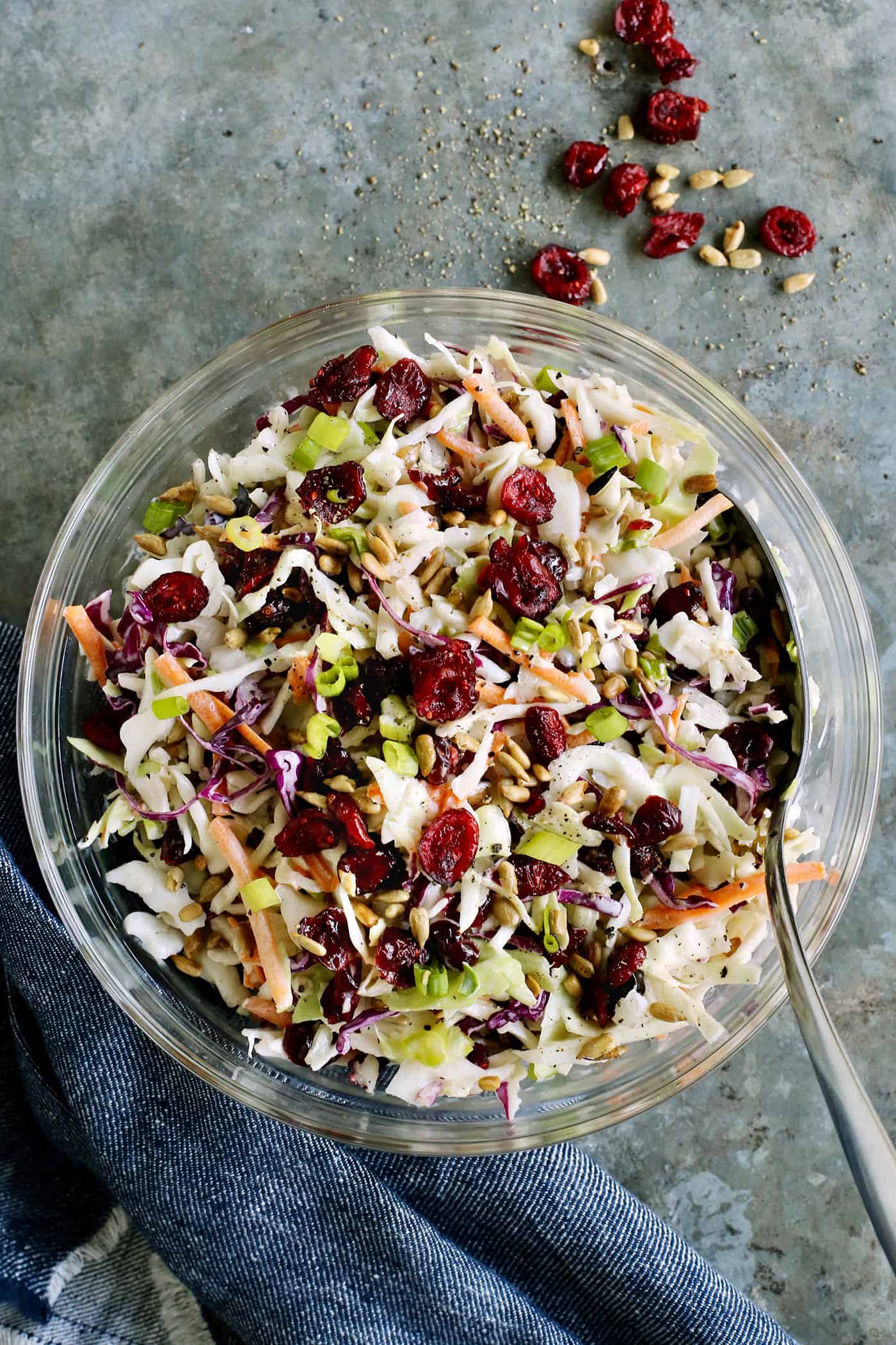 The Best Thanksgiving Salad Recipes
I'm always sure to include at least one salad when it comes to holiday dinner menu planning. Here are 15 Easy Thanksgiving Salad Recipes to get the party started!
Since most traditional Thanksgiving dishes, like green bean casserole, cheesy skillet corn, and stuffing or dressing tend to be on the heavier side, I always like to offer at least one lighter, fresh salad on the side.
I've often found that some salads, maybe unexpected for the holidays, tend to be the favorite on the dinner table!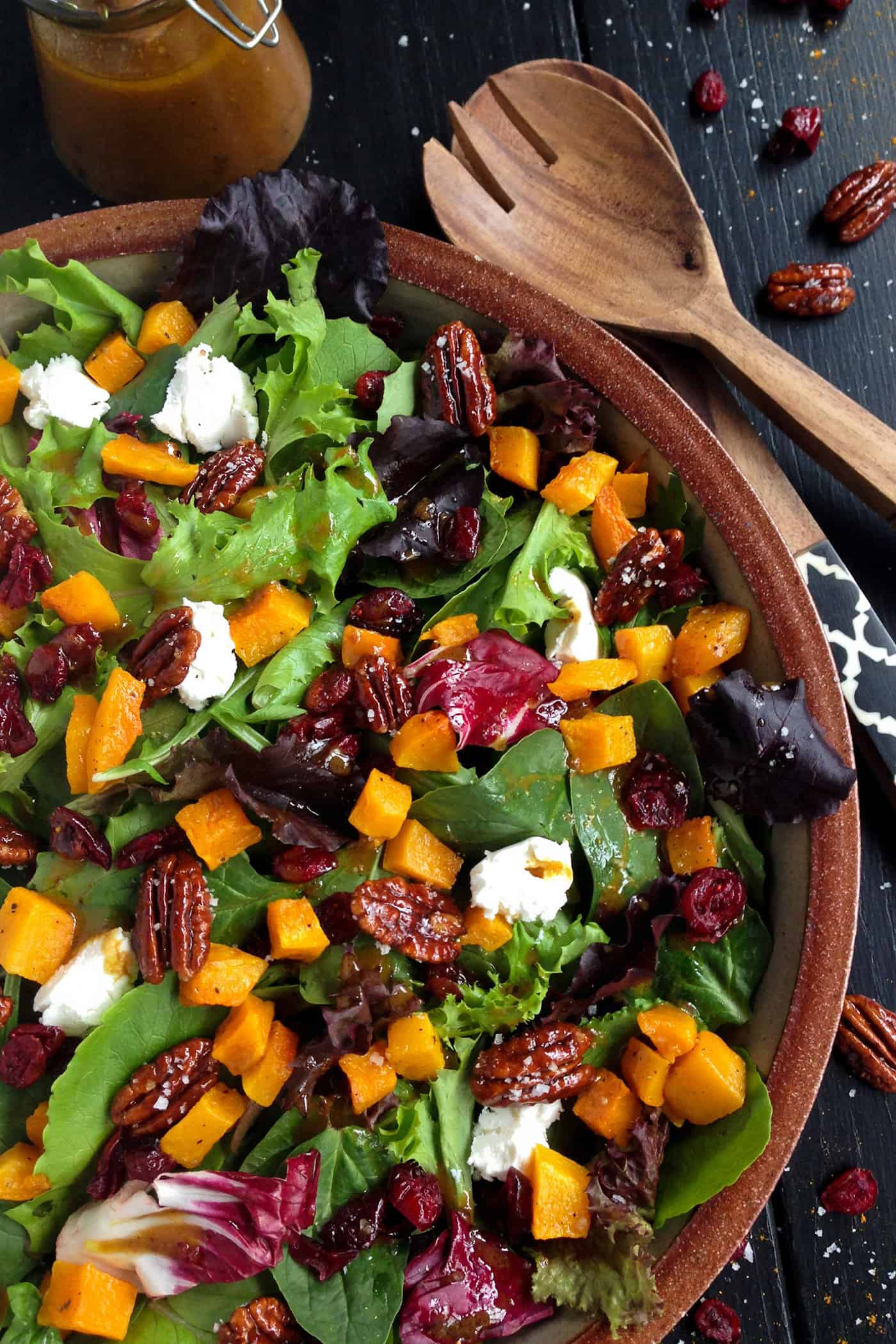 What Makes a Salad Perfect for Thanksgiving
So how did I choose the recipes to include on this list of my favorite Thanksgiving salad recipes? Here are a few things I consider when making my Thanksgiving menu:
Fall flavors & in-season ingredients. I love to include in-season ingredients. That's why you'll see things you may not typically think of for a salad – like butternut squash – in some of these recipes.
Unexpected fresh ingredients. And then I like to also think in the exact opposite direction. Take for example, a fresh cucumber salad. While I most often serve this salad during the summer, this makes an excellent simple, fresh contrast to a typical Thanksgiving meal.
Easy to make ahead. When it comes to holiday meals, I try to prep as much in advance as possible. Salads are no exceptions. If I can at least prepare portions of it the day before, it's much more likely to appear on the Thanksgiving table. For example – I could roast the butternut squash and make the vinaigrette/dressing a day or two beforehand. Then on Thanksgiving, it's just a matter of assembling the already-prepared ingredients!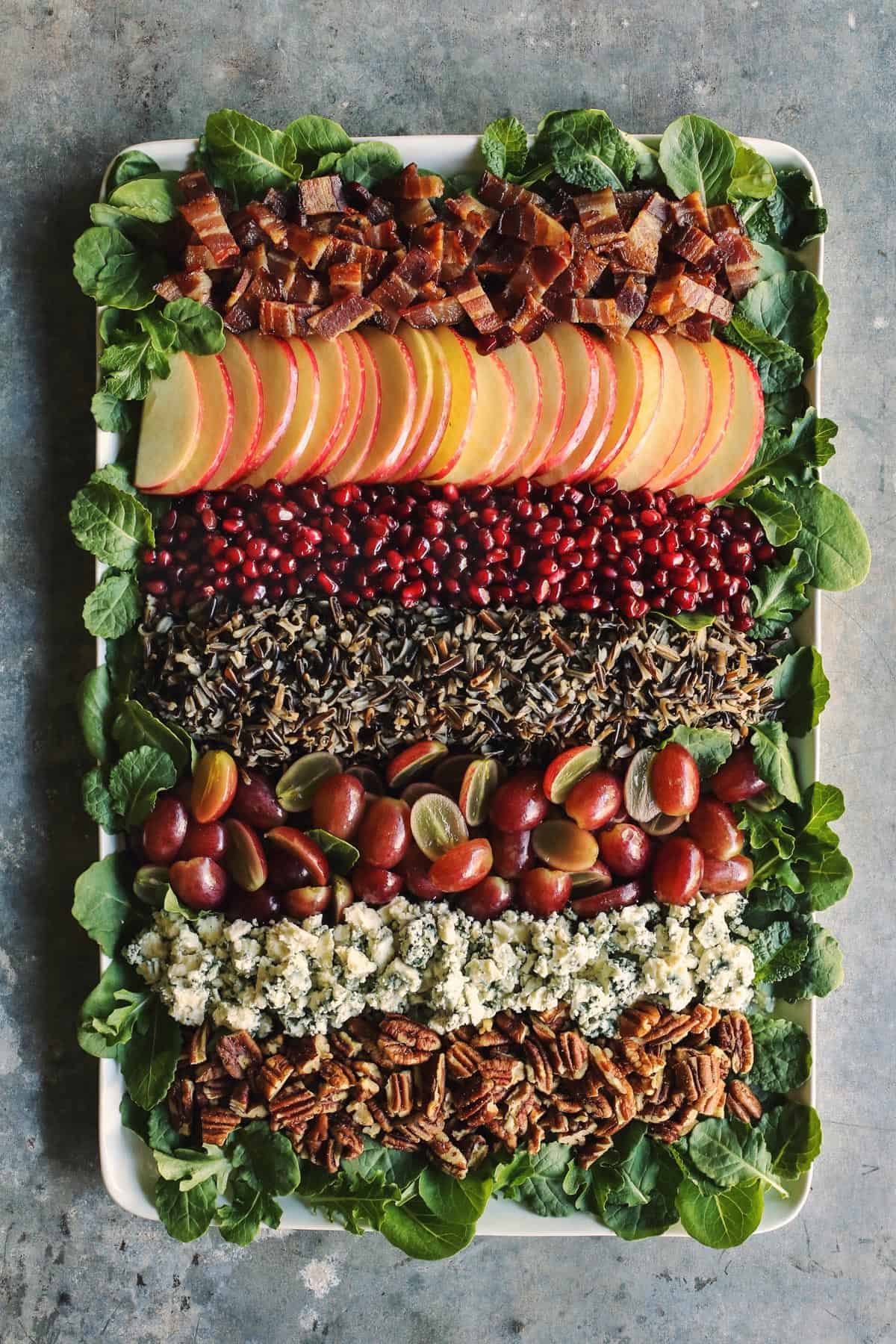 Tips for Making Salads in Advance
The make-ahead directions for each of these Thanksgiving salad recipes is included in the specific post but here are a few general tips for prepping salads in advance.
Prep ahead if the flavors need time to meld. In many cases, especially for dishes like potato salad, macaroni salad, and cucumber salad, it is best to prep the salad several hours ahead (or the night before), including the dressing. This gives plenty of time for the flavors to meld and makes the dish taste even better.
Chop and cook ahead of time. Even if it's a dish that should be assembled just before serving, you can still get a head start by chopping the veggies and storing them in individual containers the day before. If a recipe includes bacon, wild rice, or candied pecans, etc., prep these items the day before and store them in individual containers in the refrigerator or at room temperature.
Don't prep more than a day before. Aim to keep ingredients at their very best, very freshest, especially once you've chopped veggies, etc. For that reason, I recommend doing most of your prep work not more than a day in advance. Vinaigrettes/dressings and things like candied pecans can usually be made 2 to 3 days in advance.
Wait to add vinaigrettes and other dressings. In most cases, you'll want to wait to add the vinaigrette/dressing to the salad until just before serving, especially if it's on a bed of greens. Although you can easily prepare the vinaigrette in advance, just keep it in a separate container.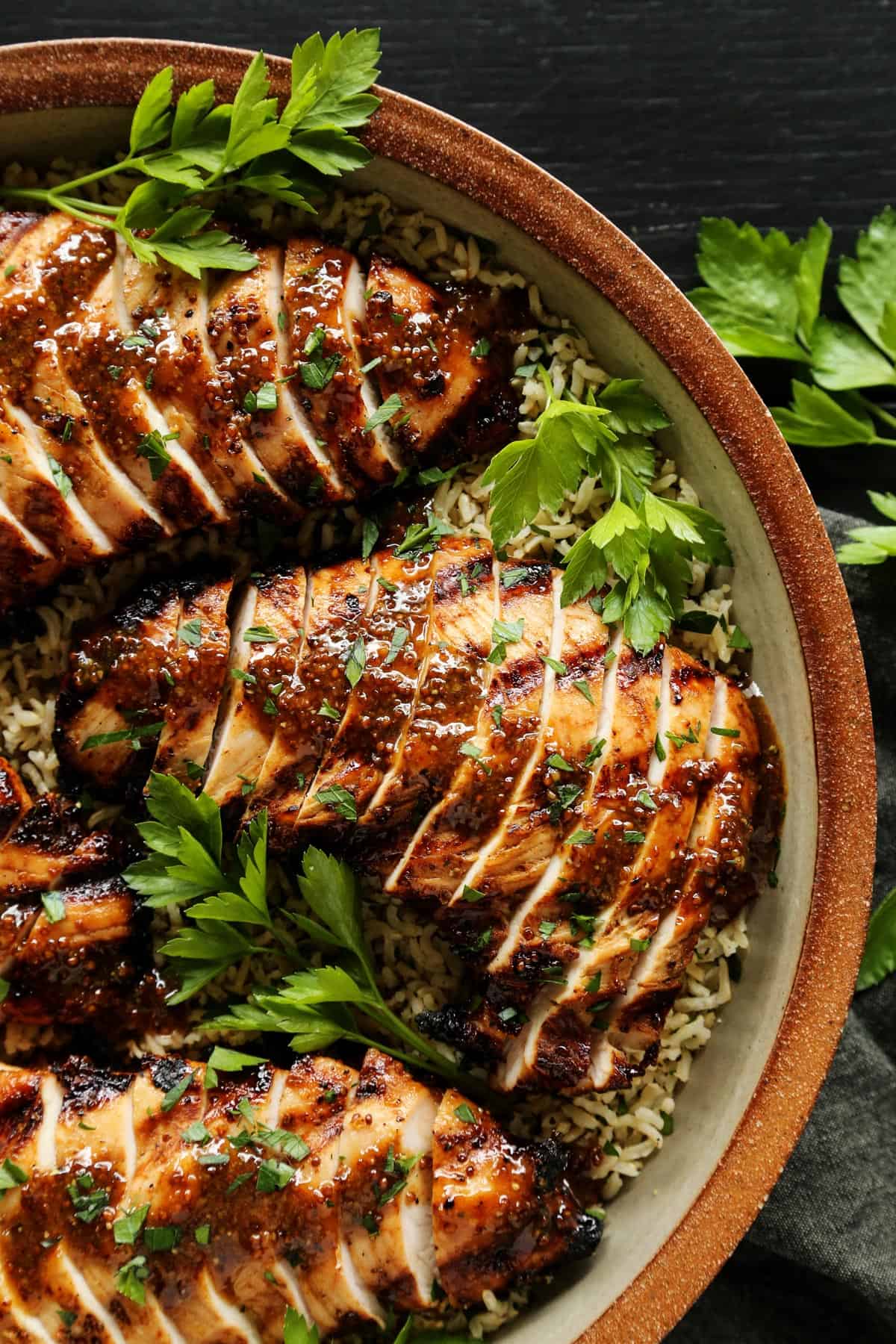 What to Serve with Thanksgiving Salads
Looking for a main entree to serve with one or more of these Thanksgiving salads? Here are a few delicious choices:
Like this post? Save it to Pinterest!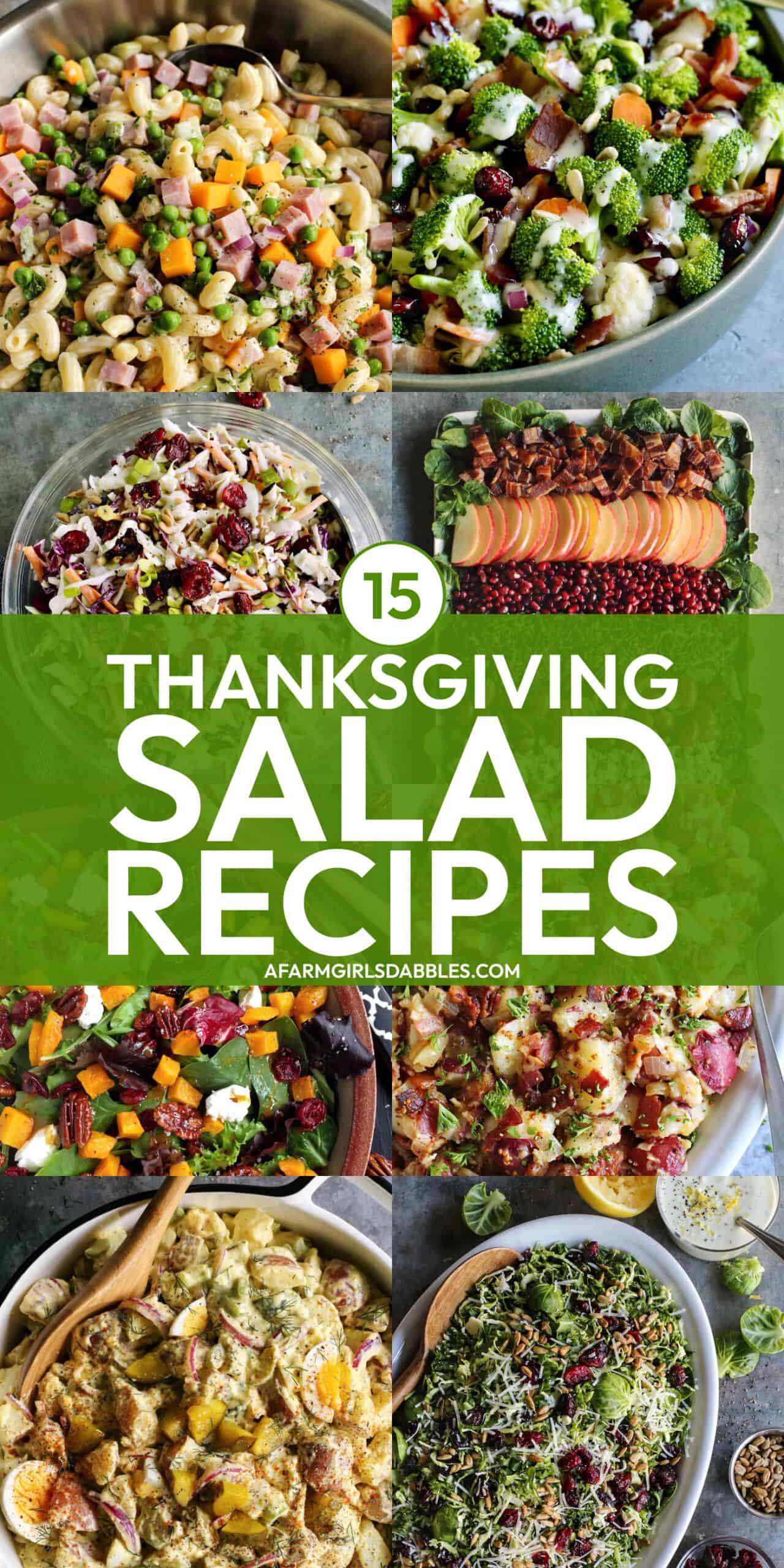 15 Easy Thanksgiving Salads
Impress your guests with any of these 15 Easy Thanksgiving Salad Recipes. From classics like potato salad to those full of rich fall flavor, each one will be a welcome addition to any holiday dinner table!
This Cranberry Coleslaw is a festive fresh side dish that's perfect for the holidays. With dried cranberries and sunflower kernels, plus a lightly creamy dressing that's tangy from red wine vinegar - it's full of color and fresh flavor!
If you're looking for a Thanksgiving salad that's both easy to make and perfect for preparing ahead, look no further than this Macaroni Salad with Ham and Cheese! A guaranteed hit with kids and adults alike.
This Harvest Salad with Butternut Squash is a fresh, green salad that was practically MADE for Thanksgiving. It features maple pecans, cranberries, and goat cheese, plus a delightful curry fig vinaigrette.
This Roasted Beet and Arugula Salad is so pretty when assembled that it will look like a piece of art on the Thanksgiving table, with bright greens, carrots, and purple beets. It's finished off with a light balsamic dressing, ensuring every bite is bursting with flavor.
This easy Apple-Orange Cranberry Sauce recipe has been gracing our Thanksgiving table for many years. While some serve it as a condiment, I eat it like a salad. With bright, fresh flavors and warm spices, it's a delightful holiday side dish!
Chewy, earthy, and hearty, this Turkey & Wild Rice Curry Salad will bring a pop of texture and flavor to your Thanksgiving dinner plate. This is a great option for those who want to include turkey, but want a lighter focus. It's also a great recipe for turkey leftovers!
Potato salad isn't just for summer! A tangy, crunchy twist on a traditional potato salad, this Dill Pickle Salad is made with a creamy mustard dressing, eggs, and dill pickles. Its flavors are a tangy contrast to the comfy flavors of Thanksgiving!
This easy, cinnamon-y Homemade Applesauce recipe can be made chunky or smooth. I like to include it as a sweet salad side dish on the Thanksgiving table - I'm always left with an empty bowl!
Add some flavorful Mexican flair to the table with this Easy Mexican Corn Salad! Also known as Esquites, this salad is essentially deconstructed street corn, in a tangy sauce. I adore this fresh corn salad!
Made with kale, dried cranberries, sunflower seeds, and parmesan, this Shaved Brussels Sprouts Salad is beautiful and full of flavor. Simple to make, with a zippy lemon yogurt dressing, it's guaranteed to impress guests!
This Holiday Wild Rice Salad is GORGEOUS and DELICIOUS. A deconstructed salad featuring wild rice, bacon, apples, grapes, pomegranate seeds, and blue cheese, plus an easy maple Dijon dressing - this Holiday Wild Rice Salad is made for entertaining!
Sometimes a classic salad, like German Potato Salad, is all that you need. Easy to prepare, great for making in advance, and always a favorite - I love this warm, tangy potato salad!
For a light, refreshing side, you can't go wrong with this tangy Cucumber Salad. Made with just a few ingredients, salad prep doesn't get easier than this.
And for those who prefer a creamy cucumber dressing...This Creamy Cucumber Salad includes a light, tangy dressing made with mayo and sour cream. Super easy to prepare and make in advance.
This Broccoli Salad is fresh and flavorful, with a tangy dressing that's lightly creamy. Loaded with crunchy broccoli, cauliflower, and carrots, plus chewy bacon and cranberries, it's a top choice when it comes to holiday side salads!