Double Chocolate Pancakes
Fluffy and moist, these Double Chocolate Pancakes feature a rich chocolate flavor throughout, plus melty pockets of chocolate chips on the inside. With a short ingredients list, these homemade pancakes are ready in just 20 minutes. A chocoholic's breakfast dream!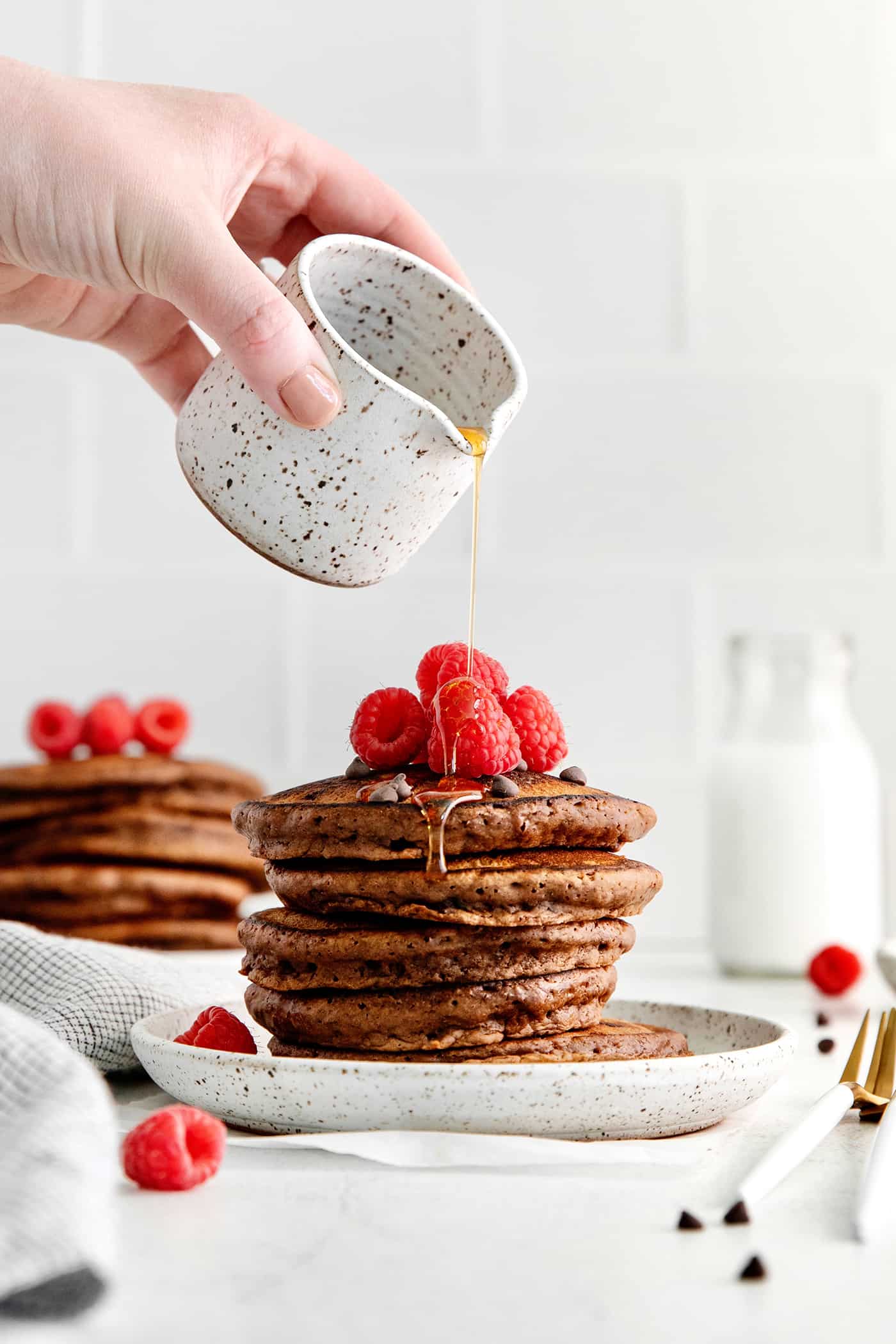 Decadent Chocolate Pancakes
These Double Chocolate Pancakes are my chocolate-for-breakfast dream come true!
The pancakes are rich and chocolatey throughout, thanks to cocoa powder. Plus they're speckled with chocolate chips inside, which create melty pockets of pure joy with each and every bite!
If you adore pancakes and brownies, these chocolate pancakes are the real deal. They cook up perfectly fluffy and tender, with a lightly crispy edge and soft brownie-like center. And they're so quick & easy to make.
Welcome to my latest chocolate craving. Enjoy!!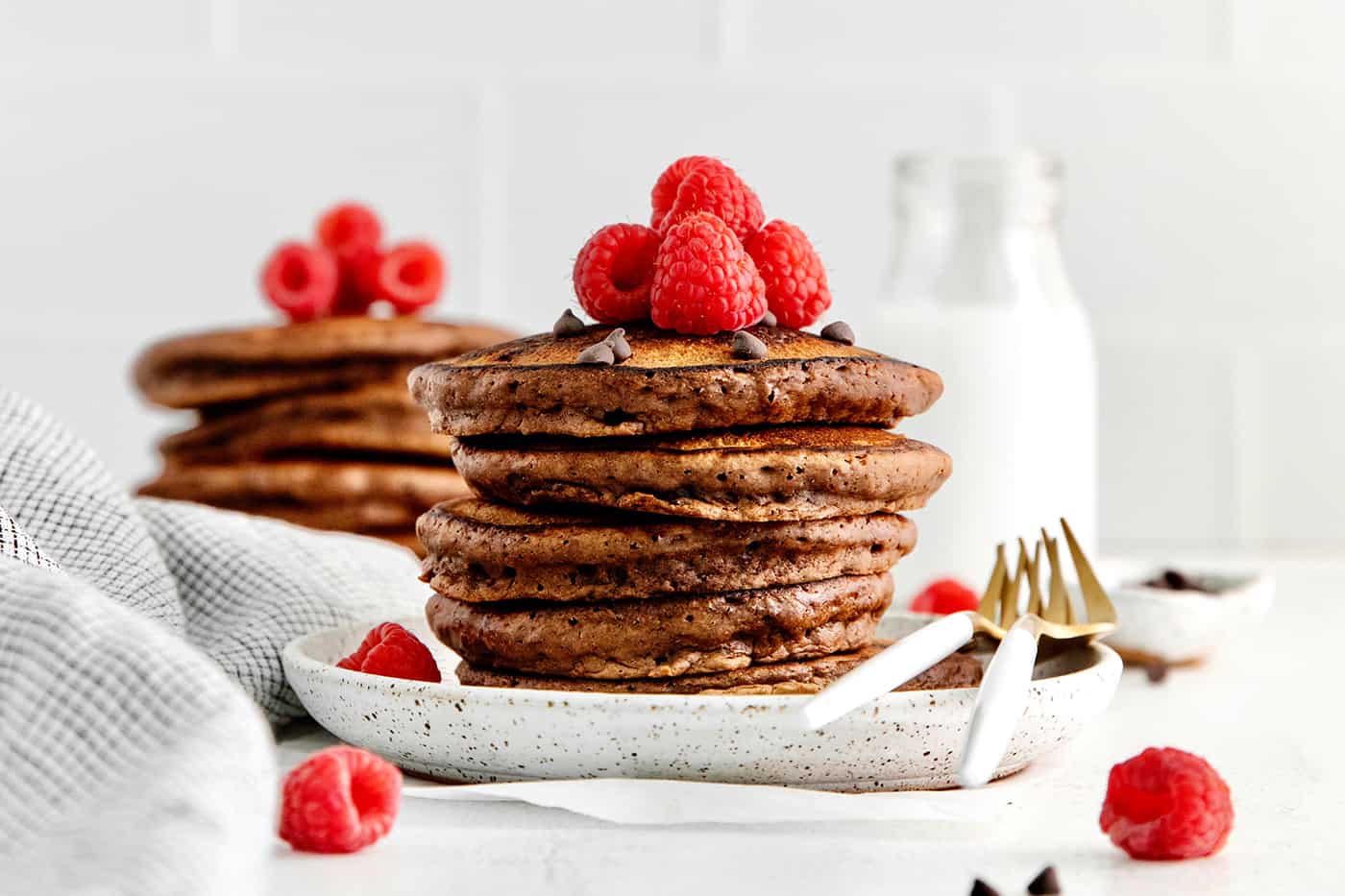 Classic buttermilk pancakes have been our forever go-to pancake recipe. And now these chocolate pancakes have definitely made their way into regular pancake rotation around here.
Whenever we're craving a little more fun and decadence, this is the recipe we turn to!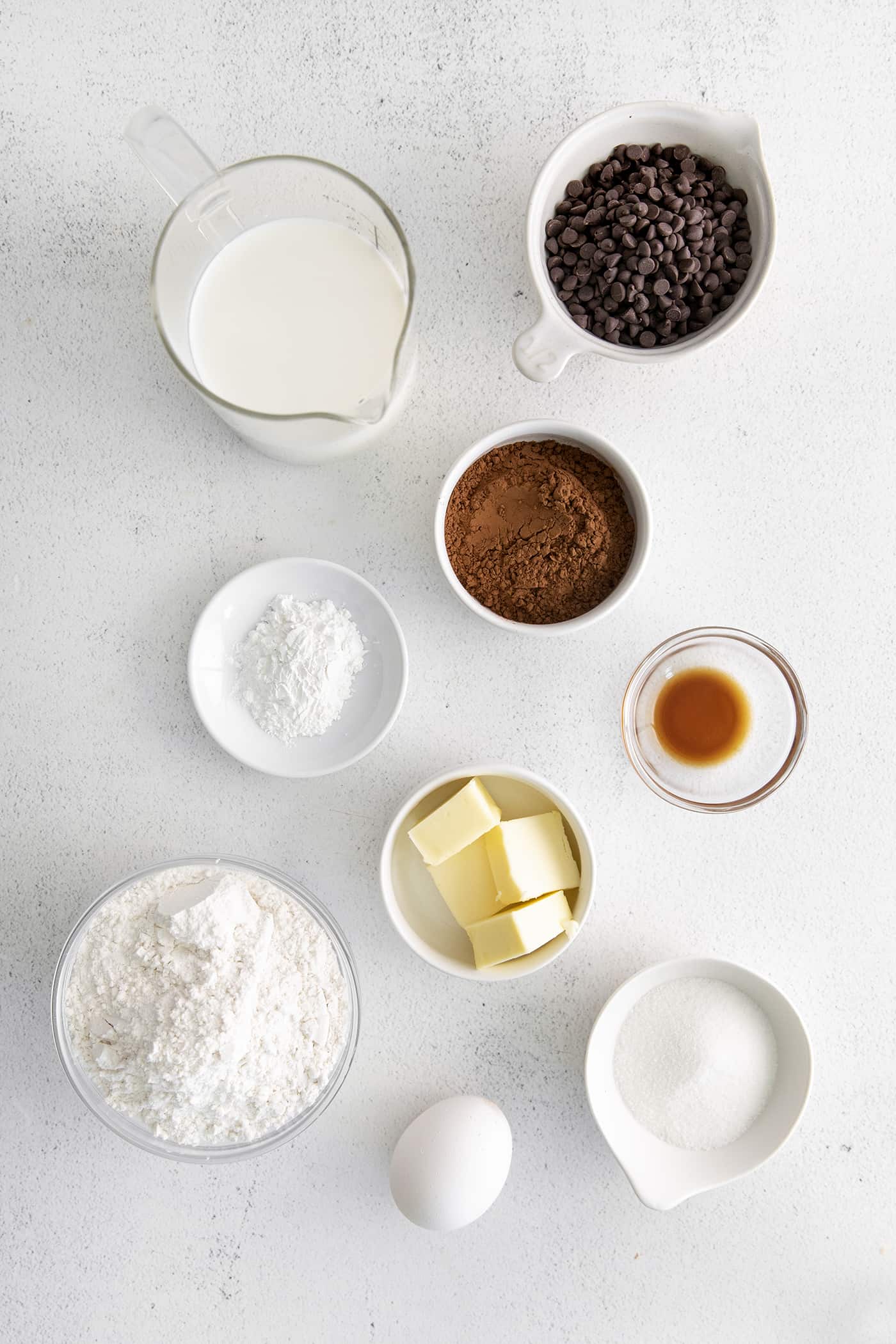 What You'll Need
Homemade chocolate pancakes are made with just 9 common ingredients, including cocoa powder and chocolate chips for all that crave worthy chocolate flavor. Scroll down to the recipe box for the full measurements.
Milk – Milk helps thin the pancake batter. I like to use whole milk for added richness, but any milk would work.
Egg – Egg helps bind the pancake batter together and gives rich flavor and moist texture.
Butter – Butter adds richness and delicious flavor to the pancakes. It also helps to give a light crispness to the finished pancake's exterior.
Vanilla extract – Vanilla enhances the flavor and sweetness of the chocolate.
All-purpose flour – Flour gives the pancakes structure. Make sure to measure using the spoon and level method, as adding too much flour can result in dry pancakes.
Cocoa powder – For rich chocolate flavor throughout.
Granulated sugar – Granulated sugar adds a bit of sweetness to the pancakes
Baking powder – Baking powder helps the pancakes rise so they become light and fluffy.
Chocolate chips – I'm using mini semi-sweet chocolate chips but you could use whatever you have on hand.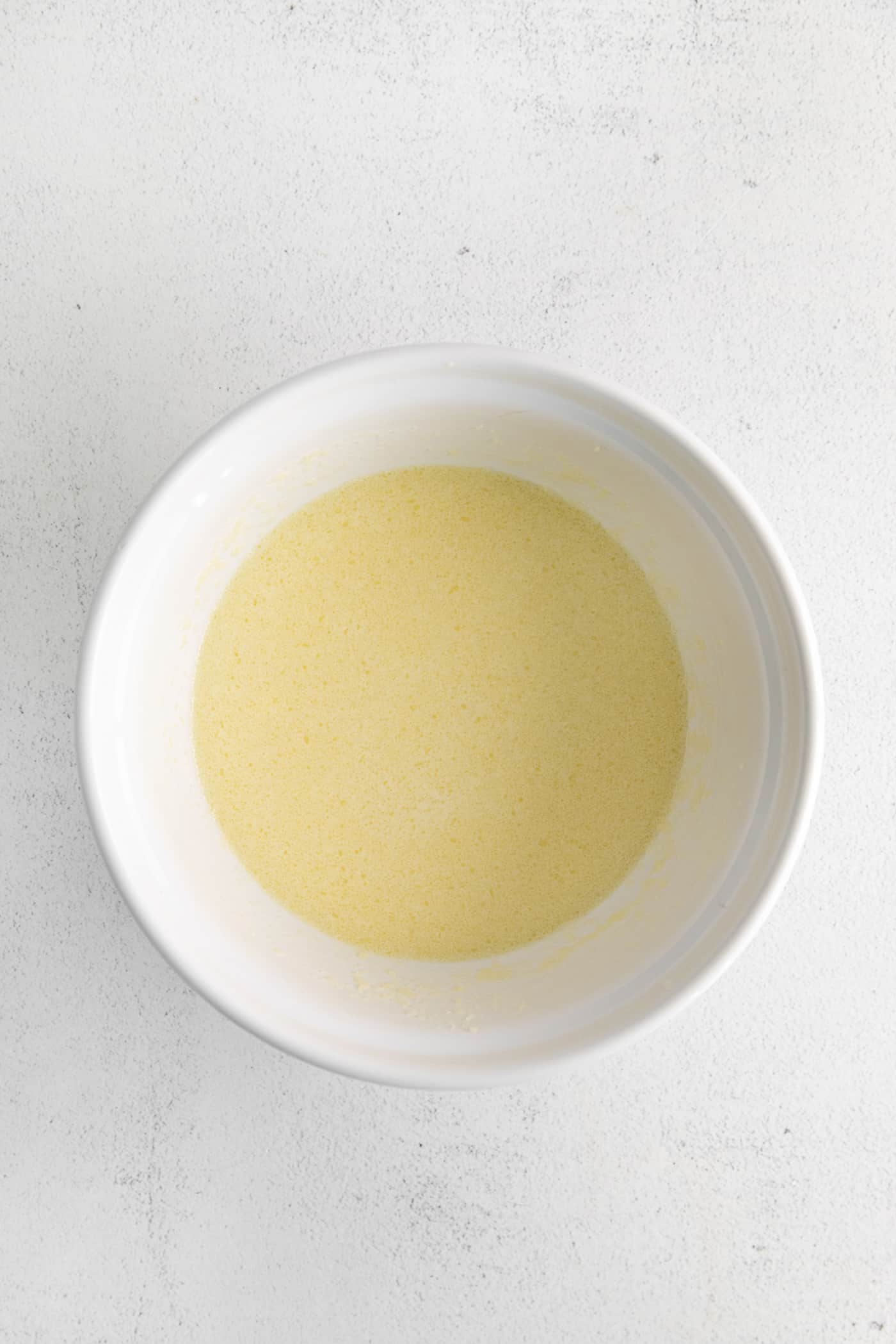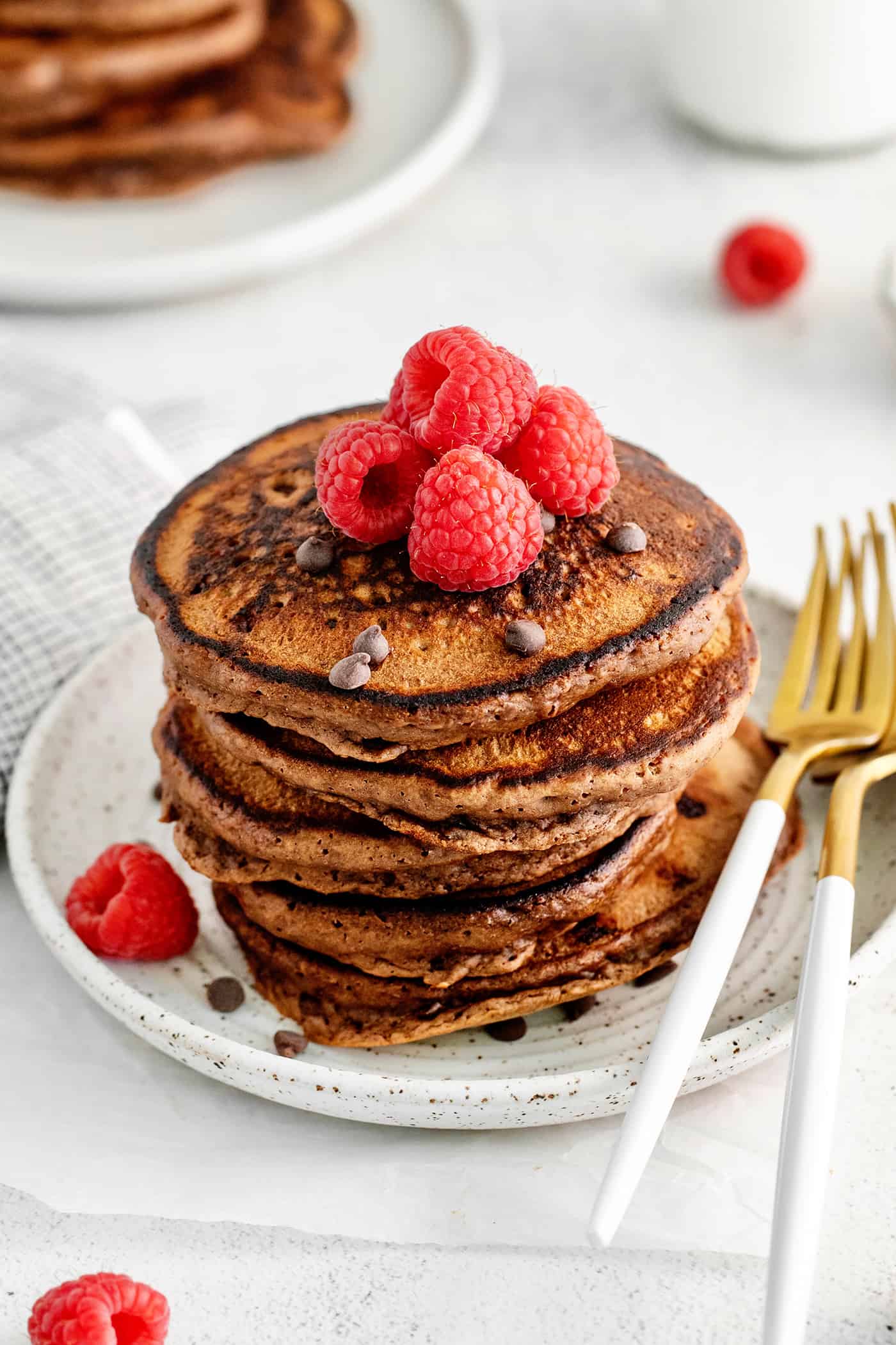 How to Make Double Chocolate Pancakes
Making chocolate pancakes from scratch is almost as easy as using a boxed mix. They're ready in just 20 minutes!
Prepare the batter. Whisk together the milk, egg, melted butter, and vanilla. In another bowl, whisk together the flour, cocoa powder, sugar, and baking powder. Stir the dry ingredients into the wet ingredients until no large lumps remain. Fold in the chocolate chips.
Cook the pancakes. Grease a heated griddle with butter. Add 1/4 cup of pancake batter for each pancake. Cook for 2-3 minutes on the first side, then flip and cook for an additional 1-2 minutes.
Serve. Enjoy with your favorite toppings.
How Do You Tell When Pancakes Are Ready to Flip?
Pancakes should cook the longest on the first side. Before flipping, bubbles should appear on the top of the pancake and the edges should look set.
If you stick a spatula underneath and it sticks or is overly soft, it's not ready to flip and the center is likely undercooked still. Once the bottom appears golden brown and cooked, it shouldn't stick to the pan at all.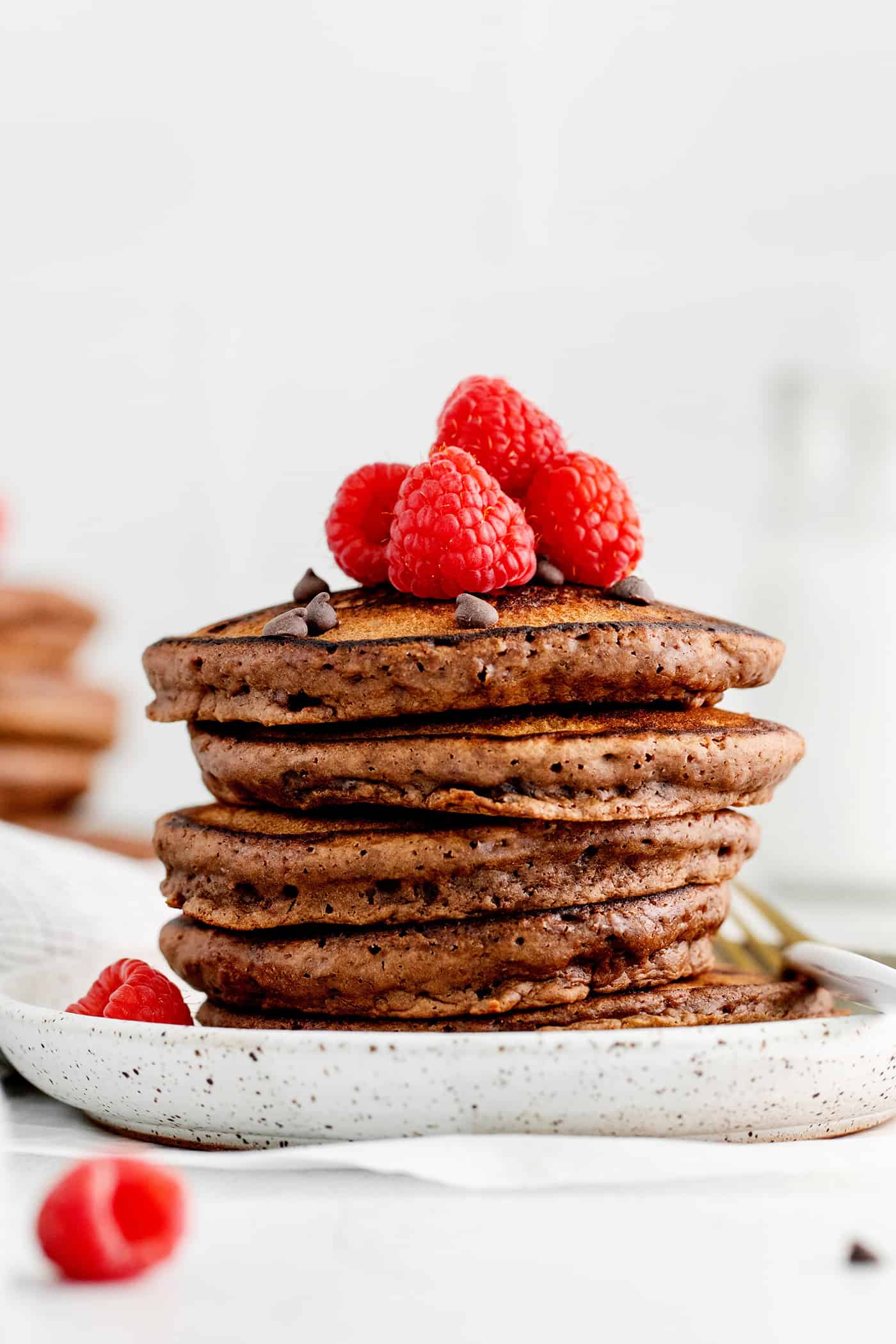 Tips for Success
Here are a few tips for making the best double chocolate chip pancakes.
Don't overmix the batter. Overmixing the batter will release gluten and can result in pancakes that are tough, instead of light and fluffy. It's completely okay if there are small lumps left in the batter.
Don't crowd the pan. The size of your pan will determine how many pancakes you can make at a time. On a large electric griddle, I can usually fit at least 8. With a large skillet, maybe 2 or 3. Just know that it's important to not crowd the pan, so the edges of each pancake cook evenly.
Don't overcook. While you want the insides to be cooked, you definitely don't want to cook the pancakes longer than needed. Overcooked pancakes will not have the same desirable moist, tender texture.
How to keep pancakes warm. If you have to cook several batches of pancakes, keep the ones already cooked warm by placing them on a baking sheet in a warm oven, set to about 200° F.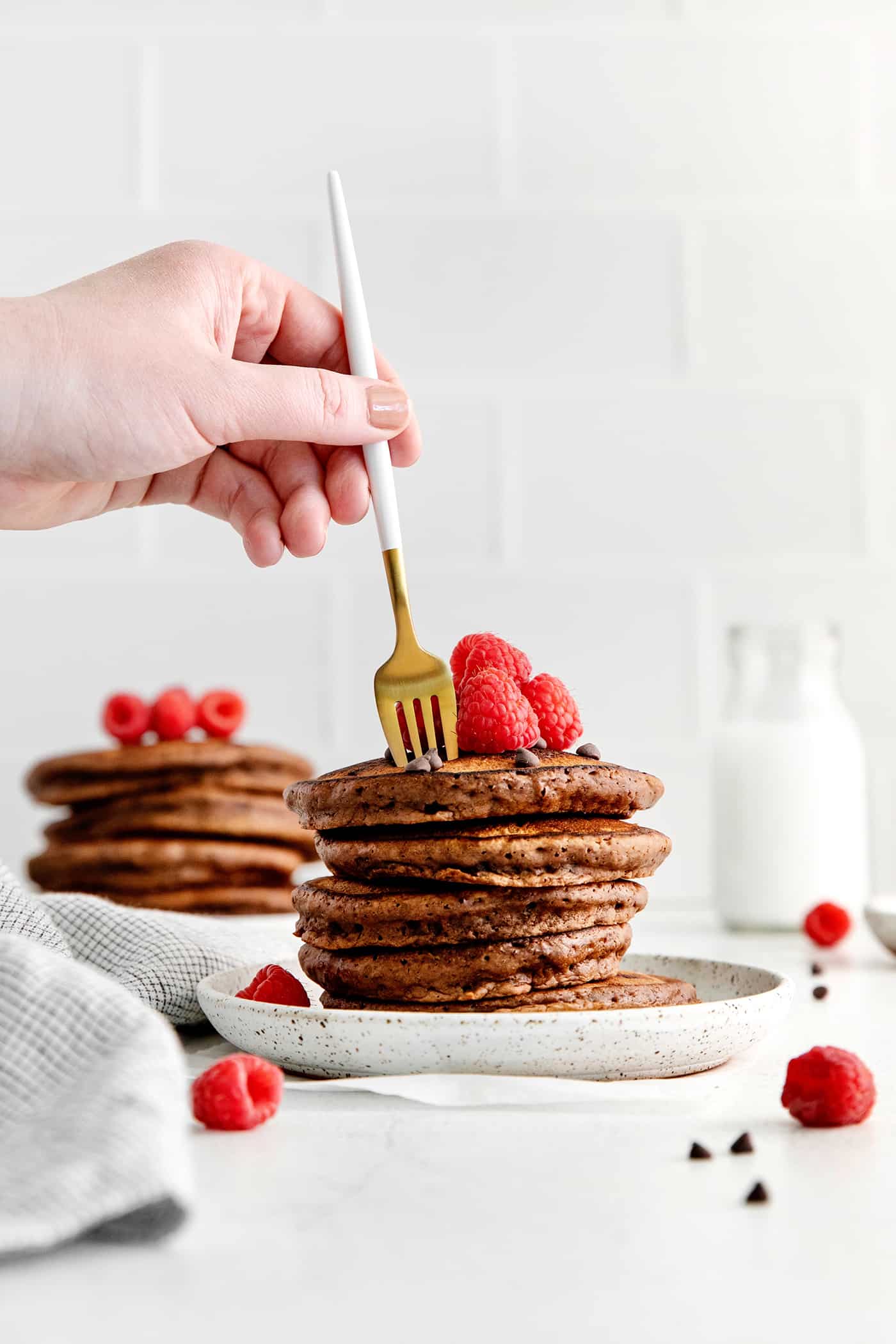 Serving Suggestions
The toppings are honestly the best part about eating pancakes, are they not? There are so many ways to rock these chocolate pancakes!
If you want to go for a crazy chocolate overload, drizzle some chocolate syrup or hot fudge sauce over the top, or layer some Nutella between pancakes. Then top with some extra chocolate chips.
Peanut butter and other nut butters are also great with these pancakes.
You can go the lighter route with some whipped cream and fresh berries, my own personal favorite. I also really like fresh banana slices.
Or stay classic with butter and maple syrup.
The choice is yours!
How to Store & Freeze Leftovers
If you, like me, have a house full of chocoholics, there's a very low chance that you'll have any of these double chocolate pancakes left over. But if you do, they can be stored in an airtight container in the fridge for up to 3 days.
To reheat, you can just pop them in the microwave or heat them gently using a griddle or skillet.
These chocolate pancakes can also be frozen for up to 3 months. Once they've cooled completely, transfer to a ziploc bag or other freezer-safe container. You can reheat in the microwave directly from frozen, if needed, for a quick breakfast any time!
More Sweet Breakfast Recipes:
Like this recipe? Save it to Pinterest!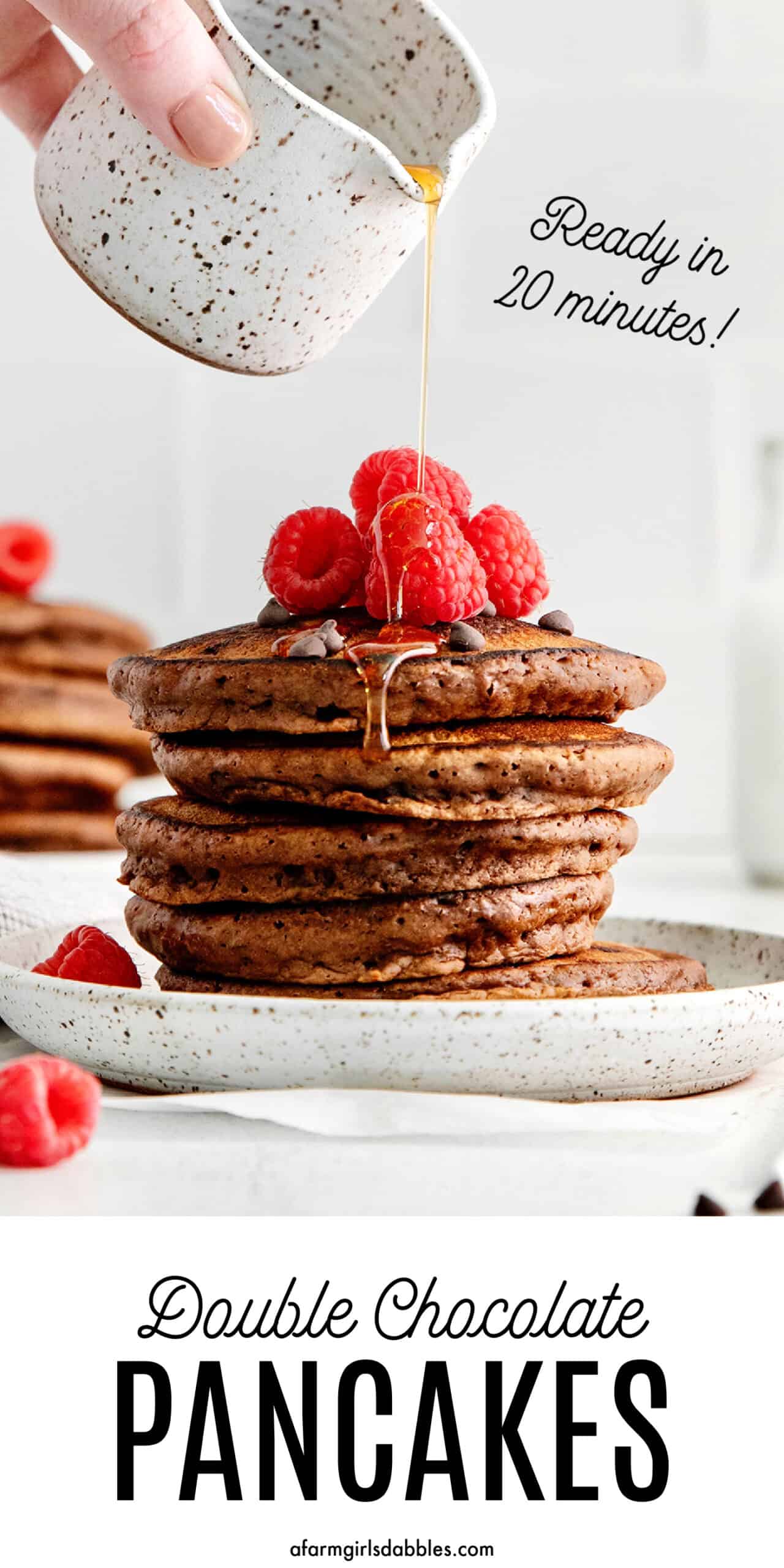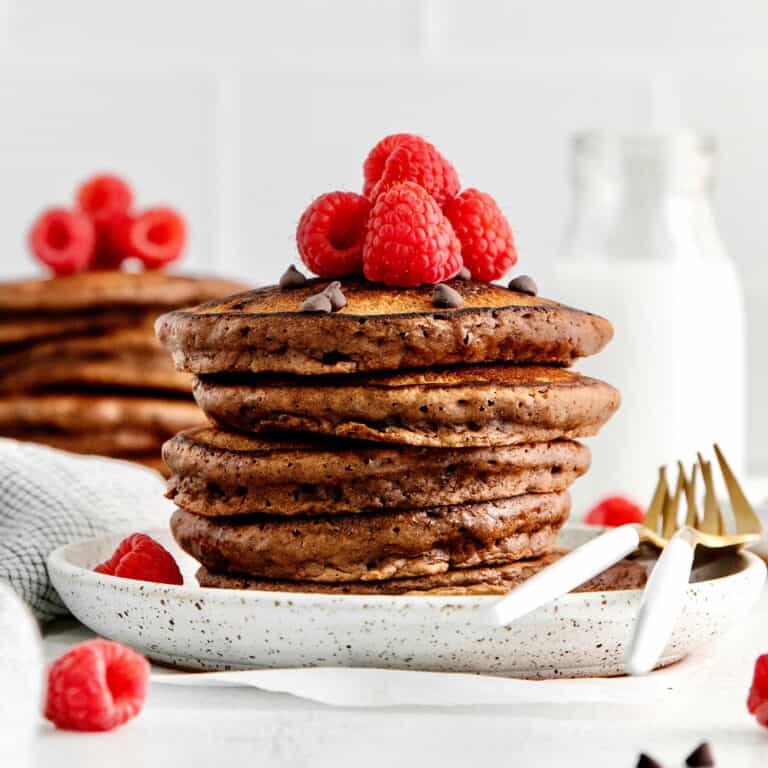 Double Chocolate Pancakes
Yield: 4 (about 12 4" pancakes)
Prep Time: 10 minutes
Cook Time: 10 minutes
Total Time: 20 minutes
Fluffy and moist, these Double Chocolate Pancakes feature a rich chocolate flavor throughout and melty pockets of chocolate chips on the inside. Made with less than 10 ingredients, these homemade pancakes are ready in just 20 minutes. A chocoholic's breakfast dream!
Ingredients
1¼ cups milk
1 large egg
¼ cup (4 tablespoons) unsalted butter, melted
1 teaspoon pure vanilla extract
1¾ cups all-purpose flour
¼ cup unsweetened cocoa powder
3 tablespoons granulated sugar
2 teaspoons baking powder
½ cup mini chocolate chips
Instructions
In a large bowl, whisk together milk, egg, melted butter, and vanilla.
In a small bowl, whisk together flour, cocoa powder, sugar, and baking powder. Add dry ingredients to wet ingredients, and mix just until no large dry lumps remain – it doesn't have to be perfectly smooth and you don't want to overmix.
Fold the chocolate chips gently into the batter, taking care to not overmix.
Heat a griddle or large non-stick skillet over medium heat. Grease the pan with non-stick cooking spray or additional butter. Scoop out ¼-cup sized pancakes, placing as many as will fit without overcrowding the pan.
Cook for 2-3 minutes on the first side, or until the pancakes begin to bubble around the edges. Then flip the pancakes and cook for an additional 1-2 minutes or until they are set all the way through.
Enjoy immediately topped with whipped cream, additional chocolate chips, and/or fresh berries.
Make Ahead: These pancakes can be kept warm on a baking sheet in a 200° F oven for up to 30 minutes.
Storage: Store any leftover pancakes in an airtight container in the fridge for up to three days.
Nutrition Information:
Yield: 4
Serving Size: 1
Amount Per Serving:
Calories: 427
Total Fat: 11g
Saturated Fat: 6g
Trans Fat: 0g
Unsaturated Fat: 4g
Cholesterol: 55mg
Sodium: 307mg
Carbohydrates: 73g
Fiber: 4g
Sugar: 25g
Protein: 12g
Nutrition information is automatically calculated by Nutritionix. I am not a nutritionist and cannot guarantee accuracy. If your health depends on nutrition information, please calculate again with your own favorite calculator.