Peach Bread
This moist and flavorful Peach Bread recipe features ripe, juicy peaches, salty roasted pecans, and the warmth of cinnamon. It's a wonderful way to enjoy summer's best peaches!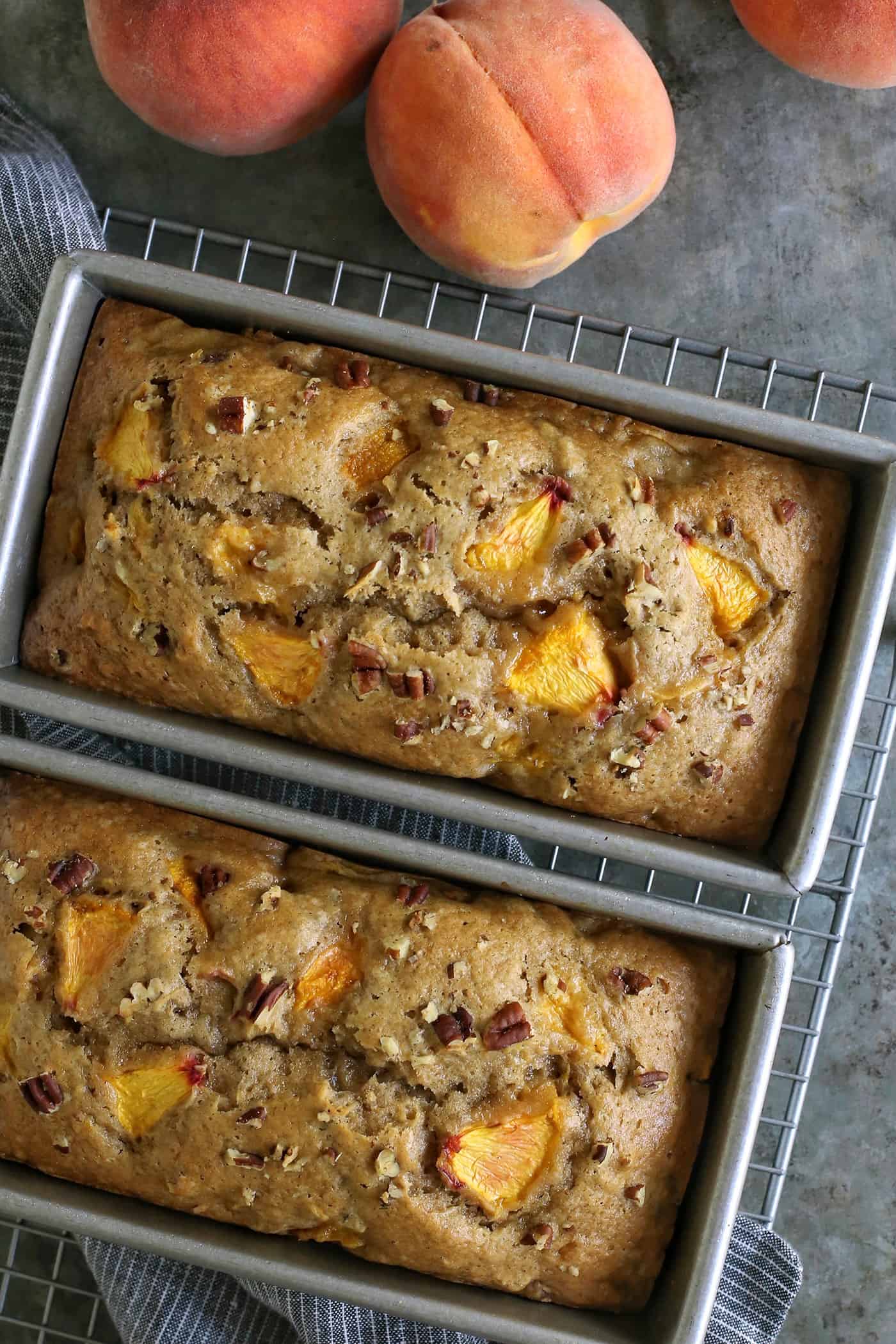 Peach Bread, An Easy Quick Bread Recipe
This time of year has me all crazy, trying to enjoy the massive amounts of especially awesome fresh produce. The beautiful fruits and vegetables – I wish we could have these choices all year 'round!
If you've ever wondered what to do with peaches, this easy quick bread recipe is a favorite. I've been making it for years and always get great feedback on it. Make this Peach Bread recipe NOW, while the peaches are at their peak of summer sweetness!
Another easy fresh peach recipe is this Perfect Peach Cake – have you made it yet?!
Ingredients
Besides a couple of peaches and a handful of pecans, you'll only need a few standard baking items to make this peach quick bread!
all-purpose flour
baking powder
cinnamon – I amped up the cinnamon in this recipe. It pairs beautifully with peaches!
kosher salt
eggs
sugar
vegetable oil
pure vanilla extract
fresh peaches – For the very best peach bread with moist texture, use only ripe peaches that are sweet and juicy!
roasted, salted pecans – I like to use these pecans from Trader Joe's!
How to Make Peach Bread
This is an easy recipe that comes together quickly. Here's how to make it:
Prep: Preheat oven to 325° F and spray two loaf pans – these 8″ x 4″ loaf pans with 3/4-pound capacity are my favorite!
Whisk dry ingredients: Whisk together the flour, baking powder, cinnamon, and salt.
Stir wet ingredients: Beat the eggs and then stir in the sugar, oil, and vanilla.
Combine wet & dry: Add wet ingredients to dry ingredients, stirring until just moistened. The batter will be quite thick.
Add peaches & nuts: Fold in the peaches and pecans, and then spoon batter into the prepared pans. Add some chopped peaches and pecans to the top of the batter for a pretty look, if desired.
Bake: Bake for 1 hour. Then let peach bread cool in the pans on a wire rack for 10 minutes before removing them from the pans.
This peach bread is scrumptious with tender peach bites. And you won't believe how wonderful it smells, loaded with warm cinnamon!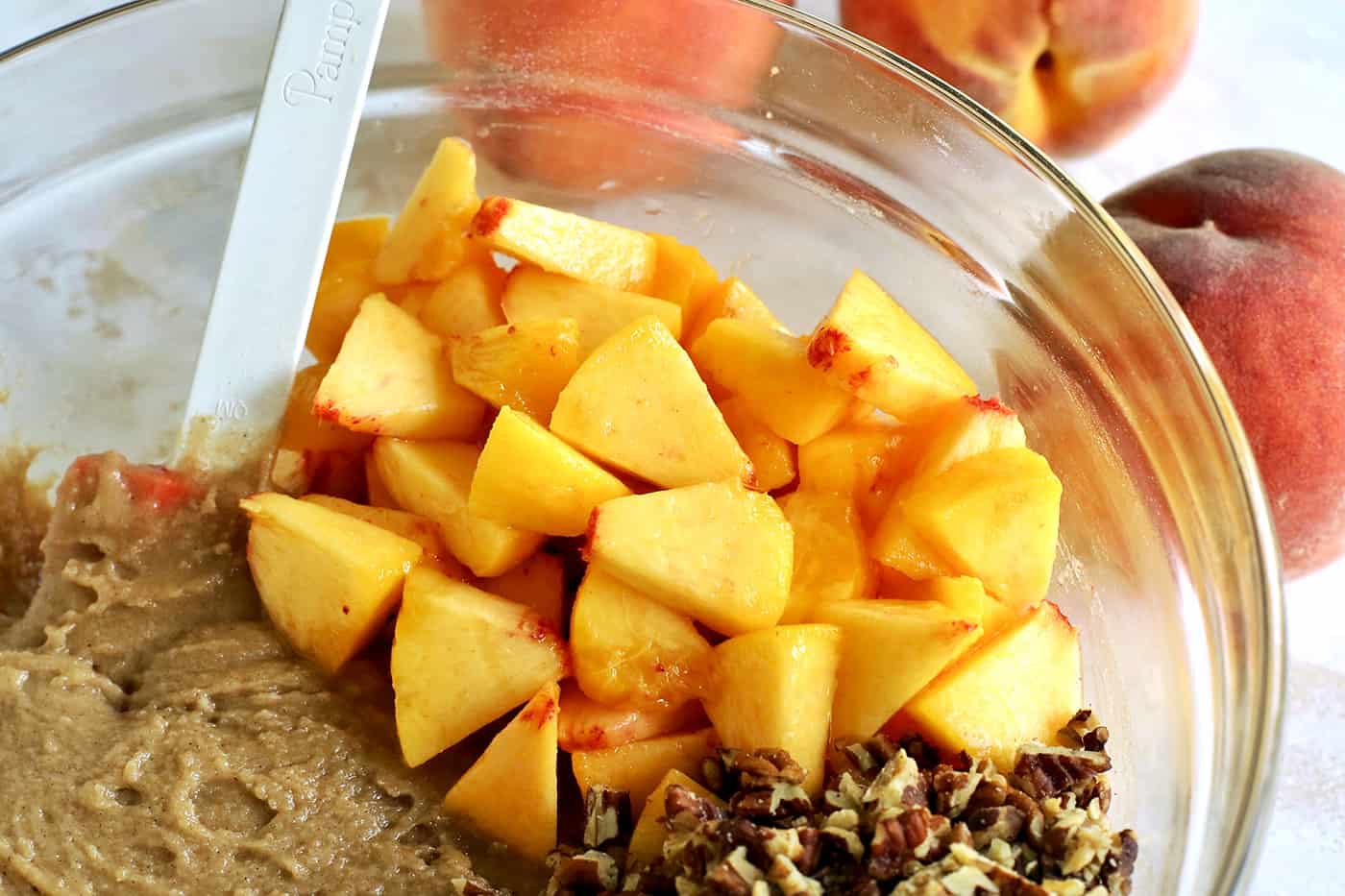 Tips & Variations
My #1 tip for this easy bread is to use ripe, sweet peaches – the juicier, the better! You know the kind…where the juice runs down your arm as you're cutting them!
Along the same line with using juicy peaches, I have added an alternate way to make this peach bread when your peaches are not the ultimate in juiciness. Because the bread just does not have the same wonderful moistness if you don't use JUICY peaches! You can find those instructions in the recipe card.
Use roasted & salted pecans. Raw and/or unsalted pecans will not give you the same delicious result!
Swap out the nuts. Toasted walnuts would be a great alternative!
If you're not a fan of nuts in baked goods, just omit the nuts. While I most-of-the-time do not include nuts in much of my baking, this is a recipe where I'm happy to include them!
This recipe would be wonderful with a few more warm spices. How about a pinch of nutmeg? Or cardamom?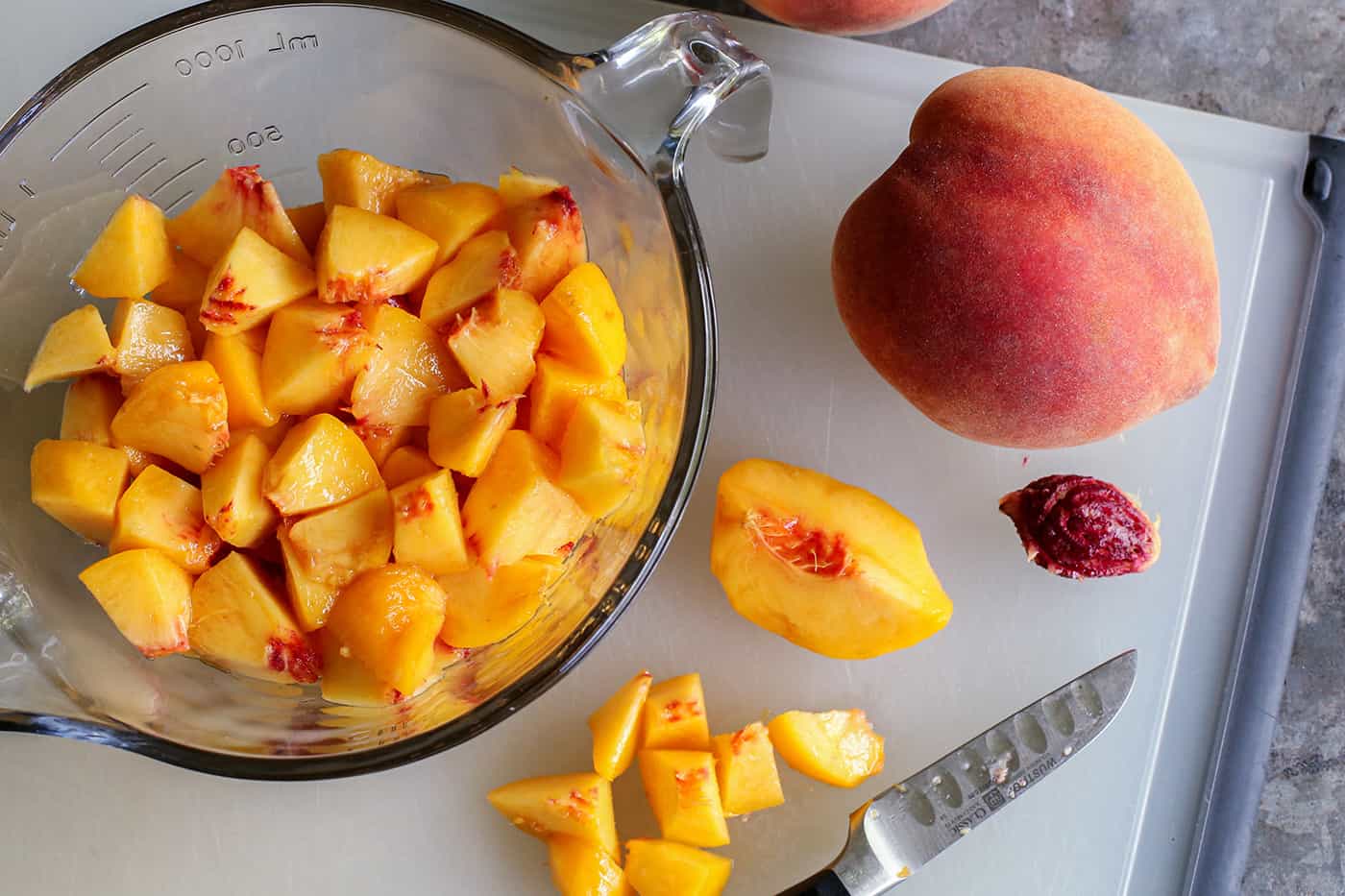 How to Peel Peaches
When peaches are perfectly ripe, they usually peel very easily. All you need to do is get a sharp paring knife under the skin and start pulling it away from the peach flesh.
But when the peeling isn't going so smoothly, I rely on the easy blanching method that Mom taught me when I was young:
Soak: Place peaches in boiling water for 10 to 20 seconds, or until skin starts to split.
Cool: With a slotted spoon, remove peaches to an ice water bath to cool them down quickly and stop them from cooking.
Peel: Use a sharp paring knife to peel away the skin – it should come off very easily. If not, return any stubborn peaches to the boiling water for a few seconds more.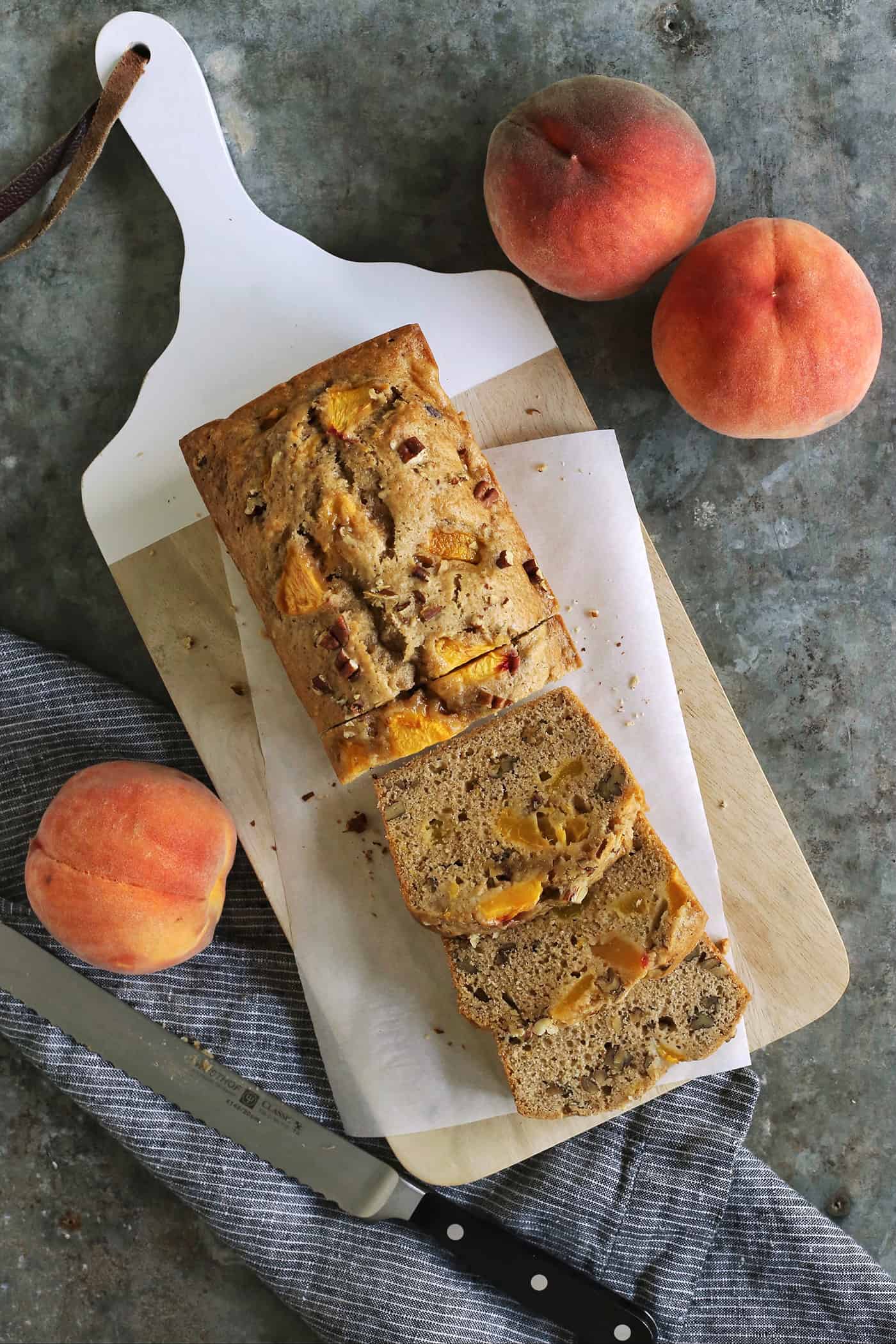 How to Store and Freeze Peach Bread
This peach bread will always be best on the day it's made. You'll enjoy a very slight crust on the top, a beautiful contrast to all the tenderness going on inside. But unless we're serving this to guests, we usually have some leftover peach bread.
To enjoy this peach bread within a day or two, I place it on a platter and cover with foil. Or I place it in the fridge, in a covered container.
This bread freezes perfectly. Just let it cool completely, and then wrap tightly in a layer of plastic wrap. Place the wrapped loaf in a freezer-safe baggie or container for up to 3 months. Let thaw in the fridge or on the counter before enjoying.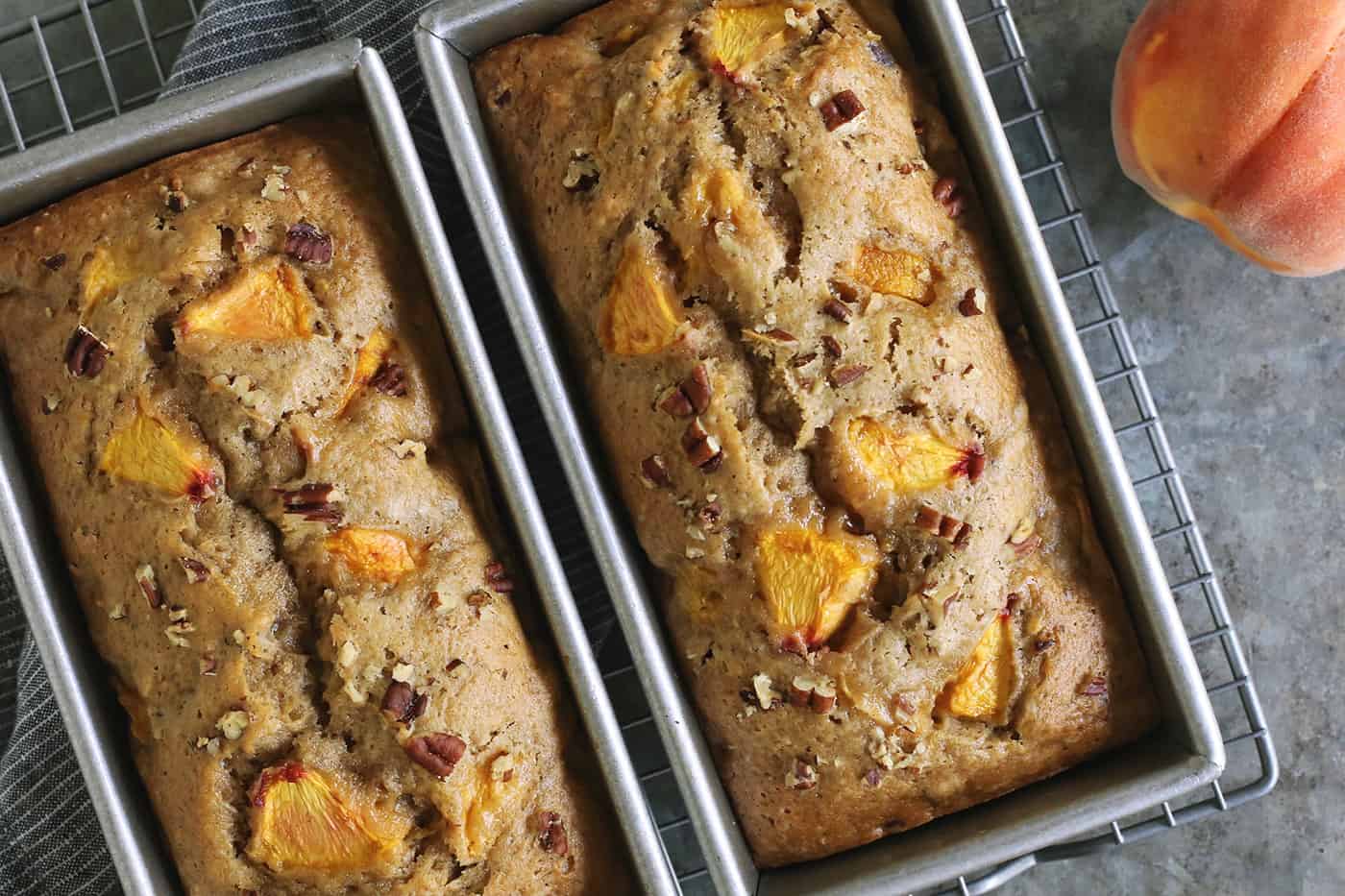 More Fresh Peach Recipes
When it comes to recipes that call for fresh peaches, I'm happy to say I have a few more to share with you!
Like this recipe? Save it to Pinterest!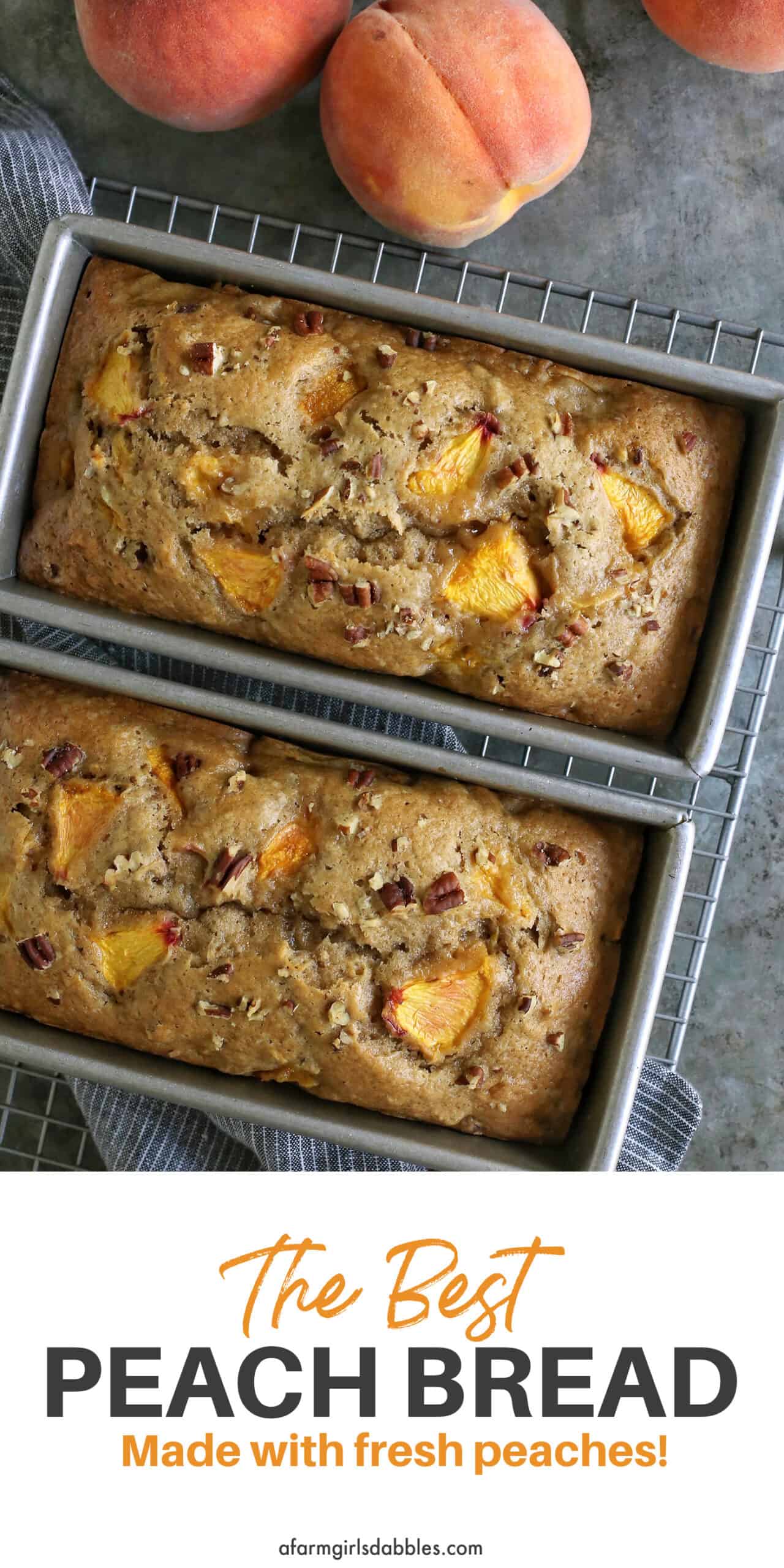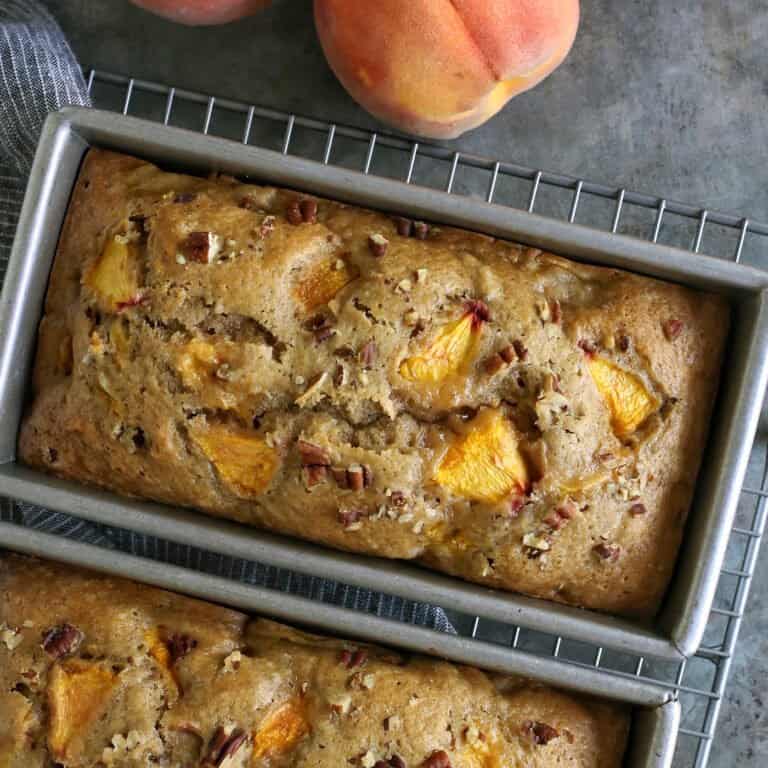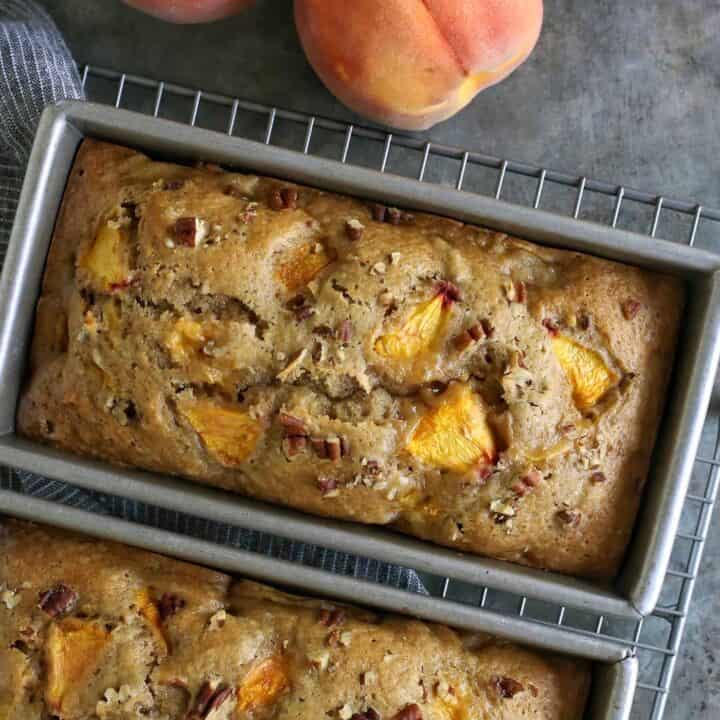 Peach Bread
Yield: 12 servings
Prep Time: 25 minutes
Cook Time: 55 minutes
Total Time: 1 hour 20 minutes
This moist and flavorful quick bread is full of ripe, juicy peaches, salty roasted pecans, and warm cinnamon. It's a wonderful way to enjoy summer's best peaches!
Ingredients
3 ups all-purpose flour
1 tablespoon baking powder
1.5 tablespoons cinnamon
1 teaspoon kosher salt
3 large eggs
1.5 cups sugar
1/2 cup vegetable oil
1 tablespoon pure vanilla extract
2.25 cups peeled and chopped, fresh VERY JUICY peaches, cut into 1/2" pieces, divided
1 cup chopped roasted and salted pecans (I like Trader Joe's "Toasted and Salted Pecan Halves".)
Instructions
RECIPE UPDATE! This continues to be a VERY popular recipe here on the blog, yet feedback is still split. So many of you love this recipe as-is, and I believe those people are using the very ripest, juiciest peaches they can find - because that DOES make a difference. And for those of you who say this recipe is a bit dry, I am assuming that the peaches are not as juicy. So I've played around with the recipe and provided an alternative with a bit more moisture - which also results in a lighter texture. You'll find BOTH options here on the recipe card, as I simply cannot get rid of the original recipe that I know so many of you have grown to rely on (It's the only way I make peach bread!). Go to the bottom of this recipe card for the alternate instructions!
Preheat oven to 325° F.
Lightly spray the insides of two 8" x 4" loaf pans. (These loaf pans with 3/4-pound capacity, which are slightly smaller than regular 8" x 4" loaf pans with a 1-pound capacity, are my favorite!) Set prepared pans aside.
In large mixing bowl, whisk the flour, baking powder, cinnamon, and salt.
In a medium mixing bowl, beat the eggs. Stir in sugar, oil, and vanilla.
Add egg mixture to dry ingredients, stirring until just moistened, taking care to not over mix. The batter will be very thick. Fold in nuts and 2 cups of the peaches. Spoon batter into the prepared pans. Then add remaining 1/4 cup peaches to the top of the batter, pressing them in just a bit. Sprinkle with some more chopped nuts, if desired.
Bake for about 60 minutes, or until a wooden toothpick inserted near the center of each loaf comes out clean. My 3/4-pound capacity pans are slightly smaller than a regular 8" x 4" size with a 1-pound capacity, so you may need to adjust baking time according to your own pan size.
Cool in the pans on wire racks for 10 minutes. Then loosen edges with a bread knife and remove loaves from pans. Cool completely on wire racks.
ALTERNATE INSTRUCTIONS: Delete vegetable oil from Ingredients list and add 1/2 cup unsalted butter. When you start this recipe, gently melt the butter first and let it sit to cool to room temperature while you prepare the recipe. Add the melted butter (cooled to room temperature) along with the sugar and vanilla, and then stir in 1 cup whole milk plain Greek yogurt. Proceed with original recipe instructions. You will need to bake this alternate recipe a little longer, for 65 to 70 minutes.
Notes
Adapted from Midwest Living magazine – originally from Sue Landon, owner of The Homeridge Bed and Breakfast near Jerseyville, IL.
Recommended Products
As an Amazon Associate and member of other affiliate programs, I earn from qualifying purchases.
Nutrition Information:
Yield: 16
Serving Size: 1
Amount Per Serving:
Calories: 238
Total Fat: 8g
Saturated Fat: 1g
Trans Fat: 0g
Unsaturated Fat: 7g
Cholesterol: 35mg
Sodium: 184mg
Carbohydrates: 38g
Fiber: 1g
Sugar: 20g
Protein: 4g
Nutrition information is automatically calculated by Nutritionix. I am not a nutritionist and cannot guarantee accuracy. If your health depends on nutrition information, please calculate again with your own favorite calculator.
*Here are a few more peach recipes I'd like to try: Don't these Grilled Peaches with Bourbon Brown Butter Sauce from Fifteen Spatulas look wonderful?! Also this Texas Peach Pecan Cobbler from Bake at 350 and Fresh Peach Ice Cream from Big Bear's Wife!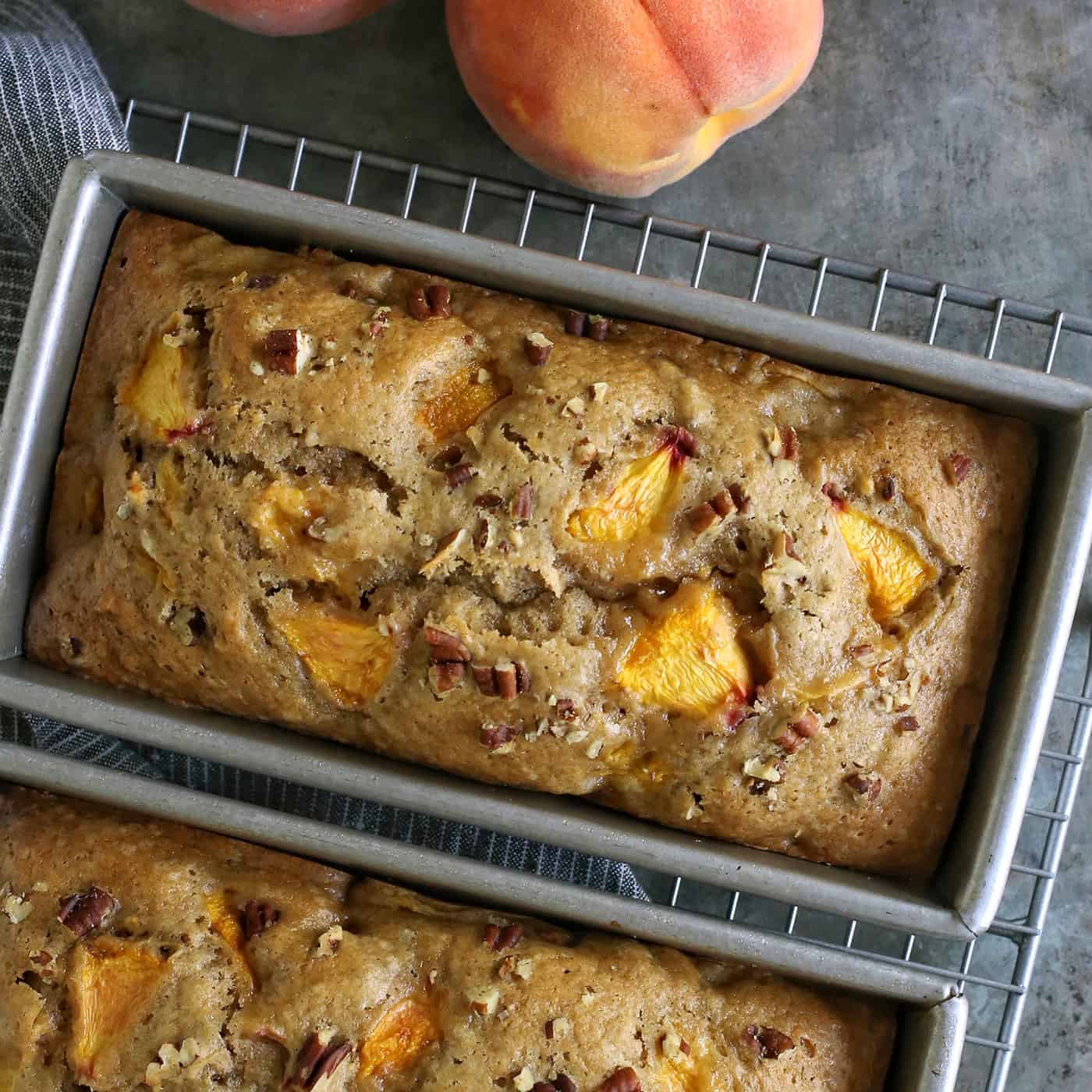 This post was originally published in 2010, with updates in 2018 and 2021.