Peach Bread
This moist and flavorful Peach Bread is full of tender, ripe peaches and salty roasted pecans.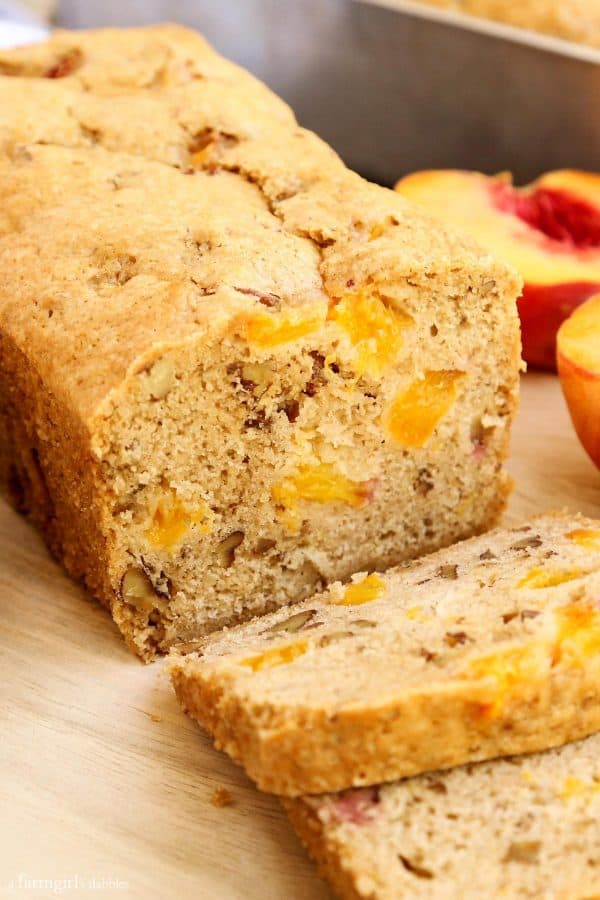 Fall is settling in. And summer peaches are on their way out. But I had a few juicy beauties left and thought that, well, maybe you might, too? After baking a few loaves of this Peach Bread, I just couldn't not share this with you!
(This post was previously published September 2010. Photographs of peach bread and some of the text were updated September 2016.)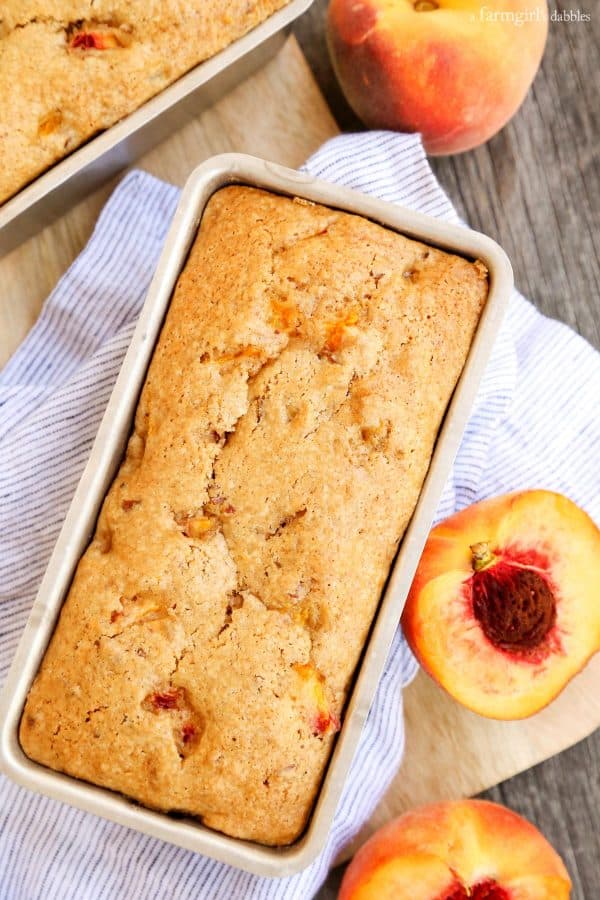 I baked up this Peach Bread a few days ago and was reminded of why I had drawn such a big smiley face beside this recipe in my file. It's scrumptious.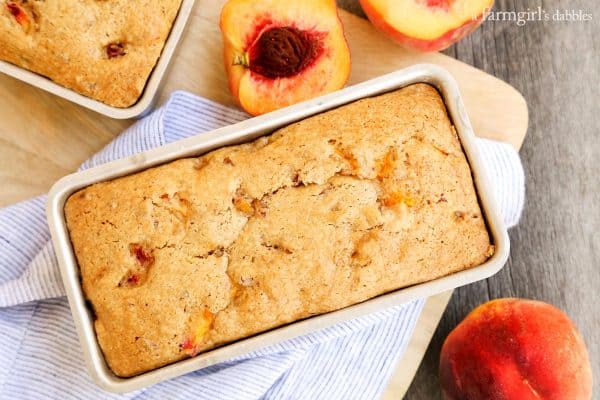 This Peach Bread is a dense one. When I was stirring the peaches into the batter, I actually checked the recipe twice, wondering if I measured everything correctly. Because the batter was so thick.
I especially love the texture of this quick bread's top. It's almost chewy, with just a bit of crisp to it. And under that top is a moist and flavorful center, with chunks of ripe peaches adding tender bites of sweetness.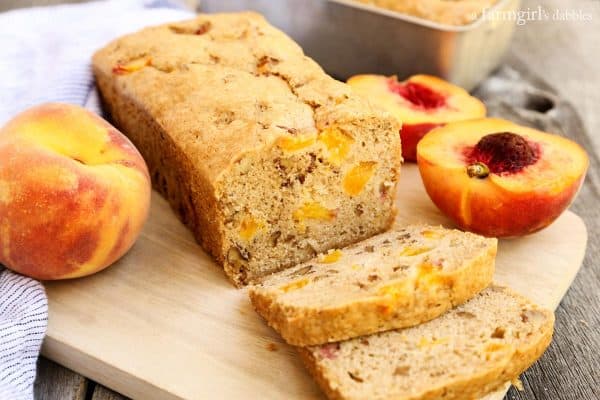 And the nuts, ohhhhhhh the nuts! I like to use roasted and salted pecans, which add just a little somethin'-somethin' extra. Roasted nuts always add deeper flavor than non-roasted, and almost every baking recipe is made just that much better with a simple touch of salt.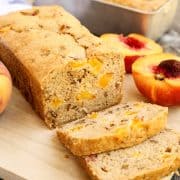 Peach Bread
Yield: 2 loaves
Cook Time:55 minutes
Ingredients:
3 c. all-purpose flour
1 T. baking powder
1 T. cinnamon (Use less if you're not such a big fan of cinnamon.)
1 tsp. kosher salt
3 large eggs
1-1/2 c. sugar
1/2 c. cooking oil (I use canola.)
1 T. pure vanilla extract
2 c. peeled and chopped fresh peaches, about 1/2″ pieces
1 c. chopped toasted and salted pecans (I like Trader Joe's "Toasted and Salted Pecan Halves".)
Directions:
Preheat oven to 325° F.
Lightly spray the insides of two smaller loaf pans – mine measure 7-1/2″ x 3-3/4″. Set aside.
In large mixing bowl, stir together flour, baking powder, cinnamon, and salt. In a medium mixing bowl, beat eggs. Stir in sugar, oil, and vanilla.
Add egg mixture to dry ingredients, stirring until just moistened, taking care to not overmix. Fold in the peaches and nuts. Spoon batter into the prepared pans. Bake for 55 to 60 minutes, or until a wooden toothpick inserted near the center of each loaf comes out just barely clean. My pans are slightly less than a regular 8″ x 4″ size, so you may need to adjust baking time according to your own pan size. Cool in the pans on wire racks for 10 minutes. Then loosen edges with a bread knife and remove loaves from pans. Cool completely on wire racks. Wrap and store overnight for easier slicing.
Adapted very slightly from Midwest Living magazine – originally from Sue Landon, owner of The Homeridge Bed and Breakfast near Jerseyville, IL.
© a farmgirl's dabbles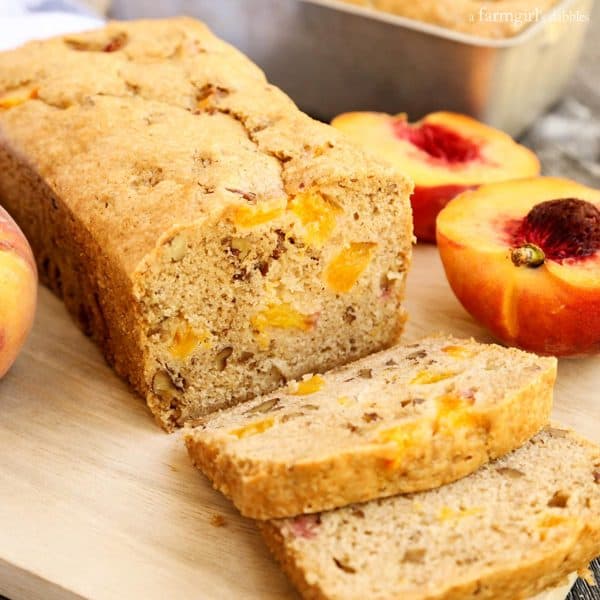 Here are a few more peach recipes you might enjoy:
This post was previously published September 2010. Photographs of peach bread and some of the text were updated September 2016.
We participate in the Amazon Services LLC Associates Program, an affiliate advertising program designed to provide a means for us to earn fees by linking to Amazon.com and affiliated sites. See our disclosure policy for more info.