Perfect Peach Cake
This Perfect Peach Cake recipe is made with fresh, ripe peaches. It makes a delicious homemade cake that goes great with coffee or tea!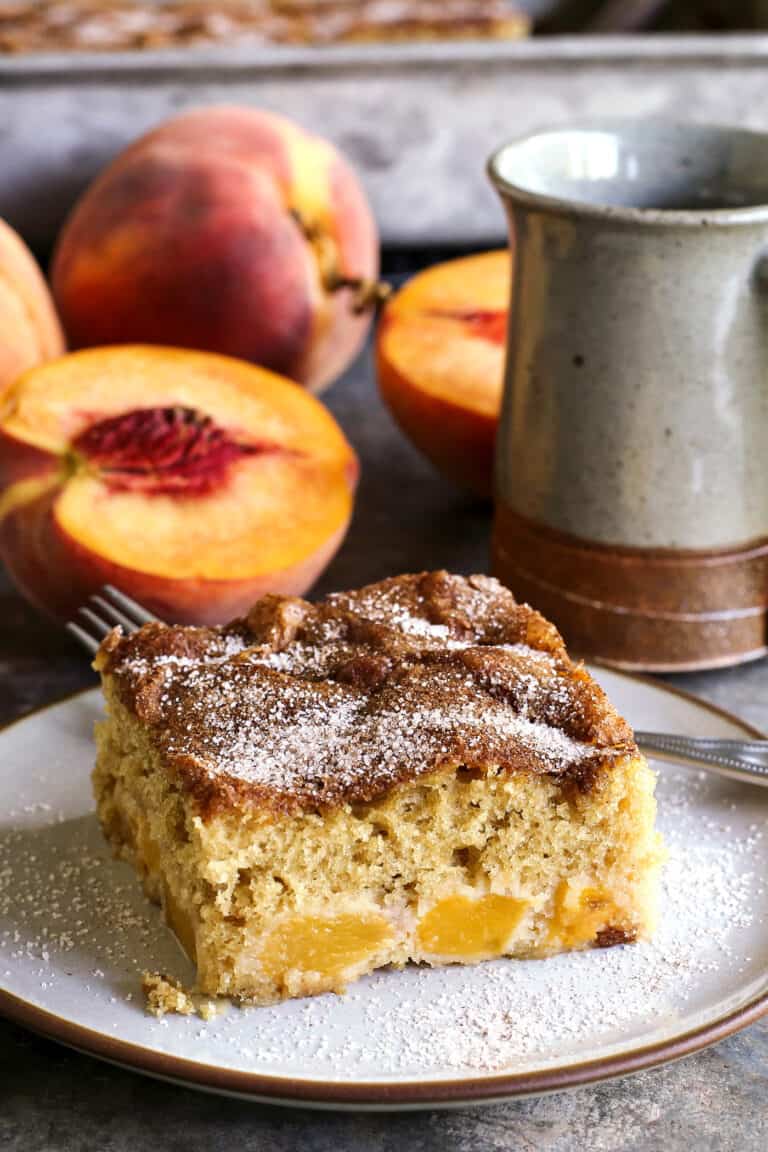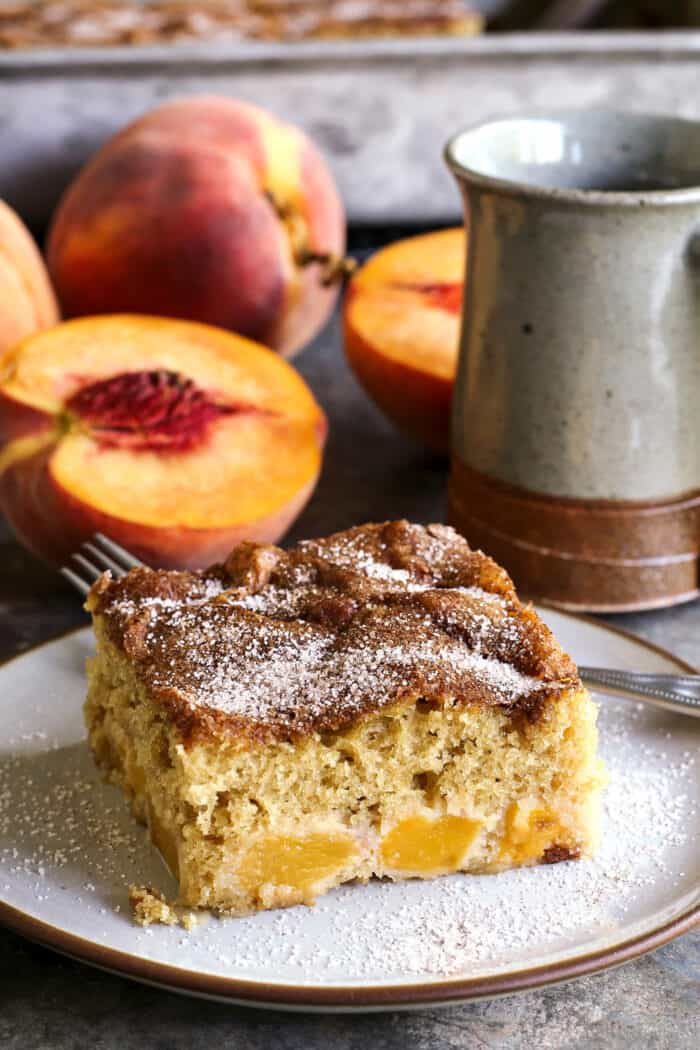 My Family Loves The Fresh Peaches In This Coffee Cake
Each year, we order a box of peaches from our church's youth group. Big, beautiful, and super juicy, these gorgeous sweet fruits are the perfect end-of-summer treat.
While I mostly enjoy these peaches fresh – with my morning bowl of yogurt or cereal, or atop a fresh lunch salad – I always find at least a couple things to bake. Like Peach Bread, Almond Peach Squares, or my absolute favorite pie in the whole wide world >>> my mom's Peach Pie.
Another popular contender is this Perfect Peach Cake. We've been making this recipe for many years.
It's a very comfortable sort of cake that begs you to sit down, take a load off, and just enjoy the moment. With cheery bites of sweet peaches and a thin crust of cinnamon sugar over the top, this tender cake reassures you that enjoying the here and now is the right thing to do.
No wallowing in "I-don't-want-summer-to-end" allowed!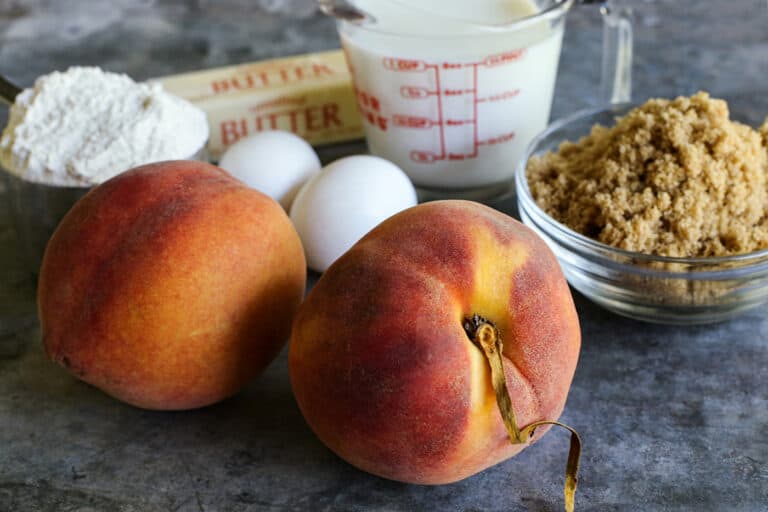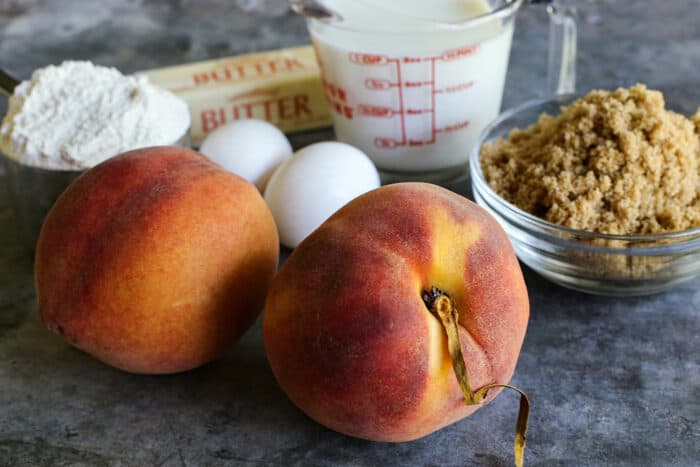 Peach Cake Ingredients
When it comes to a homemade cake recipe, it doesn't get much easier than this one with fresh peaches. Grab the following ingredients and let's bake this awesome summer cake!
Unsalted Butter – I prefer to use unsalted butter, so I can control the amount of salt.
Brown Sugar – I love the richer flavor that brown sugar gives to this cake!
Eggs
Pure Vanilla Extract – Please don't use imitation vanilla extract, it's just not the same!
All-Purpose Flour
Baking Soda
Kosher Salt
Buttermilk – This gives the cake a super tender crumb and beautiful flavor. I recommend that you don't substitute buttermilk; find more info in the FAQ's at the end of this post.
Fresh Peaches – Use ripe, sweet, juicy peaches for the best peach cake. Peel the peaches, and then slice them into 1/2″ to 1″ chunks.
Sugar – This gets sprinkled over the top of the cake batter with some cinnamon, and bakes into a delicate crispy top layer.
Cinnamon – so delightful with fresh peaches!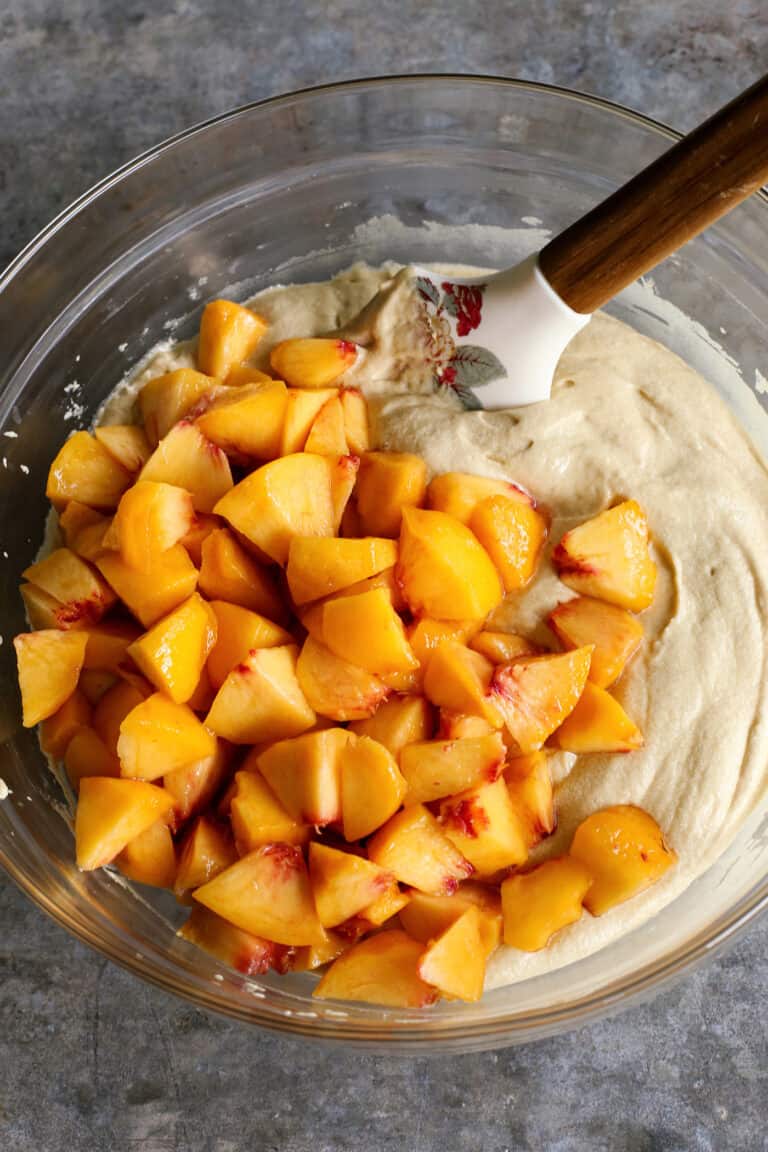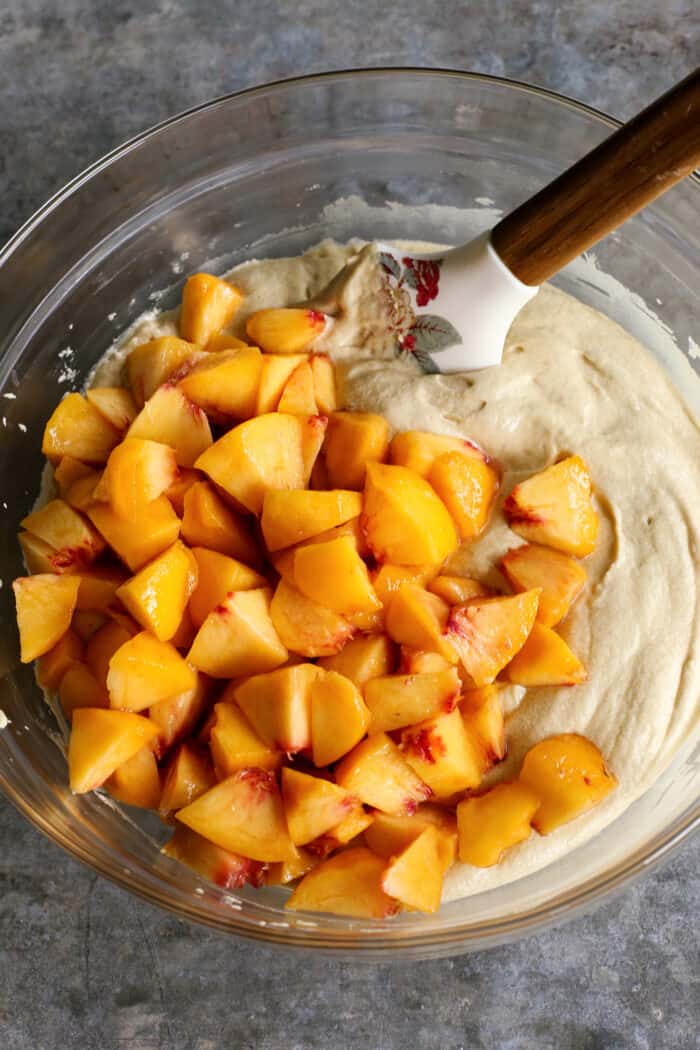 How To Make This Peach Cake
I can have this cake in the oven in less than 20 minutes. Here's how to make it!
Prep: Preheat oven to 350° F. Lightly spray a 9″ x 13″ pan with non-stick spray and set aside.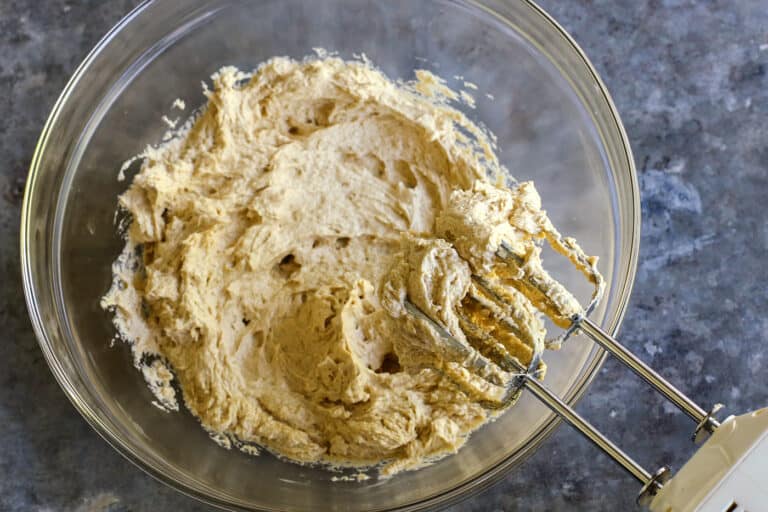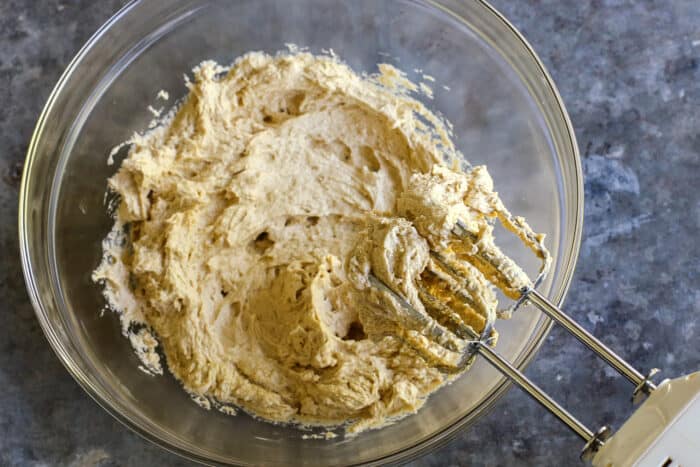 Mix: In a large bowl, with a mixer, beat butter and brown sugar until light and fluffy. Add eggs and vanilla, and beat again.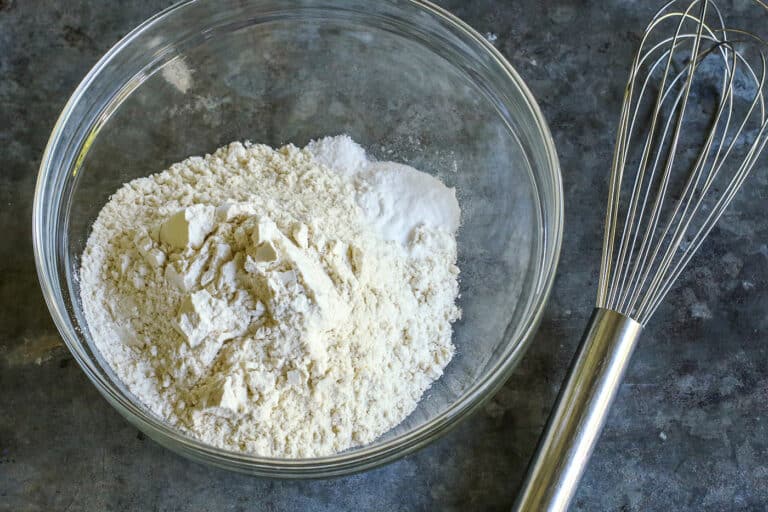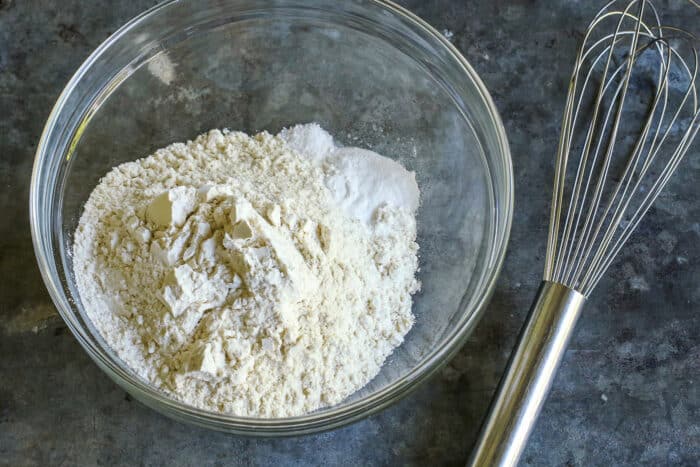 Whisk: In a medium bowl, whisk together flour, baking soda, and salt.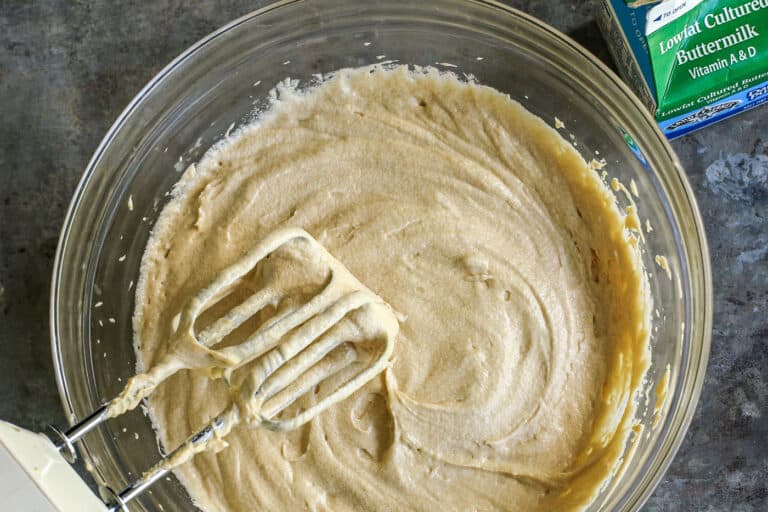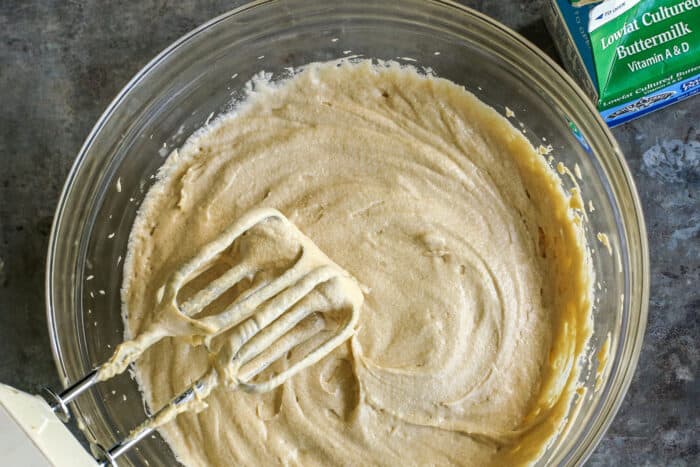 Mix again: With a mixer, beat flour mixture into butter/sugar mixture, alternating with the buttermilk.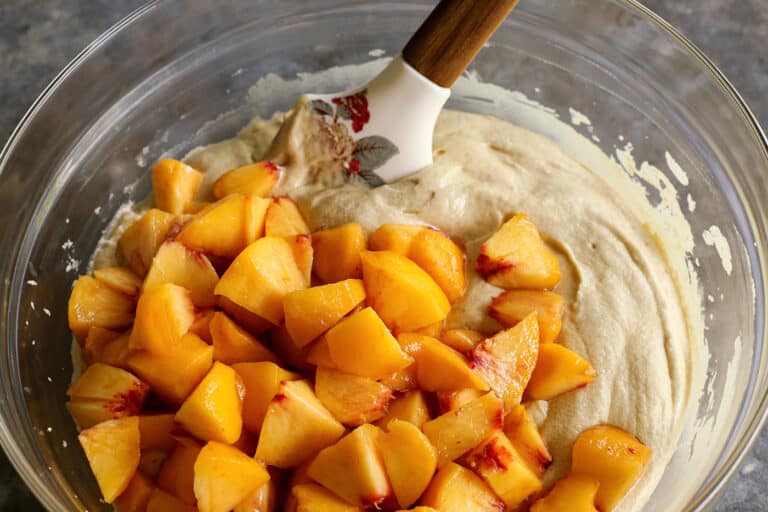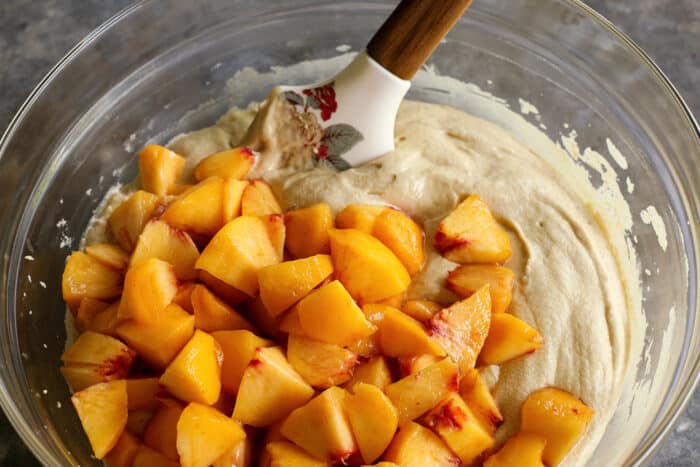 Add the good stuff! Gently fold in fresh peach chunks.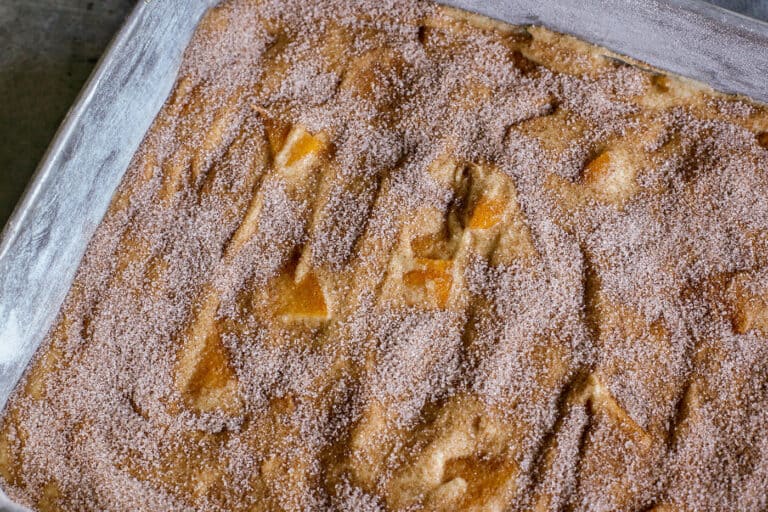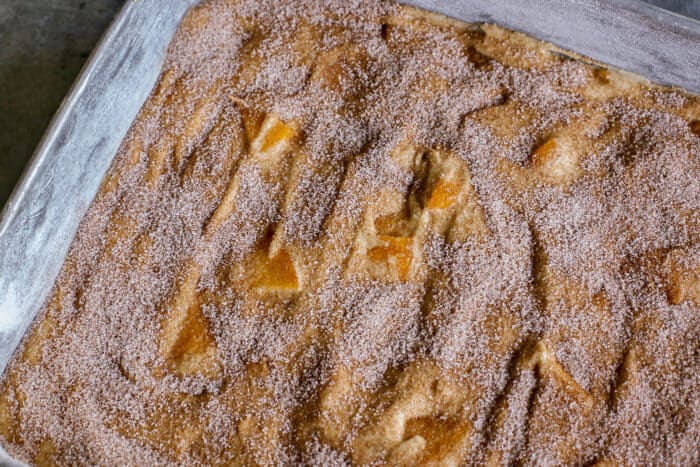 Spread and sprinkle: Pour cake batter into pan. Then combine sugar and cinnamon in a small bowl, and sprinkle over top of batter.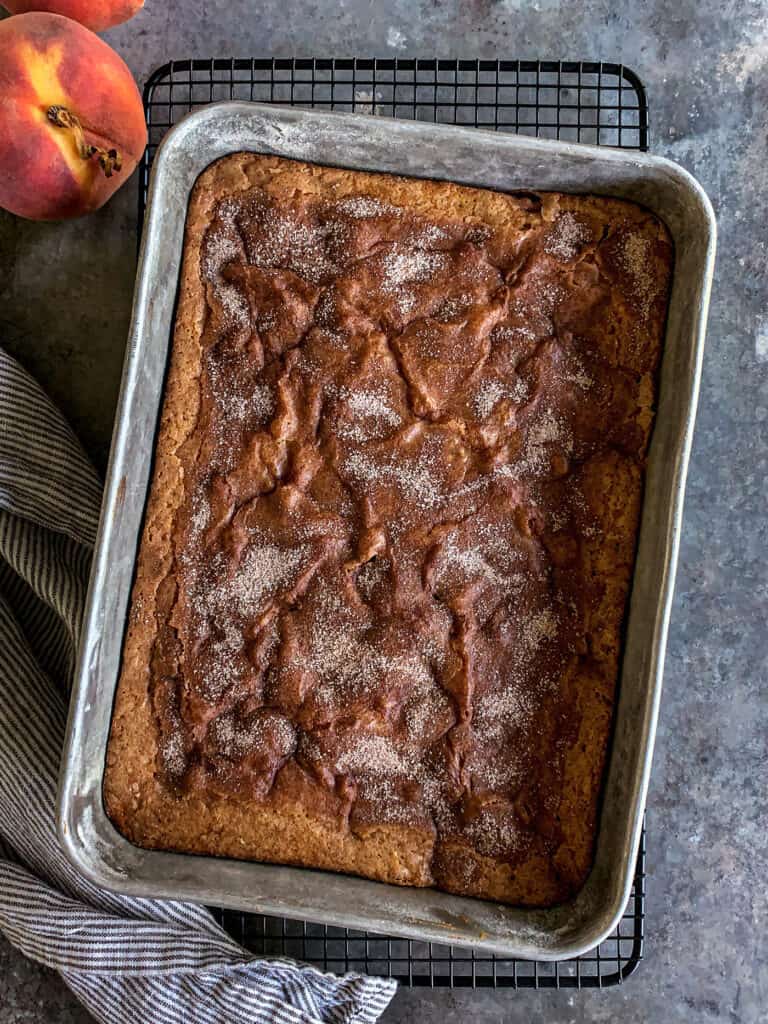 Bake: Place in the oven for 38 to 45 minutes, or until a toothpick inserted near the center comes out clean. Metal pans will usually require less baking time than glass, just FYI.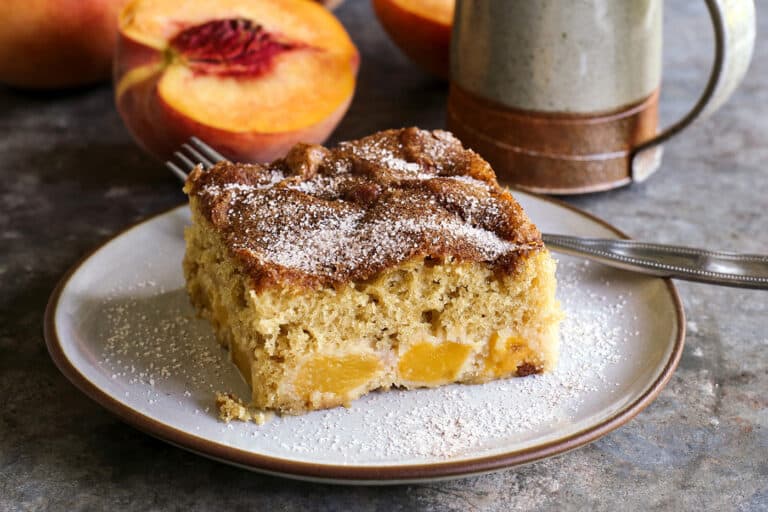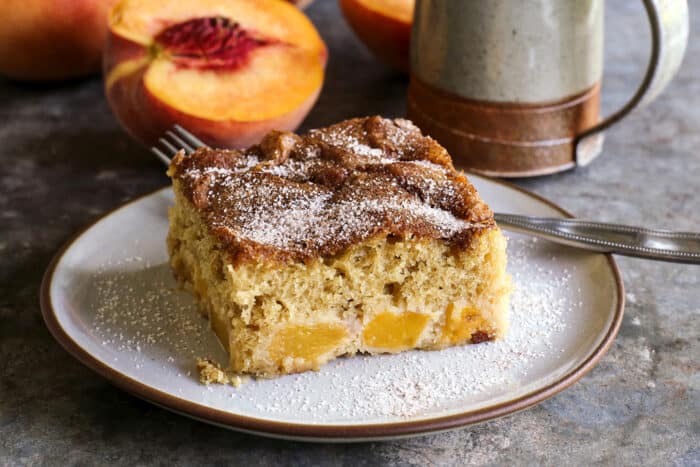 Serve: I recommend serving this cake while it's still a bit warm. There's just nothing like warm, tender, juicy peaches!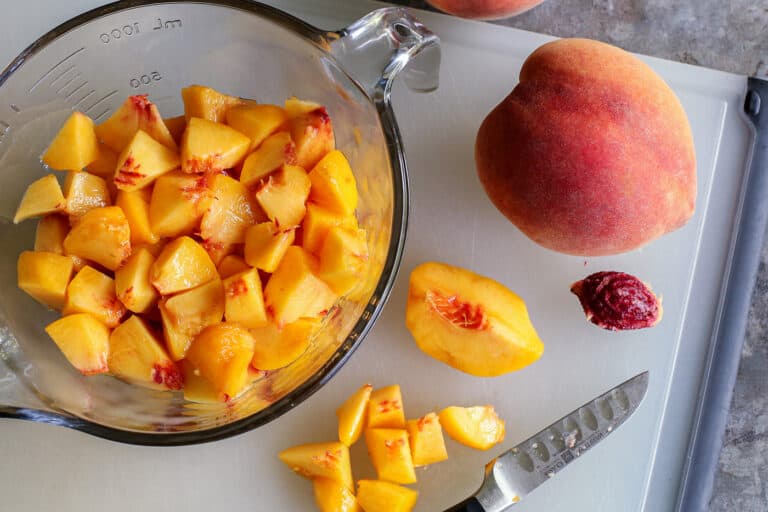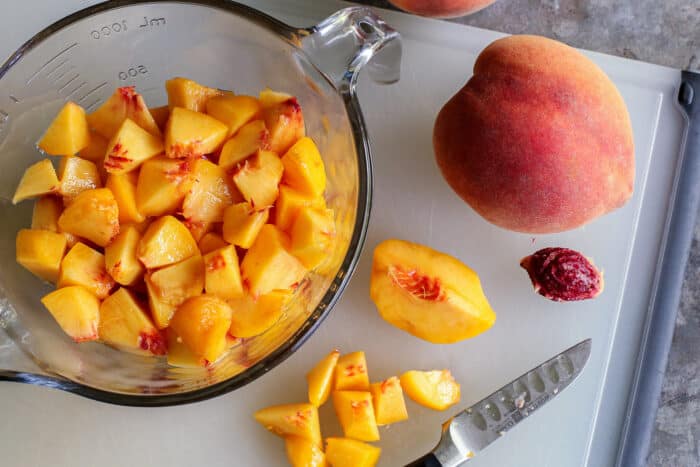 How To Peel Peaches
When peaches are perfectly ripe, they usually peel very easily. All you need to do is get a sharp paring knife under the skin and start pulling it away from the peach flesh.
But when the peeling isn't going so smoothly, I rely on the easy blanching method that Mom taught me when I was young:
Soak: Place peaches in boiling water for 10 to 20 seconds, or until skin starts to split.
Cool: With a slotted spoon, remove peaches to an ice water bath to cool them down quickly and stop them from cooking.
Peel: Use a sharp paring knife to peel away the skin – it should come off very easily. If not, return any stubborn peaches to the boiling water for a few seconds more.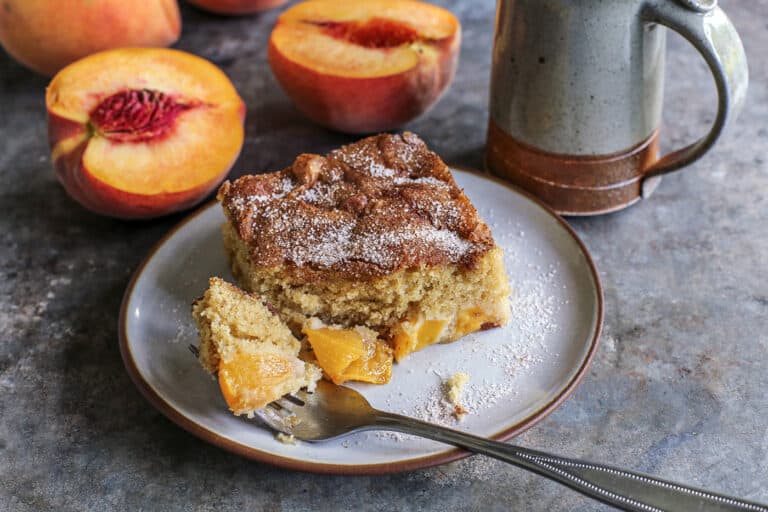 FAQs About This Cake
When people want to bake this cake, here are the questions I hear most often:
"Can I use frozen peaches in this cake?" The beauty of this cake, for me, is that I really only make it when peaches are in season. Those gorgeous peaches make this recipe "an event" to look forward to each summer. But I hear you. Sometimes you're just craving peach cake. In that case, go ahead and use frozen peaches. I recommend letting the frozen peach pieces thaw, and then lightly draining any accumulated juices.
"Can I use canned peaches?" See my response to the use of frozen peaches, above. And if given the choice between frozen or canned peaches for this recipe, I'd definitely choose frozen, as I think they have a fresher peach taste and texture.
"What if I don't have buttermilk? Can I use a substitute?" I know that there are plenty of people who make their own buttermilk substitute by combining milk and vinegar. But I've just never been a fan. I always believe that recipes turn out much better when I use real buttermilk. If you have any leftover buttermilk, use it in Buttermilk Ranch Dressing, Orange and Dark Chocolate Scones, or my family's favorite Buttermilk Pancakes!
Like this recipe? Save it to Pinterest!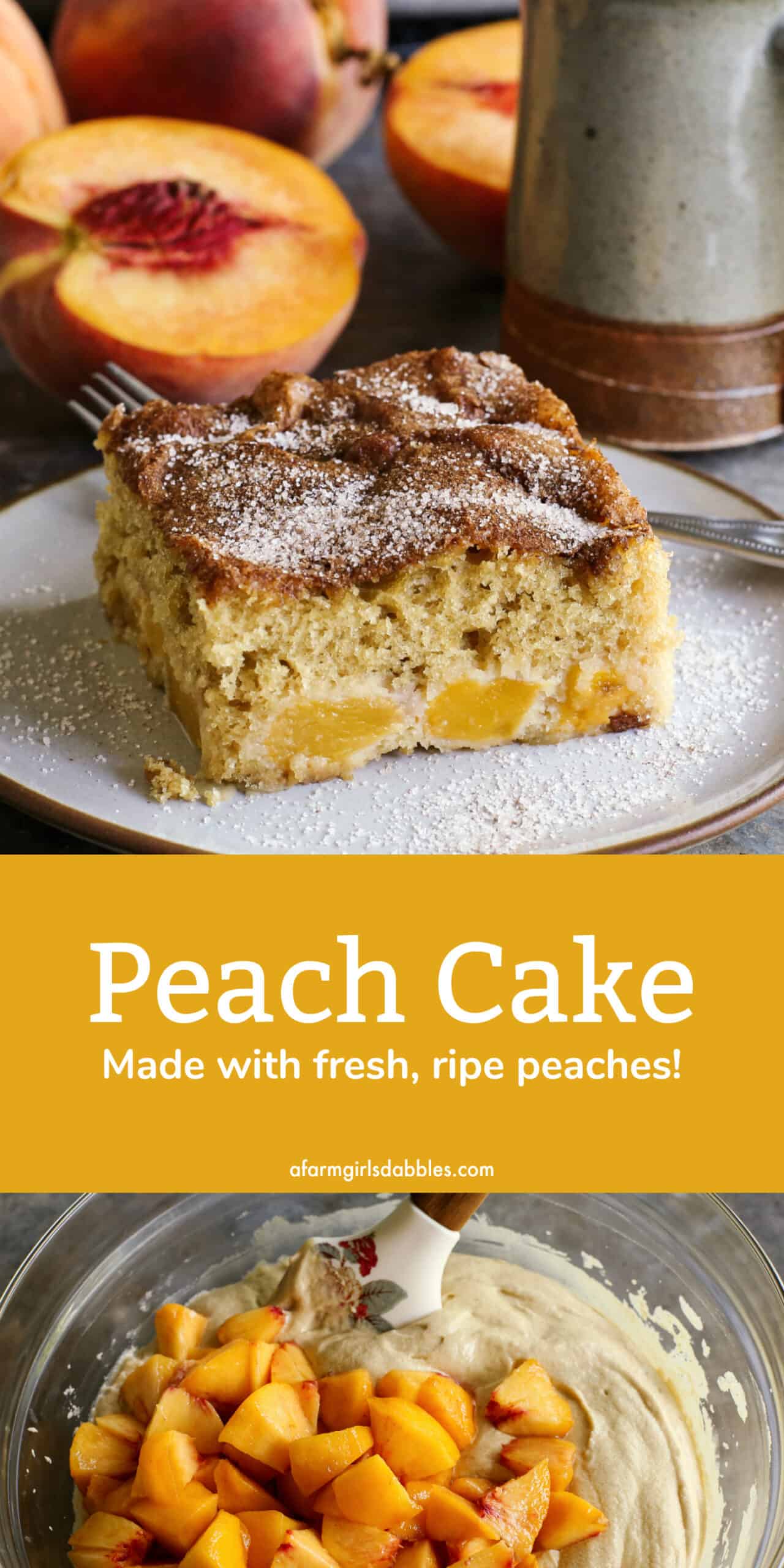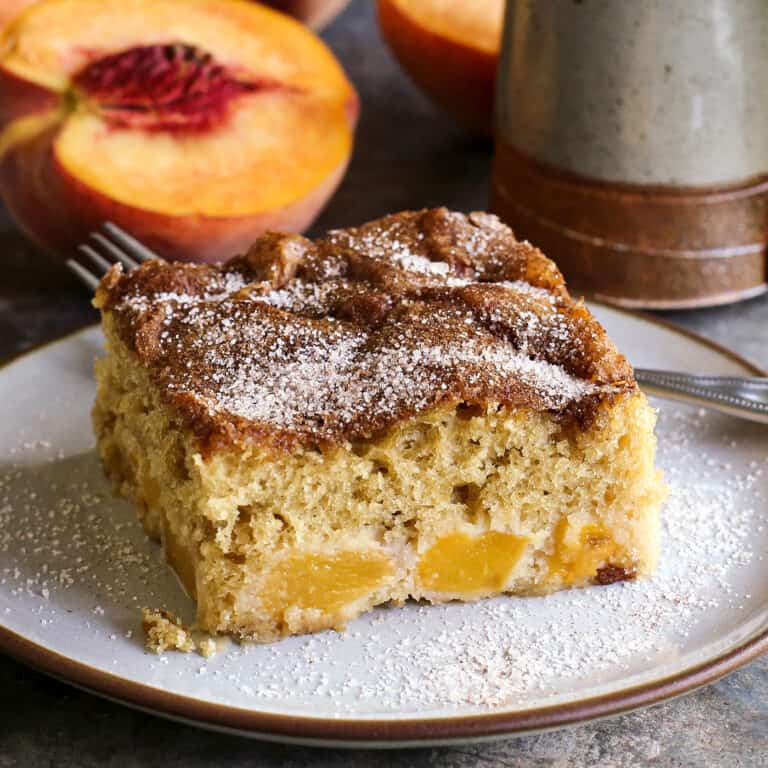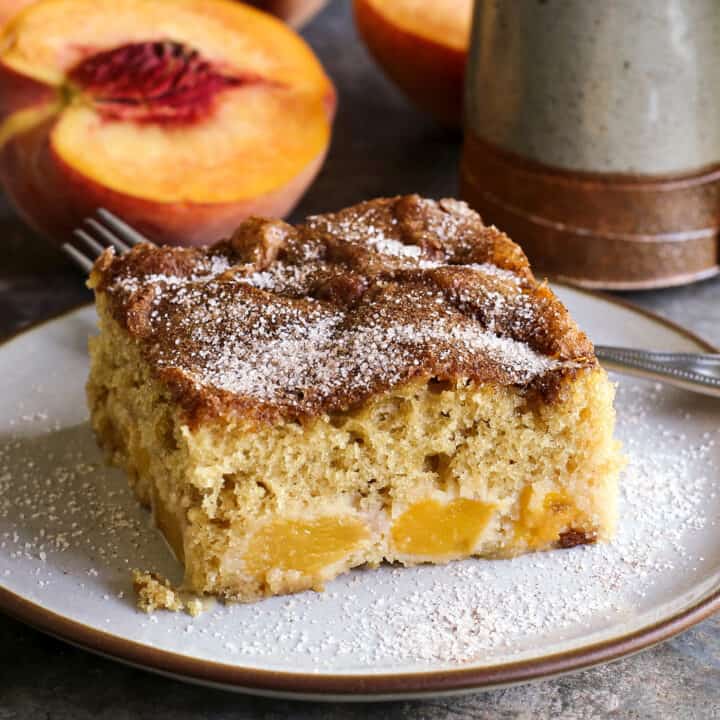 Perfect Peach Cake
Yield: 12 servings
Prep Time: 20 minutes
Cook Time: 45 minutes
Total Time: 1 hour 5 minutes
This Perfect Peach Cake recipe is made with fresh ripe peaches for a delicious homemade cake that goes great with coffee or tea.
Ingredients
2/3 c. butter, softened
1.5 c. packed brown sugar
2 large eggs
1 tsp. pure vanilla extract
2 c. flour
1 tsp. baking soda
1/8 tsp. salt
1 c. buttermilk
3 c. chopped fresh peaches (from about 3 large peaches - peeled and sliced into 1/2" to 1" chunks)
1/4 c. sugar
1 tsp. cinnamon
Instructions
Preheat oven to 350° F. Lightly spray a 9" x 13" pan with non-stick spray (or grease and flour), and set aside.
In a large mixing bowl, beat the butter and brown sugar with an electric mixer until light and fluffy.
Then beat in eggs and vanilla.
In a medium bowl, stir together flour, baking soda, and salt. Gradually add flour mixture to the creamed butter and brown sugar, alternating with the buttermilk. Beat until smooth after each addition.
Gently fold in the peaches with a spatula. Then pour batter into prepared pan.
In a small bowl combine the sugar and cinnamon. Sprinkle over the batter.
Bake for 38 to 45 minutes, or until a toothpick inserted near the center comes out clean. Metal pans will usually require less baking time than glass. Serve warm.
Notes
Adapted from Penzeys Spices, originally from Maggie Dennis of Findlay, OH.
Nutrition Information:
Yield: 12
Serving Size: 1
Amount Per Serving:
Calories: 304
Total Fat: 12g
Saturated Fat: 7g
Trans Fat: 0g
Unsaturated Fat: 4g
Cholesterol: 59mg
Sodium: 267mg
Carbohydrates: 47g
Fiber: 1g
Sugar: 30g
Protein: 4g
Nutrition information is automatically calculated by Nutritionix. I am not a nutritionist and cannot guarantee accuracy. If your health depends on nutrition information, please calculate again with your own favorite calculator.
I updated this post in 2020 to include more information. See below for some of the original post content from 2010.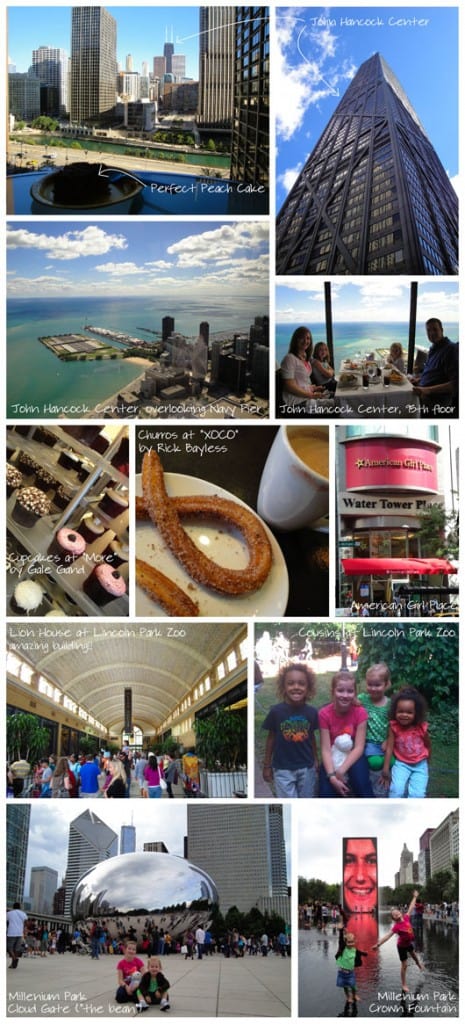 A number of years ago, we received our box of peaches two days before our family was leaving on a mini-vacay to Chicago over Labor Day weekend. We ate many of them in their purest form those first couple days, with juice running down to our elbows. But I just had to bake something with them before we left. Had to!
So I quickly turned out this simple and tasty Perfect Peach Cake…
We managed to eat half of it before our departure to Chicago, and the remainder was packed up for the road trip. It made for the perfect breakfast in pajamas the following morning. The girls sat at the base of our hotel room's floor-to-ceiling window, peach cake in hand, watching Chicago wake up. They were captivated.
Now, how's that for enjoying an end-of-summer moment?!
This post was originally published in 2010, and then updated with some new photos and information in 2020.