Blueberry Lemonade
This easy Blueberry Lemonade recipe is the perfect summertime drink! It's fruity and refreshing with tart lemons and sweet blueberries. Enjoy this pretty homemade lemonade on its own, or with a splash of sparkling water – or add some vodka for a summery cocktail!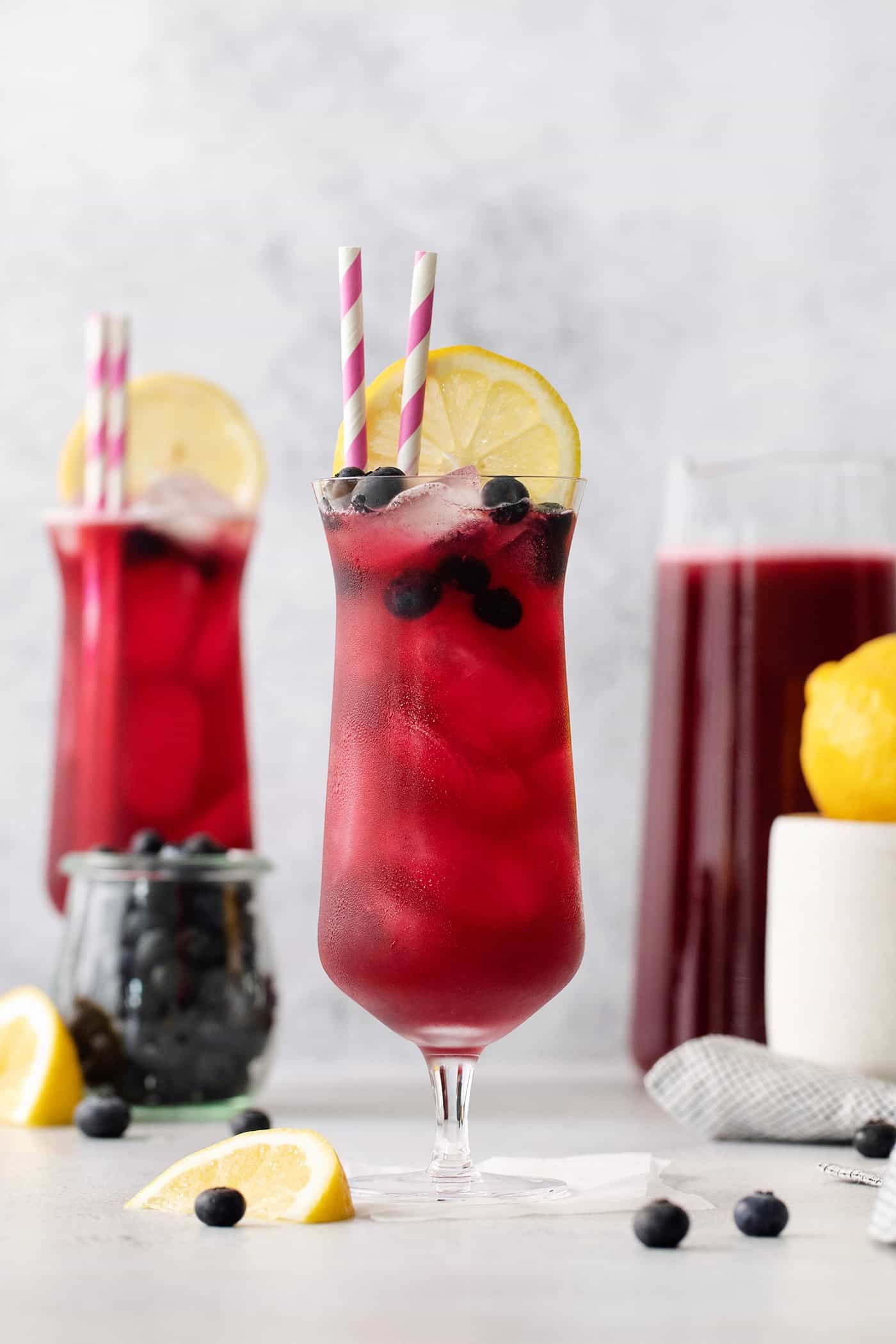 Fresh Blueberry Lemonade Recipe
This Blueberry Lemonade recipe is a family favorite, and it's been on repeat this summer!
You only need 4 ingredients to make this homemade blueberry lemonade – and it's super easy to make. With just the right balance of sweet and tart, it's SO refreshing on a hot summer day. The pitcher always disappears fast!
Our family became blueberry lemonade lovers many years ago when we ordered our first blueberry basil lemonade at the Minnesota State Fair. If you like basil, it's a beautiful addition to this classic blueberry lemonade recipe – do check it out!
We have many blueberry recipes to share – everything from blueberry jam to blueberry margaritas, plus this easy blueberry dump cake and my grandma's blueberry muffins with crumble topping!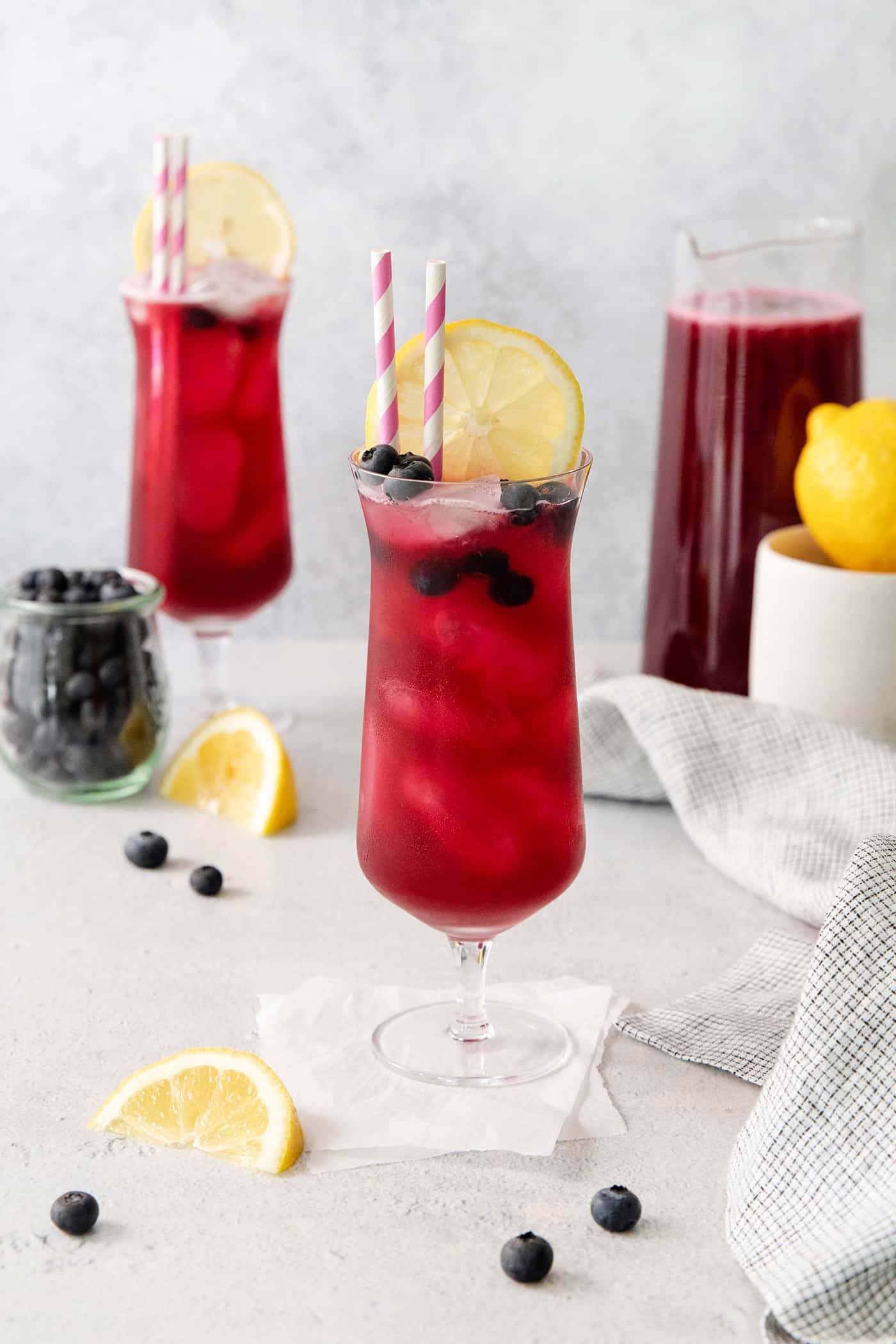 Why You'll Love This Homemade Lemonade
Here are a few reasons this lemonade has been on repeat at our house:
4 ingredients. This easy drink is made with only 4 ingredients – just lemons, blueberries, water, and sugar!
Perfect for summer. Not only is this perfect for the summer season, when fresh blueberries are plentiful and the best tasting, but it's also a light drink that's extra refreshing on hot summer days.
Great for a crowd. If you're looking for something you can easily serve to a big group, this blueberry lemonade is it. It's easy to double or triple the recipe.
Versatile. This drink is an all-around crowder pleaser. You can drink it as-is, make it tarter or sweeter, add some bubbles with sparkling water, or muddle in some fresh mint or basil. It also makes a great cocktail – just add a splash of vodka!
It's deeeeeeeelicious! This should go without saying, but its fun, delicious flavor is the #1 factor for our family. This blueberry twist on homemade lemonade is a favorite!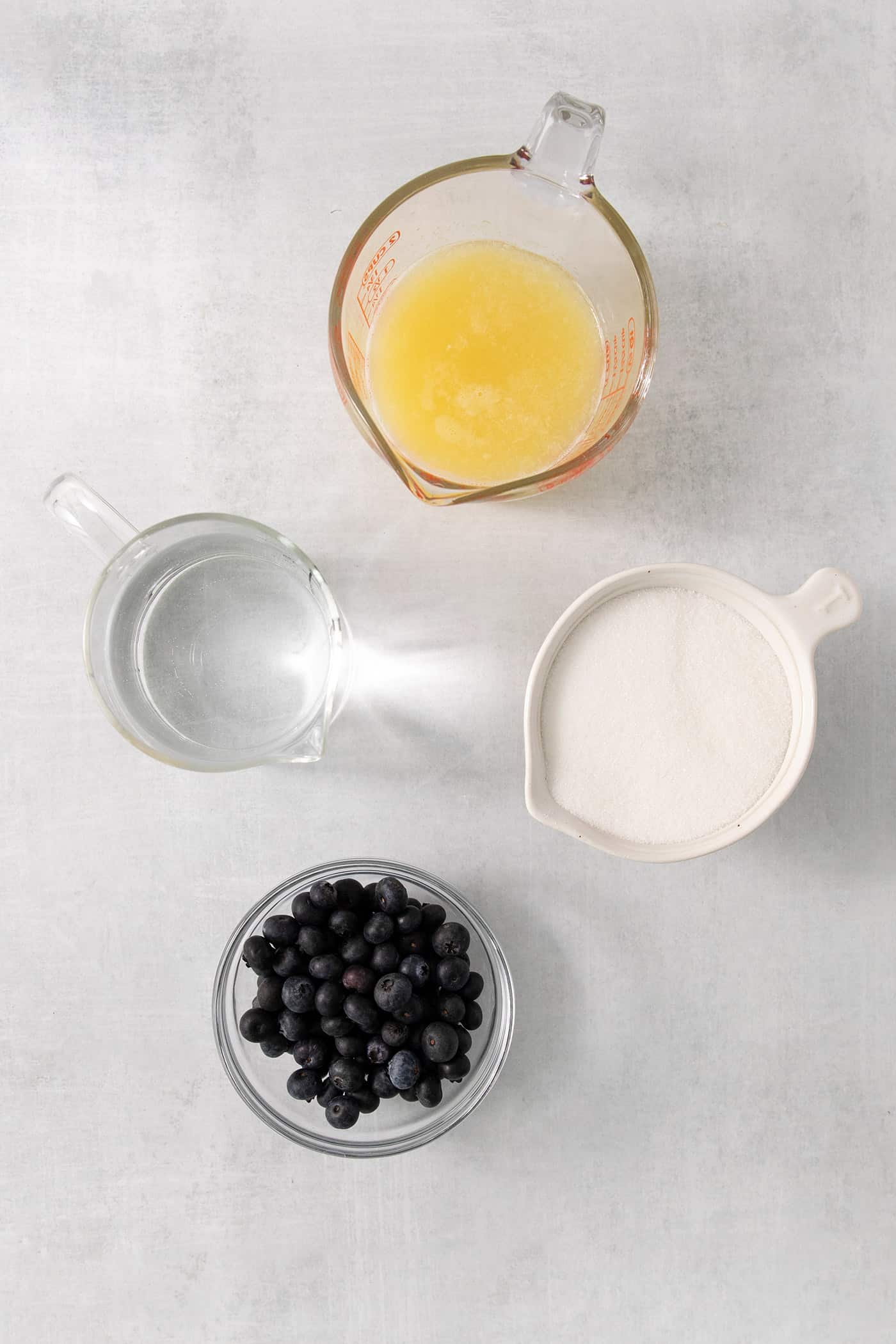 What You'll Need
This easy blueberry lemonade recipe is made with just 4 ingredients – including water!
See the recipe card below for exact ingredient measurements and full instructions.
Water – Water is the base of this lemonade and helps create the simple syrup.
Sugar – Granulated sugar sweetens the lemonade. If your blueberries aren't super sweet and flavorful, you might want to consider increasing the amount of sugar.
Blueberries – Blueberries add a fresh fruity flavor to the lemonade. I use fresh berries but frozen berries would also work.
Lemon juice – Freshly squeezed lemon juice is the key to great lemonade – bottled lemon juice will not taste the same!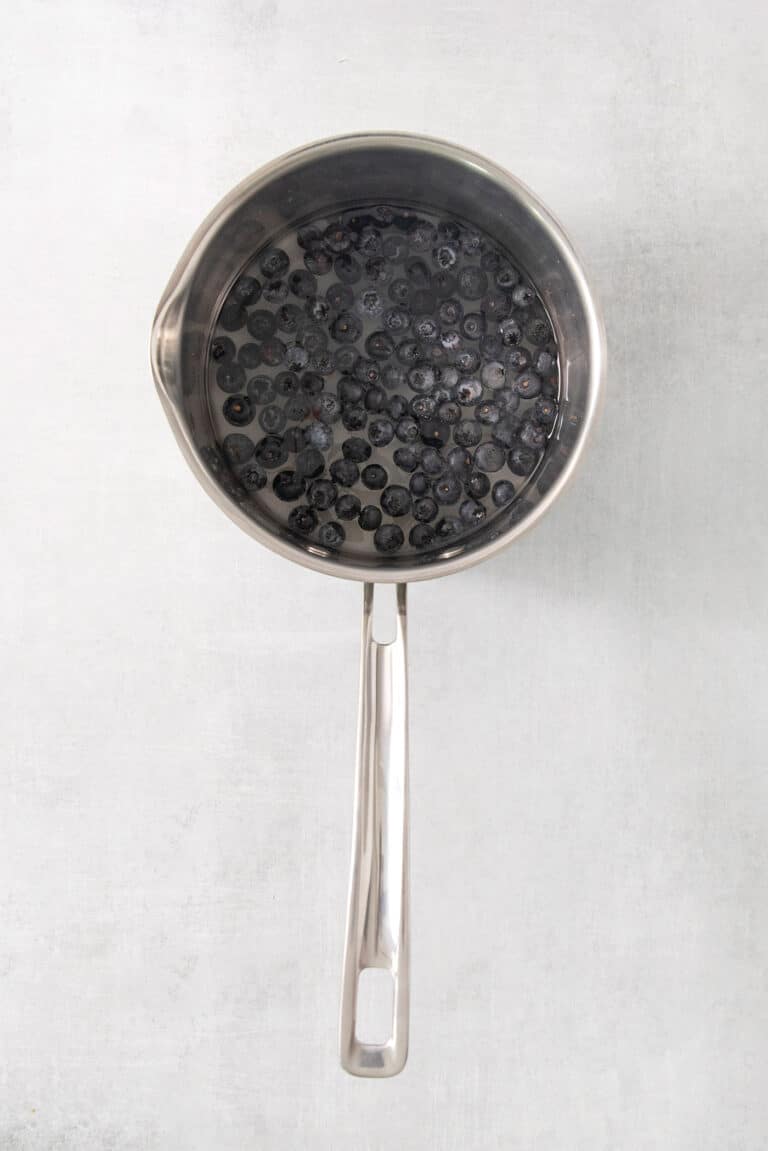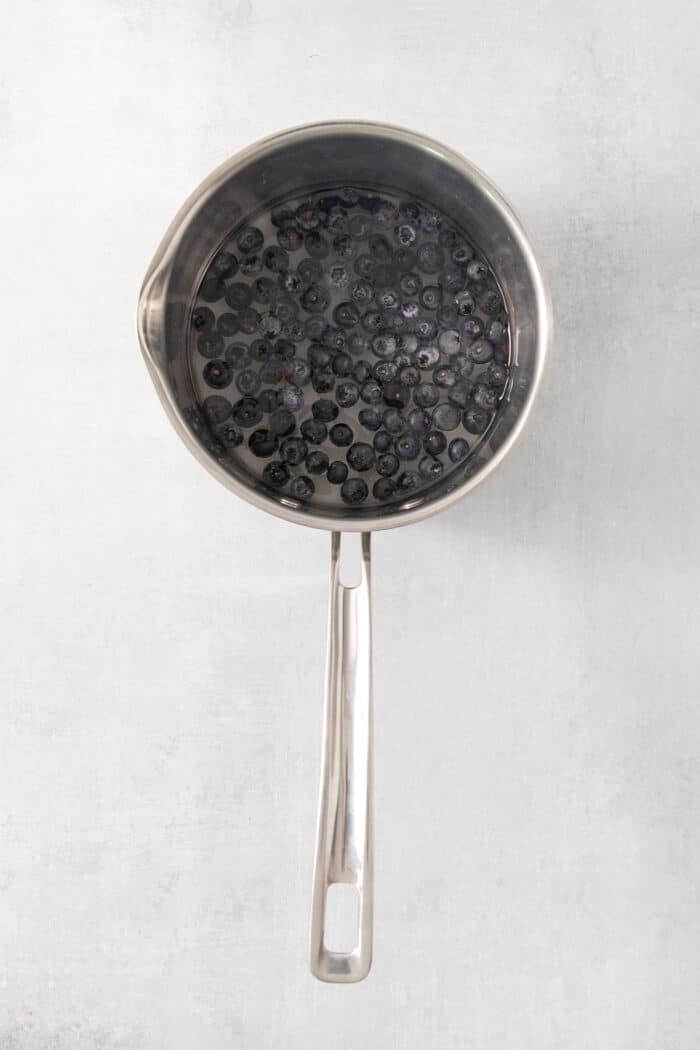 How to Make Blueberry Lemonade
Here's how to make your own lemonade with blueberries in just a few simple steps.
Make the blueberry syrup. Bring water, sugar and blueberries to a boil, then cook until the sugar has dissolved and the blueberries burst. Remove from heat and let cool.
Strain the blueberry syrup. Pour the sauce through a fine mesh sieve, stirring until the liquid has passed through the sieve. Discard the solids.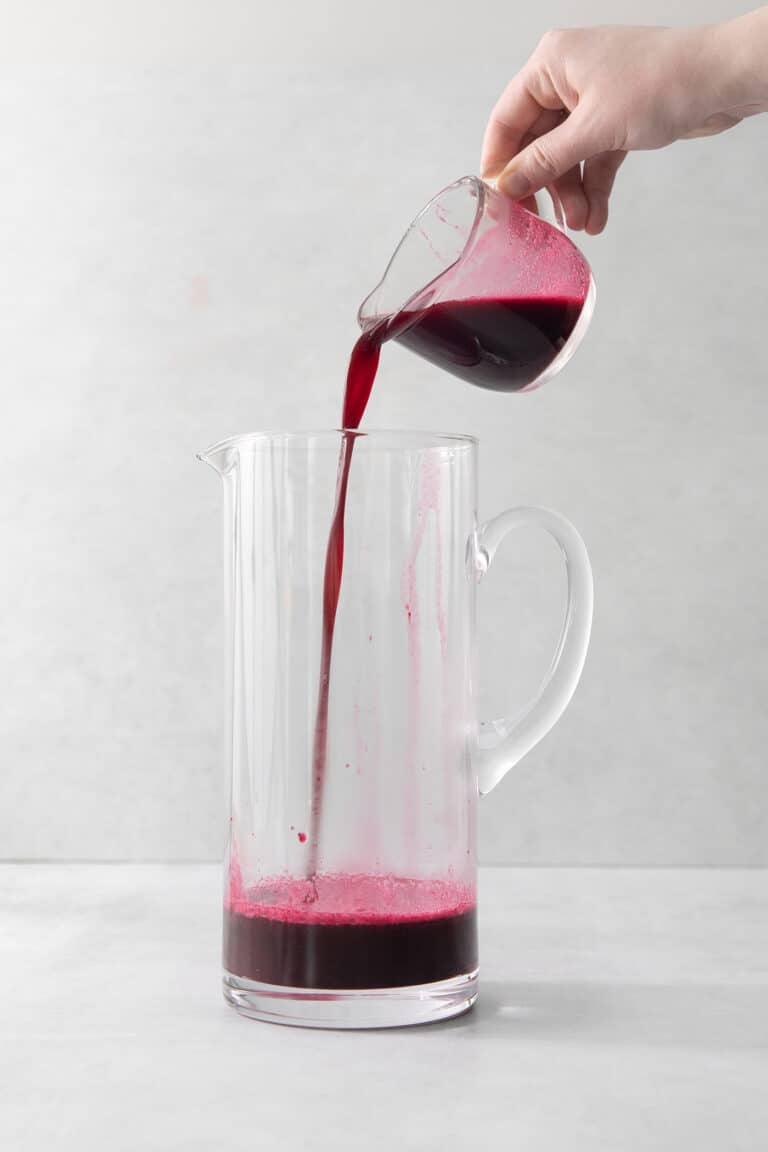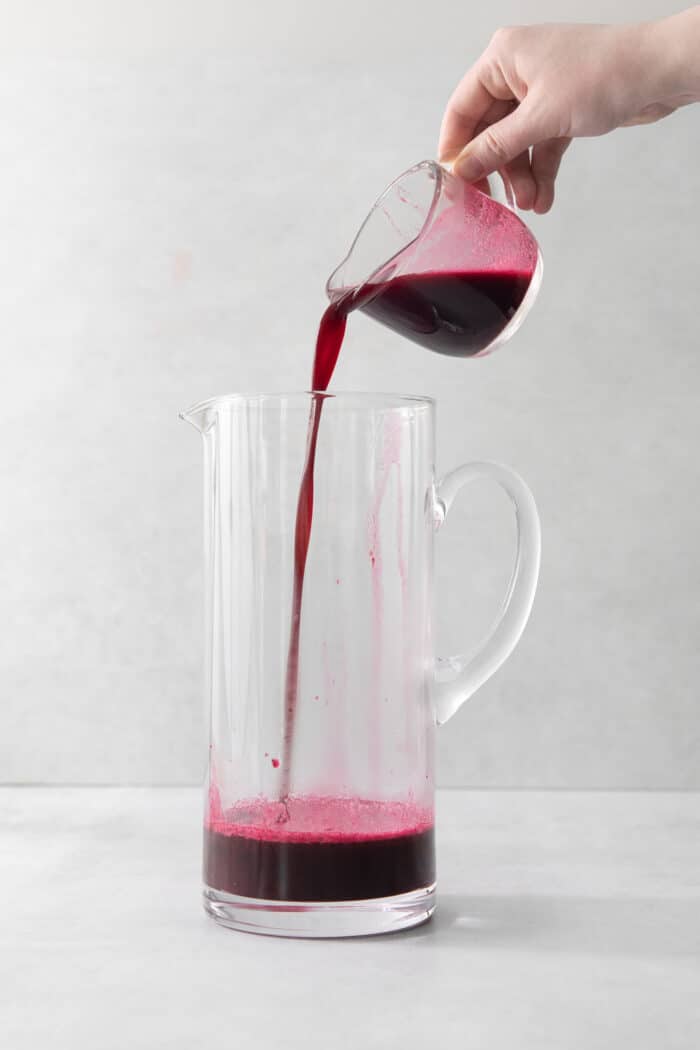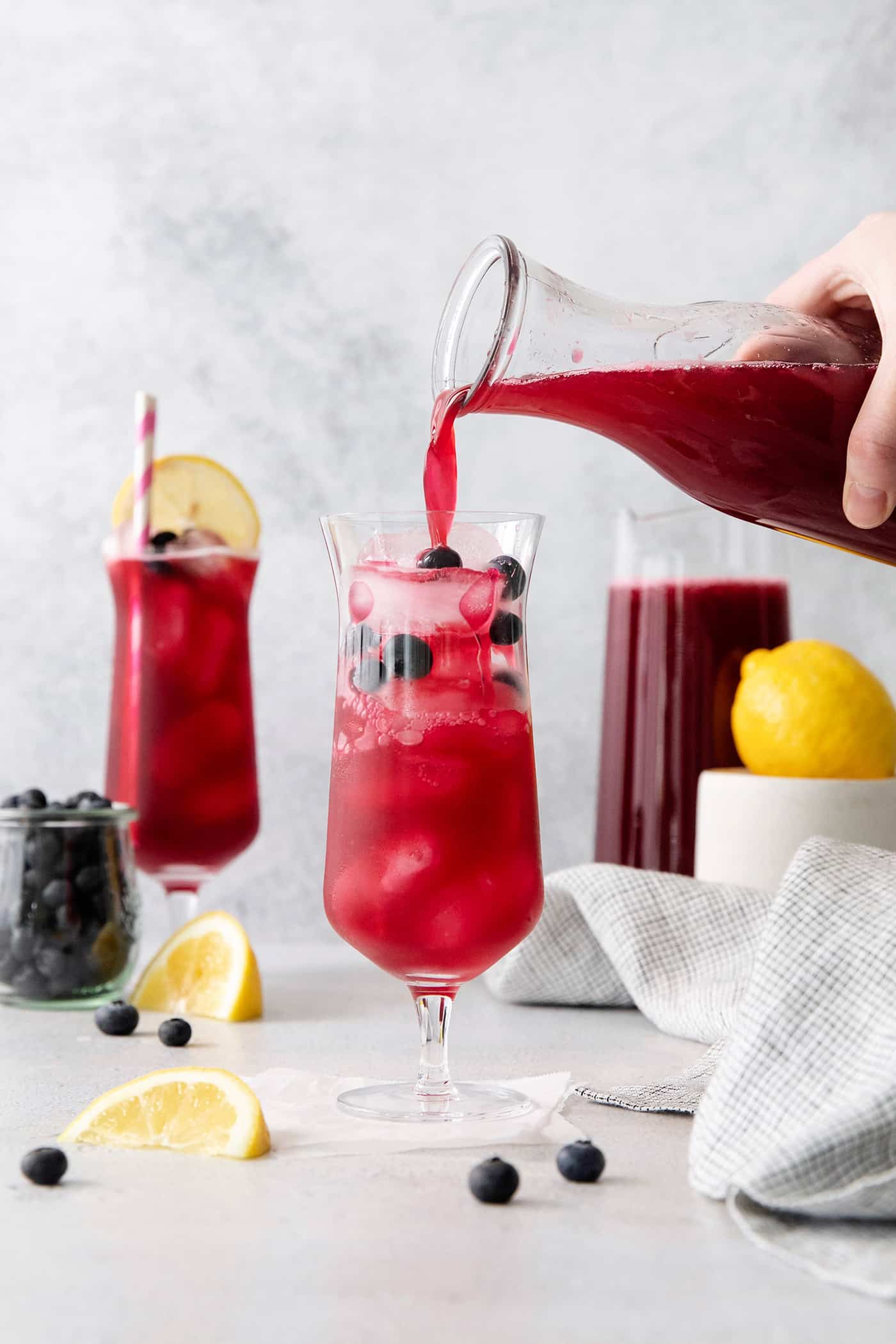 Combine the ingredients. Combine the blueberry syrup, lemon juice, and remaining water in a large pitcher. Stir and enjoy!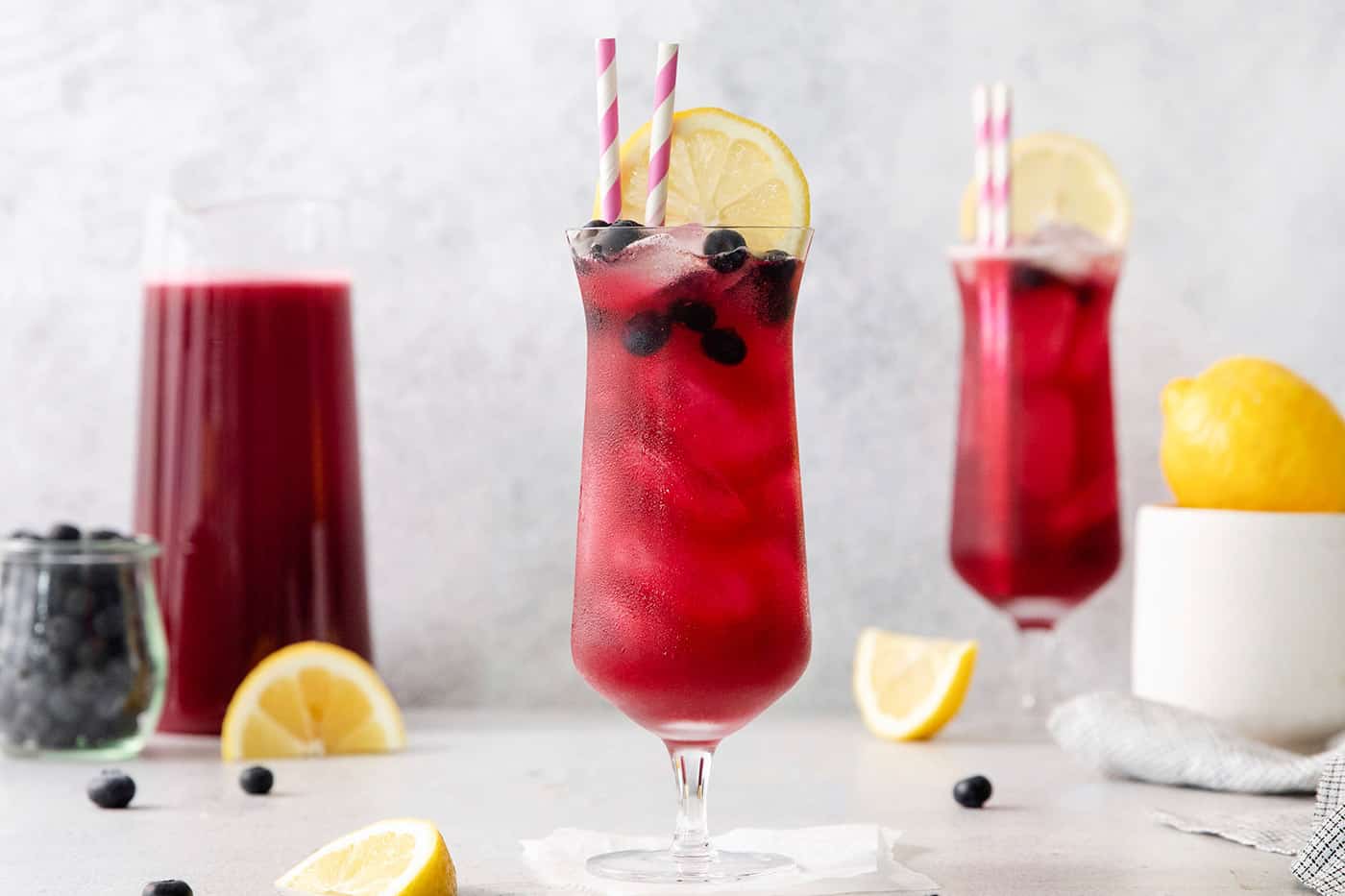 Tips & Variations
Here are a few tips for making the best blueberry lemonade, as well as a few variations.
Blend the blueberry syrup. If desired, you can use an immersion blender to puree the blueberry mixture until smooth before pouring it through the sieve. This makes it easier to strain and extracts the most blueberry flavor and vibrant color for the blueberry syrup.
Fresh lemon juice only! Do not use bottled lemon juice for homemade lemonade! It just will not taste the same.
Turn it into a cocktail. You can easily make this a blueberry vodka lemonade by adding vodka to the pitcher or to individual glasses. Bourbon is also good!
Make it sweeter or tarter. Everyone has different preferences – so alter this recipe to suit your own taste buds. Use more or less sugar, add more or less lemon juice – it's totally up to you.
Use sparkling water. For a bit of effervescence, you can replace the 5 cups of water in Step 5 with sparkling water. Note that you'll want to drink the lemonade right away if you choose this option, as the bubbles will dissipate with time.
Include other berries. You could also include raspberries, blackberries, or strawberries when making the blueberry syrup.
Muddle with herbs. We love a blueberry basil lemonade, which includes steeping fresh basil in the blueberry syrup. You can also get a similar flavor effect by muddling fresh basil leaves in your blueberry lemonade. Fresh mint would also be lovely!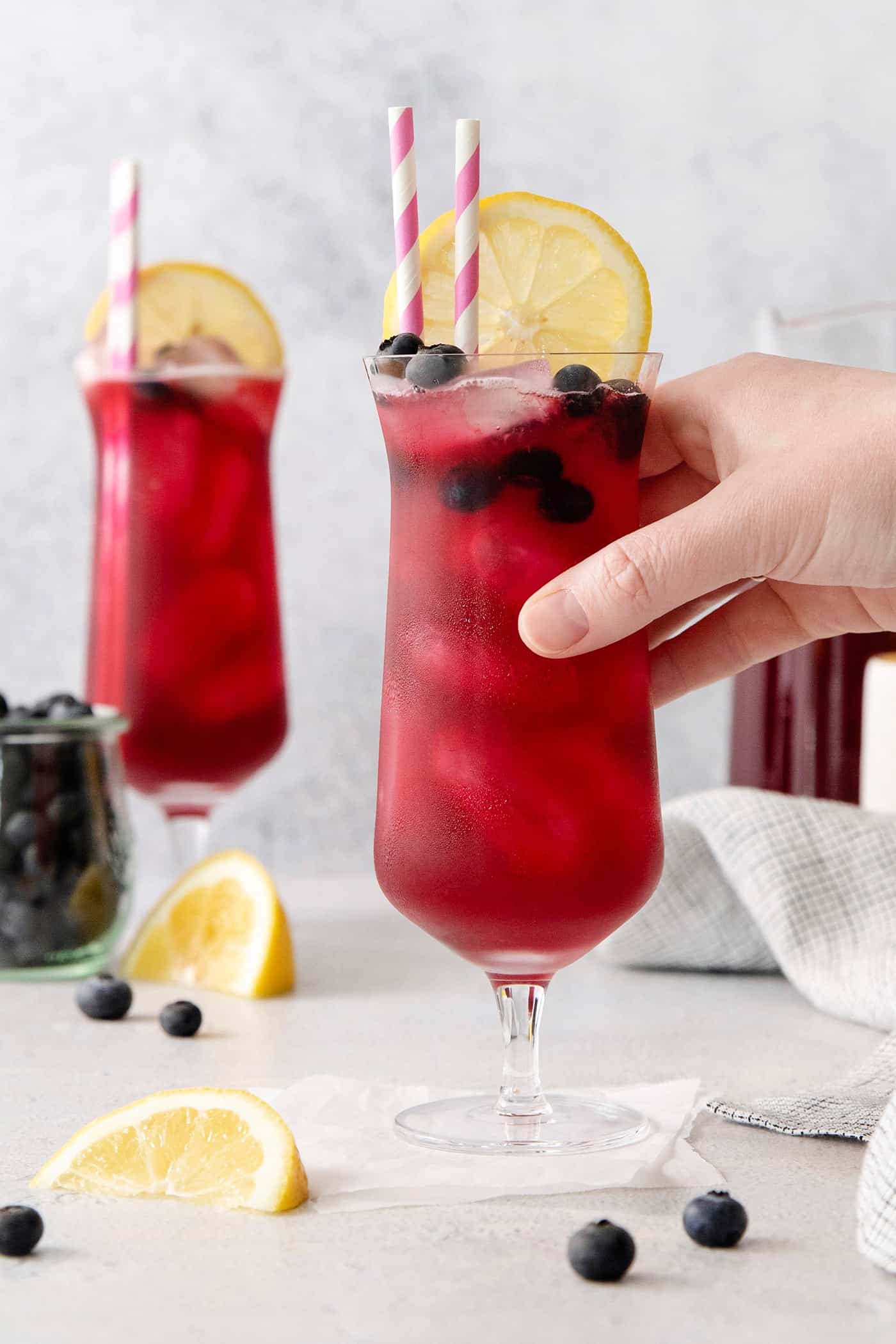 Serving Suggestions
There's no better family-friendly drink for the summer than this blueberry lemonade. We love serving it at family BBQs and picnics and often make a double or triple batch, or more!
I recommend pouring it into glasses over ice. You can add extra blueberries or lemon slices to the pitcher for presentation or even garnish with some mint or basil.
As with most any recipe, I definitely welcome you altering it to fit your own preferences. For example, I prefer a super tart lemonade, so I always squeeze a couple extra lemon wedges into my glass!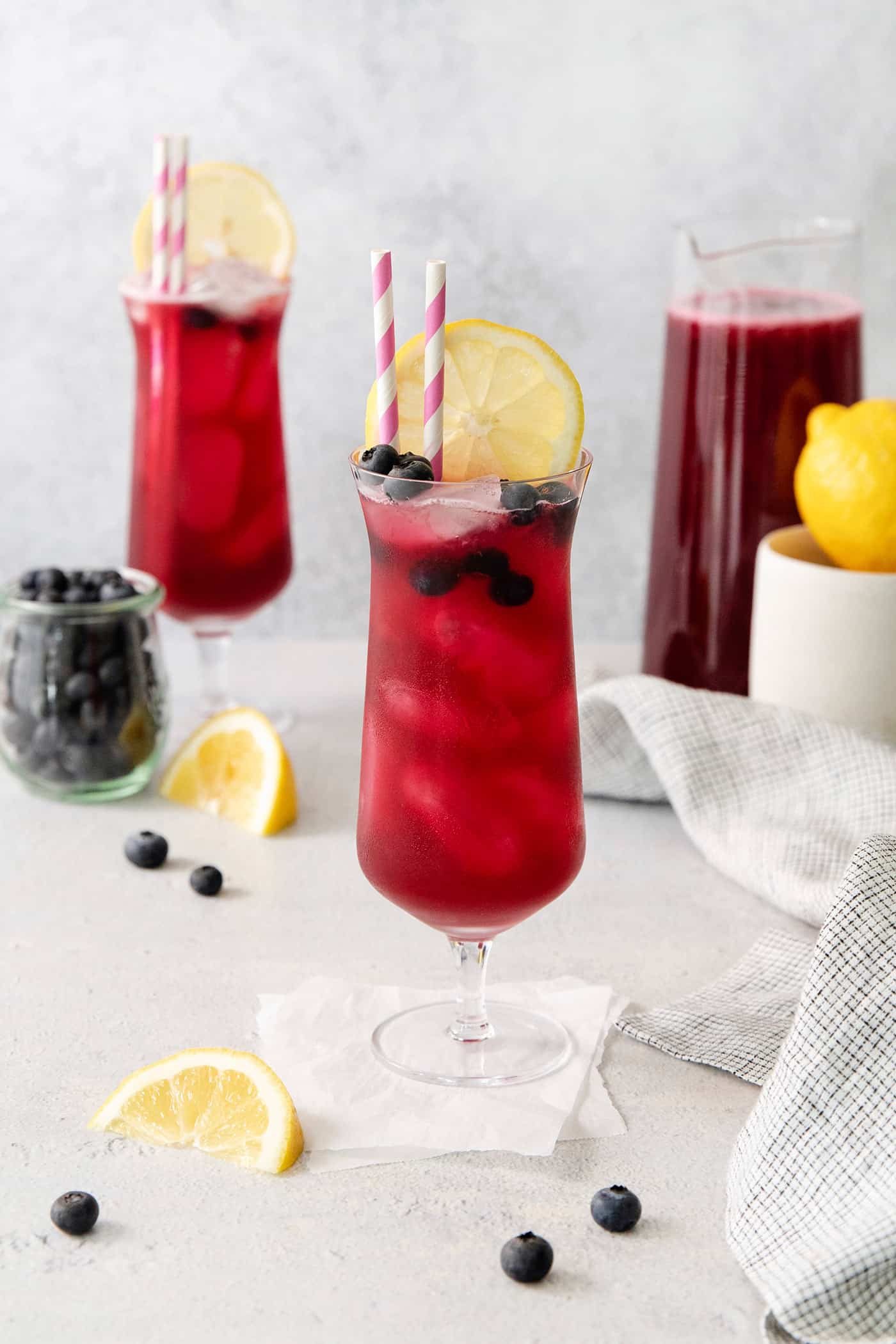 Can This Be Prepared in Advance?
Absolutely! This blueberry lemonade recipe is perfect for making the night before, which works especially great for entertaining.
Stored in a pitcher with a lid, this homemade lemonade will keep well for up to 4 days in the fridge. Just give it a stir before serving to incorporate the flavors evenly.
More Refreshing Drink Recipes:
Like this Recipe? Save to Pinterest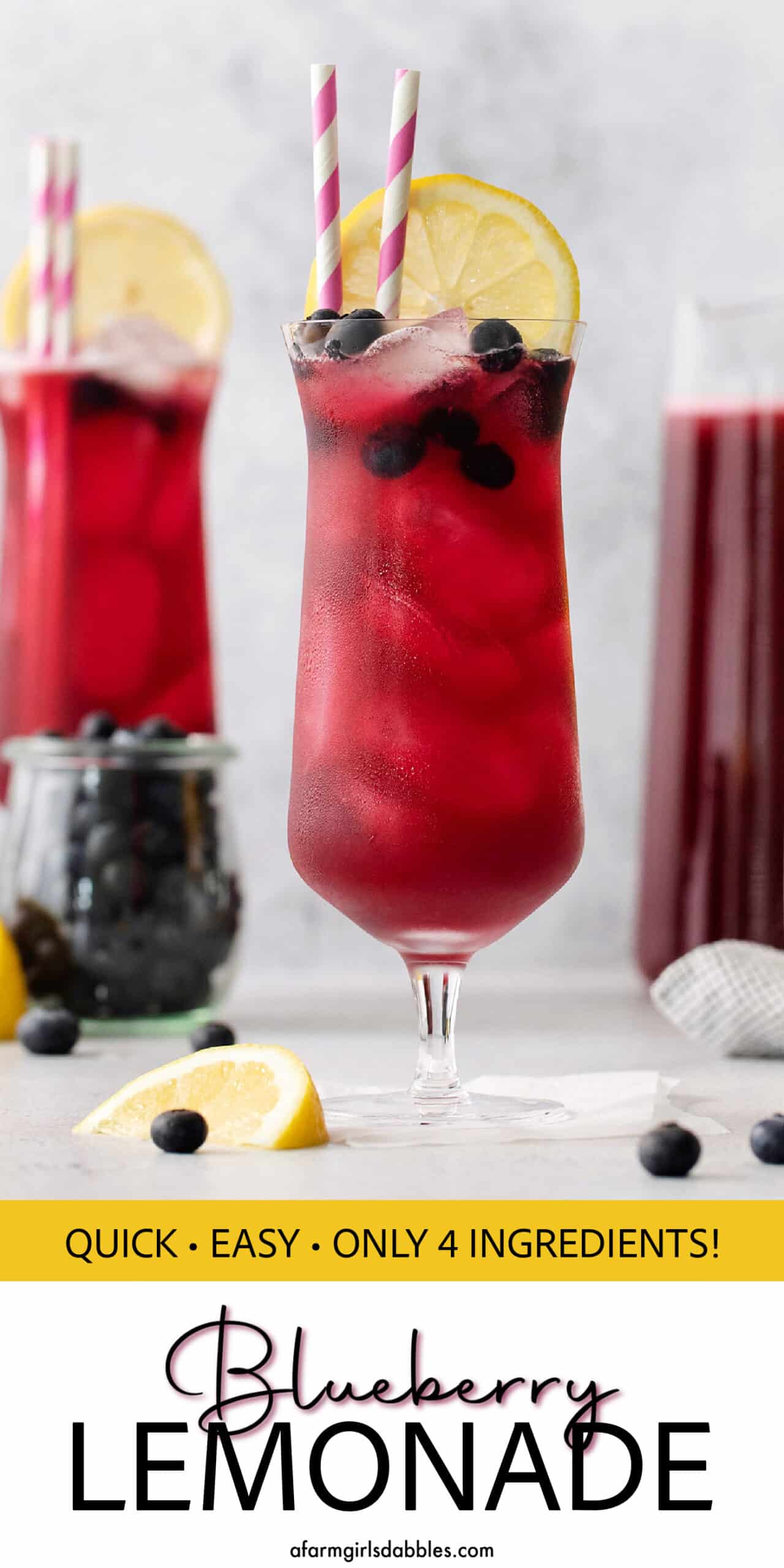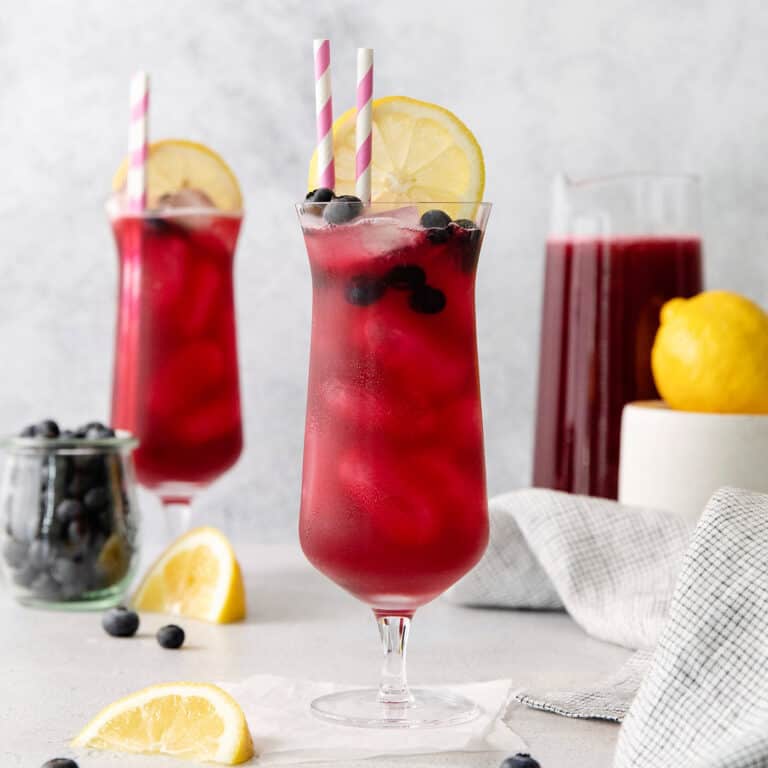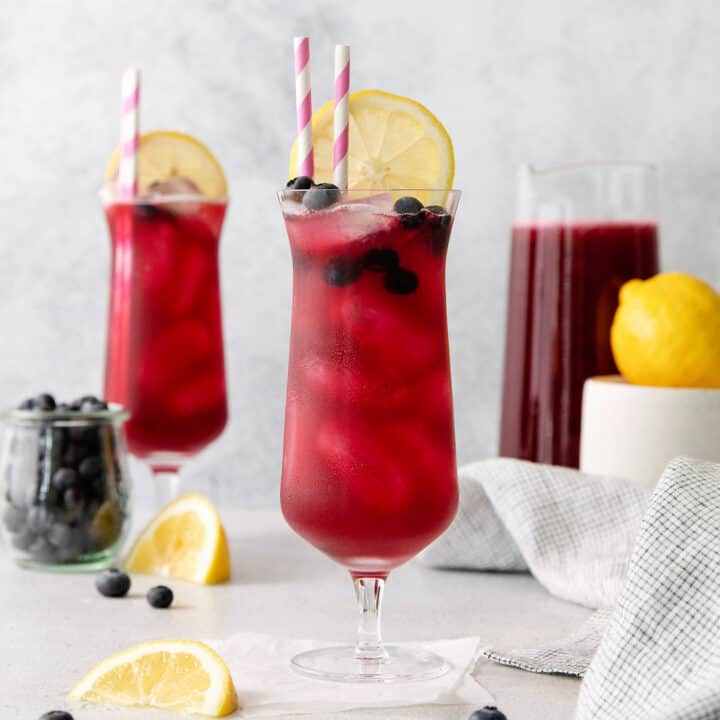 Blueberry Lemonade
Yield: 8 servings
Prep Time: 15 minutes
Cook Time: 5 minutes
Total Time: 20 minutes
This easy Blueberry Lemonade recipe is the perfect summertime drink! It's fruity and refreshing with tart lemons and sweet blueberries. Enjoy this pretty homemade lemonade on its own, or with a splash of sparkling water - or add some vodka for a summery cocktail!
Ingredients
6 cups water, divided
1 cup granulated sugar
1 cup fresh blueberries
1 cup freshly squeezed lemon juice (about 4 medium lemons) - add more if you like more tart lemon flavor
Instructions
Add 1 cup of water to a medium saucepan along with the sugar and blueberries. Set the mixture over medium heat and bring to a boil.
Cook the blueberry syrup for 5-7 minutes, or until the sugar has dissolved and the blueberries have burst. Remove the pan from the heat and allow the blueberry syrup to cool slightly before continuing.
(Optional) To get even more flavor and color out of the blueberries, use an immersion blender to puree the blueberry sauce (or use a high speed blender) until it is mostly smooth. This is optional but it will make straining the sauce easier!
Pour the blueberry sauce through a fine mesh sieve and stir until all of the liquid has been passed through the sieve. Discard the solids.
Add the blueberry sauce to a large pitcher with the lemon juice and remaining 5 cups of water. Stir to combine and enjoy over ice.
Nutrition Information:
Yield: 8
Serving Size: 1
Amount Per Serving:
Calories: 167
Total Fat: 2g
Saturated Fat: 1g
Trans Fat: 0g
Unsaturated Fat: 1g
Cholesterol: 6mg
Sodium: 32mg
Carbohydrates: 38g
Fiber: 1g
Sugar: 32g
Protein: 1g
Nutrition information is automatically calculated by Nutritionix. I am not a nutritionist and cannot guarantee accuracy. If your health depends on nutrition information, please calculate again with your own favorite calculator.