Frozen Strawberry Watermelon Lemonade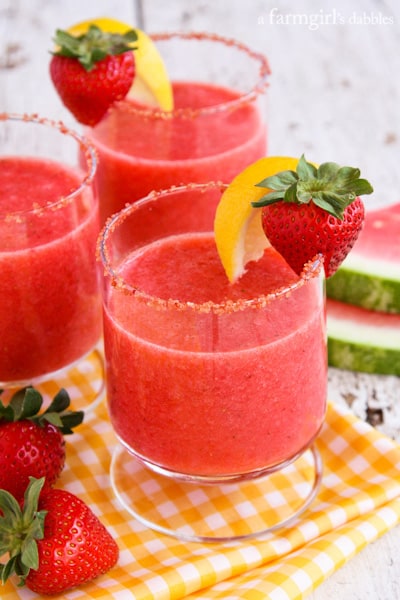 I am simply giddy over all the beautiful berries at the store lately. And for a reasonable price, too, which means that I can buy more than the usual amount and indulge in their goodness. It's berry season, and that makes me happy, happy, happy!
When OXO asked me to give their new strawberry huller a try, along with 12 pounds of gorgeous strawberries from Driscoll's, I hesitated. Like, a nano-second. And then I replied, bring it on! What a treat!
Now, 12 pounds of strawberries is alot of berries. And I can't stand to let food go to waste. So as soon as the strawberries arrived, our youngest daughter helped me wash and hull them. And the first thing we made was this recipe for Frozen Strawberry Watermelon Lemonade. It's not too sweet, full of fresh strawberry flavor shining through, with watermelon and some bright, tart lemon, and the glasses are rimmed with strawberry sugar.
Our girls loved this frozen summery drink. It was gone in no time!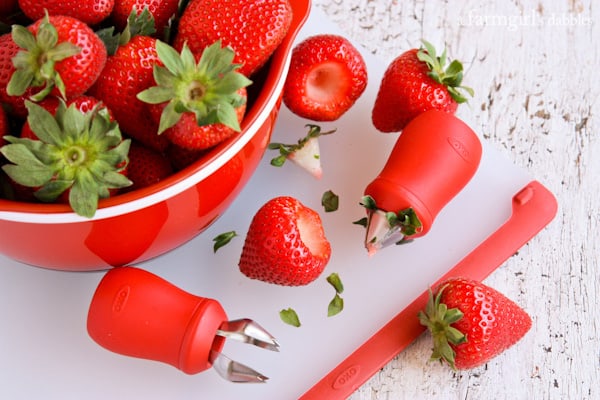 I often hold back from allowing more tools in our kitchen. Not that I don't like gadgets, but our kitchen is small, where storage space comes at a premium price. If a tool is very specific, with only one real use, it better work. And it better work really well, or it won't be deemed a priority to fit into our cupboards and drawers.
I have to admit that this OXO strawberry huller completely blew me away. It is pure genius, a quick and easy way to remove the entire strawberry hull and leaves with a simple quick twist. It's comfortable to hold, with a great size and shape, plus its grip is non-slip, even when wet. And it comes apart for easy cleaning. You can even pop it in your dishwasher!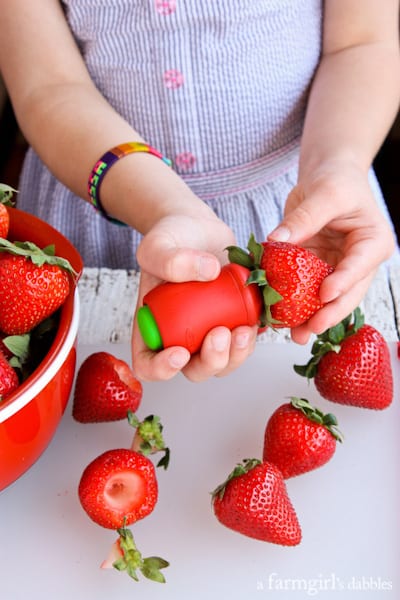 Once Tessa got the motion down…insert blades, twist, pull out hull, eject hull…there was no stopping her. She pulled up a stool at the kitchen sink and hulled most of that strawberry shipment all by herself. I'm telling you, this tool is slick. And the super duper bonus? Because we always have strawberries in the refrigerator, we just leave the strawberry huller in the sink's dry rack, for the girls to grab and quickly hull a few berries for themselves. This tool is saving me time!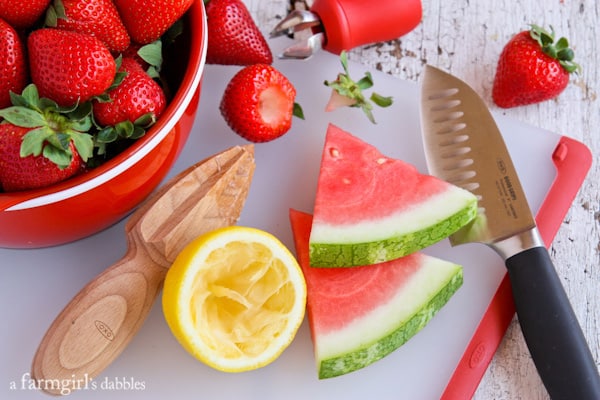 While Tessa hulled strawberries and kept me informed and entertained with her chatter about first grade and her latest favorite songs and phrases from Frozen, I juiced a lemon and chopped up a few slices of watermelon. The counter was bright with fresh, juicy fruits. I couldn't wait to take my first sip of frozen strawberry watermelon lemonade.
OXO products shown in the photo above: 3-Piece Berry Bowl and Colander Set, Strawberry Huller, Wooden Reamer, Professional Mini 4″ Santoku Knife (I love this knife!), and Utility Cutting Board.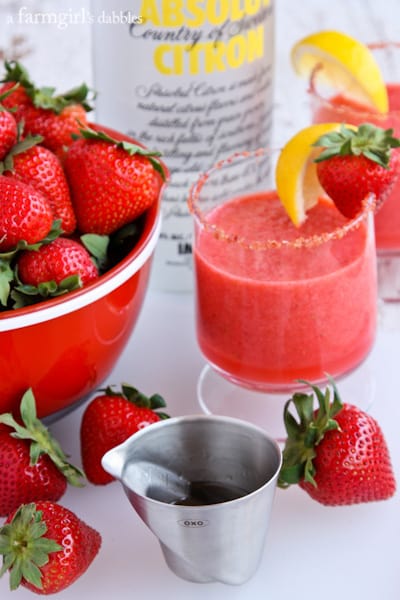 And for a fun grown-up twist to this refreshing frozen sipper, may I suggest the addition of an ounce or two of your favorite bottle from the liquor cabinet? A lemon flavored vodka works beautifully in this beverage, but a tequila or rum would be lovely, too.
See that OXO Mini Angled Jigger? I use it so much! I love that its angled surface lets me read the measurements while I am looking straight down into it. And it's made of stainless steel…classy enough to set out when mixing drinks for guests. It's definitely earned a spot in our cupboard for its multi-functional greatness. With ounce and tablespoon markings, I use it for measuring small liquid amounts while cooking and baking, too. Think lemon juice, soy sauce, vinegar, etc.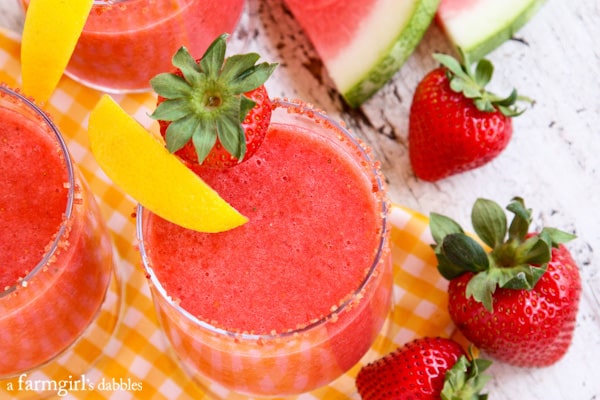 Summer is upon us and the berries are gorgeous. I see many of these frozen strawberry watermelon lemonades in our future! Blend some up and join us!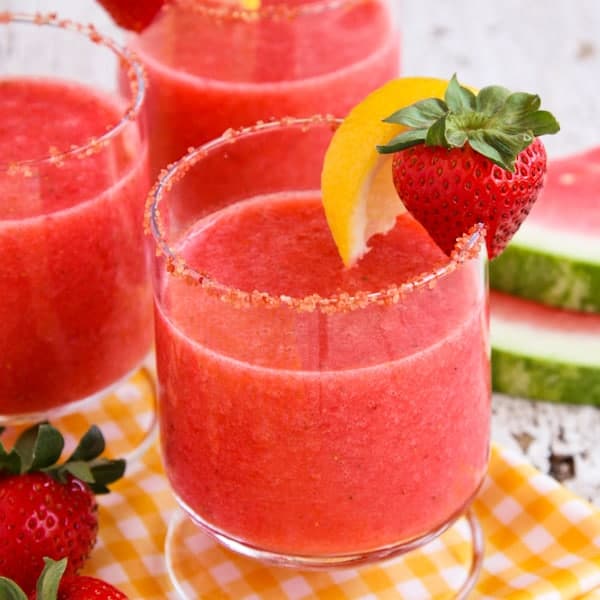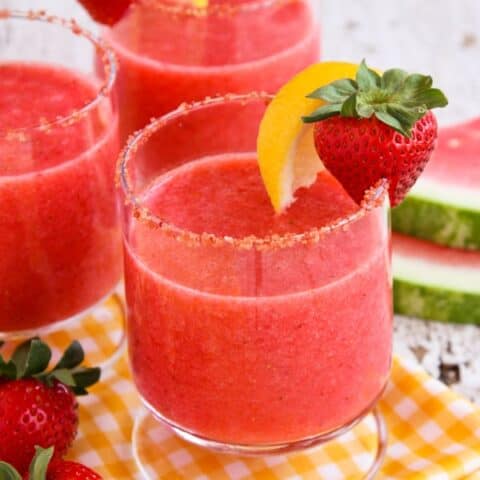 Frozen Strawberry Watermelon Lemonade
Yield: 4 to 6 servings
Prep Time: 10 minutes
Total Time: 10 minutes
It's not too sweet, full of fresh strawberry flavor shining through, with watermelon and some bright, tart lemon.
Ingredients
strawberry sugar, for rimming the glasses, optional
2 16-oz. packages Driscoll's fresh strawberries, hulled
2 c. chopped seedless watermelon
juice and zest of 1 large lemon
2 T. sugar, or more to taste
4 c. crushed ice
additional fresh strawberries, plus lemon wedges, for garnish if desired
Instructions
For the rimmed sugar on the glasses, run the cut side of a lemon wedge around the rim of a glass. Dip rim into a small bowl of strawberry sugar. Repeat with remaining glasses and set aside.
In a blender, purée strawberries, watermelon, lemon juice and zest, and sugar. Test for flavor and sweetness. If it needs a bit more sweetness, add sugar 1 tablespoon at a time. If you would like more lemon flavor, add more juice and zest. I don't call for much sugar because I didn't intend for this to be a super sweet and sugary lemonade. I wanted the fruit flavors to shine through, with minimal sugar. But adjust to your liking.
Add crushed ice and blend until desired consistency is reached. Divide between glasses and garnish with strawberries and lemon wedges.
Notes
from a farmgirl's dabbles
Nutrition Information:
Yield: 6
Serving Size: 1
Amount Per Serving:
Calories: 114
Total Fat: 1g
Saturated Fat: 0g
Trans Fat: 0g
Unsaturated Fat: 0g
Cholesterol: 0mg
Sodium: 28mg
Carbohydrates: 29g
Fiber: 4g
Sugar: 21g
Protein: 2g
Nutrition information is automatically calculated by Nutritionix. I am not a nutritionist and cannot guarantee accuracy. If your health depends on nutrition information, please calculate again with your own favorite calculator.
Also visit these other sites for more strawberry #TheIncredibleHull inspiration!
Thank you to OXO and Driscoll's berries for providing me with the tools and berries for this post. All opinions are 100% my own, as always. Thank you for supporting the brands that help make this site possible!