Blueberry Jam with Mint
This post may contain Amazon or other affiliate links. As an Amazon Associate I earn from qualifying purchases.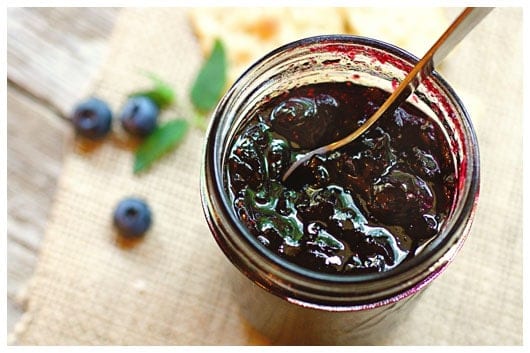 I bounced back and forth, back and forth, trying to decide if I should share this recipe for Blueberry Jam with Mint. I wondered if people would think that 3 blueberry posts in a row was excessive. Or if they might say, "Hmmmmm…I'm just not so sure of that flavor combination", because I've heard that same uncertainty from some of my family and friends already.
But Blake convinced me to put it out there. He obviously likes it. And our girls come running when I announce that an appetizer of crackers, goat cheese, and blueberry mint jam is waiting for them. Yes, they LOVE it!
It really does deserve to be shared.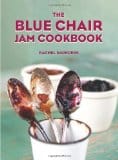 I adore freezer jam, as it's just so darn easy. But when I finished reading The Blue Chair Jam Cookbook, I vowed to properly can some jam this summer. If you haven't had the chance to check out this cookbook by Rachel Saunders, I highly recommend it. It's just plain gorgeous. From the lovely photos to the thick papery pages, the book is delightful. And it totally makes me want to move to the west coast to jam, as I was blown away by the variety of gourmet fruit that Saunders has at her jamming disposal. I want to taste each and every one of the fruits that make an appearance in her coffee table worthy book.
The Blueberry Jam with Mint is all I hoped it would be. Intensely dark and fruity. Subtly cool and clean. Intriguing, really. I've never had anything quite like it.
After my first spoonful, I knew I wanted to taste it on a salty cracker smothered in tangy goat cheese. And to this day, this is how my family prefers to eat it.
But if I can tempt you further…try it spooned over yogurt or vanilla bean ice cream, or spread it on steaming yeasted waffles or popovers. Trust me, it's all good.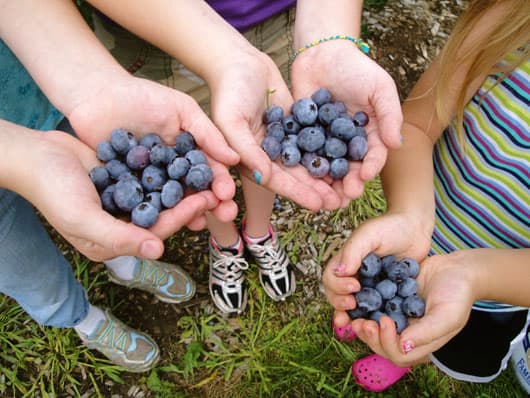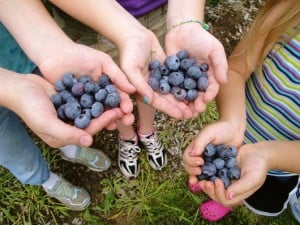 Did you catch our blueberry picking outing?
If not, check it out right here!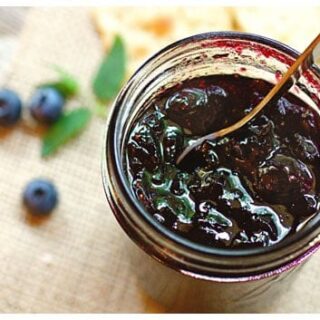 Blueberry Jam with Mint
Yield: 4-5 jars (8 oz)
Prep Time: 20 minutes
Cook Time: 35 minutes
Additional Time: 12 hours
Total Time: 12 hours 55 minutes
Making Blueberry Jam with Mint is an easy way to use up any blueberries you have leftover from picking. Serve it on toast, crackers, waffles, or whatever your heart desires!
Ingredients
3 (8″) sprigs peppermint
2 pounds 10 ounces fresh blueberries
1 pound 10 ounces white cane sugar
6 ounces strained freshly squeezed lemon juice
Instructions
Prepare for water bath canning. This recipe uses 8-ounce jars, which are not very tall, so I leave my huge enamelware canning pot sit in the cupboard. I pull out a big stock pot instead. You just need a tall pot that allows water to cover the jar tops by 1″. Wash five 8-ounce jars and set them in your pot. Fill pot with enough water to cover the jars with 1″ of water. Bring to a boil over high heat to sterilize the jars. Covering the pot with the lid will speed up the boiling process.
Put your jar lids in a small pan with enough water to just cover them. Bring to a slow simmer and keep hot until you fill the jars with jam.
Place a saucer with 5 metal teaspoons in a flat place in your freezer for testing the jam later. Rinse the mint well under cool water and pat it dry with a kitchen towel. Set aside.
Combine the blueberries, sugar, and lemon juice in a wide nonreactive pan. Place the pan over medium-high heat and cook, stirring constantly, until the juice begins to run from the berries. When the juice starts flowing freely, increase the heat to high. Continue to cook, stirring very frequently, until the mixture boils. Once it reaches a boil, cook it for 10 to 15 minutes more, stirring frequently, and decreasing the heat slightly if the jam starts to stick. Begin testing for doneness after 10 minutes.
To test the jam for doneness, carefully transfer a scant half-teaspoonful of jam to one of your frozen spoons. Be careful to not add too much, as that will alter your doneness results – just a skimpy half of a teaspoon is all you want! Replace the spoon with the jam in the freezer for 3 minutes. Remove from the freezer once again and carefully feel the underside of the spoon. It should be neither warm nor cold. If it is still warm, return it to the freezer for a moment. Tilt the spoon vertically to see whether the jam runs. If it does not run, it is ready. If it does run, cook the jam for another minute, stirring, and test again as needed. I cooked mine just a bit too long. Next time I make this, I will stop when it runs ever so slightly. I waited for it to not run at all, which resulted in a very thick jam. I would prefer it to be a little more loose.
Turn off the heat under the pan of blueberries. Do not stir. Using a stainless steel spoon, skim any foam off the top off the jam. Place the mint sprigs into the jam and let steep for a minute or two off the heat. Taste carefully and either remove the mint or leave it in for another minute or two. Keep in mind that its flavor will be slightly milder once the jam has cooled. When the flavor is strong enough for you, use tongs to discard the mint.
Pour the jam into your sterilized jars, leaving 1/2″ headspace at the top. Use a damp paper towel to wipe the rims of the jars clean, then put a hot flat lid and a ring on each jar, adjusting the ring so that it's just finger-tight.
Return the filled jars to the stock pot, making sure the water covers the jars by at least 1″. Bring to a boil. I put the lid on the pot to speed up the boiling. Then boil for 10 minutes to process.
Remove the jars to a folded towel on the counter, setting them about 1″ apart. Do not disturb for 12 hours. As the jam cools, you may hear a few little pops as the lids seal. Before putting your jam away, be sure to feel the top of each lid to verify that it has sealed. It should be curving in very slightly in the middle and not be able to be pushed down any further. If any jars have not sealed, keep them in the refrigerator. Label the sealed jars and store for up to 1 year in a cool dark place. After you open a jar, keep it in the refrigerator.
Notes
* Special equipment needed:  four to five 8-ounce jars, rims, and lids, a large stock pot, and a jar lifter utensil
Nutrition Information:
Yield: 40
Serving Size: 1
Amount Per Serving:
Calories: 36
Total Fat: 0g
Saturated Fat: 0g
Trans Fat: 0g
Unsaturated Fat: 0g
Cholesterol: 0mg
Sodium: 1mg
Carbohydrates: 9g
Fiber: 0g
Sugar: 9g
Protein: 0g
Nutrition information is automatically calculated by Nutritionix. I am not a nutritionist and cannot guarantee accuracy. If your health depends on nutrition information, please calculate again with your own favorite calculator.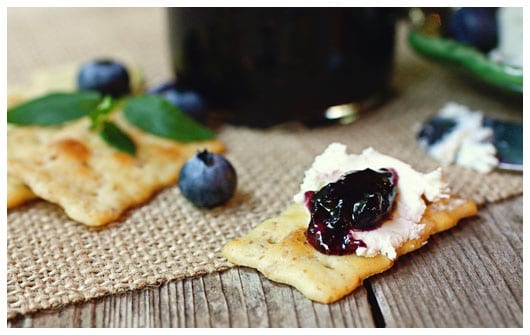 I'm linking up with the following this week:
Cheryl at TidyMom for I'm Lovin' It (Strawberry & Chocolate Nachos)
Allison at Alli 'n Son for Sweet Tooth Friday (Monster Cereal Bark)
Robyn at Add a Pinch for Mingle Monday (Mingle Monday Loves from 08.15.11)
Rachel at A Southern Fairytale for Mouthwatering Monday (Homemade Chicken Pot Pie)
We participate in the Amazon Services LLC Associates Program, an affiliate advertising program designed to provide a means for us to earn fees by linking to Amazon.com and affiliated sites. See our
disclosure policy
for more info.