Blueberry & White Chocolate Cheesecake Bars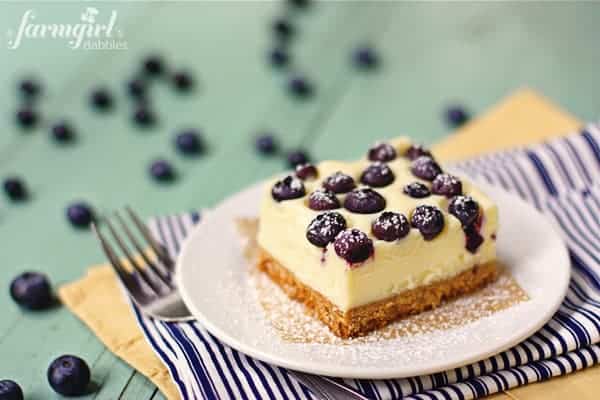 After picking blueberries last year for the first time, I was hooked. It's the same thing that goes for every other fresh picked fruit or vegetable. There's just no comparison!
And when we got home last weekend with our 7+ pounds of berries, I was in the mood for cheesecake. A simple cheesecake. No special pans or water baths. A creamy substantial cheesecake that could be cut into bars…
Blueberry & White Chocolate Cheesecake Bars were born.
And they're wonderful. The girls have asked each morning this week if they could possibly please maybe have just a small piece for breakfast. Because it's topped with those healthy blueberries, you know. :wink:
Just so you know, we never did eat the cheesecake bars for breakfast. But I was tempted. Definitely tempted.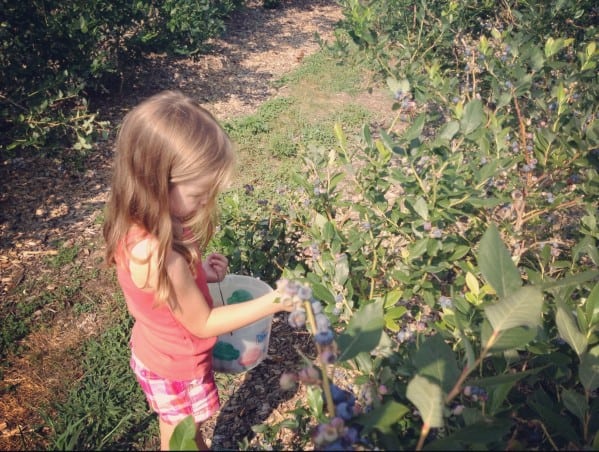 We were at Rush River Produce picking by 9:30 in the morning. It was already unbelievably hot. And grossly humid. I'm not a huge sweat-er, but 20 minutes into picking, my brows were trickling. Yucko!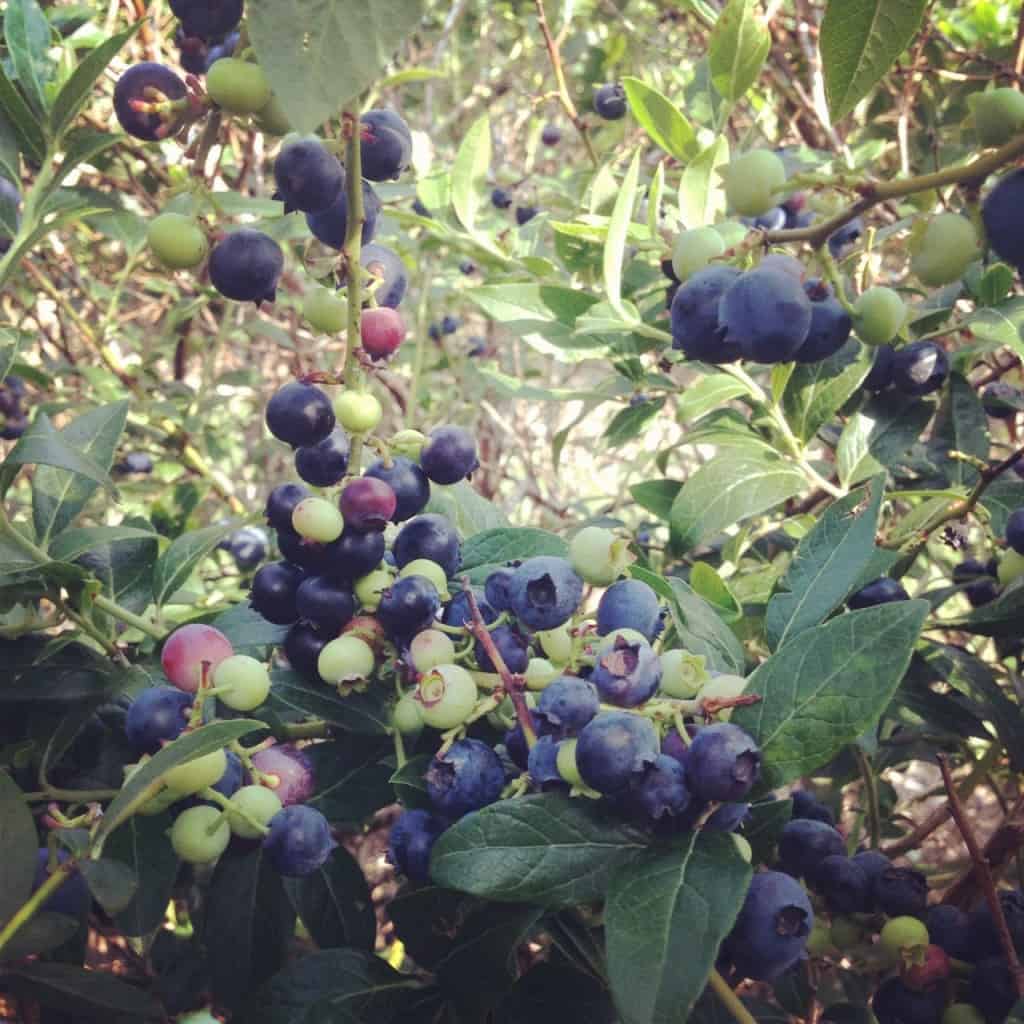 But all those beautiful berries dangling from row after row of bountiful bushes…really, there's no way to hold back after your eyes lock onto them.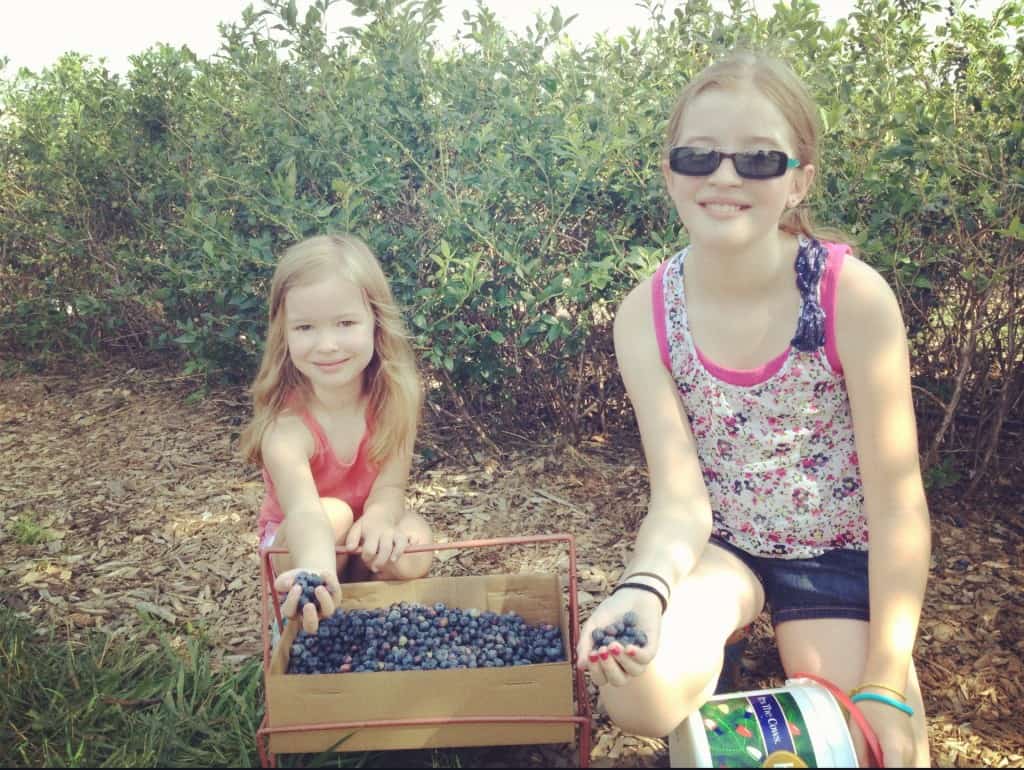 The girls initially weren't up for picking in the heat. But snitching those sweet tart berries while they were filling their buckets, and then having a big box to show for their efforts…well, they were pretty proud that they stuck it out.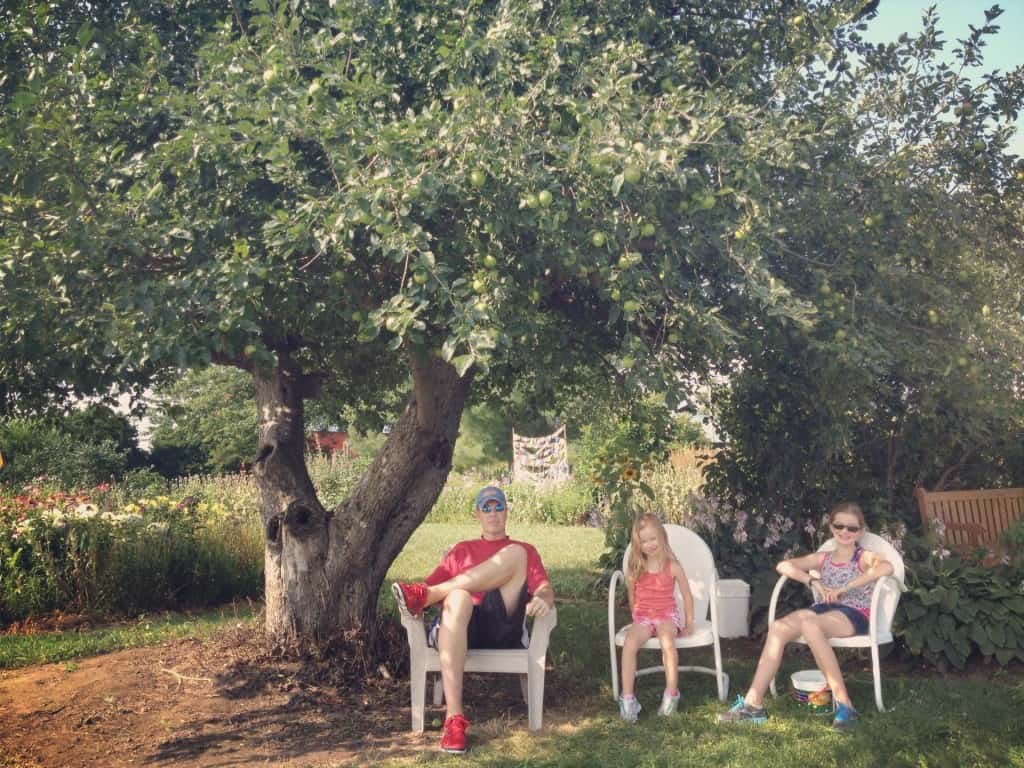 And when I decided to go back in for "just a few more"…this is what I came back to. My crew hanging out under the shade of an apple tree. I think that pic deserves a frame, don't you?!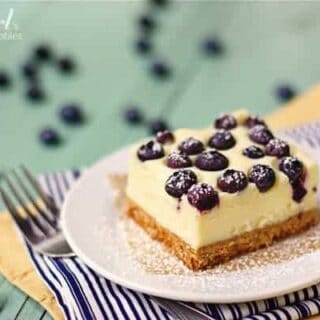 Blueberry & White Chocolate Cheesecake Bars
Yield: 16 bars
Prep Time: 20 minutes
Cook Time: 55 minutes
Total Time: 1 hour 15 minutes
These bars are a great summer dessert!
Ingredients
for the crust:
1.5 c. graham cracker crumbs
2 T. sugar
1/4 tsp. salt
1/4 tsp. cinnamon
6 T. unsalted butter, melted
for the filling:
8 oz. white chocolate
16 oz. cream cheese, at room temperature
2 large eggs, at room temperature
1/2 c. sugar
1 tsp. pure vanilla extract
1.25 c. fresh blueberries
powdered sugar, for dusting the finished bars
Instructions
Preheat oven to 325° F.
Fold a 16'' long piece of foil to an 8'' x16'' strip and place in an 8'' square baking pan, leaving overhang on 2 sides. Repeat with another sheet of foil in opposite direction, lining pan completely. Spray bottom of foil lightly with nonstick spray and set aside.
for the crust:
In a medium bowl, whisk together the graham cracker crumbs, sugar, salt, and cinnamon. Add the melted butter and stir to completely combine. Press evenly into the prepared pan.
Bake for 10 to 12 minutes, or until fragrant and golden. Set on a wire rack to cool. (Note: This produces a thicker crust. If you are a thin crust fan, reduce the amount and the baking time.)
for the filling:
In a small bowl, gently melt the white chocolate in the microwave, taking care to not let it scorch. Set aside to cool completely.
In the bowl of a stand mixer, cream the cream cheese on medium-high speed until smooth and creamy, about 1 or 2 minutes. Add the eggs and sugar and beat on medium speed until just combined. Add the cooled white chocolate (you can place in the refrigerator for a bit if it's still warm) and vanilla and beat again.
Spread mixture evenly over the baked crust and tap the pan gently on the counter to settle it in. Sprinkle the top with blueberries and press them in ever so slightly with the back of a spoon, so that the blueberries are almost level with the cheesecake filling.
Bake for 40 to 45 minutes, or until cheesecake wobbles just slightly through the center, and the edges are just a bit golden. Remove from the oven and cool completely on a wire rack. Then place in the refrigerator for at least 3 hours to chill thoroughly. Once set, carefully remove the cheesecake from the pan by pulling up on the foil lining. Slice into bars and dust with powdered sugar.
Notes
from a farmgirl's dabbles
Nutrition Information:
Yield: 16
Serving Size: 1
Amount Per Serving:
Calories: 327
Total Fat: 20g
Saturated Fat: 12g
Trans Fat: 0g
Unsaturated Fat: 7g
Cholesterol: 66mg
Sodium: 187mg
Carbohydrates: 34g
Fiber: 1g
Sugar: 28g
Protein: 4g
Nutrition information is automatically calculated by Nutritionix. I am not a nutritionist and cannot guarantee accuracy. If your health depends on nutrition information, please calculate again with your own favorite calculator.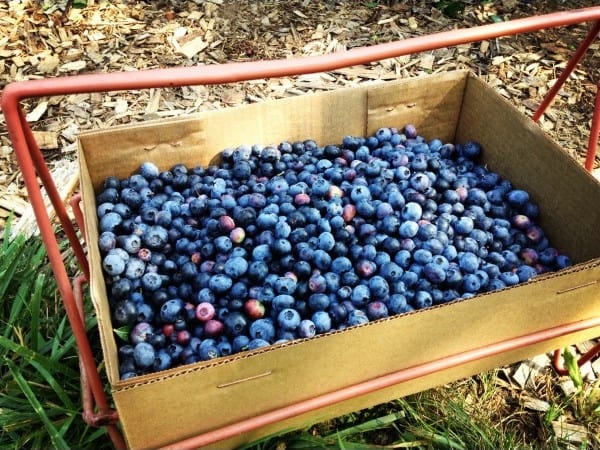 Here are a few more blueberry recipes for you!
I'm linking up with the following:
Cheryl at TidyMom for I'm Lovin' It (Parent Promise)
Allison at Alli 'n Son for Sweet Tooth Friday
Robyn at Add a Pinch for Mingle Monday (Weekend Fun)