Blueberry Tea Cake
Moist, fluffy, and laced with blueberries in every bite, this Blueberry Tea Cake makes a quick and easy summer dessert. It's absolutely delightful with freshly picked berries!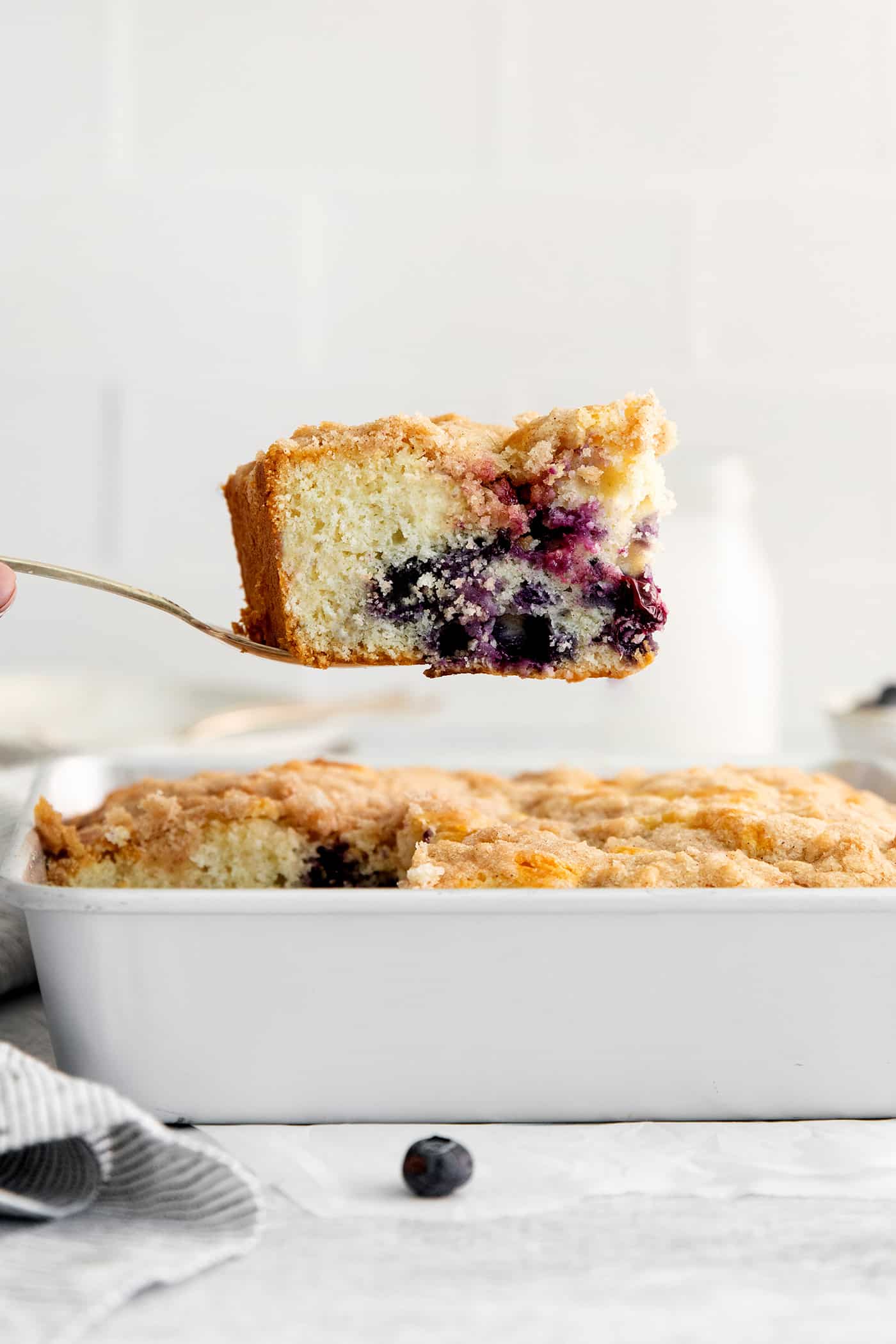 Easy Blueberry Cake Recipe
Today's recipe is yet another delicious treat from Mom's recipe box. My mom's Blueberry Tea Cake is an easy-to-make cake that's beautifully moist, studded with blueberries, and topped with crunchy yumminess!
When it comes to blueberry desserts, this is one of my favorites because:
The flavors and textures are similar to my Grandma's blueberry muffins recipe, my favorite muffins in all the world.
And I can pretty much whip up this cake on a moment's notice, as all of the ingredients (besides the berries) are pantry staples and it takes so little time to assemble.
Seriously. What more can a blueberry-lovin' girl possibly ask for?!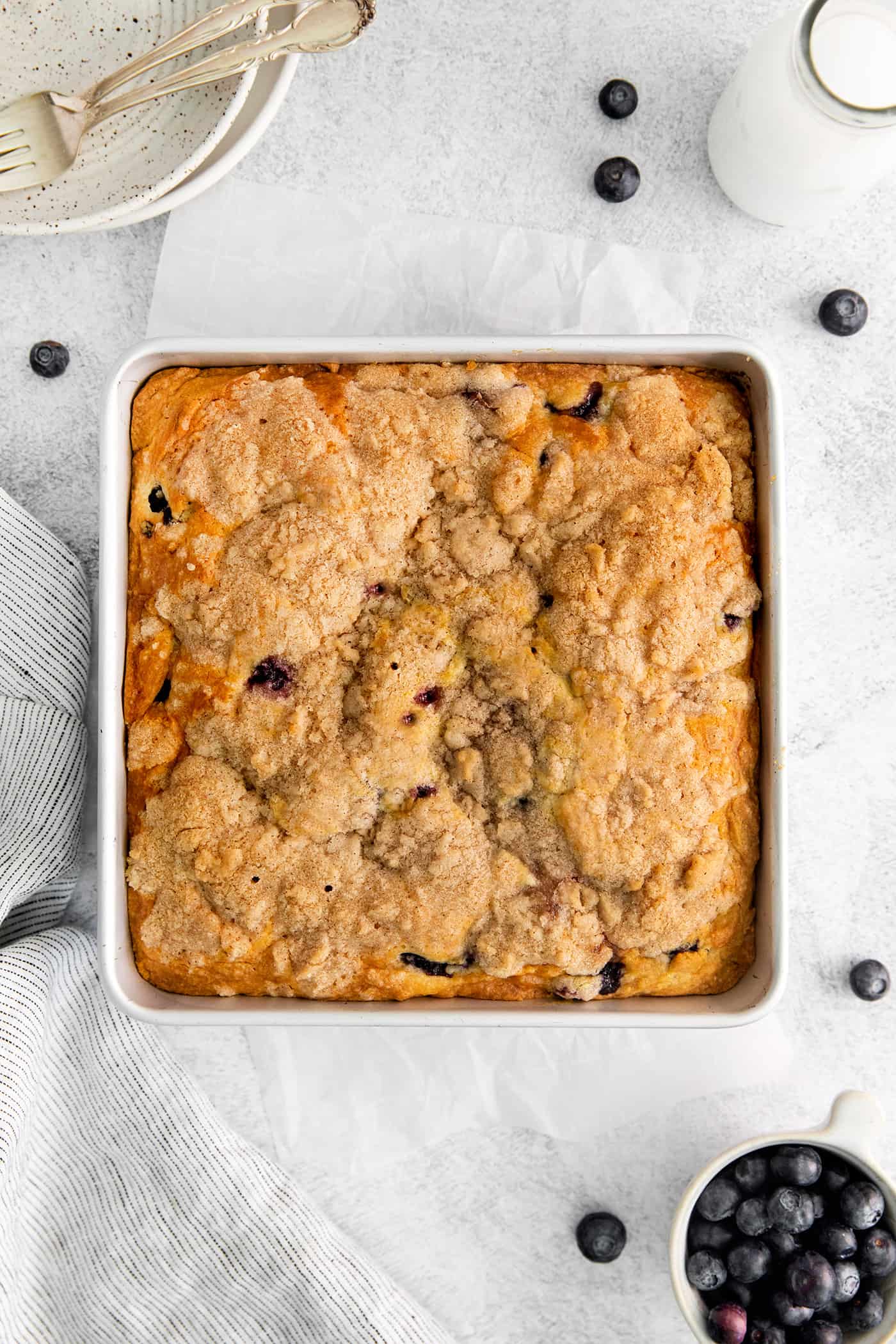 What is Tea Cake?
Tea cake has many different shapes, ingredients, and origins, depending on what part of the country and/or world you're from. In my Midwestern family, tea cake is pretty much interchangeable with coffee cake. It's a simple cake that's often enjoyed with a cup of tea or coffee mid-morning or mid-afternoon, often with friends and/or neighbors.
More cake recipes perfect for afternoon coffee or tea: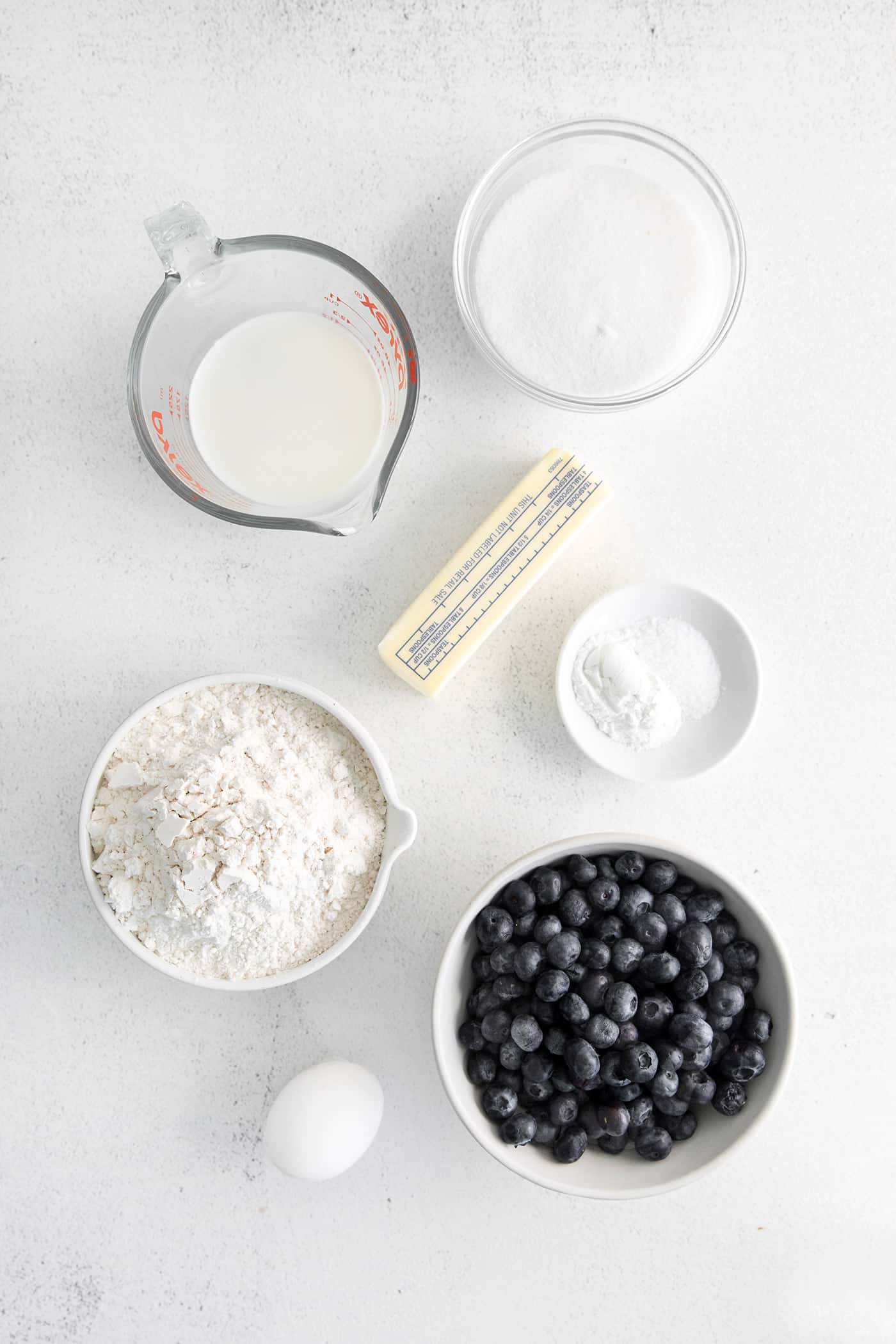 What You'll Need
You'll need just a few very common baking ingredients + some fresh blueberries to make this blueberry cake.
All-purpose flour – This is used in both the muffin batter and the crumb topping.
Baking powder – Helps achieve the fluffy, tender cake texture.
Salt
Unsalted butter – Softened but not melted.
Sugar – Makes the cake perfectly sweet and adds some crunchy texture to the topping.
Egg
Milk
Blueberries – I used fresh berries but frozen blueberries will also work. Do not thaw if using frozen blueberries.
Cinnamon – Adds a bit of warm flavor to the topping.
Can I Make This with Other Fruits?
Yes! This tea cake recipe is super versatile. You can use pretty much any berry you'd like in place of the blueberries. Raspberries, blackberries, and chopped strawberries are perfect. You can also use a mix of several different types of berries if desired.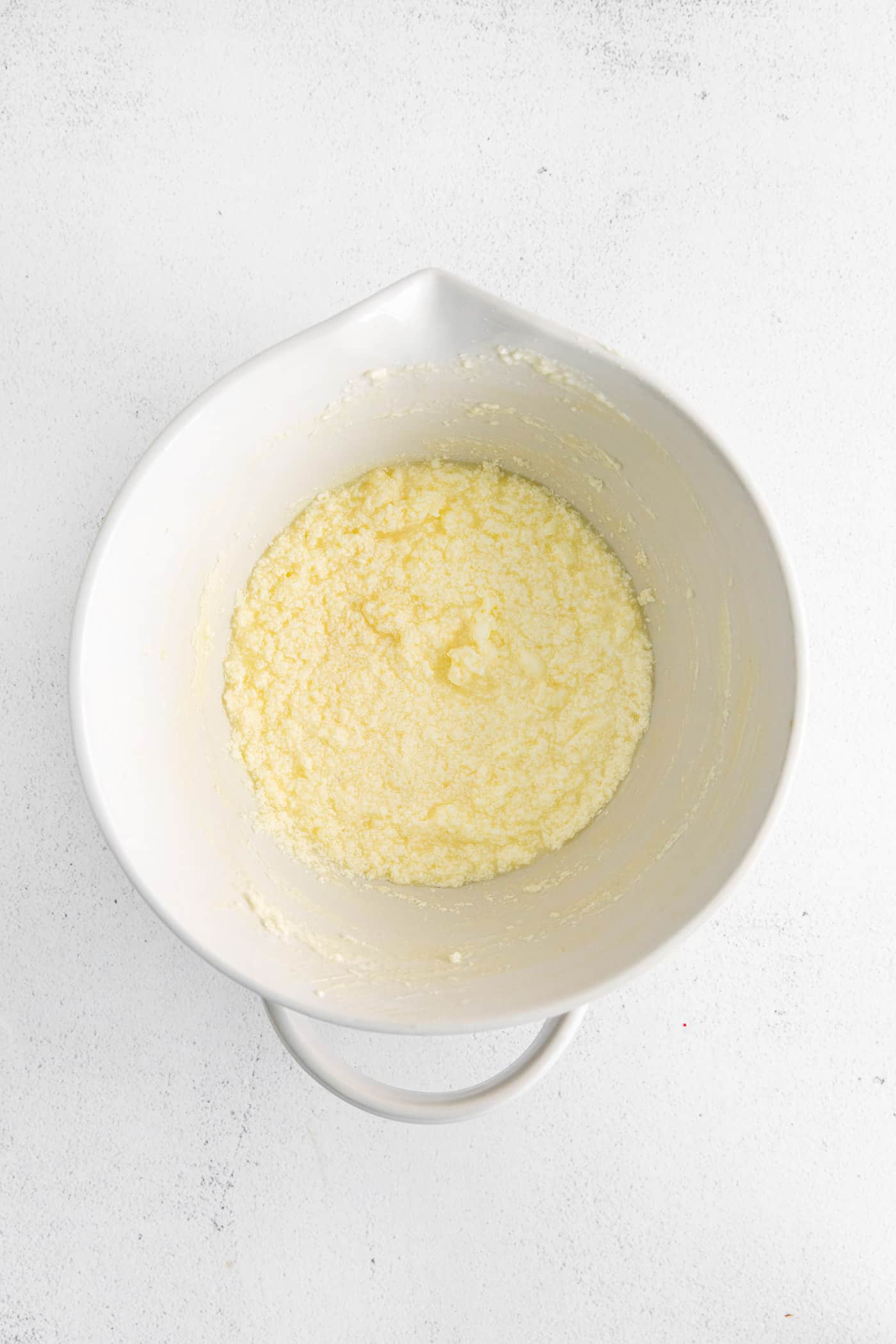 How to Make Blueberry Tea Cake
This easy blueberry dessert comes together in just a few steps. There's a total of maybe 10 minutes of hands-on prep before the extremely difficult task of waiting for the cake to bake and cool. Ha!
Make the cake batter. Sift the dry ingredients together. In a separate bowl, cream the butter and sugar until light and fluffy, then beat in the egg and milk. Add the dry ingredients to the wet ingredients, and mix until combined. Fold in the blueberries and spread into a 9″ square pan.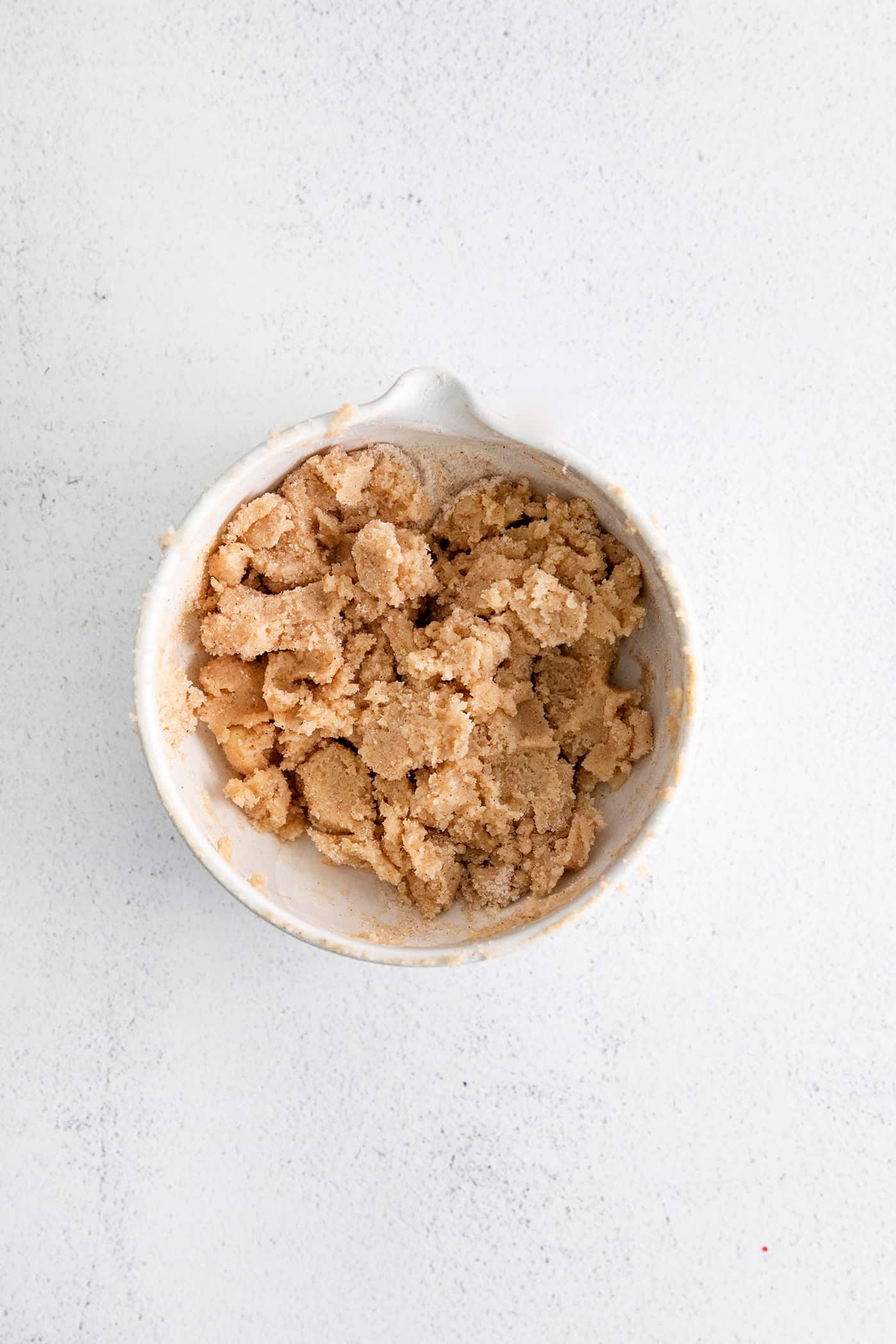 Add the crumb topping. Mix together the sugar, flour, cinnamon, and salt. Cut in the butter until coarse crumbs form. Sprinkle over the cake batter.
Bake. Bake for 35 to 40 minutes, until golden brown. Allow to cool.
Can I Stop The Batter from Turning Blue?
If your batter is turning blue from the berries, it's likely because you are mixing it too much. You want to combine the batter well before adding the berries, so you can just gently fold them in at the end. This will be more of an issue with frozen berries, as the color does tend to run a bit more as they thaw.
One trick to prevent this is to roll the berries in a bit of flour and sugar before folding them into the batter. This also helps the berries to stay suspended more evenly throughout the batter.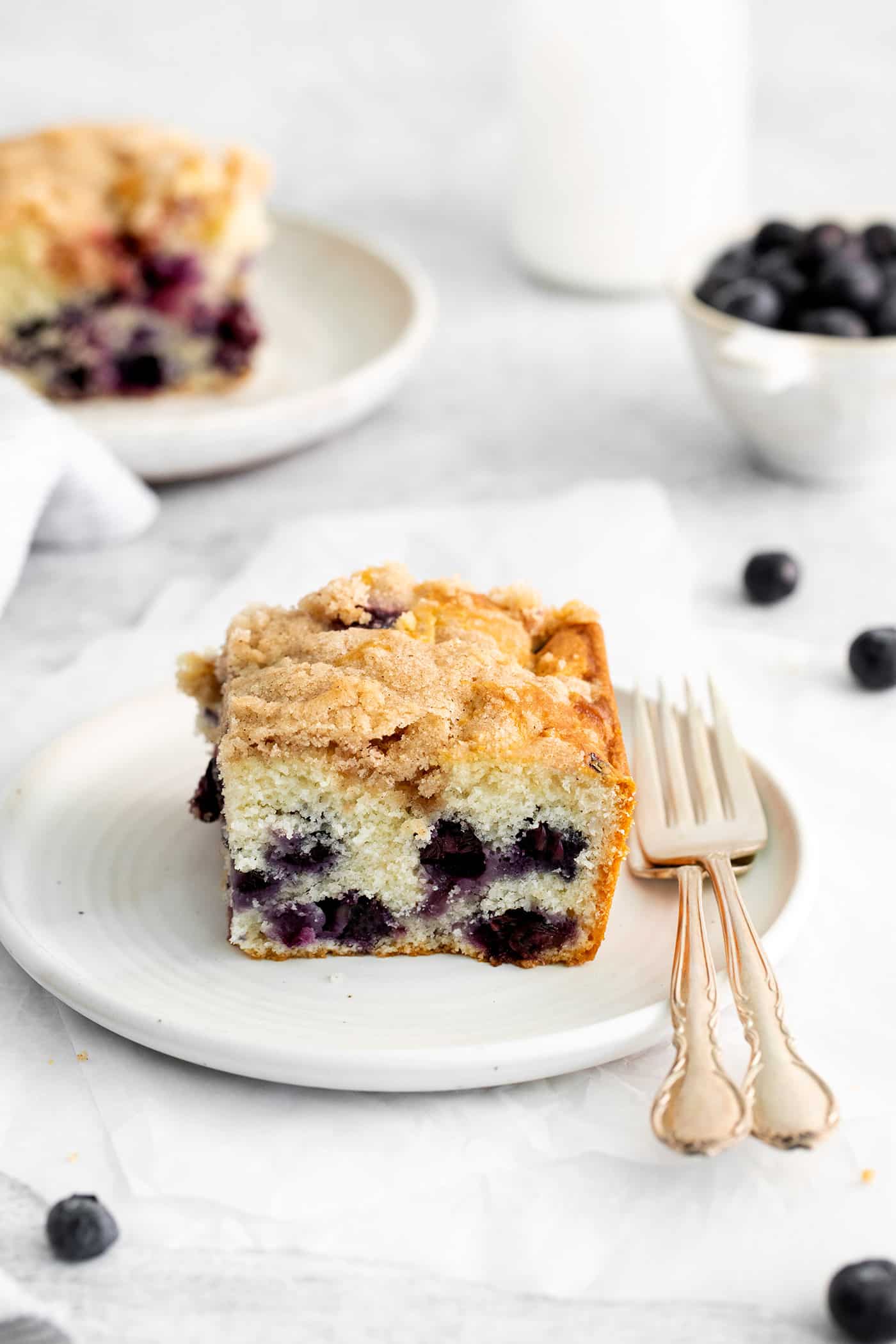 Serving Suggestions
Though I think this blueberry cake is perfectly delicious as-is, you could sprinkle a little powdered sugar over the top right before serving. It adds another small layer of sweetness plus a pretty look.
Tea cake is typically served at room temperature – but I think it's extra lovely to enjoy a piece that's still just a bit warm, when the blueberries are like little puddles of jam.
As its name suggests, many like to eat this cake with a cup of tea. Or coffee. Or a glass of cold milk. Really, whatever you desire.
How to Store & Freeze
Blueberry tea cake can be kept at room temperature, covered or in an airtight container, for 2 to 3 days. Just know that the topping will lose its crisp texture after covering the cake.
It can also be frozen for up to 3 months. To freeze, place individual slices or the entire tea cake in a freezer-safe container. Defrost in the fridge or on the counter – and enjoy!
More Blueberry Recipes:
Like this recipe? Save it to Pinterest!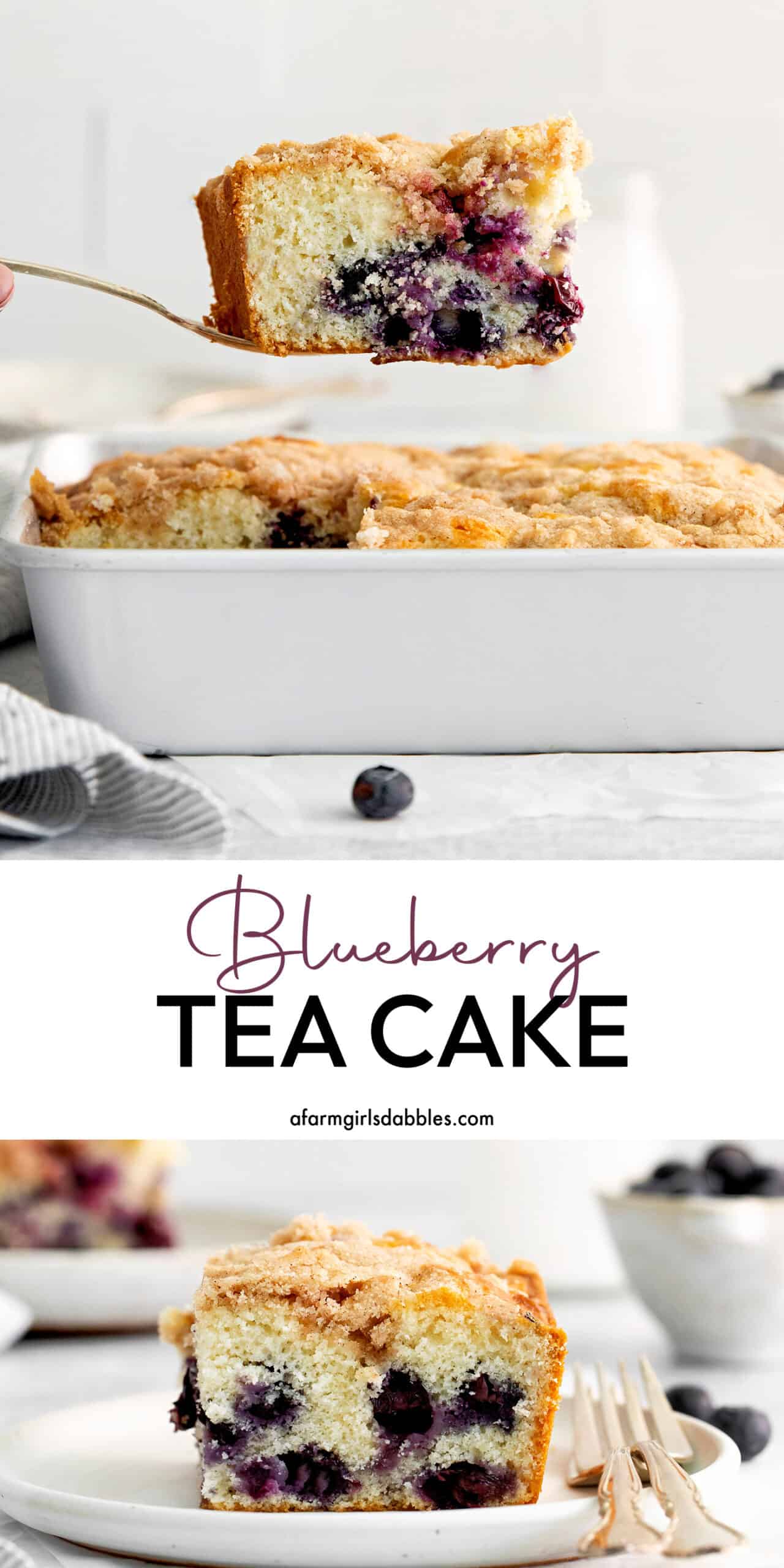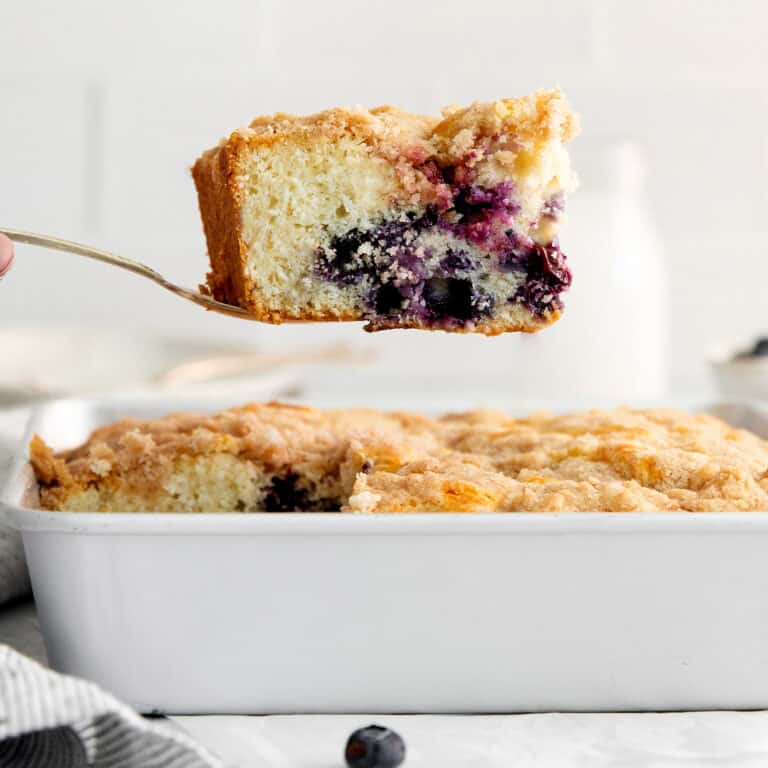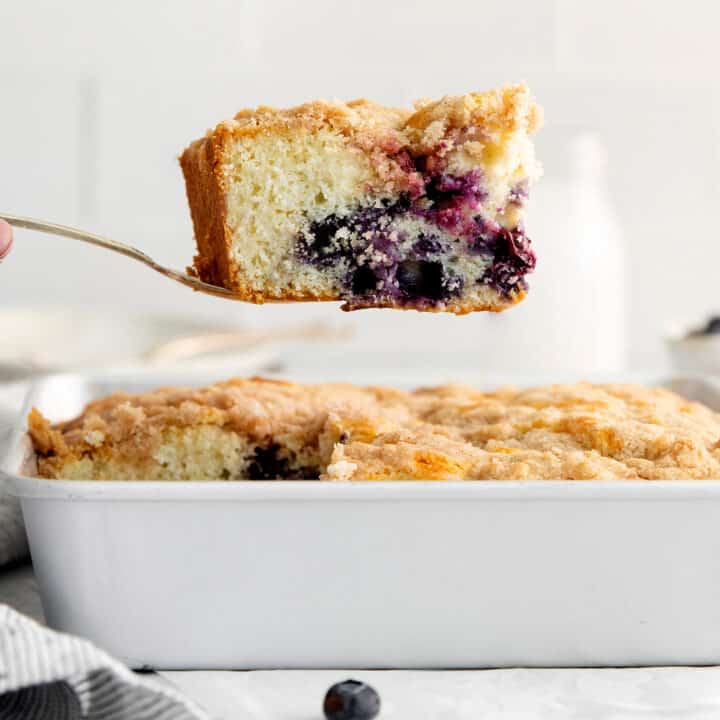 Blueberry Tea Cake
Yield: 9 servings
Prep Time: 20 minutes
Cook Time: 35 minutes
Total Time: 55 minutes
Moist, fluffy, and laced with blueberries in every bite, this Blueberry Tea Cake makes a quick and easy summer dessert. It's absolutely delightful with freshly picked berries!
Ingredients
for the cake:
2 cups all-purpose flour
2 teaspoons baking powder
1/2 teaspoon kosher salt
1/2 cup unsalted butter, softened (not melted)
3/4 cup sugar
1 large egg
1/2 cup milk
2 cups fresh blueberries (frozen will also work)
for the crumb topping:
1/2 cup sugar
1/4 cup all-purpose flour
1/2 teaspoon cinnamon
pinch of salt
1/4 cup unsalted butter, at room temperature
Instructions
Preheat oven to 375° F. Grease and flour a light-colored 9″ square pan and set aside.
For the cake: In a small bowl, sift together flour, baking powder, and salt; set aside.
In a large bowl, cream together butter and sugar until light and fluffy. Add egg and milk, and then beat until smooth. Add the sifted dry ingredients and mix until just combined. Gently fold in the blueberries and then spread into the prepared pan.
For the crumb topping: In a small bowl, mix together sugar, flour, cinnamon, and salt. Then cut in butter with a pastry blender or fork, until coarse crumbs form. Sprinkle the crumb topping over the cake batter.
Bake for 35 to 40 minutes, until nicely golden brown. Remove from oven and let cool on a cooling rack.
Nutrition Information:
Yield: 9
Serving Size: 1
Amount Per Serving:
Calories: 391
Total Fat: 17g
Saturated Fat: 10g
Trans Fat: 0g
Unsaturated Fat: 6g
Cholesterol: 62mg
Sodium: 211mg
Carbohydrates: 57g
Fiber: 2g
Sugar: 32g
Protein: 5g
Nutrition information is automatically calculated by Nutritionix. I am not a nutritionist and cannot guarantee accuracy. If your health depends on nutrition information, please calculate again with your own favorite calculator.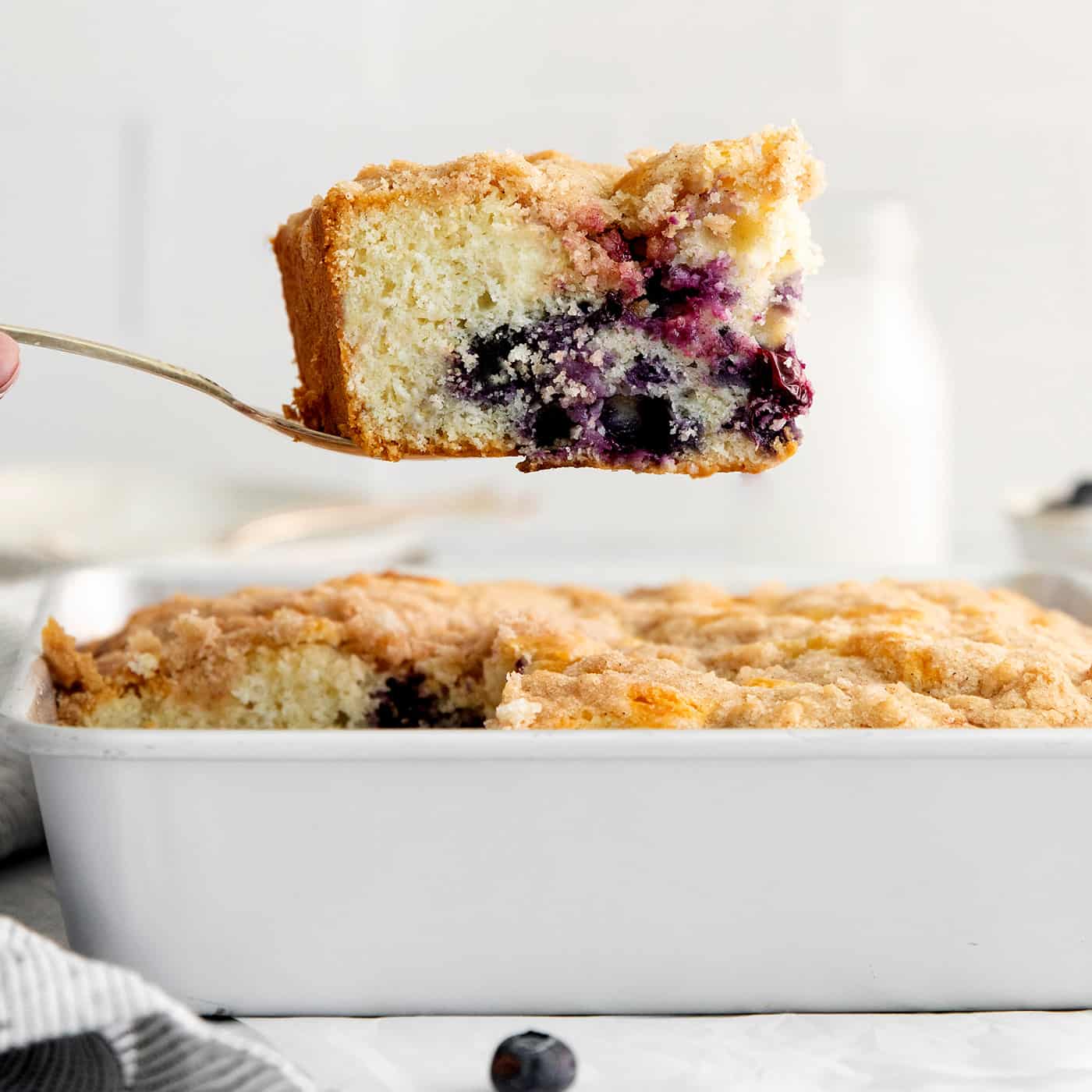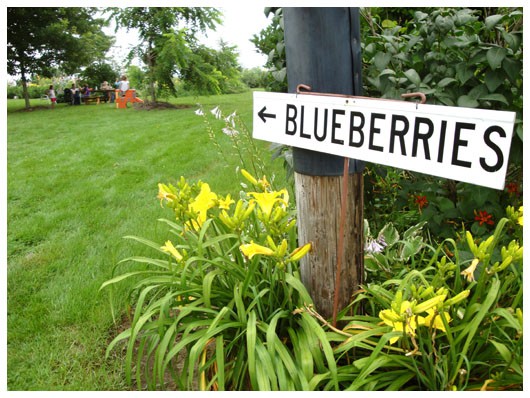 Blueberry Picking Trip
Following is a recap from our first experience picking blueberries many years ago. I took our daughters and one of their friends to Rush River Produce, near Maiden Rock, Wisconsin, about an hour's drive south.
If you've ever driven on Wisconsin's Great River Road, then you know what a beautiful drive that is. Winding along this National Scenic Byway, with the mighty Mississipi River below and stunning limestone bluffs above, we were often pointing out the windows in awe. We were plopped into instant vacation mode.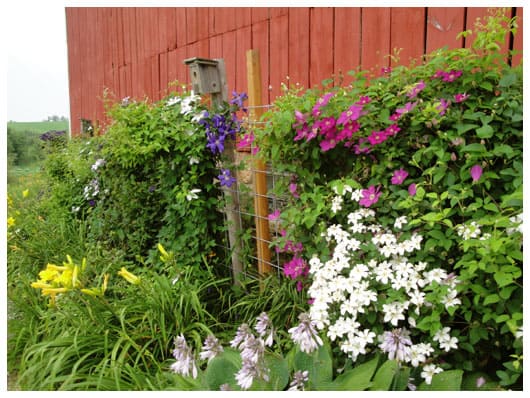 The beautiful farm at Rush River Produce was more than I had imagined. With a quaint farmhouse, a number of outbuildings, and TONS of flowers, it was a delightful time away from the city.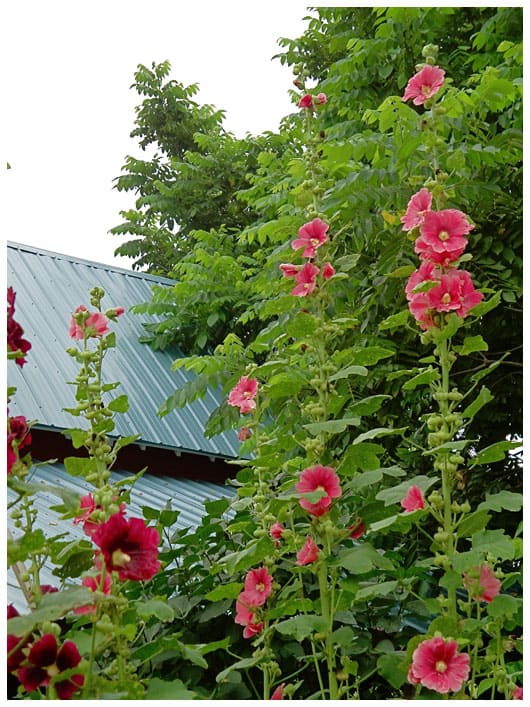 I had never, ever seen so many hollyhocks in one location. These extra-tall,old-fashioned flowers always catch my attention.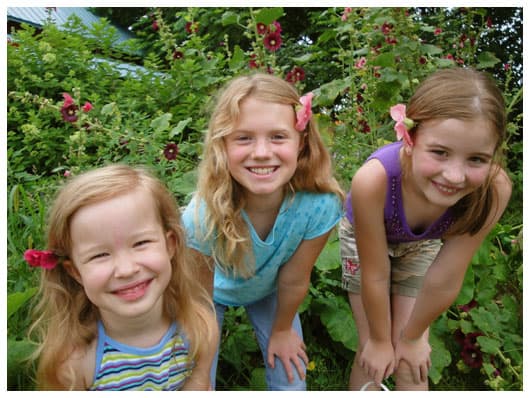 My happy companions liked them, too, and proceeded to tuck blooms into their hair. I dubbed them "The Hollyhock Girls". :)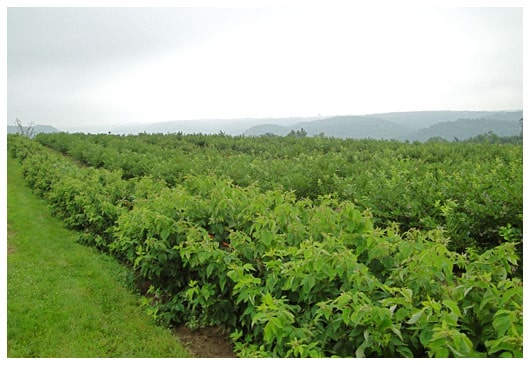 The Blueberry Bushes
Our first sight of the blueberry bushes, with row after row dipping over the misty horizon, promised to fill our boxes with blueberry deliciousness. Can you just imagine this being your backyard?!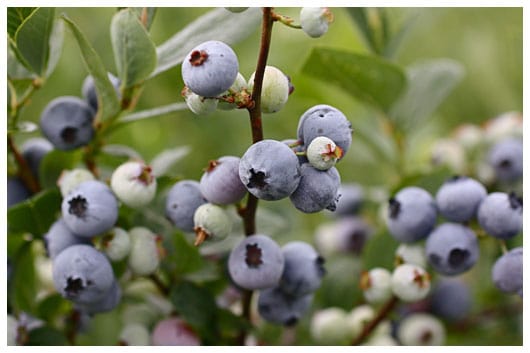 The blueberries were just so beautiful. We didn't hesitate at all to pop the first few into our mouths.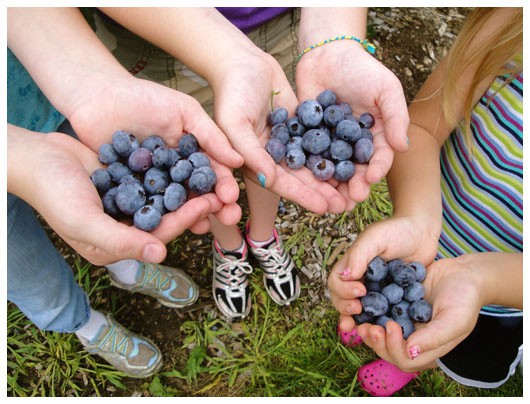 The girls talked and laughed the whole while, and proudly updated me every few minutes with how many blueberries they had picked.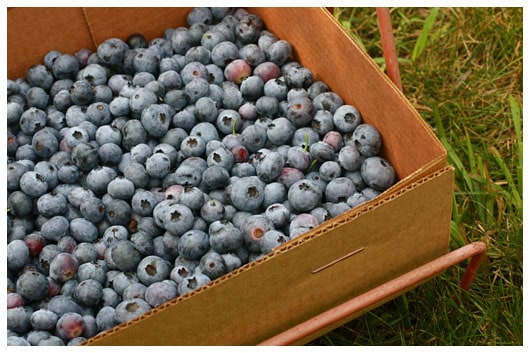 It was so relaxing, I could have picked for hours. But I restrained myself, knowing how I always over-pick with strawberries, and we left with just 1 box.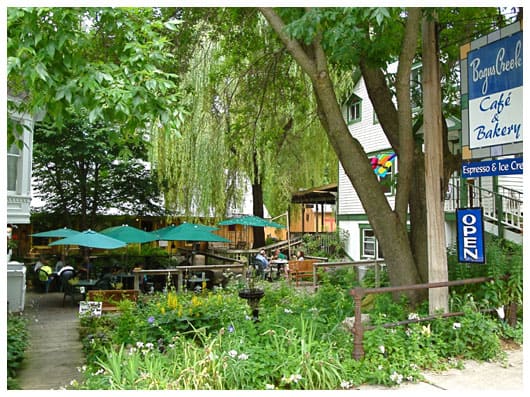 Stockholm, WI – Things To Do
Then, like any good group of women out for the day, we got back in the car to find some lunch and shopping. We drove a few miles south to the village of Stockholm (pop. 97!), to enjoy a meal at a quaint umbrella'd table at Bogus Creek Cafe & Bakery.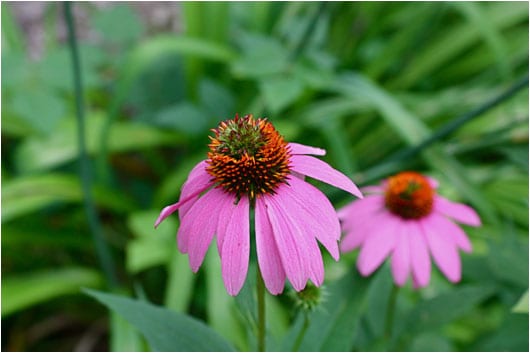 Surrounded by fountains and flowers,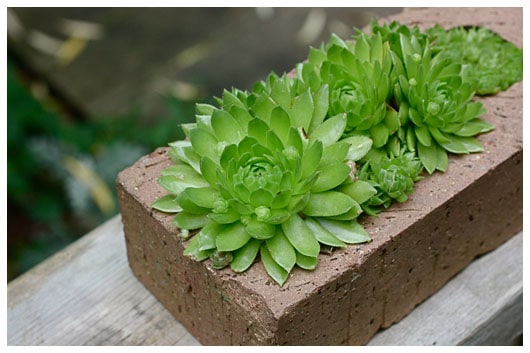 and lush succulents growing playfully from bricks, we mozied over to the next most reasonable destination…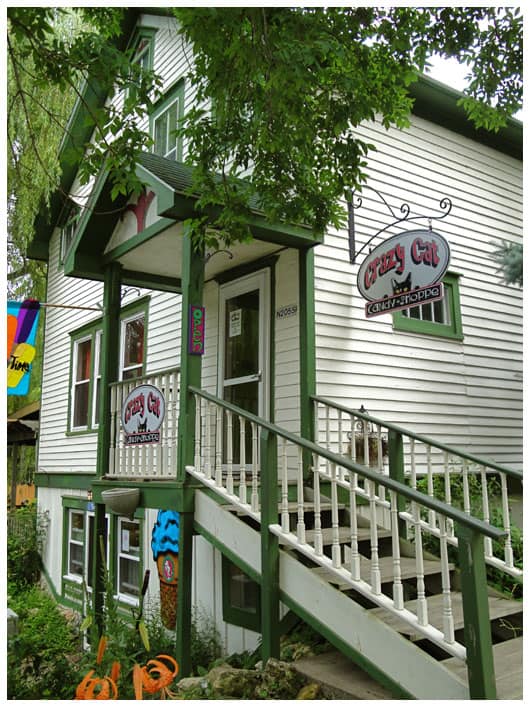 The Crazy Cat Candy Shoppe, of course, for some jelly beans and ultra creamy homemade fudge.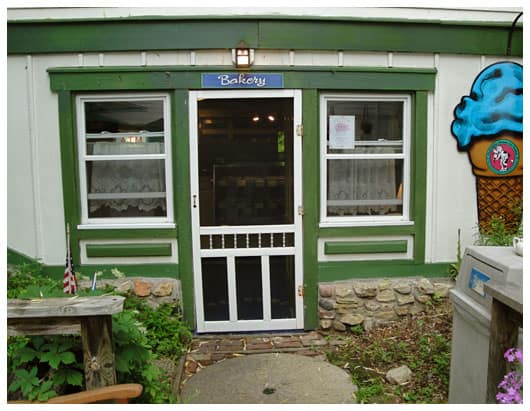 With a bakery housed down below, showing off its flaky croissants and gorgeous loaves, this beautiful old home was quite the find.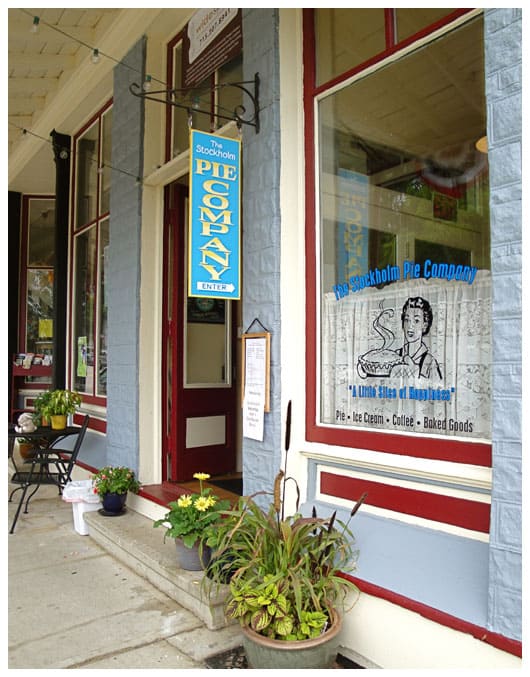 Then we checked out the village's antiques, Swedish goods, and The Palate – an unbelievable kitchen store feat for a town of only 97 people. And finally, we stopped for pie at the legendary The Stockholm Pie Company.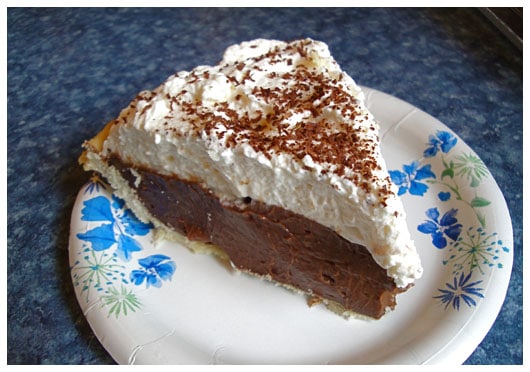 The pieces were so big, we decided to share just one. The vote was unanimous – "Chocolate Cream Pie!"
And that was the best chocolate cream pie I've ever had. The crust was light, flaky, and perfectly salty. And that bottom layer of chocolate pudding was thick, creamy, and richly chocolate. No Jell-O pudding boxes used here, folks. This was the real stuff! The perfect delicious end to our day of blueberry picking!
This post was first published in 2011, and then updated in 2022.