Blueberry Cobbler with Orange Biscuit Puffs
This homemade Blueberry Cobbler with Orange Biscuit Puffs is an easy blueberry dessert that you'll want to make all summer long. With fresh blueberries, plus a kiss of bright orange, it's downright irresistible!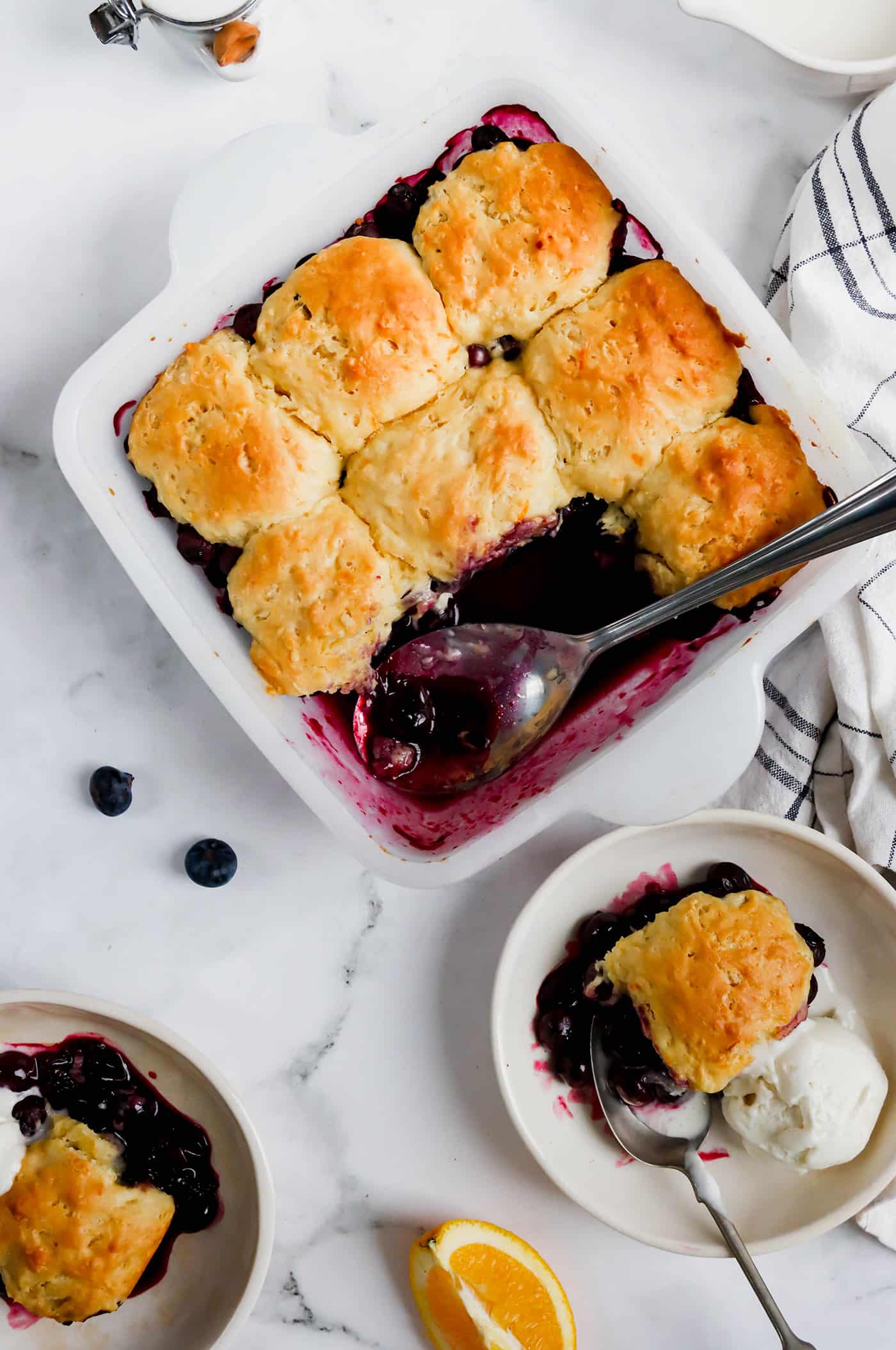 An Irresistibly Easy Cobbler Recipe
Our family goes blueberry picking every summer – it's a family tradition attached to many fond memories.
And every year, we look for new ways to use those gorgeous fresh blueberries. This easy Blueberry Cobbler recipe is a classic, with a twist of fresh orange flavor. I like to serve it still a bit warm from the oven, with scoops of vanilla ice cream. Grab some of those awesome summer blueberries and enjoy!
More of our family's favorite blueberry recipes: My grandma's Blueberry Muffins with Crumb Topping – we make these muffins A LOT!! My mom's tender Blueberry Tea Cake. And this Roasted Blueberry Crème Fraîche Ice Cream is AMAZING!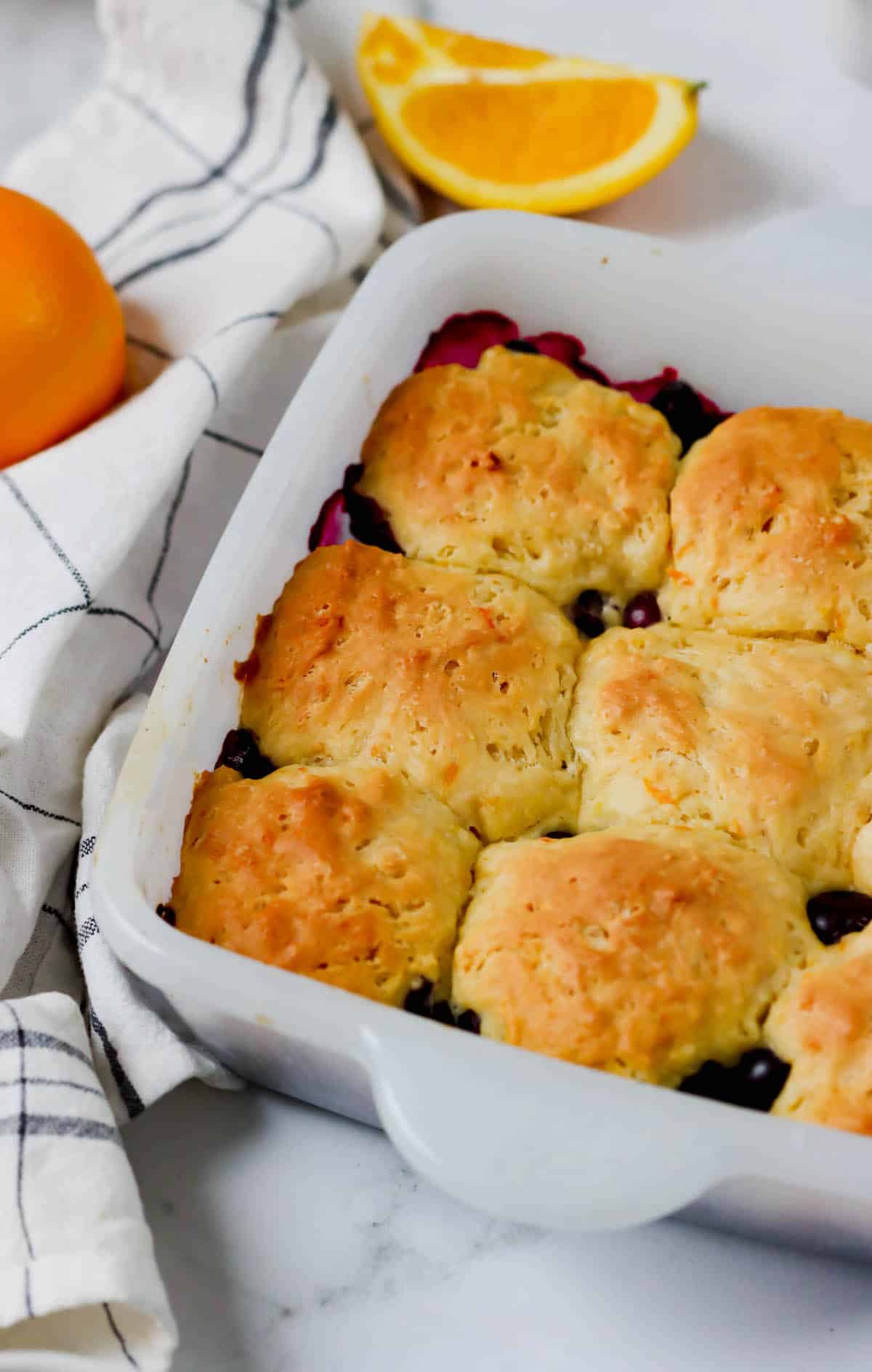 This homemade blueberry cobbler is downright irresistible with the addition of fresh orange. It's a favorite combination of mine, one that I couldn't quit thinking about after making Blueberry Hand Pies with Orange Glaze. With orange biscuit puffs baked on top of sweet, jammy blueberry filling, this cobbler has stolen my blueberry-orange lovin' heart!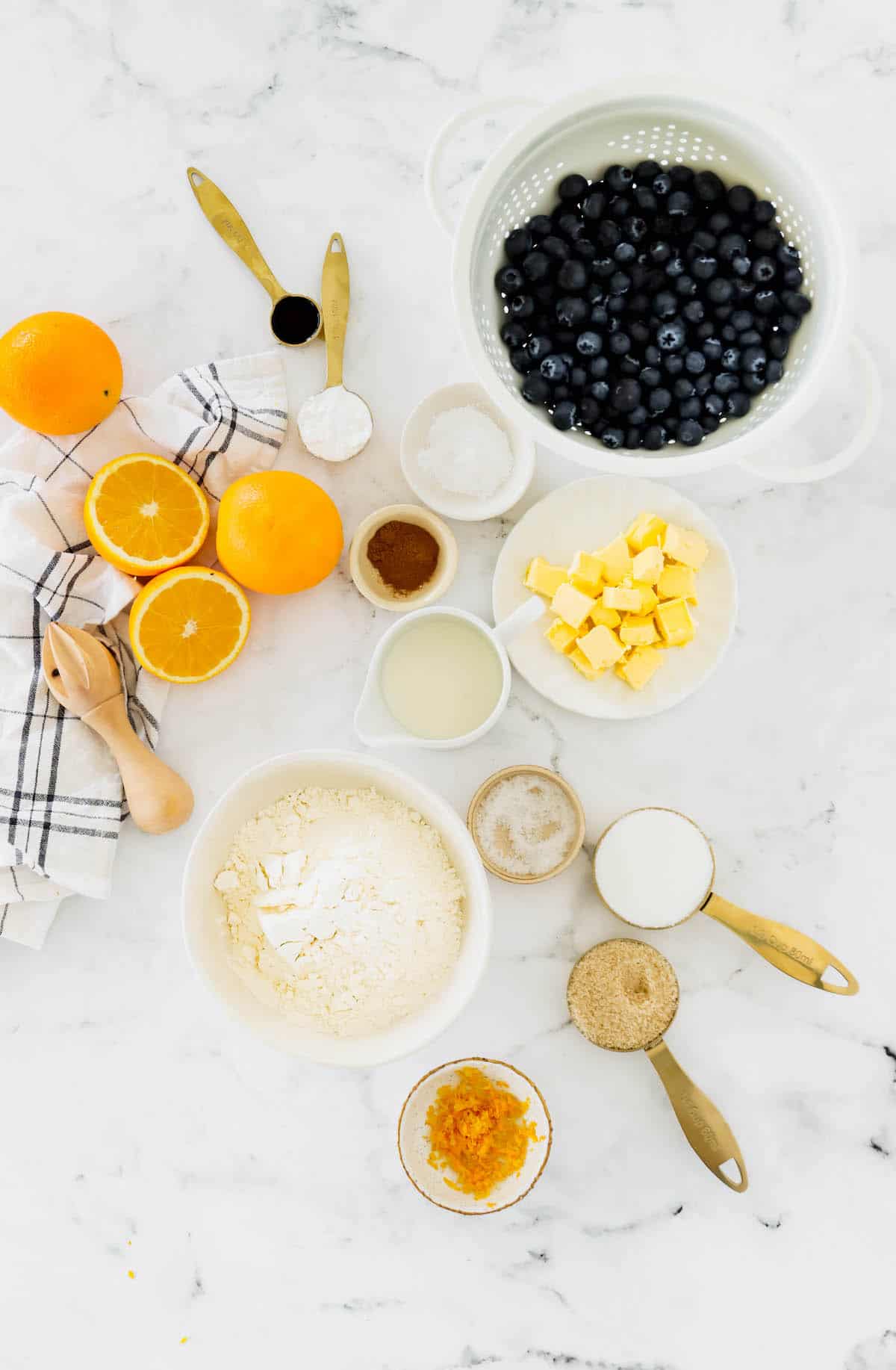 What You'll Need
This cobbler is made with blueberries, orange, and a handful of pantry staples. The ingredient lists for both the blueberry filling and orange biscuit puffs are short and sweet!
FOR THE BLUEBERRY FILLING:
Blueberries – Fresh or frozen blueberries work in this recipe, so you can make it year-round. But the freshest summer berries will always be best!
Orange juice – Use freshly squeezed juice for the best flavor!
Vanilla extract – Pure vanilla adds a hint of sweet, warm flavor.
Brown sugar – Complements the tart blueberry flavor.
Cornstarch – Thickens the filling, giving you a more jammy consistency.
Cinnamon – Adds warm flavor.
Kosher salt
FOR THE ORANGE BISCUIT PUFFS:
Flour – Regular all-purpose baking flour is all you need.
Sugar – A small amount of sugar is just enough.
Baking powder – Helps the puffs to rise.
Salt
Orange – Orange zest and freshly squeezed orange juice give these biscuit puffs that touch of bright orange flavor.
Butter – Unsalted butter should be cold and cut into cubes.
Milk – Your preferred dairy milk.
Coarse sugar – Adds texture to the tops of the puffs.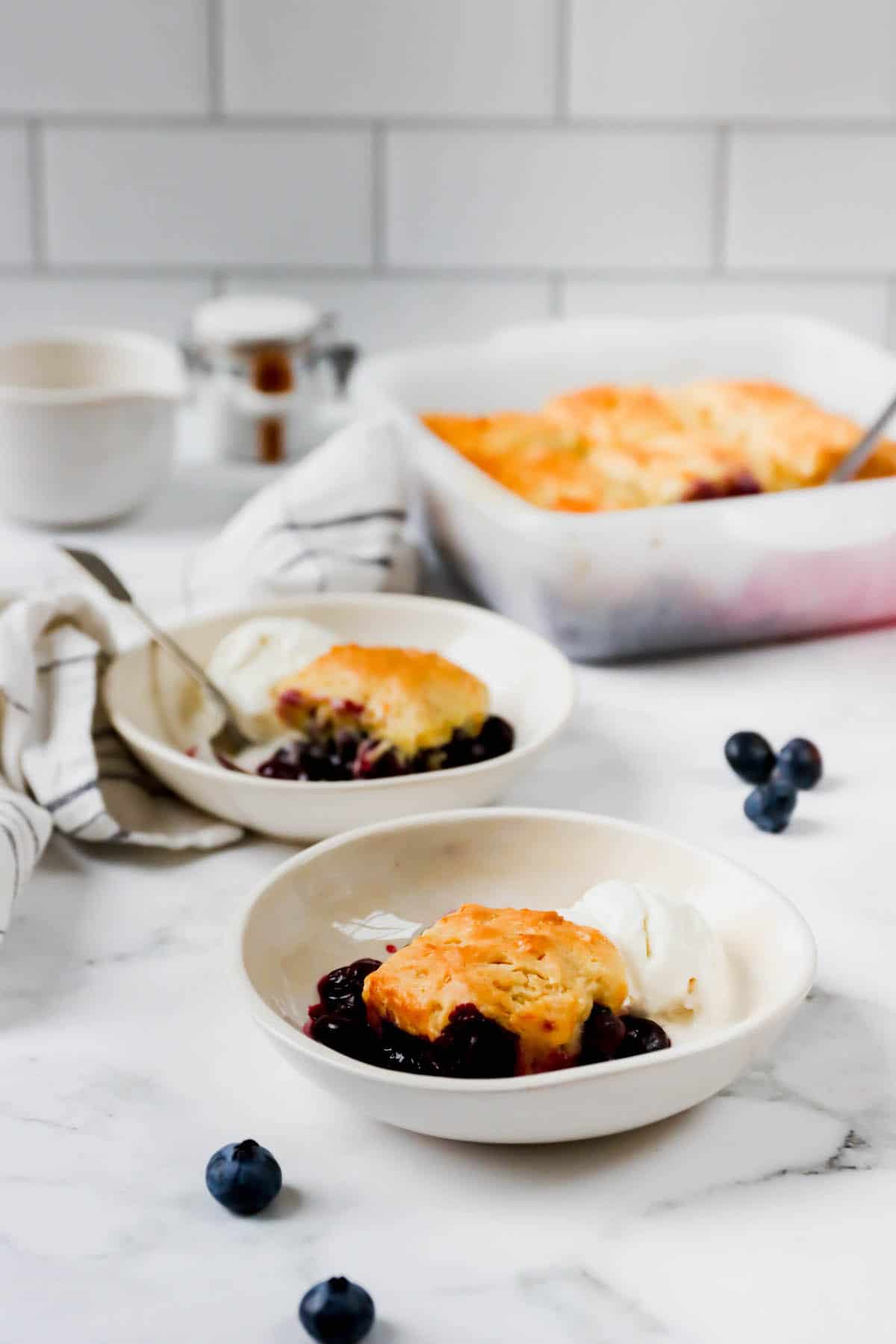 How to Make Blueberry Cobbler with Orange Biscuit Puffs
One of the reasons I love making cobbler is that it's so easy. The blueberry filling comes together in just a few minutes and the biscuit dough is super simple too!
Prep. Preheat the oven to 350° F and spray the pan with cooking spray.
Prepare the blueberry filling. Fold the blueberries in a bowl with orange juice and vanilla. Then combine the dry ingredients in a separate bowl and fold into the blueberries.
Prepare the orange biscuit puffs. Whisk together dry ingredients then cut in the butter until crumb-like pieces form. Combine milk and orange juice and add to the flour.
Assemble the cobbler. Pour the blueberry mixture into the pan. Scoop dollops of the orange biscuit dough across the top. Sprinkle with coarse sugar.
Bake. Bake for 45 minutes. The blueberry mixture should be bubbling and the biscuits nicely browned. Let cool and serve.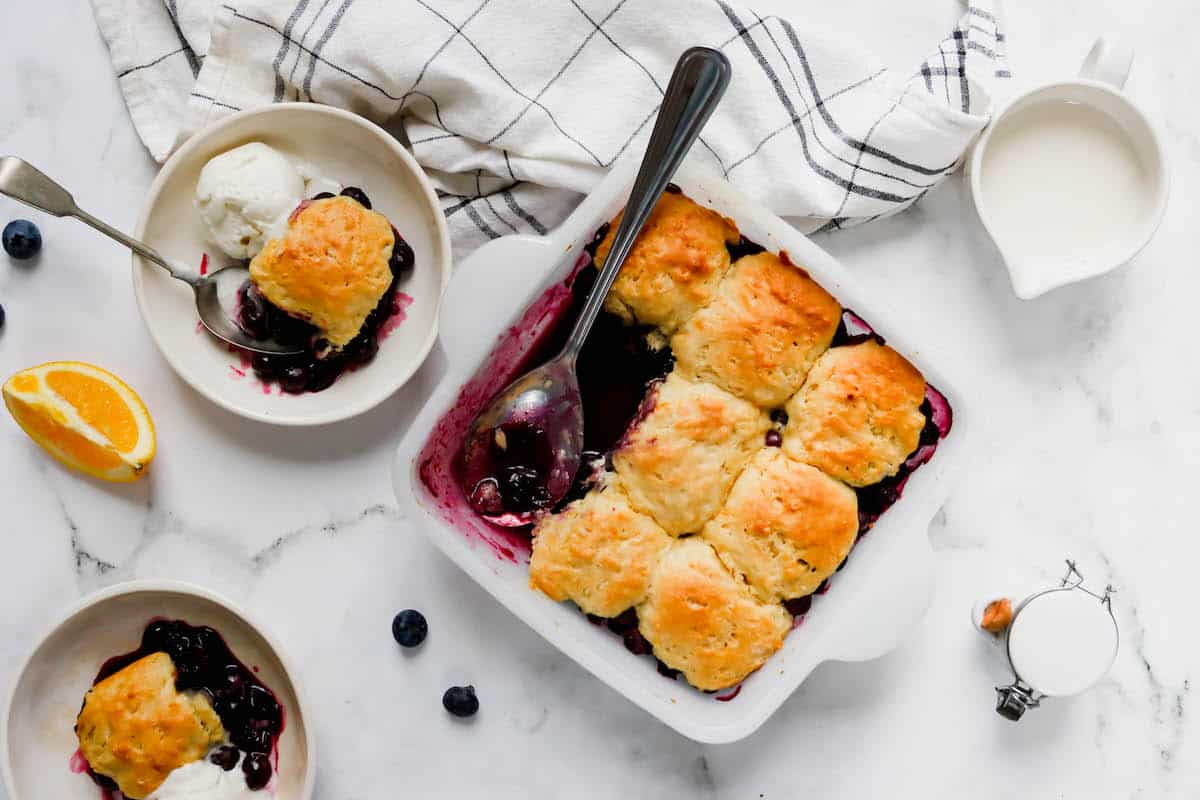 Tips for Success
This mouthwatering cobbler is simple to make. Here are a few tips and suggestions to make the perfect blueberry cobbler:
Frozen berries are okay! While I love making this with freshly picked berries, you can also use frozen berries. No need to thaw them first!
Use other berries. You can also try this recipe with other berries – blackberries work particularly well.
Use cold butter. Cold butter is essential to making the biscuits. Keep it in the fridge until you're ready to use it.
Don't overmix the batter. For biscuits that puff up, take care not to over-incorporate the ingredients.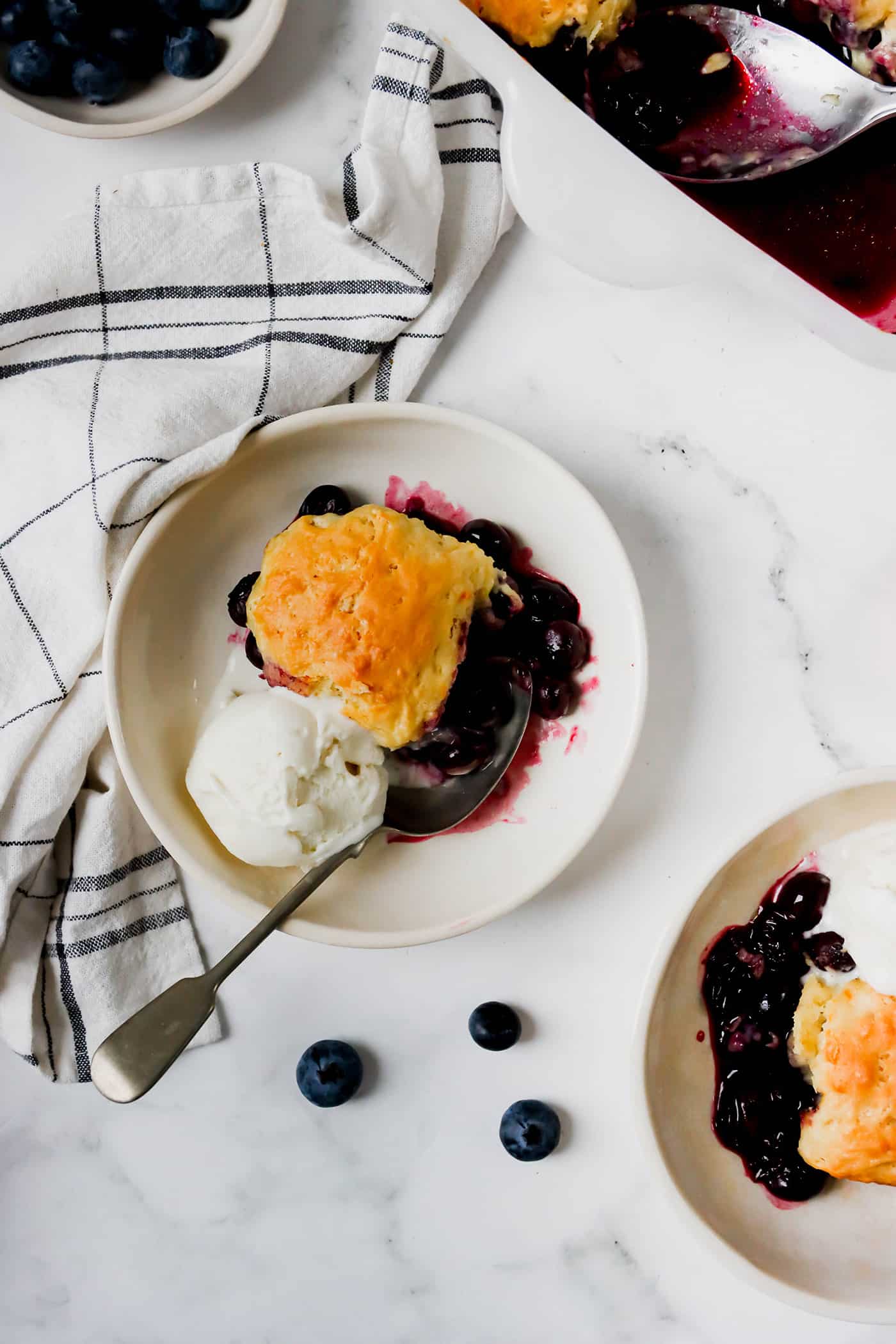 Serving Suggestions
Enjoy your blueberry cobbler while it's still a bit warm from the oven. Allow it to cool for 30 minutes or so, then enjoy with a splash of cream, a spoon of lightly sweetened whipped cream, or a big scoop of vanilla ice cream.
The ice cream will always be my favorite – I love how the frozen ice cream gets all melty with the warm cobbler!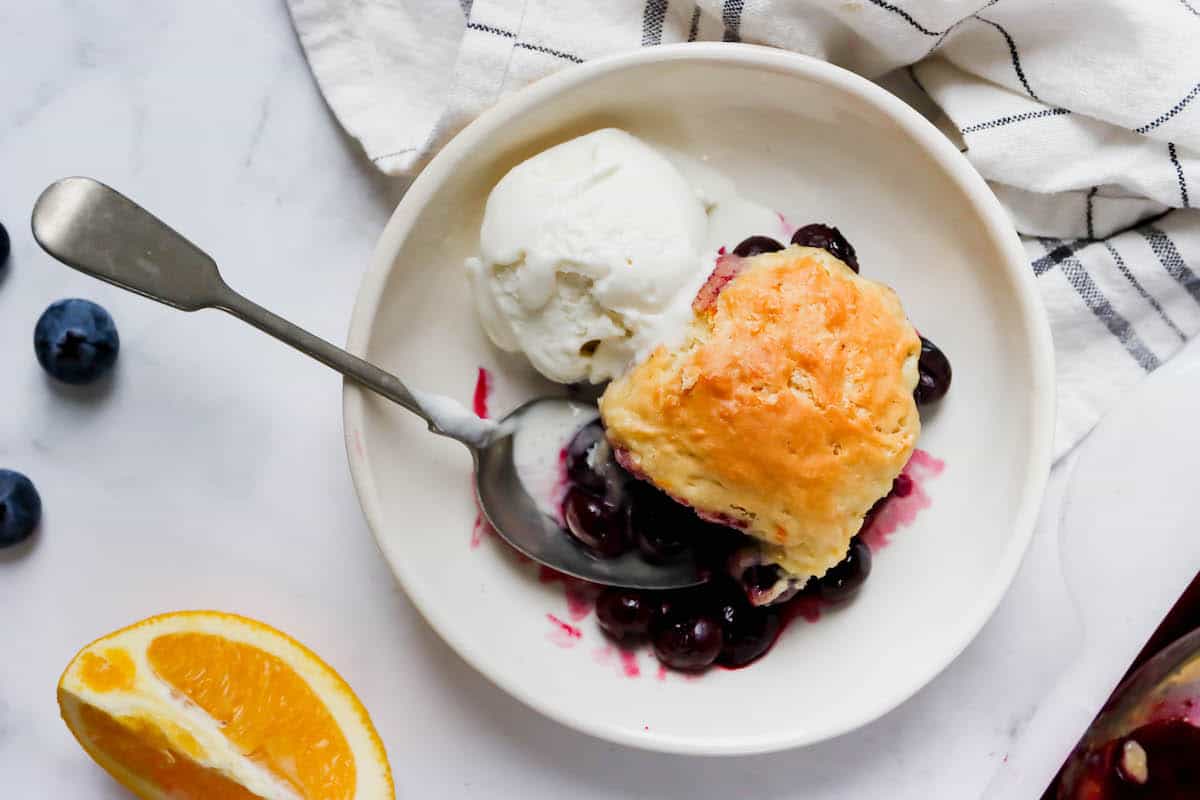 It's perfection. Sweet blueberry bliss, with a kiss of orange.
How to Store
You can store this blueberry cobbler in the fridge for up to 4 days. Either reheat individual portions in the microwave or reheat the entire pan in the oven.
If you choose to reheat in the oven, allow the pan to come to room temperature first. Then use a lower over temp (250° F to 300° F works great) and then reheat until the blueberry filling starts to bubble. If the biscuits start to brown too much, simple place a piece of foil loosely over the top of the pan.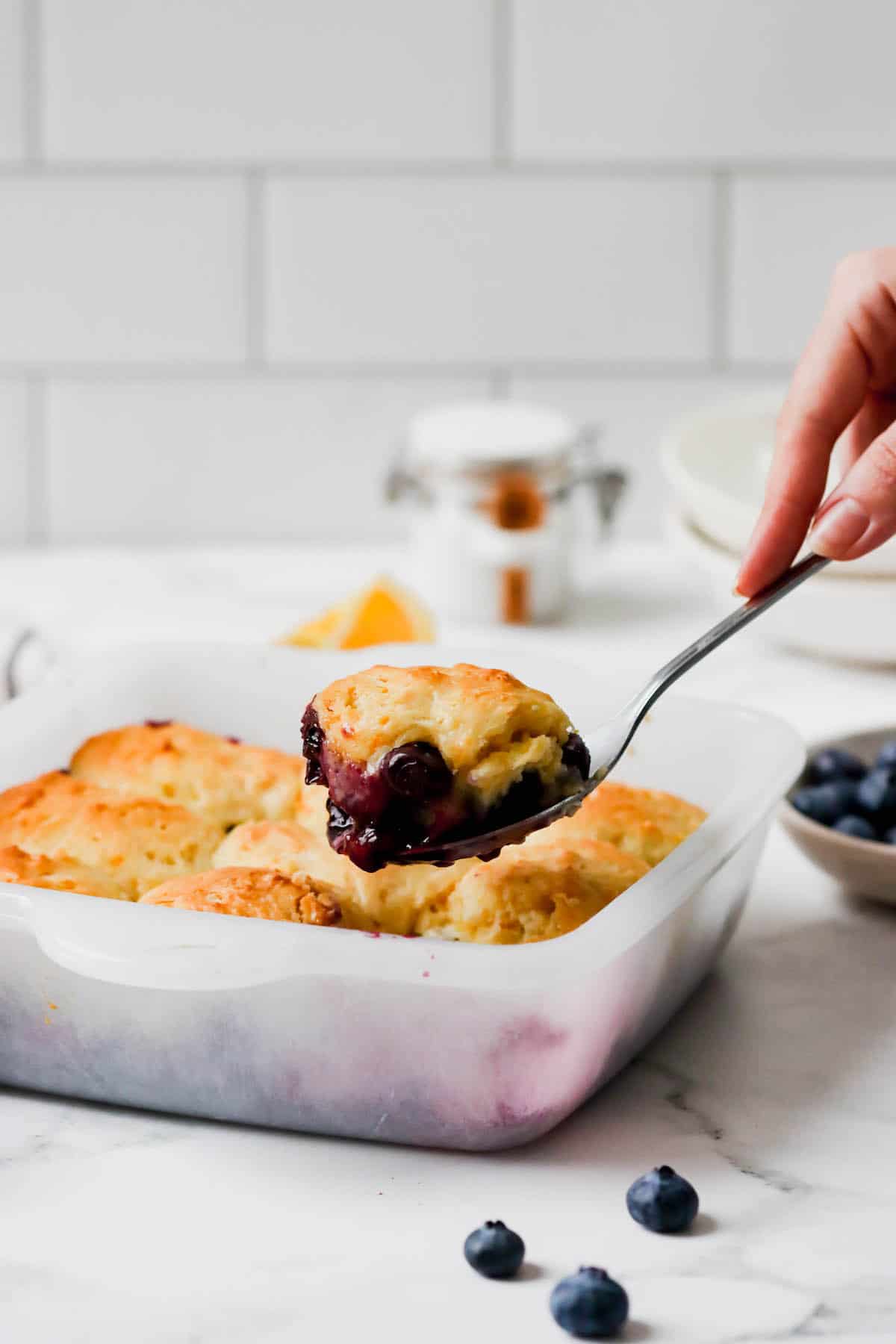 Can I Freeze Blueberry Cobbler?
You can easily freeze this blueberry cobbler! Allow it to cool completely after baking, then cover it tightly with plastic wrap and aluminum foil. It will stay fresh for up to 2 months.
To reheat, let it thaw first, and then pop it back into the oven until warmed through. You can cover it with foil if the top starts browning too much.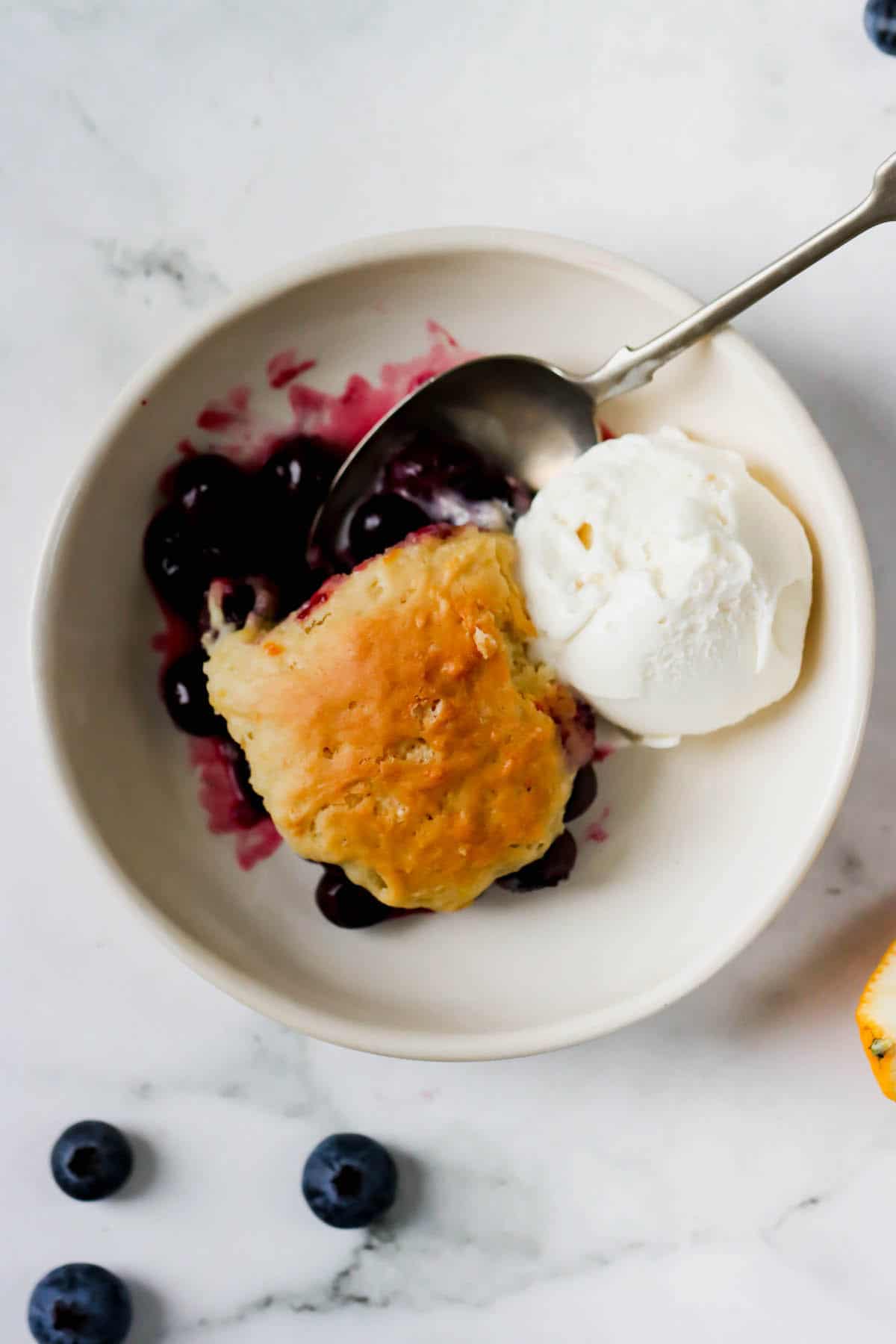 More Blueberry Recipes:
Like this easy recipe? Save it to Pinterest!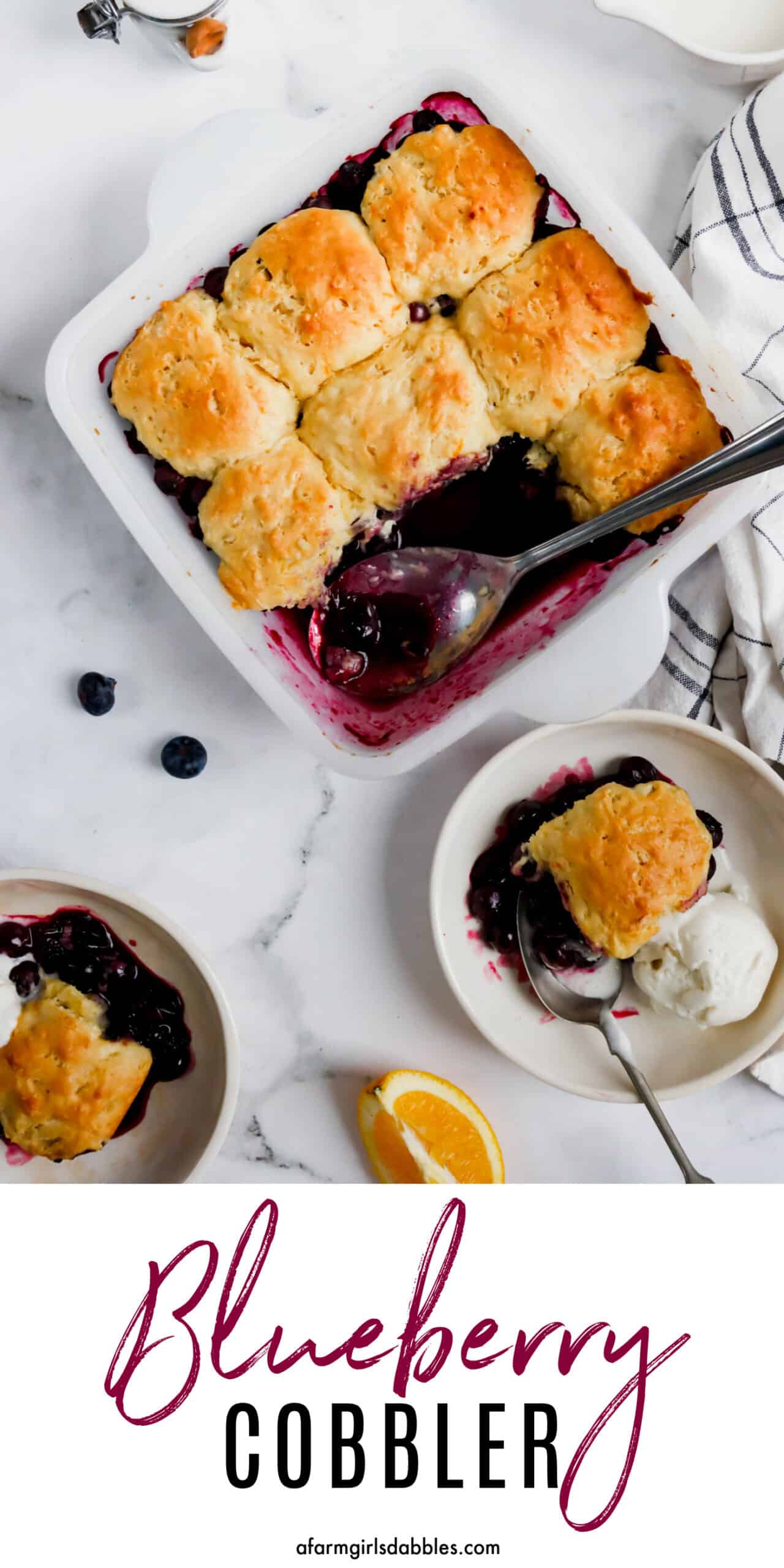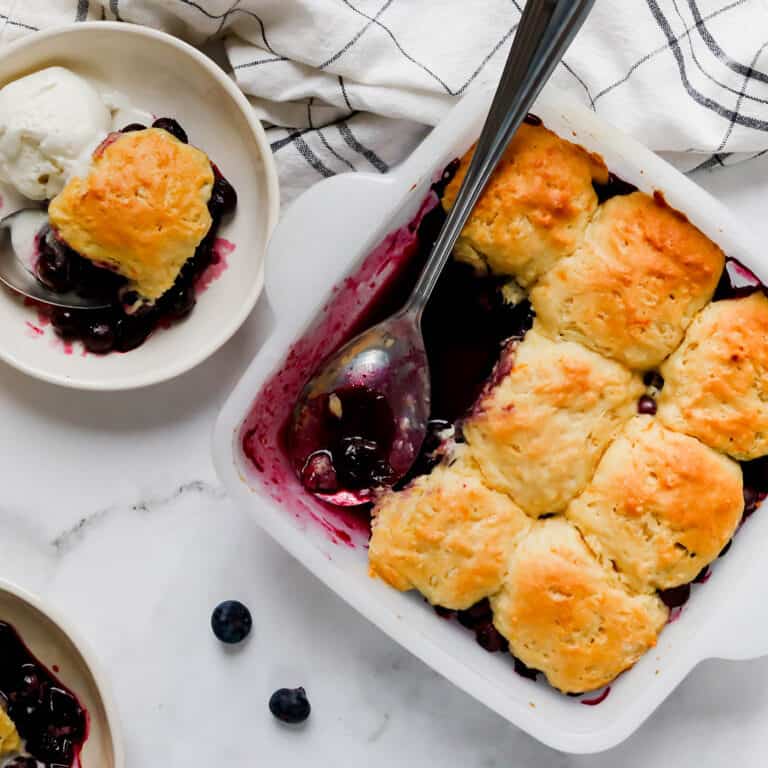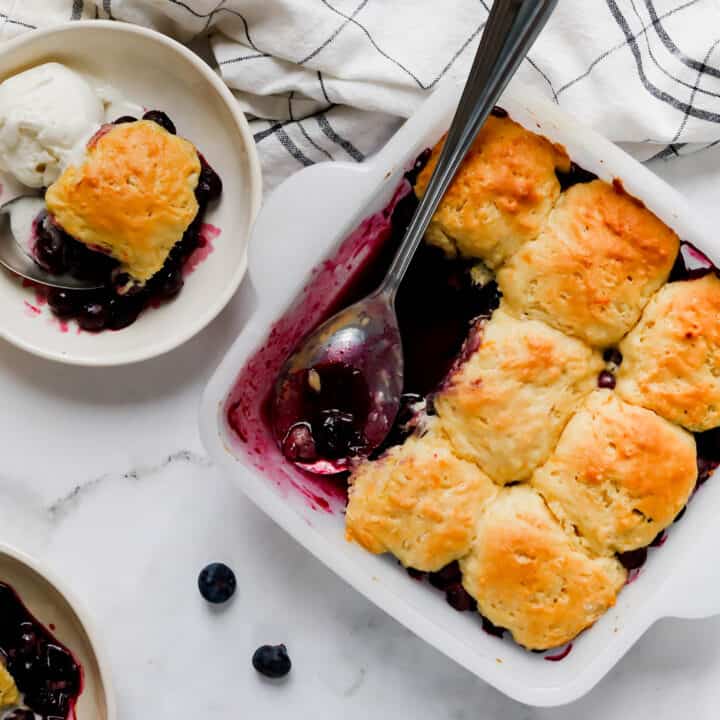 Blueberry Cobbler with Orange Biscuit Puffs
Yield: 9 servings
Prep Time: 25 minutes
Cook Time: 45 minutes
Total Time: 1 hour 10 minutes
Equal parts sweet and tart, this Blueberry Cobbler with Orange Biscuit Puffs is an easy blueberry dessert that you'll want to make all summer long! The combination of blueberry and orange is downright irresistible!
Ingredients
for the blueberry filling:
4 cups fresh or frozen blueberries
2 tablespoons freshly squeezed orange juice
1 teaspoon pure vanilla extract
1/4 cup packed brown sugar
1 tablespoon cornstarch
1/2 teaspoon cinnamon
1/8 teaspoon kosher salt
for the orange biscuit puffs:
1.5 cups all-purpose flour
1/3 cup sugar
2 teaspoons baking powder
1/2 teaspoon kosher salt
zest of 1 orange
1/4 cup cold unsalted butter, cut into 1/2" cubes
1/2 cup milk
1/4 cup freshly squeezed orange juice
1 tablespoon coarse sugar
Instructions
Preheat oven to 350° F. Lightly spray a 9"x9" pan with tall sides with cooking spray. Set aside.
For the blueberry filling: Place blueberries in a medium bowl. Add orange juice and vanilla, and then fold to combine.
In a small bowl, whisk together brown sugar, cornstarch, cinnamon, and salt. Sprinkle over the blueberries and fold to combine. Set aside.
For the orange biscuit puffs: In a large bowl, whisk together flour, sugar, baking powder, salt, and orange zest. Add butter and cut in with a rigid pastry blender or two forks until butter is distributed evenly and forms large crumb-like pieces.
In a small bowl, stir together milk and orange juice. Add to flour mixture and stir until just combined.
Give the blueberry mixture a good stir to incorporate the accumulated juices and then pour mixture into prepared pan. With a large spoon, scoop up orange biscuit dough and place 9 dollops of dough across the top of the blueberry mixture. The biscuits will spread a bit while baking. Sprinkle with course sugar.
Bake for 45 minutes, or until the blueberry mixture is bubbling and the biscuits are nicely browned. Let cool for 15 minutes. Serve with a splash of cream or a scoop of vanilla ice cream.
Nutrition Information:
Yield: 9
Serving Size: 1
Amount Per Serving:
Calories: 234
Total Fat: 6g
Saturated Fat: 3g
Trans Fat: 0g
Unsaturated Fat: 2g
Cholesterol: 15mg
Sodium: 206mg
Carbohydrates: 43g
Fiber: 3g
Sugar: 22g
Protein: 3g
Nutrition information is automatically calculated by Nutritionix. I am not a nutritionist and cannot guarantee accuracy. If your health depends on nutrition information, please calculate again with your own favorite calculator.
Blueberry-picking memories with our family…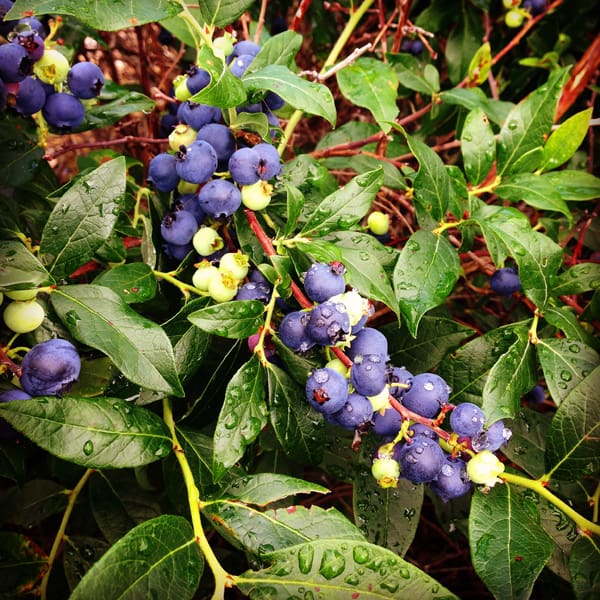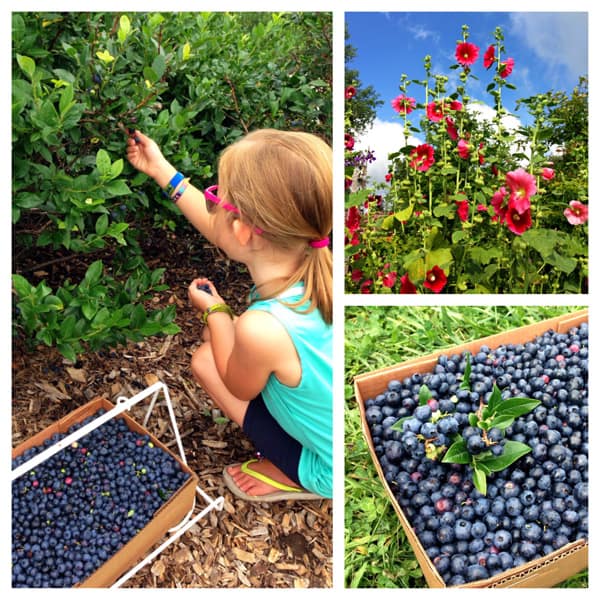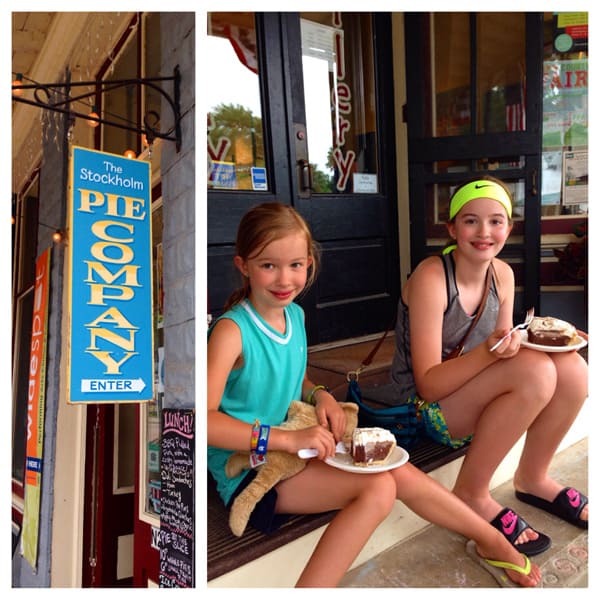 This post was originally published in 2014. Photographs and some of the text were updated in 2021.