Fluffy Whipped Blueberry Butter
This post may contain Amazon or other affiliate links. As an Amazon Associate I earn from qualifying purchases.
This Fluffy Whipped Blueberry Butter is light and luxurious, with just a touch of sweetness. Made with fresh blueberries, it's the perfect topping for pancakes, waffles, toast, muffins, and more!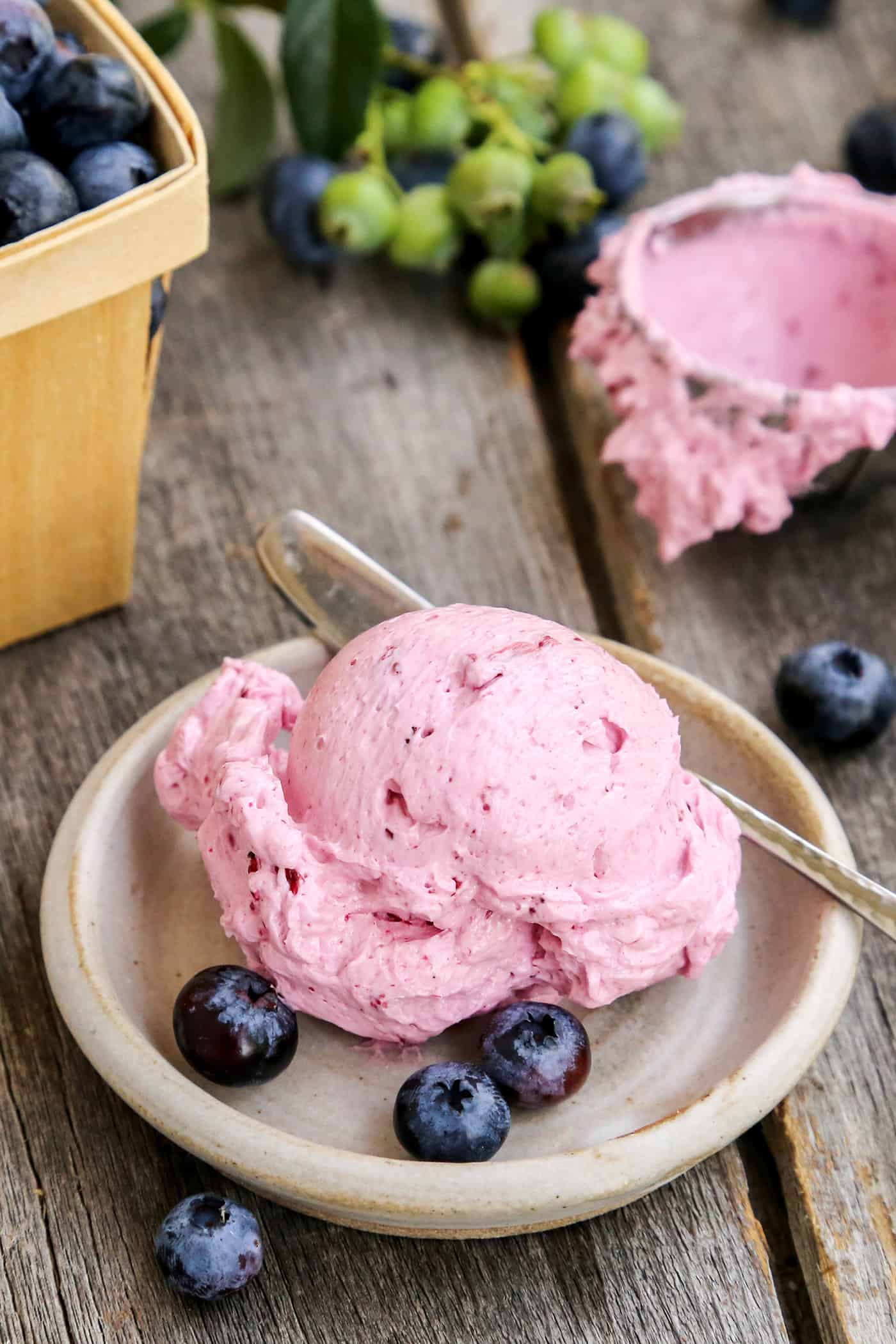 An Irresistible Flavored Butter
Sweet, tart blueberries are an irresistible summertime favorite around here. We like to make at least one trip to a local up-pick, and then pick up the rest at farmers markets, etc. And this Fluffy Whipped Blueberry Butter has been one of the best things we've ever made with fresh blueberries!
This flavored butter is such a treat. It takes already-fantastic recipes, like my grandma's Blueberry Muffins or Buttermilk Pancakes, and turns them into something extra amazing. Although it's not as sweet as you would imagine a typical frosting, our daughters jokingly call this luscious concoction "blueberry butter frosting" – it's wonderful on so many things! You're gonna love it!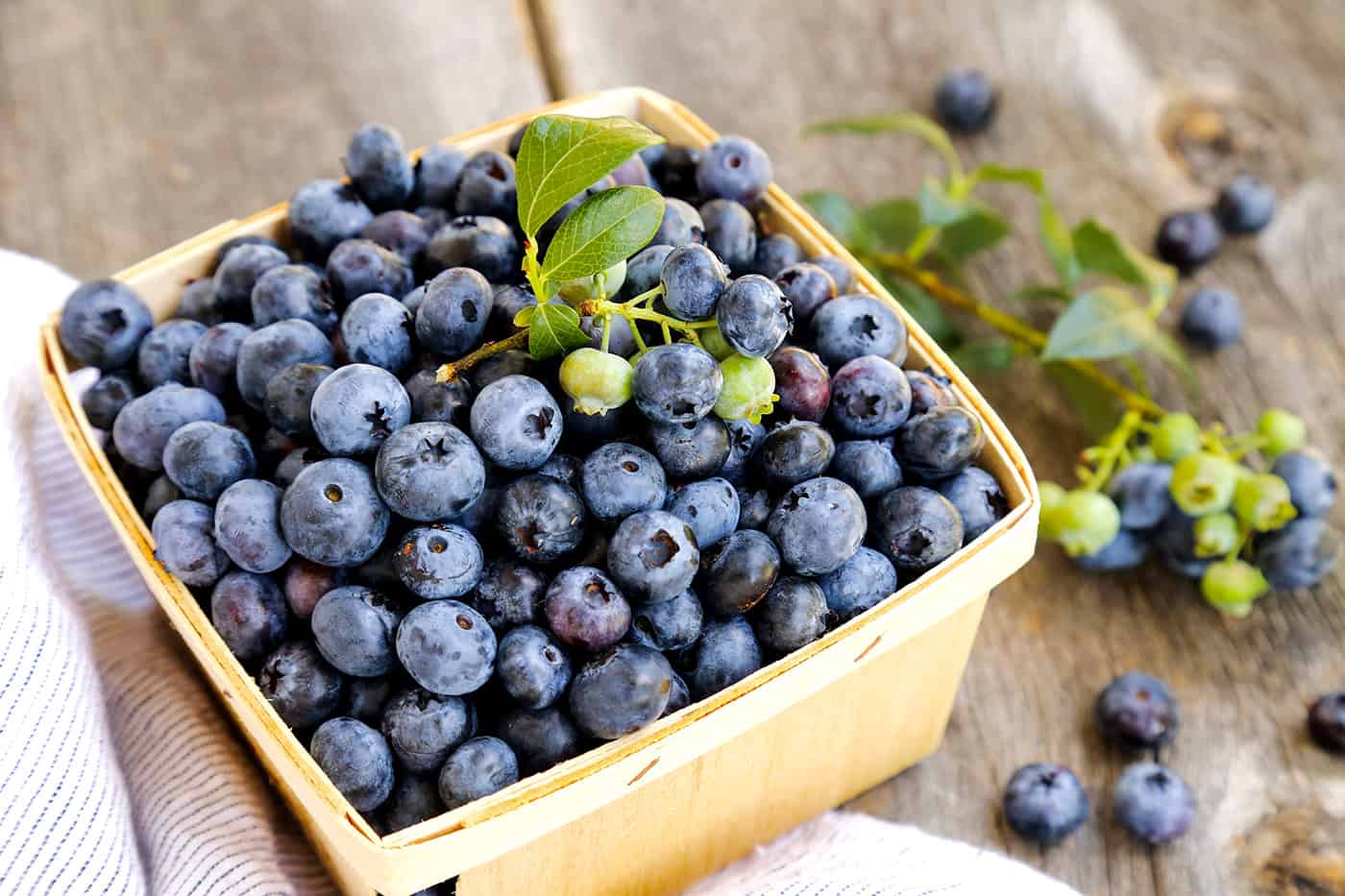 This recipe starts out with fresh blueberries, of course. You'll be amazed at how easy it is to turn those gorgeous berries into a delightful blueberry sauce!
The recipe makes a bit more blueberry sauce than you'll need to use for the whipped butter. But this was actually a conscious decision on my part, as this allows for a nice portion of leftover sauce. We like to spoon the sweet blueberry sauce over pancakes, waffles, and French toast. It's also great on a scoop of vanilla ice cream!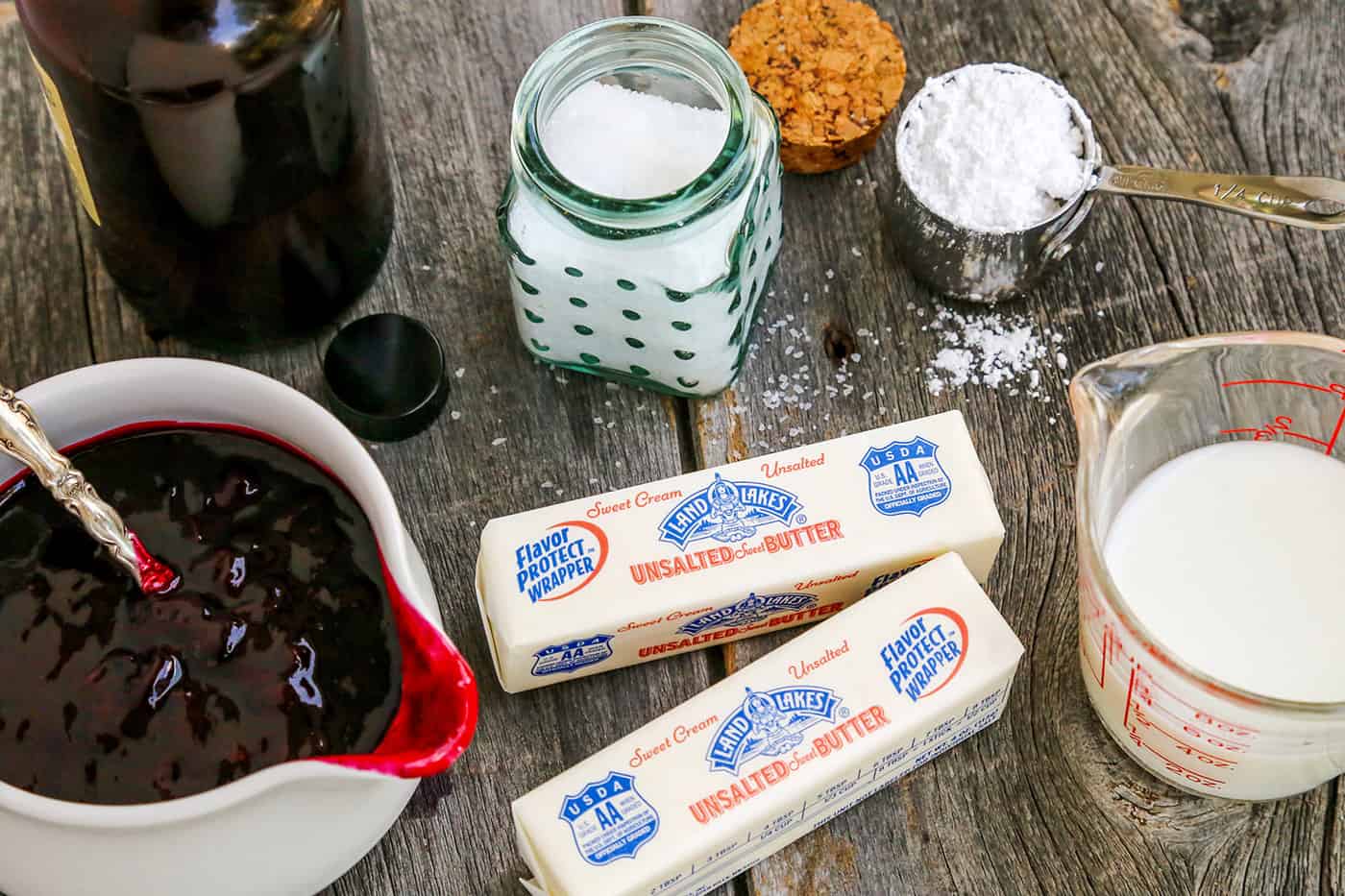 What You'll Need
There are only a few ingredients in both the blueberry sauce and the butter. I've divided the ingredients, as you'll want to make the blueberry sauce first and allow it to cool before making the blueberry butter.
For the Blueberry Sauce
Fresh blueberries – Even better if you picked them yourself! :)
Water – To help create the sauce texture.
Sugar – Sweetens it all up!
Cornstarch – Dissolved in an equal amount of cold water, to thicken the sauce. This makes the sauce beautifully jammy!
Vanilla extract – This adds a nice warmness to the flavor.
For the Whipped Butter
Milk – Your preferred dairy milk.
Unsalted butter – Softened to room temperature for easy mixing. If you use salted butter, omit the additional salt in the recipe.
Powdered sugar – Adds just the right amount of sweetness, and helps create the light and fluffy texture.
Blueberry sauce – Be sure to let it cool first!
Vanilla extract – I like to add just a bit more for the whipped butter.
Salt – Just a little bit helps to bring out the best flavor in this butter.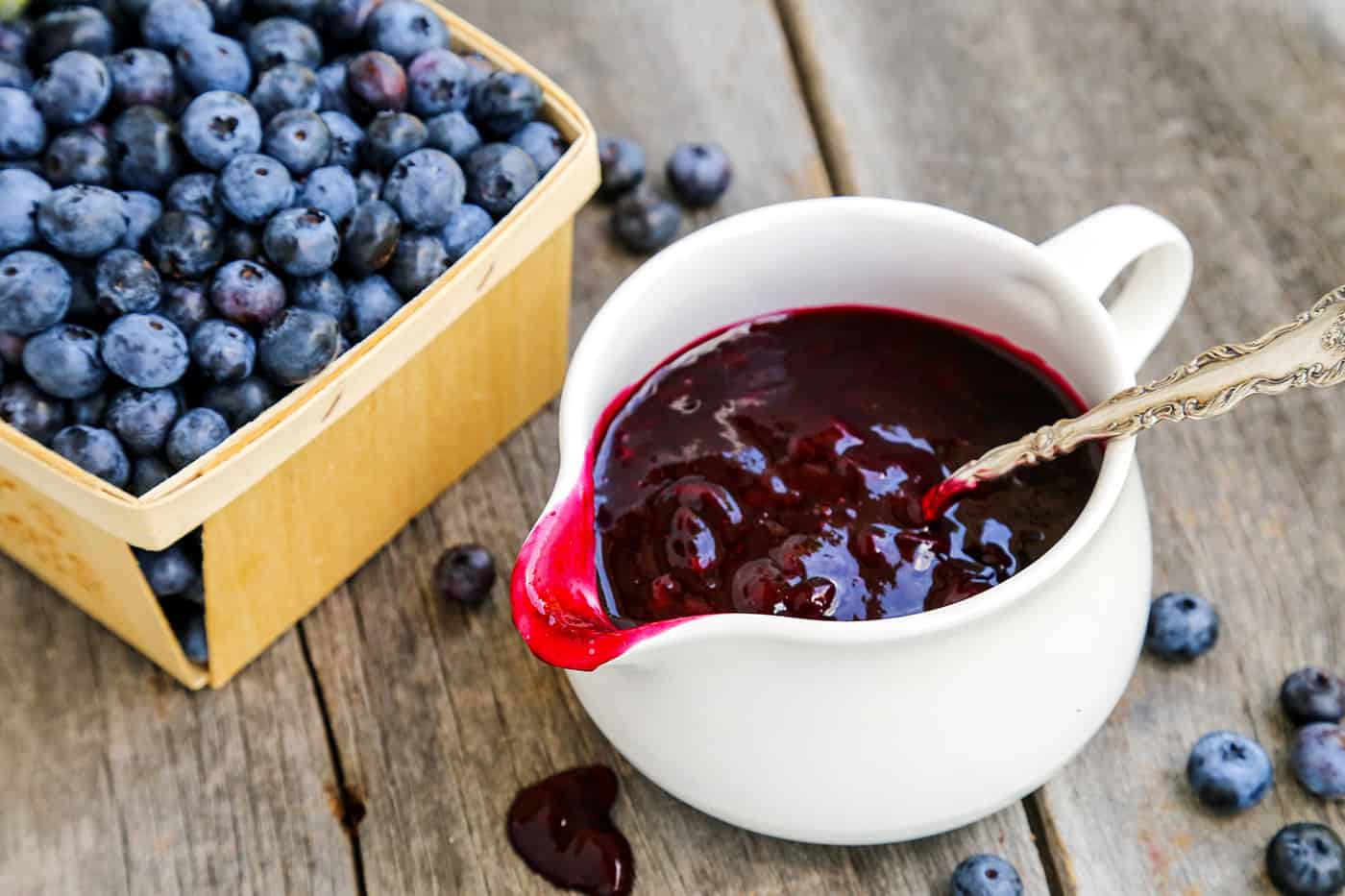 How To Make Whipped Blueberry Butter
This blueberry flavored butter is simple to make and comes together quickly, but you do need to leave time for the blueberry sauce to cool before making the butter.
Make the Blueberry Sauce:
Bring blueberries to a low boil. Combine blueberries, water, and sugar over medium heat. Stir regularly.
Thicken the sauce. Mix cornstarch and water until a slurry is formed. Slowly stir into the blueberries and simmer until thicken enough to coat a spoon. Remove from heat, stir in vanilla, and let cool completely.
Make the Whipped Blueberry Butter:
Beat milk, butter, and sugar. In a stand mixer, beat the milk and butter until incorporated. Increase the speed and continue to beat for 5 minutes. Add the powdered sugar and salt, then beat an additional minute, until fluffy!
Add blueberry sauce. Beat in the blueberry sauce until just combined.
Enjoy. This whipped butter is irresistibly fluffy and delicious – I always have to enjoy some right away! But if not eating immediately, place it in the fridge in a covered container.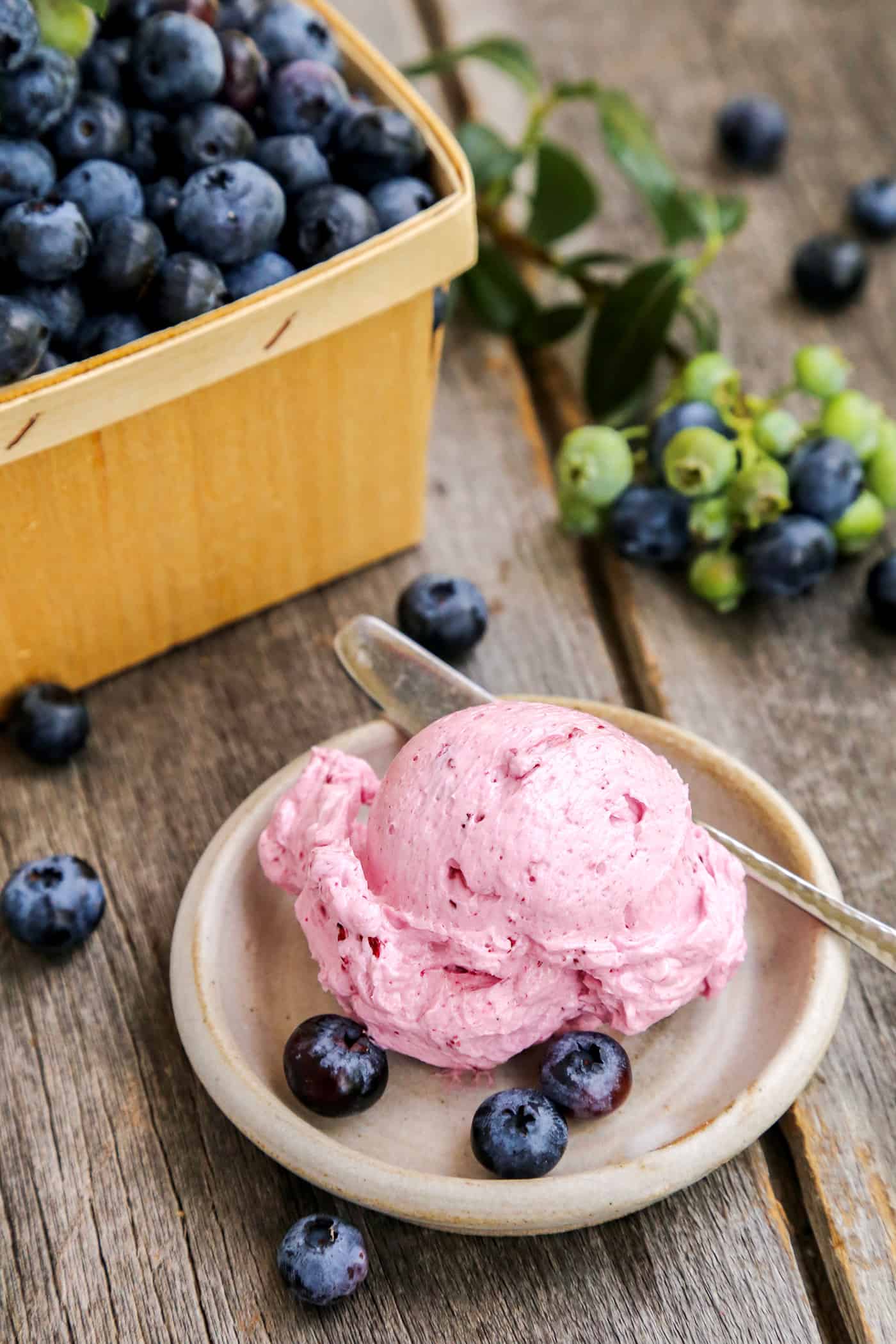 Tips for Success
For the fluffiest, most luxurious whipped blueberry butter, keep these tips in mind!
Allow plenty of time for the sauce to cool. I know it's tempting to go straight from preparing the sauce to making the butter, but if the sauce is still warm, it will melt the butter instead of mixing with it.
Allow the butter to soften. The butter should be at room temperature before you begin mixing it. Otherwise, you'll end up with chunks and have a more difficult time incorporating it completely. Just make sure that it's softened – NOT melted.
Serve at room temperature. For easy spreading, serve your whipped butter at room temperature. It usually takes about 20 to 30 minutes to soften after pulling it from the fridge.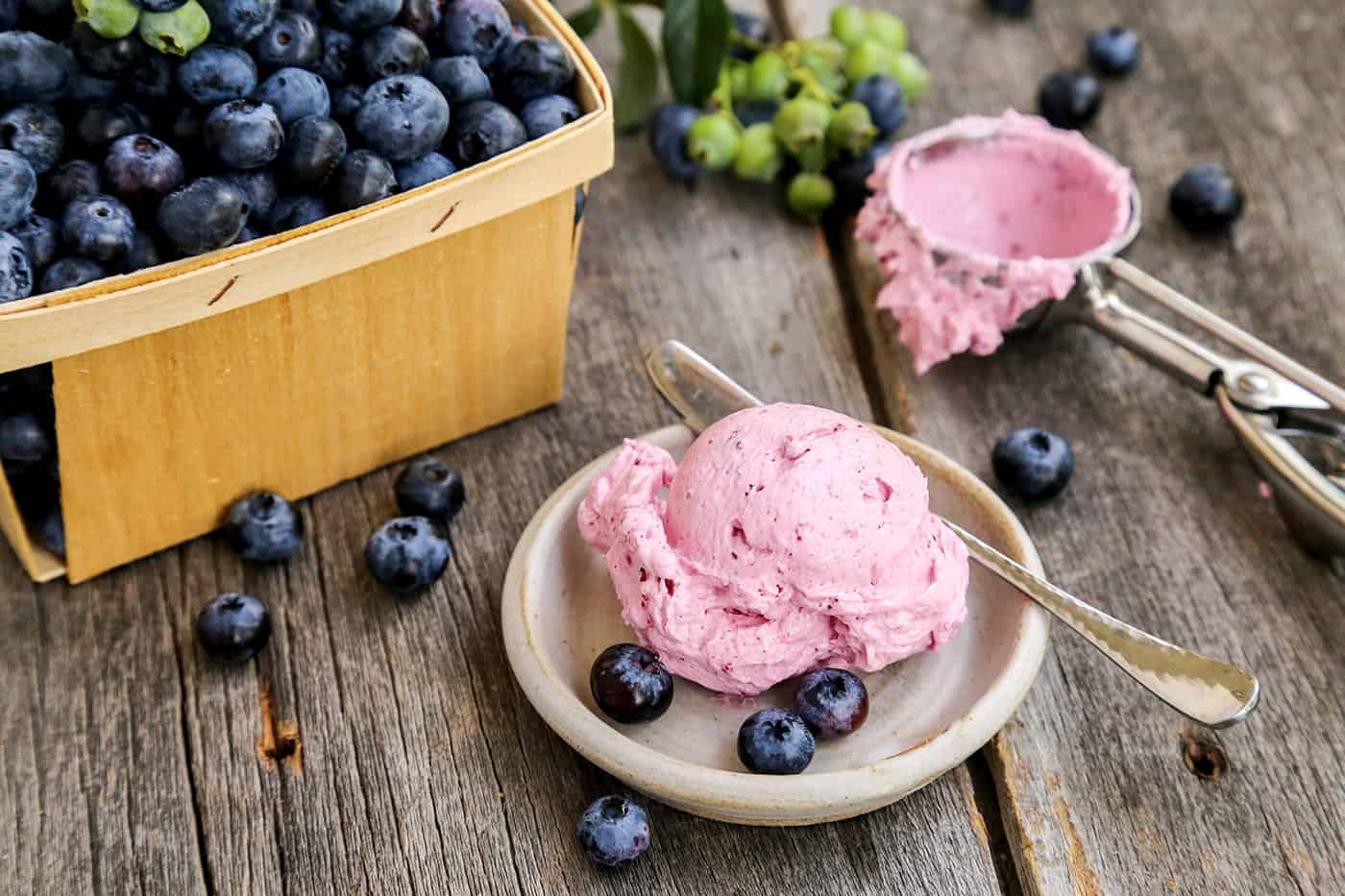 Serving Suggestions
This butter is incredible over toasted bread or English muffins, hot waffles, steaming popovers, and cornbread. And if you're up for a blueberry overdose, bake a batch of my favorite blueberry muffins, straight from my Grandma Veoma's recipe box. Slather on some of that fluffy whipped blueberry butter and enjoy every last bite!
For a pretty presentation, I like to use a big scoop to add fun mounds of frosting—I mean butter—onto little plates. I have a 3-tablespoon scoop, plus larger and smaller scoops. Use whatever size you like!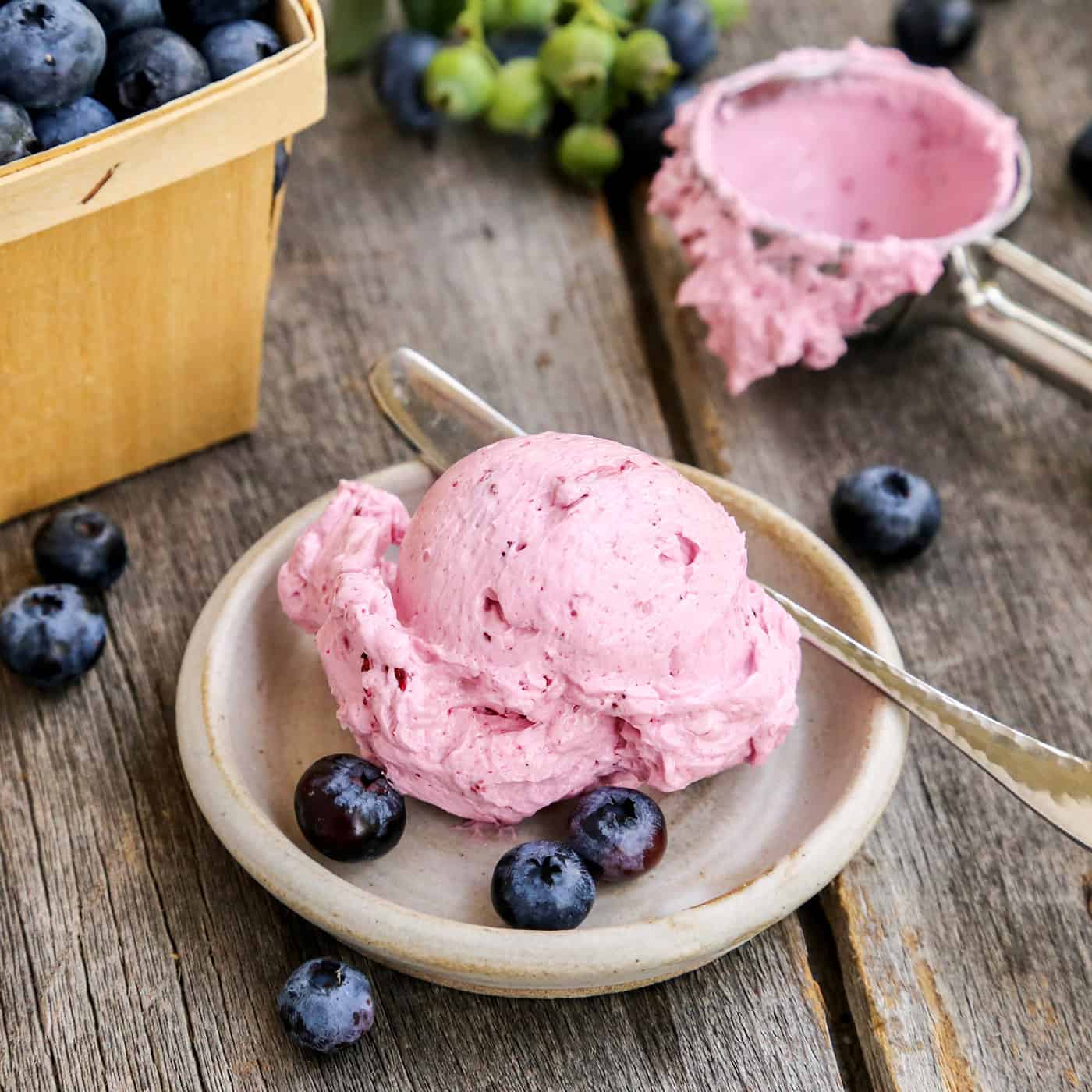 How to Store
Blueberry whipped butter keeps very well in the refrigerator. You can either place it in a container or scoop it into mounds so it's ready for serving later. Either way, just be sure to cover it.
Then simply remove the butter from the refrigerator 20 to 30 minutes prior to eating. The butter will soften up beautifully, still with that amazingly fluffy, silky texture.
Whipped butter will last in the fridge for up to a week.
Can You Freeze Homemade Whipped Butter?
Yes! This whipped blueberry butter freezes very well! It will last for up to 2 months, if properly packaged.
You could freeze it in a freezer-safe container, with plastic wrap pressed onto the exposed butter. Or place the butter on a piece of plastic wrap, and wrap it tightly to remove any air. Then tightly wrap it in a second piece of plastic, over the first one. I usually also place it in a freezer baggie as well, to avoid freezer burn.
When you're ready to enjoy, just allow it to come to room temperature on the counter.
Like this recipe? Save it to Pinterest!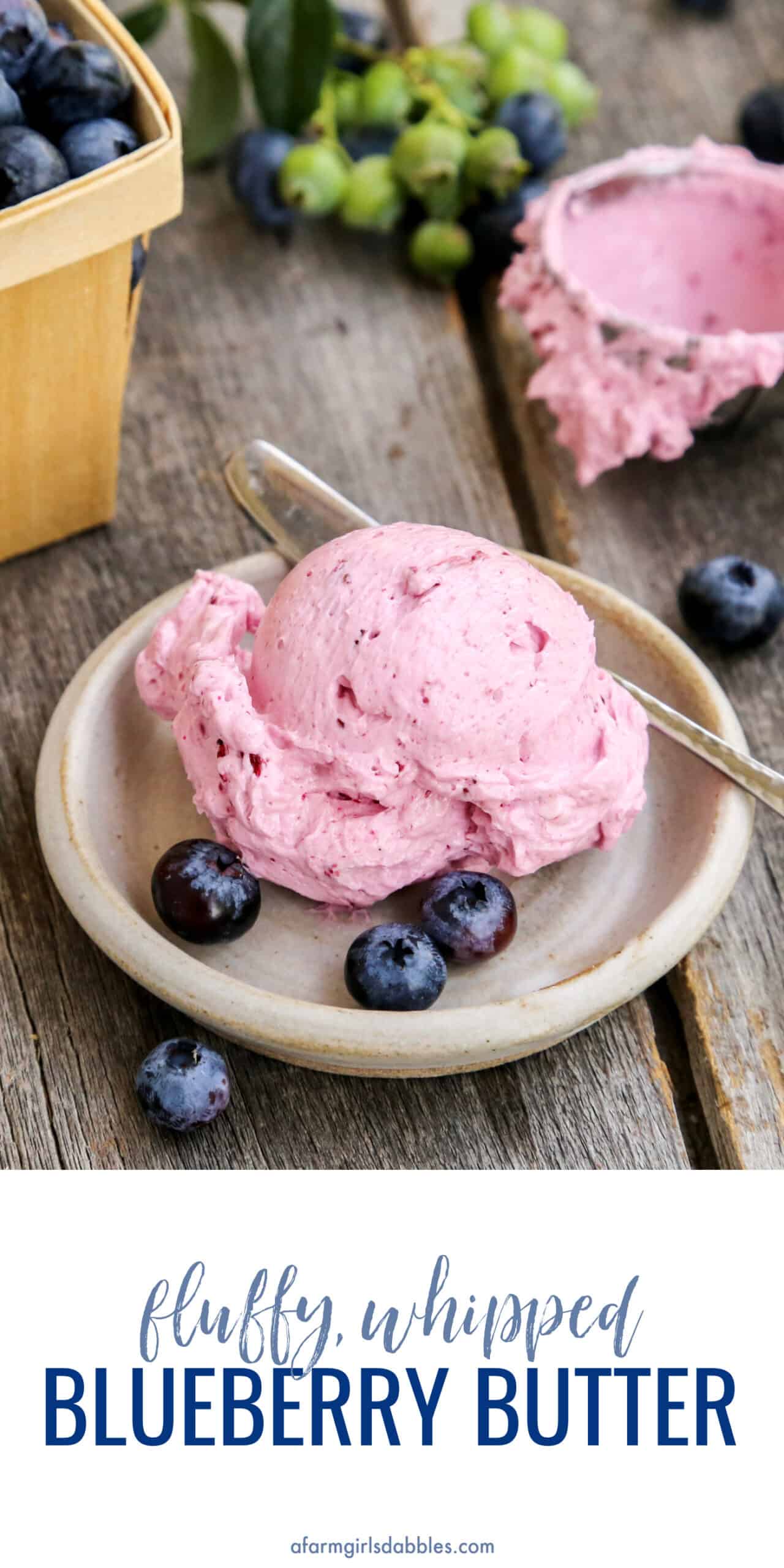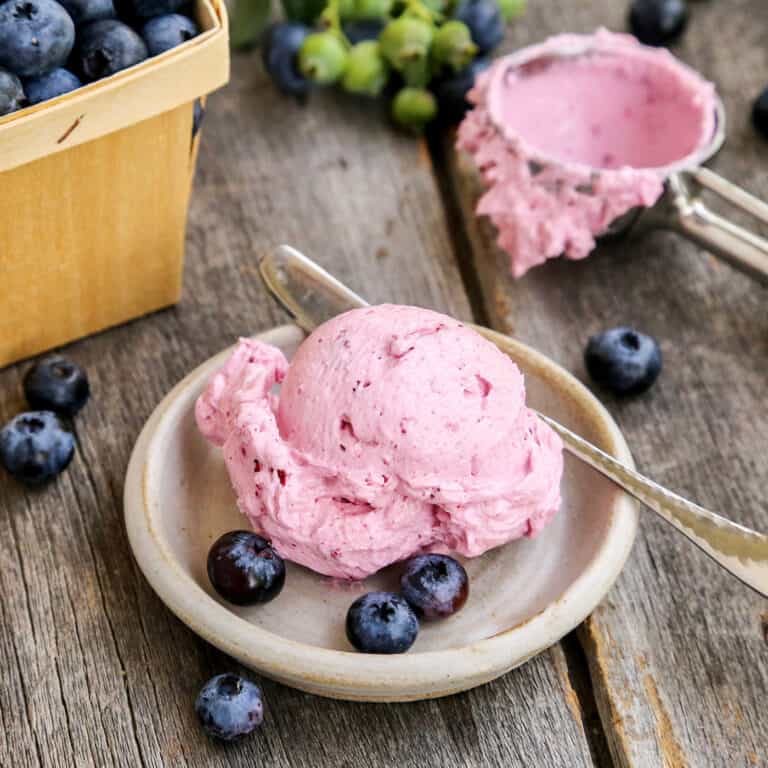 Fluffy Whipped Blueberry Butter
Yield: 8 servings
Prep Time: 20 minutes
Cook Time: 15 minutes
Total Time: 35 minutes
Light and luxurious with just a touch of sweetness, this Fluffy Whipped Blueberry Butter is the perfect addition to your morning. Made with fresh blueberries, it's an awesome topping for pancakes, waffles, toast, muffins, and more!
Ingredients
for the blueberry sauce
3 cups fresh blueberries
2/3 cup sugar
2/3 cup water
3 tablespoons cornstarch, dissolved in an equal amount of cold water
1 teaspoon pure vanilla extract
for the whipped blueberry butter
1/4 cup milk
1 cup unsalted butter, softened to room temperature
1/3 cup powdered sugar
1/3 cup prepared blueberry sauce, cooled
1 teaspoon pure vanilla extract
1 pinch Kosher salt
Instructions
For the blueberry sauce: In a medium saucepan over medium heat, combine blueberries, water, and sugar. Stirring regularly, bring mixture to a low boil.
In a small bowl or mug, mix together the cornstarch and water until a smooth slurry is formed. Slowly stir slurry into bubbling blueberries. Simmer blueberries until sauce is thickened enough to coat the back of a spoon. This should take 5 to 10 minutes. Remove from heat and stir in vanilla. Let cool completely. (This will give you more blueberry sauce than needed for the butter, about 2-1/4 cups total. Enjoy the remaining sauce spooned over pancakes, waffles, and ice cream!)
For the whipped blueberry butter: In the bowl of a stand mixer, beat milk and butter on low to medium-low speed until incorporated. This may take a bit for the mixture to come together, but just be patient. Then turn speed up to medium-high and beat for about 5 minutes, scraping down the sides and bottom of the bowl a couple times, until light and fluffy.
Add powdered sugar and salt, and beat again on medium-high speed for 1 more minute. Add 1/3 cup of the blueberry sauce and the vanilla, and then beat on low just until combined.
Enjoy immediately. Or refrigerate until later. When chilled, the blueberry butter will firm up, so be sure to remove it from the refrigerator 20 to 30 minutes prior to eating to let it soften.

Nutrition Information:
Yield: 8
Serving Size: 1
Amount Per Serving:
Calories: 349
Total Fat: 24g
Saturated Fat: 14g
Trans Fat: 0g
Unsaturated Fat: 8g
Cholesterol: 62mg
Sodium: 92mg
Carbohydrates: 35g
Fiber: 2g
Sugar: 29g
Protein: 1g
Nutrition information is automatically calculated by Nutritionix. I am not a nutritionist and cannot guarantee accuracy. If your health depends on nutrition information, please calculate again with your own favorite calculator.
More Blueberry Recipes: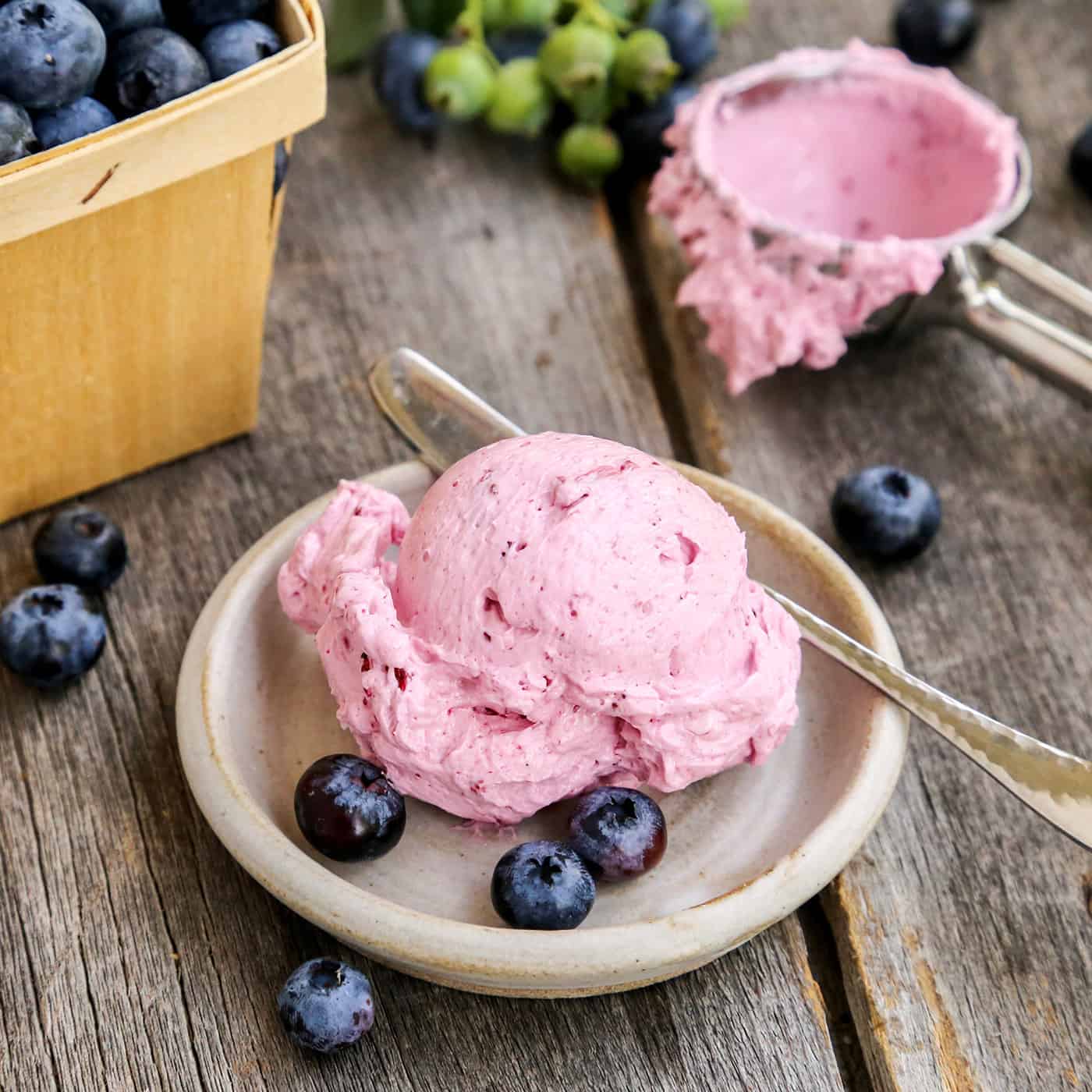 This post was originally published in 2016, and then updated in 2021. You can also find my recipe over at The Pioneer Woman!
We participate in the Amazon Services LLC Associates Program, an affiliate advertising program designed to provide a means for us to earn fees by linking to Amazon.com and affiliated sites. See our
disclosure policy
for more info.