Popovers
This post may contain affiliate links to products we use and love.
With only four ingredients, you can have piping hot popovers, straight from your own oven!
My family thinks I'm just about the best thing to ever walk this earth when I bring home crescent rolls or biscuits from the grocery store. You know, the kind of rolls you peel the label off the tube and then jab the seam with a spoon until the cardboard tube pops. Yep, those kind of rolls.
Well, actually, I admit to liking them just a teensy bit myself.
But what really gets me is a roll like no other. A piping hot popover, straight from the oven. Light and airy, these lovelies are born from a popover pan filled with a very simple egg batter of just four ingredients. Eggs, flour, milk, and salt: what a simple combination of ingredients for such a special treat.
The popover's appearance is striking, inside & out. From the exterior, they are a beautifully browned "popped" roll, standing tall and stately. When torn open, you find a steaming hollowed-out cavity of moist, stretchy, custardy dough. The perfect canvas for smearing on some butter or jam, or my personal favorite popover spread, cinnamon honey butter. Oh yes…hear me happily moan.
Serve popovers for breakfast or brunch, alongside a salad for lunch, or as a special "oooooh, ahhhhh" roll for an upcoming holiday dinner.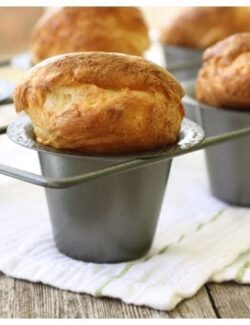 Popovers
Yield: 6 popovers

Cook Time:20 minutes

Calories per serving: 122
Ingredients:
2 eggs
1 c. all-purpose flour
1 c. milk
1/2 tsp. salt
Directions:
Preheat oven to 450°.

Spray a 6-cup popover pan or six 6-ounce custard cups with cooking spray. Beat eggs slightly in medium bowl. Beat in remaining ingredients just until smooth (do not overbeat). Fill cups about one-half full. Bake 20 minutes. No peeking! Keep that oven door shut and the heat inside! Decrease oven temperature to 350°. Bake 16 to 20 minutes longer, until deep golden brown. Immediately remove popovers from cups and, with a sharp pointed knife, cut a small slit into the top to release some of the steam and prevent sogginess. Serve hot.

Adapted from Betty Crocker's 40th Anniversary Edition Cookbook.

©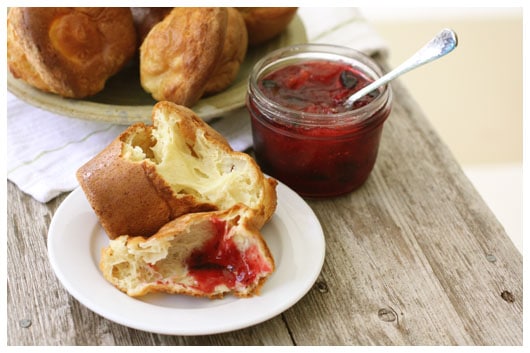 We participate in the Amazon Services LLC Associates Program, an affiliate advertising program designed to provide a means for us to earn fees by linking to Amazon.com and affiliated sites. See our
disclosure policy
for more info.