Chicken Wild Rice Soup
This post may contain Amazon or other affiliate links. As an Amazon Associate I earn from qualifying purchases.
This hearty, flavorful Chicken Wild Rice Soup is pure comfort on a chilly day. It's lightly creamy and loaded with chicken, nutty wild rice, and vegetables. We also like to make this with turkey, especially smoked turkey from Thanksgiving leftovers.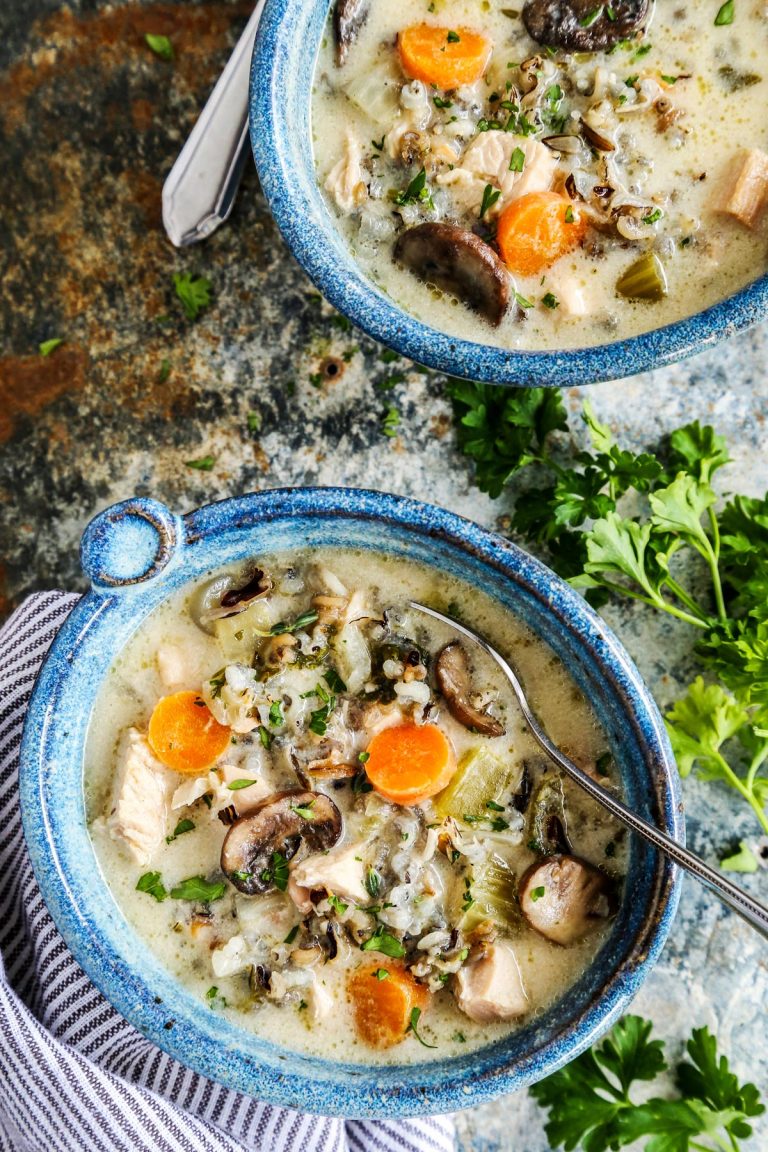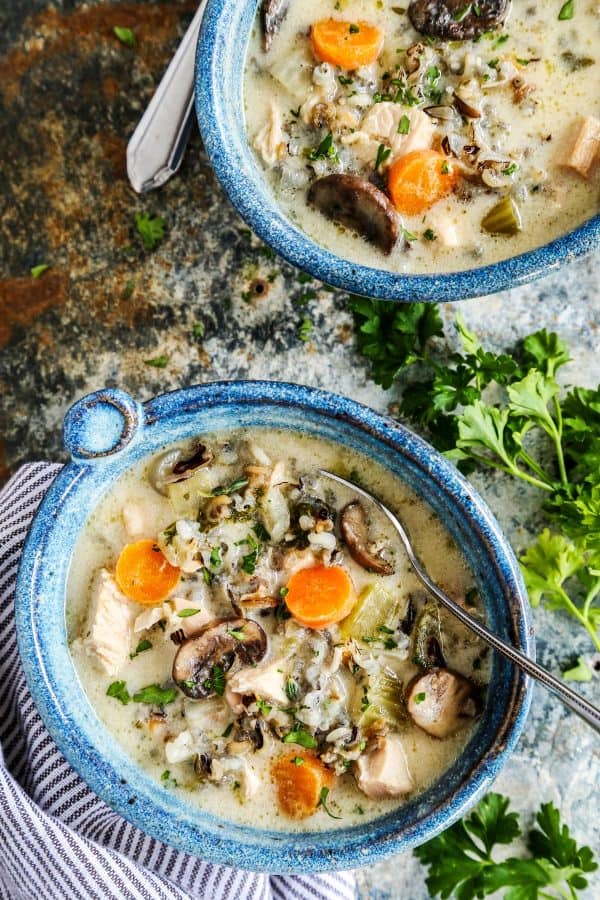 Chicken Wild Rice Soup is a Minnesota favorite!
Chicken Wild Rice Soup is one of those quintessential Minnesota meals.
Like Tater Tot Hotdish, just-caught walleye, or a steaming bowl of Booyah.
And don't forget about dessert. Because Minnesota rules when it comes to bars, a 9″ x 13″ pan of sweet goodness that lies somewhere between cookies and cake.
I started making creamy chicken wild rice soup shortly after we were married, when I quickly learned how much Blake likes a bowl of soup. We often found ourselves ordering this particular soup whenever we'd see it on a menu. Blake and I would compare each bowl, scrutinizing the flavors, the level of creaminess, the kinds and quantities of vegetables. Of course, I was taking notes.
For many years, I tweaked the recipe every time I made it at home. And then, finally, it was done. The recipe needed no more changing. It had been perfected.
I hope you like this chicken and wild rice soup as much as our family and friends do. It's a keeper, for sure!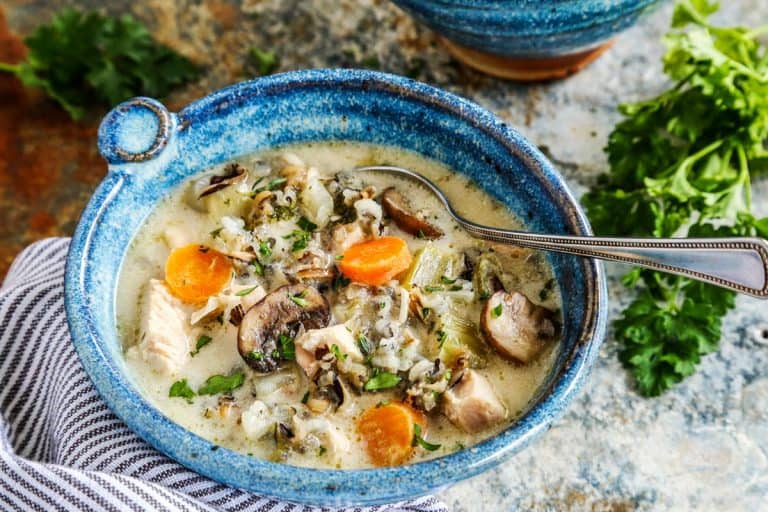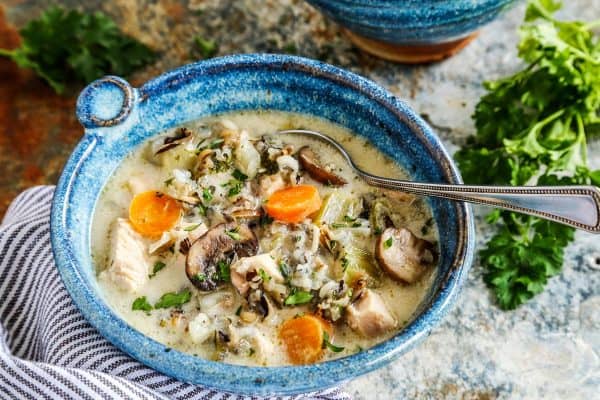 To this day, whenever I see wild rice soup on a menu, it tempts me. I love the smoky, earthy, wonderfully nutty flavor of wild rice. And its chewy texture has me completely smitten.
Wild rice is high in protein and dietary fiber, low in fat, plus gluten-free. Nutritionally speaking, it's a dynamo. A big plus, beyond its awesome flavor and texture.
Once a staple food for Native Americans in our state, you'll still find wild rice harvested naturally in shallow lakes and rivers by means of manpower in slow moving canoes. Actually an aquatic grass unrelated to common rice, wild rice is the official state grain of Minnesota.
Here are a few more wild recipes of mine:
Note: When buying wild rice, I prefer the whole grain style, not the cracked.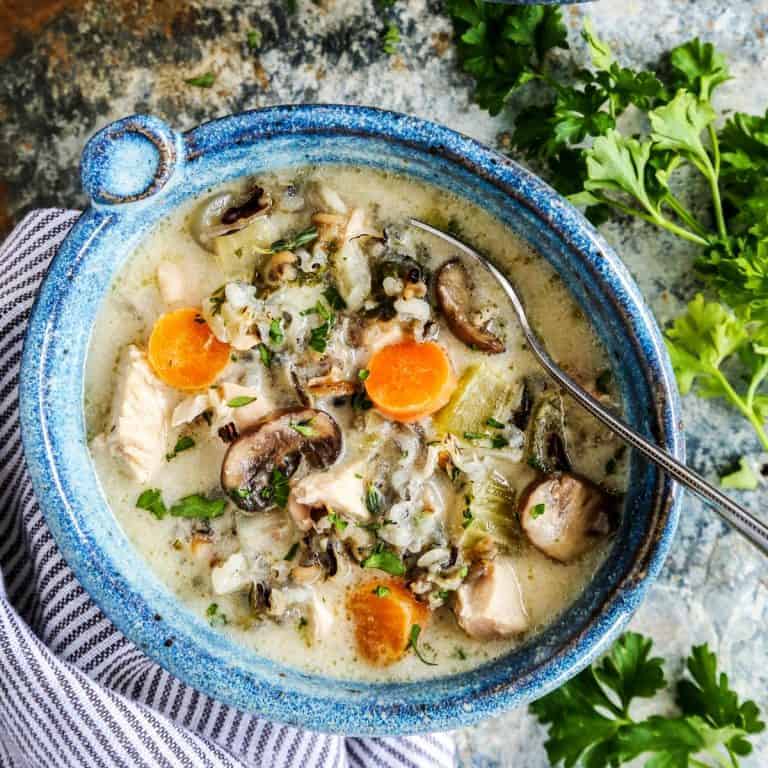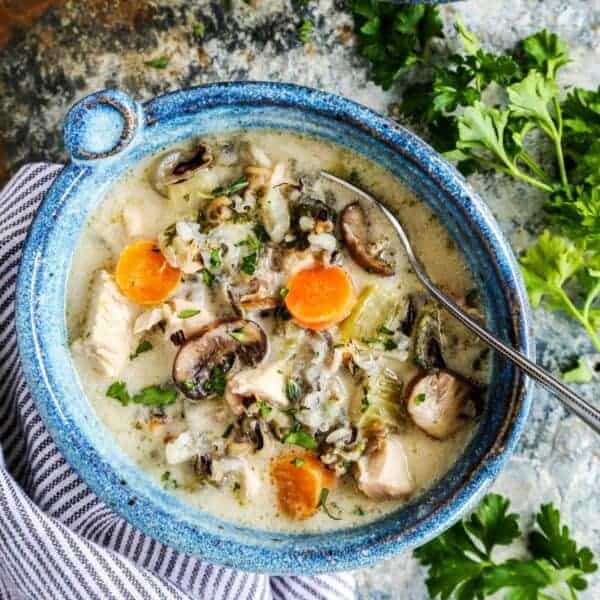 How about Turkey Wild Rice Soup?!
We most often make this soup with chicken. But turkey is also wonderful.
Blake has smoked a number of turkeys over the years, especially for Thanksgiving. And this is my favorite recipe to use up those smoked turkey leftovers. The smokiness goes perfectly with the nutty wild rice. I promise you – you will never regret making a big pot of smoked turkey wild rice soup!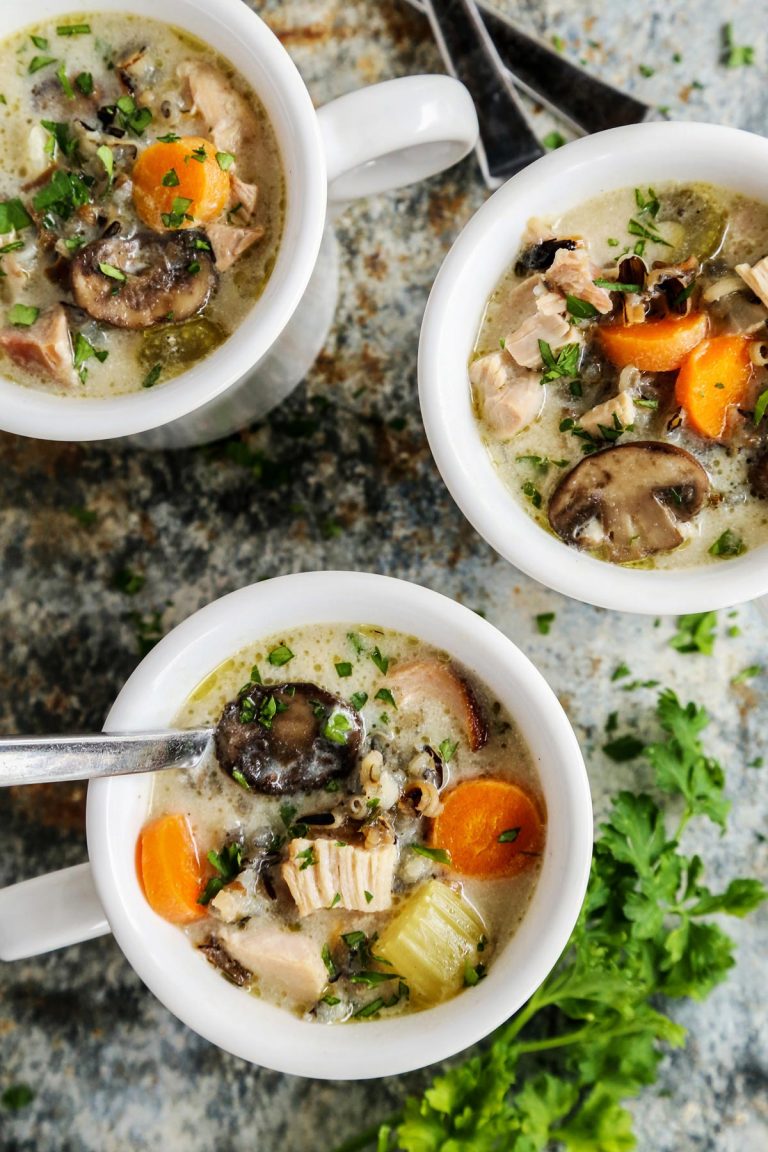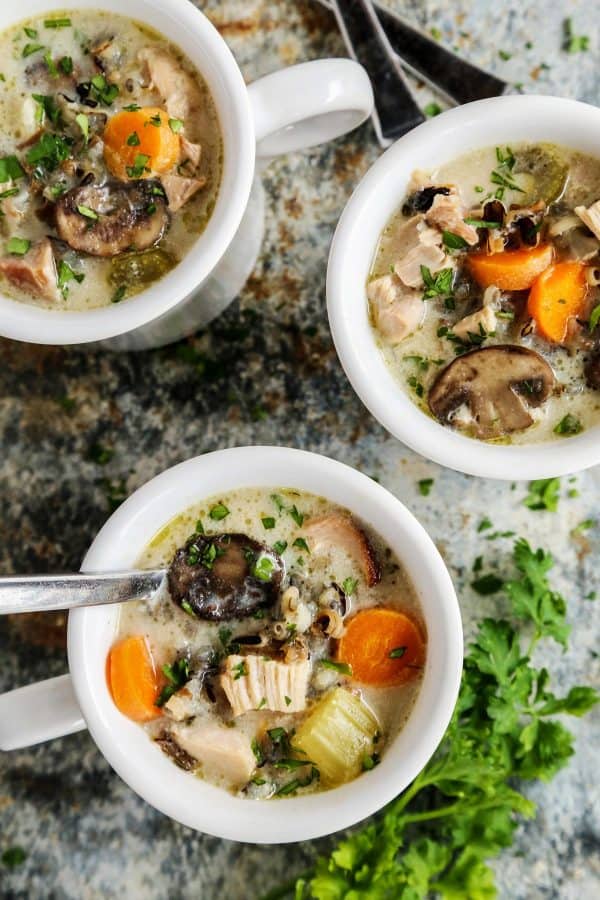 Do you ever serve soup in big mugs? I think it's so much fun!
This recipe does take some preparation time and energy. I'm not going to tell you it'll be on the table in 20 minutes.
But I will say that every moment you spend will be worth it. I also recommend that, while you're at it, double the recipe and freeze half of it for an easy meal later on. It doesn't take a whole lot of extra effort to have another meal of delicious, creamy soup on hand. That's my motto, anyway.
Note: When making a single batch of this soup, I use this pot. When doubling the recipe, a 12 quart stock pot works great.
Like this Chicken Wild Rice Soup? Pin it!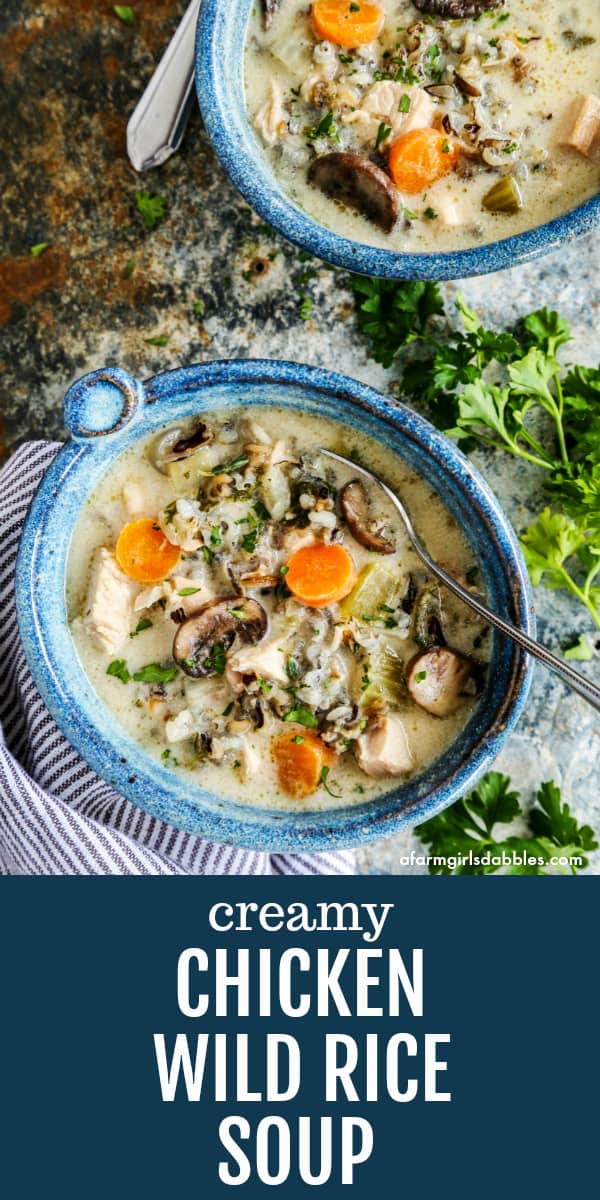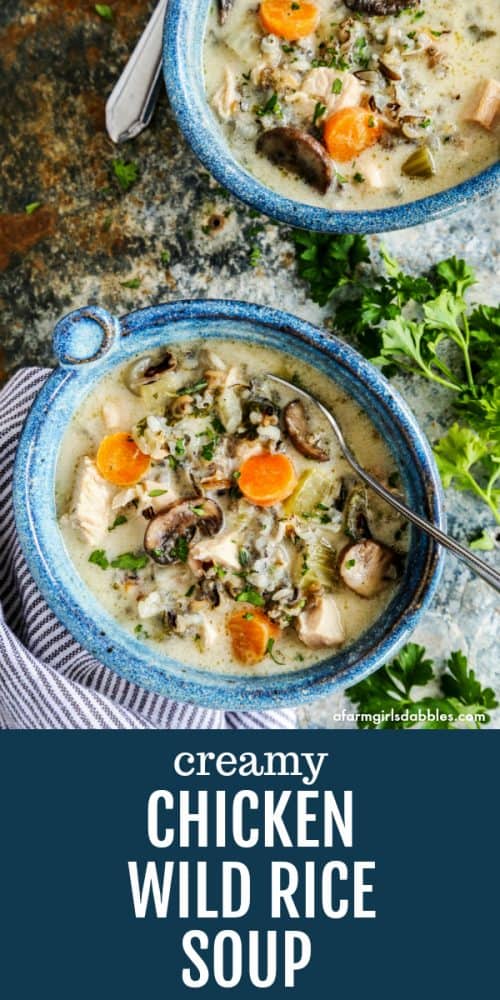 Here are a few more wild rice recipes you might like: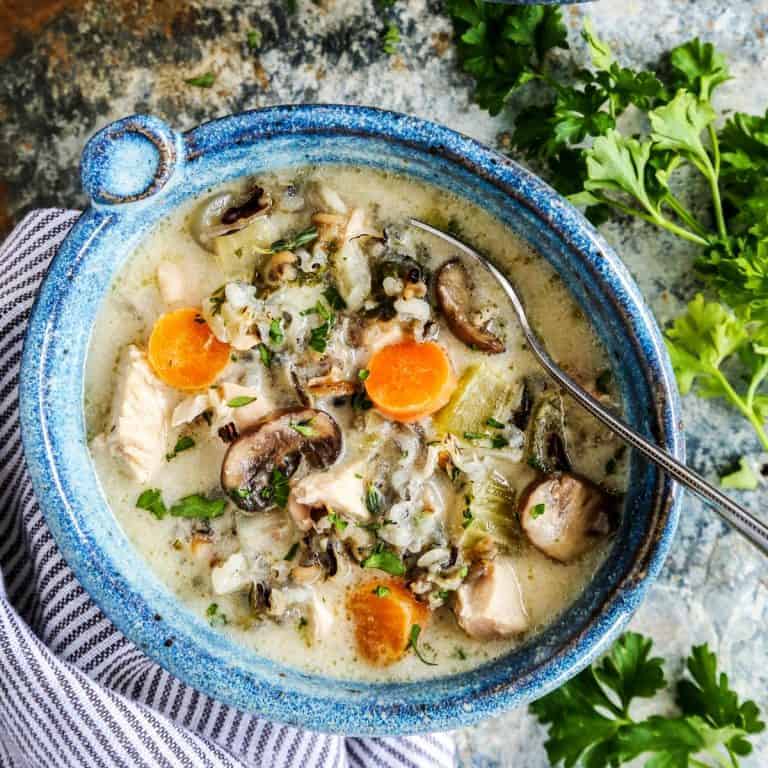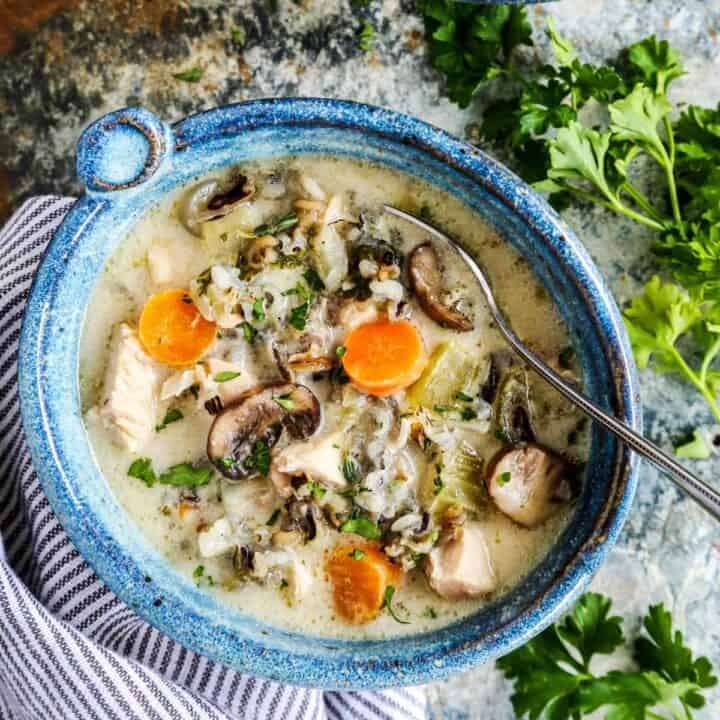 Chicken Wild Rice Soup
Yield: 8 servings
Prep Time: 20 minutes
Cook Time: 1 hour 20 minutes
Total Time: 1 hour 40 minutes
This hearty soup is lightly creamy, very flavorful, and loaded with chicken, wild rice, and vegetables. We also like to use turkey, especially when we have leftover smoked turkey from Thanksgiving.
Ingredients
1 cup uncooked whole grain (not cracked) wild rice
1/2 cup unsalted butter
1 medium yellow onion, chopped
2 celery stalks, chopped
2 large carrots, sliced into 1/4'' thick coins
8 ounces fresh button mushrooms, sliced
2 large garlic cloves, minced
1/2 cup all-purpose flour
8 cups low sodium chicken broth
2 cups half and half
2 tablespoons soy sauce
1/2 teaspoon kosher salt
1/4 teaspoon black pepper
1 bay leaf
1 teaspoon finely chopped fresh thyme (or 1/2 tsp. dried)
1/4 cup finely chopped fresh parsley (or 2 tsp. dried)
4 cups cooked and coarsely shredded chicken or turkey (smoked turkey is especially wonderful!)
2 teaspoons freshly squeezed lemon juice
Instructions
First, start cooking the wild rice, so it's ready to add to the finished soup. Prepare according to the package instructions. This will take awhile – usually about 50 to 60 minutes, or even a bit more. Make sure the wild rice is cooked until most all of it is split open. It will have a curled appearance, with the dark outer shell broken open to reveal the lighter interior. The wild rice can even be prepared a day or two ahead of making the rest of the soup; just store it in the refrigerator until you're ready to use it.
The remainder of the recipe can be made all in one pot. I like to use this pot for a single recipe, and a 12 quart stock pot when I double the recipe. Start by melting the butter over medium heat. Add the onion, celery, carrots, mushrooms, and garlic. Stir well and sauté until the onion is transparent and softened.
Blend in flour, cooking until it bubbles a bit. Gradually add the broth, stirring constantly. Turn up the heat a bit and bring the soup to a low boil. Boil for 1 minute.
Reduce heat slightly and add the cooked wild rice, half and half, soy sauce, salt, pepper, bay leaf, thyme, parsley, and chicken or turkey. Simmer for 20 minutes or until thoroughly warmed.
Stir in the fresh lemon juice and taste test to see if it needs more salt and pepper. Serve with crackers or warm bread.
Notes
Thin any leftovers with additional chicken broth, if needed.
from a farmgirl's dabbles
Nutrition Information:
Yield: 8
Serving Size: 1
Amount Per Serving:
Calories: 406
Total Fat: 25g
Saturated Fat: 13g
Trans Fat: 0g
Unsaturated Fat: 11g
Cholesterol: 118mg
Sodium: 544mg
Carbohydrates: 16g
Fiber: 2g
Sugar: 5g
Protein: 30g
Nutrition information is automatically calculated by Nutritionix. I am not a nutritionist and cannot guarantee accuracy. If your health depends on nutrition information, please calculate again with your own favorite calculator.
Looking for more soup recipes? Be sure to check out my Broccoli Cheddar Soup!
This post was previously published in 2011. Photographs and some of the text were updated in 2018.
We participate in the Amazon Services LLC Associates Program, an affiliate advertising program designed to provide a means for us to earn fees by linking to Amazon.com and affiliated sites. See our
disclosure policy
for more info.