Booyah Soup Recipe
Booyah (or booya) is a fall stew tradition of the Upper Midwest, cooked outdoors in a giant kettle to feed the masses. This recipe is downsized for the stovetop, a rich and flavorful soup you'll crave every booyah season!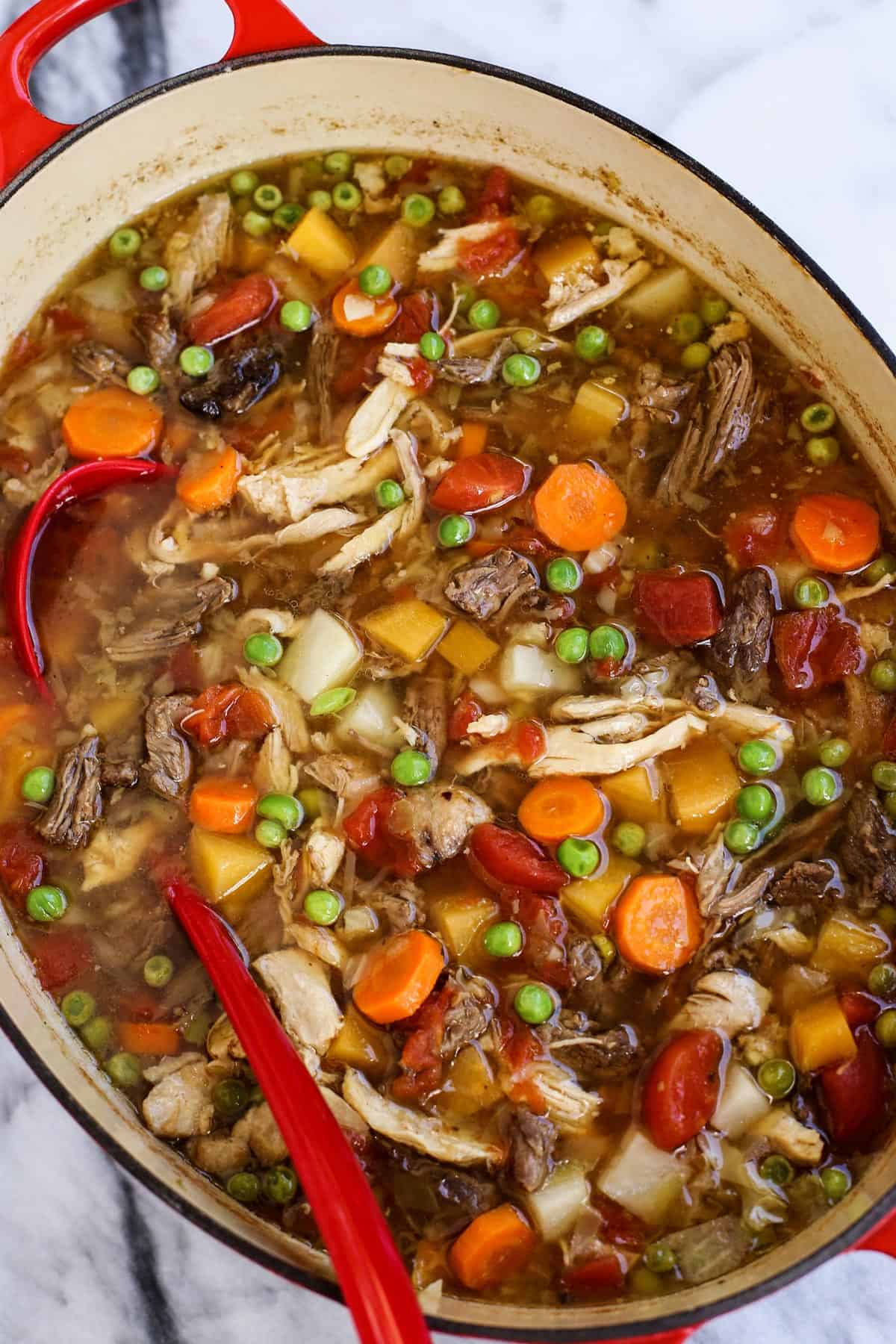 Booyah is a Fall Stew Tradition of the Upper Midwest
Have you ever eaten a steaming bowl full of Booyah? Have you ever been to a Booyah? That's right. This fun-to-say word is both a soup and an event, mostly making their appearances in northern Wisconsin, parts of Minnesota, and Michigan's Upper Peninsula. People sometimes refer to it as Green Bay Booyah.
I had no clue about this booyah tradition until a just few years ago when friends of ours invited us to theirs. The invitation read "You're invited to the Booyah!", and it talked about eating booyah.
We didn't know what we were in for. But how could we not be curious?
Of course, we had to accept.
You're gonna love this rich and flavorful Booyah soup recipe I'm sharing with you today, scaled down in quantity from traditional mega-batch recipes made in giant kettles to feed the masses. Yes, this one can be enjoyed wherever you live, from your very own kitchen.
But…if you're ever invited to a Booyah, please promise me you'll go!
Here's another favorite recipe, perfect for fall: This ultra tender, flavorful Beer Can Chicken just can't be beat!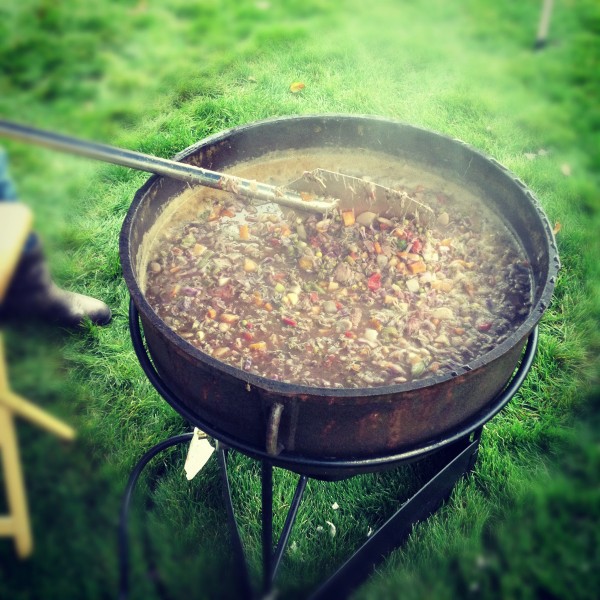 The Tradition of a Booyah Kettle
Booyah is a rich and flavorful soup, absolutely delicious, made in huge batches in "booyah kettles". The photo above shows the booyah kettle and booyah stick owned by our friends, Jason and Dianna. They were the ones who introduced us to this tradition of the Upper Midwest.
It was Dianna's idea to open up their home and backyard to this Booyah tradition 6 years ago. When her dad heard about it, he jumped in with an offer to help. Growing up in South St. Paul, attending these events at various churches and local festivals was a regular part of life for Dianna's family.
Their Booyah is now an annual fall event for their family and friends. The actual date is dictated by the availability of Dianna's brother's cover band the Lid Twisters, who provide live entertainment all evening long. Each year they tweak the recipe just a bit and lengthen the invite list, currently at over 100 guests.
Jason and Dianna set up a tent in their backyard with seating and long tables to hold all the side dishes and desserts brought by guests. Friends and neighbors catch up on all the latest while kids run and play. It's a beautiful fall scene.
How our Friends Make Their Recipe
When I asked Dianna to share a little bit about how they prepare this stew, she referred to a spreadsheet that her dad has created, listing ingredients and timing. Isn't that awesome?
Here is how our friends make their booyah recipe in a giant booyah kettle:
The day before: pre-cook all on-the-bone meats (to include short ribs, chicken, and oxtails – plus soup bones for extra flavor). Save liquid for broth the next day. Remove all bones and discard.
The day of, at 4:00 am: light the fire outside under the 20-gallon booyah kettle and add the broth, dried beans, onions, parsley, cubed pork and beef, pork brisket, crushed fresh garlic, and plenty of flavorful dried herbs and spices.
6:00 am: add the meats that were cooked and de-boned the day before.
Noon: add the rutabagas.
2:00 pm: add the cabbage, carrots, celery, green peppers, and potatoes.
3:00 pm: add the canned peas, corn, green beans, and whole tomatoes.
5:00 pm: soup's on! Or should I say booyah's on?!
Hosting One of These Gatherings Takes Commitment!
Hosting a booyah is no small ordeal. It takes a great deal of time and energy to pull off the event, not to mention massive quantities of ingredients.
I have to retell the story that Dianna told me, about the one year when she got up at 4:00 am, lit the fire, and added the broth and other ingredients to the pot. She went back to bed, in need of a bit more sleep.
Then she completely missed the 6:00 addition of meats. And what was in the pot ended up burning. Dianna called her dad in a panic, and they decided to proceed as normal, hoping the burned ingredients would just give the stew some extra flavor.
It all turned out alright.
But the following year, and every year since, Dianna says that her dad shows up at their house by 3:30 am, just to make sure everything goes according to the spreadsheet. ;)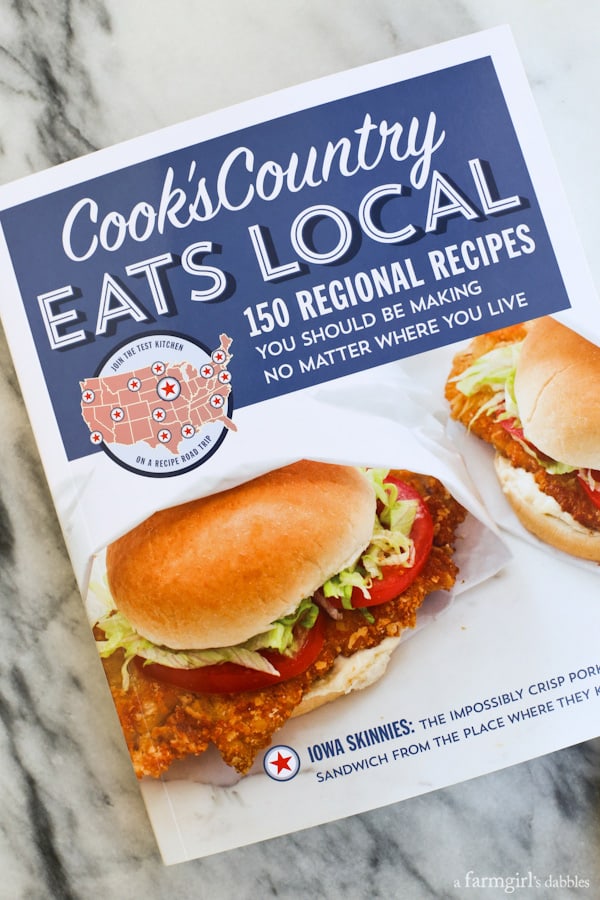 A Smaller Green Bay Booyah Recipe
The recipe is from the new Cook's Country Eats Local cookbook. If you know about Cook's Country from America's Test Kitchen, then you know that this recipe has been tried, and tried again, until it reached ultimate perfection.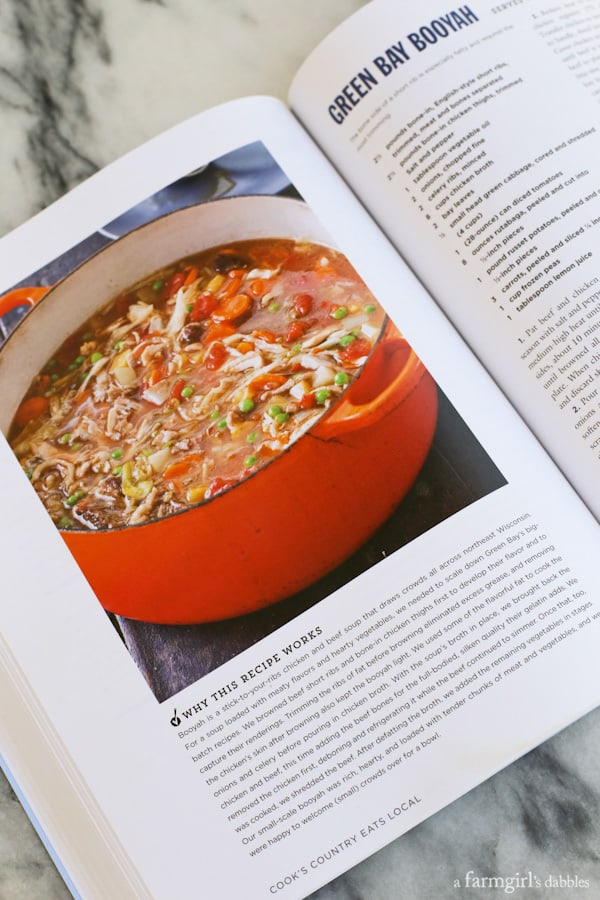 The majority of us will never buy a 20-gallon booyah kettle and spend a couple days preparing this kind of feast for our family and friends.
That's where this downsized Green Bay Booyah recipe comes in ultra handy.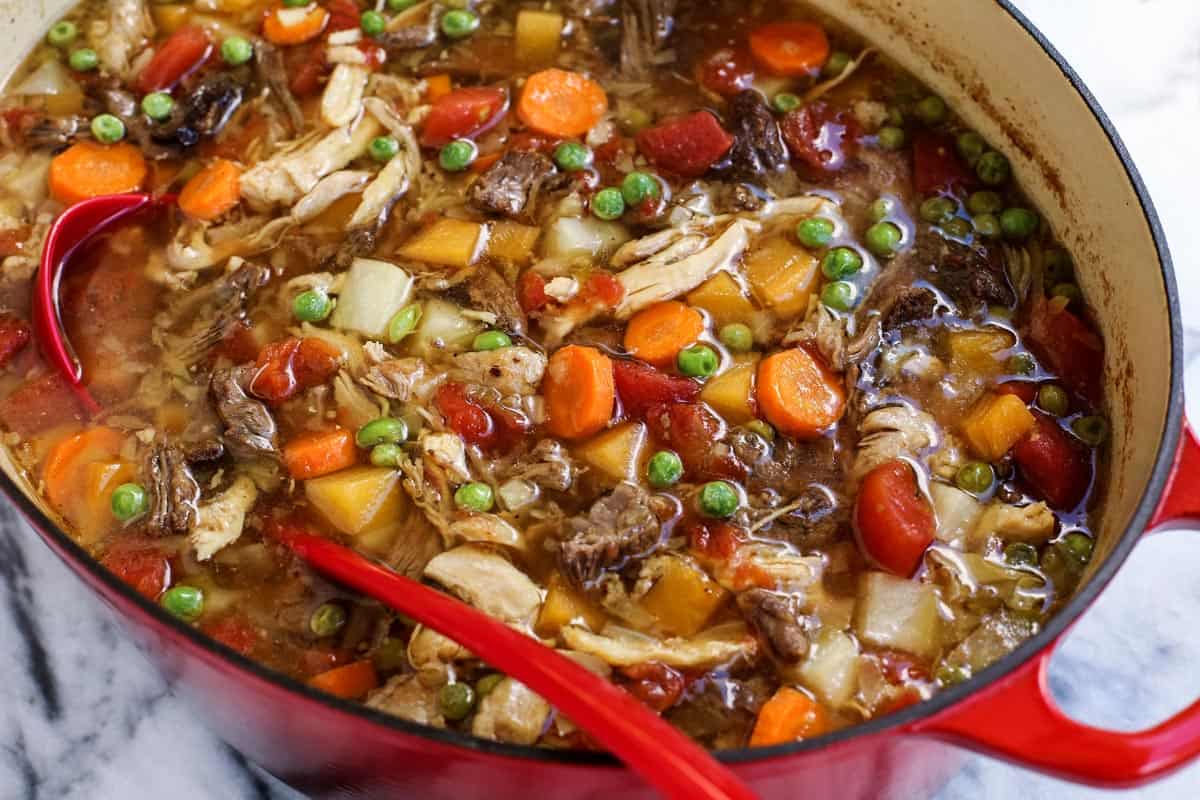 But please know that even though this soup was scaled down from a full-fledged booyah recipe, it still requires hands-on time and simmering time. It's essential for full flavor and tender meats.
And I promise you, it's absolutely worth it!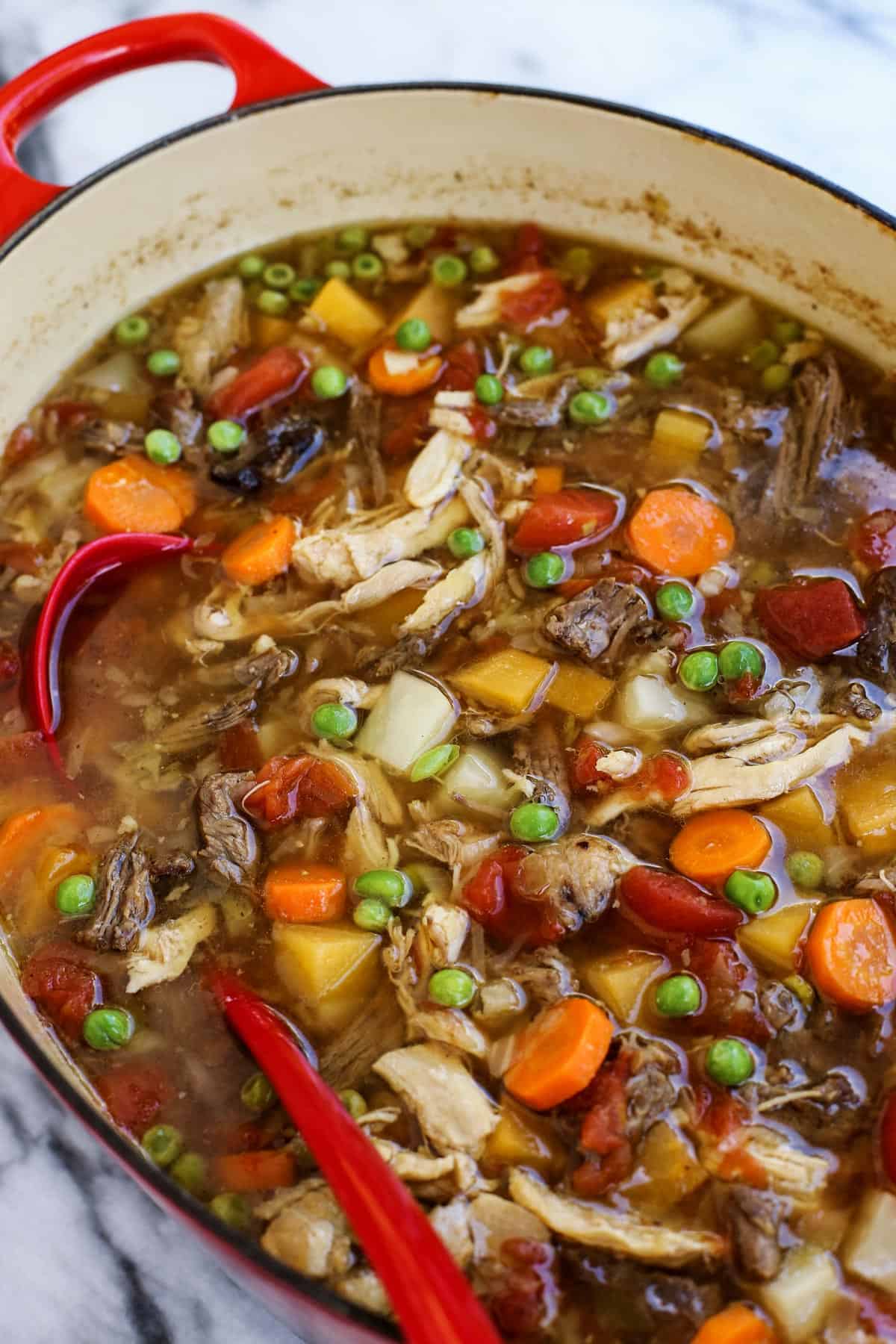 The broth is heavenly, super flavorful with a gorgeous silken quality from the gelatin of the beef bones. And there are chunks of tender meats and vegetables in every single spoonful. The stew is rich and hearty.
If you're looking for a new fall tradition, maxed out in homemade warmth and comfort, this booyah recipe has my vote.
Like this fall stew recipe? Save it to Pinterest!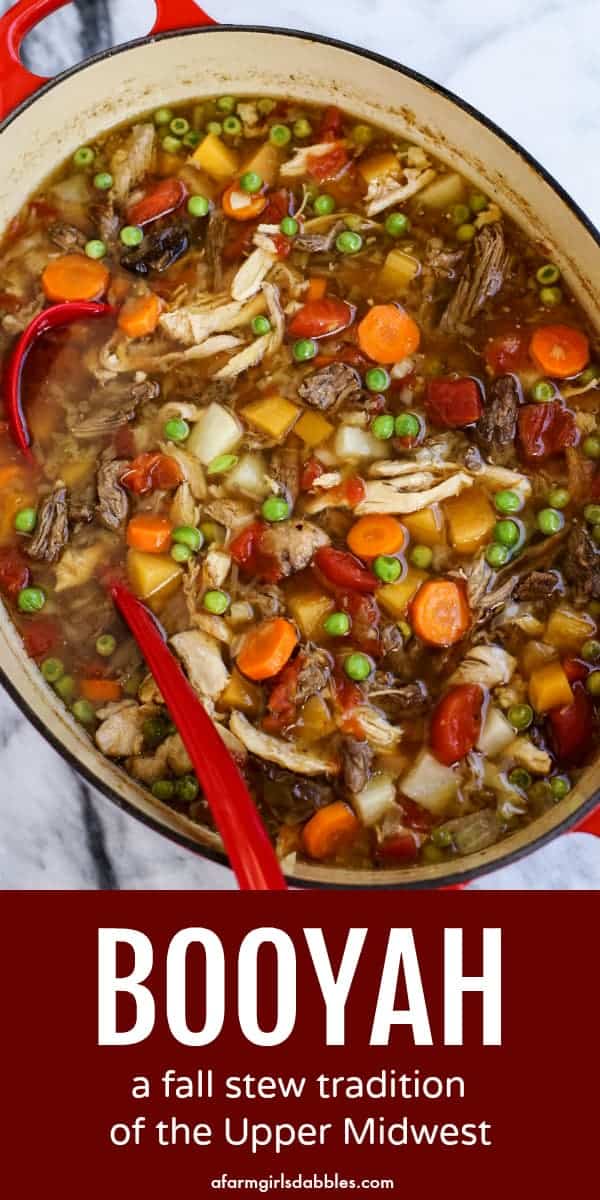 And a couple more stews to keep you cozy this fall and winter, recipes from my friends: Lemon Chicken Stew from FoodieCrush and Sancocho (Peurto Rican Beef Stew) from The Noshery.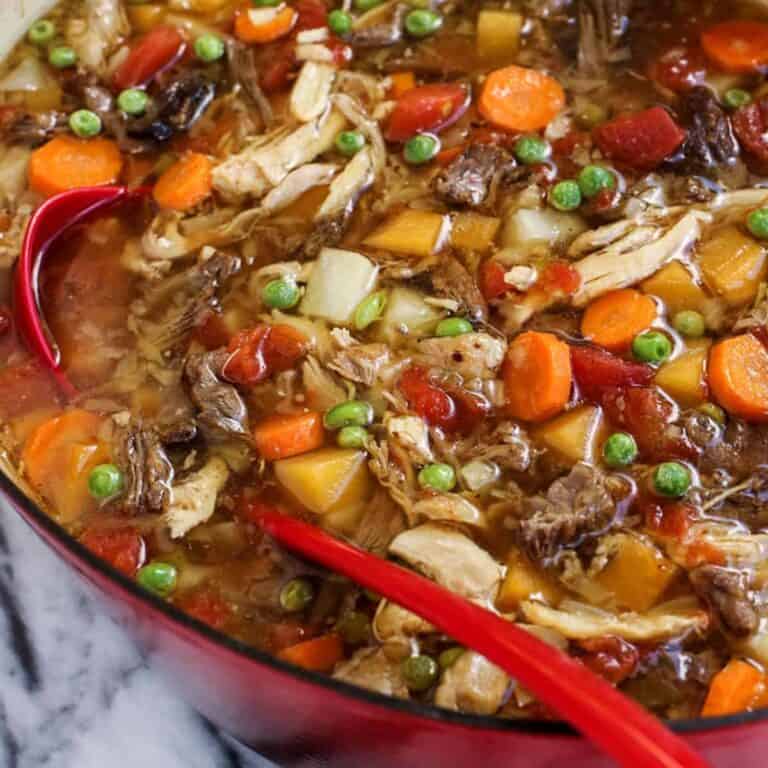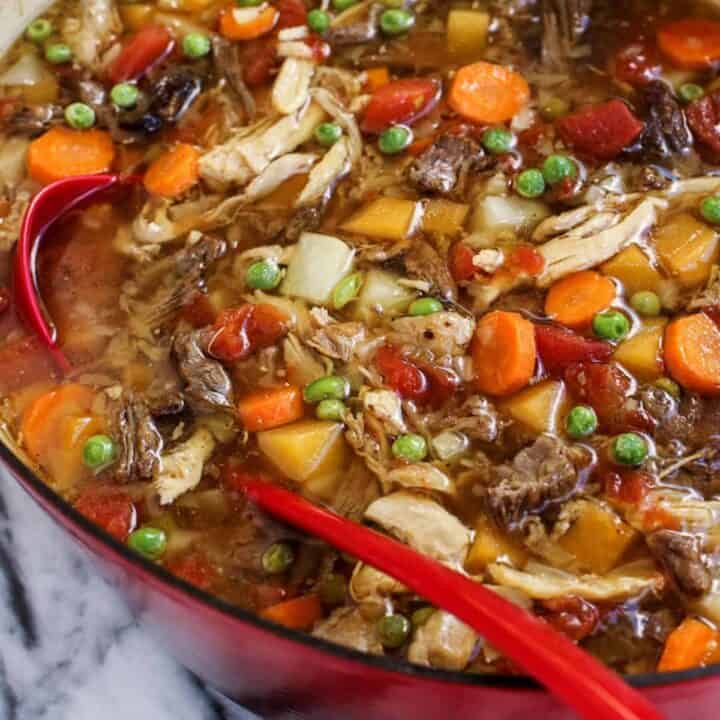 Booyah
Yield: 10 servings
Prep Time: 30 minutes
Cook Time: 3 hours
Total Time: 3 hours 30 minutes
This rich and flavorful stew is a fabulous way to enjoy a downsized version of traditional booyah. No giant booyah kettle required!
Ingredients
2.5 lbs. bone-in, English-style short ribs, trimmed, meat and bones separated (I used bone-in beef chuck short ribs)
2.5 lbs. bone-in chicken thighs, trimmed
salt
pepper
1 T. vegetable oil
2 yellow onions, chopped fine
2 ribs celery, minced
8 c. low sodium chicken broth
2 bay leaves
4 c. shredded green cabbage
1 28-oz. can diced tomatoes
8 oz. rutabaga, peeled and cut into ½" pieces
1 lb. russet potatoes, peeled and cut into ½" pieces
3 large carrots, peeled and sliced ¼" thick
1 c. frozen peas
1 T. freshly squeezed lemon juice
Instructions
Pat beef and chicken dry with paper towels and season with salt and black pepper.
Heat oil in large Dutch oven over medium-high heat until just smoking. Brown beef on all sides, about 10 minutes; transfer to plate. Cook chicken until browned all over, about 10 minutes; transfer to plate. When chicken is cool enough to handle, remove the skin and discard it.
Pour off all but 1-1/2 teaspoons fat from pot. Add onions and celery and cook over medium heat until softened, about 5 minutes. Stir in broth and bay leaves, scraping up any browned bits. Add beef, beef bones, and chicken, and bring to boil.
Reduce heat to low and simmer, covered, until chicken registers 175° F, about 30 minutes. Transfer chicken to bowl. When chicken is cool enough to handle, shred into bite-size pieces, discarding bones. Cover chicken and refrigerate.
Continue to simmer stew until beef is tender, about 1-1/4 hours longer. Transfer beef to plate. When cool enough to handle, shred into bite-size pieces, discarding fat. Remove beef bones and bay leaves; discard.
Strain broth through fine-mesh strainer; discard solids. Allow liquid to settle, about 5 minutes, then skim off fat and return liquid to pot.
Add shredded beef, cabbage, tomatoes, rutabaga, 1-1/4 teaspoon salt, and 1 teaspoon pepper to liquid and bring to boil. Reduce heat to medium-low and simmer until rutabaga is translucent around edges, about 15 minutes.
Stir in potatoes and carrots and cook until vegetables are tender, about 20 minutes. Add chicken and peas, and simmer until heated through, 2 to 3 minutes. Remove from heat and stir in lemon juice. Season with salt and pepper to taste. Serve hot.
Recommended Products
As an Amazon Associate and member of other affiliate programs, I earn from qualifying purchases.
Nutrition Information:
Yield: 10
Serving Size: 1
Amount Per Serving:
Calories: 556
Total Fat: 30g
Saturated Fat: 10g
Trans Fat: 1g
Unsaturated Fat: 20g
Cholesterol: 201mg
Sodium: 485mg
Carbohydrates: 26g
Fiber: 6g
Sugar: 8g
Protein: 49g
Nutrition information is automatically calculated by Nutritionix. I am not a nutritionist and cannot guarantee accuracy. If your health depends on nutrition information, please calculate again with your own favorite calculator.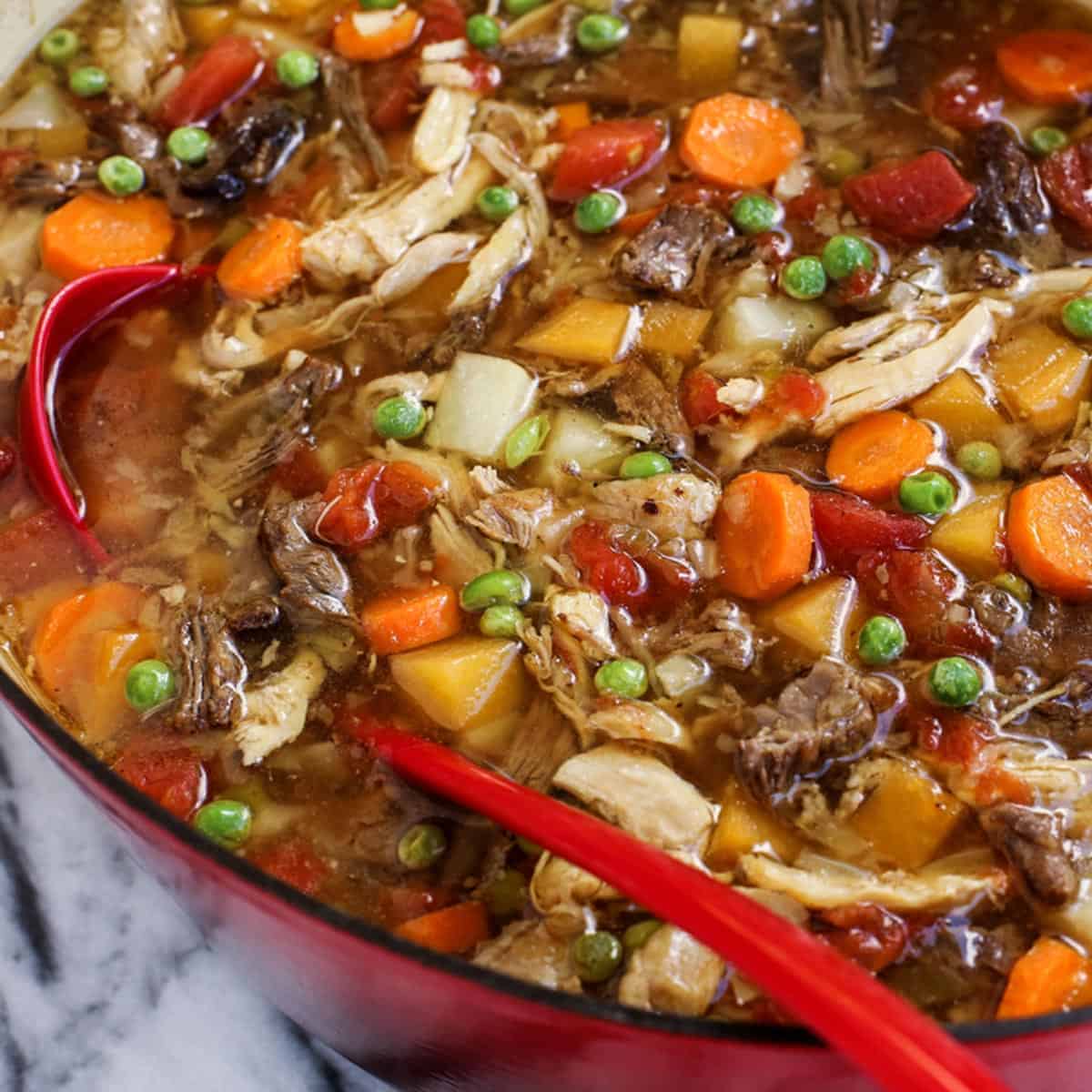 Cook's Country gave me a copy of Cook's Country Eats Local for my review. I was not compensated additionally to write this post. Originally published in September 2015. Some photographs updated September 2018.