Creamy Wild Rice Casserole with Sausage and Mushrooms
This post may contain Amazon or other affiliate links. As an Amazon Associate I earn from qualifying purchases.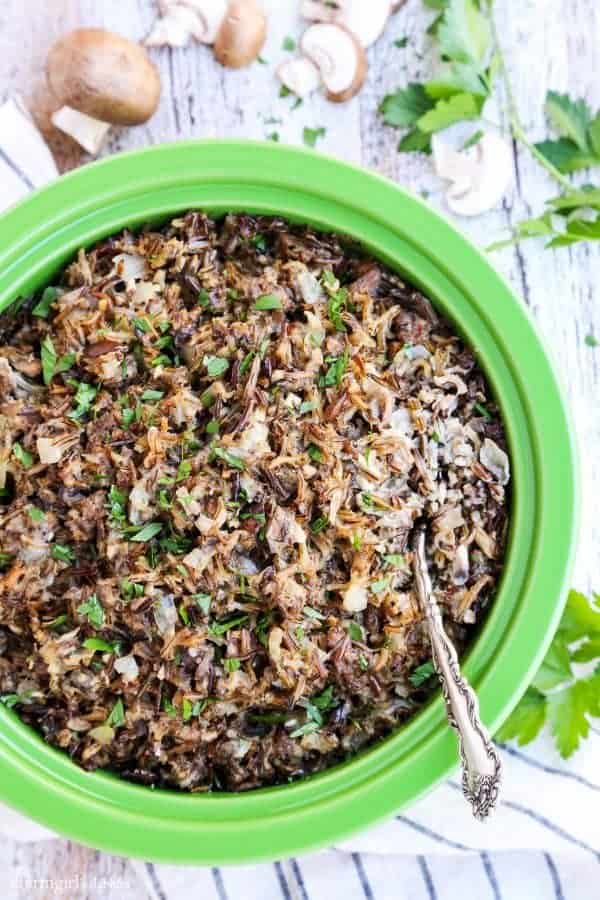 This Creamy Wild Rice Casserole with Sausage and Mushrooms feels like a big hug. Creamy meets earthy meets chewy texture…I love it all!

Wild rice, chewy and tender and earthy, is one of my favorite things. If I see a salad or entree on a menu that features this Minnesota specialty, you can bet that I'm thinking hard about ordering it. I also like to cook up a pot of it at home to use in a variety of dishes. A family favorite is my chicken wild rice soup, always a hit.
I first enjoyed this Creamy Wild Rice Casserole with Sausage and Mushrooms this past spring when I attended a local pottery tour. Such a wonderful lunch, I had to ask for the recipe. This dish would be a lovely addition to your Thanksgiving feast or any upcoming holiday meals. Or just any meal, really. I'd be happy to eat this casserole any time of year.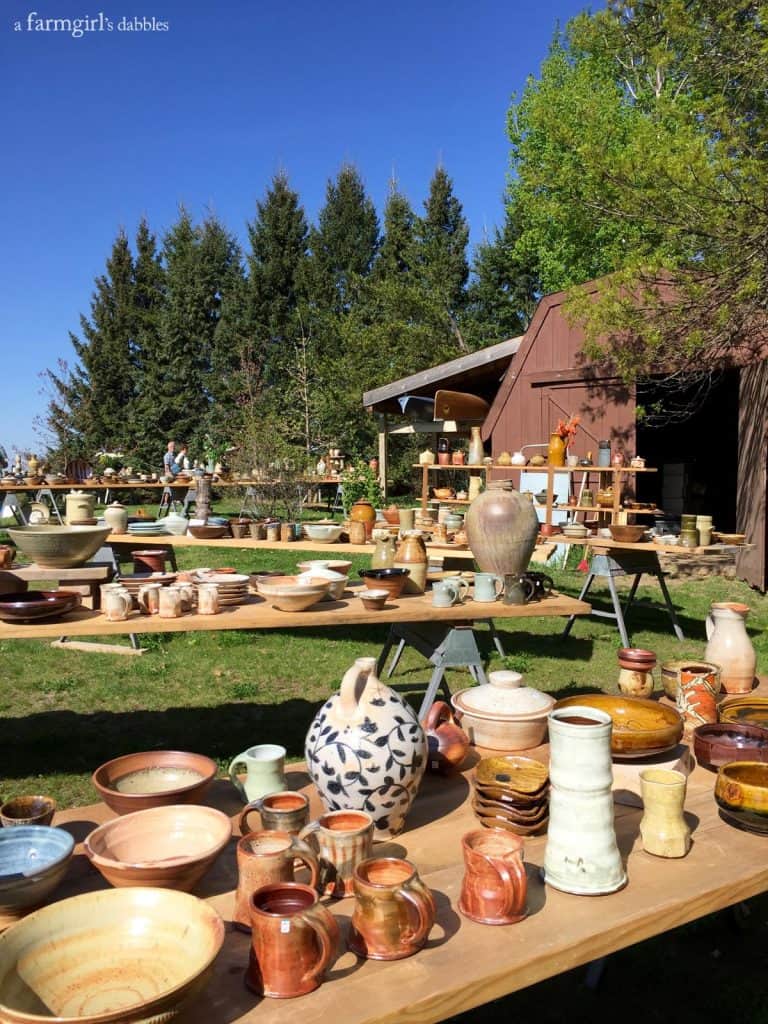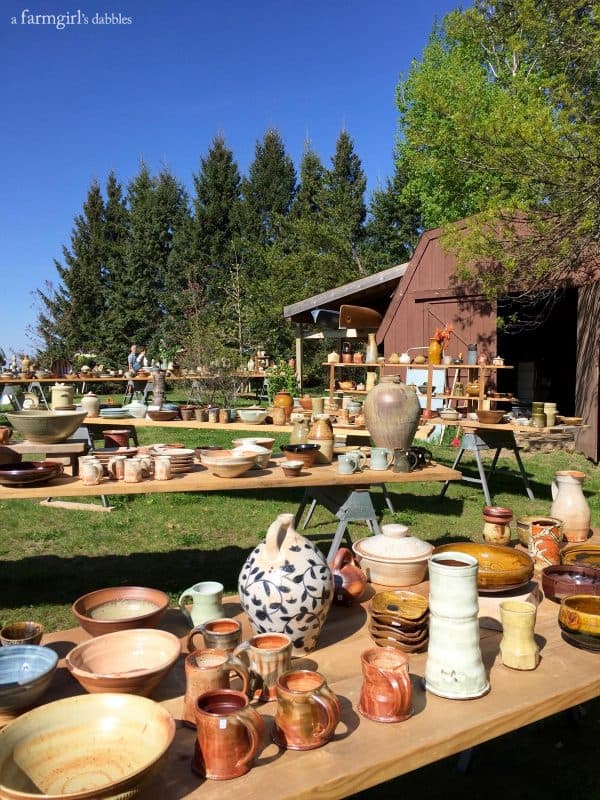 Before leaving you with the recipe for this wild rice dish, I have to share about the pottery tour where I first experienced it…
People come to Minnesota from all over the country to attend the annual St. Croix Valley Pottery Tour. For three days each spring, several local pottery studios open up their doors to invite the public in to see their handmade wares.
(All photos from this 2016 pottery tour were taken at the studio of Guillermo Cueller.)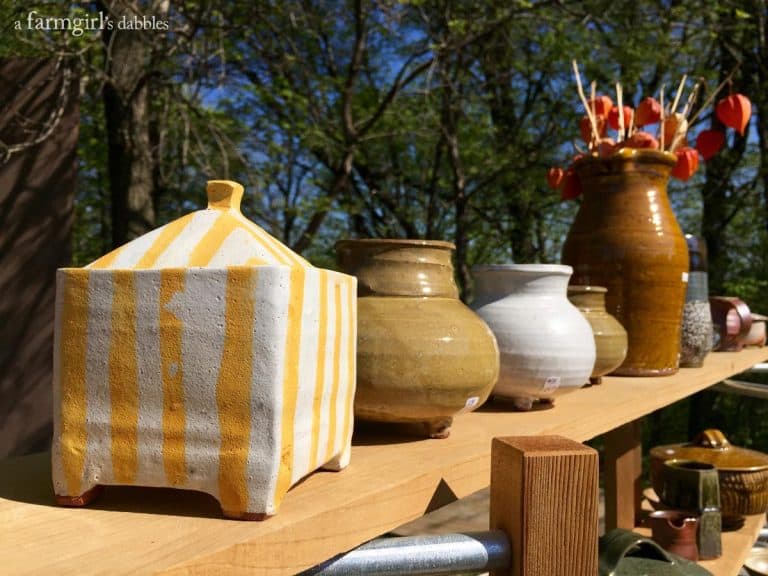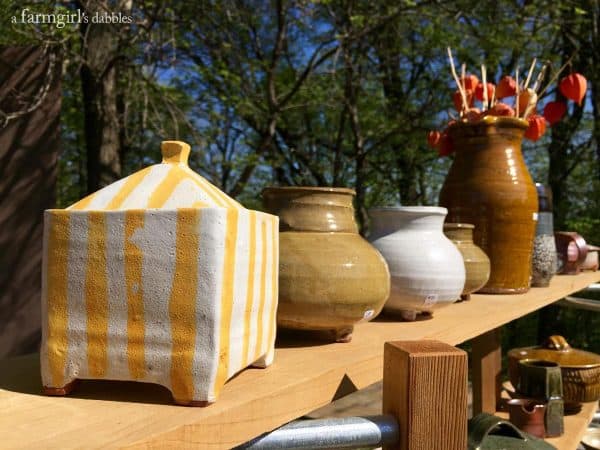 The 2016 tour that I attended featured 57 different potters, divided between 7 different studios. The diehard pottery fan logs a number of miles and hours to spend time at each and every location. The talent and variety of pottery is beyond amazing.
This yellow striped house pot on the left was made by Wayne Branum, a potter/architect that I have worked with at SALA Architects for the past 17+ years. I credit my interest and appreciation for pottery to Wayne, as his work was my first real introduction to this beautiful craft. Wayne makes a plethora of functional kitchen pieces as well. I own a number of items made by him, to include plates, bowls, platters, cups, and mugs.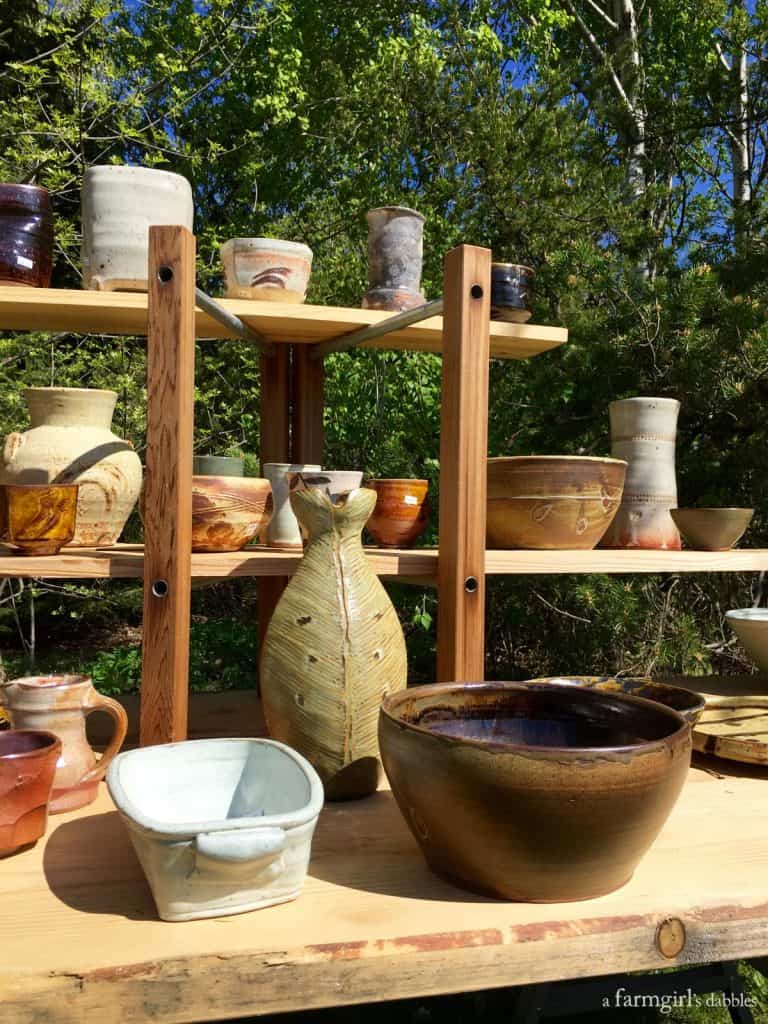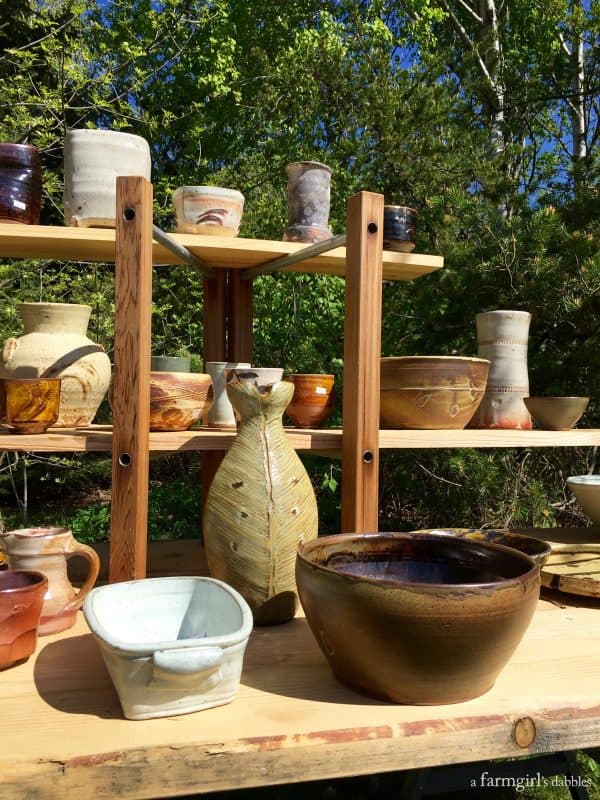 .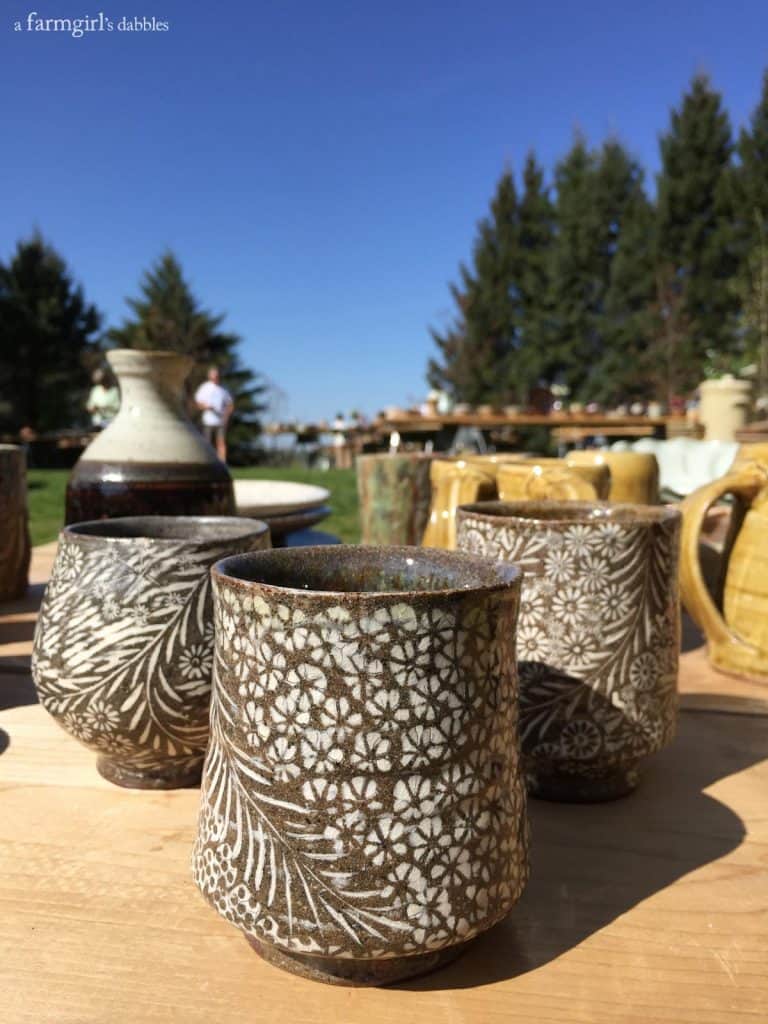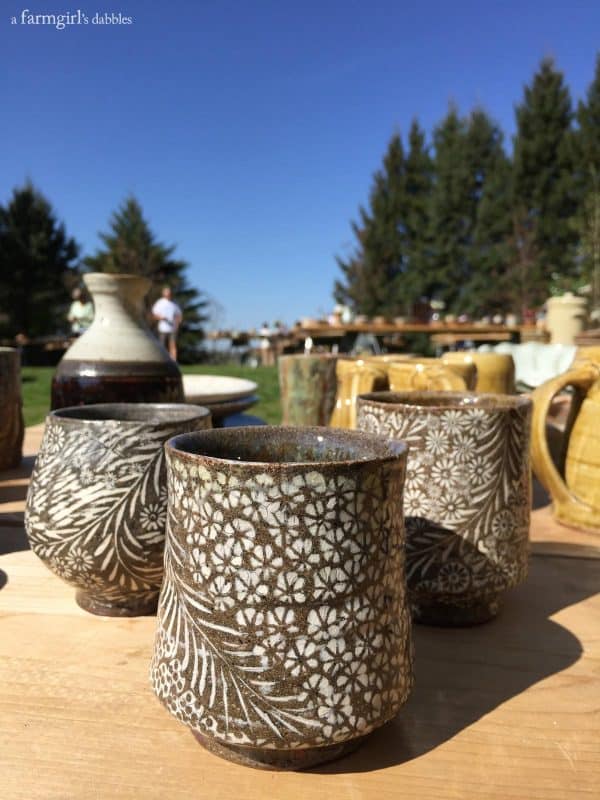 It was so fun to be introduced to a new-to-me potter, Michael Kline from North Carolina. His unique AND GORGEOUS! pieces caught my eye wherever they were displayed. Check out his Instagram account – it's a fun follow!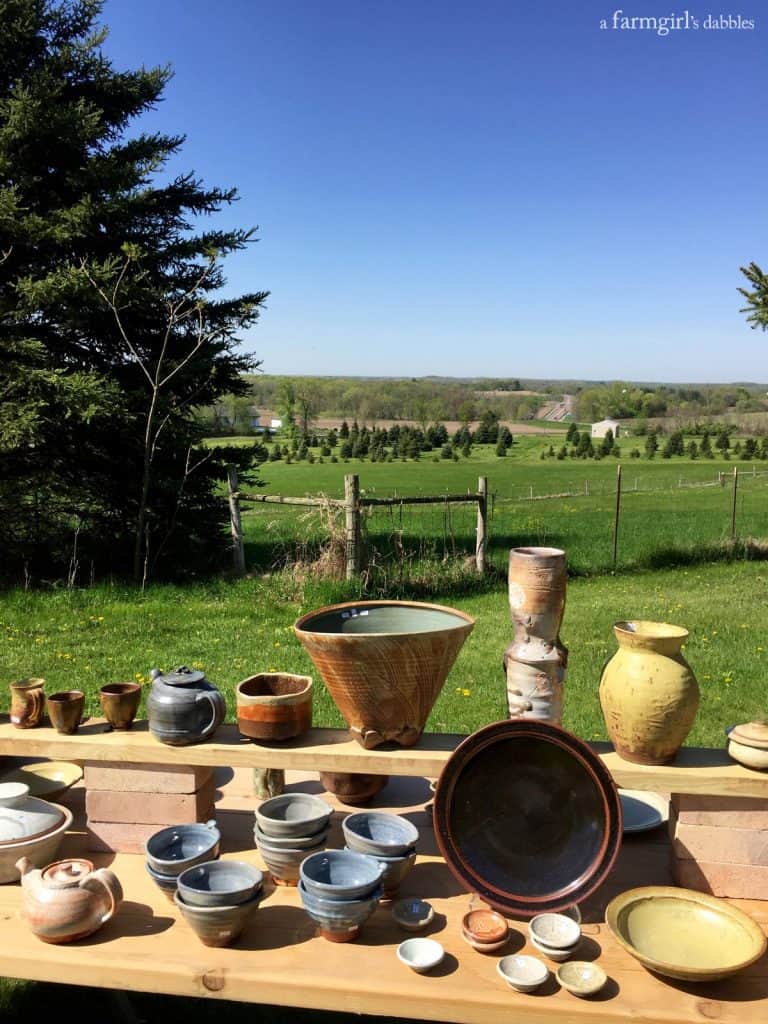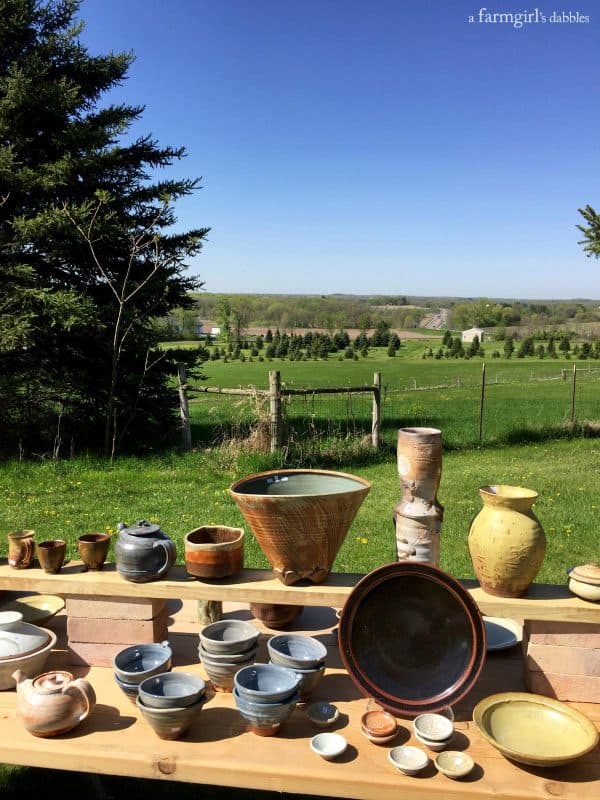 What a peaceful view, huh? The day couldn't have been more perfect weather-wise.
I need to give a shout-out to another Minnesota potter, Dick Cooter. He lives and works on the North Shore, just a bit north of Duluth, MN. The stacks of blue/gray bowls in the front are his. I fell in love with their shape and color and that little thumb print on the edge, and had to go home with two for myself. They are awesome oatmeal-eating vessels.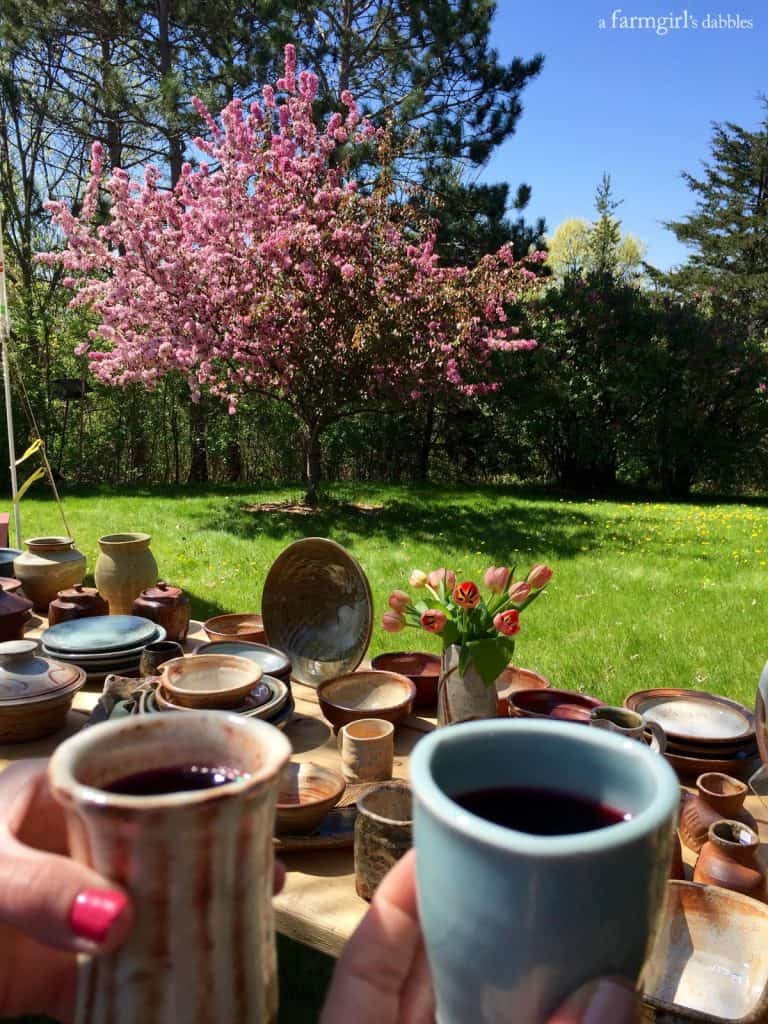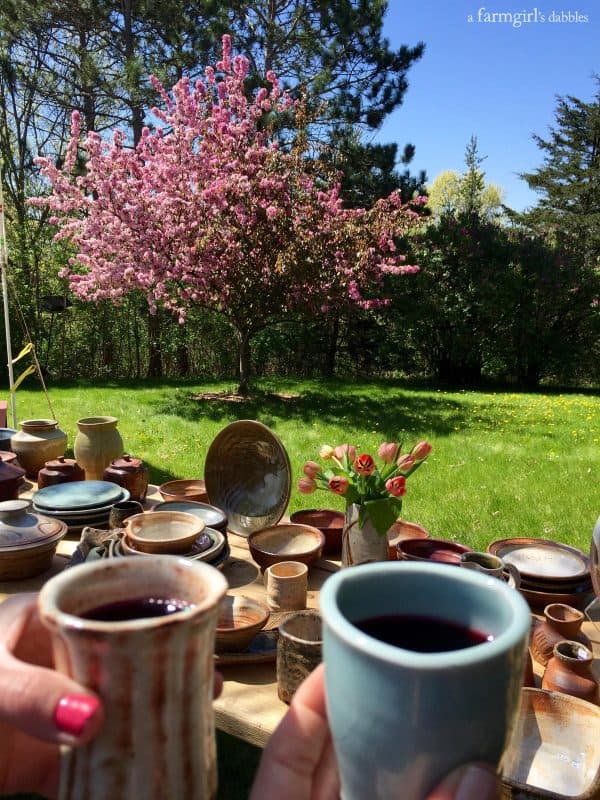 Hospitality was everywhere at this stop. Not only did they serve lunch, but they also let you wander around looking at beautiful pottery with a cup of wine in your hand…in a handmade pottery cup!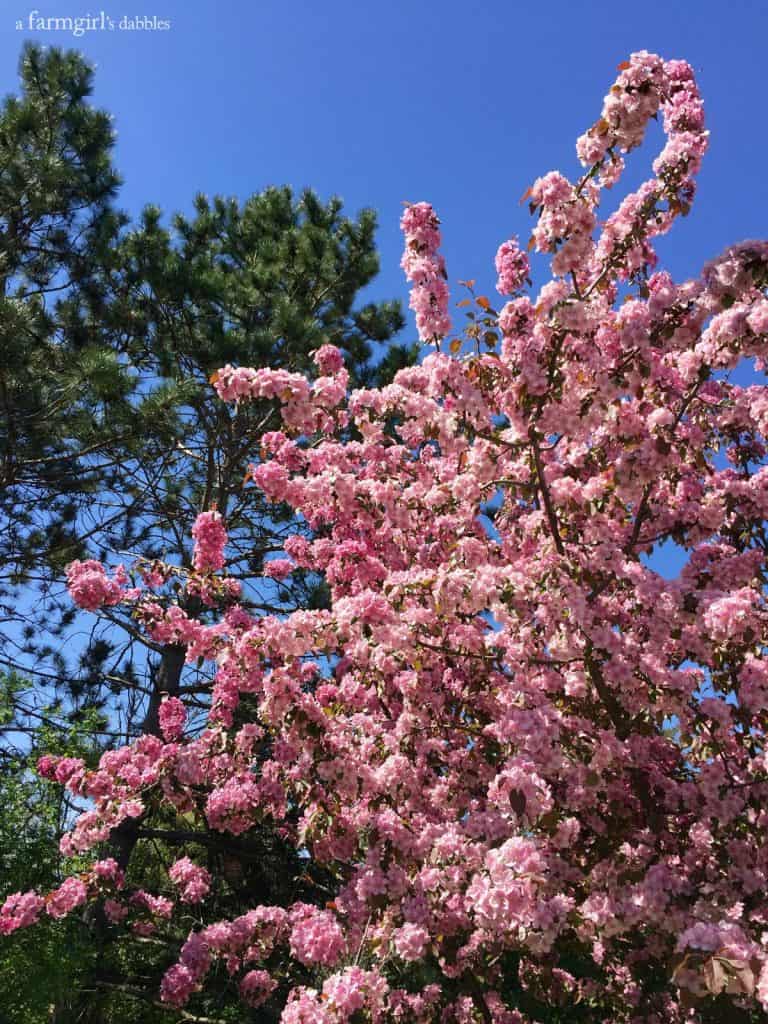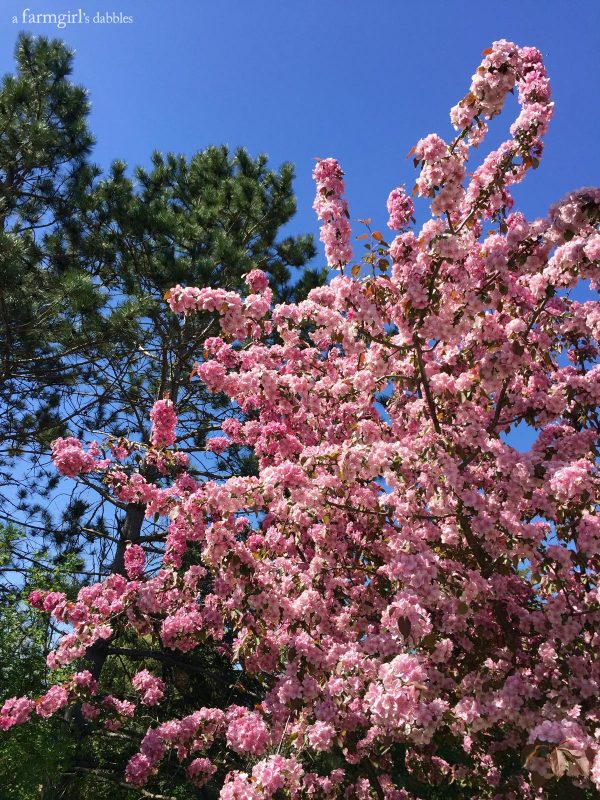 .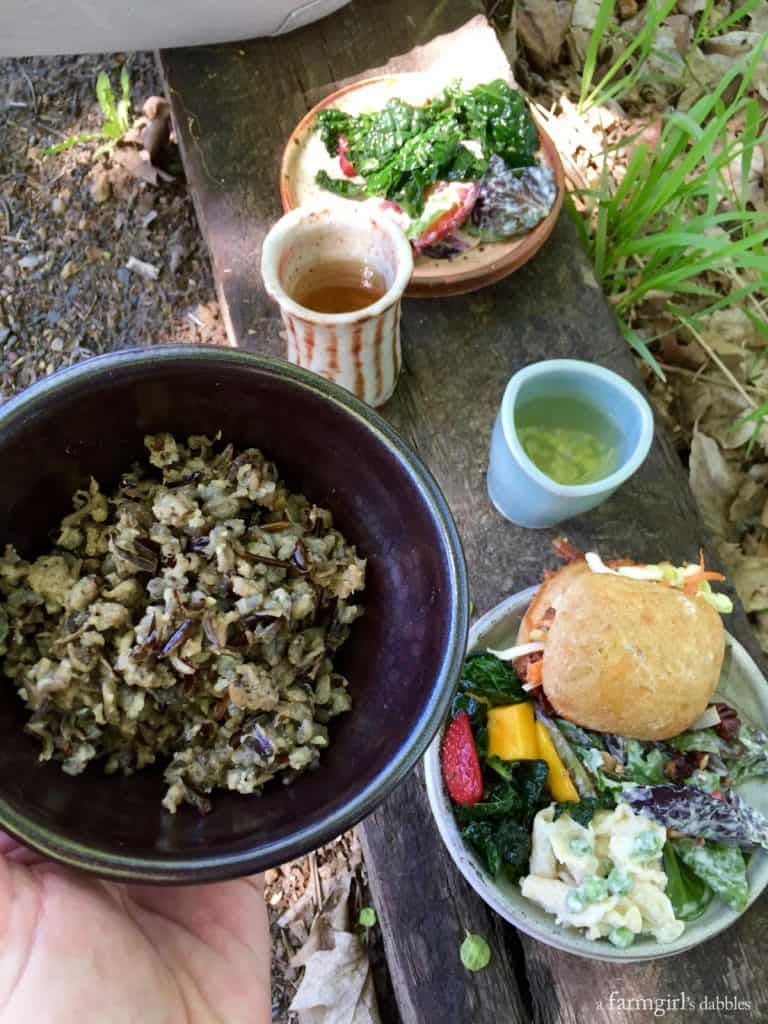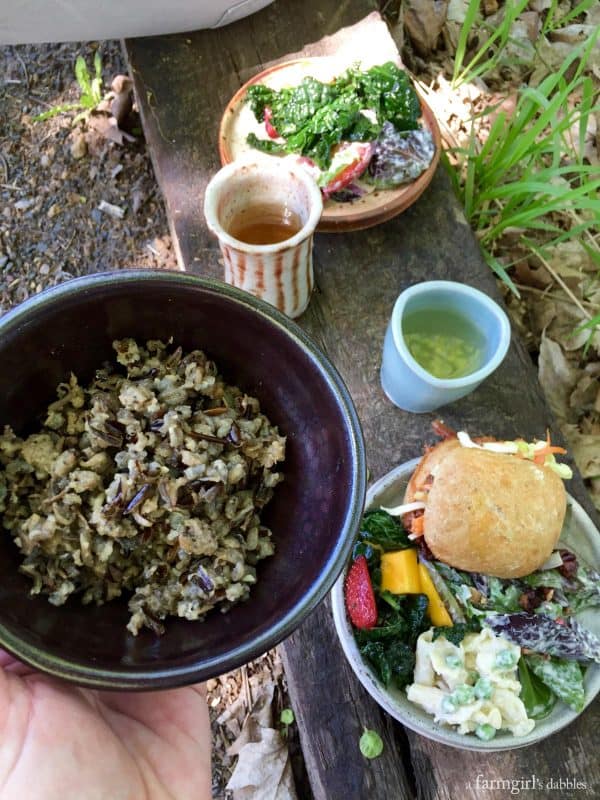 My friend Annmarie and I enjoyed our lunch under a shade tree that day. What a treat, to be able to cup that handmade pottery in our hands and eat from it. Which leads us back to this wild rice casserole recipe…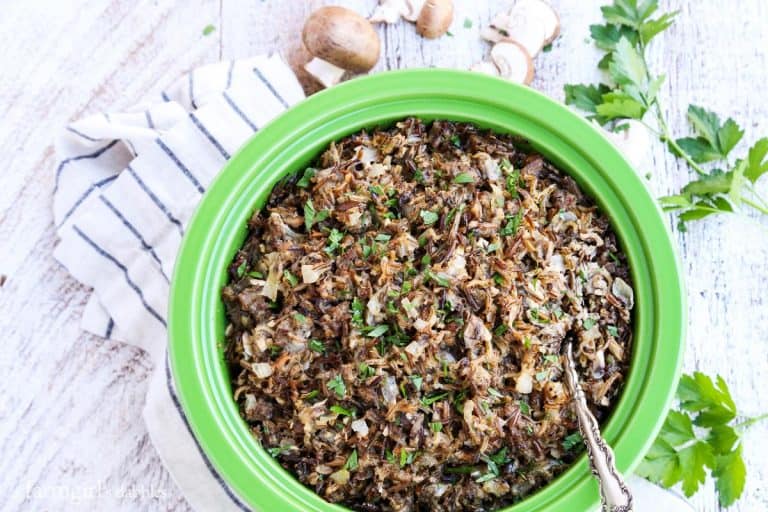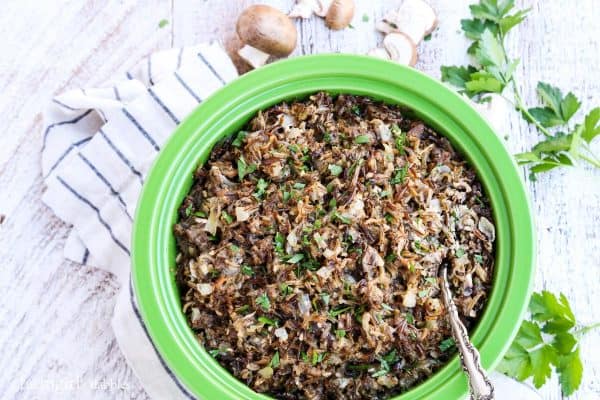 Wild rice is a very Minnesota thing, and I am proud to consume it whenever I possibly can. I find its earthiness extremely comforting, plus there's so much you can do with it. This casserole has been a welcome addition to my wild rice recipe archives.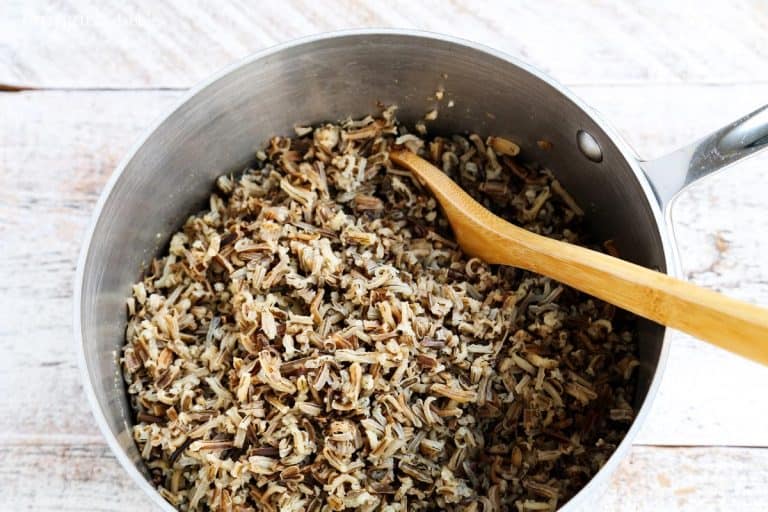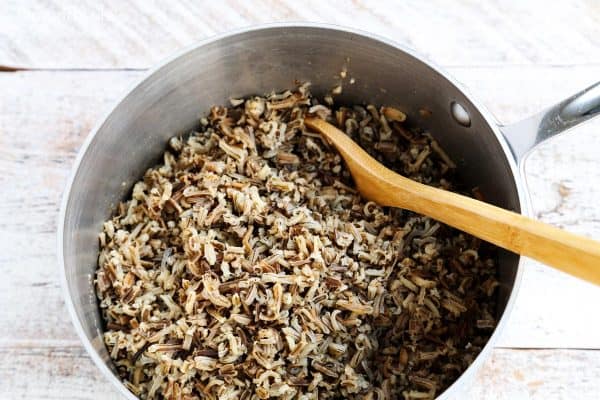 If you've never cooked wild rice before, this is what it should look like when it's fully cooked. All of the dark, hard outer shells should be split open, revealing lighter colored, curly, tender, and chewy bites of wild rice.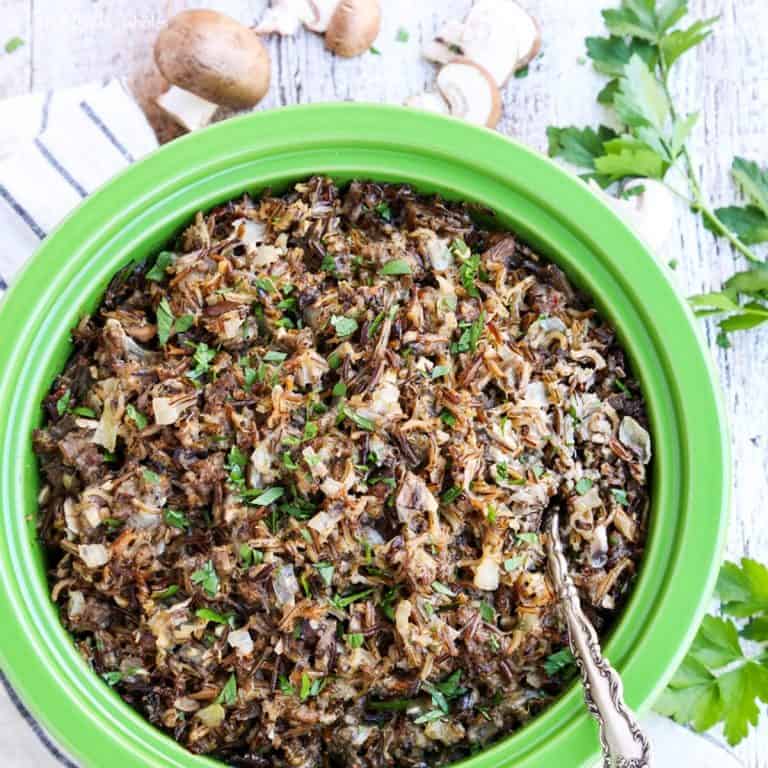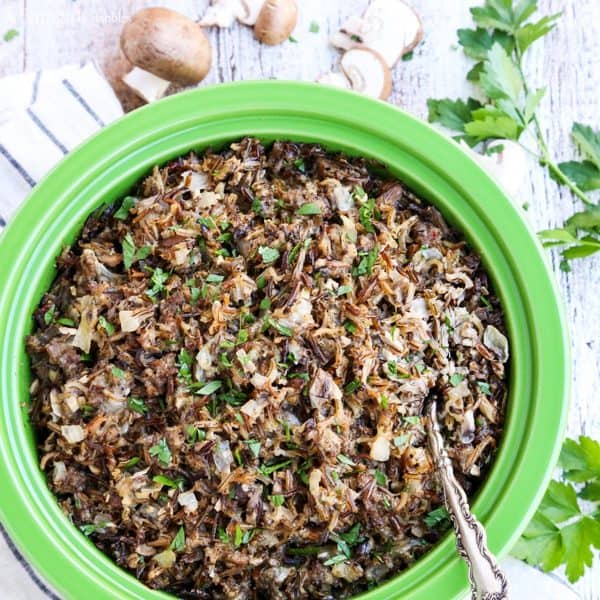 This wild rice casserole with sausage and mushrooms feels like a big hug. Creamy meets earthy meets chewy texture…I love it all! This would make a great side dish or main dish, depending on your menu. And it keeps well in the refrigerator for a number of days, a great way to ensure easy, hot, and tasty lunches throughout the week.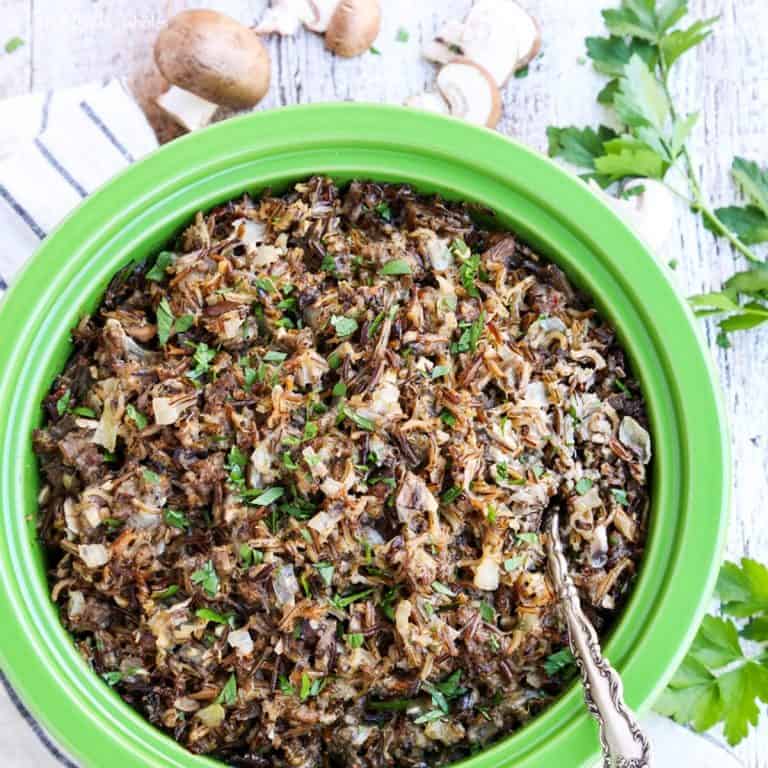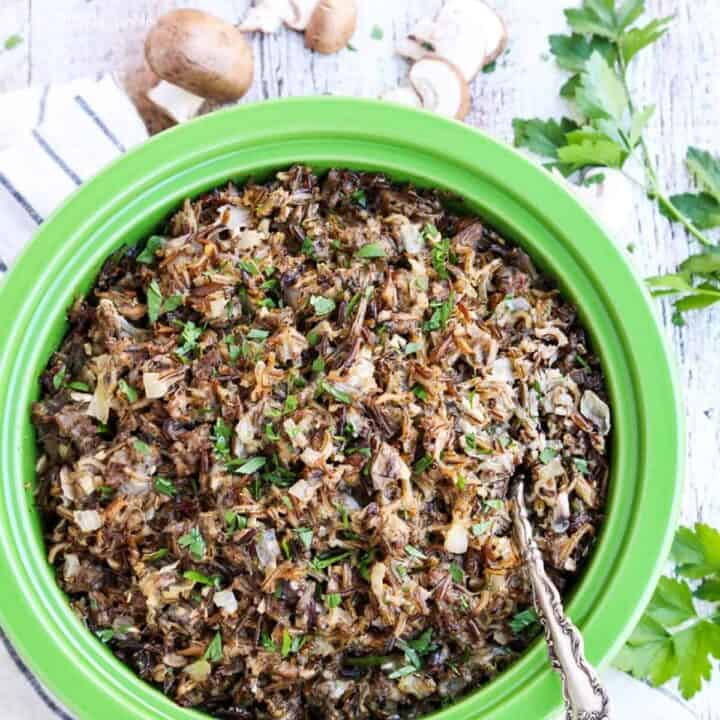 Creamy Wild Rice Casserole with Sausage and Mushrooms
Yield: 10 to 12 servings
Prep Time: 20 minutes
Cook Time: 1 hour 45 minutes
Total Time: 2 hours 5 minutes
This Creamy Wild Rice Casserole with Sausage and Mushrooms feels like a big hug. Creamy meets earthy meets chewy texture…I love it all!
Ingredients
8 c. low sodium chicken broth
2 c. whole Minnesota wild rice
1 lb. sage pork sausage (such as Jimmy Dean brand)
1 large yellow onion, chopped
6 large cloves garlic, minced
1 lb. portabella mushrooms, chopped
8 oz. button mushrooms, chopped
1/2 c. unsalted butter
1 c. heavy cream
1 T. soy sauce
kosher salt to taste
freshly ground black pepper to taste
2 T. chopped fresh parsley
Instructions
In a large pot (big enough to add the creamy sausage and mushroom mixture to later) over high heat, bring chicken broth to a boil. Stir in wild rice, turn heat down to low/medium-low, cover, and simmer until wild rice is split open and curled. This should take around 45 minutes. Remove from heat and drain any excess liquid. Fluff with a fork and set aside.
Preheat oven to 325° F.
While wild rice is cooking, start frying the sausage. In a very large skillet with tall sides, over medium to medium-high heat, fry the sausage and onion together. Cook for 3 to 4 minutes, breaking up the sausage into bite-size pieces. Add garlic and mushrooms, stirring to combine. Cook until sausage is no longer pink and the onions and mushrooms have completely softened. Add butter, cream, and soy sauce. Add this mixture to the pot of cooked wild rice. Stir thoroughly to combine. Taste test, adding salt and pepper as needed. This dish should have plenty of flavor - don't be afraid to add salt, or even a bit more of the soy sauce. And I LOVE lots of black pepper!
Transfer to a large baking or casserole dish and bake for 30 minutes. Stir and bake for 20 minutes more. Stir and bake for 10 minutes. Sprinkle with parsley and serve hot.
Notes
Thank you so much to Laurie Ryan for sharing her version of this wild rice recipe with me, an adaptation of Mary Jo Van Dell's original recipe.
Nutrition Information:
Yield: 12
Serving Size: 1
Amount Per Serving:
Calories: 345
Total Fat: 22g
Saturated Fat: 13g
Trans Fat: 0g
Unsaturated Fat: 8g
Cholesterol: 46mg
Sodium: 218mg
Carbohydrates: 36g
Fiber: 17g
Sugar: 4g
Protein: 12g
Nutrition information is automatically calculated by Nutritionix. I am not a nutritionist and cannot guarantee accuracy. If your health depends on nutrition information, please calculate again with your own favorite calculator.
Thank you so much to Laurie Ryan for sharing her version of this wild rice recipe with me, an adaptation of Mary Jo Van Dell's original recipe.
We participate in the Amazon Services LLC Associates Program, an affiliate advertising program designed to provide a means for us to earn fees by linking to Amazon.com and affiliated sites. See our
disclosure policy
for more info.