Quick Grilled Beef Pho
Extremely flavorful and un-traditionally quick, this Quick Grilled Beef Pho with rice noodles, sirloin steak, and traditional spices makes an easy weeknight dinner. Ready in just under an hour!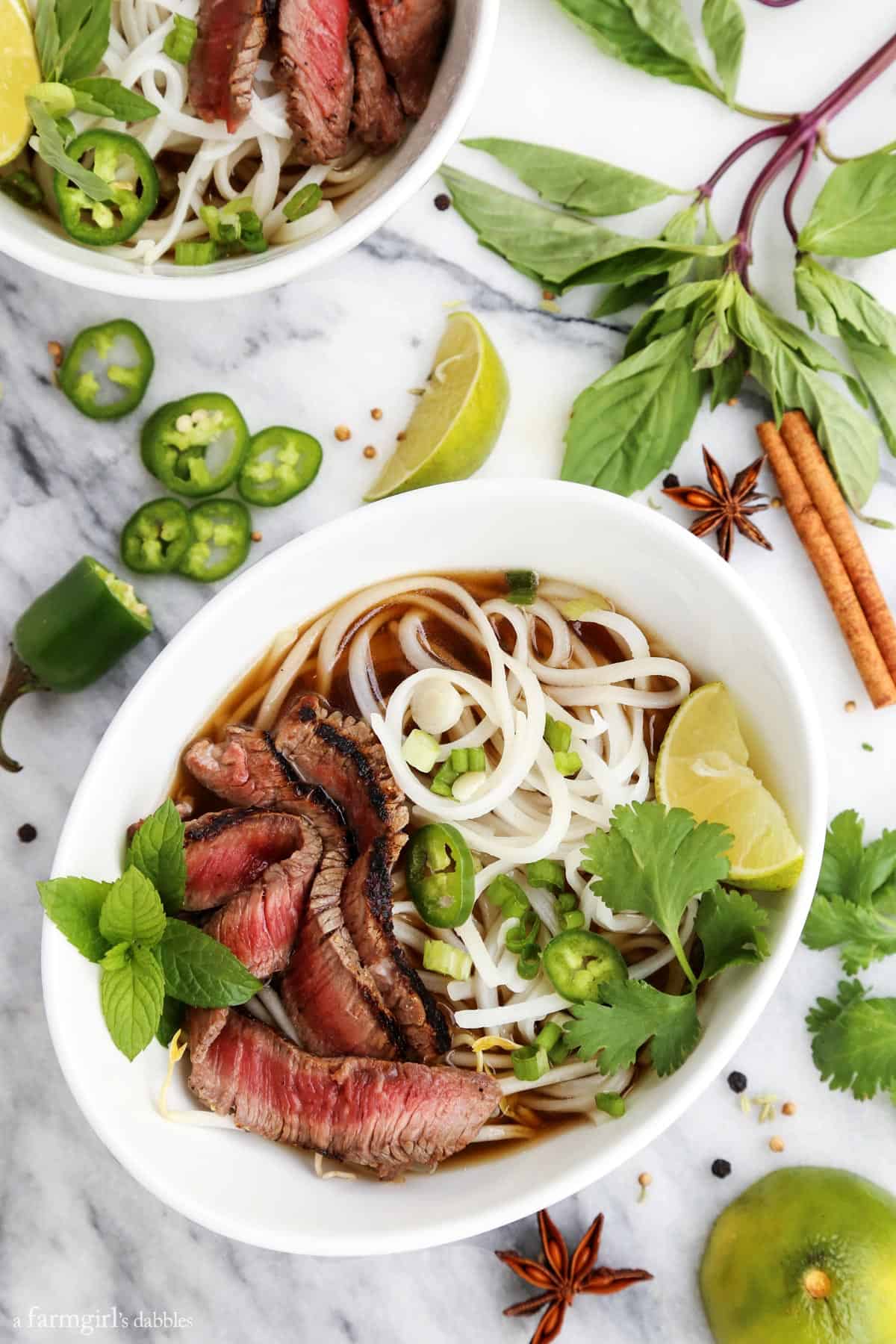 Quick & Easy Pho Recipe
Quick Grilled Beef Pho. Everything about that recipe title doesn't jive, I know!
Traditional pho is anything but quick to make, with the broth and spices usually left to simmer for many hours or even days. And grilled beef? Cooking the beef before adding it to the soup is unheard of. But I'm loving this version and I'm okay with breaking a few rules in the name of deliciousness. So there!
This easy pho recipe keeps many of the traditional elements, like rice noodles, daikon, onions, and warm spices, and just greatly reduces the cooking time. It turns pho into a dinner that can be made on any weeknight.
And by the way, if you find yourself feeling under the weather, grab a steaming bowl of pho. Some people say that beef pho is even better than chicken noodle soup for curing colds!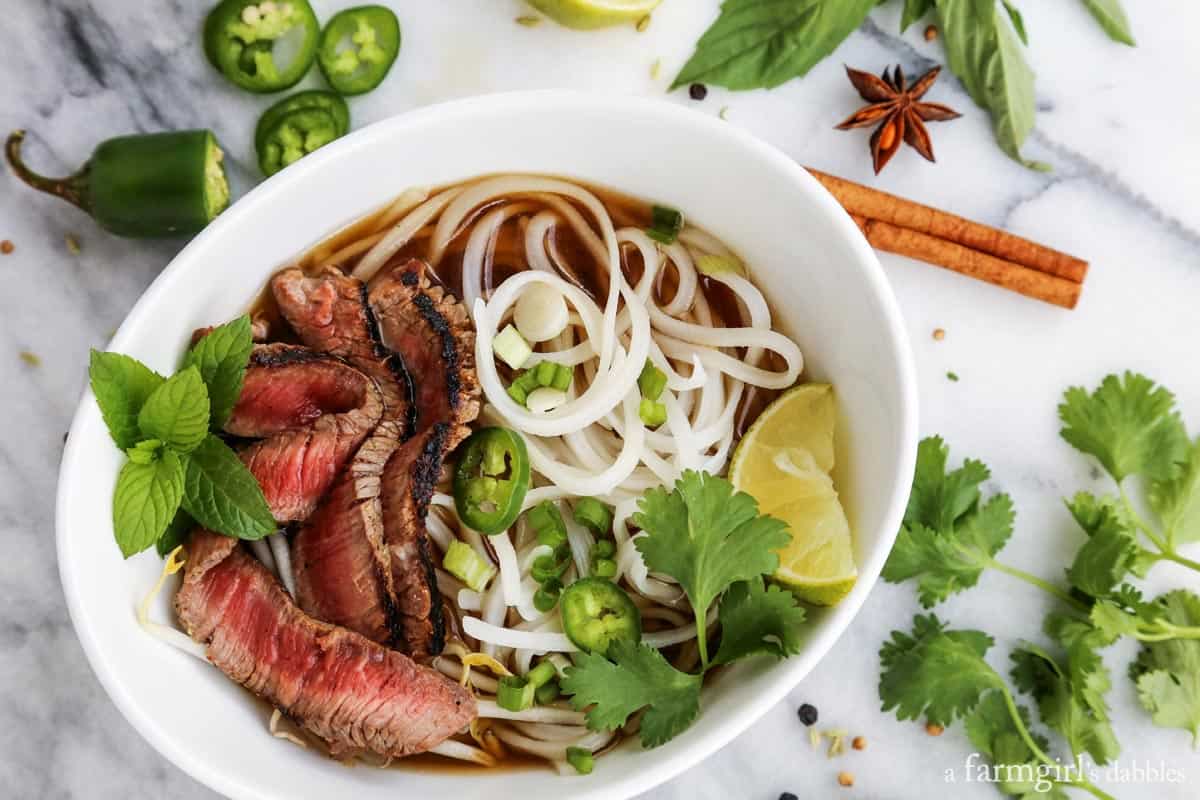 What is Pho?
Pho (pronounced "fuh"), is a Vietnamese soup with a clear, flavorful broth and rice noodles. A protein like beef, pork, or chicken is usually added, along with a variety of toppings to add texture and flavor.
Traditional beef pho requires a lengthy process of simmering beef bones, meat, charred onions, and various aromatics for hours or days to create the perfect broth. While the noodles and other add-ins are delicious, the real star of any good pho is always the broth, which is why the majority of the time making traditional pho is spent on that.
However, we don't all have hours or days to dedicate to making the perfect bone broth. Right?! So this faux pho or quick pho recipe is perfect. We take a few shortcuts by using chicken broth and simmering the flavors for just 30 minutes instead of hours.
If you've never had pho before, definitely head to a Vietnamese restaurant to try some – but in the meantime, this easy beef pho can be made at home in under an hour!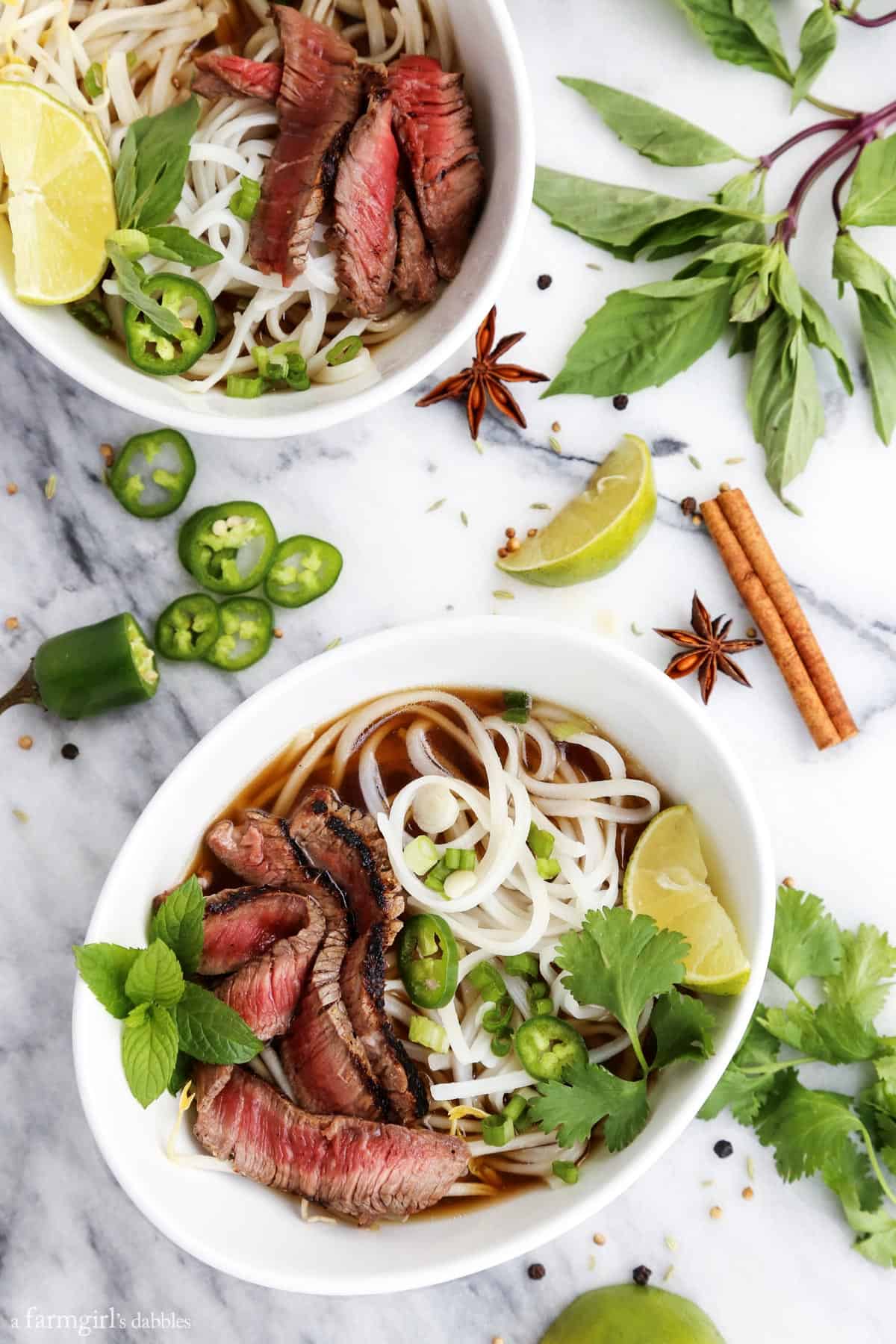 What You'll Need
Each ingredient added to this quick pho recipe helps to add layers of flavor without the usual hours-long process for the broth.
Spices – Star anise, cloves, cinnamon sticks, black pepper corns, fennel seeds, and a cardamom pod are toasted, then added to a spice bag to flavor the dish.
Olive oil – Used for sauteeing vegetables and also to grill the steak.
Yellow onion, daikon radish, and fresh ginger – Sauteed before the broth is added for additional flavor. (And ginger is known for being great when you have a cold…have you tried my ginger chicken soup?!)
Chicken broth – Chicken bone broth also works and is closer to what would be used in traditional pho.
Fish sauce & soy sauce – Add the hearty, salty flavor.
Honey – Adds a hint of sweetness.
Rice noodles – I like the flat noodles from Thai Kitchen with the label "stir fry rice noodles".
Top sirloin beef steak – A lean cut of beef that still has great tenderness and flavor. I like to use a steak that's about 3/4″ thick.
Salt & pepper
For serving – Lime wedges, jalapeno, pickled red onion, green onion, mint, cilantro, Thai basil, bean sprouts, sriracha, and hoison sauce can all be added to the individual bowls of pho.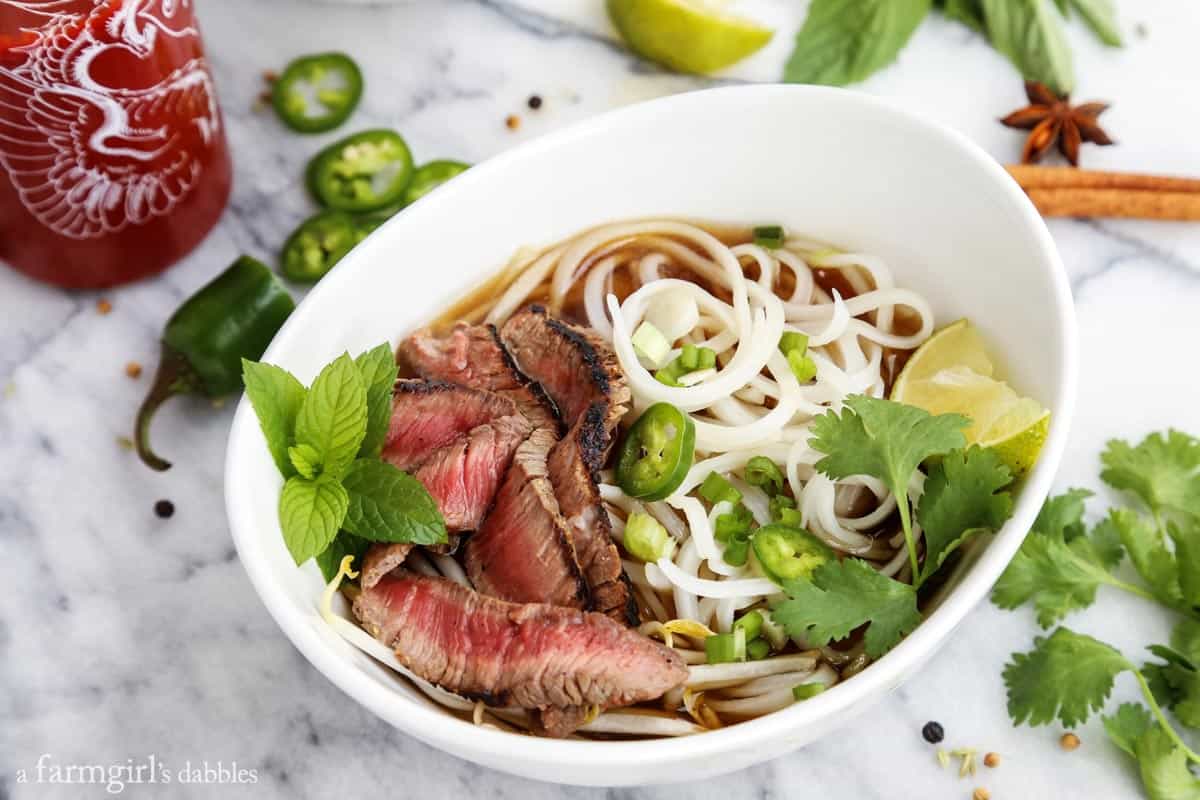 How to Make Grilled Beef Pho
This faux pho has a much speedier process than a traditional beef pho, while still maintaining a deep, wonderful flavor.
Prepare the spice packet. Toast the spices until toasty and fragrant. Cool and transfer to a cheese cloth or spice bag.
Prepare the broth. Saute the onion, daikon, and ginger. Then add the broth, spice packet, fish sauce, soy sauce, and honey. Bring to a boil then reduce to a simmer for 30 minutes. Taste and adjust the seasoning as needed.
Cook the rice noodles. While the broth is simmering, cook the rice noodles according to package instructions. Strain and rinse under cool water then transfer to individual serving bowls.
Grill the beef. While the broth is simmering, place the beef on a clean, oiled grill grates on high heat. Close the lid, and don't peek. After 2 1/2 minutes, flip to the other side. We want to keep the beef tender and juicy, cooked to about medium rare. Once finished, transfer to a cutting board to let rest. Then slice into thin strips.
Assemble and serve. Add the grilled steak strips to the individual bowls of noodles. Remove the spice packet from the broth. Strain if desired. Ladle the hot broth over noodles. Garnish as desired, with fresh lime, herbs, bean sprouts, sauces, etc.
Tips & Variations
Want to try this easy pho recipe with chicken instead? Or want to ensure you get the perfect sear on the beef? Here are some tips to help you out.
Try a different protein. While pho is typically made with some variety of beef, you can also make chicken or pork pho. In that case, you'll want to either grill or sear the protein in a skillet before adding it to the soup.
Slice beef against the grain. For the best tender texture, be sure to slice the beef against the grain.
Make it vegetarian. You can also completely omit the steak and enjoy with just the noodles and veggies – or add in some tofu.
Simmer with the lid closed. For the best flavor, keep the lid on the pan while you're simmering the broth.
Use a HOT grill. The grill grates should be cleaned, oiled, and smoking hot when you add the steak. With a steak that's 3/4″ thick, it should take about 2 minutes per side for the steak to get a nice char and become medium well.
Skip grilling the beef. Traditional pho uses thin slices of beef that are cooked in the broth. I prefer the flavor and textured of the charred, grilled steak but you can do it this way as well. I recommend freezing the steak so you can cut super thin slices. Then drop the slices into the simmering broth for 2 minutes or so before serving.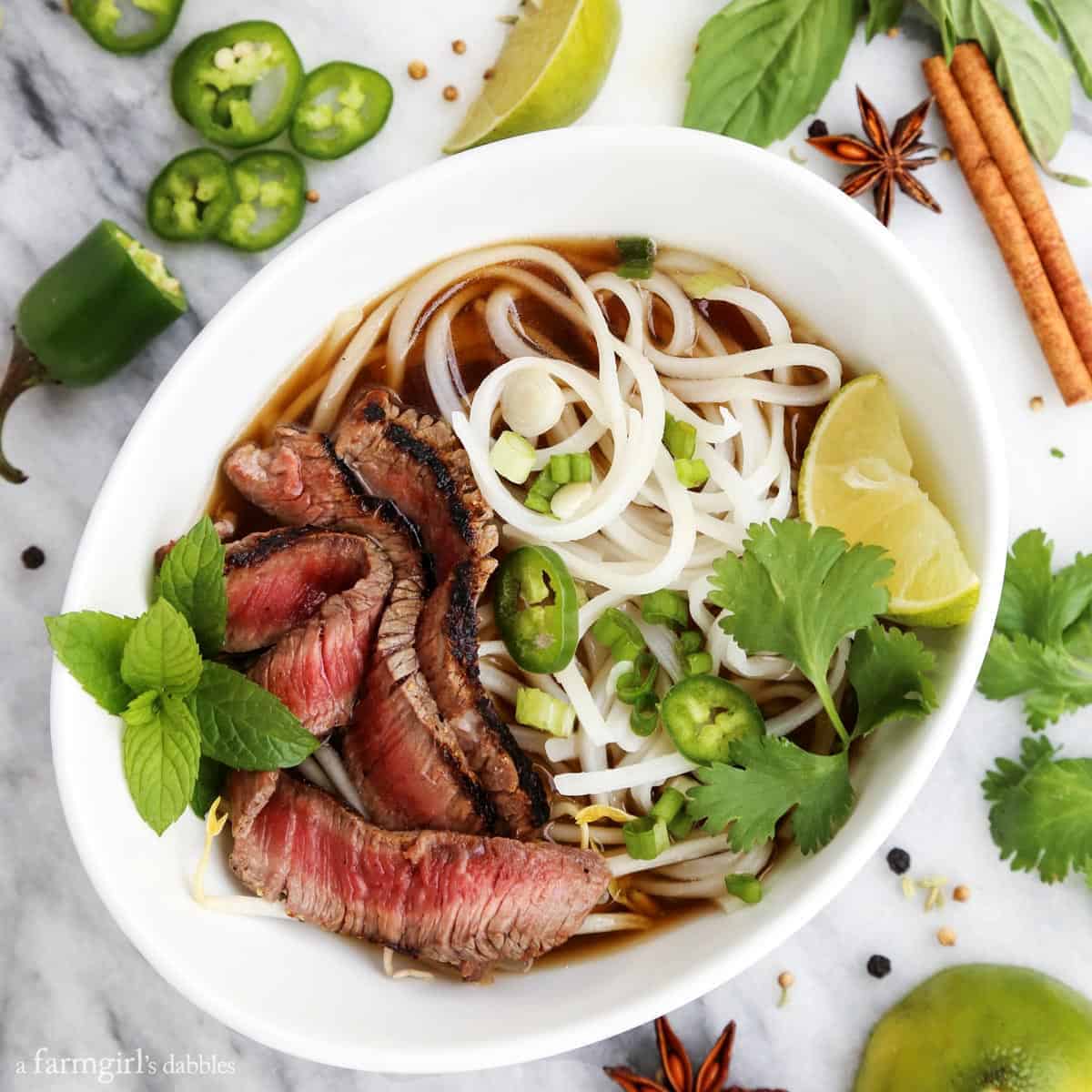 Serving Suggestions
Pho is typically served with various add-ins and sauces so that each person can customize it to their preference.
Here are the things we typically add:
Fresh lime wedges (my favorite!)
Mint
Cilantro
Thai basil
Bean sprouts
Sliced green onion
Sriracha (or another spicy sauce)
Hoisin sauce
Jalapeno slices
How to Store & Reheat Leftovers
It's best to store each part of this recipe separately – the broth, the noodles, the steak, and the toppings. The ingredients will last up to 3 days in airtight containers but, of course, the sooner the better to enjoy.
To reheat, bring the broth to a high simmer, then add in the noodles and beef. Cook until warmed through. Ladle into bowls and add the toppings as desired.
More Beef Recipes
Like this recipe? Save it to Pinterest!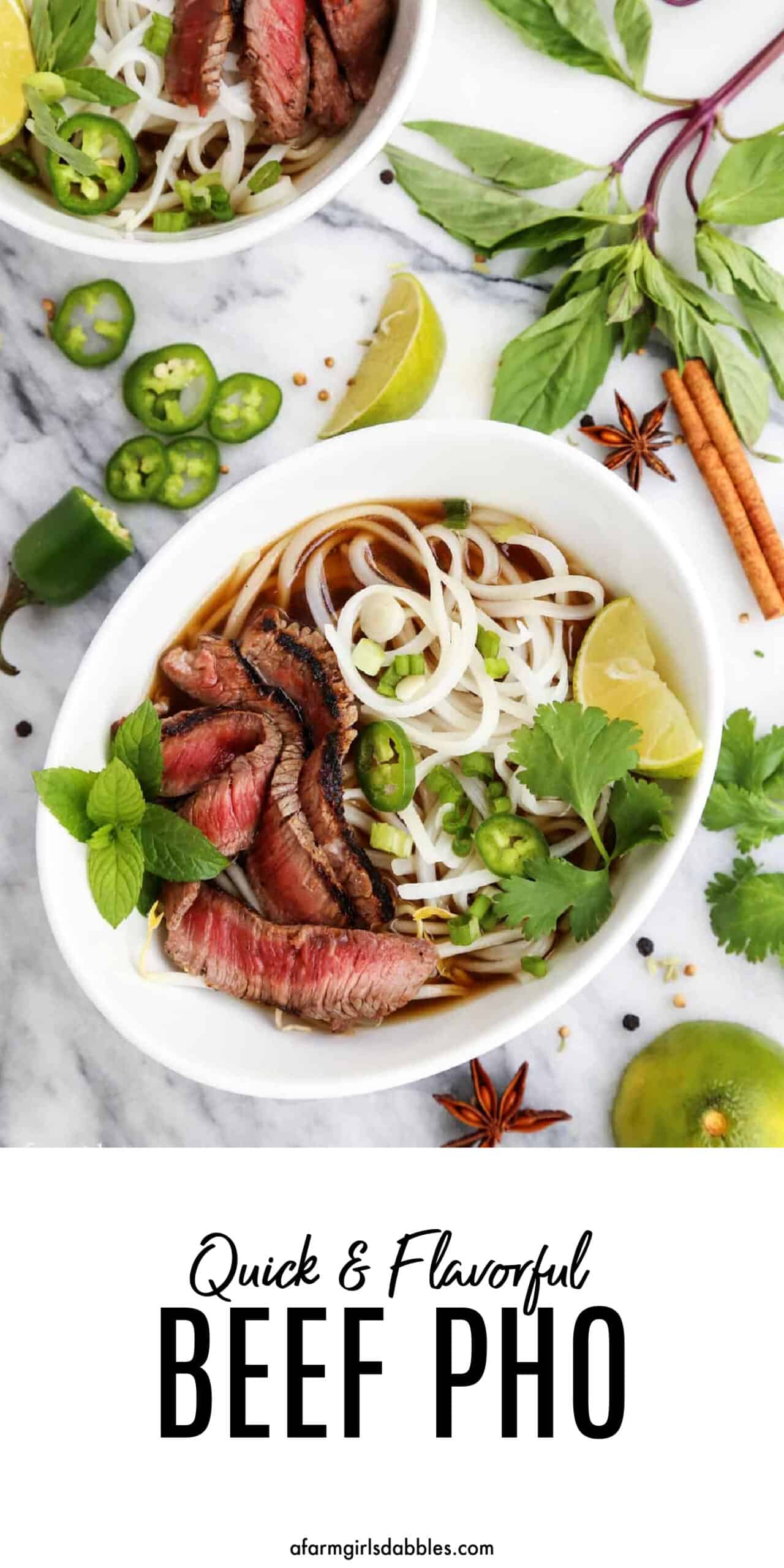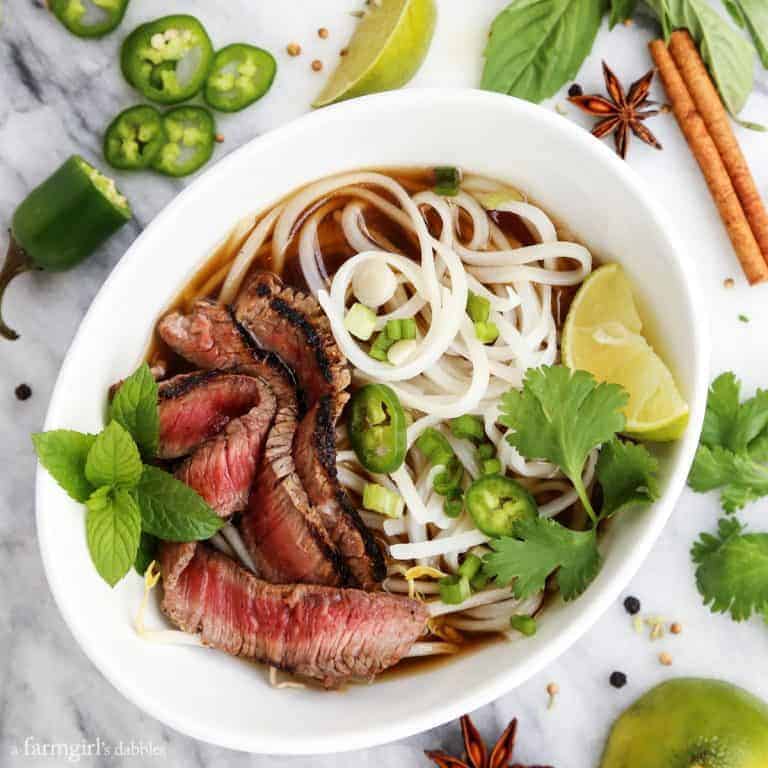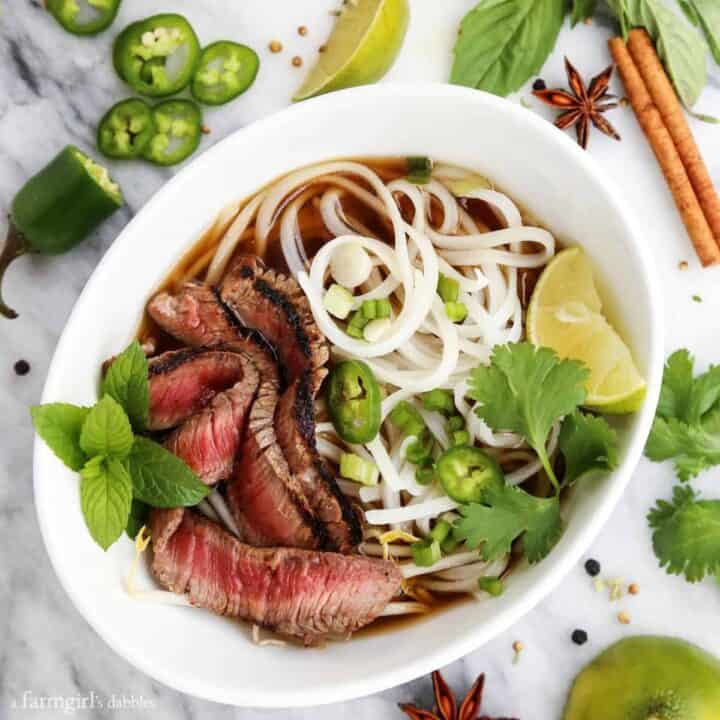 Quick Grilled Beef Pho
Yield: serves 4 to 6
Prep Time: 25 minutes
Cook Time: 15 minutes
Total Time: 40 minutes
Extremely flavorful and un-traditionally quick, this Quick Grilled Beef Pho with rice noodles, sirloin steak, and traditional spices makes an easy weeknight dinner. Ready in just under an hour!
Ingredients
2 whole star anise pods
2 whole cloves
1 cinnamon stick
1 tsp. coriander seeds
1 tsp. black pepper corns
1/2 tsp. fennel seeds
1 cardamom pod
1 T. olive oil + a bit more for grilling the steak
1 small yellow onion, halved and sliced thinly
1/2 c. diced daikon radish (1/2" size)
2 T. minced fresh ginger
8 c. rich chicken broth or chicken bone broth
1 T. fish sauce
1 T. soy sauce
1 T. honey
1 14-oz. package rice noodles (I like the flat noodles from Thai Kitchen with the label "stir fry rice noodles".)
1 lb. top sirloin beef steak
kosher salt
freshly ground black pepper
fresh lime wedges
fresh mint
fresh cilantro
fresh Thai basil
bean sprouts
Sriracha
Hoisin sauce
Instructions
* Please note that this recipe includes a much speedier version for creating the spiced broth than a traditional pho recipe. Also, the beef is not traditionally grilled prior to adding it to the bowls of noodles. I just like the additional texture and flavor from the grilling, and did my own thing with this.
In a large saucepan over medium heat, toast star anise, cloves, cinnamon stick, coriander seeds, pepper corns, fennel seeds, and cardamom pod until toasty and very fragrant, about 2 to 3 minutes, stirring regularly. Transfer to a plate to cool. Then tie up spices in a piece of cheese cloth with kitchen twine or a spice bag (I like these) and set aside.
Return saucepan to medium heat and add oil. When oil is hot, add onion, daikon, and ginger, and sauté until onion has softened a bit, about 5 minutes. Stir in broth, spice packet, fish sauce, soy sauce, and honey. Bring to a boil and then turn heat down to low and simmer, covered, for 30 minutes. Taste and adjust seasoning with fish sauce and/or soy sauce (for saltiness) and honey (for sweetness), if needed.
While broth is simmering, cook rice noodles according to package directions, until tender but not mushy. Strain the noodles and run them under cool water to stop cooking. Add noodles to individual serving bowls. Or toss with just a bit of neutral-tasting oil to prevent sticking until ready to use.
While broth is simmering, grill the beef. Heat grill to high. Make sure grill grates are clean, and then oil them well. Cover both sides of steak lightly with a bit of olive oil, and then sprinkle fairly generously with kosher salt and black pepper. Once the grill grates are smoking hot, place your steak on. Then close the lid and don't peek. For a 3/4'' thick, juicy medium-rare steak, grill for 2-1/2 minutes without peeking or moving the steak. Then flip and grill for another 2-1/2 minutes more on the second side without peeking or moving the steak. Increase grilling time for thicker steaks. Immediately remove steak from grill to a cutting board and let rest for a few minutes to retain juices. Then cut steak against the grain into very thin slices.
To serve, add a few slices of grilled steak to individual bowls of noodles. Discard spice packet from broth. Strain broth if you like, or serve as-is with the bits of onion, daikon, and ginger. Ladle hot broth over the noodles and beef in individual bowls. Let everyone garnish their pho as desired with squeezes of fresh lime (my favorite!), fresh herbs, bean sprouts, and sauces.
Notes
Adapted from Stephanie Meyer's (freshtart.com) "Weeknight Paleo Pho" and Matt Zubrod's (Executive Chef at The Little Nell in Aspen, CO) "Beef Pho".
Nutrition Information:
Yield: 6
Serving Size: 1
Amount Per Serving:
Calories: 463
Total Fat: 21g
Saturated Fat: 7g
Trans Fat: 0g
Unsaturated Fat: 10g
Cholesterol: 112mg
Sodium: 1938mg
Carbohydrates: 31g
Fiber: 3g
Sugar: 8g
Protein: 37g
Nutrition information is automatically calculated by Nutritionix. I am not a nutritionist and cannot guarantee accuracy. If your health depends on nutrition information, please calculate again with your own favorite calculator.
How This Recipe Came To Be
There's a wonderful little Vietnamese restaurant near us, where I enjoyed my first really good pho. If you're ever in Woodbury, MN be sure to check out Thanh Truc. It's tucked into a strip mall and operated by the most wonderful folks. Their service is super quick, and their food is fresh and flavorful. And they have AMAZING egg rolls!
When I was in Aspen this fall, a guest of the Beef Checkoff, I enjoyed two glorious bowls of beef pho for lunch one day at The Little Nell. Made by Executive Chef Matt Zubrod, all I could think was how I wished that it was easier to make pho at home.
Once I was back in Minnesota, I wanted to accomplish this flavorful, comforting meal more quickly. I texted my friend Stephanie, who I just happened to spend a day with in Aspen (read on after the recipe for more on that), to bounce my ideas off her incredible kitchen knowledge. And pretty soon I had a plan in motion for a quick grilled beef pho!
I'm just plain delighted with the results of this little excursion with "faux pho". The broth is wonderfully fragrant and flavorful. Admittedly not to the higher level of a traditionally made pho, but oh-so-wonderful still.
And the whole grilled beef bit…I love it. The char of the grill adds contrasting texture while also imparting extra flavor. I'm extra careful to not over-grill the beef, revealing its bright pink tenderness as it's sliced against the grain.
For more on my trip to Aspen, Colorado with the Beef Checkoff – including a few shots of those glorious aspens in all their golden autumn glory – be sure to read on after the recipe!
---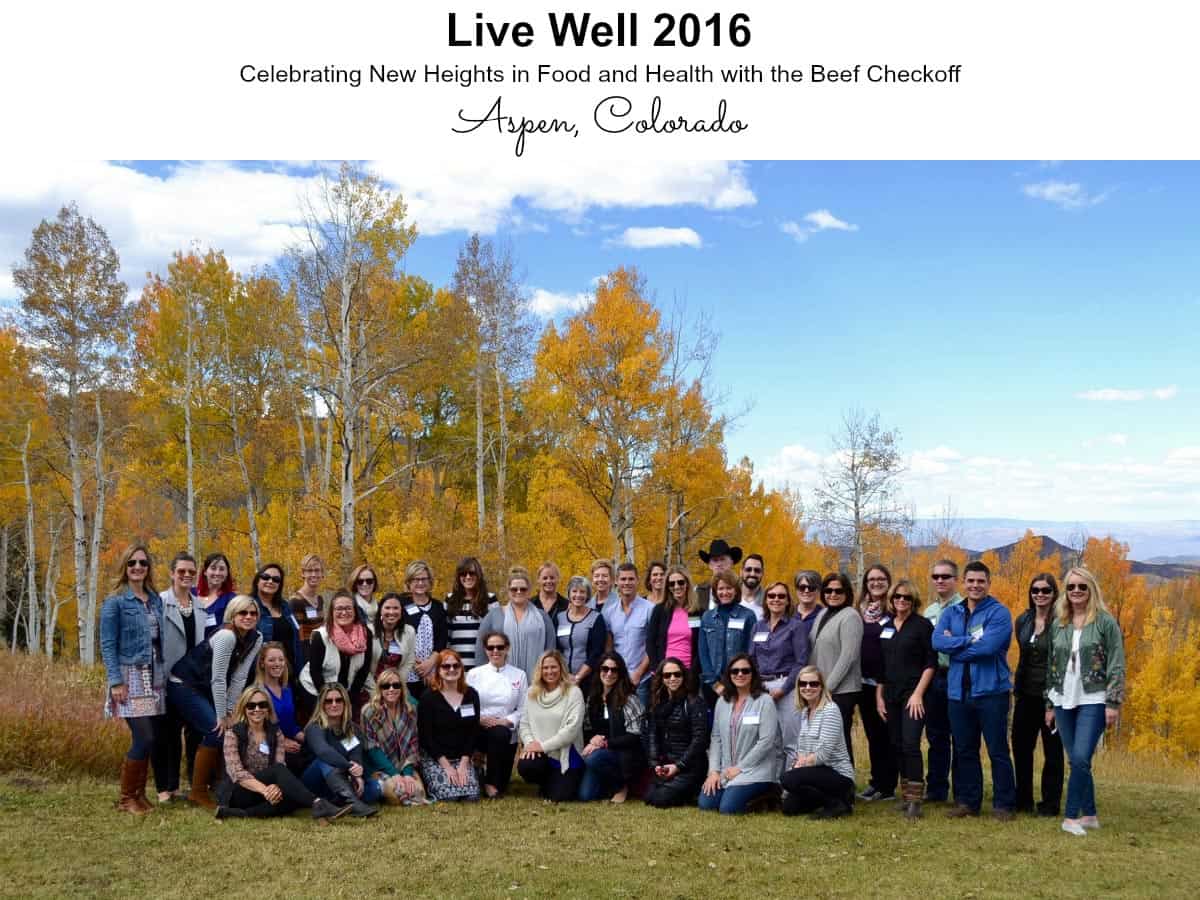 .
This fall I was honored to join the Beef Checkoff in Aspen, Colorado for their Live Well 2016 event. Created especially for dietitians, fitness professionals, and bloggers, I found myself immersed in aspects of nutrition and health that I was both familiar with and astoundingly unfamiliar with. The variety of information that was shared ran the gamut, always interesting and promoting great conversations.
Plus, who am I kidding? Aspen's stunning backdrop was hard to beat. This was my first time in Colorado, and I found Aspen to be absolutely breathtaking.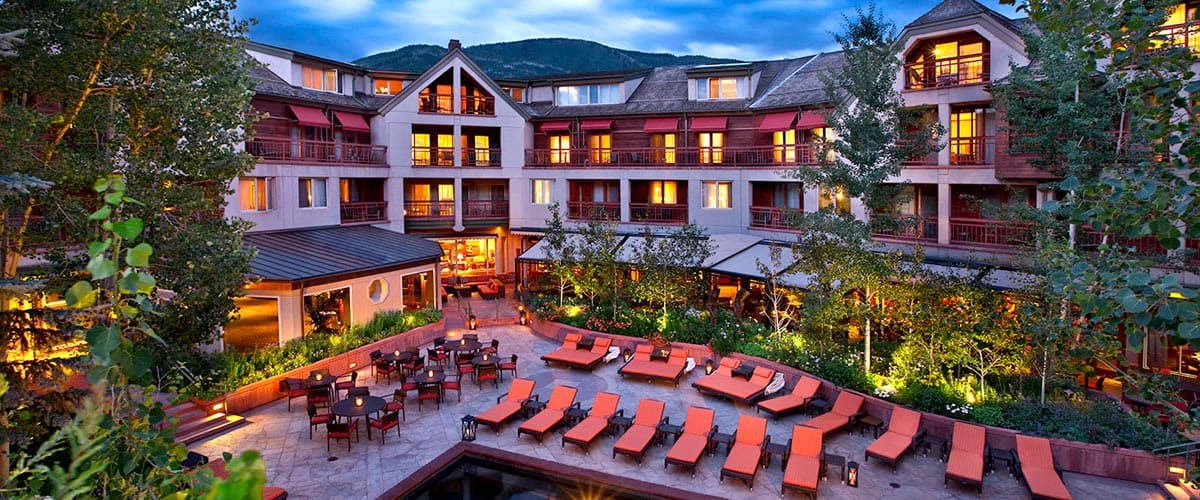 Our group stayed at The Little Nell. Nestled in at the base of Aspen Mountain, its setting was spectacular. And, wow, the hospitality. This hotel had a roomy but intimate feel with top notch service, obviously nodding to its Five-Star and Five-Diamond awards.
I am so glad that I tacked on an extra night to allow time to hike Maroon Bells, a recommendation from my cousin Samina. Keep reading to the end for more on that excursion.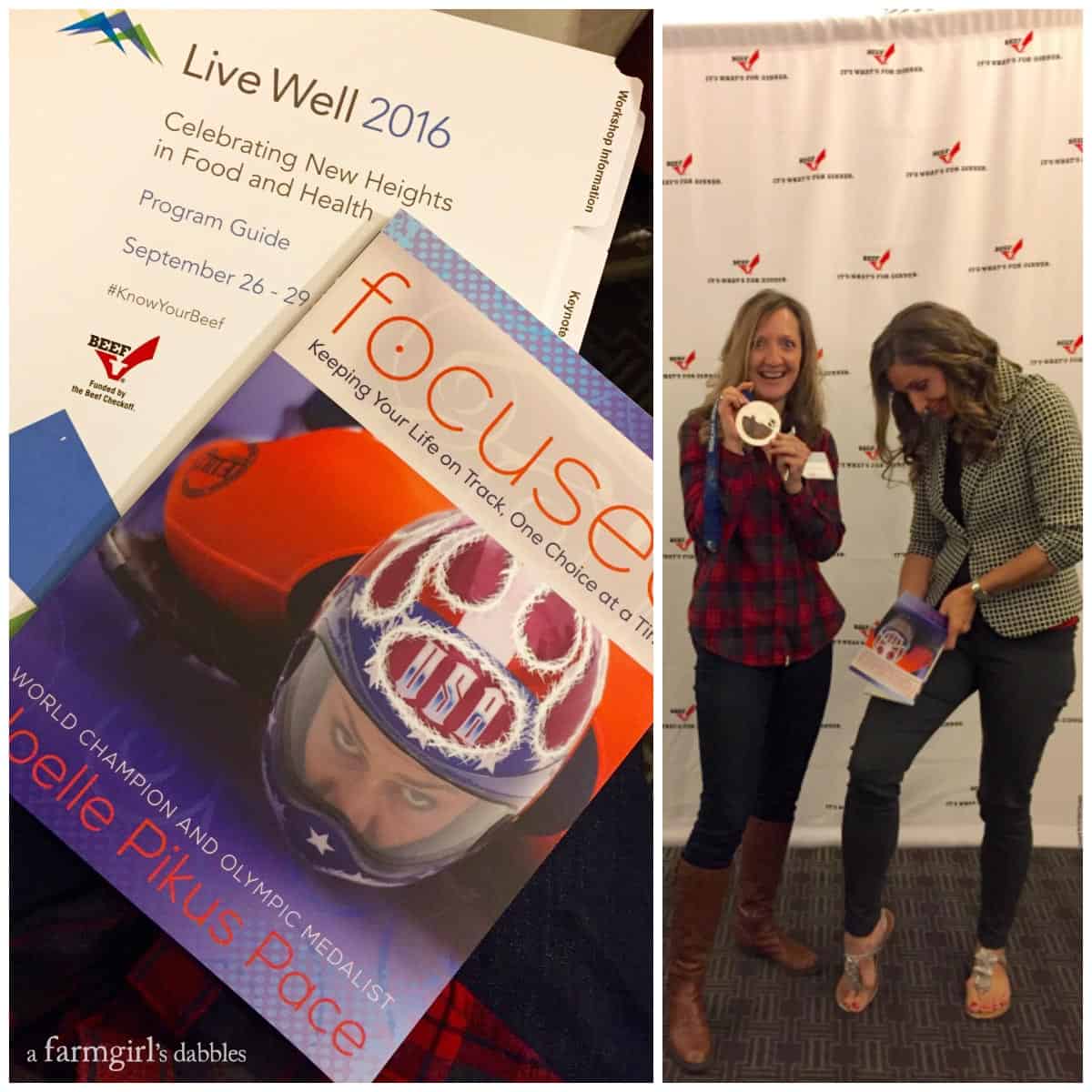 One of the highlights for me was listening to the keynote speaker, Olympic Skeleton Slider Noelle Pikus-Pace.
Noelle experienced a devastating injury during training that kept her from competing in the 2006 Winter Olympics. But with her powerful shared story of family, faith, and focus ("You always have a choice about how to react to your situation"), she overcame this obstacle, going on to win the title of World Champion skeleton slide by a large margin just one year later, plus 4th place in the 2010 Winter Olympics in Vancouver. Then in 2014, she won the silver medal at the Winter Olympics in Sochi. Noelle and her life story are nothing short of inspiring.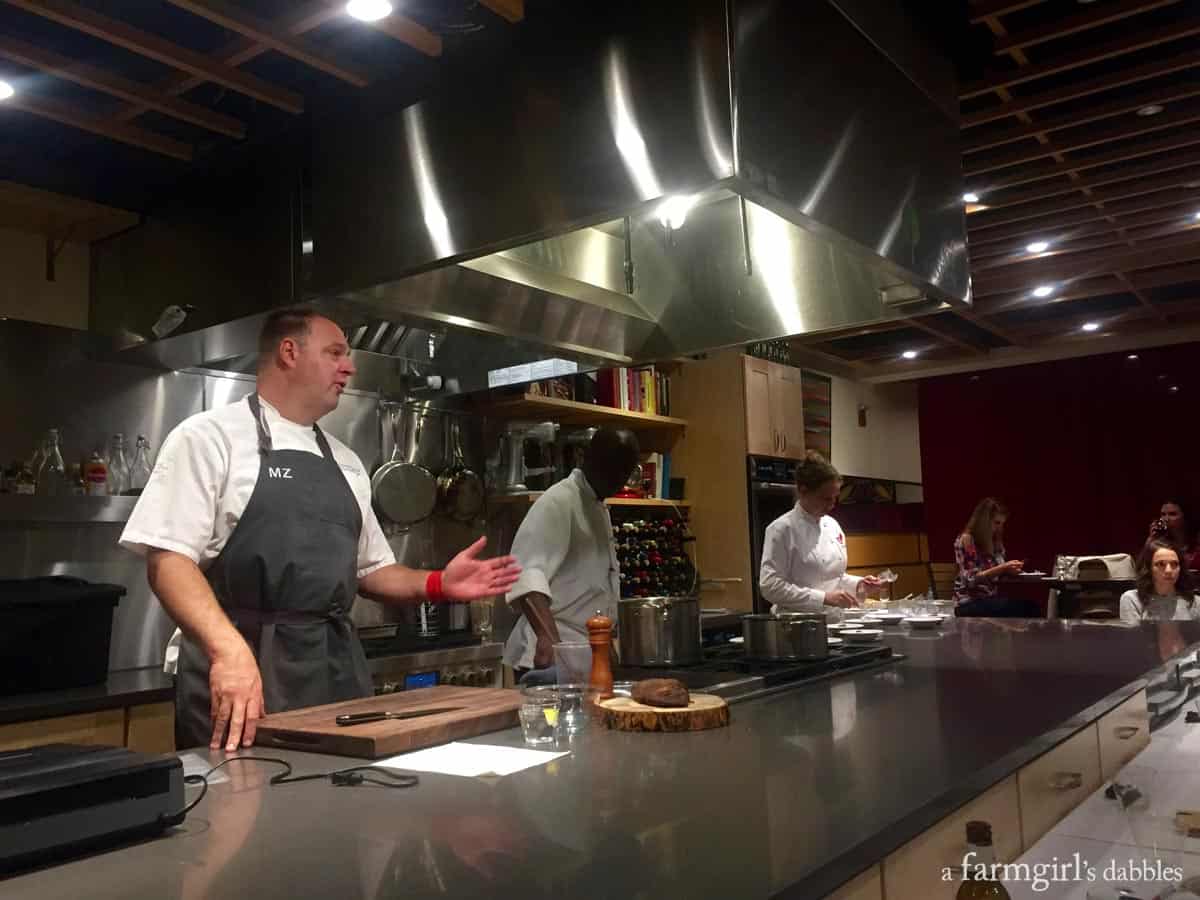 We gathered in the kitchen with Executive Chef Matt Zubrod (The Little Nell) to talk together about weekly family meal plans and how to build beef into our menus for great tasting meals that provide nutrition and a balanced plate.
In other conversations, we learned and talked together about:
the value of meal planning and how it can save you money and time in the long run, reduce food waste, and allow for more variety.
how an equal distribution of protein intake throughout the day (approximately 30 grams of protein at each meal) is important to preserve lean muscle mass for healthy aging.
inactivity and poor nutrition being critical threats to the natural process of aging.
how beef's nutrients fuel energized, vibrant lifestyles. Beef contains key nutrients and high quality protein important at every stage of the lifecycle, from active, young parents to aging Boomers.
how new research suggests that pureed beef can be recommended as a complimentary first protein food for breastfed infants to not only promote healthy growth, but to also provide zinc and iron, which are key nutrients needed during this life stage.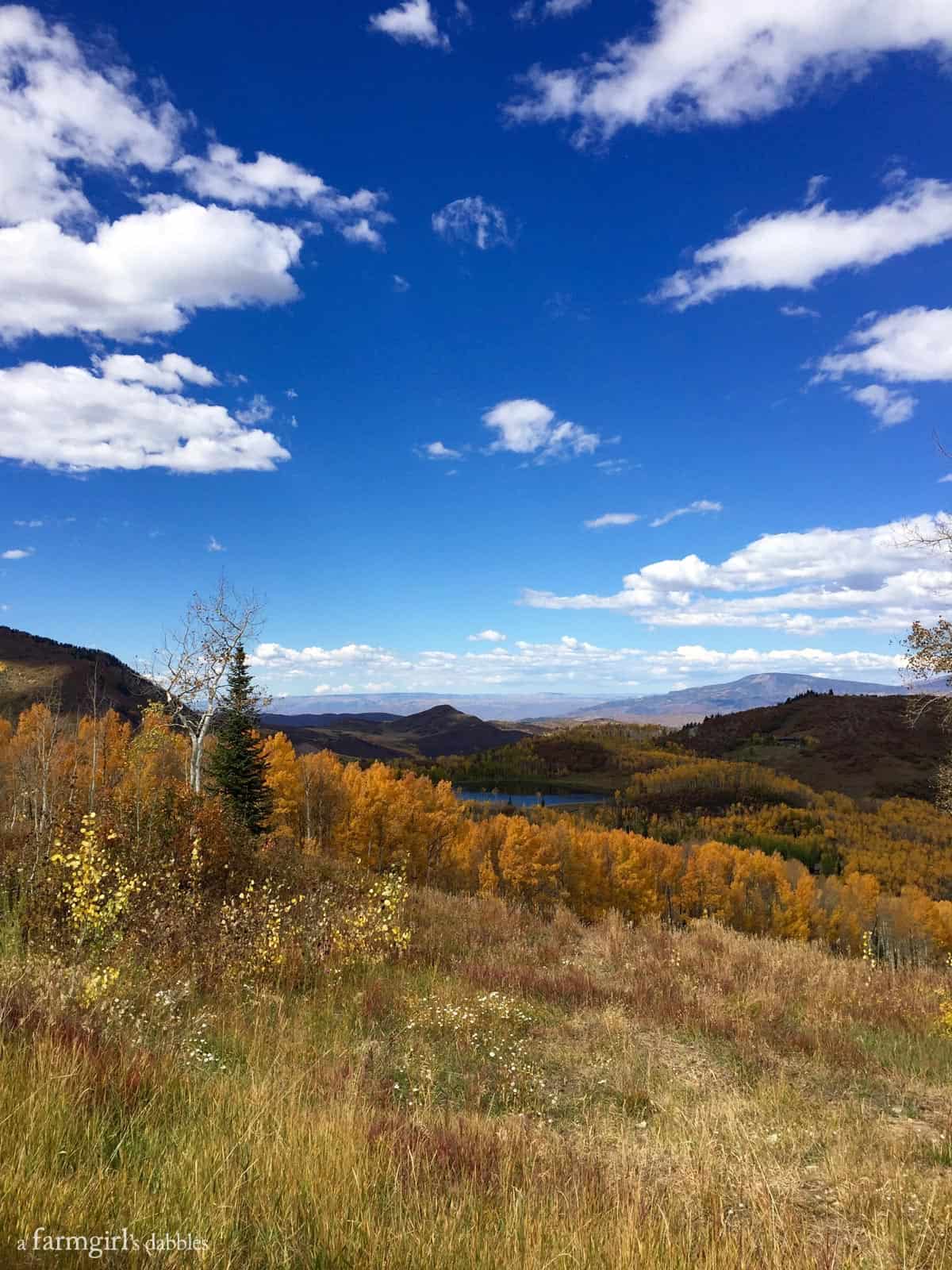 One morning we took a scenic drive up to Lynn Britt Cabin on Snowmass. Just look at that gold and blue view!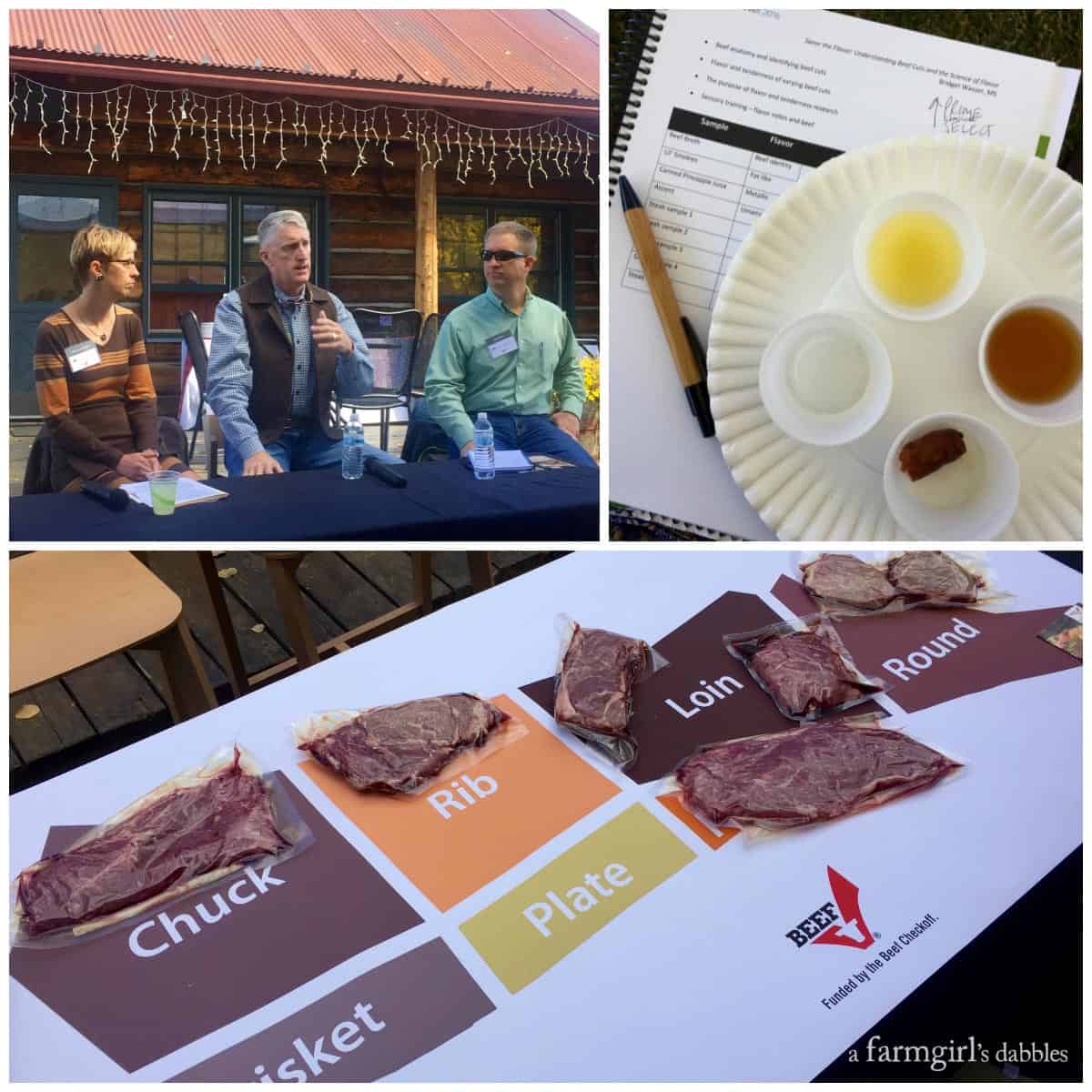 While at the cabin there were conversations with cattle ranching experts, quizzes on beef anatomy and beef cuts, and a sensory training of the different ranges of flavor and tenderness in beef (wet age vs. dry age, grass fed vs. grain fed, etc.), all followed up by a casually elegant lunch.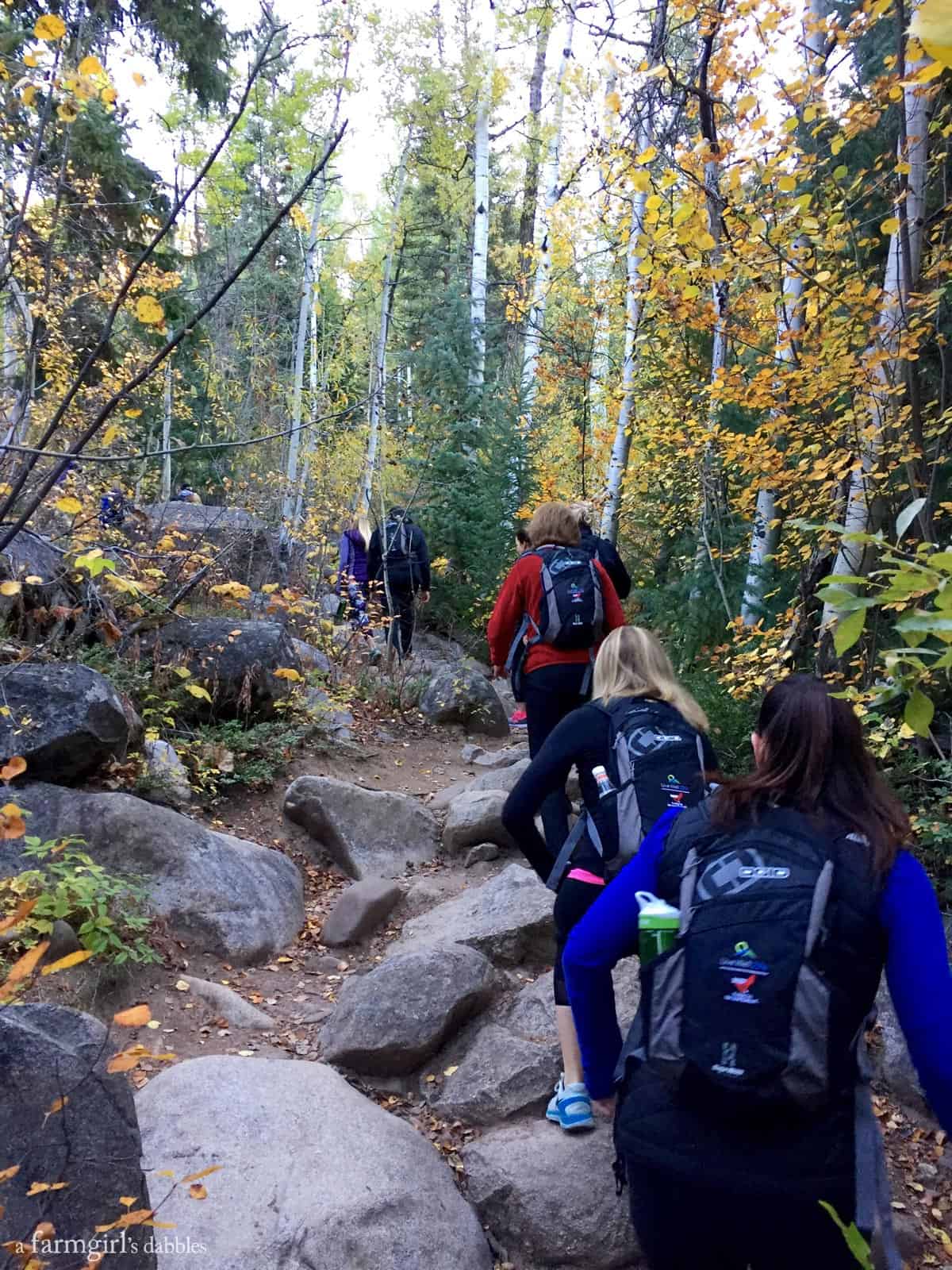 I loved how this event celebrated overall health and well-being, not only from the session topics, but also with optional group activities like hikes. This active time, in beautiful Colorado, helped to bring our days together in a much more meaningful way.
This is the Hunter Creek Trail that starts a short distance from downtown Aspen. The trail runs alongside Hunter Creek and features several bridges. It ascends fairly rapidly, increasing in elevation 700′ in the first mile.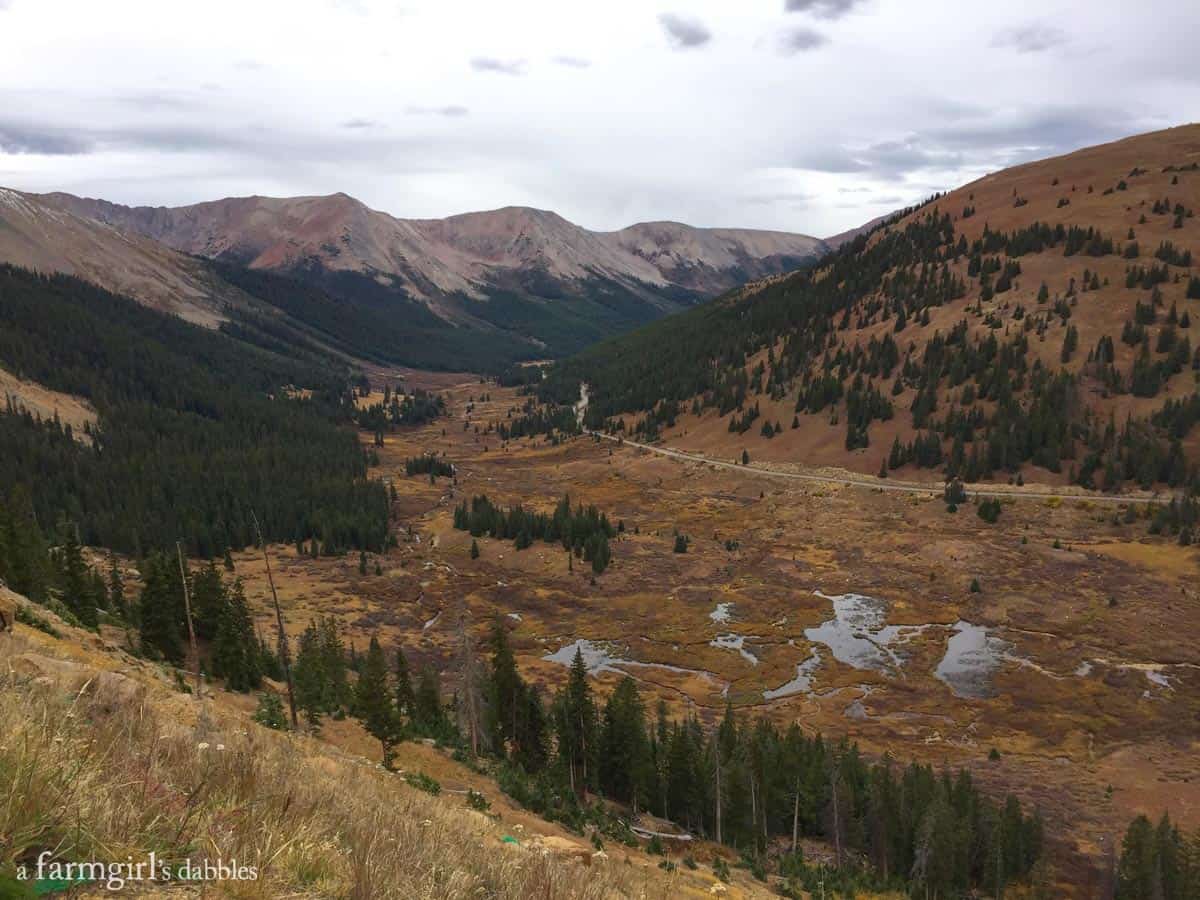 And from here on out, I'm sharing a couple excursions that I did on my own. I always had in the back of my mind that if I could fit in a drive to Independence Pass and the Continental Divide, I'd go for it. And so lucky for me, it worked out.
The road through Independence Pass is narrow and curvy, and almost entirely accompanied by dizzying sheer drop-offs.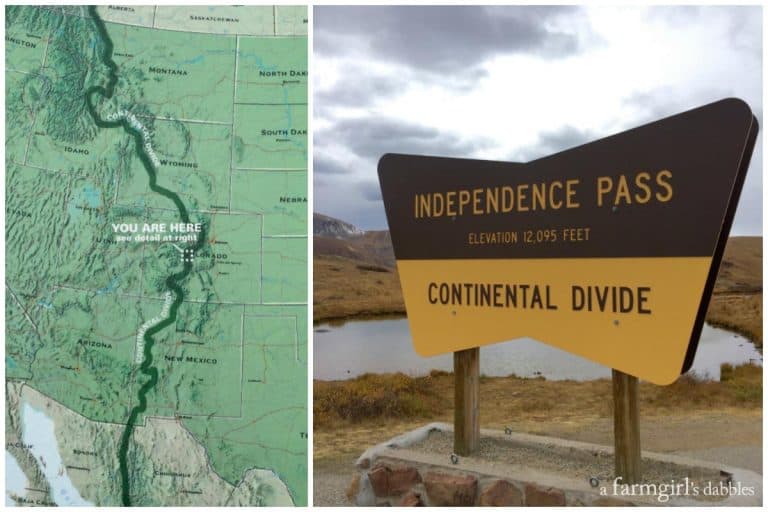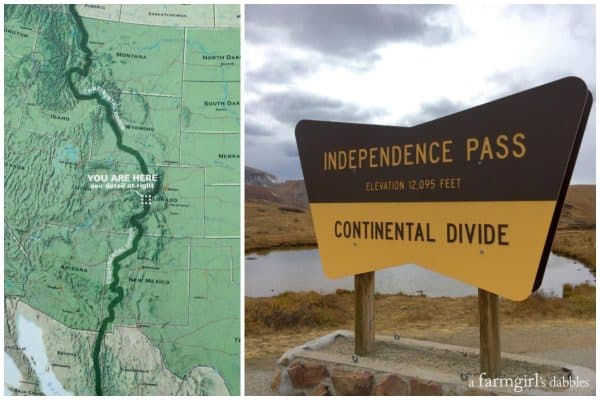 The Continental Divide jogs through the pass at an elevation of 12,095 feet, boasting the highest paved road crossing the Continental Divide in North America.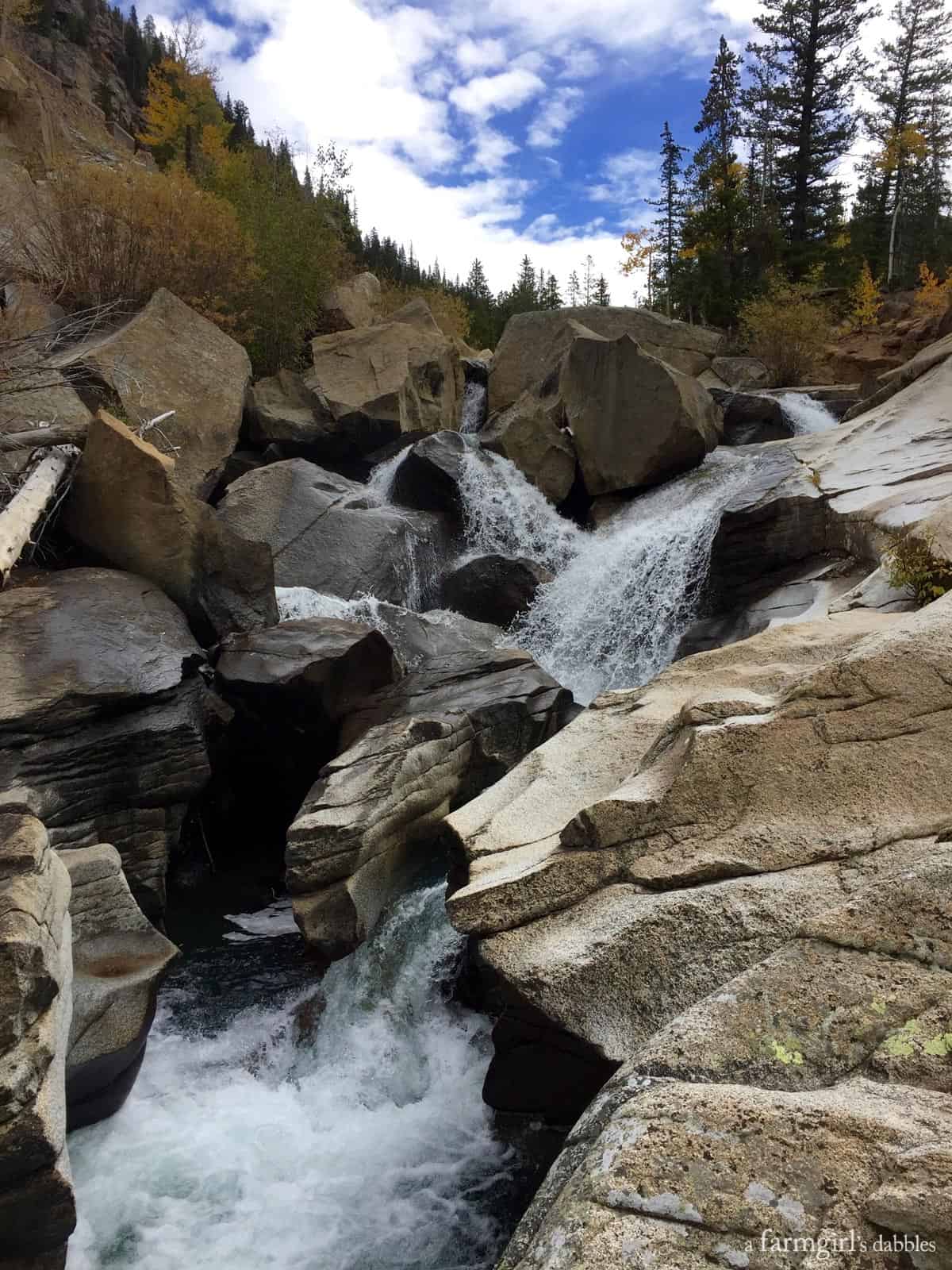 I also took in a short, easy hike at Grottos Trail, located between Aspen and Independence Pass. If you're looking for a hike that's low on effort and high on features, this is a great one. There's a wide, shallow stream at the trail head, crystal clear and serene. I walked up a bit to find ice caves, where curvy carved-out boulders look like works of art. Then I followed the sound of crashing water to the cascades. This area was magical, commanding my every bit of attention as I traced the water tumbling all the way back down to the stream below.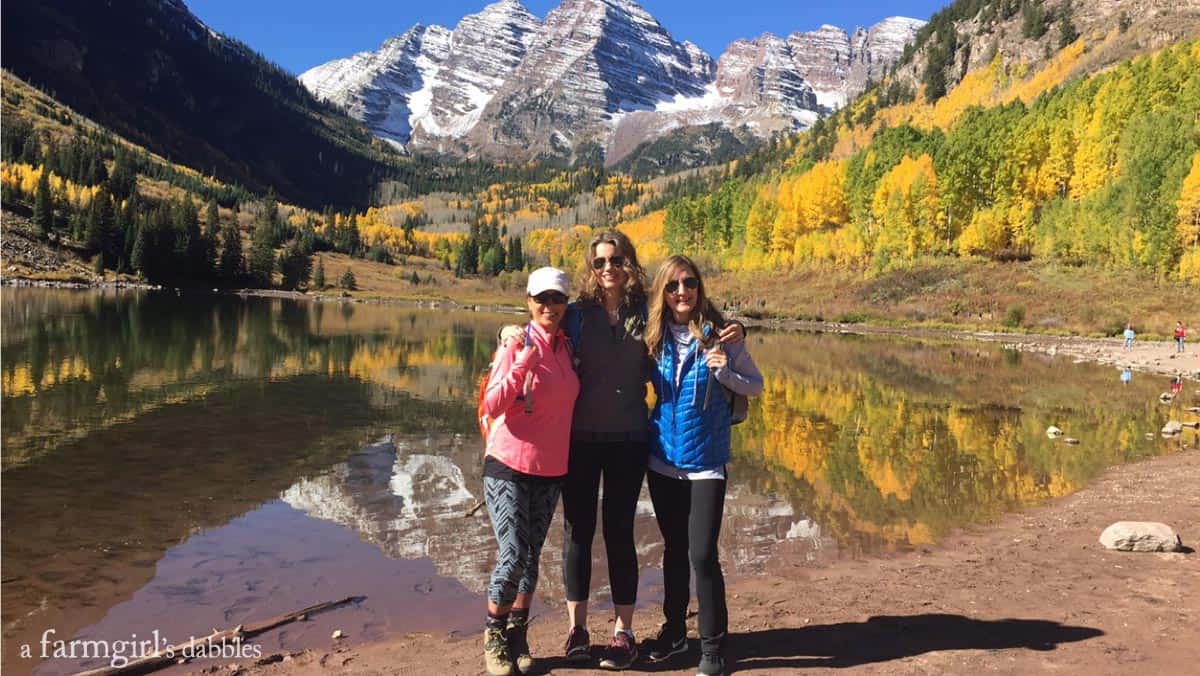 I saved the best for last.
Maroon Bells.
With girlfriends.
My cousin Samina (on the left) was back in South Dakota this summer visiting family, when I had the chance to talk to her about my upcoming trip to Aspen. She lives a couple hours from Aspen and had just recently done the hike from Aspen to Crested Butte, via Maroon Bells. So she was excited to encourage me to add on an extra day if I could.
Stephanie is in the center, my friend from right here in Minnesota. She's the one I mentioned earlier, who helped me accomplish the "quick" part of the pho recipe in a really tasty, easy way. Stephanie had been staying in Boulder during that time, and I took the chance that she'd drive over to Aspen. I texted her an invite to join me and Samina for a day of hiking.
And I was so happy when BOTH Samina and Stephanie joined me to hike Maroon Bells. It would not have been the same AWESOME experience without them!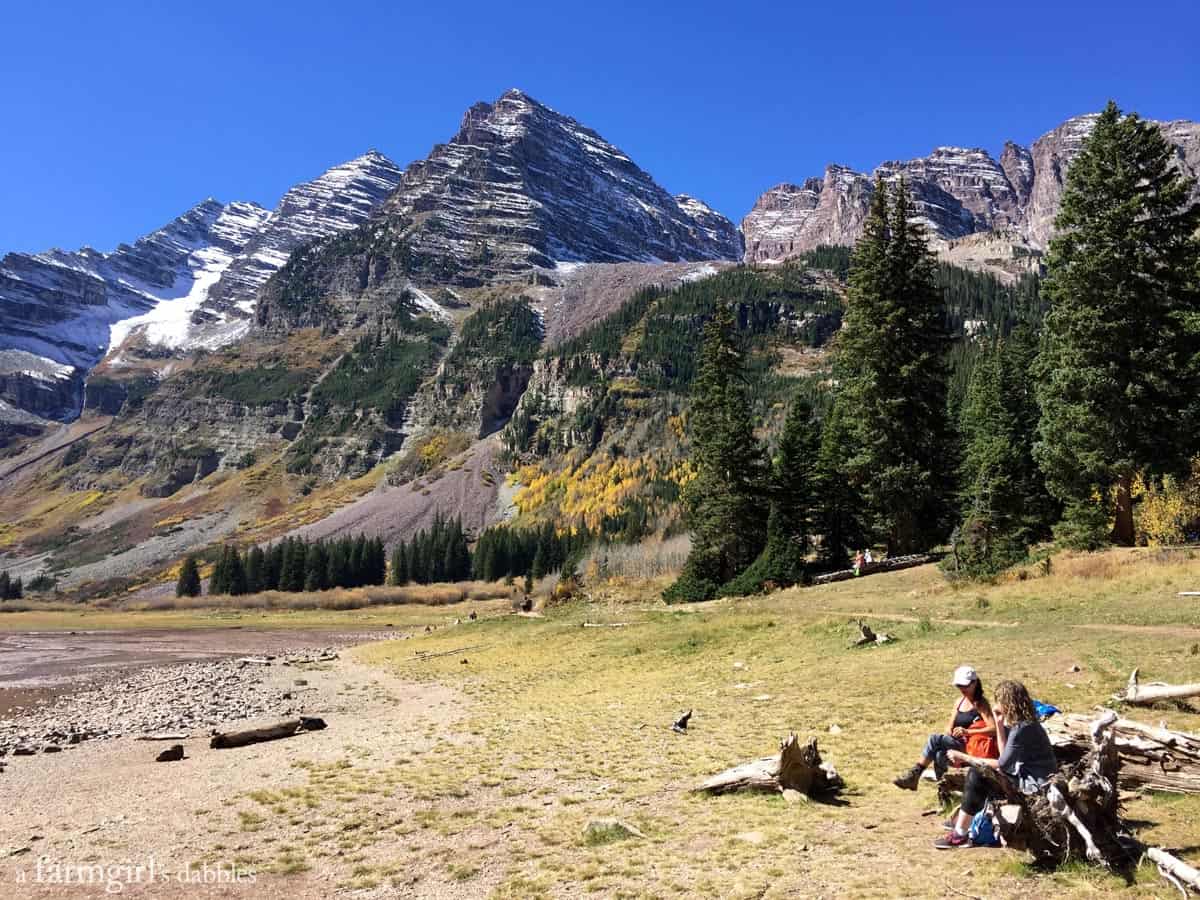 It didn't take me long to figure out what high altitude felt like. Hiking at a moderate pace for a few hours had us stopping regularly to catch our breath and drink more water. When we reached Crater Lake, we stopped for a nice long lunch break. The sun was warm on our skin. It was an exceptionally glorious day, not a cloud in the brilliant blue sky.
The Maroon Bells in the background are a pair of fourteeners. With a little lesson in mountaineering talk from Samina, I learned that a fourteener is a mountain peak with an elevation of at least 14,000 feet. Colorado has the majority of fourteeners in the contiguous United States (53).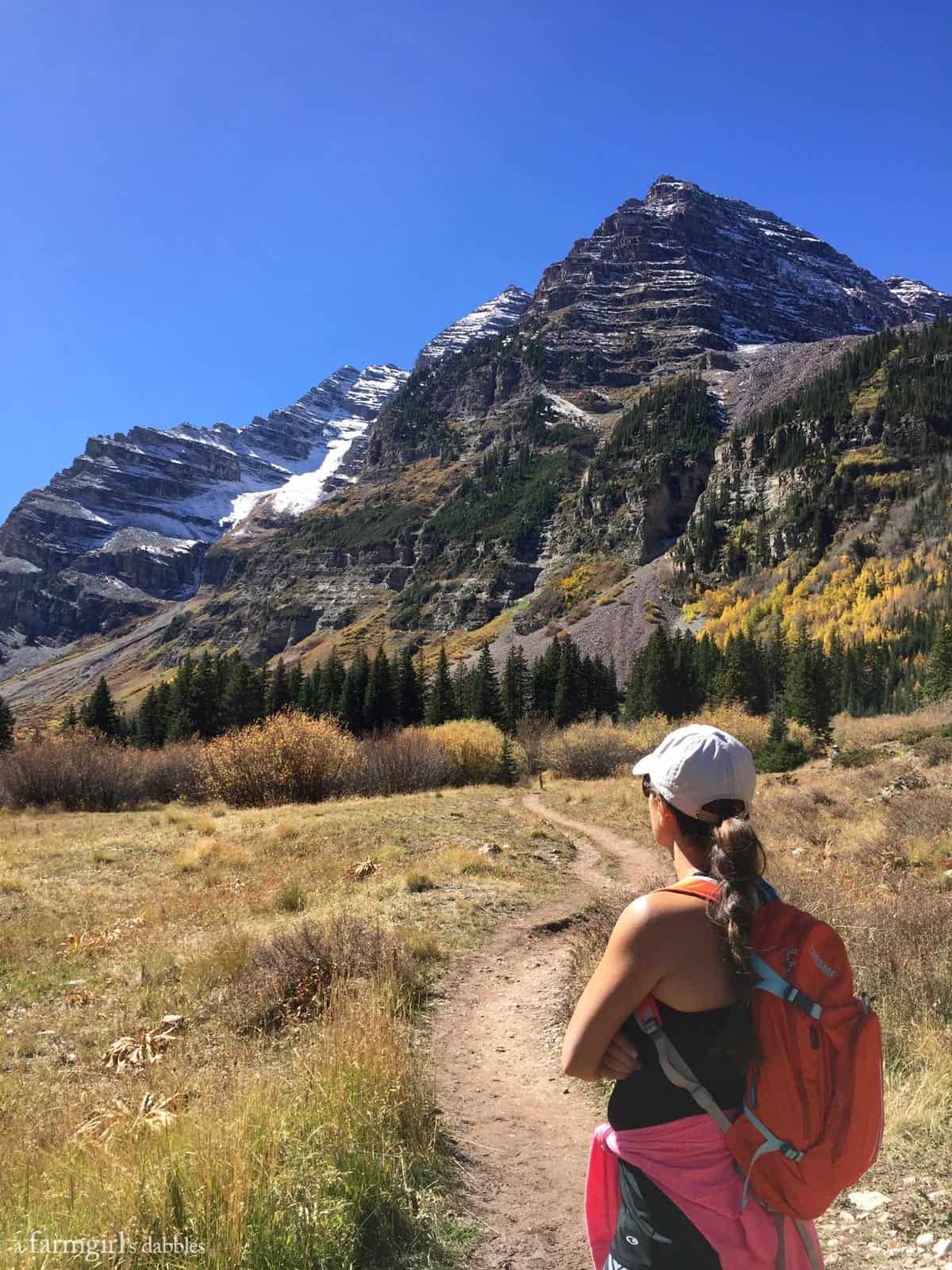 Samina was the best guide. She and her family have been living in Colorado for many years, where hiking has become one of her passions. Watching her, listening to her, I soon understood why her love for Colorado runs so deep.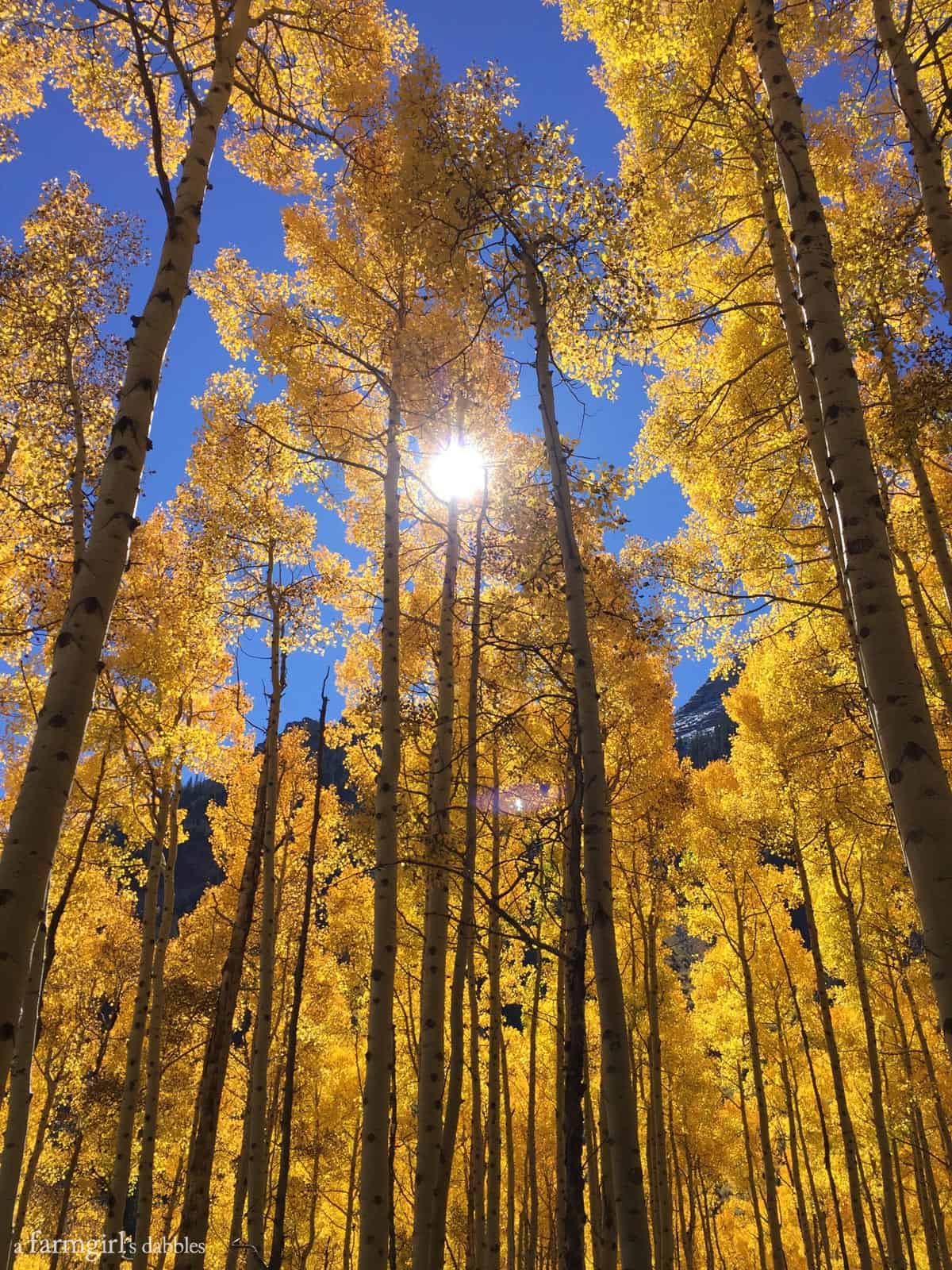 Sometimes, when I need to feel peace, I close my eyes and imagine this scene. Gazing up into those aspen tree tops, I can see the millions of little heart-shaped leaves, golden and glistening in the sun. The breeze is tickling them, making the leaves shimmer like glitter. The sound is peaceful, entrancing, like tiny little rattles far off in the distance.
This, my friends, is how I will always remember Aspen.
.
.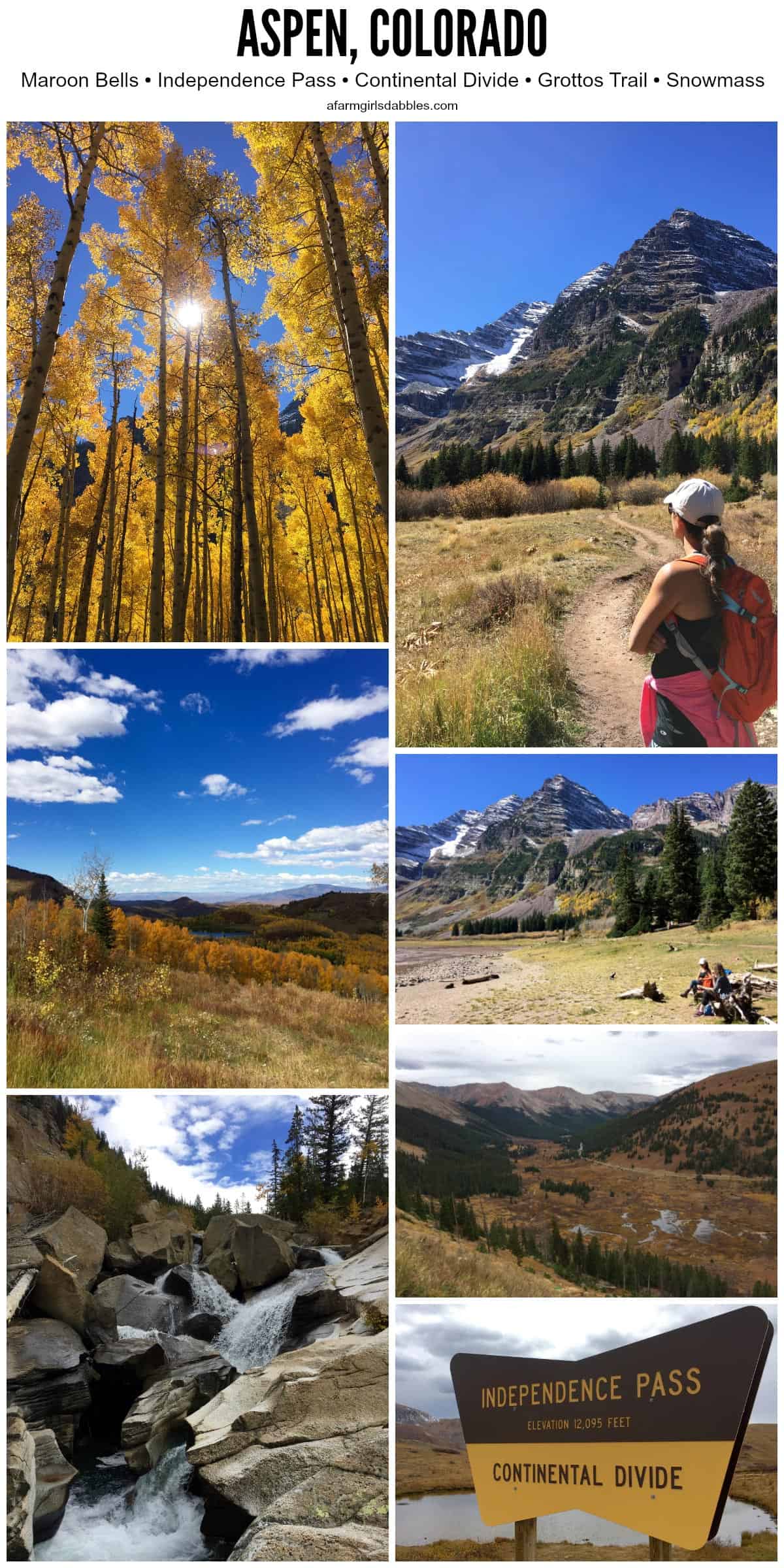 For more travel from a farmgirl's dabbles, be sure to follow along on Pinterest!
Thank you to the Beef Checkoff for inviting me to attend Live Well 2016. I was not required to write this post – I simply wanted to share about my experience. All opinions are my own. There is an affiliate link in this post.