Easy Korean Beef
This Easy Korean Beef recipe is ready in under 30 minutes! It is a little bit sweet, a little bit spicy, and a whole lot of delicious. This budget-friendly recipe is a simple way to enjoy the flavors of Korean BBQ at home!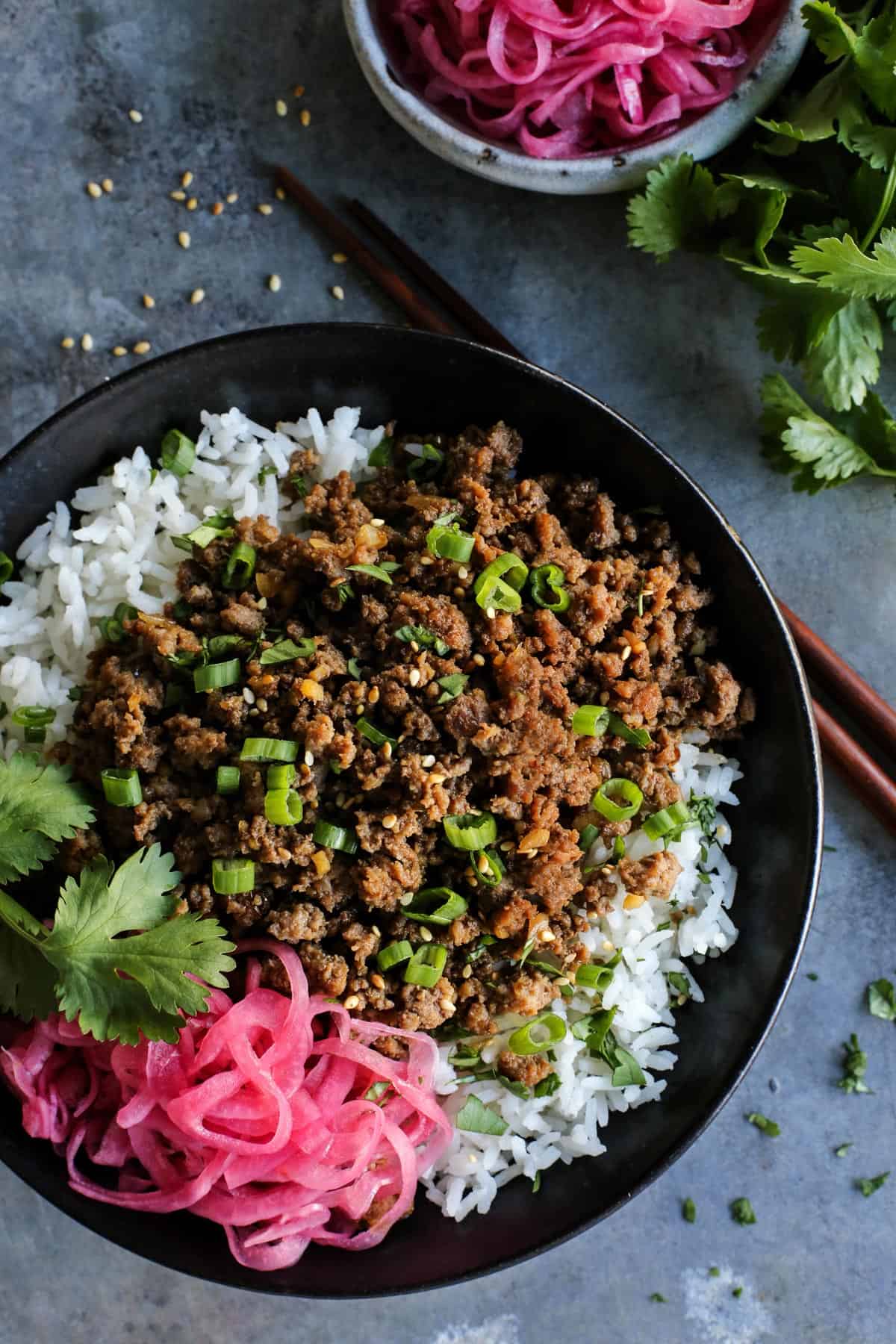 Easy Homemade Korean Beef
When it comes to ground beef recipes, some of my longtime favorites are slow cooker sloppy joes, tater tot hotdish, slow cooker chili, and a perfectly charred cheeseburger hot off the grill.
And just within the past year or so, I added another recipe to my list. I started playing with simple ground beef recipes that incorporate Asian flavors. This family-friendly recipe I'm sharing today has become a fast favorite. In fact, it ranks right up there with our favorite Poke Bowl recipe and our much loved Egg Roll in a Bowl.
If you like to eat from scratch, with ridiculously easy recipes that pack a ton of flavor, you are going to LOVE this homemade Korean Beef recipe!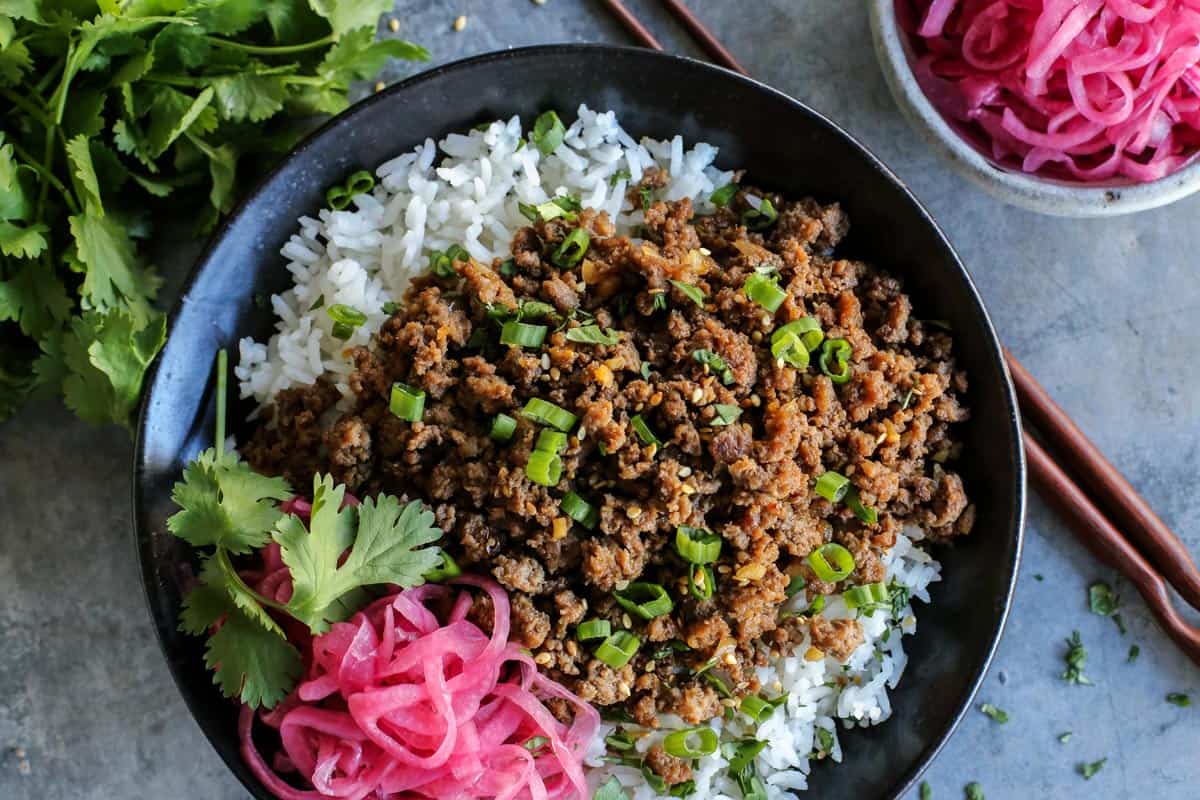 What is Korean Beef?
Traditionally Korean BBQ is made with various thicker cuts of meat, not ground beef. The most popular varieties are bulgogi (usually made with beef sirloin or tenderloin) and galbi (made with short cut ribs).
I love the deep, satisfying flavor of Korean BBQ, but I prefer making it with ground beef. Why? Even though this isn't "traditional," this type of meat is easier to get, less expensive, and cooks much more quickly. I can have this Korean beef ready to set on the table in about 25 minutes. With minimal ingredients and just a little mincing and slicing, this meal comes together easily.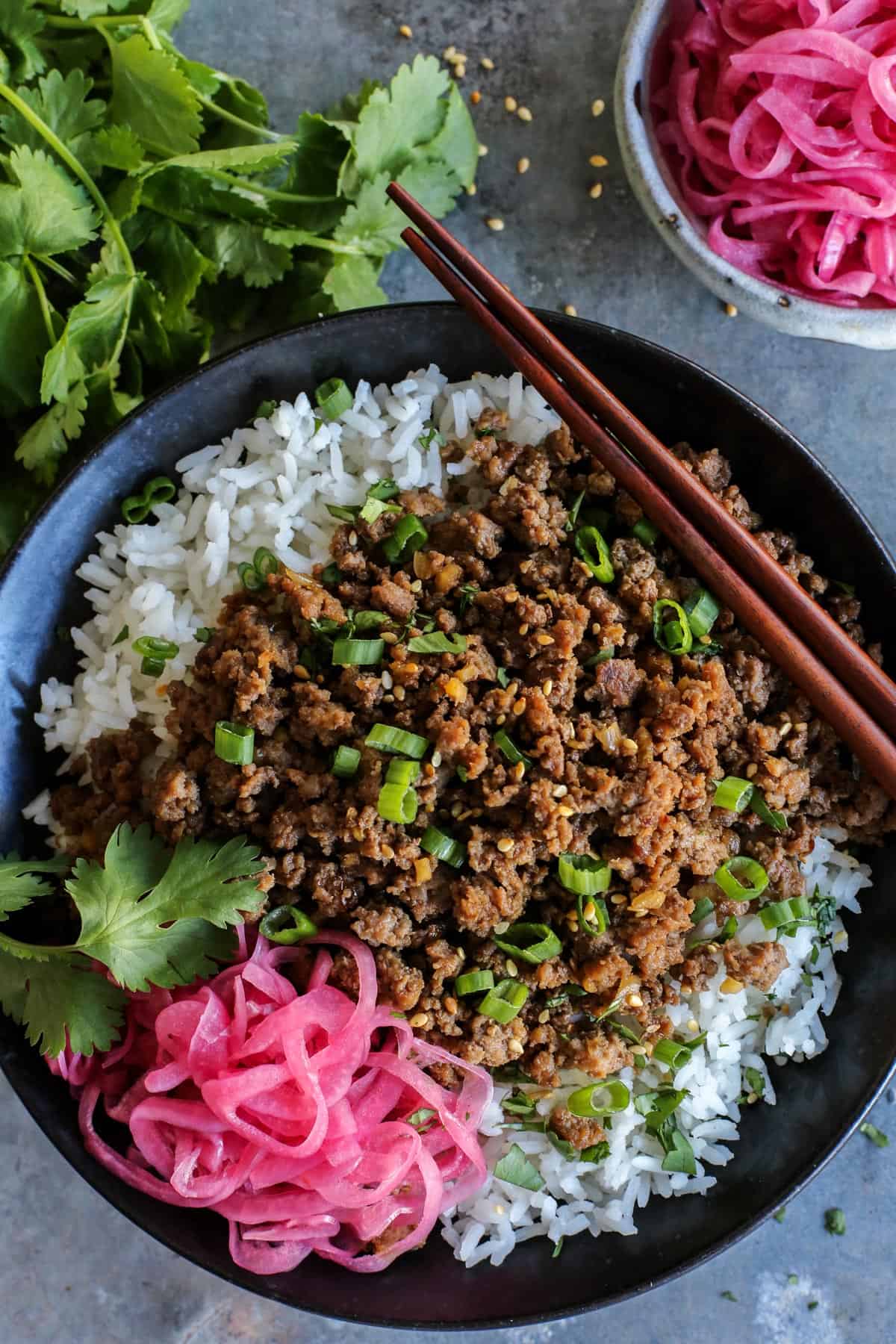 How to Make Korean Beef
Brown the beef: Start by browning your ground meat in a skillet over medium high heat. Break it up with a spatula while it cooks.
Mince garlic and ginger: While the ground beef is browning, mince some fresh garlic and ginger. And when I say "some", I actually mean "quite a bit". I'm very fond of both these ingredients, and tend to use more than most people. Garlic and ginger make me happy, and that's all I really care about!
Add the garlic and ginger to the browning beef and let it get softened and fragrant.
Make the sauce: Then grab a small bowl and create an easy, flavorful sauce with soy sauce, chili garlic sauce, sesame oil, and brown sugar.
Add to ground meat: Stir it into the beef mixture and let it mingle over the heat for a couple minutes.
And that's all there is to this Korean beef recipe!
What Goes with Korean Beef?
Serve Korean ground beef over hot rice or tucked inside chilled, crisp lettuce wraps. Offer sliced green onions, fresh chopped cilantro, and toasted sesame seeds for scattering over the top.
And for me, I can't be without pickled red onions with this dish. They're the perfect tangy contrast, not to mention a beautiful addition of color.
For those of you who like to feel a little burn, sprinkle some crushed red pepper flakes over the top, or serve with fresh slices of jalapeno.
Can I Use Other Types of Meat?
Yes, you can use ground pork, chicken, or turkey if you like. Ground pork is probably a better swap-out because it is not as lean as turkey.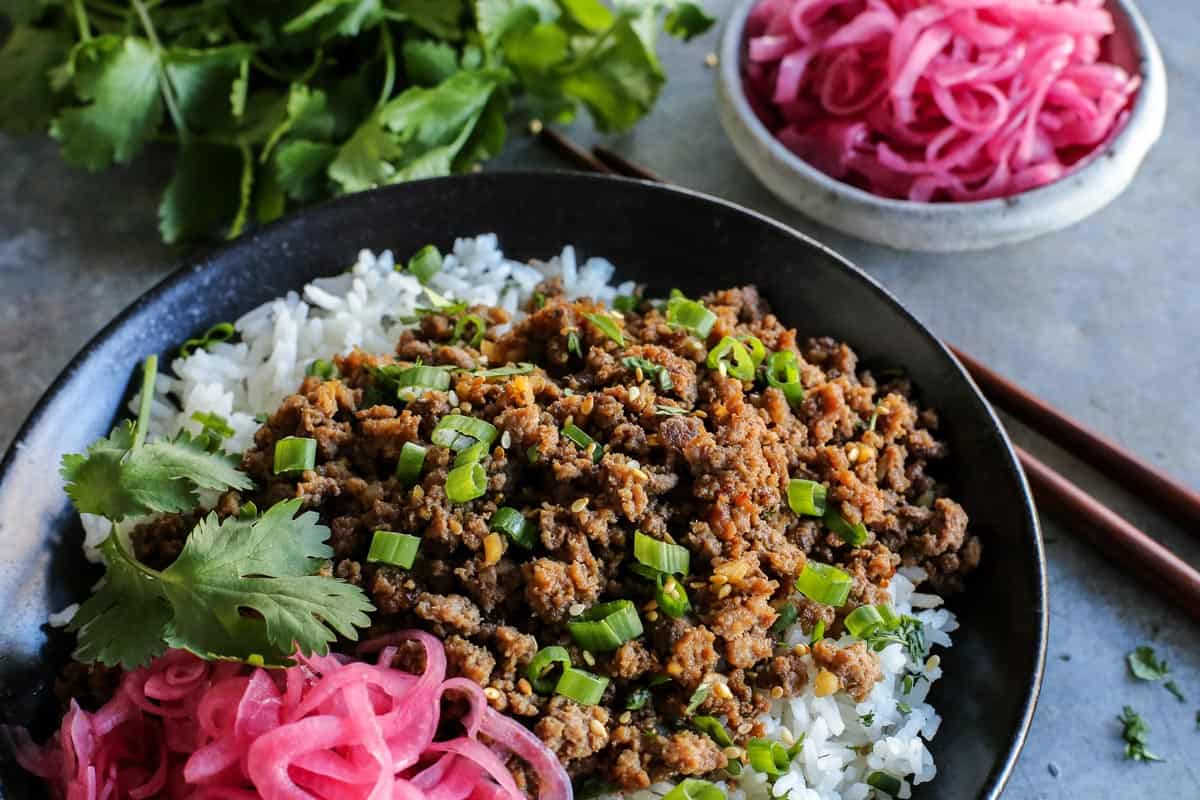 And if you're looking to add fresh veggies, top lettuce wraps with thin slices of cucumber and/or colorful bell peppers. Or add steamed broccoli or pea pods to hot rice bowls.
This is one of those recipes you'll want to keep on hand for quick, easy meals. It's perfect for busy weeknights, yet tasty enough to crave it over and over and over again!
How to Store and Reheat Leftovers
Store leftovers in an air tight container in the fridge. It will keep for 3-4 days. You can reheat Korean beef on the stovetop or in the microwave.
You can also freeze Korean beef in a freezer safe container for up to 6 months. Let it thaw overnight in the fridge, then heat it on the stovetop for best results.
Like this recipe? Save it to Pinterest!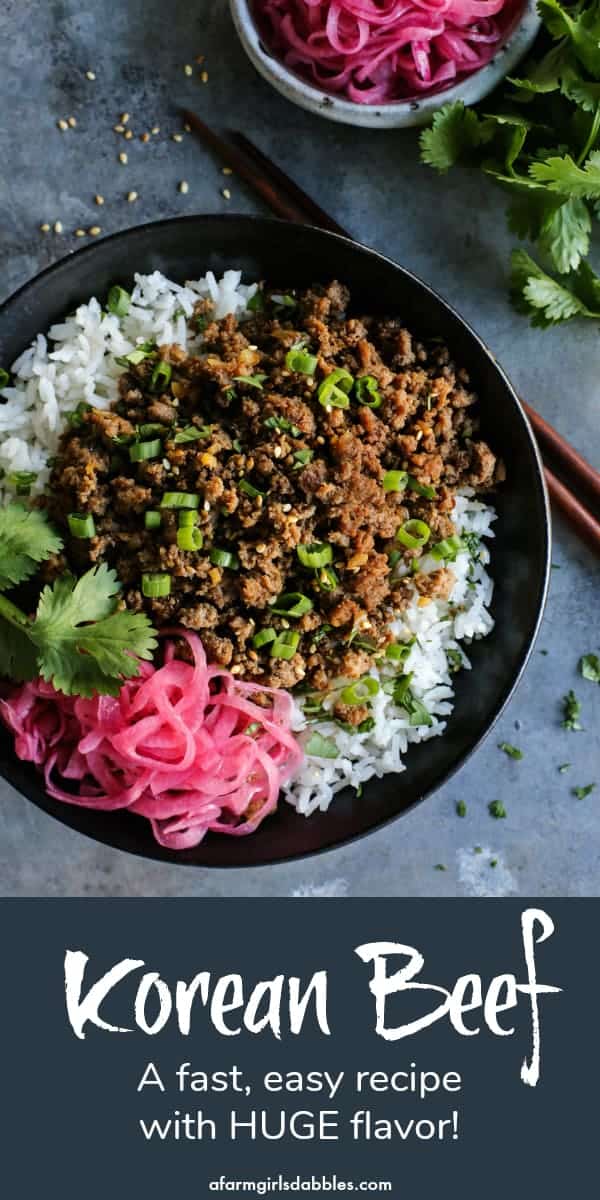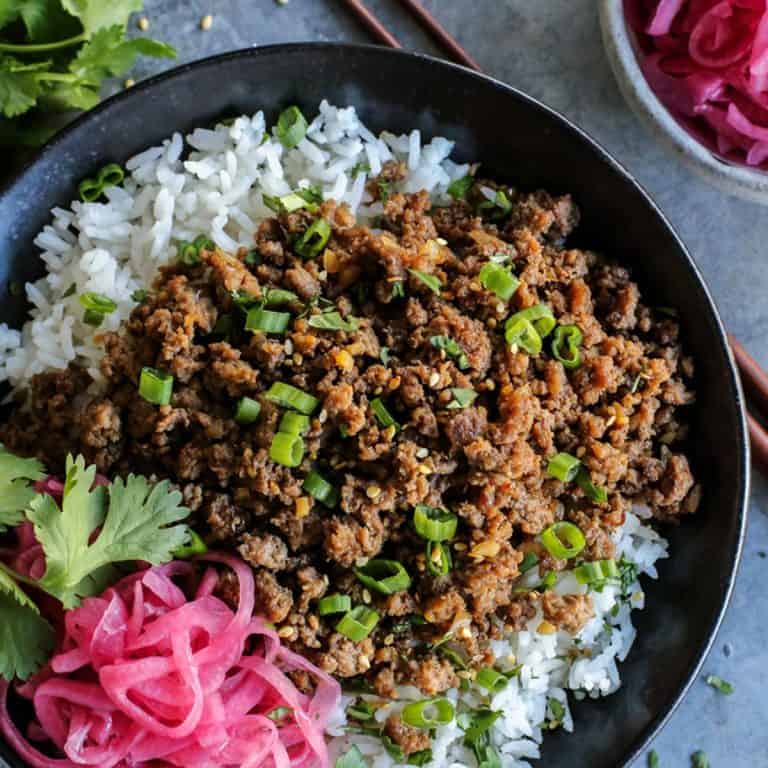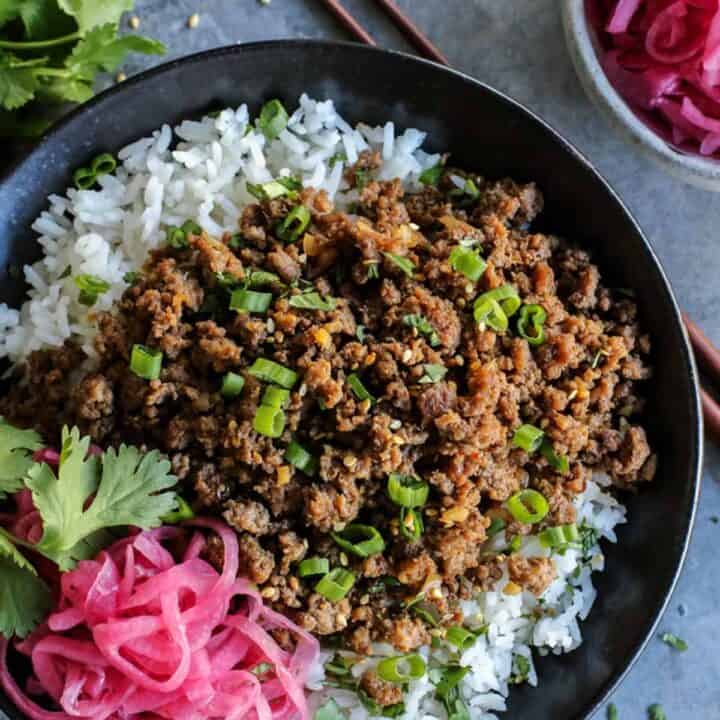 Easy Korean Beef
Yield: 4 servings
Prep Time: 5 minutes
Cook Time: 20 minutes
Total Time: 25 minutes
If you like the sweet and spicy flavors of Korean BBQ, you'll love this quick and easy recipe using budget-friendly ground beef. It's perfect for busy weeknights, ready in under 30 minutes!
Ingredients
1 lb. lean ground beef
4 large garlic cloves, minced
2 T. minced fresh ginger
3 T. soy sauce
2 T. packed brown sugar
1 T. sesame oil
2 tsp. chili garlic sauce
1/4 tsp. ground black pepper
3 scallions, thinly sliced
toasted sesame seeds
chopped fresh cilantro, optional
pickled red onions, optional
Instructions
In a large skillet over medium to medium-high heat, brown the ground beef. Break it up into smaller pieces with a spatula as it cooks. When the beef is about halfway browned, stir in garlic and ginger, and continue to cook until beef is no longer pink. Drain off any fat.
In a small bowl, combine soy sauce, brown sugar, sesame oil, chili garlic sauce, and black pepper. Pour over browned beef and fold to combine. Simmer for a minute or two, until thoroughly warmed.
Serve over hot rice or tucked into lettuce wraps. Sprinkle with scallions and sesame seeds. Offer fresh cilantro and pickled red onions on the side.
Recommended Products
As an Amazon Associate and member of other affiliate programs, I earn from qualifying purchases.
Nutrition Information:
Yield: 4
Serving Size: 1
Amount Per Serving:
Calories: 336
Total Fat: 17g
Saturated Fat: 6g
Trans Fat: 0g
Unsaturated Fat: 9g
Cholesterol: 101mg
Sodium: 105mg
Carbohydrates: 10g
Fiber: 2g
Sugar: 6g
Protein: 34g
Nutrition information is automatically calculated by Nutritionix. I am not a nutritionist and cannot guarantee accuracy. If your health depends on nutrition information, please calculate again with your own favorite calculator.