Egg Roll in a Bowl
This post may contain Amazon or other affiliate links. As an Amazon Associate I earn from qualifying purchases.
Egg Roll in a Bowl: An easy recipe featuring egg roll flavors of ground pork, cabbage, and carrots. Served with crispy wonton strips and a tasty Asian sauce, our family loves this meal!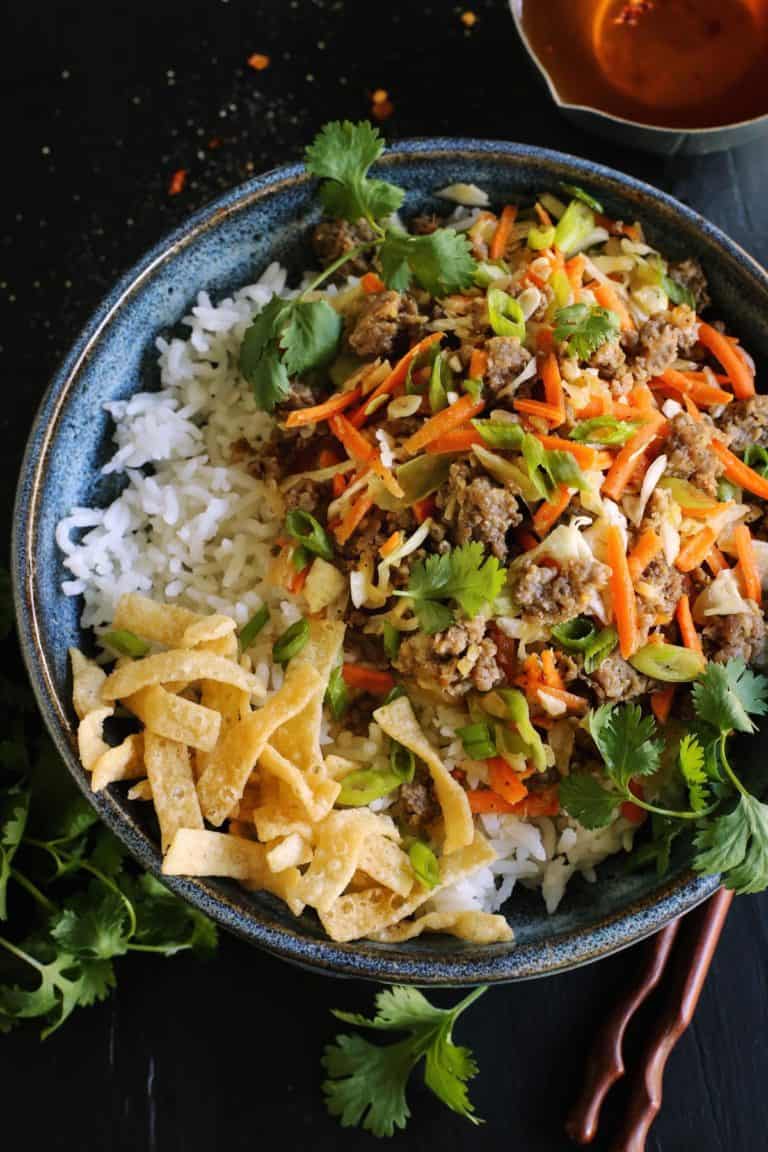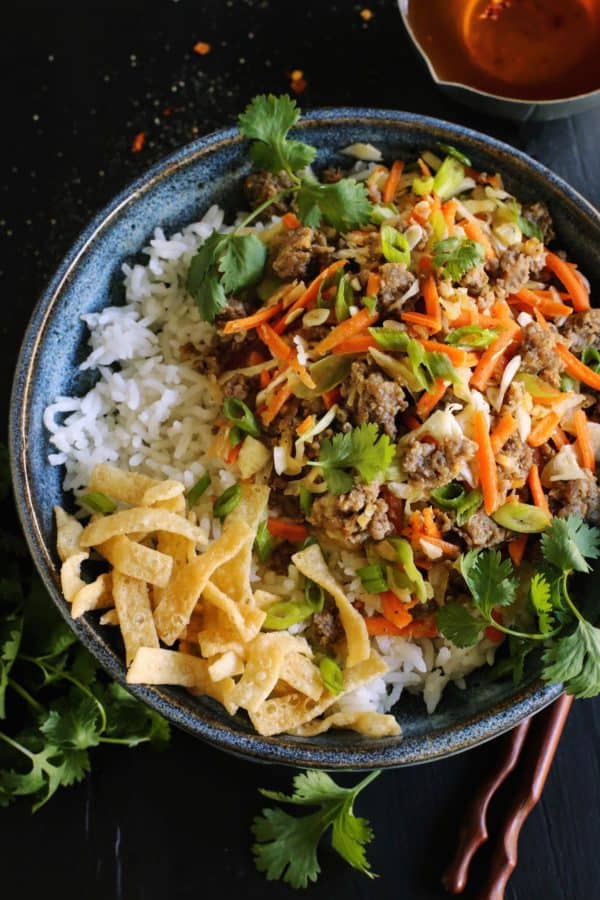 Egg Roll in a Bowl Recipe
Our family has a serious affection for egg rolls. But we don't clamor for just any ol' egg rolls. We definitely have our favorites.
Locally, this means grabbing them fresh and hot from our favorite Vietnamese restaurant Thanh Truc, the Que Viet stand at the Minnesota State Fair, or Thai Basil. All of these places serve wonderfully fresh egg rolls with a super crispy, flaky wrapper, plus a simple rice vinegar sauce for dipping.
These local favorites have served as inspiration for creating an easy recipe in our very own kitchen. A dish with all the familiar flavors of the beloved egg roll, including some wonton strips for salty crunch and rice vinegar sauce to drizzle over the top. I truly hope you enjoy this Egg Roll in a Bowl recipe as much as our family does!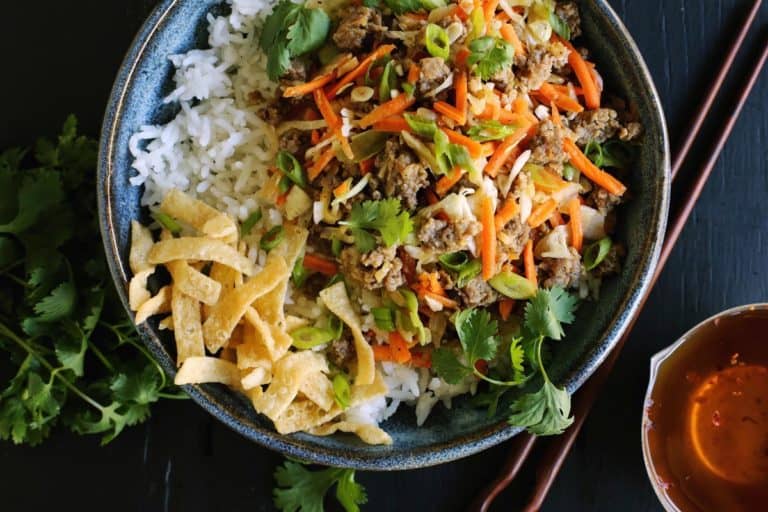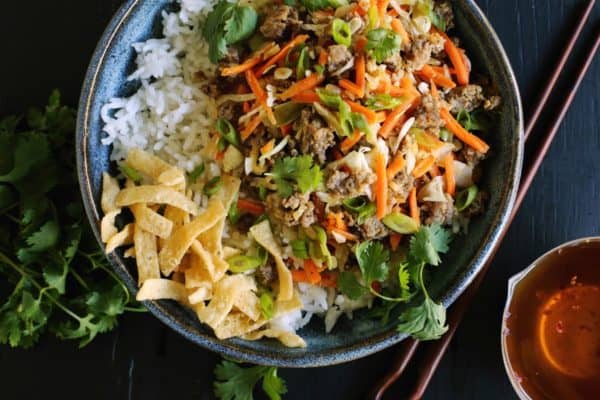 All the Flavors of an Egg Roll!
I've tried other egg roll bowl recipes, but all of them lacked key pieces for me. They didn't incorporate the salty, crispy crunch of the fried egg roll wrapper, nor did they include the rice vinegar sauce that is so darn yummy!
Also…I always boost the fresh ginger in recipes. You might think I include too much when you look at the recipe, but just trust me. All that ginger works beautifully here.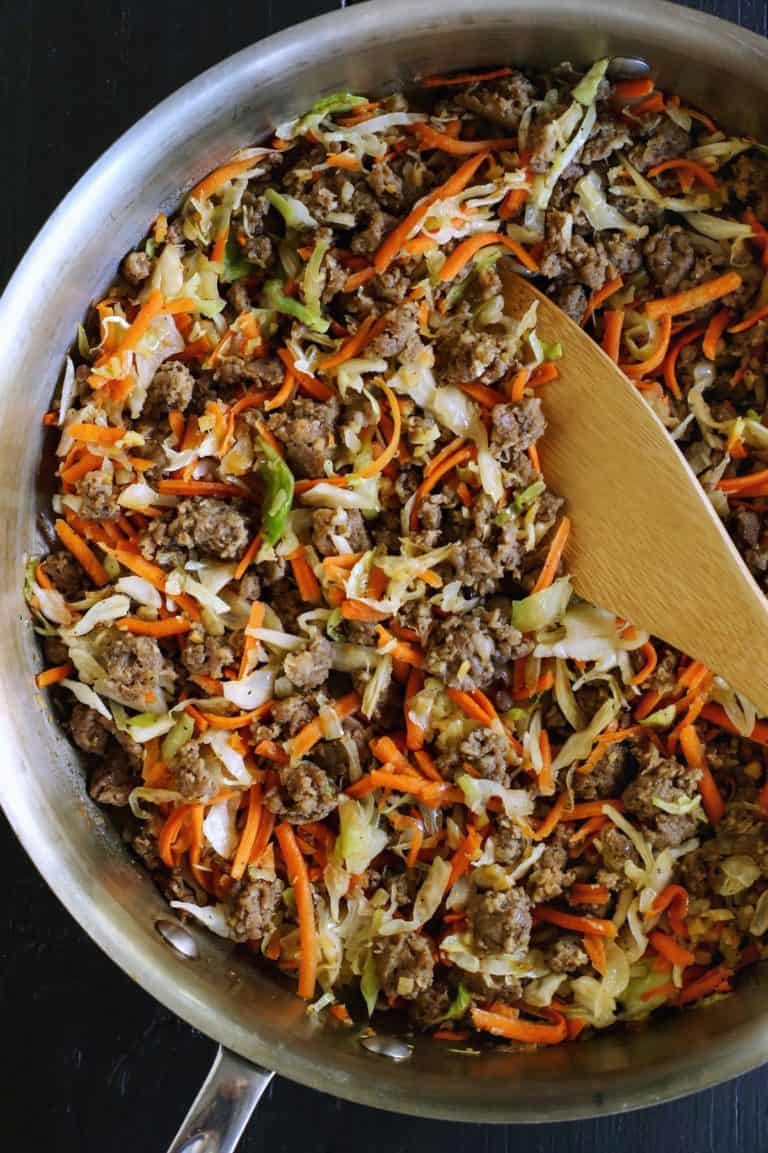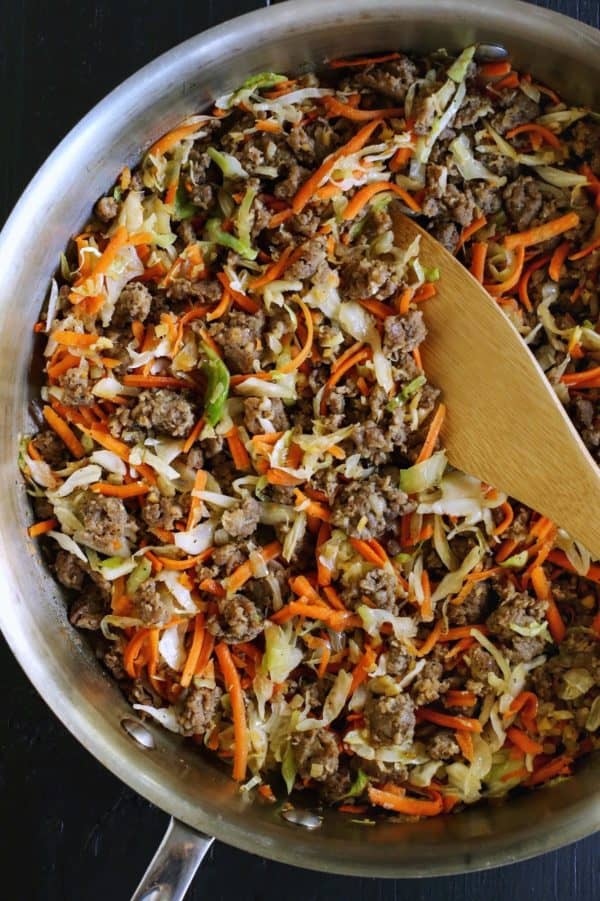 How to make the egg roll filling
Be sure to use a large skillet with tall sides, as you will need room for folding in all the shredded cabbage and carrots. If you don't have such a skillet, just use a large pot.
We prefer egg rolls made with ground pork, for the most flavor and authenticity when it comes to mimicking our favorite egg rolls. If pork isn't your thing, try ground chicken, turkey, or beef.
Brown the pork with a bit of sesame oil. Add fresh garlic, a good amount of fresh ginger and black pepper, a couple tablespoons of soy sauce, and a touch of sugar.
Then pile on the shredded cabbage and carrots. The quantity stated will feel excessive, but its volume shrinks down in a massive way. Cook, folding every now and then, until veggies are softened and shrunken, yet still have some crunch.
Sprinkle a little rice vinegar over the top, and the filling is done!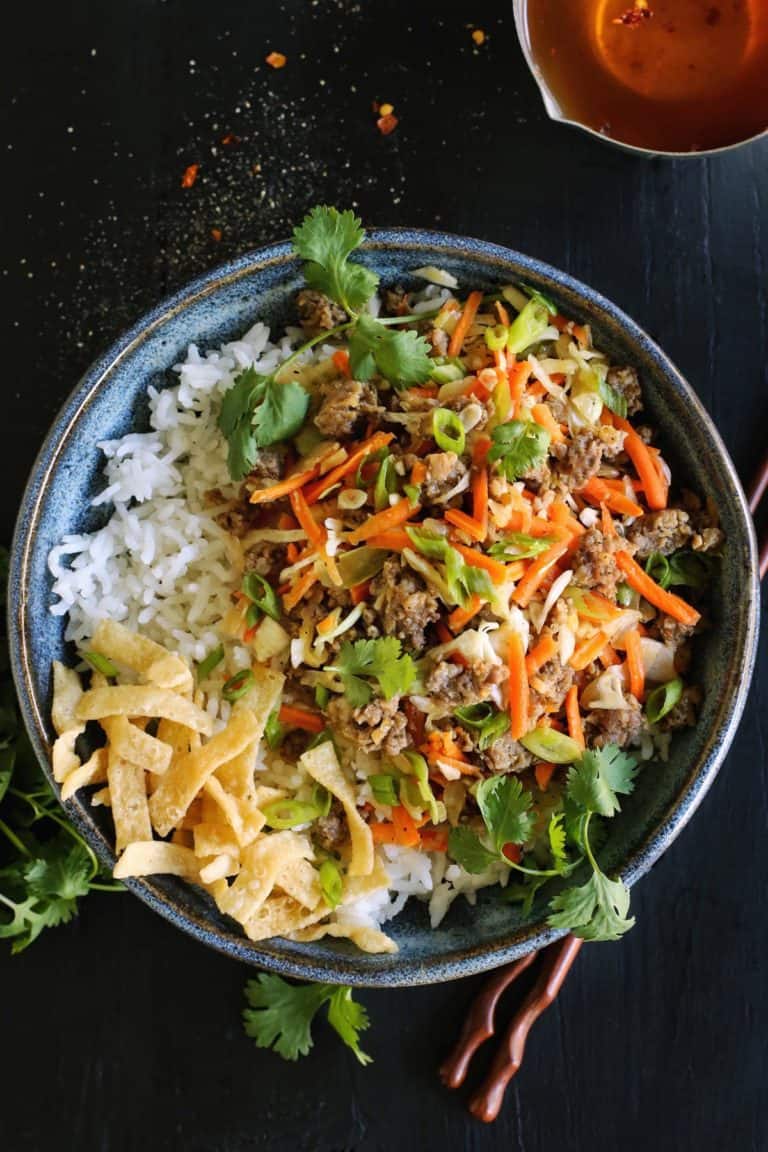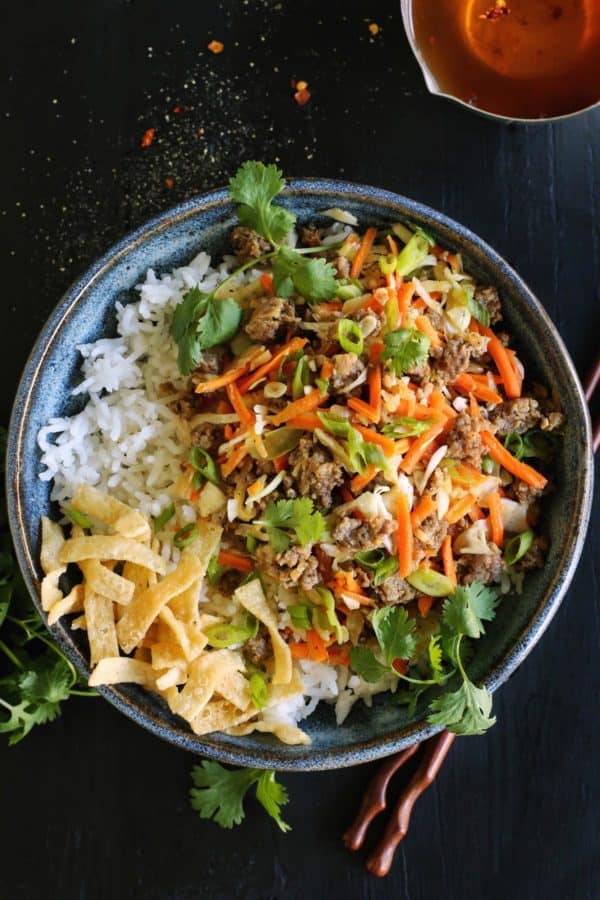 Serve the egg roll filling over hot white rice, with sliced green onions and fresh cilantro.
And don't forget the rice vinegar sauce. I serve it alongside, basically like a salad dressing to drizzle over the top. I tend to like quite a bit of the sauce with my pork egg roll in a bowl.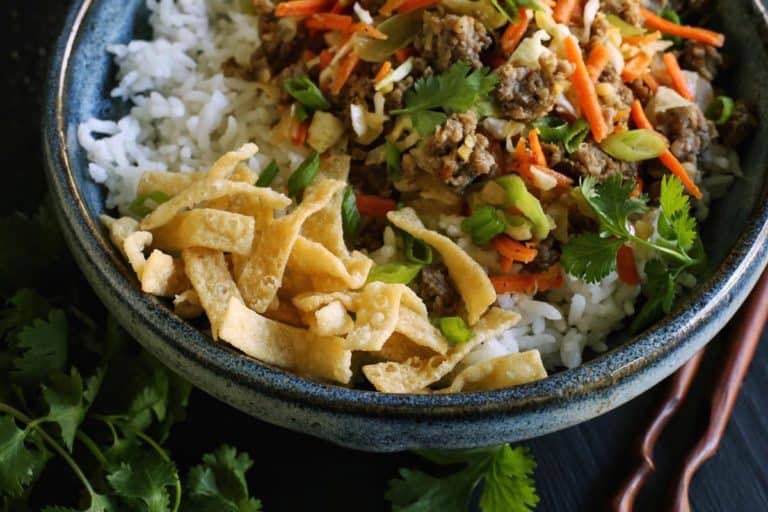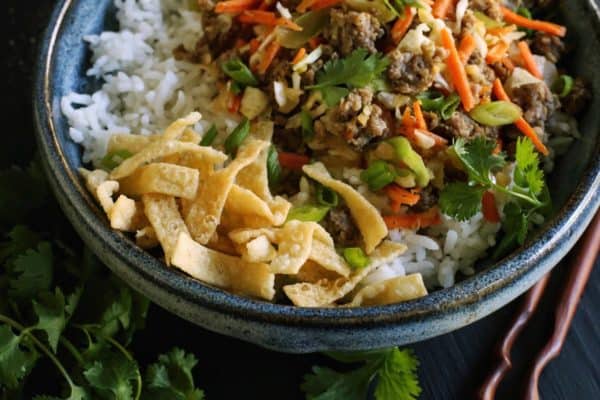 Also, please tell me you'll include the fabulous little crispy wonton strips. This deconstructed egg roll recipe deserves these crunchy fellas!
If you want to make your own wonton strips – try this recipe from Spicy Southern Kitchen.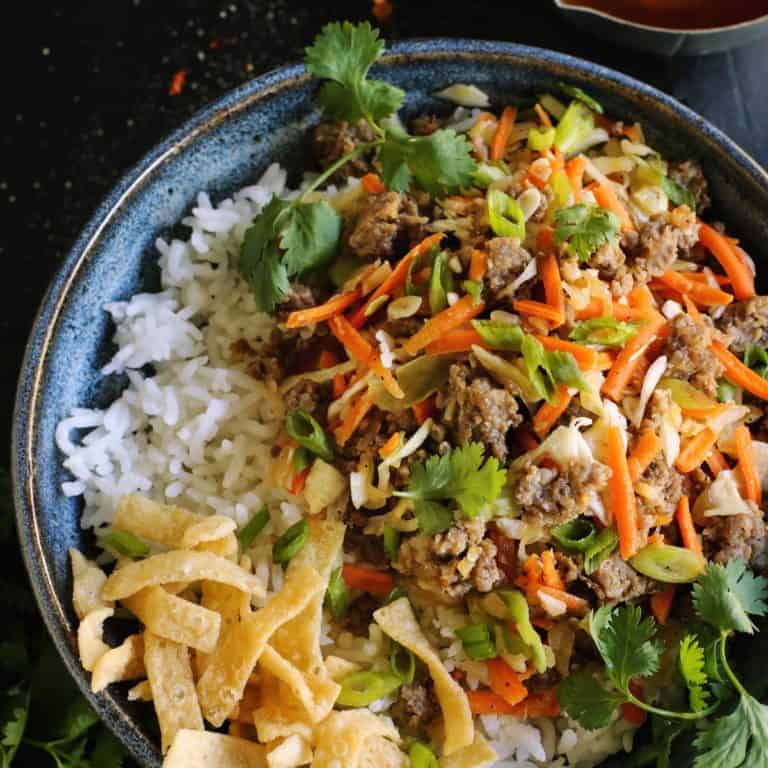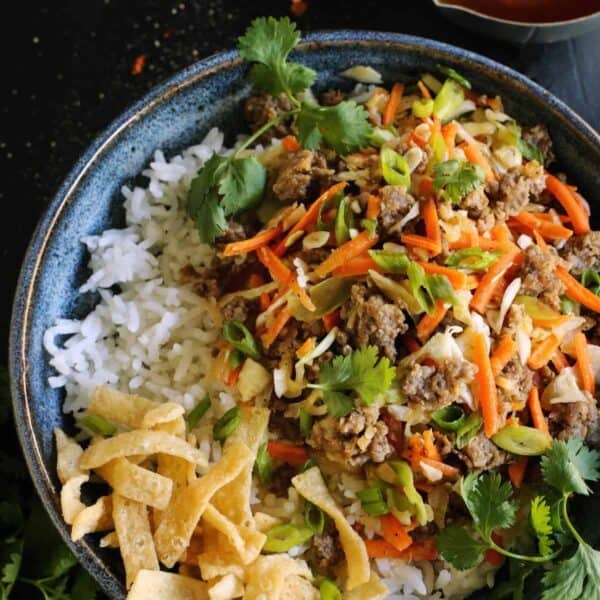 This recipe has quickly turned into a family favorite because it's so awesome delicious. And as the person who most often makes it, I'm a super fan of its overall simplicity in delivering the flavors of egg rolls we love so much as a family.
You might also like:
Easy Korean Beef – Another quick and easy family favorite.
Vietnamese Noodle Salad with Pork – So very yummy.
Banh Mi Meatballs – Super fun flavors here!
Like this easy meal? Save this recipe to Pinterest!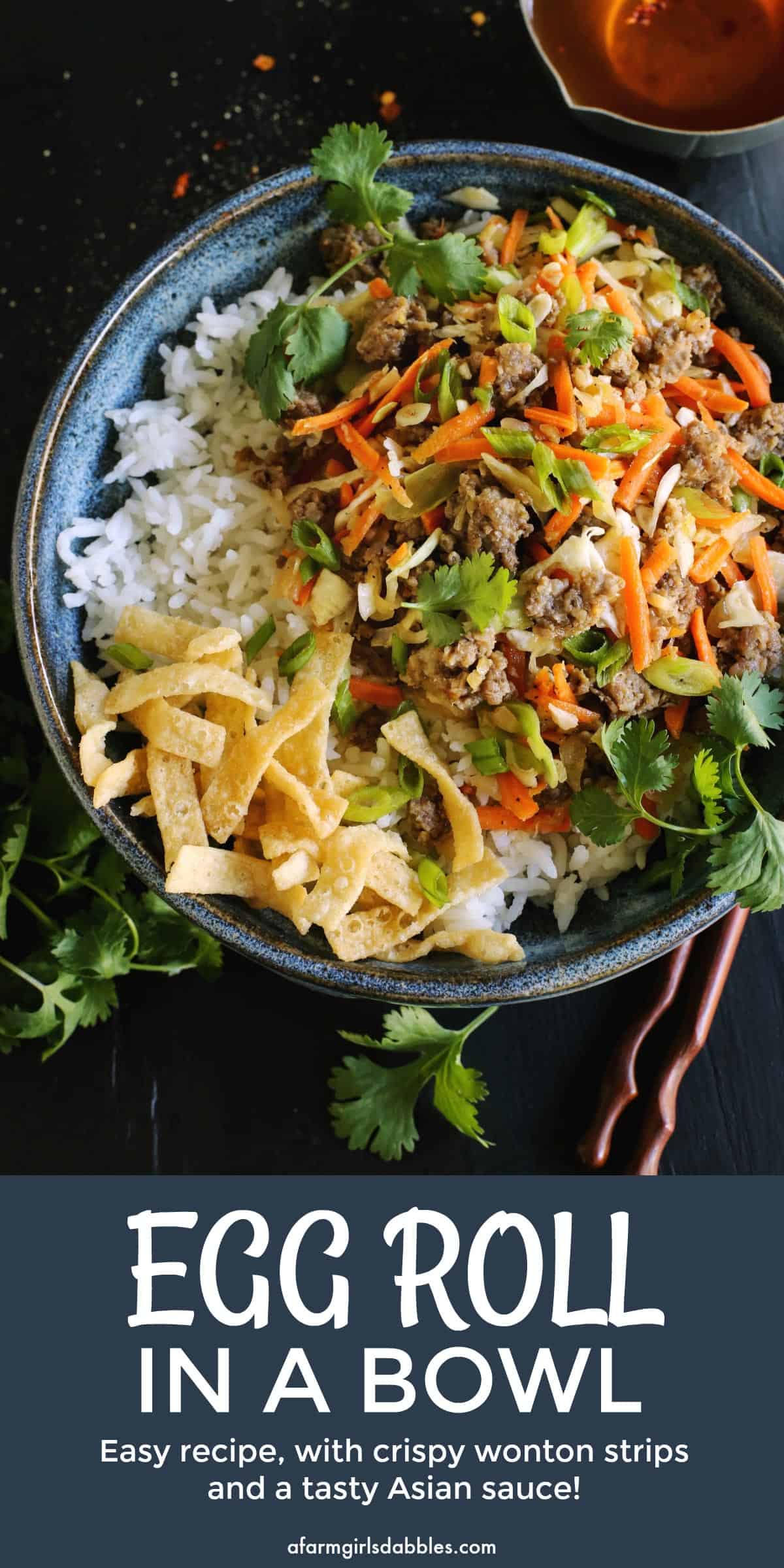 Here are a few more recipes from my friends that use ground pork:
Meatball and Pecorino Soup from Fifteen Spatulas
Ground Pork Stir Fry from My Everyday Table
Gingery Pork Ramen from Noble Pig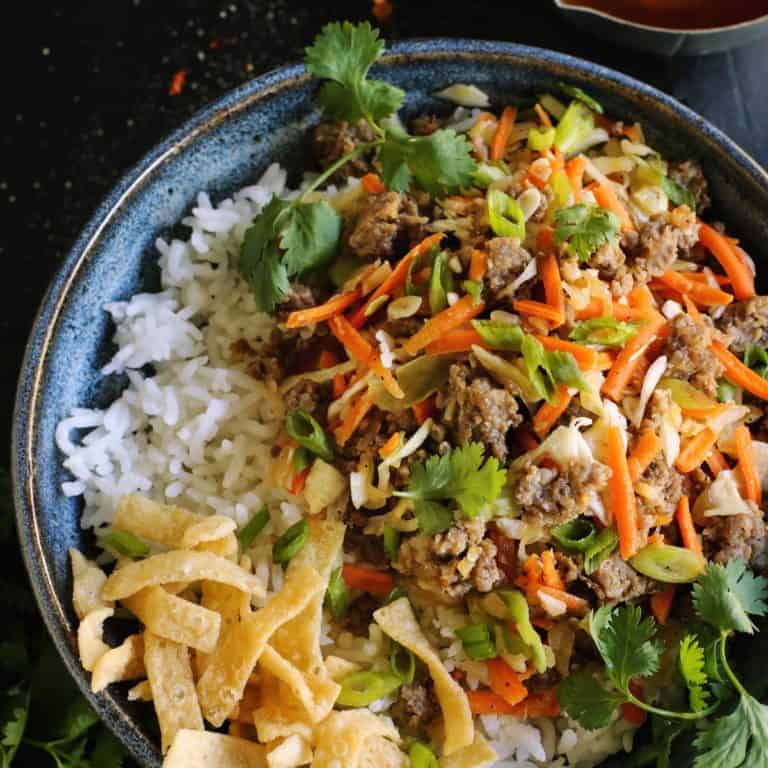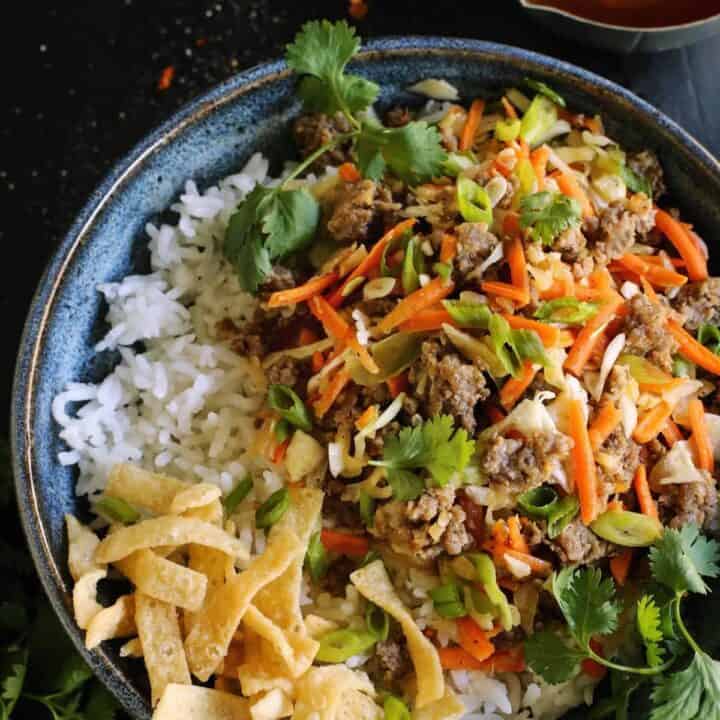 Egg Roll in a Bowl
Yield: 6 servings
Prep Time: 15 minutes
Cook Time: 10 minutes
Total Time: 25 minutes
This easy dish featuring egg roll flavors of ground pork, cabbage, and carrots has become a family favorite. Serve it with crispy wonton strips and a tasty Asian sauce to bring together all the egg roll love!
Ingredients
for the egg roll sauce:
1-1/2 c. water
1/4 c. rice vinegar
1-1/2 T. fish sauce
3 T. sugar
1 large clove garlic, minced
1/2 tsp. kosher salt
1 pinch crushed red pepper (Use more if you like heat!)
for the egg roll mixture:
1 T. sesame oil
1 lb. ground pork
3 large cloves garlic, minced
1/4 c. peeled, minced fresh ginger
2 T. soy sauce
1/2 tsp. ground black pepper
1 tsp. sugar
5 c. shredded cabbage (If you like, just use a 14-oz. bag of pre-shredded coleslaw mix)
1 c. shredded carrots (A bag of pre-shredded carrots works great!)
1 T. rice vinegar
3 green onions, sliced
fresh cilantro leaves, optional
1 c. wonton strips
Instructions
for the egg roll sauce: In a small saucepan over medium to medium-high heat, stir together all sauce ingredients. Once sugar and salt have dissolved, remove from heat to cool to room temperature.
for the egg roll mixture: Heat a large skillet with tall sides over medium heat. Once hot, add sesame oil and let it warm for almost 1 minute. Add pork, breaking it up with a wooden spoon or spatula. Cook for 5 to 7 minutes, stirring and breaking up occasionally, until pork is about half-way browned. Add garlic, ginger, soy sauce, black pepper, and sugar, stirring to combine. After pork is thoroughly browned, add cabbage and carrots, folding to combine. Cook, stirring occasionally, until cabbage and carrots are softened but still a bit crunchy, about 2 to 3 minutes. Sprinkle rice vinegar over the top and fold one last time.
to serve: Immediately serve hot egg roll mixture over white rice. Top with sliced green onions, fresh cilantro, and wonton strips. Serve with prepared egg roll sauce, to drizzle over the top.
Notes
from a farmgirl's dabbles
Recommended Products
As an Amazon Associate and member of other affiliate programs, I earn from qualifying purchases.
Nutrition Information:
Yield: 6
Serving Size: 1
Amount Per Serving:
Calories: 292
Total Fat: 16g
Saturated Fat: 6g
Trans Fat: 0g
Unsaturated Fat: 9g
Cholesterol: 71mg
Sodium: 473mg
Carbohydrates: 16g
Fiber: 3g
Sugar: 10g
Protein: 22g
We participate in the Amazon Services LLC Associates Program, an affiliate advertising program designed to provide a means for us to earn fees by linking to Amazon.com and affiliated sites. See our
disclosure policy
for more info.