Coconut Curry Chicken Soup
This post may contain Amazon or other affiliate links. As an Amazon Associate I earn from qualifying purchases.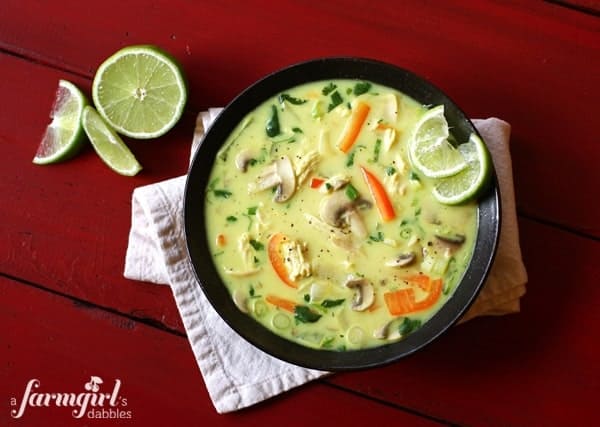 Coconut Curry Chicken Soup is fragrant, fresh, and flavorful. Enjoy as a light yet filling lunch, or serve over rice or noodles for a more hearty meal!
Coconut and curry are one of the most sublime combinations out there. And after downing a bowl of Thai curry soup at our nearby Noodles & Company many years ago, I knew I needed to come up with a version of my very own. Because one bowl is simply never enough. And I love soup leftovers!
This Coconut Curry Chicken Soup is super flavorful, and mild enough that our kids enjoy it, too. If you're unfamiliar with some of the Asian ingredients listed…well, I was too, many years ago. But I promise you – if you check out the Asian section in your grocery store for the items listed below, your taste buds will be forever grateful.
Green curry paste – I have some kind of affection for green curry paste. A blend of ginger, chilis, and spices, it is sweeter and milder than red curry paste. But if you like heat, definitely go for the red!
Coconut milk – Fragrant and creamy, coconut milk adds just the perfect touch of delicious comfort to this soup. I prefer regular coconut milk over light, for its added creaminess and flavor, but feel free to substitute with light.
Thai fish sauce – An essential ingredient in many Asian curries and sauces, fish sauce lends a subtle salty flavor that is hard to duplicate. But if you can't find it…or you just don't want to use it…you'll still be fine. The soup will still taste great without it.
The aroma, texture, and combination of flavors in this soup have made this one of my very favorites. I love that it can be a light yet filling lunch as a simple bowl of soup, or a more hearty dish when ladled over rice or noodles. And the versatility in ingredients is endless. Honestly, you can substitute a bit of this for a bit of that, whatever you're in the mood for, and you'll always have one happy tummy.
.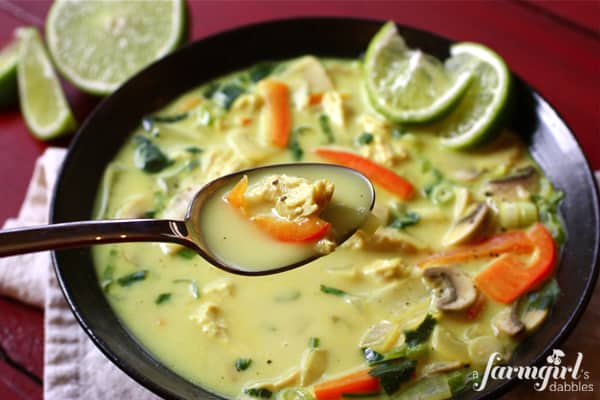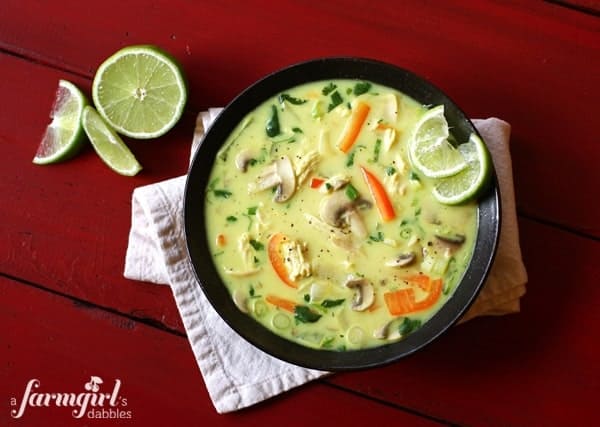 Coconut Curry Chicken Soup
Yield: 8 to 10 servings
Prep Time: 25 minutes
Cook Time: 25 minutes
Total Time: 50 minutes
This soup is fragrant, fresh, and flavorful. Enjoy as a light yet filling lunch, or serve over rice or noodles for a more hearty meal!
Ingredients
1/4 c. unsalted butter
1 large onion, chopped
2 T. green curry paste
3 garlic cloves, minced
1 T. minced fresh ginger
1 red bell pepper, thinly sliced and cut into 1" long pieces
8 oz. fresh mushrooms, very thinly sliced
8 c. low sodium chicken broth
2 14-oz. cans coconut milk
2 T. fish sauce
1 T. curry powder
3 T. brown sugar
1/4 tsp. crushed red pepper flakes
3 c. cooked and shredded chicken breasts (or use deli chicken)
1/4 c. freshly squeezed lime juice
2 green onions, thinly sliced
1/4 c. chopped fresh cilantro
kosher salt and freshly cracked black pepper, to taste
1 lime, cut into wedges, to serve with finished soup
other tasty optional ingredients:
fresh spinach leaves
carrots, thinly sliced on the diagonal
snow peas, trimmed and cut in half on the diagonal
hot red chili, minced, for extra heat
fresh mint, thinly sliced
Instructions
* I highly recommend getting all the chopping, slicing, and juicing done before you fire up the stove!
In a Dutch oven or heavy stock pot over medium heat, saute the butter and onion, just until the onion is softened. Add the curry paste and stir to combine. Then add the garlic, ginger, red bell pepper, and mushrooms. Cook until softened, about 3 to 5 minutes.
Add chicken broth, coconut milk, fish sauce, curry powder, brown sugar, red pepper flakes, and chicken. Stir to combine and cook until thoroughly warmed.
Before serving, stir in lime juice, green onions, and cilantro. Season with kosher salt and freshly cracked black pepper, to taste. It may take a couple teaspoons of salt to reach good flavor, depending on the saltiness of the rest of the ingredients - just start out by adding a 1/2 teaspoon at a time, tasting after each addition.
Serve as is, or over cooked basmati rice or pad thai rice noodles. Have lime wedges available for a fresh squeeze of juice.
Notes
recipe inspired by the Thai Curry Soup at Noodles & Company
Nutrition Information:
Yield: 810
Amount Per Serving:
Calories: 357
We participate in the Amazon Services LLC Associates Program, an affiliate advertising program designed to provide a means for us to earn fees by linking to Amazon.com and affiliated sites. See our
disclosure policy
for more info.