Mexican Coffee
Mexican Coffee is a decadent dessert cocktail that's served hot. With tequila, Kahlua, and whipped cream, this recipe is a fun and beautiful way to top off a meal!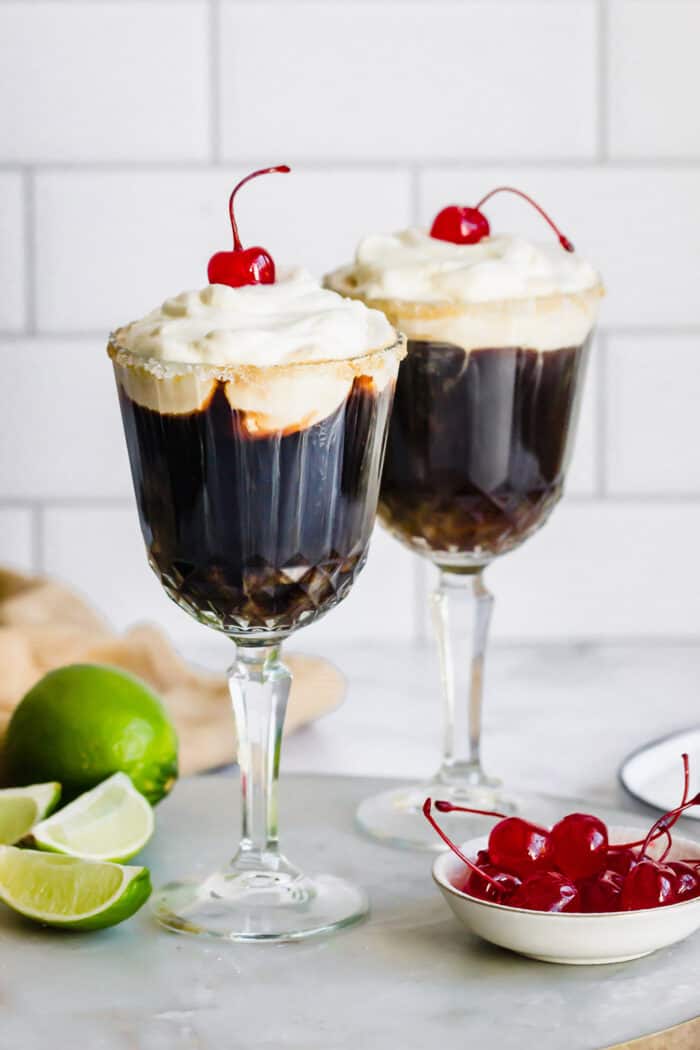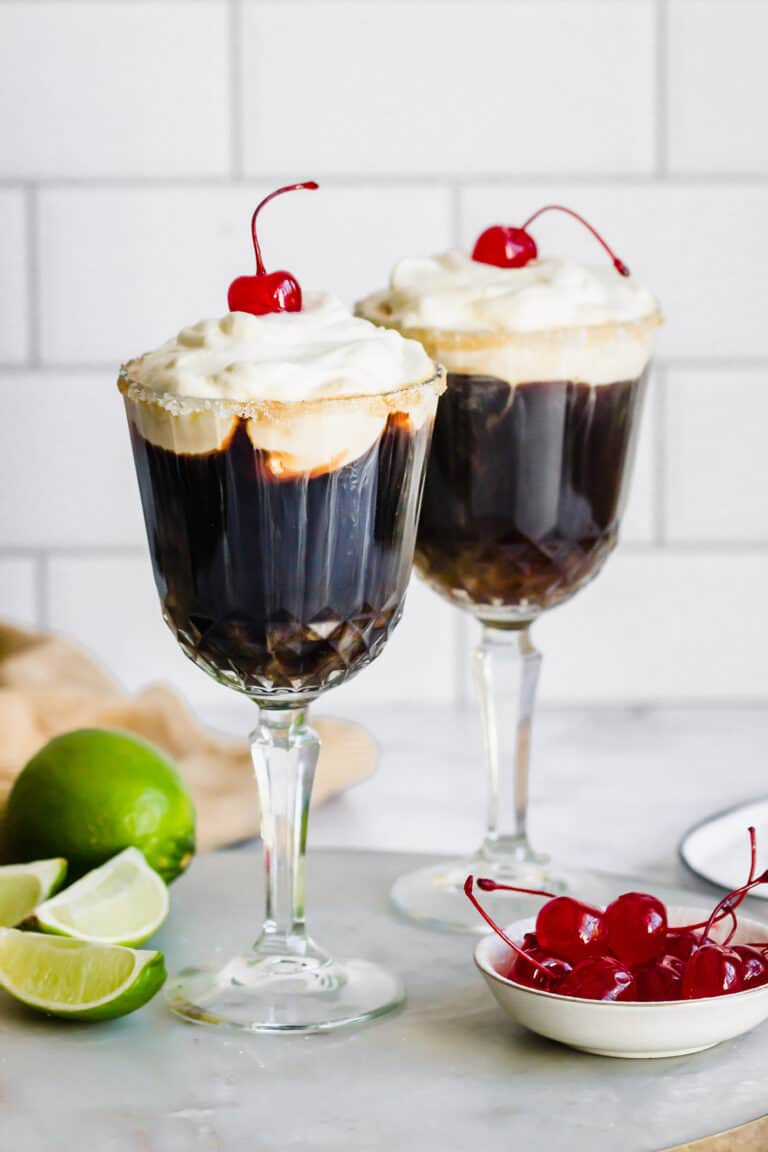 Our First Mexican Coffee Experience
We had just finished our first meal of our weeklong family vacation, our first visit to Mexico. There were fifteen of us gathered that evening, under a huge thatched roof of the resort's Mexican restaurant. My parents, my two sisters' families, and our family.
When our waiter handed us the dessert menu, it took Blake about 2 seconds to order the Mexican coffee. My BIL Dave followed suit. And, oh boy, were we ALL in for a treat!
A few minutes later, our waiter rolled a long cart next to our table. The cart was covered with a colorful striped Mexican cloth and held a small table-top flaming torch, carafes, a bottle of tequila, liqueur bottles, stemmed glasses, limes, and maraschino cherries. It promised to be FUN!
That Mexican coffee experience was entertainment, to say the least. The waiter was theatrical, with one arm held as high as he could reach, pouring blue-streaked flaming liqueurs from one carafe to a second carafe that he held low with his other hand. Back and forth he did this, over and over again, as we oohed and aahed…and the rest of us silently wished we had ordered a Mexican coffee for ourselves. (For photos, scroll past the recipe card, to the very end of this post.)
Of course, once we were home, I had to dive into my own Mexican Coffee recipe. This decadent dessert cocktail is topped with fluffy whipped cream and a cherry, a super fun finale to a celebratory meal!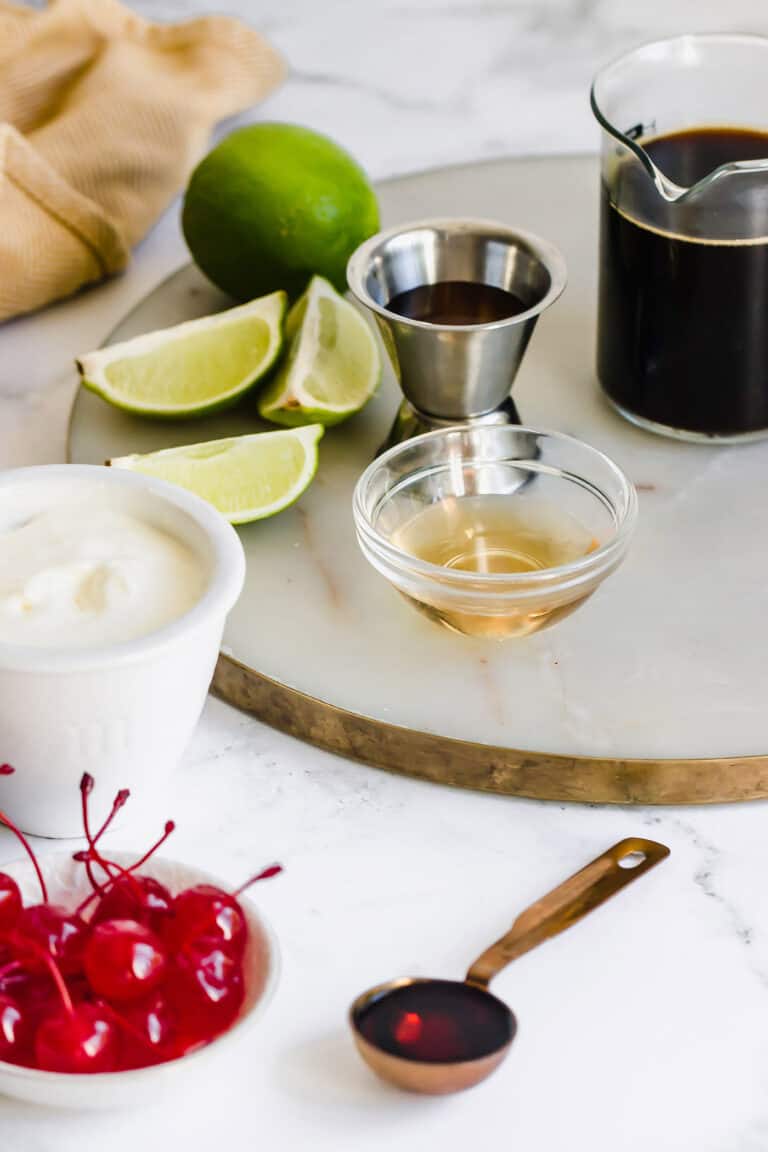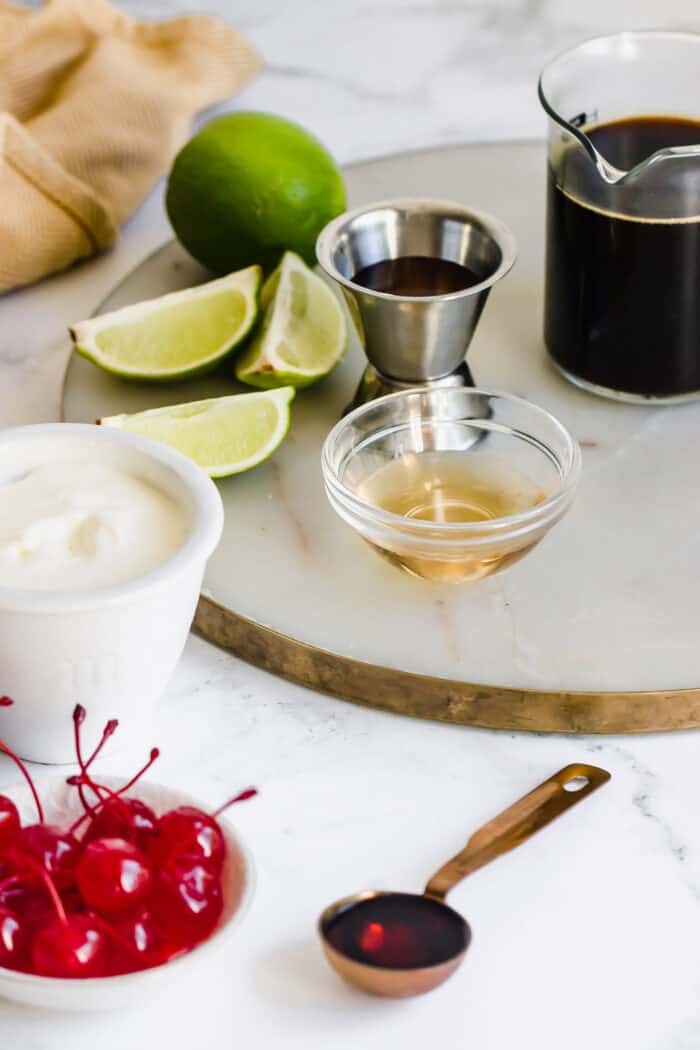 Ingredients You'll Need
This spiked coffee drink is not for the faint of heart. It's served super hot and includes three kinds of alcohol – although you could definitely reduce the quantities to tame that alcohol content!
A fresh lime wedge and sugar – for rimming the glass
Tequila – because…Mexico!!
Coffee-flavored liqueur – to amplify that coffee flavor (Kahlua is my favorite)
Anise-flavored liqueur – a little unexpected and so much fun!
Strong brewed coffee, very hot – the main ingredient
Freshly whipped cream – lightly sweetened is perfect for this drink
Maraschino cherry – I love anything topped with a sweet cherry!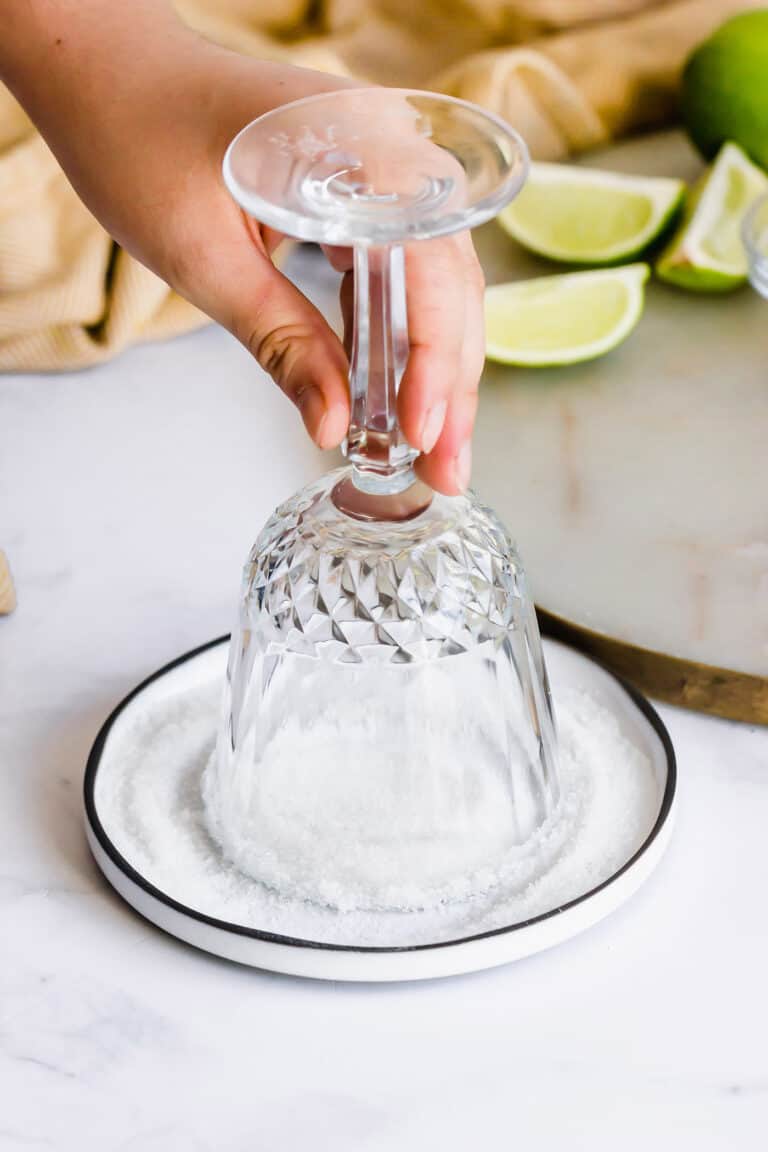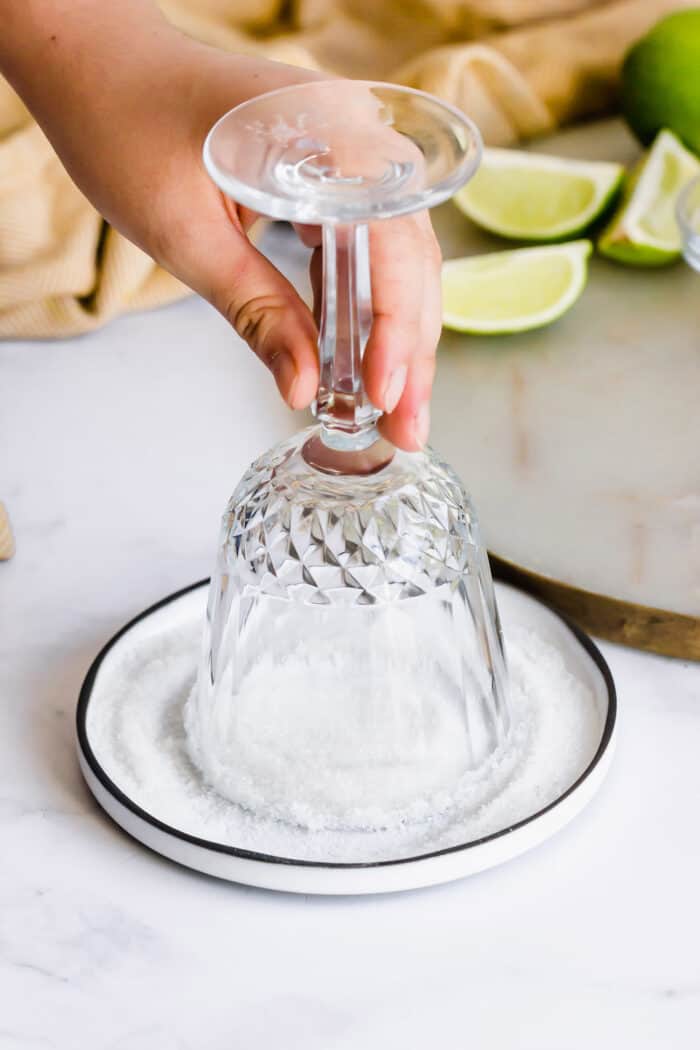 How to Make Mexican Coffee
I won't try to replicate the dramatic antics of our waiter in Mexico. But I will promise that you'll have a gorgeous, fun drink in your hand when you're finished. Here's how to make this hot coffee cocktail at home!
Rim glasses with sugar: First things, first. Grab a stemmed glass and add a sugared rim. This not only adds a pretty, sparkly element to the drink's appearance, but also offers a contrasting sweet texture to each sip.
Simply run the cut side of a fresh lime wedge around the rim. Then turn the glass upside-down, into a small plate of sugar. Press the glass straight down and then pull it straight back up. Do not twist the glass in the sugar, as you'll risk breaking off some of the adhered sugar.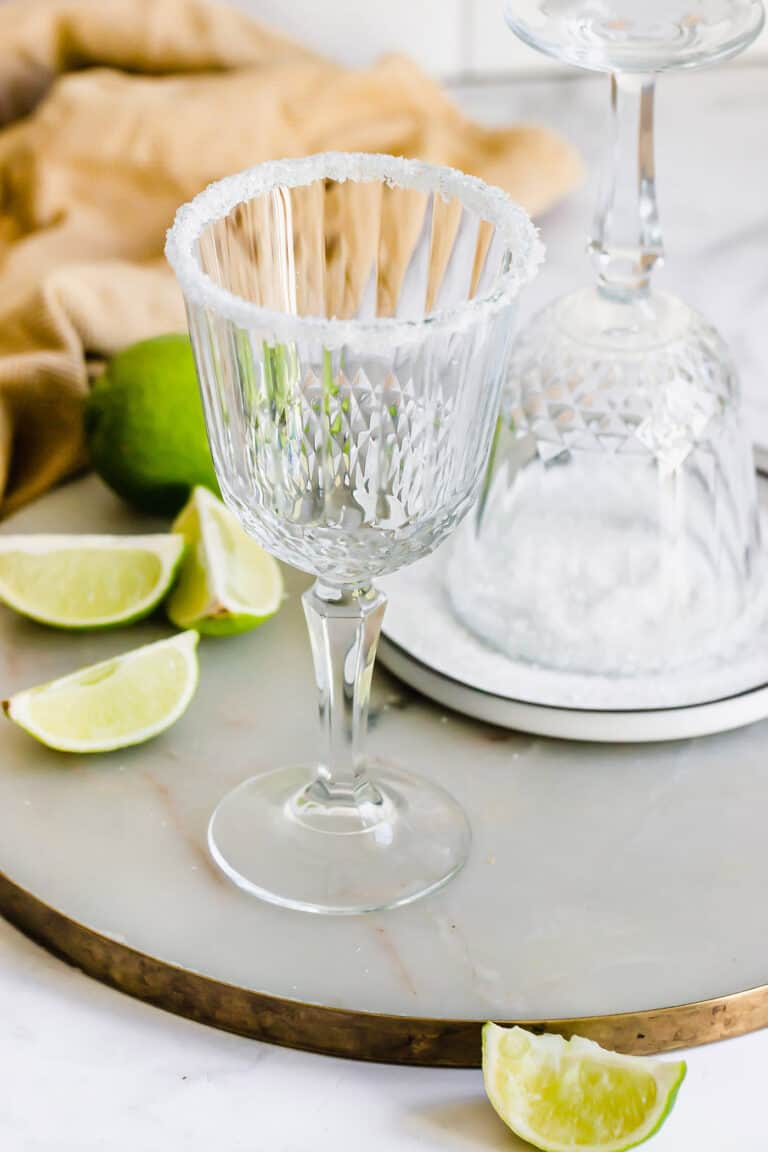 Like so!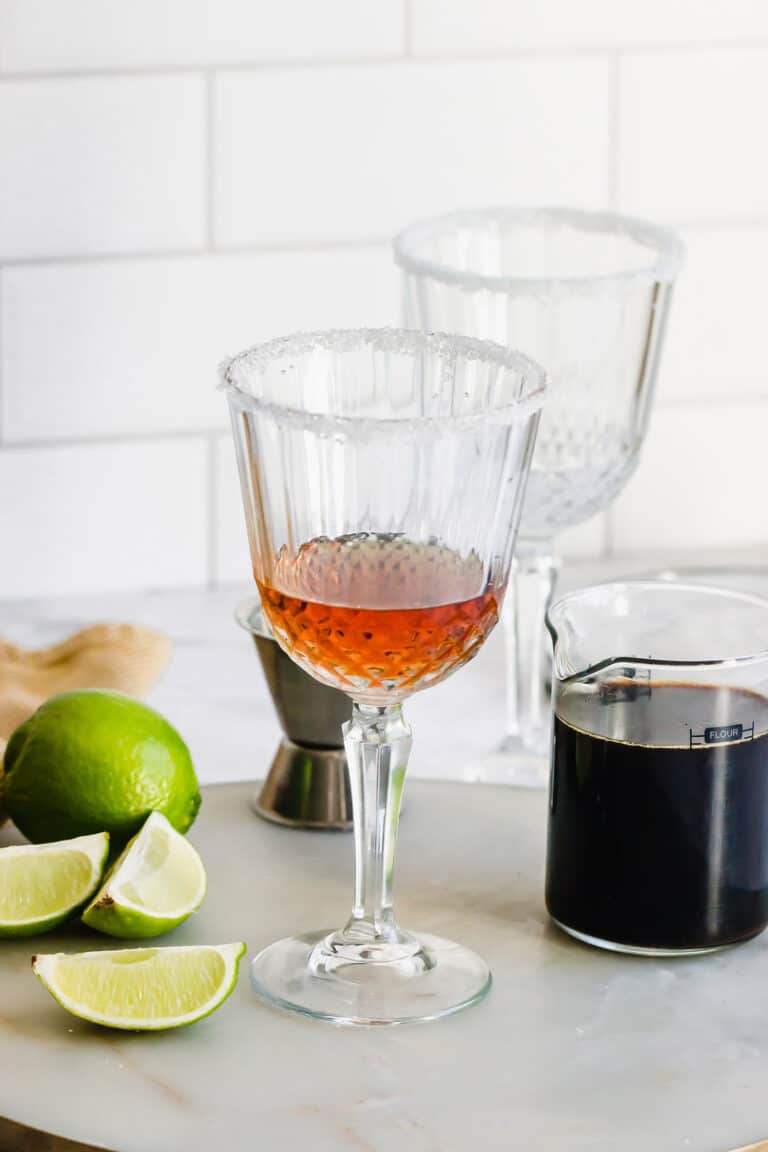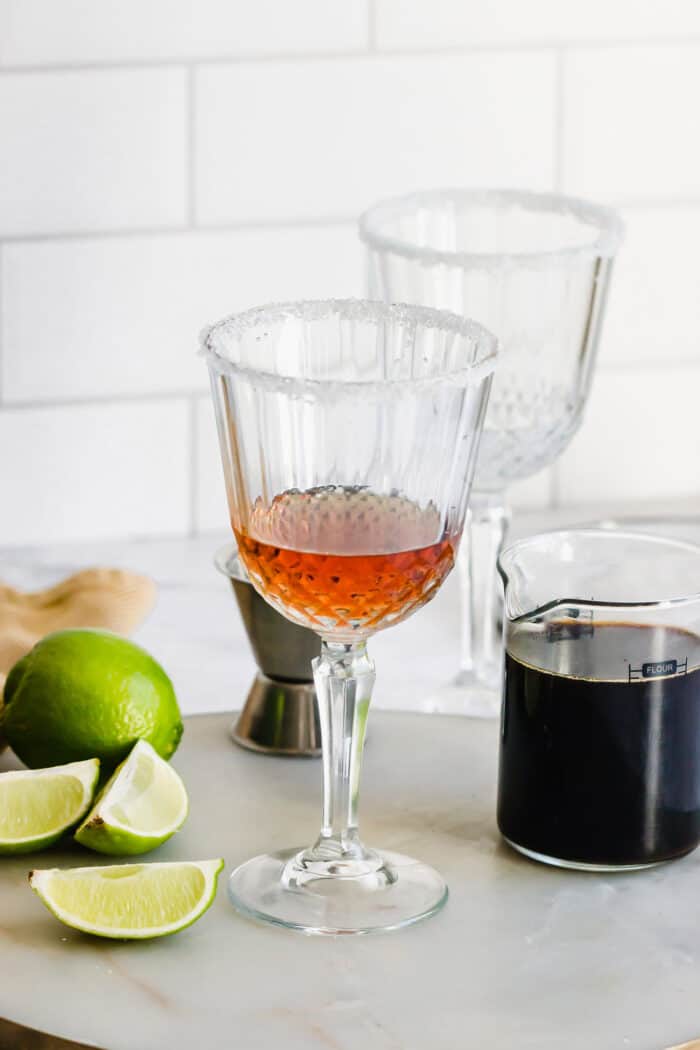 Add alcohols: Next, add the tequila, coffee-flavored liqueur, and anise-flavored liqueur to the glass.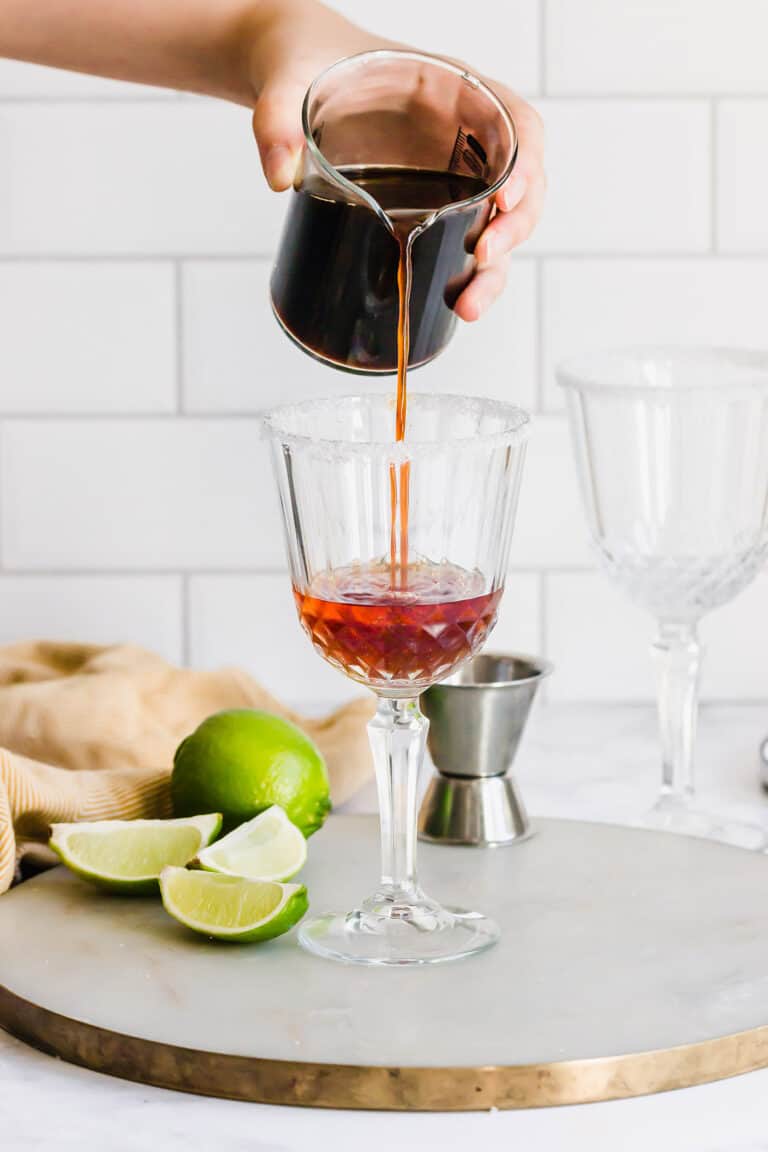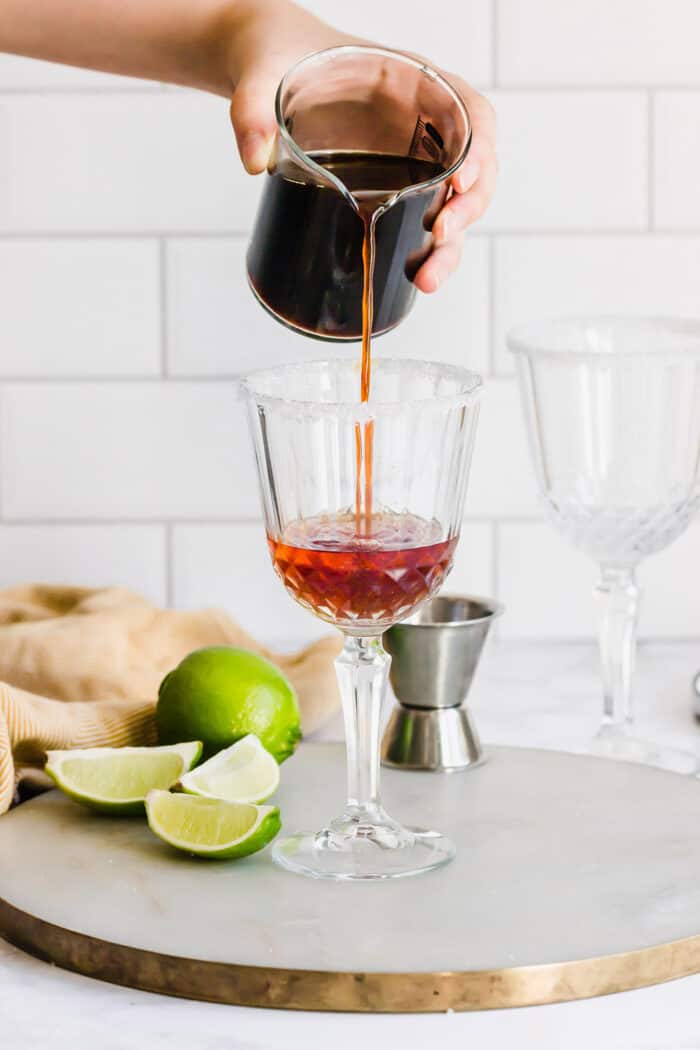 Pour in the coffee: Make sure to use a strongly brewed coffee for this drink, and make sure the temperature is very hot.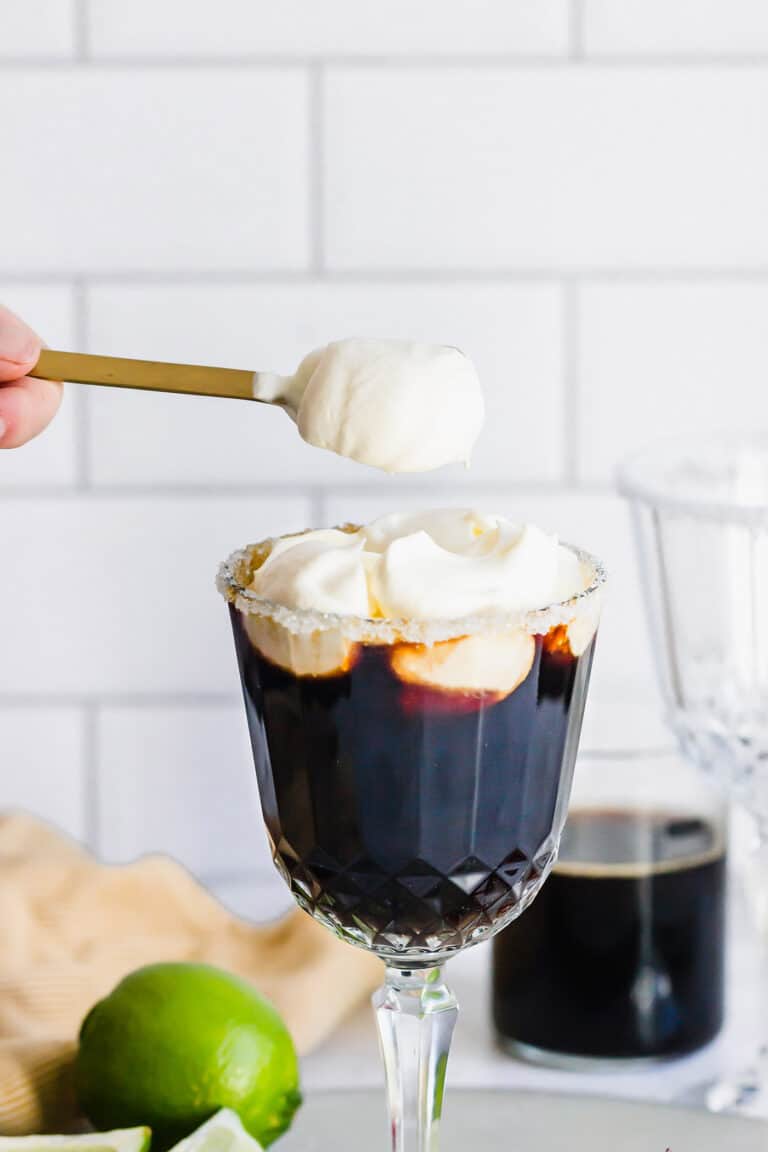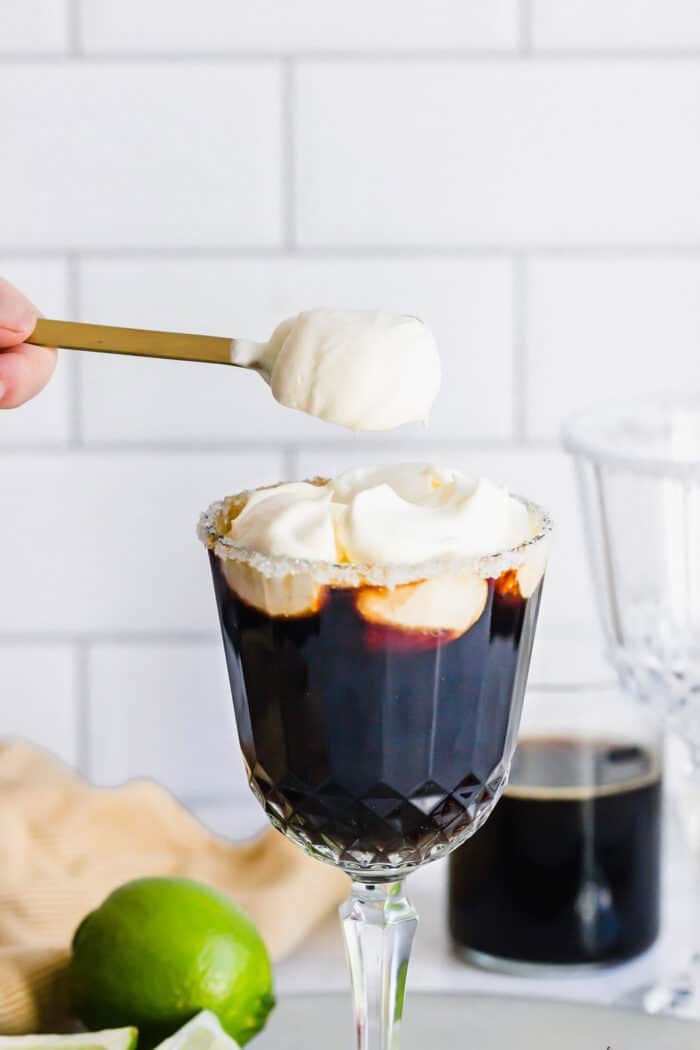 Add whipped cream: Then add dollops of freshly whipped cream to the top. Don't be shy here. A generous portion is this dessert cocktail's best friend!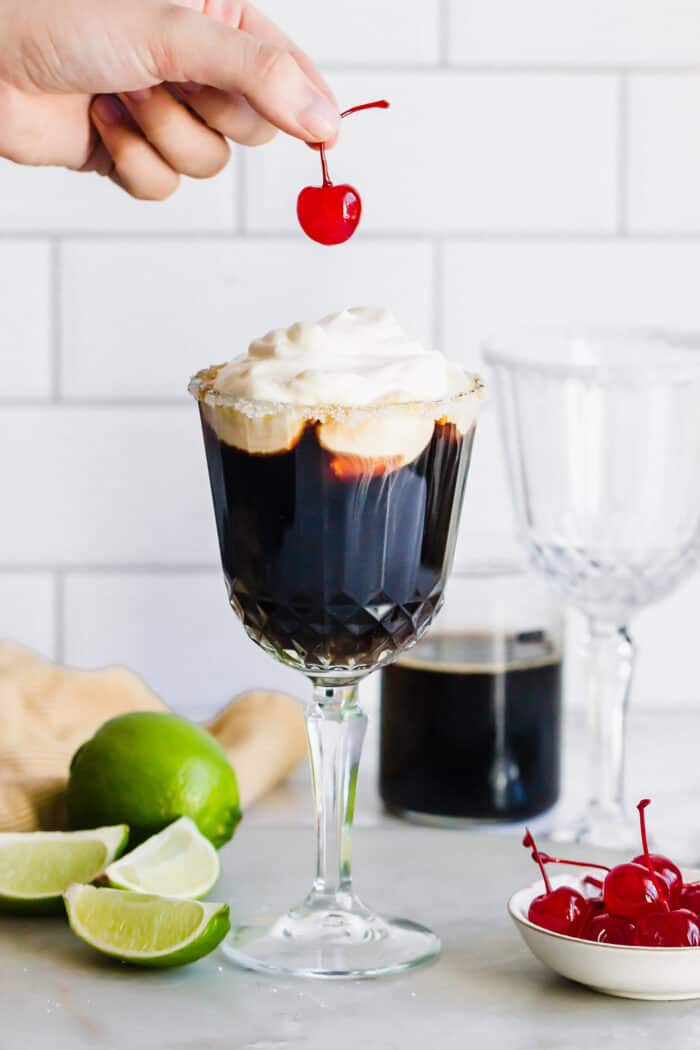 Top with a cherry: The finishing touch. A bright red, juicy, sweet cherry!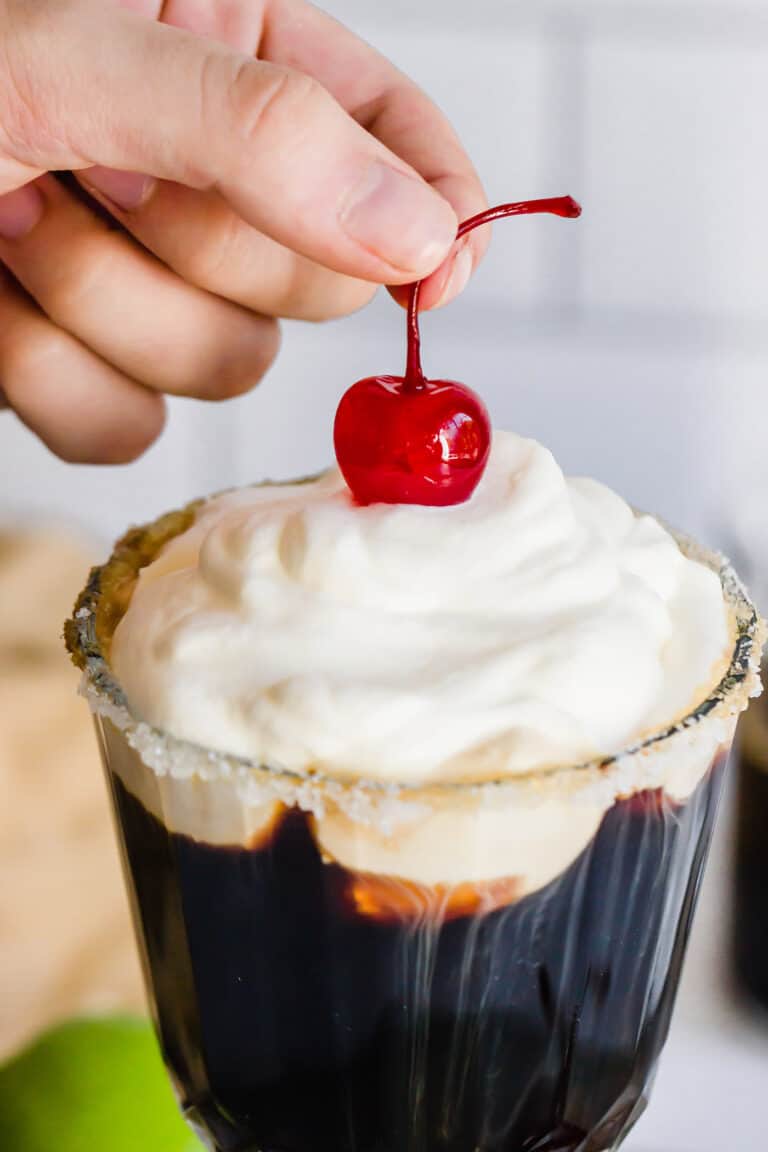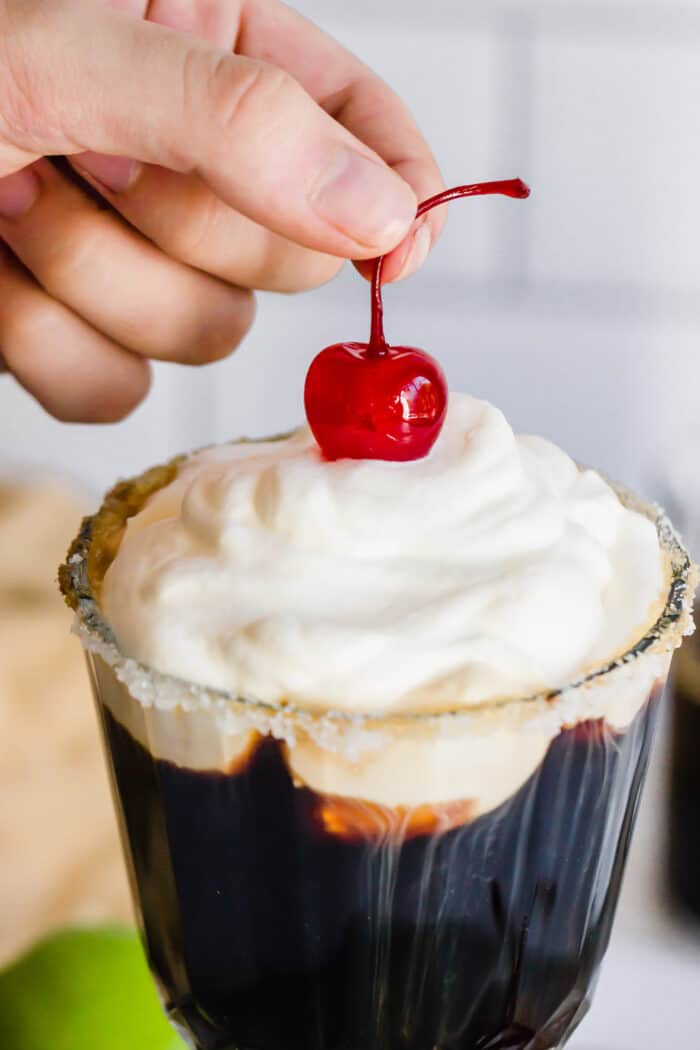 Now, a little moment of truth. When I make one of these drinks for myself, I don't stop at just one cherry. Absolutely not. I love those cheery bites. Three sounds about right for me! :)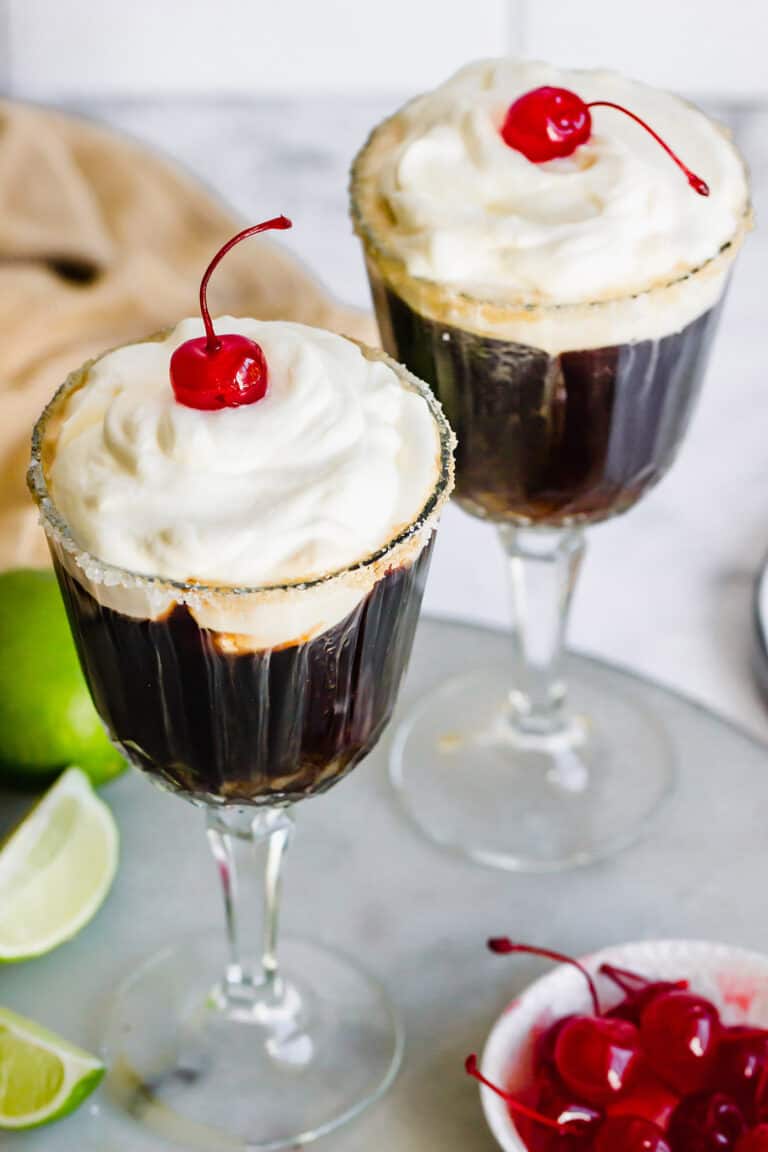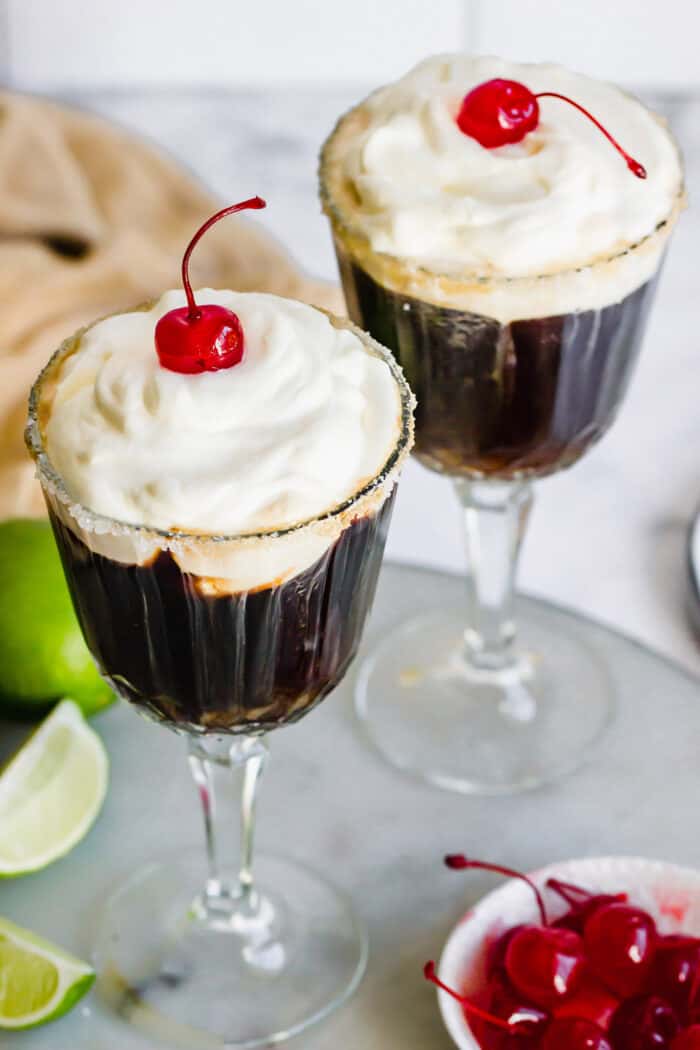 A Couple Tips
Use HOT, strong-brewed coffee: Make sure the coffee is very hot when making this drink. And I recommend using strong-brewed coffee. It's a bold drink meant for sipping slowly, and deserves a strong brew. The generous helping of whipped cream also helps to mellow-out the coffee. But if you truly don't enjoy strong coffee, just brew the coffee to your liking.
Warm the alcohols: When we enjoyed this Mexican coffee drink in Mexico, the alcohols were super hot – they were literally ON FIRE while the waiter was creating it. To replicate that intense heat, if you desire, you could heat the alcohols for a bit in a small pan on the stovetop before adding them to the glass. This will help ensure that the drink stays hot for a longer time.
Mexican Coffee Variations
Make it non-alcoholic: If you want to delete the alcohol, go right ahead. Just know that you'll simply have a strong-brewed coffee with sweetened whipped cream. Which is also good with me!
Don't like the flavor of anise? It seems that people either love or hate anise. So if you're one of the haters, simply omit it from this drink. We had Mexican coffee at a different restaurant in Mexico several years later that did not include anise – it's all good!
Add vanilla: This could be added to the coffee or to the whipped cream. Vanilla is always such a nice flavor, and beautiful with this dessert cocktail.
Like cinnamon? When brewing your coffee, add some ground cinnamon along with the coffee grounds. Or sprinkle a little cinnamon over the whipped cream!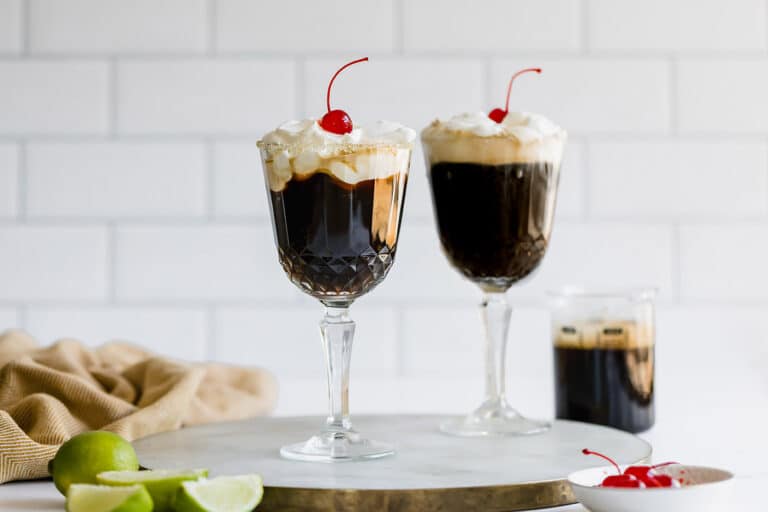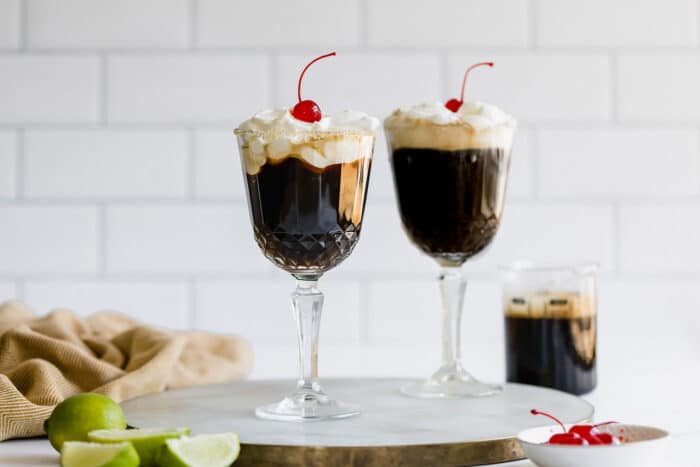 What to Serve Before Enjoying This Drink
This dessert cocktail, with its Mexican origins, deserves a Mexican meal beforehand – don't you agree? Well I have a few recommendations for you, of course!
Like this coffee cocktail? Save it to Pinterest!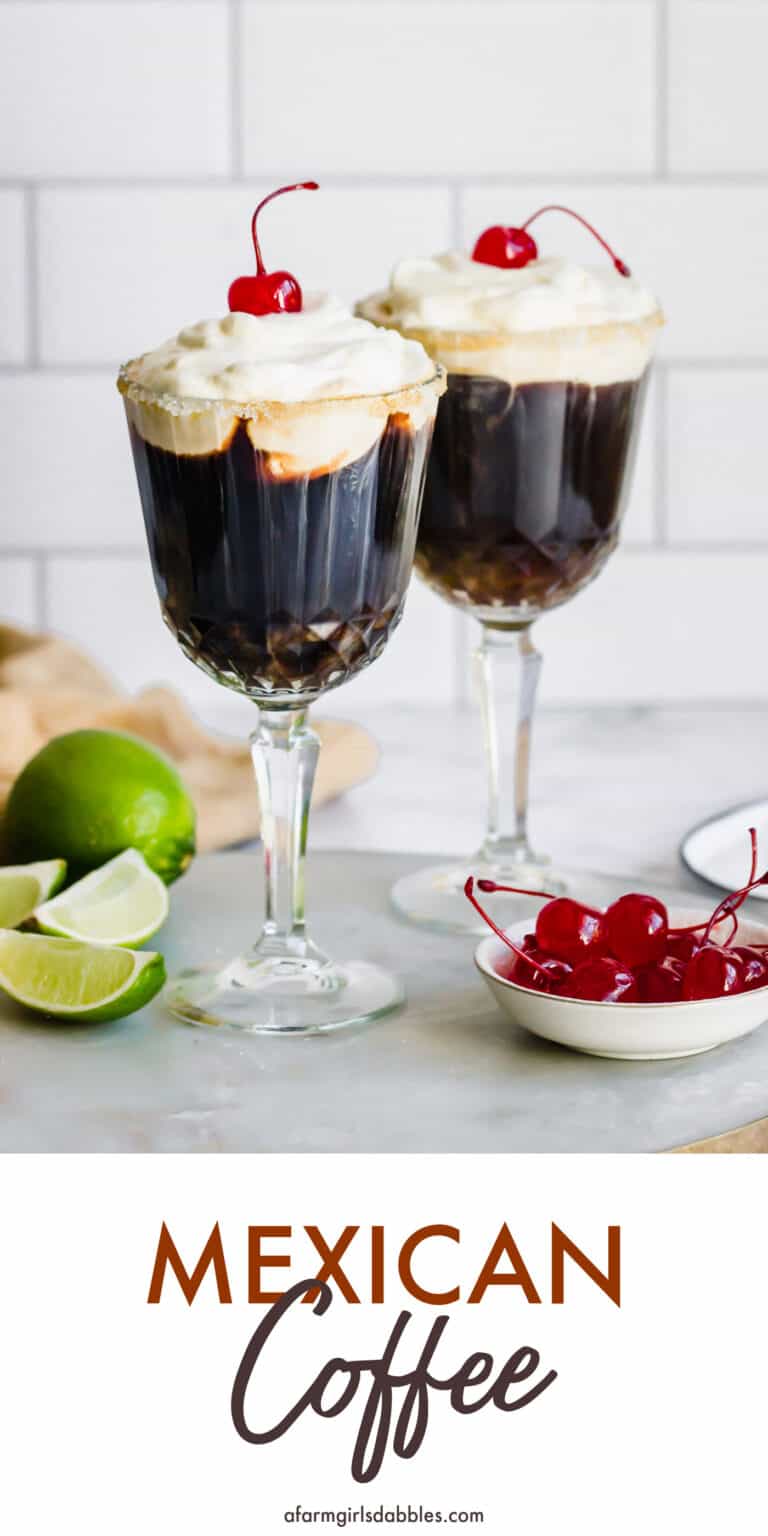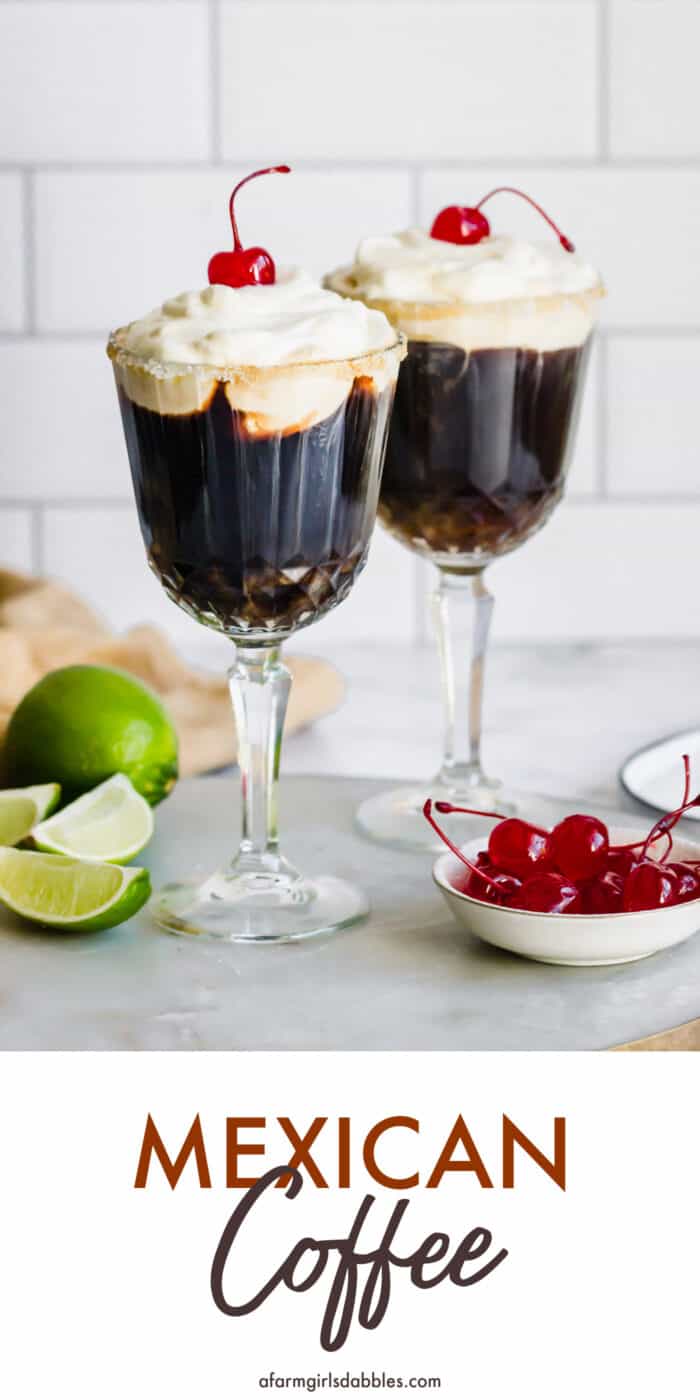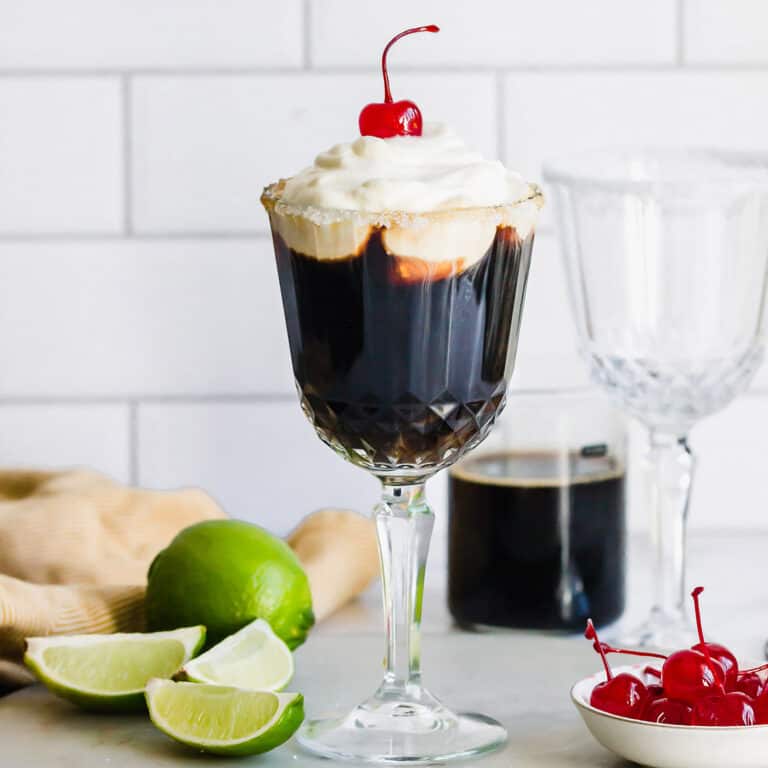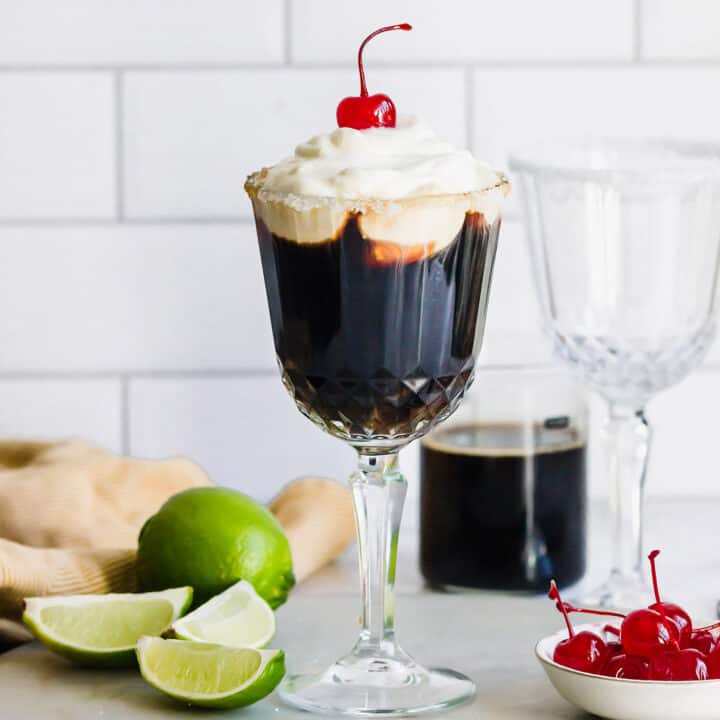 Mexican Coffee
Yield: 1 serving
Prep Time: 10 minutes
Total Time: 10 minutes
Mexican Coffee is a decadent dessert cocktail that's served hot, with tequila, Kahlua, and whipped cream. It's a super fun and beautiful way to top off a meal!
Ingredients
1 fresh lime wedge
sugar
1 oz. tequila
1/2 oz. coffee-flavored liqueur (such as Kahlúa)
1/2 oz. anise-flavored liqueur
1 c. strong brewed coffee, very hot
freshly whipped cream that's lightly sweetened
maraschino cherry with stem
Instructions
To sugar-rim the glass, pour a bit of sugar onto a small saucer. Moisten the rim of a wine glass with the lime wedge, and then gently press the rim of the wine glass into the sugar.
Add tequila, Kahlúa, and anise liqueur to the glass, then pour in the coffee. Top with a generous helping of whipped cream and a cherry. Enjoy immediately.
Notes
Inspired by the Mexican Coffee served at El Patio at Dreams Puerto Aventuras Resort in Puerto Aventuras, Mexico.
Nutrition Information:
Yield: 1
Serving Size: 1
Amount Per Serving:
Calories: 466
Total Fat: 4g
Saturated Fat: 1g
Trans Fat: 0g
Unsaturated Fat: 2g
Cholesterol: 5mg
Sodium: 14mg
Carbohydrates: 49g
Fiber: 4g
Sugar: 35g
Protein: 3g
Nutrition information is automatically calculated by Nutritionix. I am not a nutritionist and cannot guarantee accuracy. If your health depends on nutrition information, please calculate again with your own favorite calculator.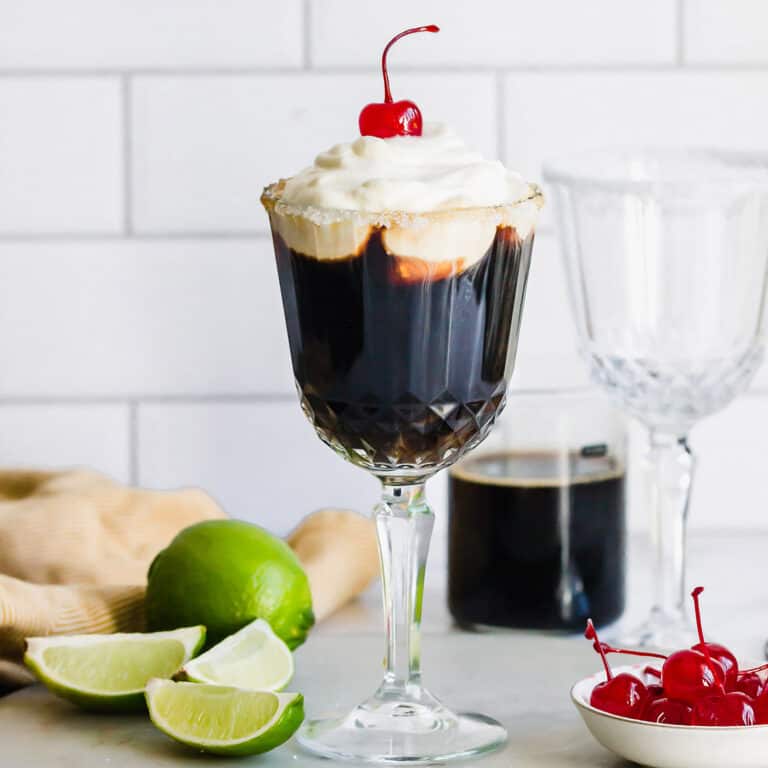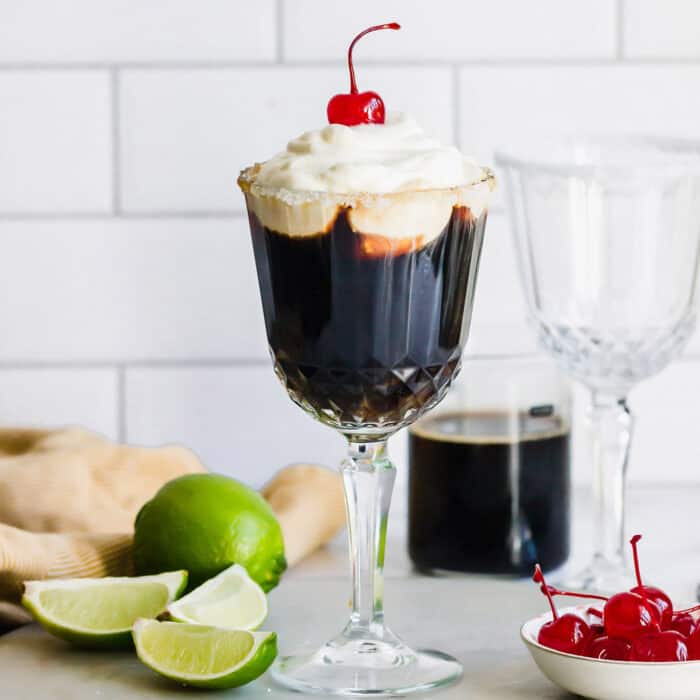 I originally published this post in 2013 – and then updated it with new drink photos and some new text in 2021.
---
Our Family Vacation in Mexico
Here's a little background to my coffee cocktail story. Photos are from our family's Thanksgiving vacation to Mexico a number of years ago.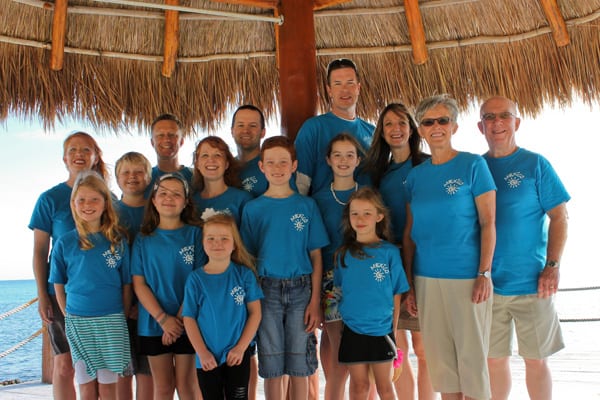 My entire family – to include my parents, plus both sisters and their husbands and kids – blocked off a week on our calendars to fly south for a vacation together. Fifteen of us!
It was the first time we had ever done something like this. And I'm sure that if we found a few extra coins hiding in the couch cushions, we'd pack our bags today to do it all over again!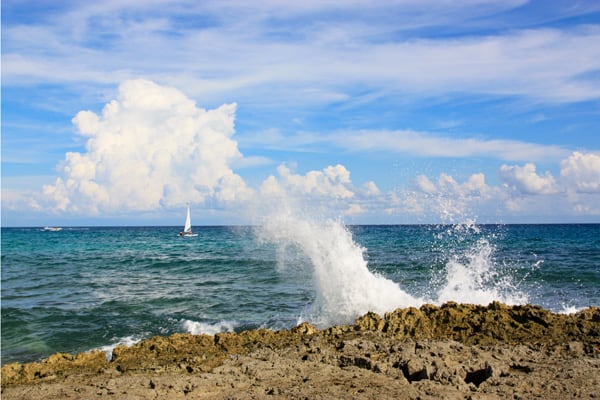 We flew from Minnesota to Cancun, and then our family filled a small bus and rode about an hour south to our Mexican Riviera Maya home, Dreams Puerto Aventuras Resort.
This was my first total-beach vacation.
I'll readily admit that I had always been a beach vacation naysayer. I love to go new places, to explore, and to basically go, go, go all the while I'm away, taking in as much as I can of each new area. So I've always viewed a week at the beach as (sadly) a waste of time and money.
But it only took about 12 hours of sand-between-my-toes and swimsuit-is-my-only-daytime-attire before I realized how wrong I'd been all these years.
I was convinced.
There's simply no denying how beneficial a tropical beach vacation is. The big blue skies, filled with warm and embracing sunshine, plus the sparkling, warm waters and silky soft sand…it's such an awesome way to relax. And the bonus with this trip was that our family was able to connect in a really beautiful and different way!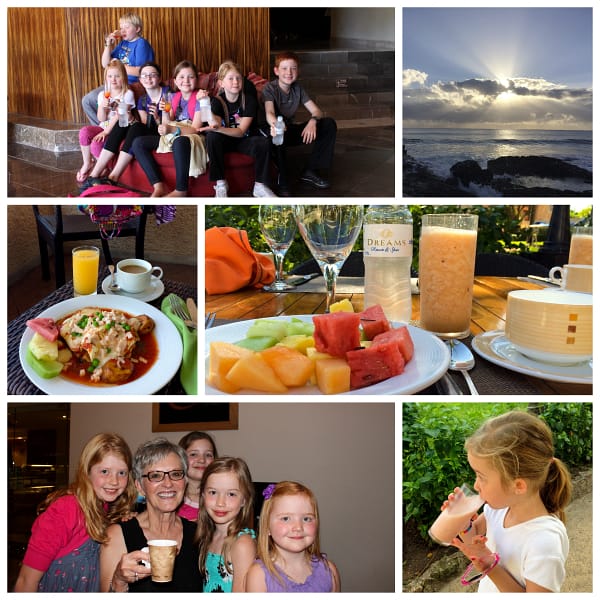 The Drinks in Mexico were a Treat!
From the moment we arrived at the resort, it was evident that delicious beverages were going to play a big part in our vacation. I joke that we were all on liquid diets while we were there.
Just steps off the bus, we were greeted with flutes of sparkly fruity drinks (top row, left) and champagne.
And then we naturally created a beverage routine that followed us through the week…
Our family ordered room service after waking up each morning, always with fresh pineapple juice and coffee (middle row, left). And then we ventured to the poolside cafe for plates of sweet fresh fruit and made-to-order omelets, accompanied by more coffee, custom fresh fruit smoothies, and possibly a mimosa or Bloody Mary. During the morning hours there was a smoothie bar next to the pool that all of us grew quite fond of (lower row, right). And throughout the day, the resort's amazing little Coco Cafe kept all the adults happily caffeinated with specialty coffees, both hot and cold (lower row, left).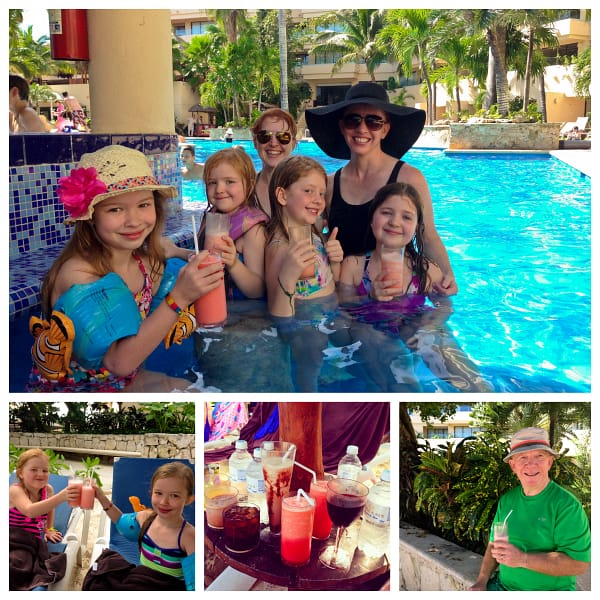 The pool's swim-up bar was a fascination for us all. Shortly after noon one day, I asked my youngest niece how many Pink Panther drinks (basically a virgin piña colada with strawberry syrup added) she had drunk so far that day. She rolled her eyes skyward, counting in her head, and then cheerfully replied, "Six!!"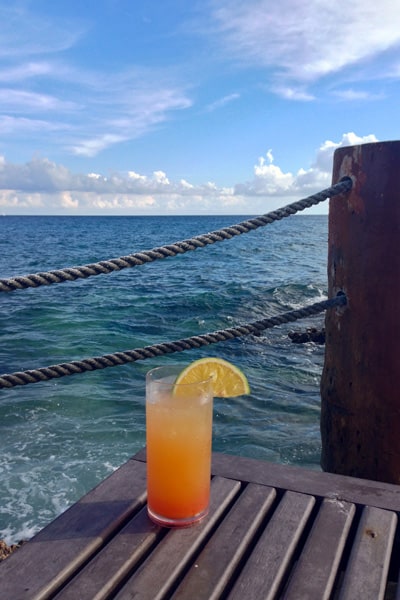 Drinking a tequila sunrise with my sisters, over the crashing waves at the barefoot beach bar…it's a memory I'll always cherish, a stolen moment away from the high energy afternoon pool time.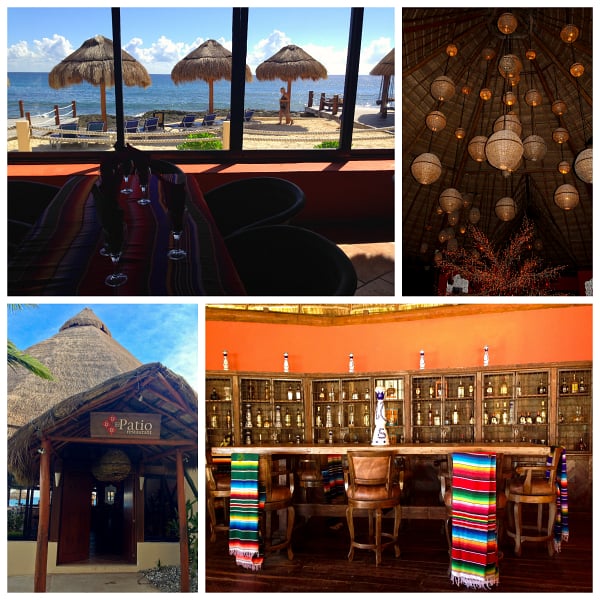 Mexican Coffee at El Patio
And here, at El Patio, is where the magic of the Mexican Coffee took place.
One of five restaurants open for dinner in the evenings, El Patio served up delicious Mexican cuisine. It was located just steps from the crashing waves (top row, left) and had its own tequila bar (bottom row, right).
I enjoyed a most tender and delicious chicken mole under that fabulous thatched roof (top row, right).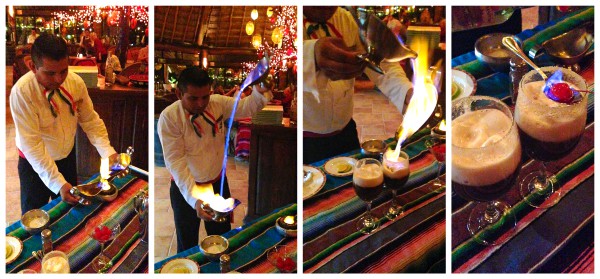 El Patio is where Blake asked our waiter about the Mexican coffee on the menu. He told Blake, "You will like…very hot."
And within a few minutes, the waiter came back and delighted us with his coffee-making show.
These photos don't do my story justice – they're old and dimly lit – but believe me when I say the whole restaurant was turned in our direction. This was such a fun experience!
If you ever visit Mexico and see an unassuming listing of "Mexican Coffee" on the menu, don't take it lightly. It's definitely delicious, and also quite entertaining.
Or…if you simply can't wait, try my version. It doesn't come with a flaming side show, but it's still pretty darn fun!