Creamy Enchilada Chili
This Creamy Enchilada Chili is brimming with all kinds of tasty bites. In every spoonful, you'll savor the flavors of enchiladas…without the tortillas!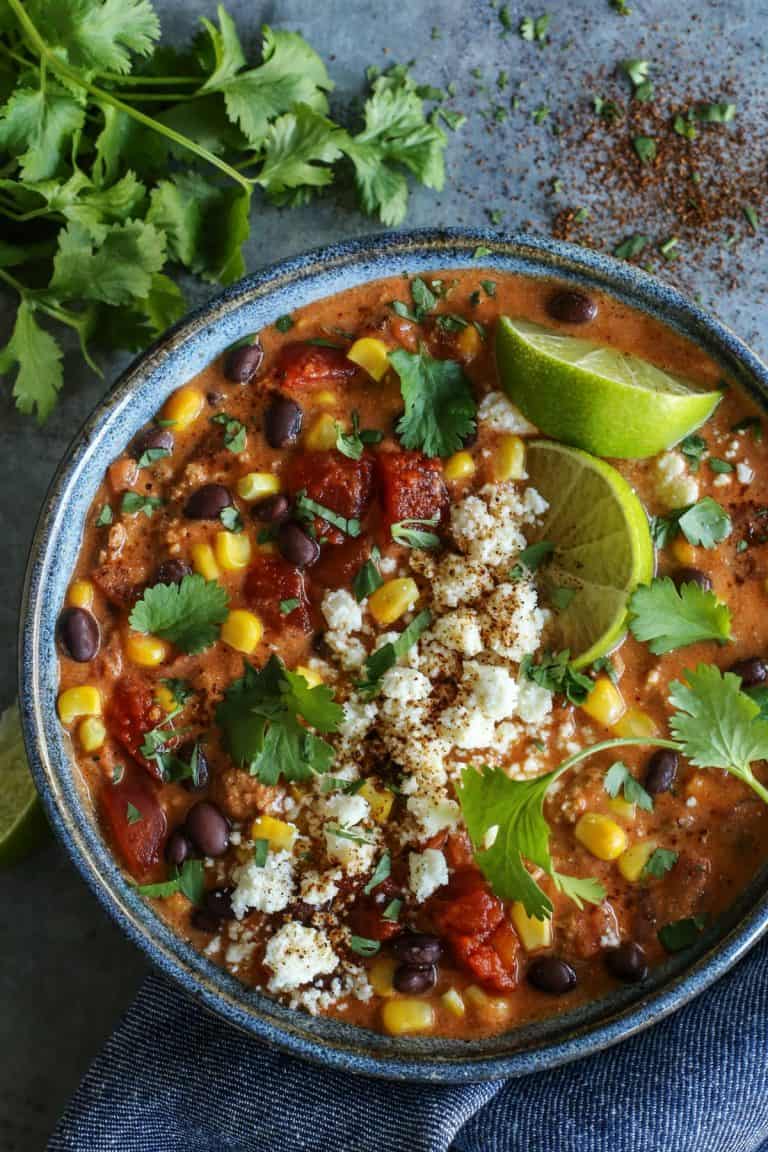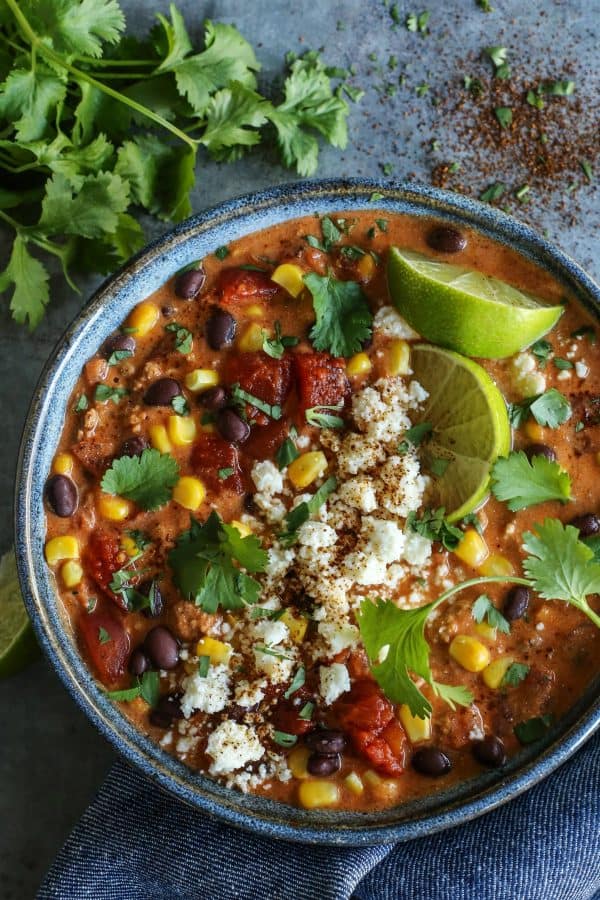 Just having returned from Thanksgiving week in Mexico with family (heavenly!), all of us are relieved to come back to a mild Minnesota forecast for the upcoming week.
The warm sun felt sooooooo very good on our skin, requiring multiple applications of sunscreen each day as we played in the pool and salty sea. I'm proud to say that I set work aside almost entirely, except for replying to a couple of emails.
While we were gone, my lunches consisted of fresh salads, ceviche, guacamole, salsa, and chips. And quite a few chicken wings – they were awesome! Our resort also had many wonderful offerings of fresh fish and seafood. I was loving every fresh and flavorful bite, morning to night.
And now that we're back home, rolling into December and at least a few months of winter, we're back into comfort food mode. It's all about soups and chilis and slow cooker meals. And the latest recipe to be added to the list is this Creamy Enchilada Chili.
This pot of chili is brimming with all kinds of tasty bites. Every spoonful is loaded with the flavors of enchiladas that remind me of sunny Mexico. I know that I'll be stirring up this enchilada chili recipe all winter long!
* This is a sponsored post, created in partnership with Red Gold®.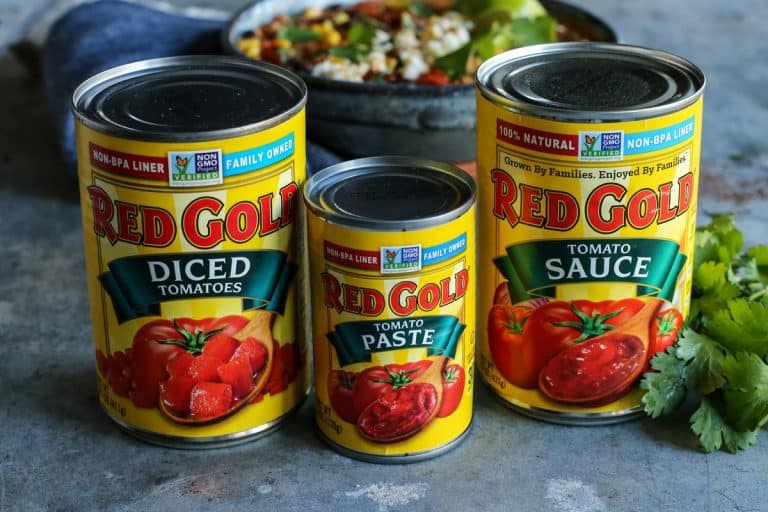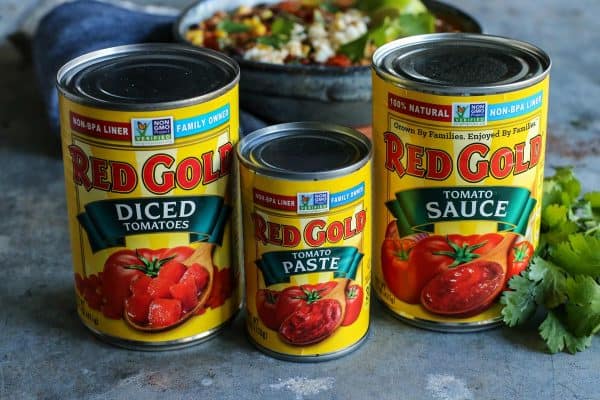 When it comes to chili, Red Gold tomatoes are my constant companion.
Red Gold tomatoes are grown on Midwest family farms, and have been family-owned for 75 years. Growing up on a farm in the Midwest myself, with many family members still farming to this day, this means a lot to me.
But it's more than the local farm family sentiment that keeps me reaching for this tomato brand. I've held my own little canned tomato taste tests, and have repeatedly found Red Gold to be the freshest, best-tasting tomatoes. These products have simply won my trust.
In this enchilada chili recipe I use three different varieties:
diced tomatoes for some chunkiness
tomato paste for its deep tomato flavor
and tomato sauce for that overall tomato richness that chili is famous for
For a more traditional chili, incorporate Red Gold tomatoes into our favorite Slow Cooker Chili recipe!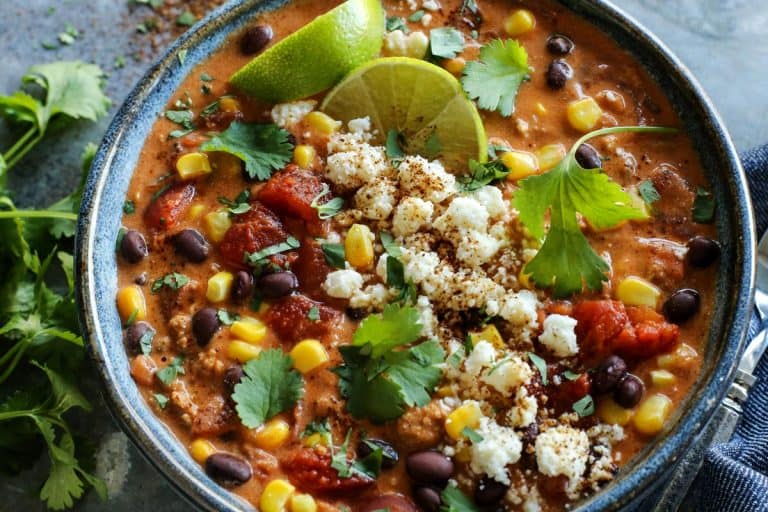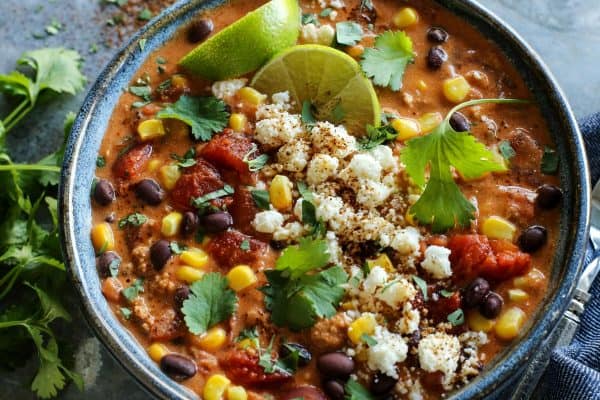 Creamy Enchilada Chili
You could think of this chili as enchiladas without the tortillas.
Depending on my mood, and possibly what's on hand in the freezer, I make this recipe with ground beef, turkey, or chicken. Any of these work well.
For creaminess, I fold softened cream cheese in at the end. It gives these bowls of chili a little extra body and a bit of that lovely cream cheese tang.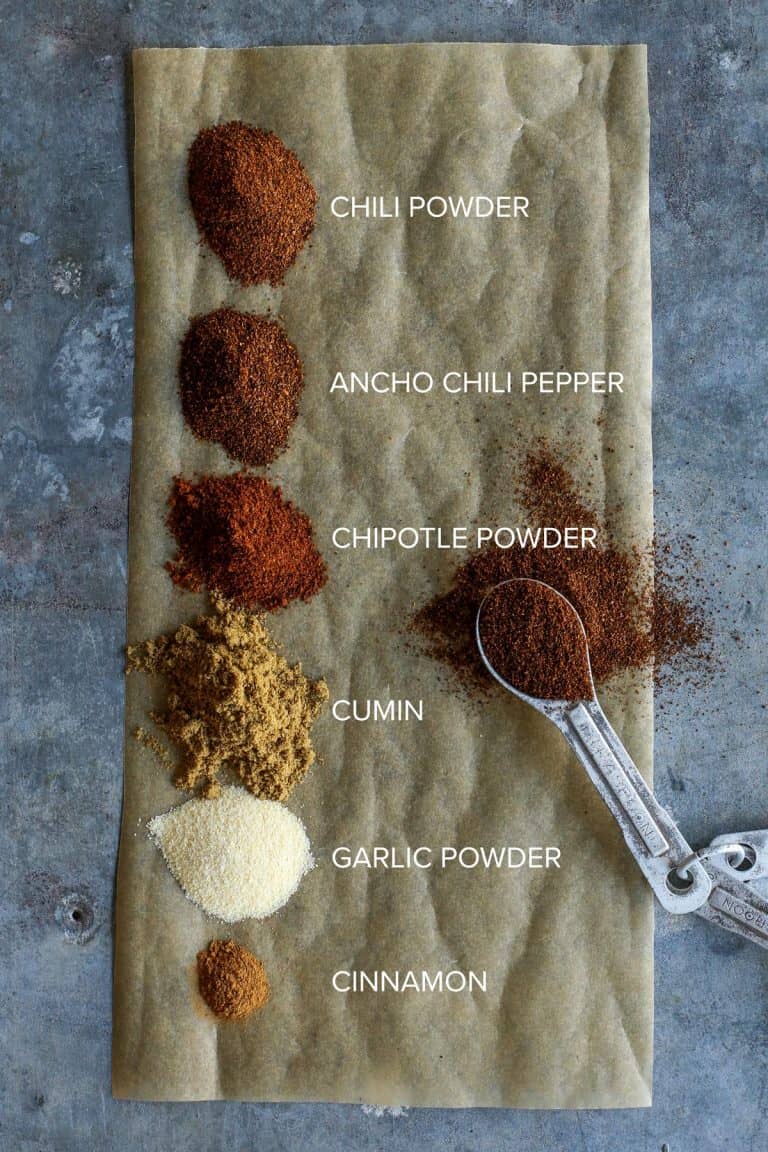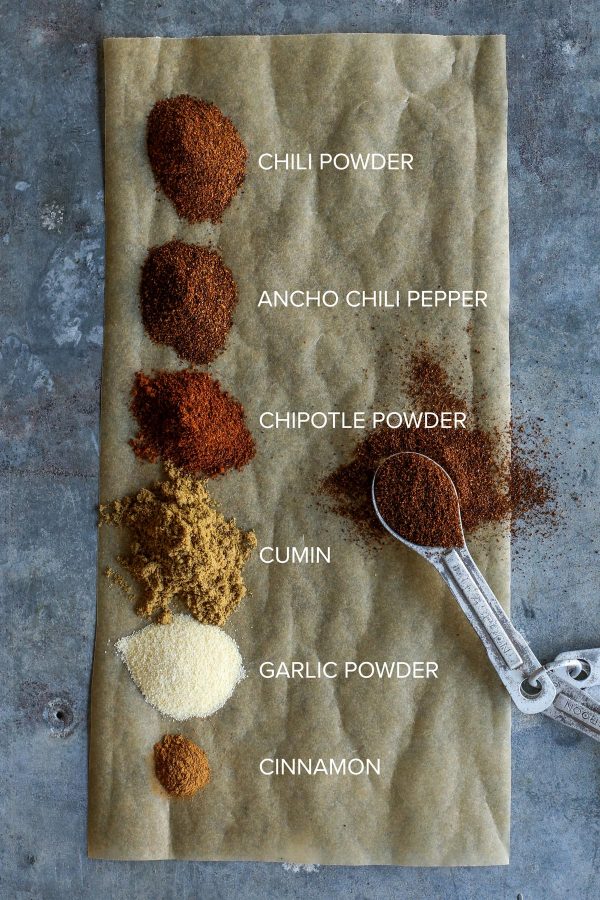 How to make enchilada chili
To incorporate the flavor of enchiladas into this homemade meal, I combined the following spices:
chili powder
ancho chili pepper
chipotle powder
cumin
garlic powder
cinnamon
I like to use a medium chili powder whenever I make chili. But if you like your chili mild or especially spicy, just adjust accordingly. Same goes for the amount of chipotle powder, which is known for its heat.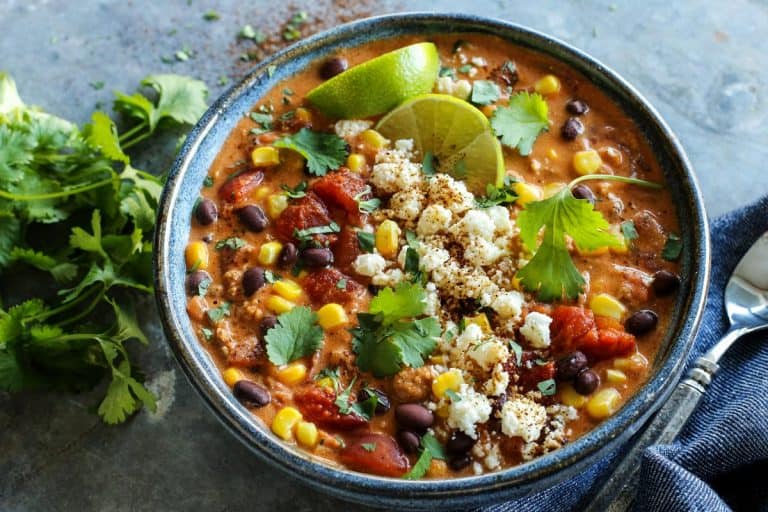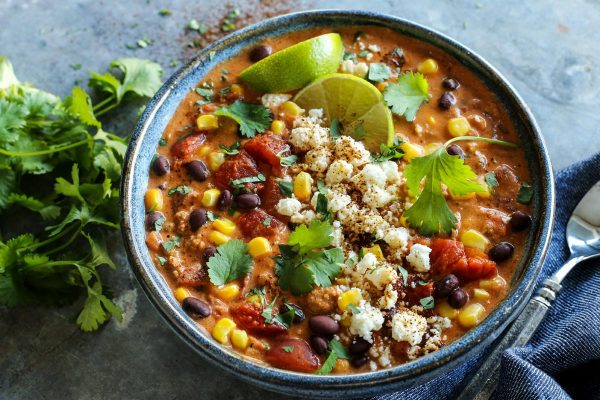 And you know me. I'm all about the add-ons.
After ladling chili into my bowl, I like to top it off with chopped fresh cilantro, some Cotija cheese (its crumbly texture and salty flavor are great contrasts to the chili), and a great big squeeze of bright lime.
And if you're looking for an awesome dipper for this chili, bake up a batch of my easy Honey Cornbread Muffins.
If I close my eyes, this creamy enchilada chili has me sitting in Mexico.
Join me?!
Like this Enchilada Chili recipe? Pin it!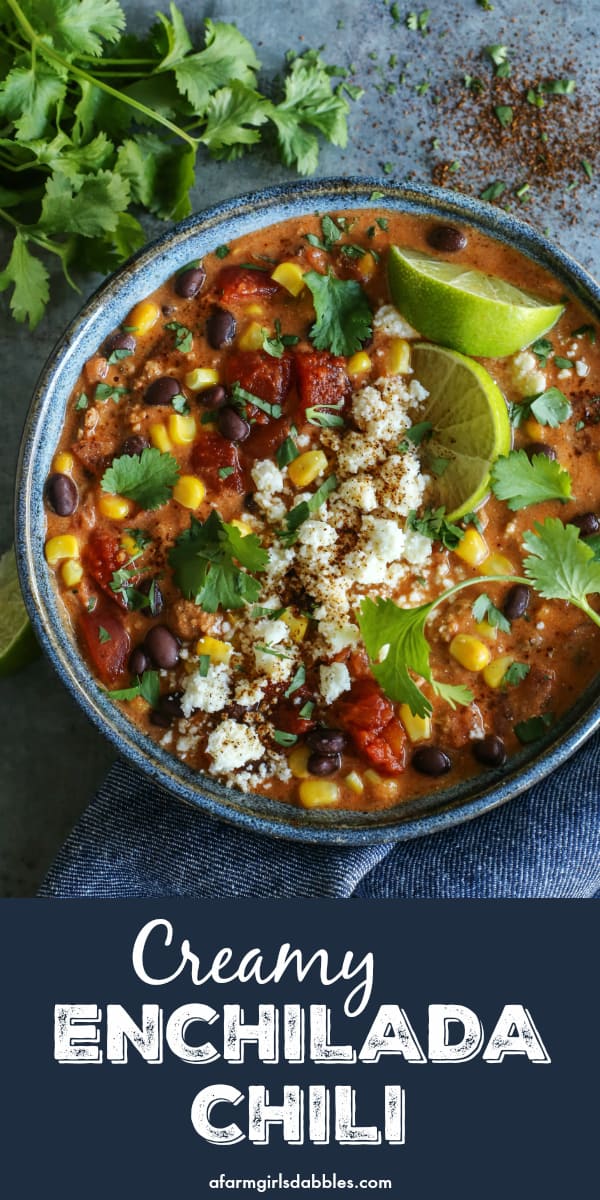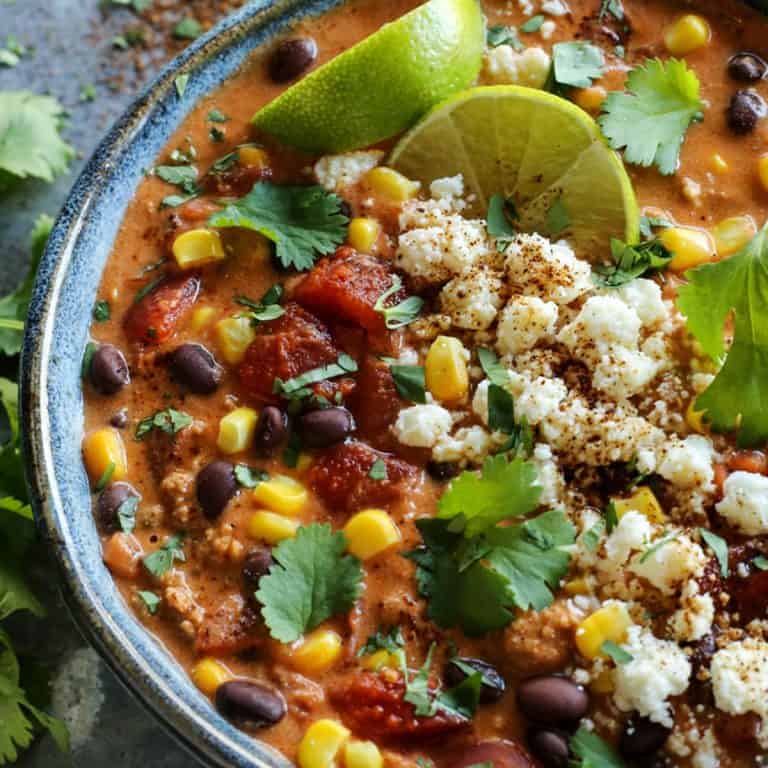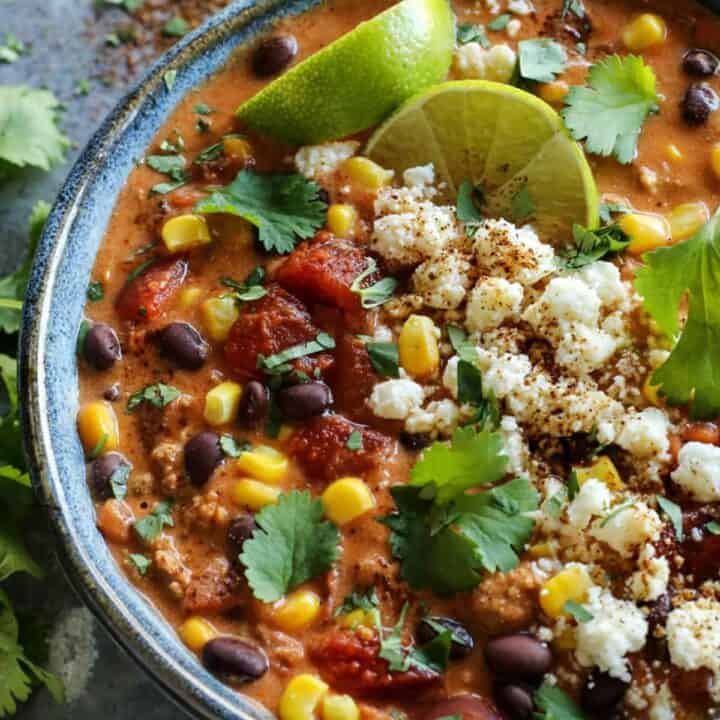 Creamy Enchilada Chili
Yield: 10 servings
Prep Time: 15 minutes
Cook Time: 40 minutes
Total Time: 55 minutes
This creamy chili recipe is brimming with all kinds of tasty bites. In every spoonful, you'll savor the flavors of enchiladas...without the tortillas!
Ingredients
2 tsp. ground cumin
2 tsp. dried oregano
1 tsp. ground chili powder (I use a medium spicy chili powder)
1 tsp. ground chipotle powder
1 tsp. ancho chili powder
1 tsp. garlic powder
1/2 tsp. kosher salt
1/2 tsp. black pepper
1/8 tsp. cinnamon
2 lbs. ground turkey, chicken, or beef
3 T. olive oil
1 c. diced yellow onion
1/4 c. Red Gold® Tomato Paste
2 (14.5 oz.) cans Red Gold® Tomato Sauce
2 (14.5 oz.) cans Red Gold® Diced Tomatoes (no not drain)
2 c. low sodium chicken broth
8 oz. cream cheese, cubed small and softened to room temperature
1 (14 oz.) can black beans, rinsed and drained
2 c. frozen corn
chopped fresh cilantro
crumbled Cotija cheese
fresh lime wedges
Instructions
For the enchilada spice mixture: In a small bowl, combine cumin, oregano, chili powder, chipotle powder, ancho chili powder, garlic powder, kosher salt, black pepper, and cinnamon. Set aside.
For the rest of the chili: In a large pot over medium heat, brown the ground meat, breaking it up as it cooks. With a large slotted spoon, remove cooked meat to a plate and set aside. Remove any fat from pot.
To the same large pot over medium heat, add the oil. When oil starts to shimmer, add onion and cook for 5 minutes, stirring occasionally, until just softened. Then stir in enchilada spice mixture. Cook until fragrant and slightly deeper in color, stirring occasionally, about 2 minutes. Stir in tomato paste, to combine evenly. Then add tomato sauce, stirring to break up any lumps. Add diced tomatoes and chicken broth, and then turn up heat to medium-high and bring mixture to a simmer. Once thoroughly warmed, stir in cream cheese until completely combined and creamy. Add cooked ground meat, black beans, and corn. Turn heat down to medium to medium-low and cook for about 10 minutes, or until thoroughly warmed. Taste test and add more kosher salt if needed.
Serve creamy enchilada chili with cilantro, crumbled Cotija, and fresh lime wedges for squeezing over the top of individual bowls. If you like, also reserve some of the black beans and corn for sprinkling over the top of individual bowls.
Notes
from a farmgirl's dabbles
Nutrition Information:
Yield: 10
Amount Per Serving:
Calories: 330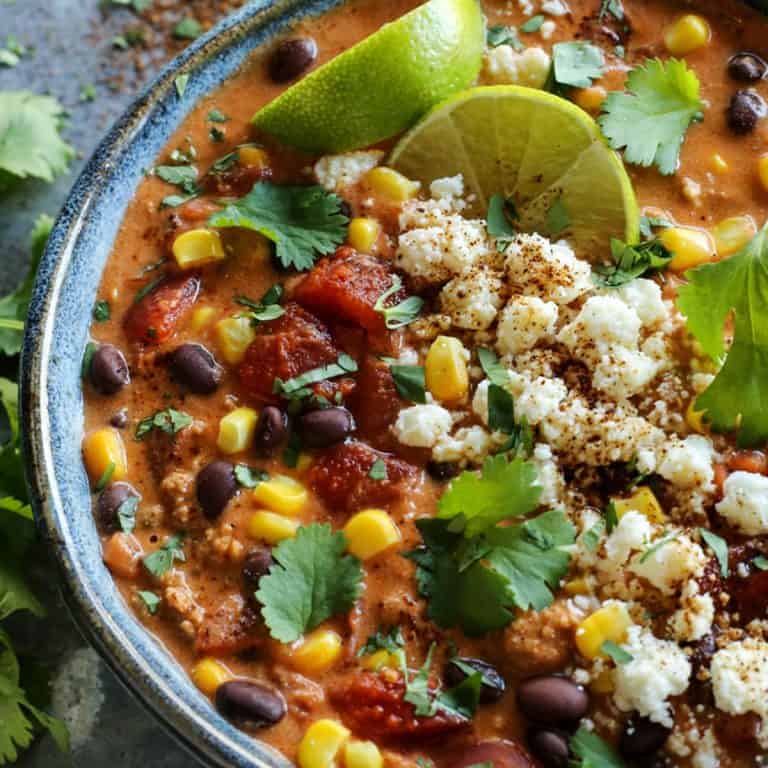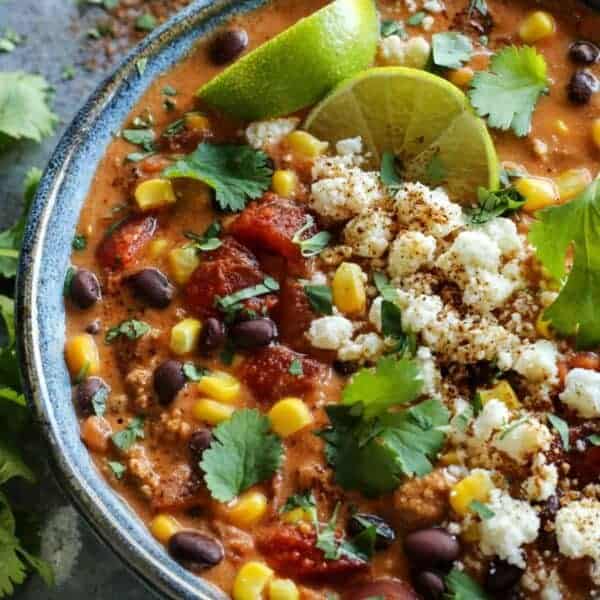 Be sure to check out Red Gold on their website. You can also find them on social media on Facebook, Twitter, Instagram, and Pinterest.
Red Gold sponsored this post. I am happy to be partnering with them again this year, bringing you delicious recipes bursting with fresh, rich tomato flavor. All opinions are 100% my own. Thank you for supporting the brands that help make this site possible.