Honey Cornbread Muffins
Slightly sweet with a moist cake-like crumb, these flavorful Honey Cornbread Muffins are a heavenly side dish. Ready in just 30 minutes, these pair well with chilis, BBQ, salads, and so much more!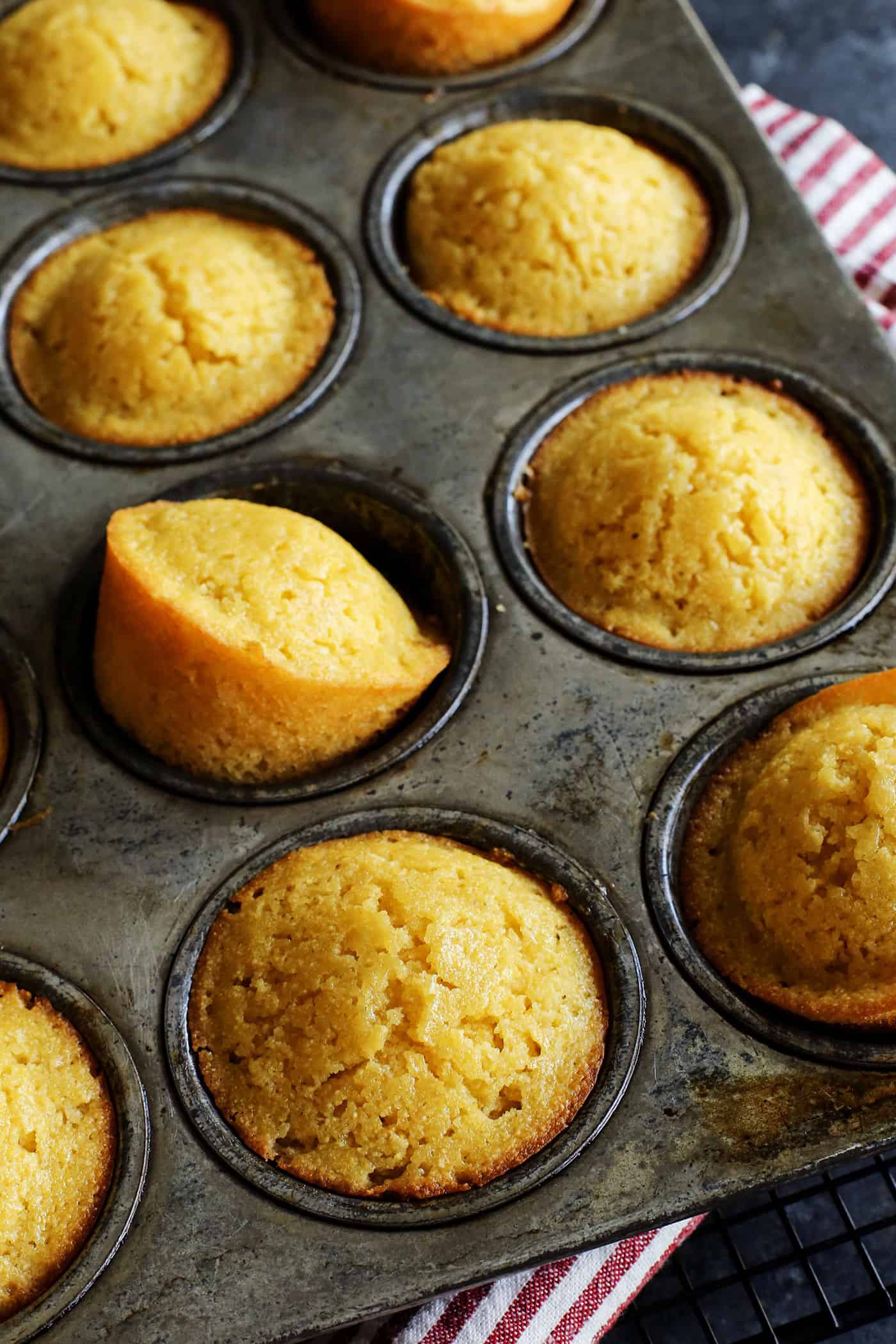 A Sweet & Easy Cornbread Recipe
Cornbread was not a way of life for our family when I was growing up. It would occasionally show up at a gathering, and I'd always try it. But I would never return for seconds, as it was always dry and rather flavorless. Then, as an adult, I discovered moist, sweet cornbread at a barbecue restaurant. I was in love!
This Honey Cornbread Muffins recipe is the result of my later-in-life discovery of my perfect cornbread. And now this is the only cornbread muffin recipe my family wants to eat. We love to serve the muffins with chili in the winter and with anything that comes off the grill in the summer!
Honey cornbread muffins get their rich flavor and moist crumb from buttermilk and butter. If you haven't liked cornbread in the past, because all you've had was dry and crumbly and bland, I beg you to give this cornbread recipe a try. This moist, flavorful version is sure to win you over.
And the big bonus? These sweet cornbread muffins are super easy to make, with a simple ingredients list. From start to finish, this cornbread can be on your plate in 30 minutes!
What You'll Need
I always keep yellow cornmeal on hand, so I can make these muffins any time I want!
Yellow cornmeal – This cornbread muffin recipe incorporates equal parts all-purpose flour and yellow cornmeal (affiliate link). I love this 50/50 ratio that gives the muffins their tender, moist texture.
All-purpose flour
Sugar – These muffins are just slightly sweet.
Baking soda
Salt
Buttermilk – Buttermilk helps create the moist crumb that prevents these cornbread muffins from being dry and bland.
Butter – Melted butter also helps keep the muffins moist while also adding rich flavor.
Eggs
Honey – Honey adds just the right amount of additional sweetness and another layer of flavor to the muffins.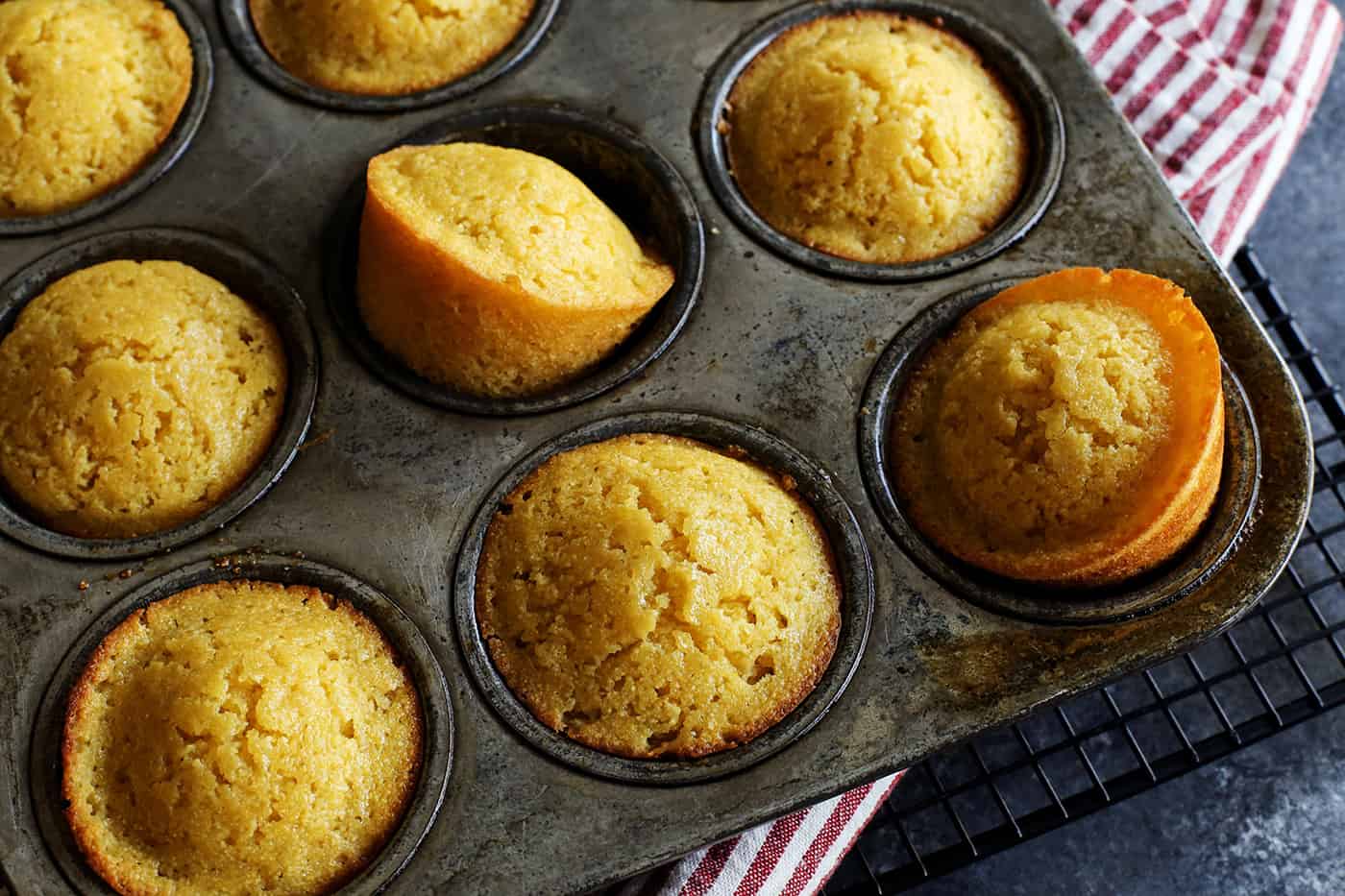 How to Make Honey Cornbread Muffins
These muffins are so easy to make. I can whip these up and pull them out of the oven, in just 30 minutes!
Prepare the batter. Mix the dry ingredients in a bowl. In another bowl whisk the remaining ingredients. Add the wet ingredients to the dry ingredients and stir until just mixed.
Bake. Divide the batter into a greased muffin pan. Bake for 15 minutes, until golden. Enjoy warm.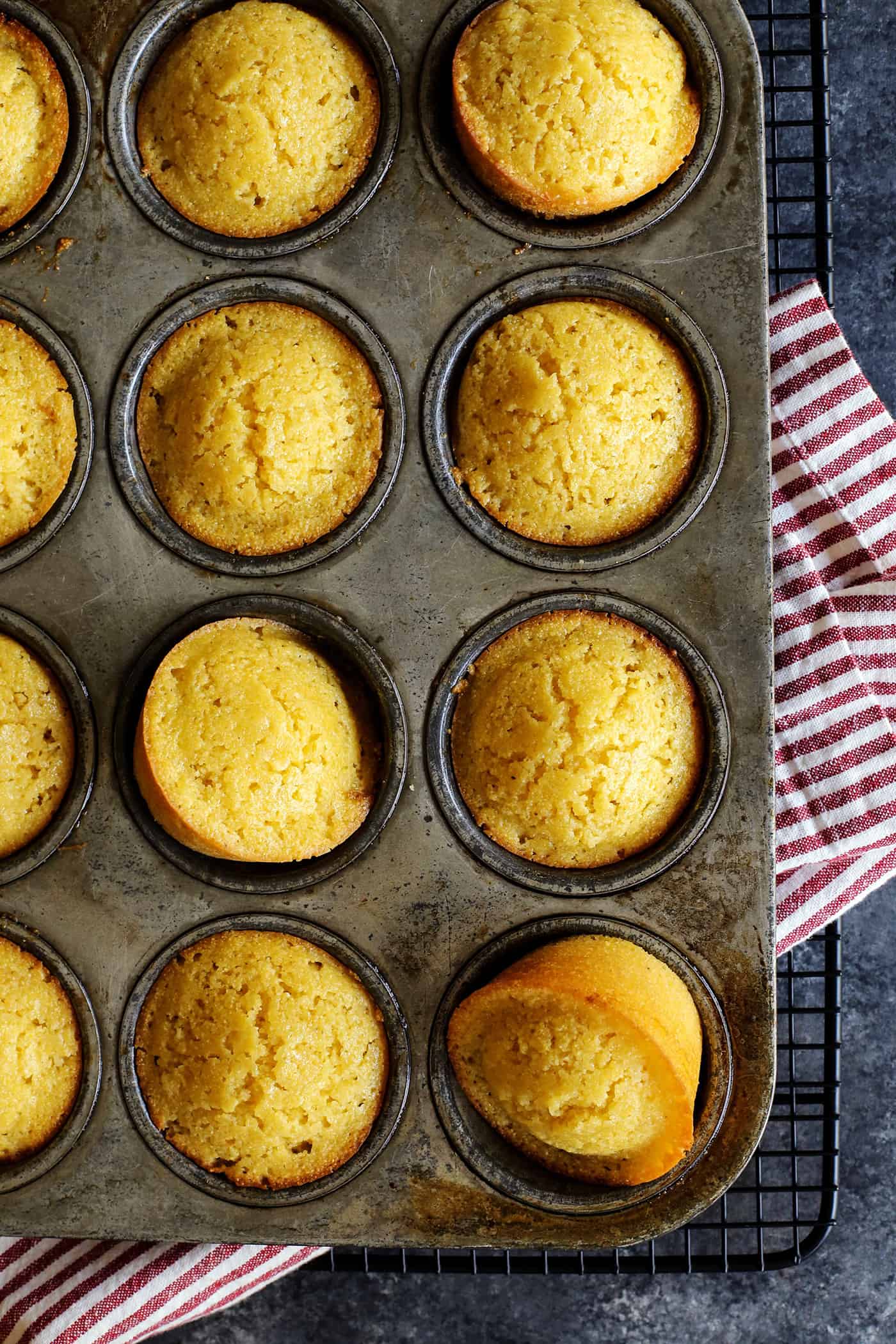 Tips for Success
For soft, tender cornbread muffins keep these things in mind.
Don't overmix the batter. Once you combine the wet and dry ingredients, stir until just combined.
How to tell when the muffins are done. The tops of the muffins should be golden and a toothpick inserted should come out with minimal crumbs. If there's still wet batter attached to it, cook the muffins a bit longer.
Don't overbake the muffins. While you do want to ensure that the muffins are cooked through, you also don't want to overbake them. Baking them too long will amount to dry muffins.
What to Eat with Cornbread Muffins?
We make these cornbread muffins most often when there's a pot of chili waiting for us. This summer chicken chili is wonderful, incorporating fresh zucchini, yellow squash, sweet corn, and herbs. And this slow cooker chili has been a longtime family favorite.
Cornbread muffins are also great companions to anything slathered in barbecue sauce, and nearly anything that comes off the grill. Think beer can chicken, chipotle orange salmon, or chili lime pork tenderloin.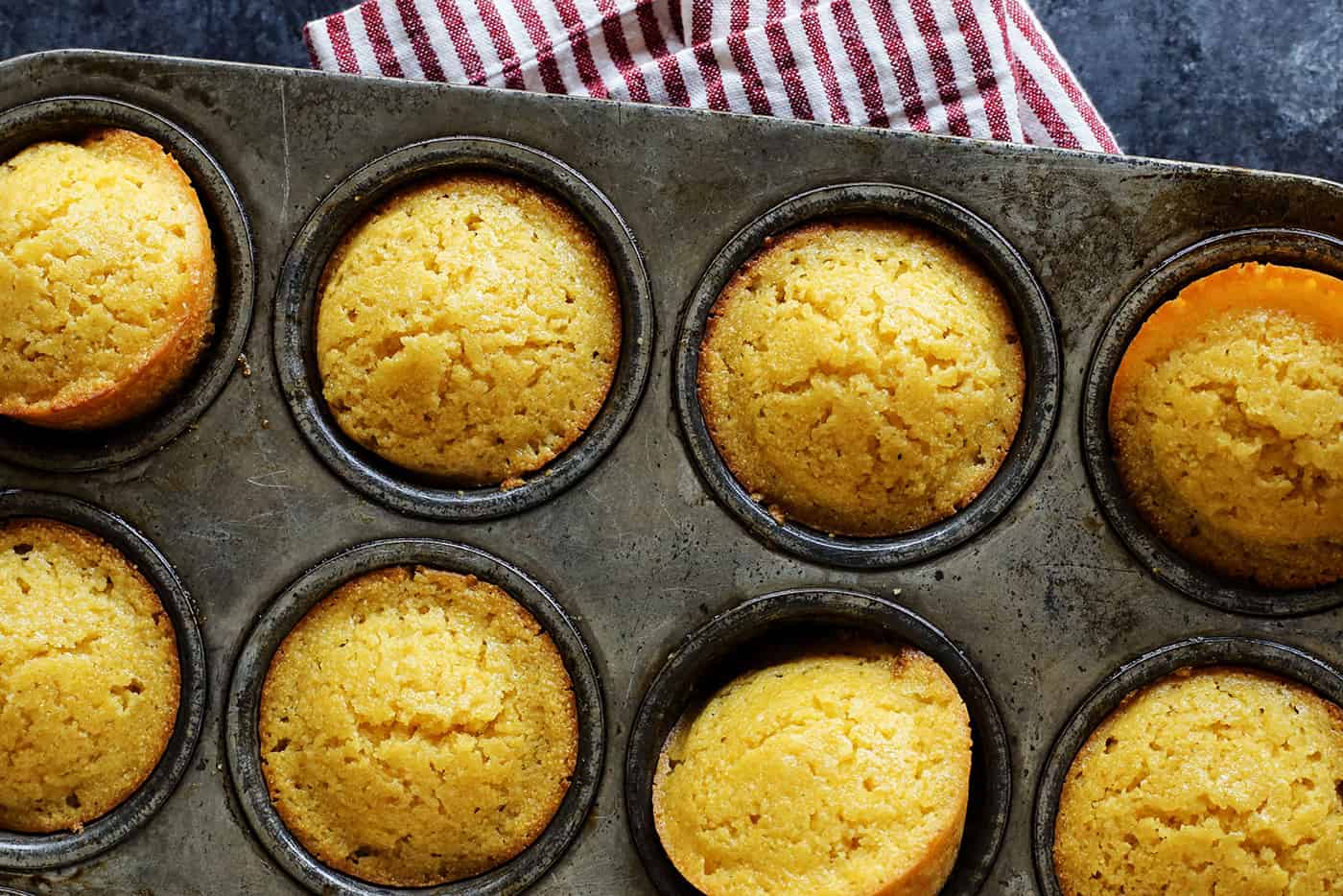 How to Store & Freeze
How to store. You can store any leftover honey cornbread muffins at room temperature for up to 2 days. Store them in an airtight container or ziploc bag.
Can I freeze cornbread muffins? Yes, you can freeze these muffins. Allow to cool completely then transfer to a freezer bag or container. Freeze for up to 3 months. Allow to thaw on the counter – then reheat in the oven or microwave until warm, if desired.
More Side Dish Recipes:
Honey Cornbread Muffins
Yield: 12 muffins
Prep Time: 15 minutes
Cook Time: 15 minutes
Total Time: 30 minutes
Slightly sweet with a moist cake-like crumb, these flavorful Honey Cornbread Muffins are a heavenly side dish. Ready in just 30 minutes, these pair well with chilis, BBQ, salads, and so much more!
Ingredients
1 cup yellow corn meal
1 cup all-purpose flour
1/2 cup sugar
1/2 teaspoon baking soda
1/2 teaspoon kosher salt
1 cup buttermilk
1/2 cup unsalted butter, melted
2 large eggs
1/4 cup honey
Instructions
Preheat oven to 375° F. Spray a standard muffin pan lightly with cooking spray, or line your pan with paper liners.
In a large bowl, mix the corn meal, flour, sugar, baking soda, and salt. In another bowl, whisk together the buttermilk, butter, eggs, and honey. Add the wet ingredients to the dry ingredients and stir until just mixed.
Divide the cornbread mixture into your prepared pan. Bake for 15 minutes, or until golden. Remove pan from oven and let muffins rest in pan for 5 minutes before placing on a rack to cool.
Notes
from a farmgirl's dabbles
Nutrition Information:
Yield: 12
Serving Size: 1
Amount Per Serving:
Calories: 191
Total Fat: 9g
Saturated Fat: 5g
Trans Fat: 0g
Unsaturated Fat: 3g
Cholesterol: 52mg
Sodium: 157mg
Carbohydrates: 26g
Fiber: 1g
Sugar: 16g
Protein: 3g
Nutrition information is automatically calculated by Nutritionix. I am not a nutritionist and cannot guarantee accuracy. If your health depends on nutrition information, please calculate again with your own favorite calculator.
This post was previously published in 2010, and then updated in 2018 and 2021.