Grilled Chili Lime Pork Tenderloin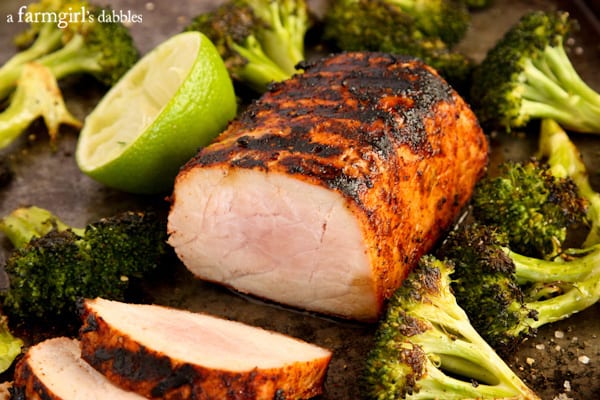 Do you have any idea how thrilled I've been to enjoy grilling again?! With the constant snowfall and brutal cold temps we had this winter, the snow removal was hard to keep up with and we simply lost the battle in the backyard. Our grills had been buried for the past couple months, until Blake recently cleared them away. Now we just need some warmer weather so we can open up our windows. I canNOT wait!!
Our first grilled meal of 2014 consisted of this gorgeous Grilled Chili Lime Pork Tenderloin. It's a recipe we've been playing with the past couple years. So easy to make and super tasty, too, it's one of our go-to grilling recipes when we entertain. I often like to serve it alongside a fresh salad with a Mexican twist, plus a bowl of chips with a fresh batch of salsa. But this time I simply popped a pan of broccoli into the hot oven as Blake set the pork on the grill grates outside. Roasted broccoli, all charred and tender and incredibly wonderful, is the perfect simple side to accompany this flavorful pork.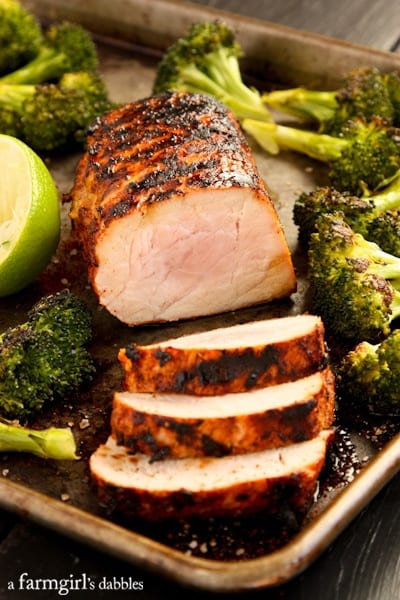 My family loves to eat grilled pork tenderloin. And my husband loves to grill it. He always tells people that it's one of the easiest meats to grill, that it's almost impossible to mess it up. Blake aims for that pretty "blush of pink" in pork, cooking it to 145° and then letting it rest for 3 minutes. That method ensures juicy, tender, and flavorful medium rare pork, and we won't have it any other way!
I'm so happy to finally get this grilled chili lime pork tenderloin into our recipe archives. Be sure to check out more of our pork recipe favorites, too!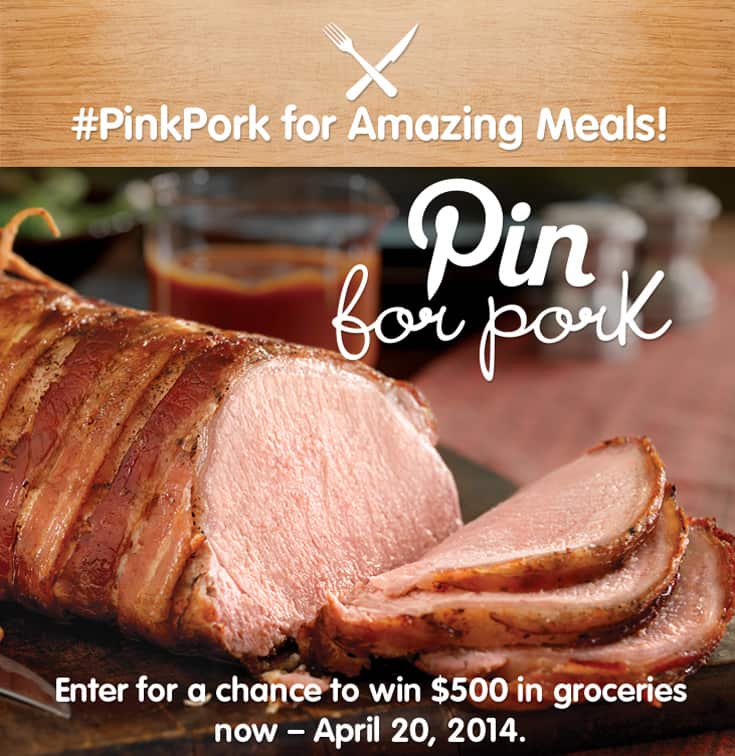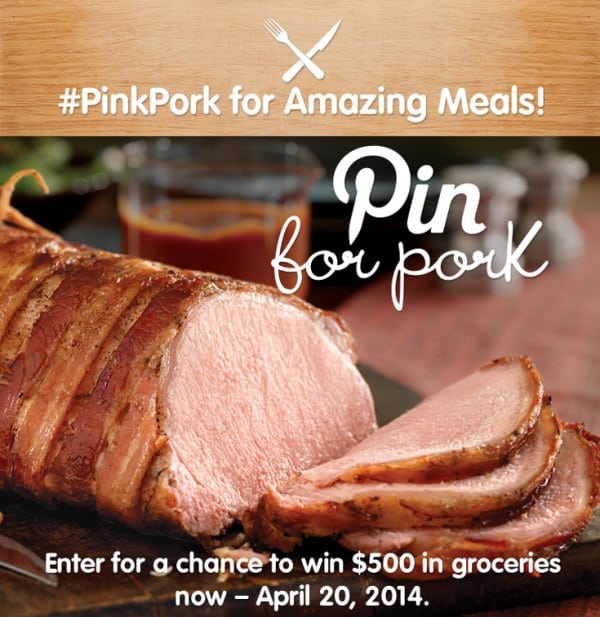 I'm sharing this pork recipe today to help celebrate 1,000,000 meals of pork donated by the Ohio pork farmers to foodbanks. Isn't that an awesome accomplishment?!
And now YOU can join in on the celebration, too!
The Ohio Pork Council is offering a "Pin for Pork" $500 grocery giveaway. It's incredibly easy to enter, taking only about 1 minute of your time. I should know, because I just entered myself. Who couldn't use $500 in free groceries?!
Enter here!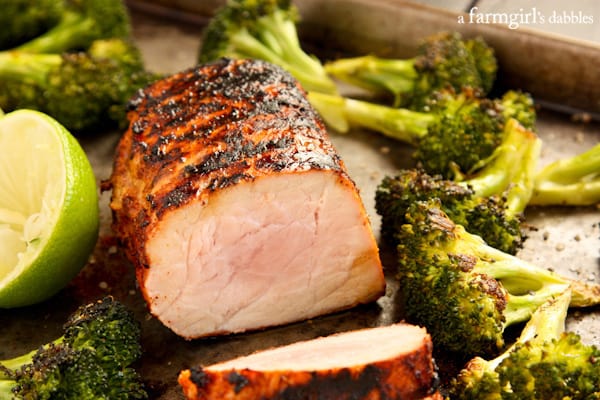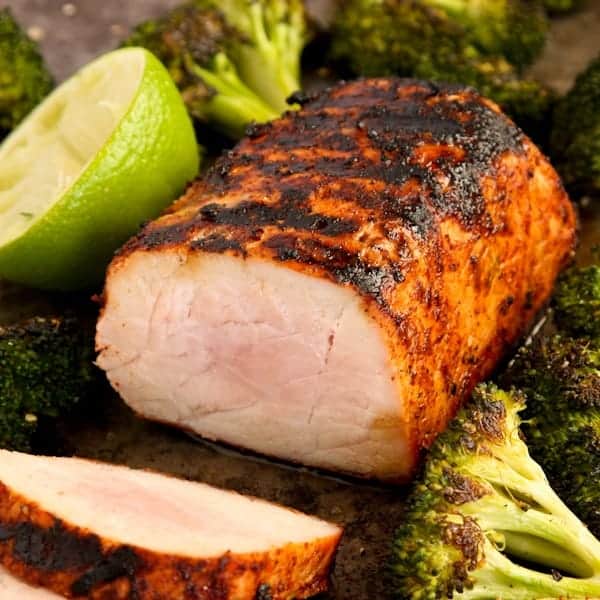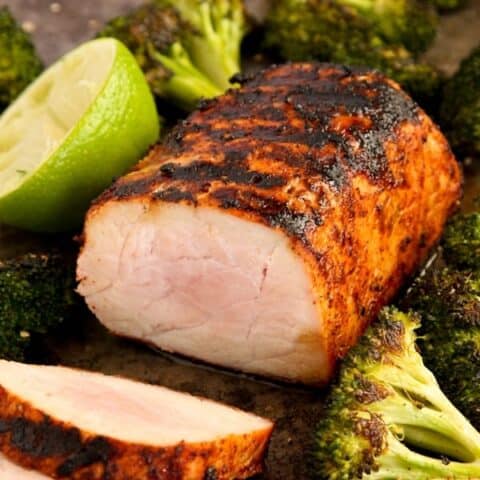 Grilled Chili Lime Pork Tenderloin
Yield: 6 servings
Prep Time: 2 hours 15 minutes
Cook Time: 22 minutes
Total Time: 2 hours 37 minutes
Pork Tenderloin is one of the easiest meats to grill and you will love the southwest flare of this Chili Lime rub.
Ingredients
1.5 lbs. pork tenderloin
1 T. vegetable oil
1 T. freshly squeezed lime juice
1 tsp. soy sauce
1 tsp. chili powder
1 tsp. dried cumin
1/2 tsp. brown sugar
1/16 tsp. cinnamon
smoked salt
freshly ground black pepper
fresh lime wedges
Instructions
Pat pork dry and set in a pan or dish with sides.
In a small bowl, combine oil, lime juice, soy sauce, chili powder, cumin, brown sugar, and cinnamon. Pour chili mixture over pork and use your hands to rub it over the entire surface of the pork. Let sit for 30 minutes while you prepare the grill. Or for a deeper flavor, place seasoned pork in refrigerator for a couple hours or overnight before grilling (highly recommended...it's so good!), just remove from refrigerator 30 minutes prior to grilling.
Heat grill to hot, or 550° F. Place tenderloin on grill grates and sear, without moving, for 4 minutes. Then flip tenderloin over and sear opposite side for another 4 minutes, without moving. Reduce grill heat to medium-high, between 475° F and 500° F. Flip tenderloin back to first side and cook for 6 minutes. Then flip over once more and cook for another 6 minutes. Check internal temperature of pork with a meat thermometer, placing it into the thickest part of the tenderloin. When temperature just reaches 145° F, remove tenderloin to a plate. Let rest for 3 minutes.
The pork will continue to cook while resting, even after being removed from the grill. This will give you a brighter "blush of pink", medium rare pork. If you like your pork cooked a bit more, closer to the 160° F "blush of pink", simply leave the tenderloin on the grill a bit longer.
To serve, cut into 1/2" to 3/4" slices. Offer fresh lime wedges for an extra spritz of lime right before eating.
Notes
from a farmgirl's dabbles
Nutrition Information:
Yield: 6
Serving Size: 1
Amount Per Serving:
Calories: 196
Total Fat: 7g
Saturated Fat: 2g
Trans Fat: 0g
Unsaturated Fat: 4g
Cholesterol: 83mg
Sodium: 224mg
Carbohydrates: 2g
Fiber: 1g
Sugar: 1g
Protein: 30g
Nutrition information is automatically calculated by Nutritionix. I am not a nutritionist and cannot guarantee accuracy. If your health depends on nutrition information, please calculate again with your own favorite calculator.
Disclosure: Thank you to the Ohio Pork Council and the Ohio Soybean Council for sponsoring this post. My family loves #PinkPork and I'm happy to share its goodness with you. All opinions are my own.