Pad Thai with Shrimp
This post may contain Amazon or other affiliate links. As an Amazon Associate I earn from qualifying purchases.
Making great pad Thai at home doesn't have to be a daunting task, as I once thought. All you need are a few key ingredients and a super hot wok.
I remember playing around with different pad Thai recipes when our oldest daughter was just a tot. On days when we would go exploring in "the big city", I many times ended up pushing Hatti in a metal grocery cart through the aisles of United Noodles. Right in the middle of Minneapolis, I felt as though I had been transported to another land, unable to read most of the labels in this amazing Asian grocery store. I was completely enamored, wanting to know what each and every item was. How it was used. How it tasted. And so I never left empty handed. My paper grocery bags were always packed full of excitement, ready for exploration in our own kitchen.
But it wasn't until just recently that I finally nailed down a solid version of pad Thai to make at home for my family. Leaning on a recipe I made while I was a guest of GE Monogram in Lousiville, Kentucky a couple years ago, this is my happy-at-home recipe for Pad Thai with Shrimp.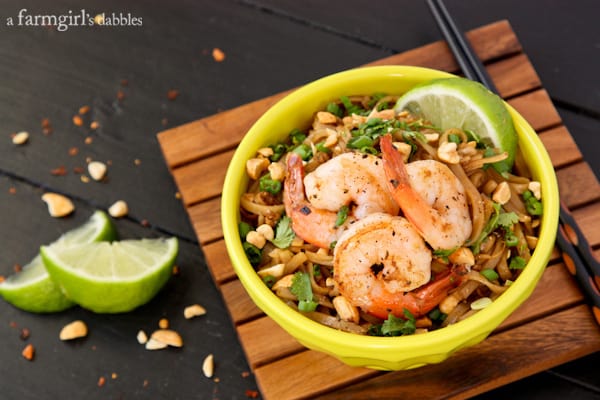 The best pad Thai is chock-full of flavor, and takes your taste buds on a journey from sour (tamarind paste and lime juice) to salty (fish sauce and soy sauce) to sweet (palm sugar or brown sugar) to spicy (pepper flakes), all in one bite. I don't pretend to be any kind of pad Thai know-it-all, or promise that this is a purist's form of the dish. But I do know that this tastes strikingly similar to dishes that I've happily devoured in Asian restaurants. So I'm all good with it.
If you've never made pad Thai before, you'll need to search the shelves in the Asian section of your grocery store for rice noodles and fish sauce. Traditional pad Thai calls for palm sugar, which I haven't been able to find in regular grocery stores, but light brown sugar is an easy substitute. And I highly recommend hunting down some tamarind paste. After Hatti and I recently checked out every local store we could think of that might carry it, I ended up ordering a small container from Amazon…and then made a mental note to visit United Noodles again some day very soon!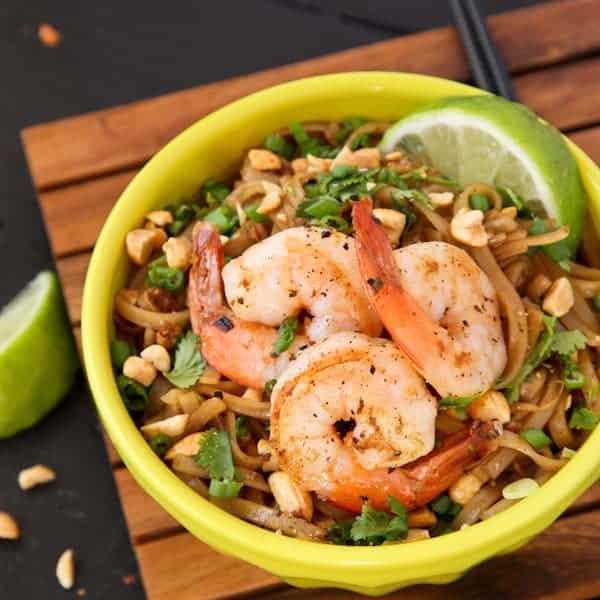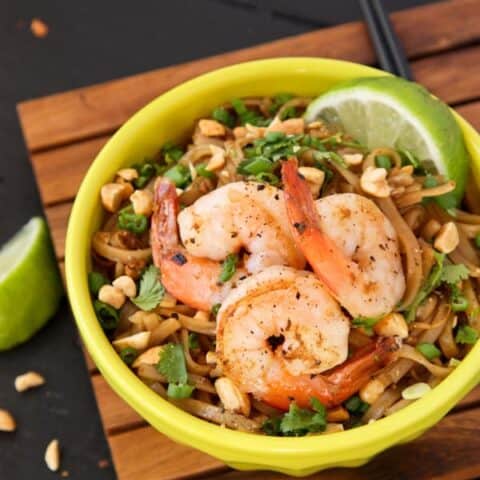 Pad Thai with Shrimp
Yield: 2 to 3 servings
Prep Time: 20 minutes
Cook Time: 20 minutes
Total Time: 40 minutes
Making great pad Thai at home doesn't have to be a daunting task, as I once thought. All you need are a few key ingredients and a super hot wok.
Ingredients
8 oz. linguini-width rice noodles
2 T. chicken broth
2 T. fish sauce
2 T. tamarind paste
2 T. light brown sugar
1 tsp. soy sauce
2 T. peanut oil, divided
10 to 12 raw shrimp (21/25 count), peeled and deveined, tail on
1 small shallot, minced
1 large egg
3 medium garlic cloves, minced
1 T. minced fresh ginger
1/2 tsp. red pepper flakes
1 c. fresh bean sprouts
juice from half of a fresh lime
4 green onions, thinly sliced, green parts only
1/3 c. chopped fresh cilantro
2 T. chopped dry roasted peanuts
kosher salt and freshly ground black pepper, to taste
Fresh lime wedges
Instructions
Bring a large pot of water to boil, then turn off the heat. Add rice noodles and soak for 3 to 4 minutes, until noodles are limp but still firm and quite chewy. Do not let the noodles soak too long or they will break down and get mushy. Drain and rinse thoroughly with cold water. Set aside.
In a small bowl, whisk together the chicken broth, fish sauce, tamarind paste, brown sugar, and soy sauce. This is the pad Thai sauce. Set aside. Then make sure that all the remaining ingredients are prepared and waiting, because the process of putting this together goes fast!
Warm a wok or large frying pan over medium-high to high heat. I use a cast-iron wok on the stovetop. When the wok is good and hot, add 1 tablespoon of the peanut oil. Once the oil starts to shimmer, add the shrimp. Sprinkle with a bit of kosher salt and freshly cracked black pepper. Cook, stirring almost constantly, until shrimp turn pink and plump and slightly charred, about 2 minutes or so. Remove shrimp to plate and set aside.
Add remaining tablespoon of peanut oil. Once shimmering, add shallot and cook for about 30 seconds, stirring almost constantly. Crack the egg into the center of the wok and scramble it, stirring often. Then add garlic, ginger, and red pepper flakes. Cook for another 30 seconds. Add reserved pad Thai sauce and stir for 20 seconds. Then add bean sprouts and rice noodles, and the reserved shrimp. Warm and soften the noodles by folding them gently in the wok. Be sure to coat all the noodles with the flavorful pad Thai sauce, but don't overdo the stirring as the noodles will over cook and start to break down.
Sprinkle with fresh lime juice and then divide noodles and shrimp between 2 or 3 bowls. Top each bowl with green onion, fresh cilantro, and chopped peanuts, adding salt and pepper to taste. Serve with fresh lime wedges for squeezing over the top.
We participate in the Amazon Services LLC Associates Program, an affiliate advertising program designed to provide a means for us to earn fees by linking to Amazon.com and affiliated sites. See our
disclosure policy
for more info.