Potstickers
This post may contain Amazon or other affiliate links. As an Amazon Associate I earn from qualifying purchases.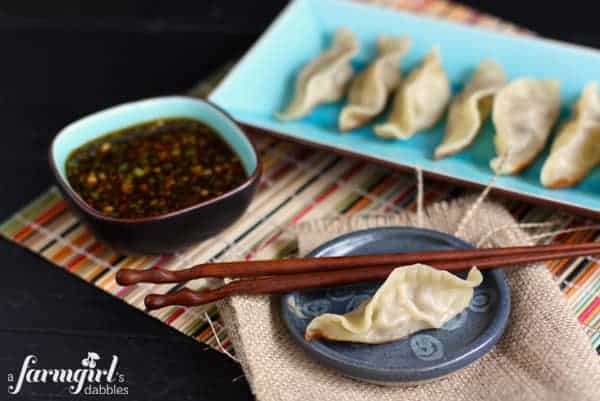 Happy New Year!
And thank you so much for reading a farmgirl's dabbles!

At the end of each December, when people start talking about what they'll be eating to celebrate the new year, I can't help but think of Potstickers. These little dumplings are considered a lucky food to eat during Chinese New Year celebrations. I also happen to find them irresistible (any time of year), and am more than happy to adopt them into my own culture as well!
Potstickers are dumplings that are usually filled with meat and cabbage, wrapped in a thin dough, and then pan-fried and steamed. They are tender flavorful bites, enjoyed with a tangy soy dipping sauce.
It's been many years since I made my own potstickers by hand, as I often opt for the ones I can so easily pick up at Trader Joe's. Pre-kids, potsticker making was a pretty regular activity for me. So, yes, I am saying they are a bit time consuming. Definitely not a quick weekday meal. But…they are also fun and satisfying to make, and worth the effort when you're up for some kitchen adventure. I do save some time by using pre-made potsticker wrappers and a quick and easy method of crimping the dough with a fork, rather than creating the beautiful artistic pleats that you might see from your local authentic Chinese restaurant. Another time saver…I always make a double batch and freeze the extras for a future day. Once you get on a roll with making the potstickers, it's really not that much more work to just double the recipe.
Potstickers make for a fun appetizer, and oftentimes are served as a main dish around here. My whole family loves them.
Have you ever made potstickers? If not, I challenge you to give it a try in this new year. "Good luck!"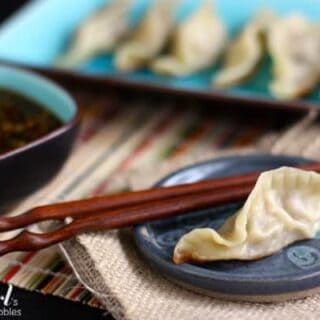 Potstickers
Yield: 35 to 40 potstickers
Prep Time: 30 minutes
Cook Time: 10 minutes
Total Time: 40 minutes
Potstickers are dumplings that are usually filled with meat and cabbage, wrapped in a thin dough, and then pan-fried and steamed.
Ingredients
for the potstickers:
1/2 lb. ground pork
1 c. finely chopped cabbage
2 green onions, finely chopped
2 cloves garlic, minced
1/2 T. minced ginger
1.5 T. rice vinegar
1/2 T. oyster sauce
1/2 tsp. cornstarch, plus more for dusting pan
1/8 tsp. black pepper
1 12-oz. package round potsticker wrappers (35 to 40 wrappers), or square wonton wrappers
2 T. peanut or vegetable oil
2/3 c. chicken broth
for the dipping sauce:
1/4 c. rice vinegar
1/4 c. soy sauce
2 tsp. honey
2 tsp. chili garlic sauce
2 tsp. sesame oil
1 green onion, minced
2 tsp. minced ginger
Instructions
for the potstickers:
In a medium bowl, mix together the pork, cabbage, green onion, garlic, ginger, rice vinegar, oyster sauce, cornstarch, and black pepper.
Place a rounded teaspoon of pork mixture onto the center of a potsticker wrapper. Have a small bowl of water near and dip your finger into it. Run your wet finger around the outer perimeter of the potsticker wrapper.
Fold the wrapper over the pork mixture to form a half-moon.
Then seal the edges with a fork, using firm but gentle pressure.
On a tray dusted with cornstarch, set filled potsticker down firmly, seam side up, so that it will sit flat. Repeat process with remaining potstickers.
In a large, deep skillet, heat 1 tablespoon of oil over medium-high heat. Swirl the oil to evenly coat the bottom of the pan. Add half the potstickers (do not overcrowd - if your pan is not big enough to hold half the potstickers comfortably, then split them into 3 batches instead), seam side up, and cook until bottoms are golden brown, about 3 to 4 minutes. Add 1/3 cup of chicken broth, then reduce heat to low and cover the pan. Cook until potstickers are tender and liquid has evaporated, about 6 to 8 minutes.
Remove to serving platter and repeat the cooking process with the remaining potstickers. Serve hot with dipping sauce.
for the dipping sauce:
In a small bowl, stir together all dipping sauce ingredients.
Note: Because potstickers can be time consuming to make, I always double the recipe and freeze half of them. To freeze, simply spread potstickers on a pan dusted with cornstarch, and then cover with foil. Once they are frozen, transfer them to a freezer safe container or baggie. To cook, take them directly from the freezer into the pan, and increase the cooking time by about 2 minutes.
Notes
From a farmgirl's dabbles.
Nutrition Information:
Yield: 12
Serving Size: 1
Amount Per Serving:
Calories: 159
Total Fat: 10g
Saturated Fat: 2g
Trans Fat: 0g
Unsaturated Fat: 6g
Cholesterol: 25mg
Sodium: 512mg
Carbohydrates: 9g
Fiber: 1g
Sugar: 2g
Protein: 9g
Nutrition information is automatically calculated by Nutritionix. I am not a nutritionist and cannot guarantee accuracy. If your health depends on nutrition information, please calculate again with your own favorite calculator.
We participate in the Amazon Services LLC Associates Program, an affiliate advertising program designed to provide a means for us to earn fees by linking to Amazon.com and affiliated sites. See our
disclosure policy
for more info.