Thai Drunken Noodles (Pad Kee Mao)
This easy Thai Drunken Noodles recipe is an outrageously flavorful stir fry featuring rice noodles, chicken, and vegetables. Also known as Pad Kee Mao, you can make this dish spicy, or not. You control the heat!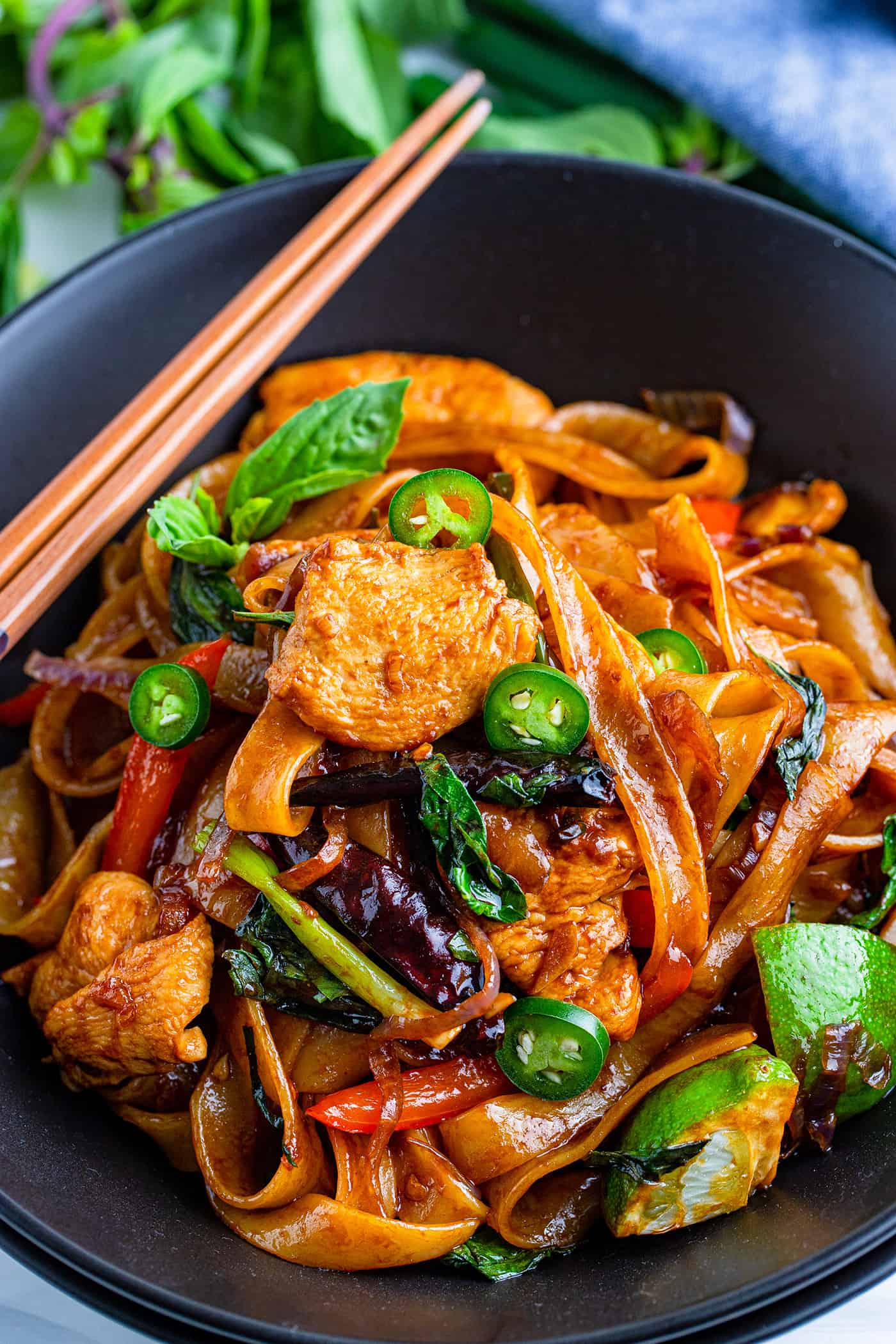 Better-Than-Takeout Thai Drunken Noodles
While we mostly make our own meals at home, our family enjoys going out to eat – and we love to visit new restaurants. This not only makes for some delicious adventures, but it also provides inspiration for our own homemade meals. I hate to get stuck in a rut!
This Thai Drunken Noodles recipe is one such meal in our home, born from a local Thai restaurant's menu that's flush with amazing Thai noodle dishes.
When our family ordered takeout recently, Blake and I fell for their drunken noodles dish. Which led me to recreate it at home. And to be totally honest with you, we both think this recipe is FAR better than takeout!
This drunken noodles dish is quick and easy and packed with an outrageous amount of flavor – it has quickly become a family favorite!
More recipes inspired from our favorite takeout dishes: This delicious Vietnamese Noodle Salad recipe is a copycat version of my most-ordered dish at our favorite Vietnamese restaurant. And Egg Roll in a Bowl and Easy Korean Beef are regular family requests!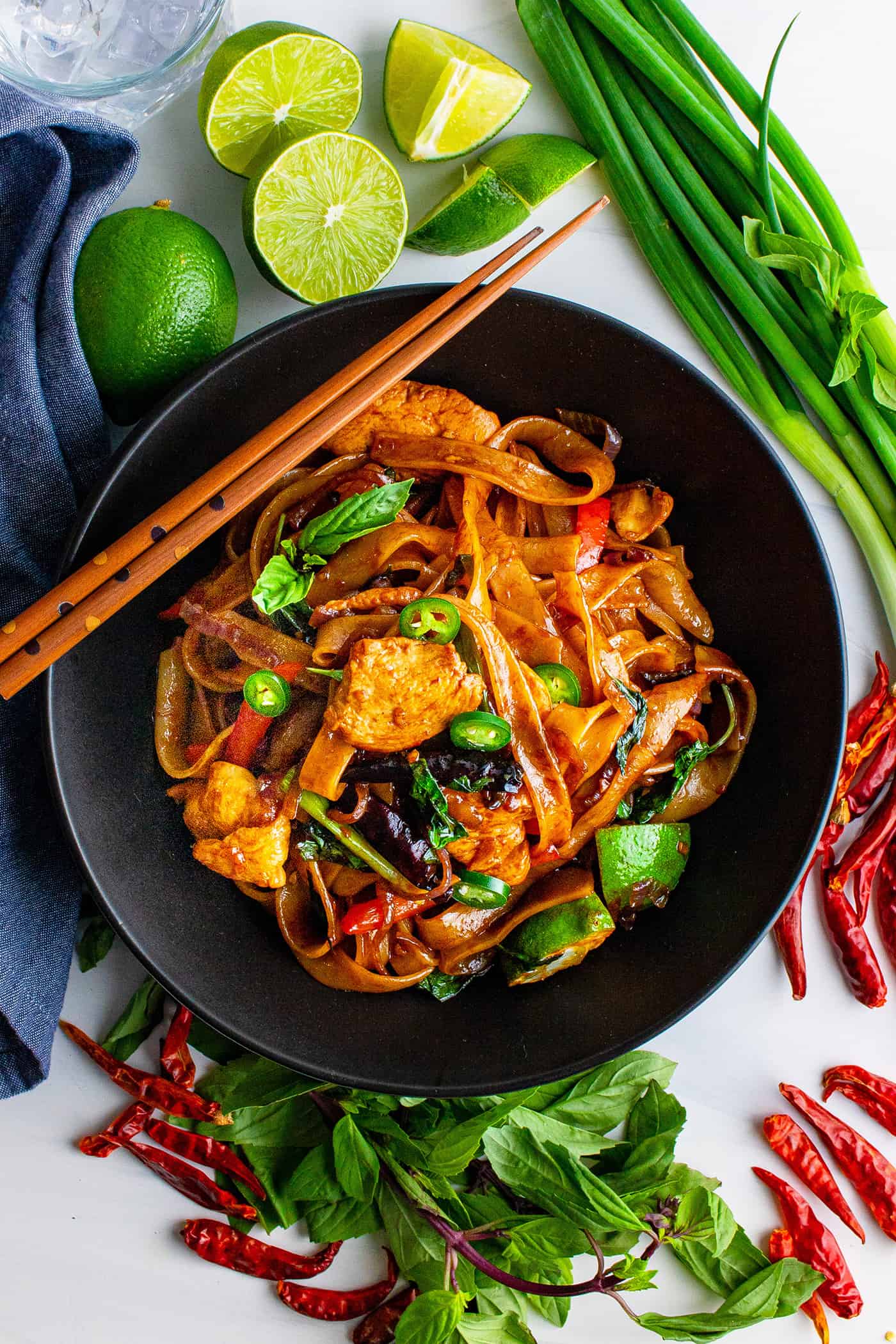 What Makes Drunken Noodles Drunken?
Drunken noodles, also known as pad kee mao, is a stir fry noodle dish that is very popular in Thailand and found in most Thai restaurants. Traditionally, it's known for being so spicy that it makes people want to throw back cold beers to combat the heat. Thus the name "drunken" noodles. In Thai, khi mao means drunkard.
So I want to be upfront and say that I do NOT incorporate that level of heat for our family!
As written, I consider this recipe to be about a medium to medium-low level of heat. But know that the spice level is completely adjustable, both up and down. Simply add or subtract chilis.
Heck, you could even leave out ALL of the heat if you really wanted to, because there's such an incredible amount of flavor in this dish anyway!
How is This Dish Different From Pad Thai?
Pad thai is nuttier and sweeter than pad kee mao, which is more savory and as I mentioned above, brings the HEAT!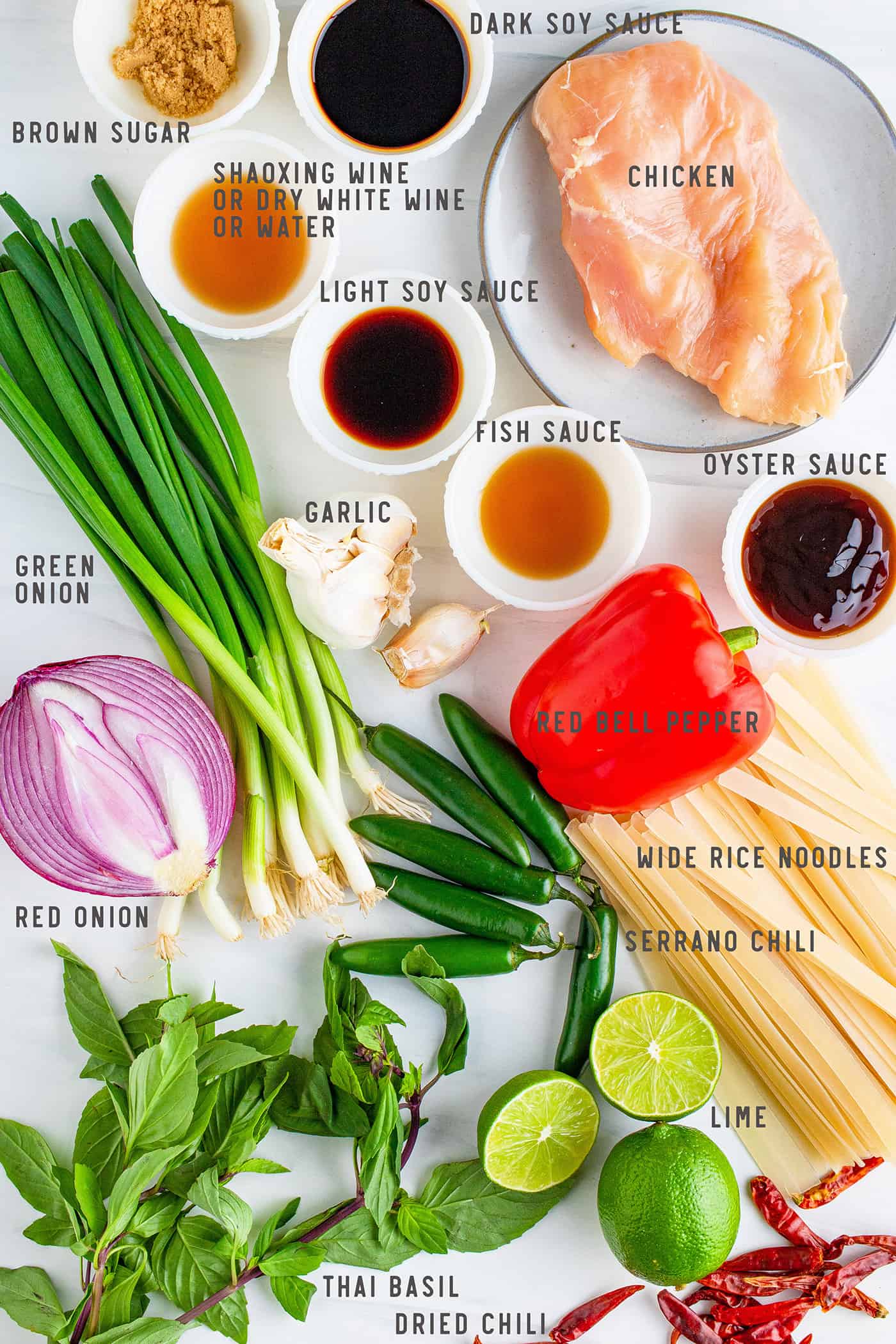 What You'll Need
Produce: garlic, red onion, green onion, red bell pepper, serrano chili (or bird's eye chilis, if you can find them), dried chili, Thai basil, lime
Rice noodles
Chicken
Sauce: oyster sauce, dark soy sauce, light soy sauce, brown sugar, Shaoxing wine (or dry white wine or water), fish sauce
Which Rice Noodles Should I Use?
For this recipe, look for dried noodles labeled "extra-wide" or "wide" or "XL" or "1cm". I have used these noodles from Amazon and our local Asian grocery store carries a number of options, like this. The dried noodles measure 1cm or 3/8″ wide.
If you can't find this wide of rice noodle, do not fret, though. Just use what you can find. It'll still taste great. I promise!
Why Use Different Types of Soy Sauce?
This recipe uses a combination of both dark soy sauce and light soy sauce, for a lovely balance of flavor, salt content, and color. But if you can't find them, just substitute your favorite all purpose soy sauce.
Dark soy sauce packs more flavor and gives the beautiful darker color that you see in the photos in this post. You can find dark soy sauce on Amazon. Our local Asian grocer also carries a few different brands. It's worth hunting down!
Light soy sauce has a softer soy flavor and lighter color. Find light soy sauce on Amazon and at Asian grocery stores.
All purpose soy sauce, or what is found in most American kitchens (think Kikkoman, etc.), has a bit more soy flavor than the light version, and adds just a slight bit of coloring.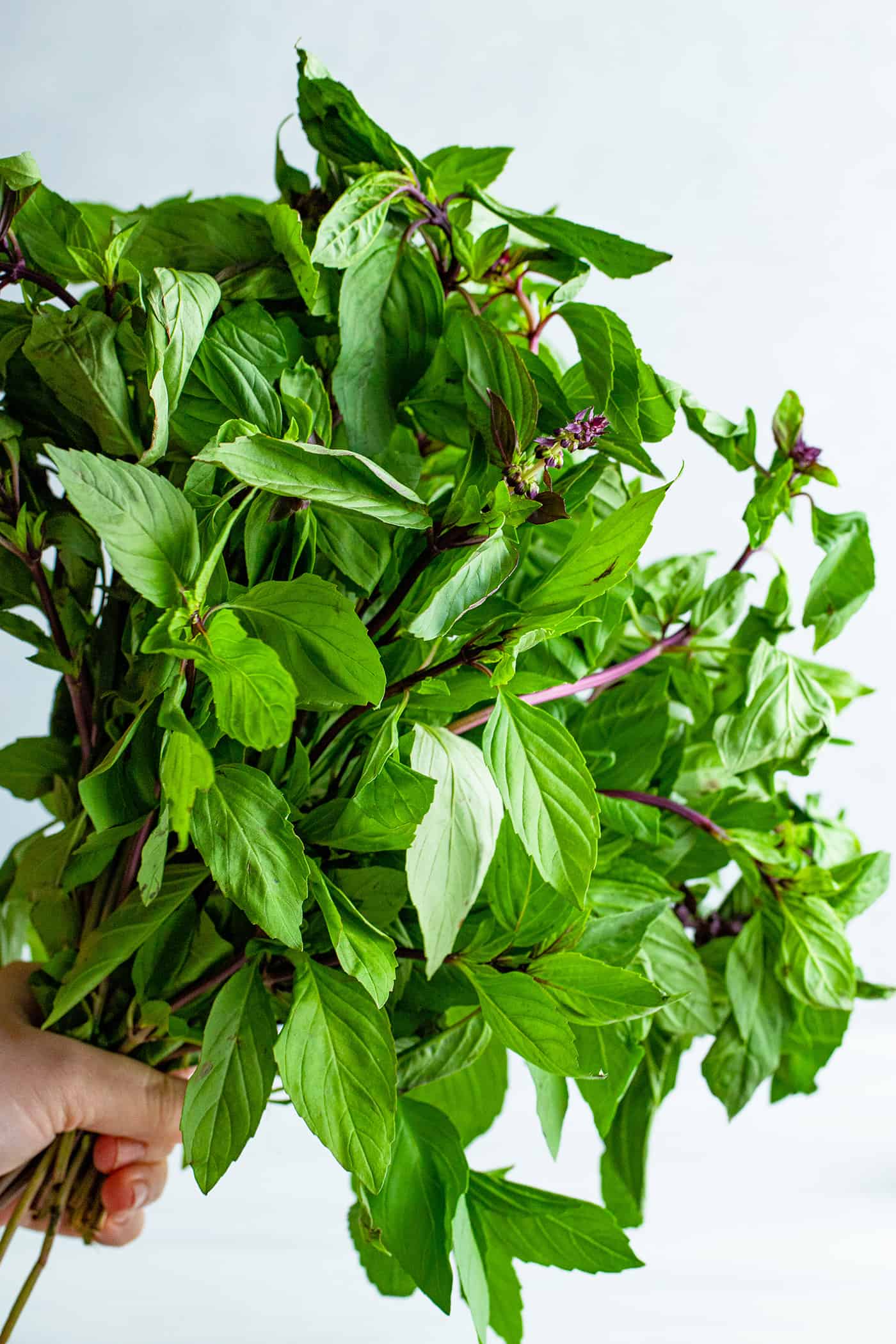 Thai Basil
Mmmmm…I love Thai basil. I plant some in our herb garden every summer!
Traditionally in Thailand, holy Thai basil would be used in this dish. But it's not easy to find here in the US, so Thai basil is our best choice. It has a dark purple stem and tastes like regular basil with a touch of anise – which adds a beautiful unique flavor. Our regular grocery store carries it in smaller quantities, while our Asian grocer offers it in large bunches similar to the photo above.
If you can't find Thai basil, then substitute regular (sweet) basil. The drunken noodles will still be wonderful!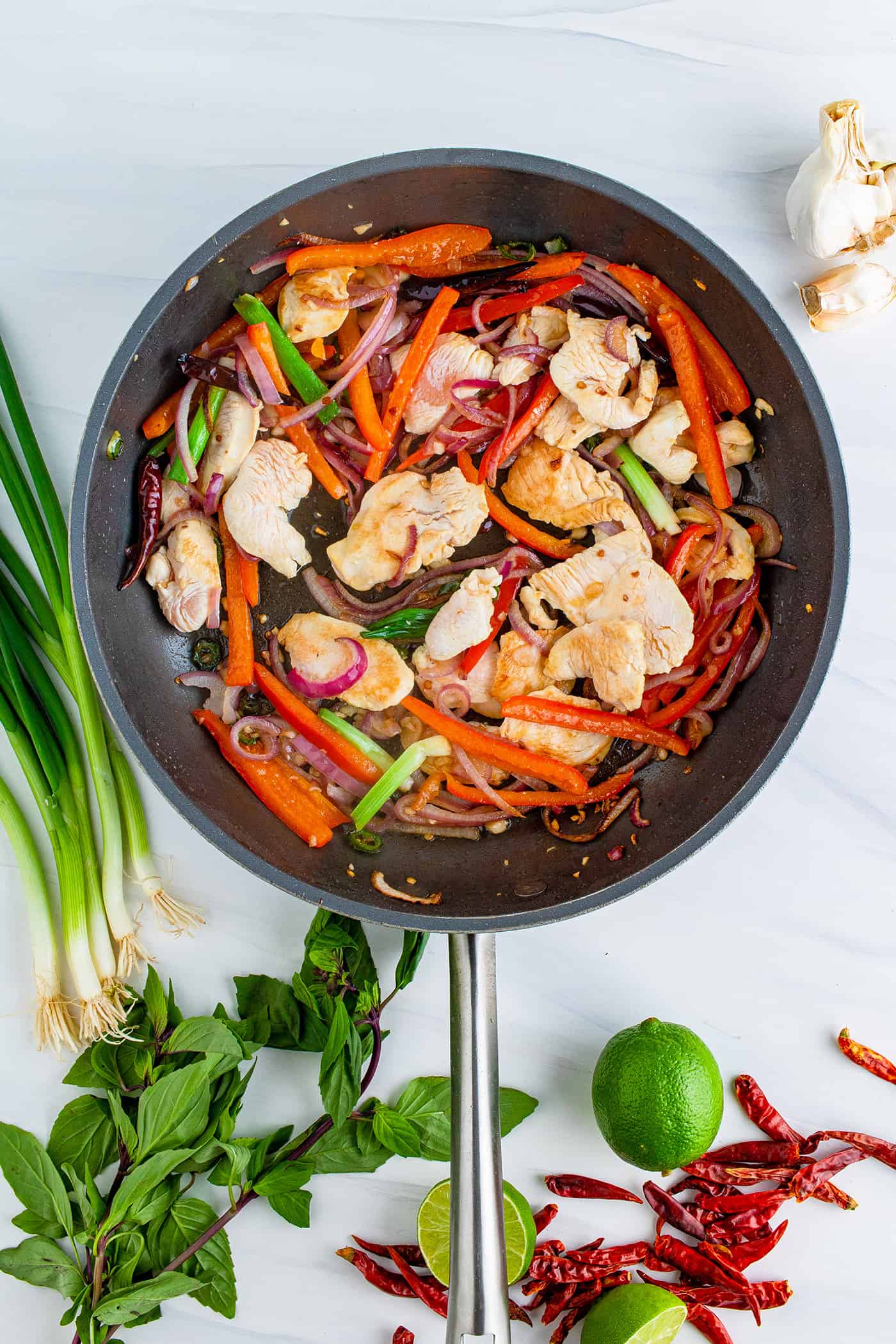 How to Make Drunken Noodles
Stir fries move FAST, so make sure you have all the ingredients prepped and measured before you start!
Cook the rice noodles according to the package directions. Drain, rinse with cold water, and set aside.
Prepare the sauce by whisking the sauce ingredients in a small bowl.
Stir fry! Heat oil in a large skillet or wok over high heat. Add serrano chili and dried chilis, stirring constantly for 30 seconds. Then add white parts of green onion, garlic, red bell pepper, and red onion. Stir fry constantly for 2-3 minutes, until veggies just begin to char. Next add thinly sliced chicken and stir fry, stirring constantly until you can't see any pink, about 3-5 minutes.
Thai Drunken Noodles: an outrageously flavorful stir fry dish!
Add the cooked noodles, plus green parts of green onion.
Add the prepared sauce and toss everything together until coated, and then stir until most of the sauce is absorbed. Everything will take on a deep brown color.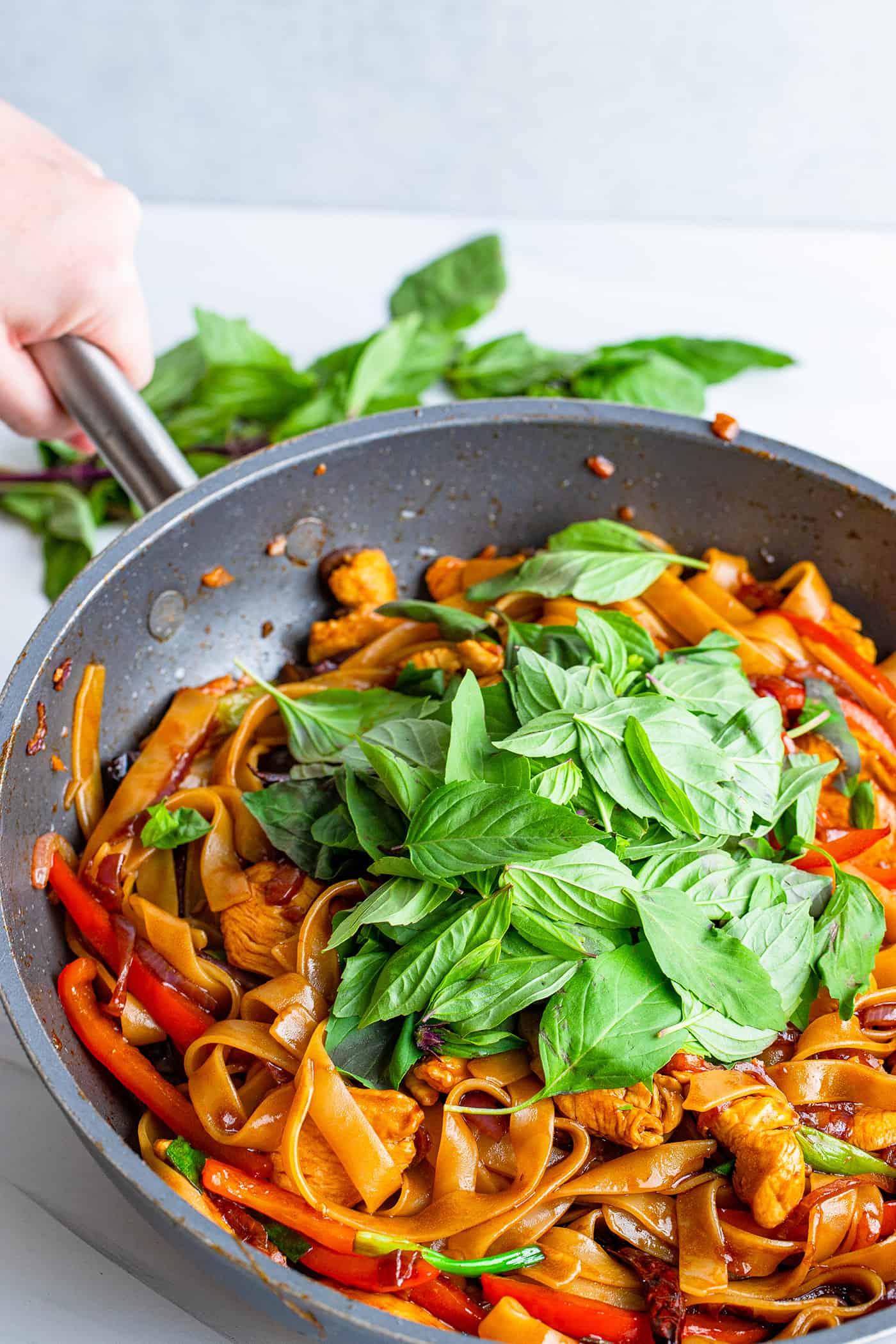 Add the Thai basil and toss just to combine. The basil leaves will begin to wilt immediately.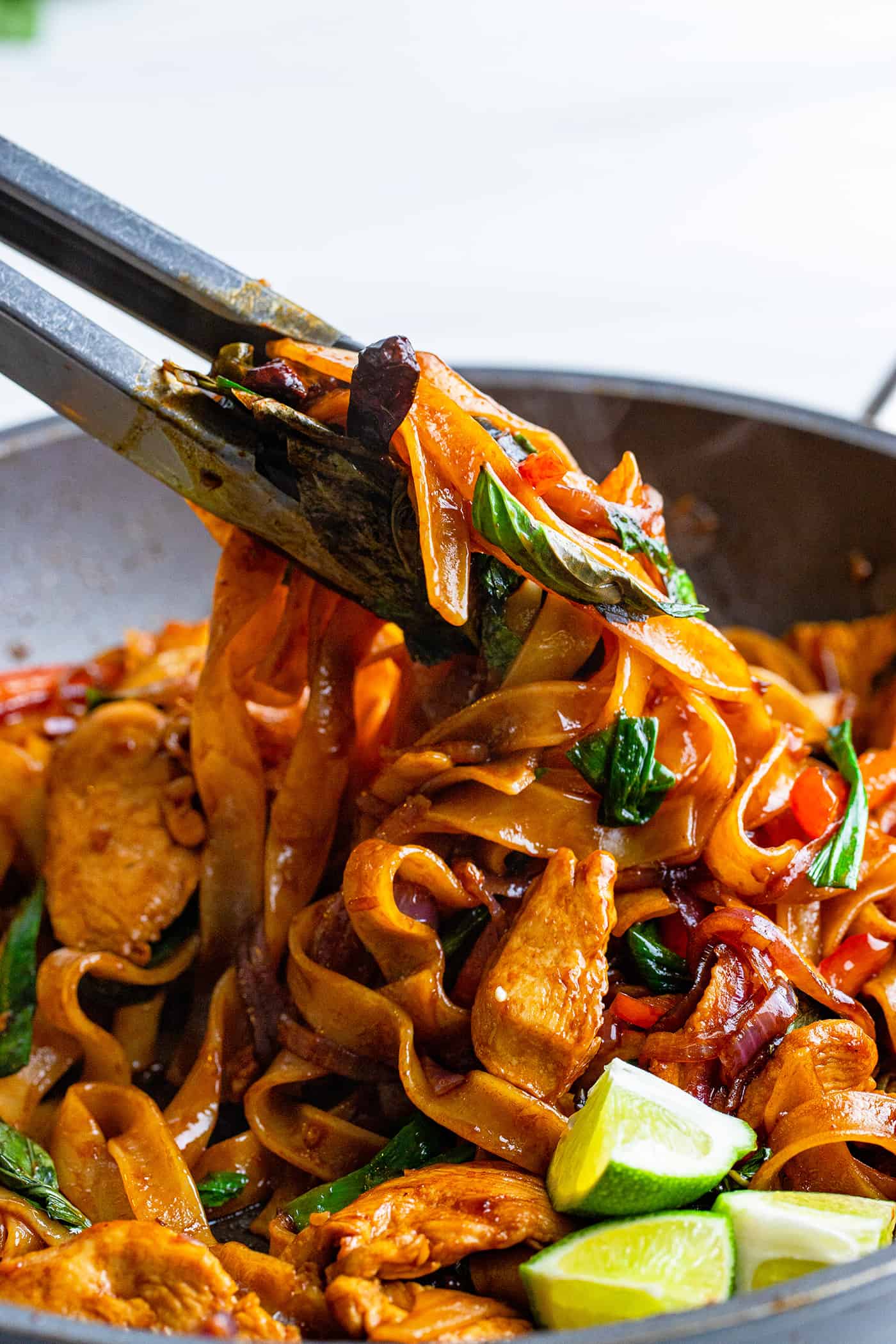 Optional: Remove the toasted dried chili pods. The dried chilis can be eaten, but they pack A HUGE PUNCH. If you don't want to accidentally eat one, remove them from the dish prior to serving. They add complexity and a unique smoky flavor, so I do recommend using them, though. For the record, our family absolutely DOES remove the dried chilis before eating!
Serve with fresh lime wedges. Promise me you will not skip the fresh lime. The lime adds another layer of flavor, a fantastic bright finish!
Tip for you: Long rice noodles are easier to stir if you use a tongs!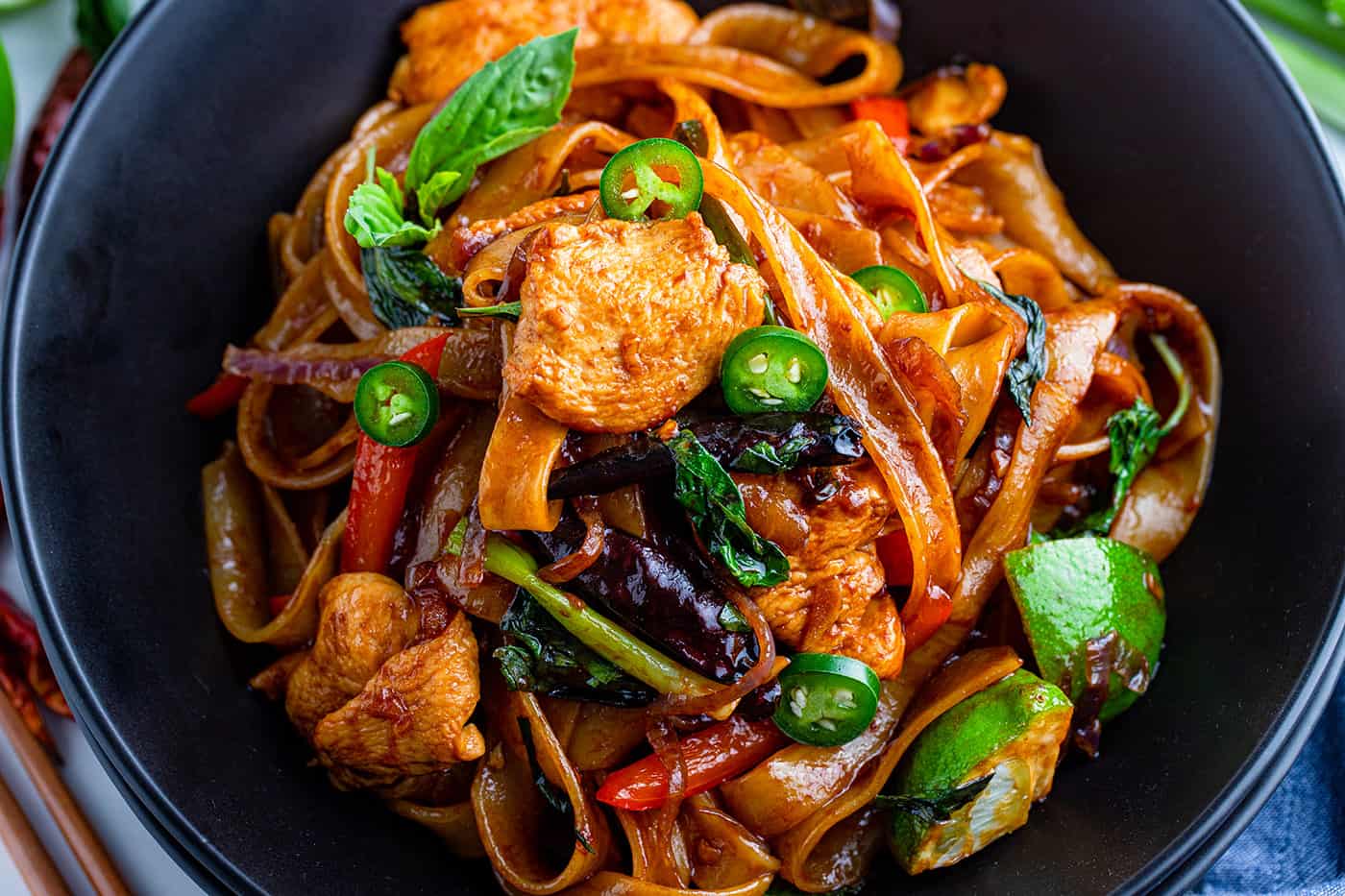 Depending on your own personal relationship with chilis and heat, you may want to add a few extra slices of fresh chili over the top of your bowl. With this dish, the sky's the limit if you like heat!
(And I LOVE that us spice wimps can still completely enjoy this dish, at a much lesser level of heat!)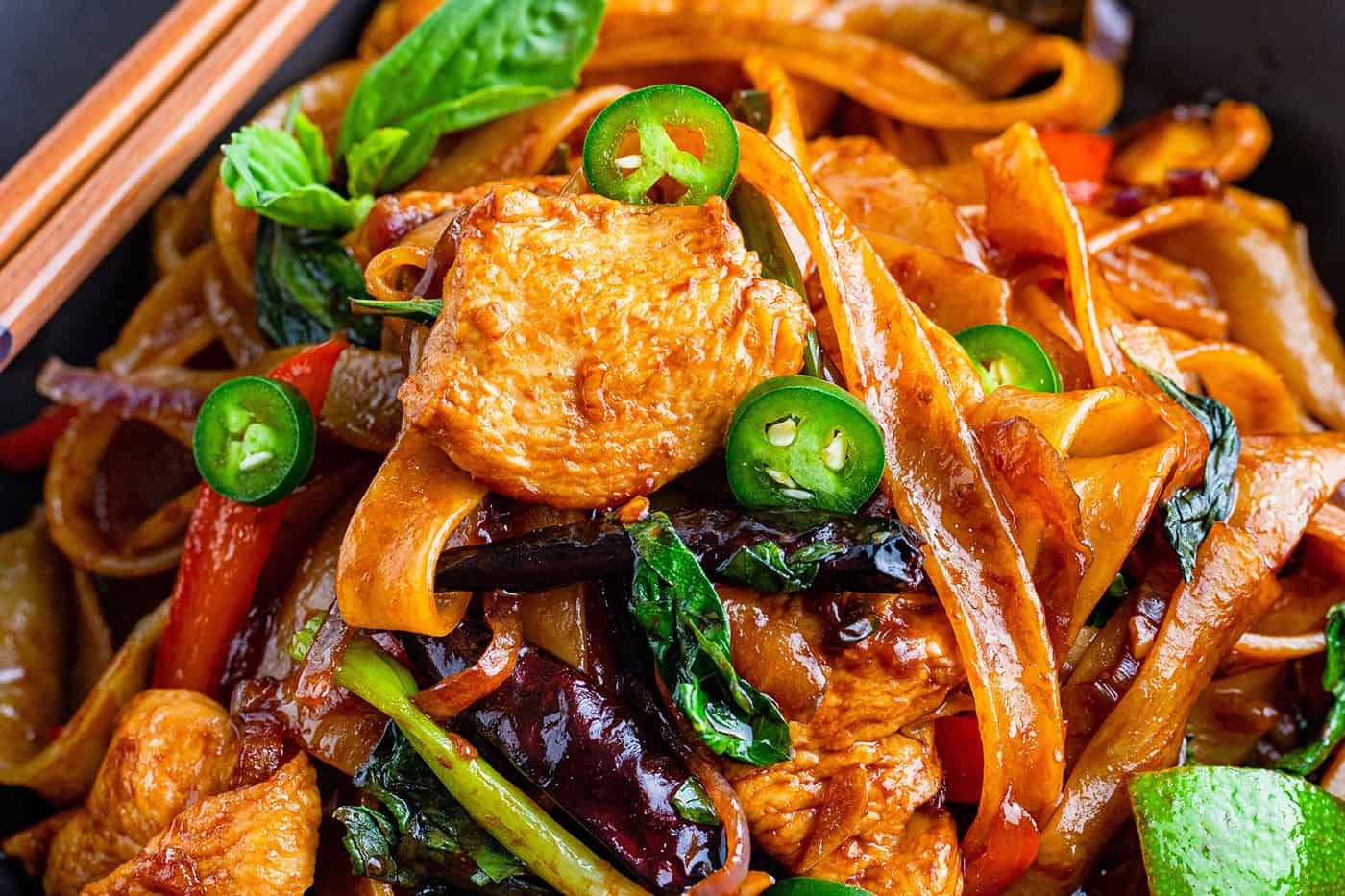 Variations
Stir fries are known for being super flexible. My family laughs at some of the combinations I come up with as I'm cleaning out the fridge, ha! Feel free to get creative and incorporate your own favorite ingredients. Here are some examples for you:
Use a different protein: While chicken is most common for this dish, you could easily swap it out for pork, shrimp, beef, or tofu.
Use your favorite vegetables: How about broccoli, baby corn, yellow squash, carrots, or zucchini?
Play with the heat level: I've talked about this throughout the post, but I just want to reiterate that the spice level can run from 0 to 10, it's all up to you.
How to Store and Reheat Leftovers
Let your extras cool to room temperature, then transfer them to an airtight container and store them in the fridge. They will keep for 3-4 days. When you are ready to eat more drunken noodles simply spoon the desired amount into a bowl and reheat in the microwave until warmed through.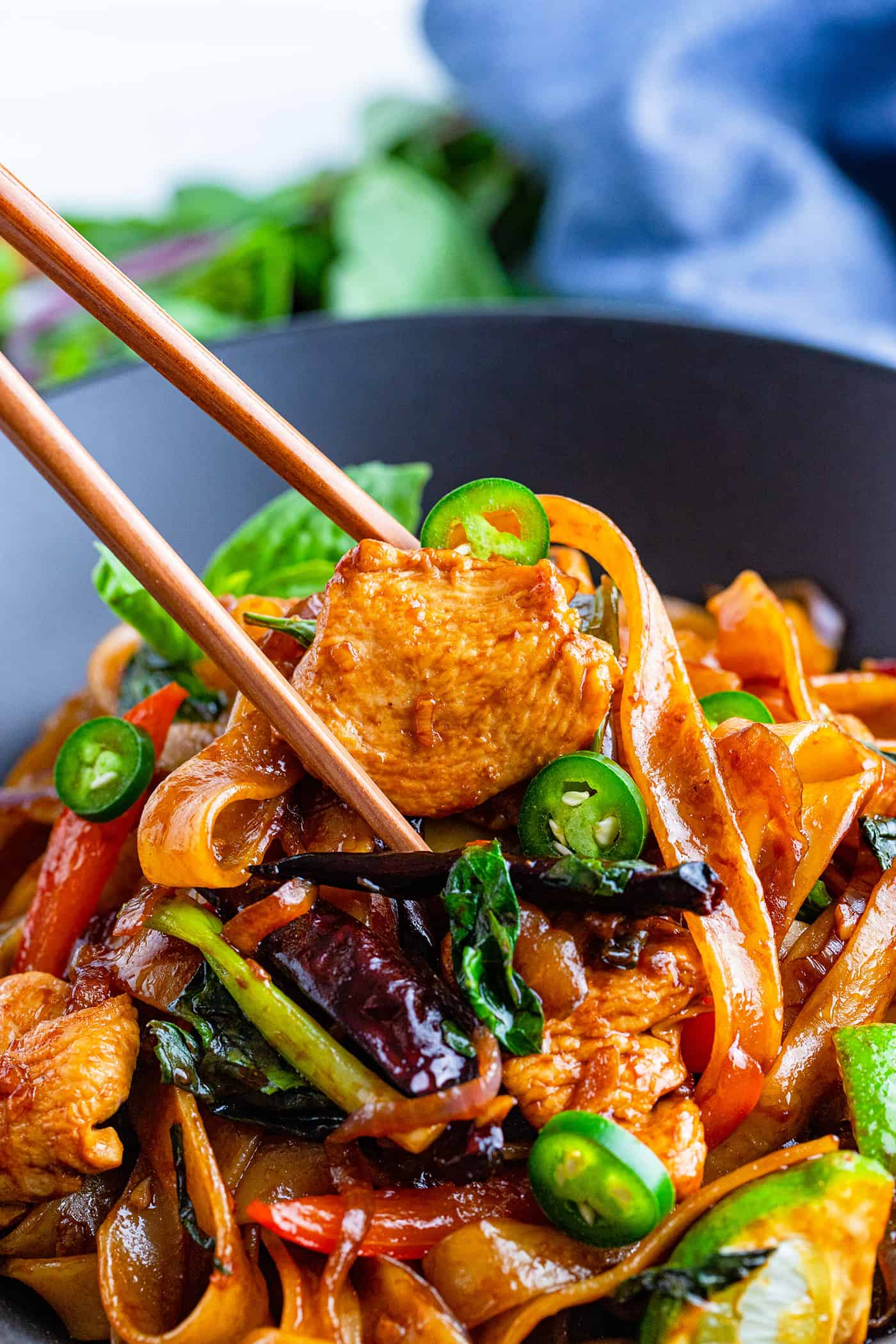 This recipe for Thai drunken noodles has earned a top spot on our family's menu list. I do hope you'll give it a try – and then please come back and let me know what you think!
Like this recipe? Save it to Pinterest!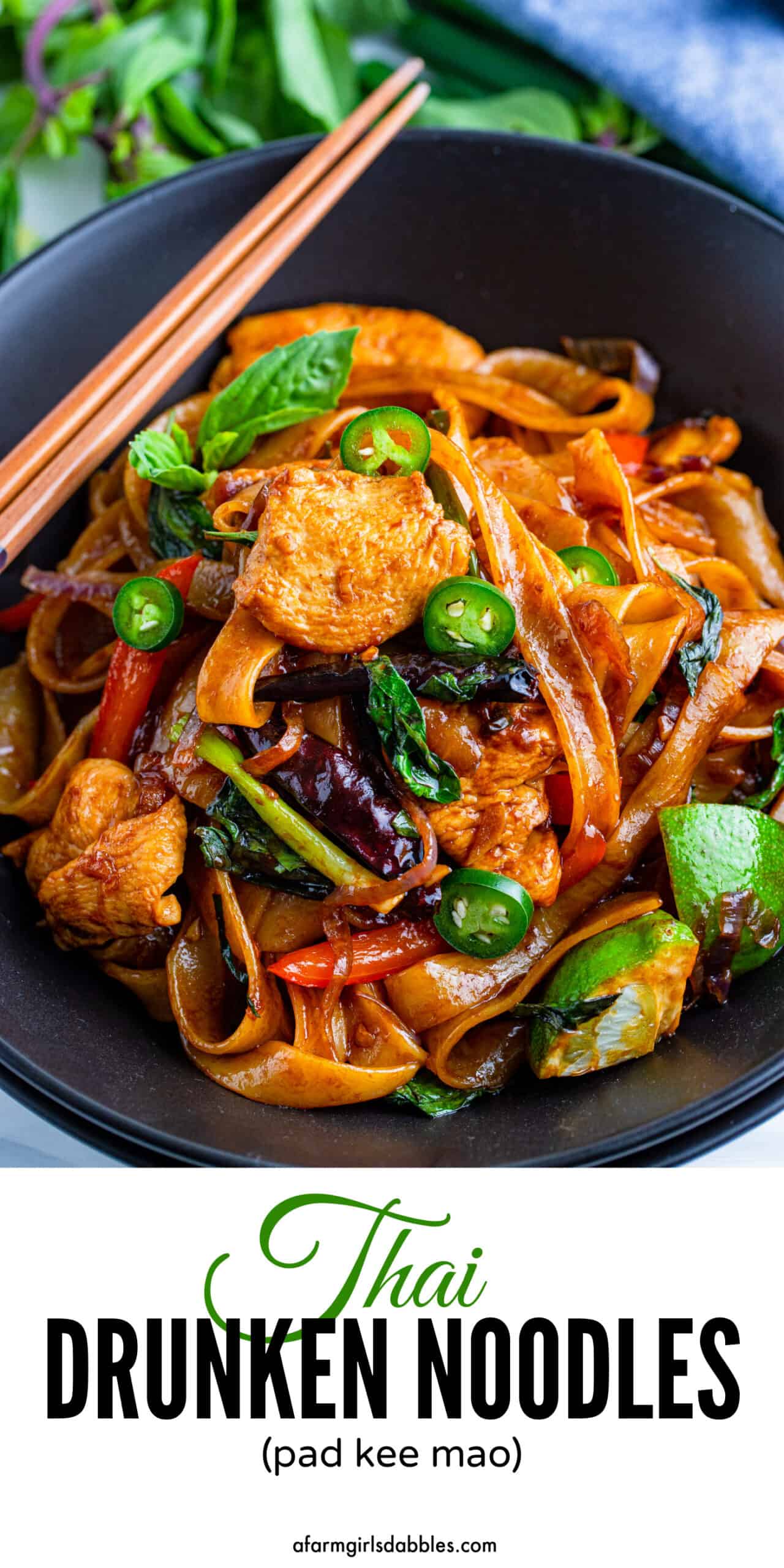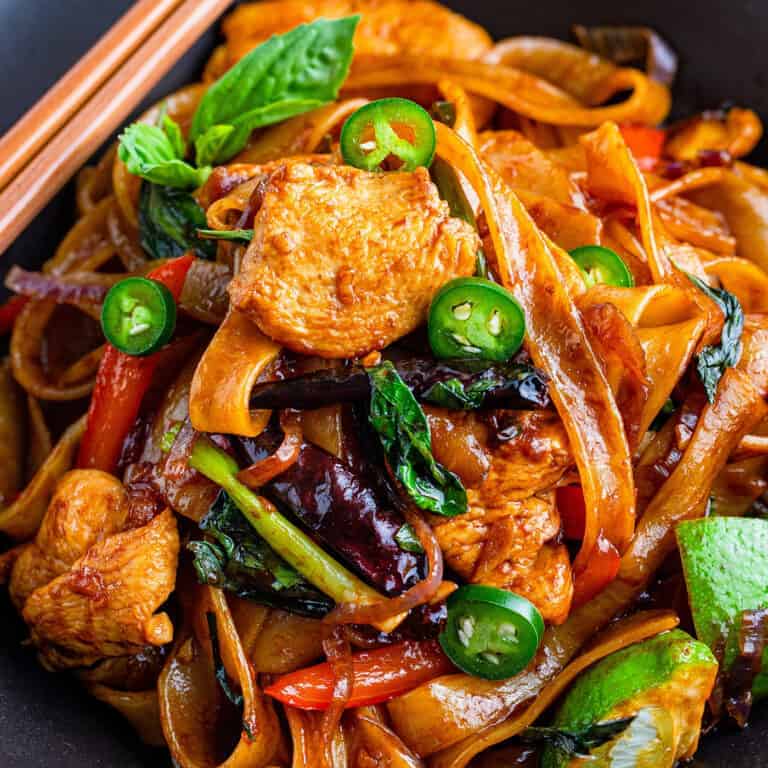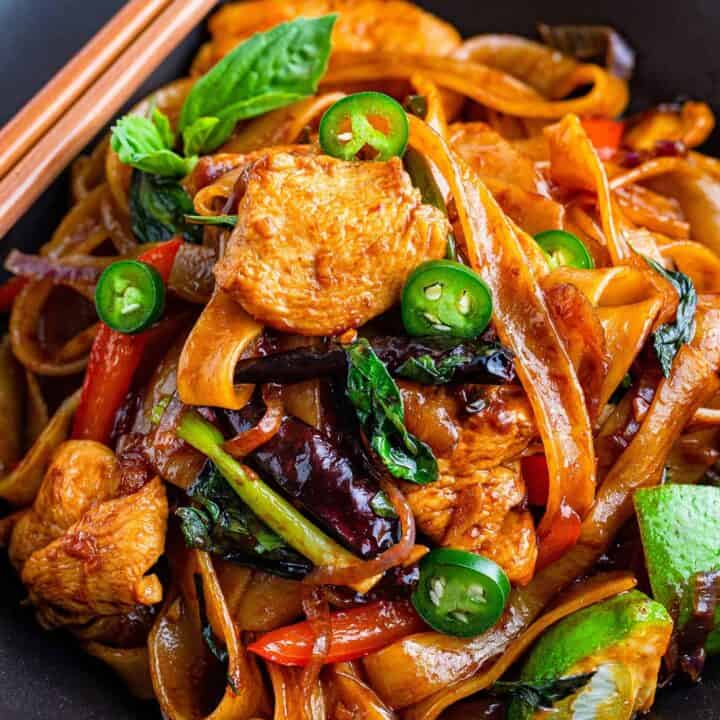 Thai Drunken Noodles (Pad Kee Mao)
Yield: 4 servings
Prep Time: 20 minutes
Cook Time: 15 minutes
Total Time: 35 minutes
Thai Drunken Noodles is an incredibly flavorful stir fry dish featuring rice noodles, chicken, and vegetables. Make it spicy, or not - you control the heat!
Ingredients
for the noodles mixture:
8 ounces wide rice noodles
2 tablespoons vegetable oil
1 serrano chili, thinly sliced, or more to taste (substitute bird's eye chilis if you can find them!)
4 scallions, roots removed, cut into 2-inch pieces, white and green parts separated
4 large garlic cloves, minced
1 large red bell pepper, sliced thin
1/2 large red onion, sliced thin
1 large boneless chicken breasts, sliced thin across the grain
1 cup Thai basil leaves
lime wedges for squeezing over the top
for the sauce
Instructions
Cook noodles per package directions. Drain and rinse with cold water; set aside.
In a small bowl whisk together sauce ingredients; set aside.
In a large skillet with deep sides (or a large wok) over high heat, heat the oil. Carefully add serrano chili and dried chili pods, stirring constantly for 30 seconds. Chili pods will start to blacken - this is a good sign.
Add white parts of the scallions, garlic, red bell pepper, and red onion. Stir fry, stirring fairly constantly for 2-3 minutes until the veggies begin to char slightly.
Add chicken and stir fry, stirring fairly constantly until it starts to brown slightly on the outside and you can't see any pink, about 3-5 minutes.
Add prepared noodles, green parts of scallions, and the
prepared sauce. Toss everything together until coated - a tongs works great for this. Toss until most of the sauce is absorbed and it has taken on a deeper brown color, about 2 minutes.
Add Thai basil and toss just to combine. The leaves will begin to wilt immediately. Remove from heat, remove dried chili pods if desired (see note below), and serve with lime wedges to squeeze over the top of individual servings.
Notes
It's very important to gather all the ingredients before starting to cook. The cooking process is extremely fast and you need everything available to grab and go as you cook.
The mix of flavors in the recipe is around a medium to medium-low spice level.
Add more or less of the hot peppers and dried chili pods to fit your personal level of spice.
The toasted chili pods can be eaten but they pack a huge punch so be careful when serving. If you do not want to accidentally eat one, remove them prior to serving. I recommend still using them though because they add a unique smokey flavor to the overall dish that adds to the complexity.
I beg you to not skip the lime wedges. That fresh squeeze brightens up the dish and adds another layer of flavor.
Dark soy sauce is a must here for that delicious dark color and depth of flavor of the overall dish. However, if you cannot find it, substituting your favorite all purpose soy sauce (such as Kikkoman) works as well. If using all purpose soy, use it in place of the dark soy and light soy, for a total of 3 tablespoons all purpose soy sauce.
Recommended Products
As an Amazon Associate and member of other affiliate programs, I earn from qualifying purchases.
Nutrition Information:
Yield: 4
Serving Size: 1
Amount Per Serving:
Calories: 463
Total Fat: 45g
Saturated Fat: 13g
Trans Fat: 0g
Unsaturated Fat: 21g
Cholesterol: 135mg
Sodium: 1602mg
Carbohydrates: 52g
Fiber: 4g
Sugar: 10g
Protein: 51g
Nutrition information is automatically calculated by Nutritionix. I am not a nutritionist and cannot guarantee accuracy. If your health depends on nutrition information, please calculate again with your own favorite calculator.