Vietnamese Noodle Salad with Pork
This easy Vietnamese Noodle Salad recipe features rice noodles, crunchy vegetables, herbs, and quick-seared pork with big, bold flavor. It's served with a light, bright rice vinegar dressing to bring it all together.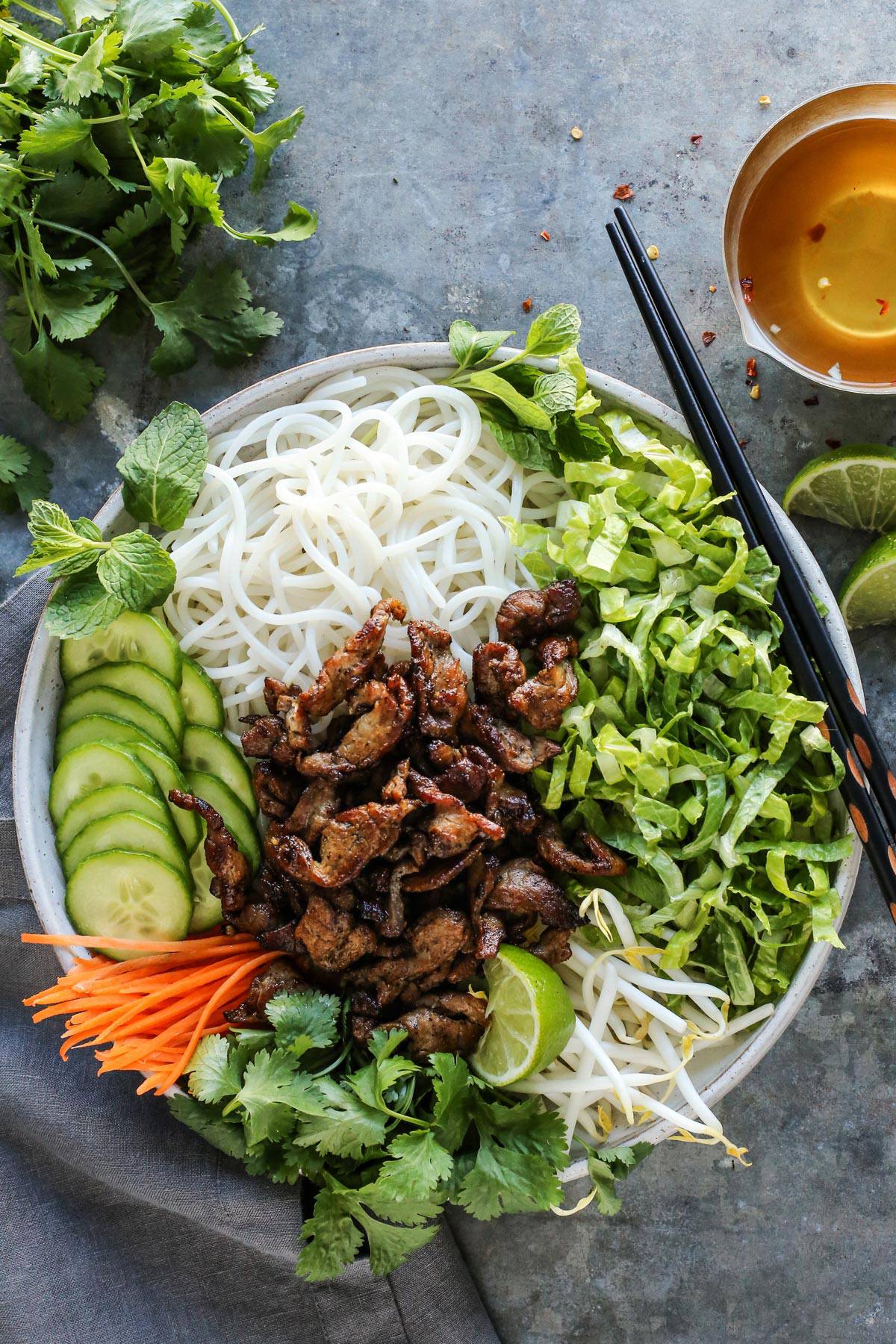 My Favorite Vietnamese Noodle Salad
Well, you know me.
I eat something wonderful, especially memorable. And then I can't stop thinking about it, and try to find a way to duplicate that meal at home. I did it with my Egg Roll in a Bowl recipe and my Poke Bowl recipe. Now, I'm bringing you the best Vietnamese Noodle Salad!
Vietnamese Noodle Salad with Pork is a dish I've studied for years, from the menu of a local Vietnamese restaurant that our family especially likes. Each time I've ordered it, I've taken mental notes, trying to dissect the flavors of the clean, simple sauce and flavorful, marinated pork.
This salad hits all the right notes for me. It's super fresh and light with crisp veggies and herbs, yet filling with rice noodles and a portion of hot, tender pork. I always (very happily) clean my bowl, and never feel stuffed.
"Made this for the family last night, and it was received rapturously and ravenously. In addition to being delicious, it was beautiful on the plate. I will be coming back to it often, I'm sure!"

Charles
* This is a sponsored post, created in partnership with the Minnesota Pork Board.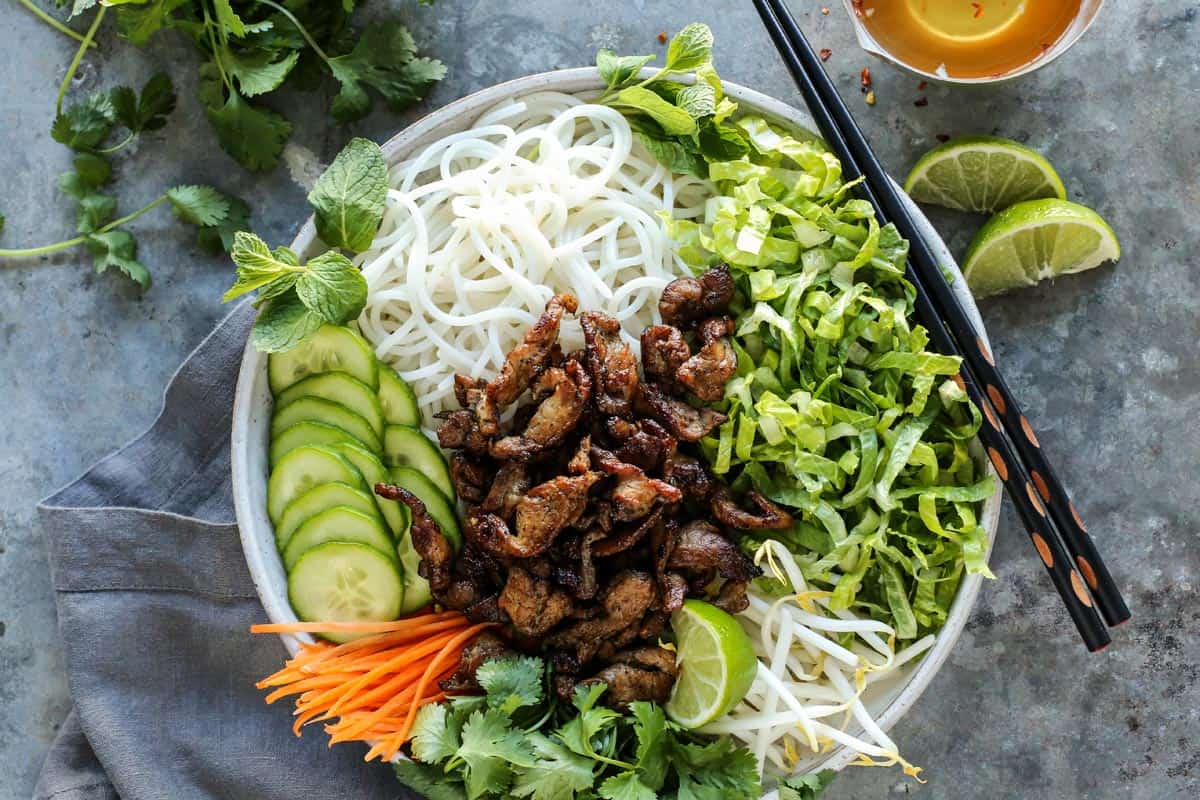 The Inspiration for this Recipe
If you're ever in Woodbury, Minnesota, do check out Thanh Truc Restaurant. It's quite possibly the one local restaurant we pop in on most. The name is pronounced "Tang Trook", the word for a delicate green bamboo plant found in Vietnam. Here you'll find quick, gracious service in a pleasant, simple setting, with tasty dishes made from scratch.
I always order the "Combination Salad C2" from the menu at the restaurant, a Vietnamese noodles salad served with grilled pork and one of their scrumptious homemade eggrolls.
Absolutely do not miss out on their eggrolls. Thanh Truc makes them fresh, with pork ground in-house, and then serves them piping hot. The eggrolls have a crackling crust, the most fabulous crispy texture. Dip them in the small bowl of accompanying sauce >>> HEAVEN!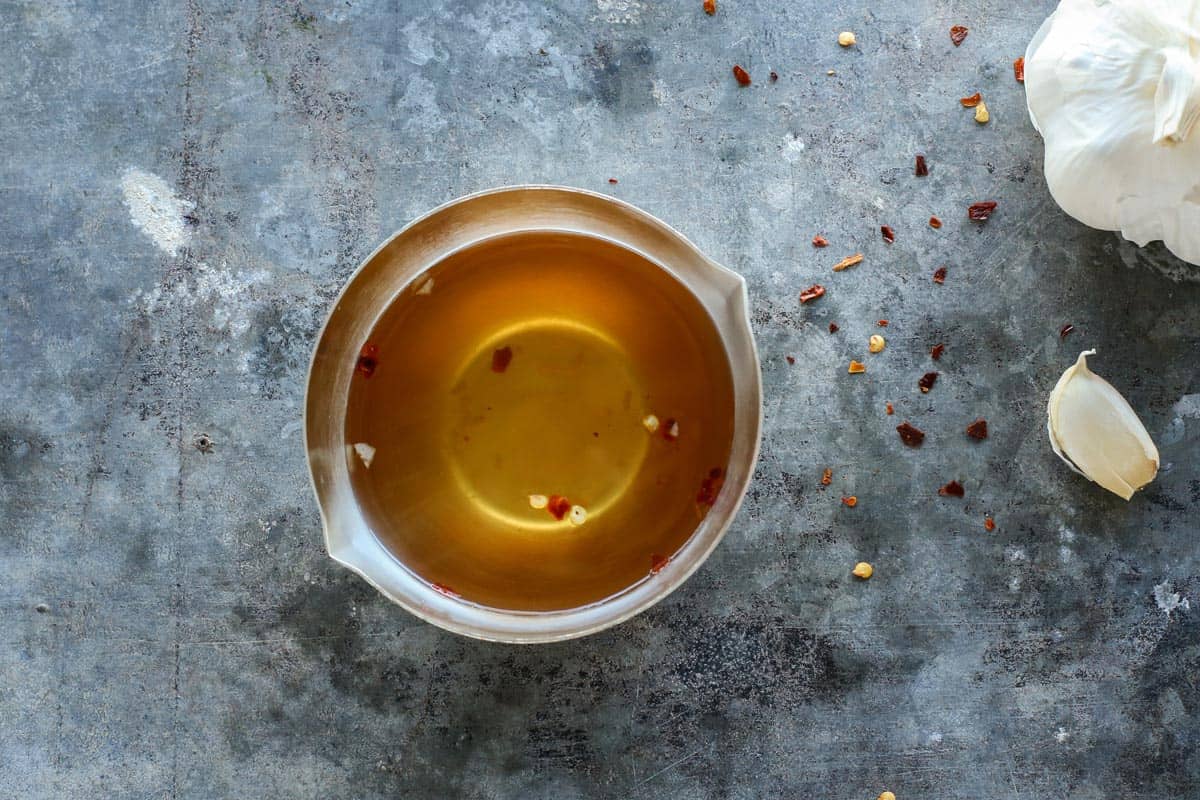 Don't Miss the Homemade Nuoc Cham Sauce!
This salad with Vietnamese noodles is served with a side of sauce ("nuoc cham") to pour over the top (and to dip your eggroll in). There are many variations of this sauce; some are sweeter, some are more salty, and some pack extra heat with chilis.
Thanh Truc's is made from rice vinegar and fish sauce, and has a very clean flavor that leans to the sweet side, so that was my aim.
If you're not familiar with fish sauce, and if that scares you, don't be alarmed. Our daughters don't like fish or fish sauce or anything even remotely fish related. But they like this Vietnamese noodle salad and this sauce. This is my favorite quality fish sauce.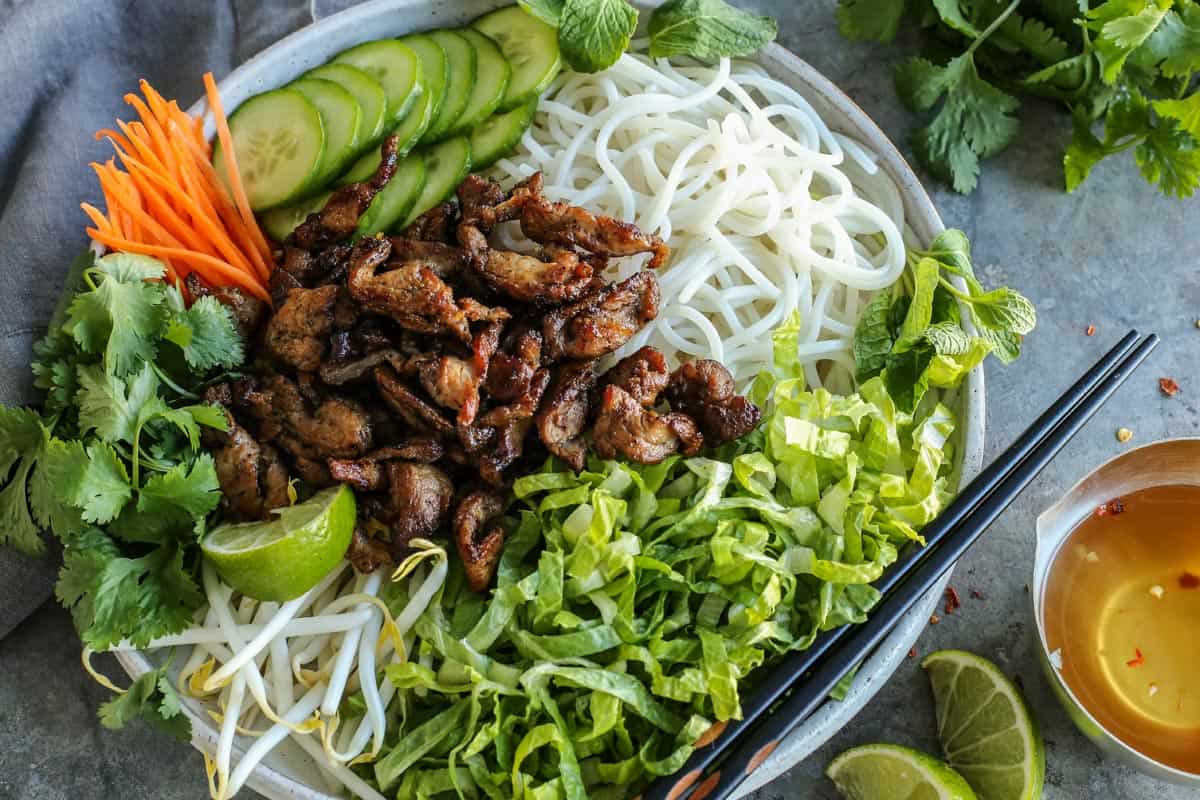 Top this Vietnamese Noodle Salad with Pork
I use lean pork tenderloin for my own take on Vietnamese salad. This cut of pork is tender and mild, which makes it incredibly versatile. My plan for a quick sear and bold flavor made the tenderloin the perfect choice.
I am proud to feature pork recipes this year with our local Minnesota Pork Board.
Did you know?
Minnesota ranks 2nd in value and number of market pigs raised
Minnesota pig farmers marketed 16.6 million pigs in 2018
There are more than 3,000 pig farms in Minnesota
Read more about Minnesota's pig farming here. About the value of this industry to our state, the strides it has made in sustainability, and the commitment to make animal care a top priority.
To replicate the texture of the pork from the restaurant, I chill the tenderloin in the freezer for 30 minutes and then use a sharp knife to cut it into very thin slices, and then into smaller strips.
I don't concern myself with making perfect cuts, and actually welcome the pork tearing. My goal is for the pieces to have a good amount of texture, to thoroughly soak up the marinade for big, bold flavor.
After the pork pieces marinate in a simple sweet and salty mixture, I throw them into a screaming hot skillet on the stovetop. Because the pork is so thin, it cooks very quickly. The high heat, combined with the sugar in the marinade, caramelizes the pork to irresistible awesomeness.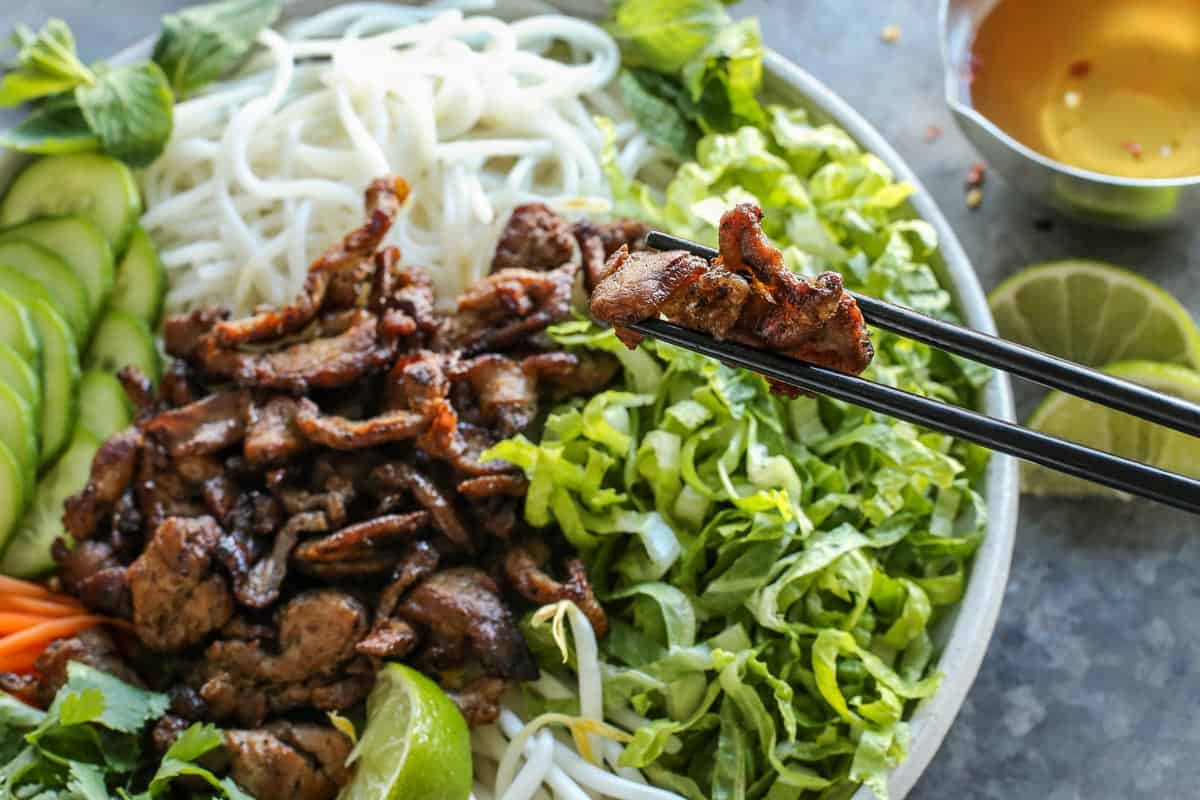 Serving Suggestions
To assemble the salad in Thanh Truc style, I add the hot pork to low wide bowls of rice vermicelli noodles, lettuce, carrot, cucumber, bean sprouts, cilantro, and lime. And then I throw in some fresh mint (not a Thanh Truc thing), simply because I like any excuse to do so in a fresh salad. Some Thai basil would also be great!
Like this Vietnamese Noodles Salad? Save it to Pinterest!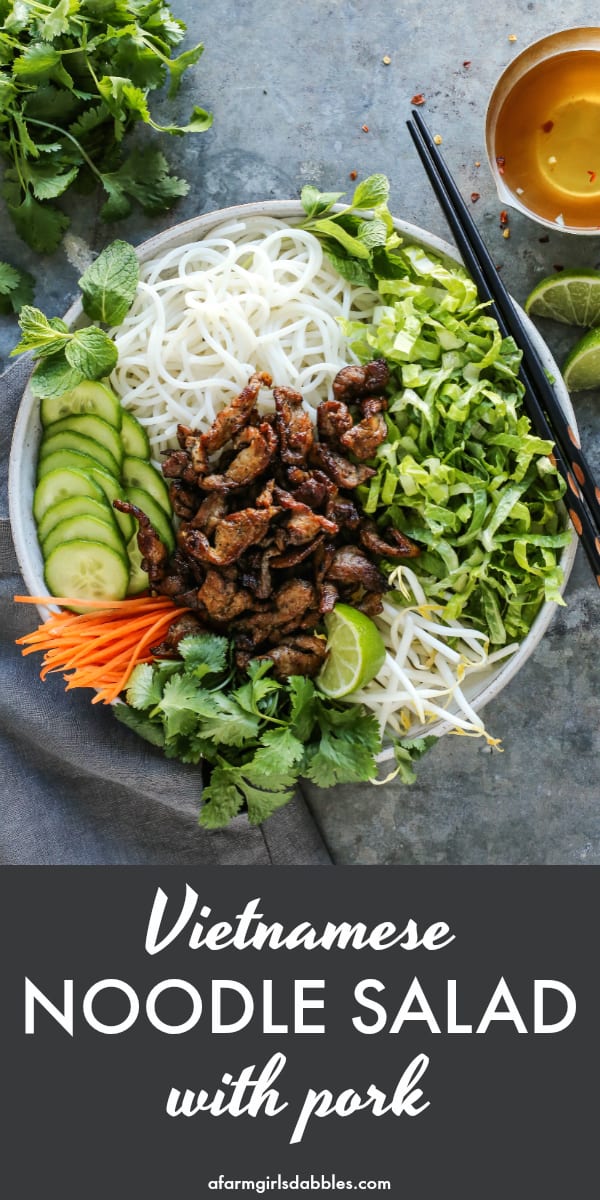 For more recipes using pork, check out:
And here are a few pork recipes I'd like to try next!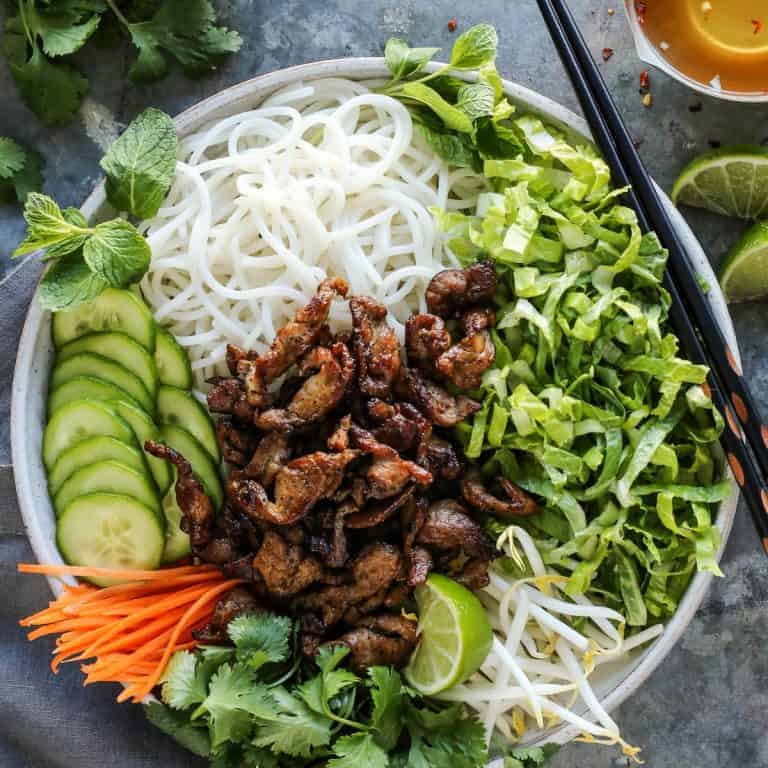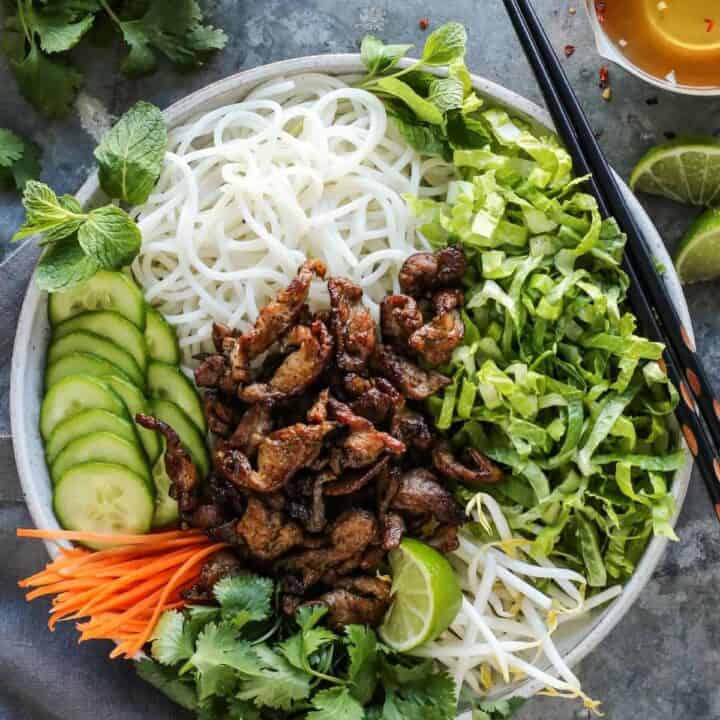 Vietnamese Noodle Salad with Pork
Yield: 4 servings
Prep Time: 40 minutes
Cook Time: 15 minutes
Additional Time: 30 minutes
Total Time: 1 hour 25 minutes
A fresh and easy recipe featuring rice noodles, crunchy vegetables, herbs, and quick-seared pork with big, bold flavor. Serve with a light, bright rice vinegar dressing to bring it all together.
Ingredients
for the pork:
1 lb. pork tenderloin
3 T. sugar
1 T. fish sauce
3 T. sesame oil, divided
1 T. soy sauce
2 tsp. ground black pepper
1 tsp. kosher salt
1 large clove garlic, minced
for the sauce:
1-1/2 c. water
1/4 c. rice vinegar
1-1/2 T. fish sauce
3 T. sugar
1 medium garlic clove, minced
1/2 tsp. kosher salt
1 pinch crushed red pepper
for the noodle salad:
12 oz. thin white rice noodles (use very thin vermicelli or ones that are a bit thicker
4 to 6 c. sliced romaine or iceberg lettuce
1 to 2 large carrots, julienned (this julienne peeler works great)
half of a large English cucumber, sliced into thin rounds
1 c. bean sprouts
1 bunch fresh cilantro (coursely chop or tear, if desired)
1 bunch fresh mint (coursely chop or tear, if desired)
fresh lime wedges
Instructions
for the pork: Place pork tenderloin in freezer to chill for 30 minutes. Remove from freezer and cut crosswise into very thin slices, about 1/8" thick. Then cut each slice in half lengthwise. Place pork pieces in a wide shallow bowl or large zip-top baggie.
In a small bowl, stir together sugar, fish sauce, 1 tablespoon of the sesame oil, soy sauce, black pepper, salt, and garlic. Pour mixture over pork pieces and fold several times to ensure the marinade is thoroughly mixed in with the pork. Cover bowl and place in refrigerator to marinate for 1 hour. Meanwhile, prepare the sauce and noodles.
for the sauce: In a small saucepan over medium to medium-high heat, stir together all sauce ingredients. Once sugar and salt have dissolved, remove from heat to cool to room temperature.
for the noodle salad: Bring a large saucepan of water to a boil. Add rice noodles, stir, and turn off heat. Let noodles soften according to the package directions, then drain and rinse in cold water in a colander. Shake very well to remove water and leave sit in colander at room temperature.
Divide noodles amongst four low wide bowls or plates. Top each with lettuce, carrots, cucumber, bean sprouts, cilantro, mint, and lime.
Remove pork from refrigerator. Heat a large cast iron skillet over medium-high to high heat. When hot, add remaining 2 tablespoons of the sesame oil and swirl around the bottom of the skillet. When oil is shimmering, carefully add pork. Separate pork pieces to cover bottom of skillet. Let pork sit without stirring for about 1 minute, to caramelize. Fold and repeat until pork is cooked through, about 5 minutes. Total cook time will depend on how thin the pork is cut, etc.
Divide hot pork amongst each of the four bowls. Serve with sauce to pour over individual bowls.
Notes
Inspired by the Vietnamese noodle salad at Thanh Truc Restaurant.
Recommended Products
As an Amazon Associate and member of other affiliate programs, I earn from qualifying purchases.
Nutrition Information:
Yield: 4
Serving Size: 1
Amount Per Serving:
Calories: 470
Total Fat: 6g
Saturated Fat: 2g
Trans Fat: 0g
Unsaturated Fat: 3g
Cholesterol: 83mg
Sodium: 1005mg
Carbohydrates: 68g
Fiber: 10g
Sugar: 25g
Protein: 38g
Nutrition information is automatically calculated by Nutritionix. I am not a nutritionist and cannot guarantee accuracy. If your health depends on nutrition information, please calculate again with your own favorite calculator.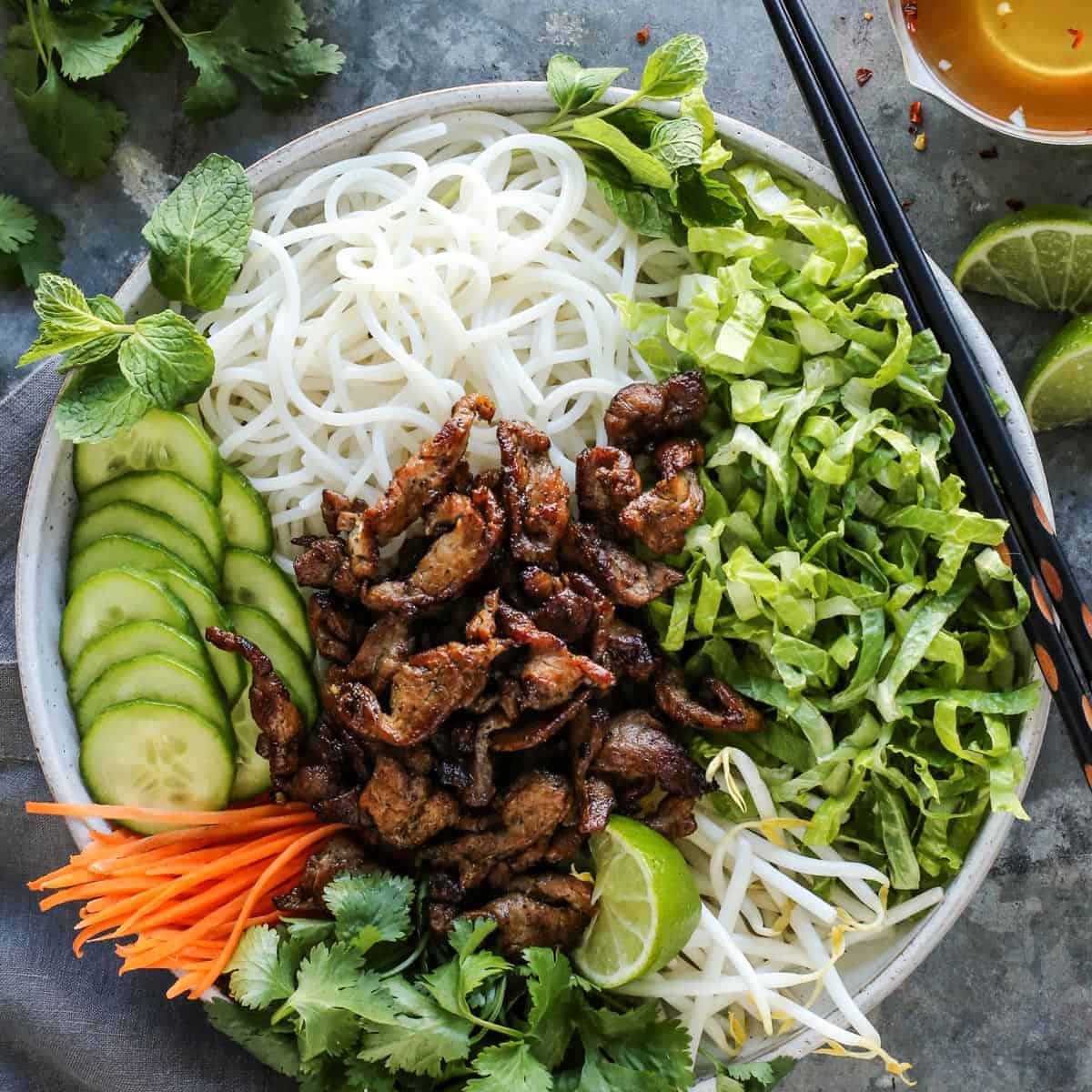 Connect with the Minnesota Pork Board on their website and social media channels: Facebook, Twitter, Instagram, and Pinterest.
This post is sponsored by the Minnesota Pork Board. I am honored to partner with them to bring you delicious new pork recipes from our kitchen and backyard grills. All opinions are 100% my own, as always. Thank you for supporting the brands that help make this site possible.